News articles on dry forests

---
Mongabay.com news articles on dry forests in blog format. Updated regularly.





Dry forests disappearing faster than rainforests in Latin America

(08/21/2012) Countries across Latin America lost 78,000 square kilometers of subtropical and tropical dry broadleaf forests between 2001 and 2010, according to a new satellite-based assessment published in the journal Biotropica.


Chart: Forest loss in Latin America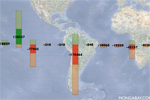 (08/20/2012) Latin America lost nearly 260,000 square kilometers (100,000 square miles) of forest — an area larger than the state of Oregon — between 2001 and 2010, finds a new study that is the first to assess both net forest loss and regrowth across the Caribbean, Central and South America. The study, published in the journal Biotropica by researchers from the University of Puerto Rico and other institutions, analyzes change in vegetation cover across several biomes, including forests, grasslands, and wetlands. It finds that the bulk of vegetation change occurred in forest areas, mostly tropical rainforests and lesser-known dry forests. The largest gains in biome area occurred in desert vegetation and shrublands.


New bird discovered in Colombia imperiled by hydroelectric project

(08/19/2012) In a little-known dry forest in Colombia, scientists have discovered a new species of bird: the Antioquia wren (Thryophilus sernai). First seen in 2010, scientists photographed the new wren and recorded its vocalizations, from which they determined that the wren was brand new to science, according to a new paper in Auk.


Deforestation accounts for 10 percent of global carbon emissions, argues new study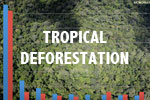 (06/21/2012) Tropical deforestation accounted for 10 percent of global carbon dioxide emissions between 2000-2005 — a substantially smaller proportion than previously estimated — argues a new study published in Science. The paper estimates gross carbon emissions from deforestation at 810 million metric tons (with a 90 percent confidence interval of 0.57-1.22 billion tons) per year from 2000-2005, significantly below earlier calculations. Brazil and Indonesia accounted for 55 percent of gross emissions from tropical deforestation during the study period, while dry forests accounted for 40 percent of tropical forest loss but amounted to only 17 percent of emissions.


Educating the next generation of conservation leaders in Colombia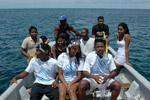 (05/14/2012) Colombia's northern departments of Cordoba and Bolivar are home to an abundance of coral reefs, estuaries, mangroves forests, and forests. Rich in both marine and terrestrial wildlife, local communities depend on the sea and land for survival, yet these ecosystems are imperiled by booming populations, overexploitation, and unsustainable management. Since 2007, an innovative education program in the region, the Guardians of Nature, has worked to teach local children about the ecology of the region, hoping to instill a conservation ethic that will aid both the present and the future.


Animal picture of the day: rare photo of mother jaguar and cubs


(12/21/2011) A mother jaguar, named Kaaiyana by scientists, and cubs were recently photographed in Kaa Iya National Park in Bolivia. "Kaaiyana's tolerance of observers is a testimony to the absence of hunters in this area, and her success as a mother means there is plenty of food for her and her cubs to eat," said John Polisar, coordinator of Wildlife Conservation Society's (WCS) Jaguar Conservation Program. WCS released the photos.


Caatinga ecosystem almost wholly ignored in Brazil

(09/26/2011) Tropical dry forests have received little conservation and research attention as compared to their rainforest cousins, leaving these ecosystems to become gravely threatened while still largely unknown to the public and scientists. A new study in mongabay.com's open access journal finds that Caatinga, a seasonally dry tropical forest, is the least-known forest in Brazil.


Ant surprises on Murciélago Islands in Costa Rica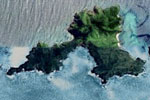 (06/28/2011) The Murciélago Islands are seven small islands off the northwest coast of Costa Rica in the Area de Conservación Guanacaste (ACG), home to one of the largest intact dry tropical forests in Central America. Despite this, few scientists have studied the biodiversity of these small uninhabited islands. A new study in the open access journal Tropical Conservation Science has attempted to rectify this gap by conducting the first survey of insects, specifically ants, on the islands. Researchers were surprised at the richness of ant species on the island: 50 species were documented, only two of which were invasive species.


Mexican environmental activist shot dead

(04/25/2011) Javier Torres Cruz, 30, who fought illegal deforestation by drug traffickers in the Mexican state of Guerroro, was murdered a week ago. A member of the local NGO, Environmental Organization of the Coyuca and Petatlán Mountains, Torres Cruz was known as an outspoken activist against illegal logging in the mountainous dry forest region. Logging in the region is primarily linked to fields of poppies for the illegal drug trade.


Satellite evidence of deforestation in uncontacted tribe's territory sparks legal action

(04/12/2011) The destruction of 3,600 hectares (8,900 acres) of the Gran Chaco forest in Paraguay by large Brazilian cattle ranching companies has led to a legal complaint filed by a local indigenous-rights organization, since the land in question was one of the last refuges of a group of uncontacted indigenous people in the Ayoreo-Totobiegosode tribe. The loss of the forest was revealed in part by satellite images of the remote area.


Image: new bird discovered in Madagascar

(02/24/2011) The rich and unique biodiversity of Madagascar has a new member: a forest dwelling bird in the rail family, dubbed Mentocrex beankaensis. In 2009 US and Malaygasy scientists conducted a survey in Madagascar's dry Beanka Forest. They discovered several new species, of which the new rail is the first to be described.


Chaco biodiversity expedition suspended

(11/15/2010) A joint expedition by the Natural History Museum (NHM), London and the Natural History Museum, Asuncion to the dwindling dry forest of the Gran Chaco in Paraguay to record biodiversity, and hopefully uncover 'hundreds' of new species, has been suspended by the Paraguayan government. The suspension comes after a local organization voiced concern that the expedition would threaten uncontacted member of the Ayoreo tribe in the forest.


Chaco expedition working to "minimize the risk" of running into uncontacted natives

(11/11/2010) A joint expedition by the Natural History Museum (NHM), London and the Natural History Museum, Asuncion to study the biodiversity of the dwindling dry forests of Chaco in Paraguay have responded to recent concerns that they risk encountering uncontacted natives, which could potentially threaten the natives' lives as well as their own.