News articles on drought

---
Mongabay.com news articles on drought in blog format. Updated regularly.






Why is there soot on the snowpack?

(05/22/2008) This fall, suitcase-sized air samplers will sprout throughout the Sierra Nevada. The air monitoring stations will be installed by researchers at the University of California, Davis, as part of a contract approved by the California Energy Commission (CEC) during its May 7 meeting. The researchers hope to learn whether the pollutants affecting the state's climate are coming from local sources or from transPacific sources like Asia, said Public Interest Energy Research (PIER) manager Guido Franco. The sensitive new devices will measure the amount of air pollution in the area and identify the makeup of the particles, Franco told the commission. Chemical detective work will then reveal their sources.
75% of world population to face water shortages by 2050

(04/02/2008) By 2025 more than half of countries will face freshwater stress or shortages and by 2050 as much as 75 percent of the world's population could face freshwater scarcity, but policy measures and new technologies could help reduce the shortfall, report researchers writing in the journal Nature.
Half the Amazon rainforest will be lost within 20 years

(02/27/2008) More than half the Amazon rainforest will be damaged or destroyed within 20 years if deforestation, forest fires, and climate trends continue apace, warns a study published in Philosophical Transactions of the Royal Society B. Reviewing recent trends in economic, ecological and climatic processes in Amazonia, Daniel Nepstad and colleagues forecast that 55 percent of Amazon forests will be "cleared, logged, damaged by drought, or burned" in the next 20 years. The damage will release 15-26 billion tons of carbon into the atmosphere, adding to a feedback cycle that will worsen both warming and forest degradation in the region. While the projections are bleak, the authors are hopeful that emerging trends could reduce the likelihood of a near-term die-back. These include the growing concern in commodity markets on the environmental performance of ranchers and farmers; greater investment in fire control mechanisms among owners of fire-sensitive investments; emergence of a carbon market for forest-based offsets; and the establishment of protected areas in regions where development is fast-expanding.
Amazon rainfall linked to Atlantic Ocean temperature

(02/25/2008) Climate models increasingly forecast a dire future for the Amazon rainforest. These projections are partly based on recent research that has linked drought in the Amazon to sea surface temperatures in the tropical Atlantic. As the tropical Atlantic warms, the southern Amazon -- the agricultural heartland of Brazil -- may see higher temperatures and less rainfall.
Global warming - not el Nino - drove severe Amazon drought in 2005

(02/20/2008) One of the worst droughts on record in the Amazon was caused by high temperatures in the Atlantic rather than el Nino. The research, published in Philosophical Transactions of the Royal Society B, suggests that human-driven warming is already affecting the climate of Earth's largest rainforest.
Ancient Amazon fires linked to human populations

(02/20/2008) Analysis of soil charcoal in South America confirms that from a historical perspective, fire is rare in the Amazon rainforest, but when it does occur, it appears linked to human activities. The research, published in Philosophical Transactions of the Royal Society B, is based on dating of soil carbon, which provides a good indication of when fires occurred in Amazonia, according to lead author Mark Bush, head of the Department of Biology at Florida Institute of Technology.
Small Amazon farmers especially vulnerable to climate change

(02/19/2008) Communicating the impact of climate change to small farmers in the Amazon will be key in helping them adapt to higher temperatures, more frequent and intense drought, and greater incidence of forest fires forecast for the region, according to a paper published in Philosophical Transactions of the Royal Society B.
Fire policy is key to reducing the impact of drought on the Amazon

(02/19/2008) Gaining control over the setting of fires for land-clearing in the Amazon is key to reducing deforestation and the impact of severe drought on the region's forests, write researchers in a paper published in Philosophical Transactions of the Royal Society B.
Lake Mead could be dry up by 2021

(02/12/2008) There is a 50 percent chance Lake Mead, a key source of water for millions of people in the southwestern U.S., will be dry by 2021 if climate changes as expected and future water usage is not curtailed, a new study finds.
Transgenic plant may thrive under global warming-induced drought

(11/26/2007) Researchers have created a drought-resistant tobacco plant through genetic engineering, according to a study published in the journal Proceedings of the National Academy of Science. The work could eventually lead to the development of crops that are better able to survive higher temperatures and reduced rainfall associated with global warming.
Drought hurts carbon sinks in North America

(11/26/2007) A new system for tracking carbon uptake in North America, shows that deciduous forests along the East Coast (32 percent) and the boreal coniferous forests (22 percent) of northern Canada absorbed the bulk of carbon dioxide emissions between 2000 and 2005, but suggests that climate change may increasingly affect carbon sinks, according to research published in the journal Proceedings of the National Academy of Science.
Failing water supply destroyed lost city of Angkor Wat

(08/13/2007) The ancient city of Angkor in Cambodia was larger in extent than previously thought and fed by a single water system, according to a new map published by an international team of researchers. The study, published in the early online edition of the journal Proceedings of the Natural Academy of Sciences, suggests that the urban settlement sustained an elaborate water management network extending over more than 1,0000 square kilometers.
Climate change claims a snail

(08/12/2007) The Aldabra banded snail (Rachistia aldabrae), a rare and poorly known species found only on Aldabra atoll in the Indian Ocean, has apparently gone extinct due to declining rainfall in its niche habitat. While some may question lamenting the loss of a lowly algae-feeding gastropod on some unheard of chain of tropical islands, its unheralded passing is nevertheless important for the simple reason that Rachistia aldabrae may be a pioneer. As climate change increasingly brings local and regional shifts in precipitation and temperature, other species are expected to follow in its path.
Sunspot activity linked to rainfall in Africa

(08/06/2007) A new study reveals correlations between plentiful sunspots and periods of heavy rain in East Africa. Intense rainfall in the region often leads to flooding and disease outbreaks.
Las Vegas has gotten hotter

(07/25/2007) Las Vegas and the rest of Nevada has heated up over the past 30 years, but it's not the entertainment industry that is responsible. A new study by the U.S. Public Interest Research Group reports that, as a state, Nevada has seen one of the largest increases in average temperature over the last three decades.
Globalization could save the Amazon rainforest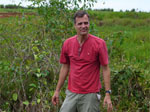 (06/03/2007) The Amazon basin is home to the world's largest rainforest, an ecosystem that supports perhaps 30 percent of the world's terrestrial species, stores vast amounts of carbon, and exerts considerable influence on global weather patterns and climate. Few would dispute that it is one of the planet's most important landscapes. Despite its scale, the Amazon is also one of the fastest changing ecosystems, largely as a result of human activities, including deforestation, forest fires, and, increasingly, climate change. Few people understand these impacts better than Dr. Daniel Nepstad, one of the world's foremost experts on the Amazon rainforest. Now head of the Woods Hole Research Center's Amazon program in Belem, Brazil, Nepstad has spent more than 23 years in the Amazon, studying subjects ranging from forest fires and forest management policy to sustainable development. Nepstad says the Amazon is presently at a point unlike any he's ever seen, one where there are unparalleled risks and opportunities. While he's hopeful about some of the trends, he knows the Amazon faces difficult and immediate challenges.
Global warming will worsen fires in Australia

(05/31/2007) Global warming will put Australia at significantly higher risk of catastrophic bushfires said a leading climate scientists. Speaking at a climate conference in Sydney, Andy Pitman, co-director of the University of New South Wales's climate change research center, said that Australia will face a 100 to 200 percent increase in bushfire vulnerability by 2100 if greenhouse gas emissions aren't curbed.
Does drought cause war?

(05/30/2007) A new study links drought to the outbreak of war, reports New Scientist Magazine.
Will Amazon drought worsen in 2007?

(05/29/2007) Contrary to popular belief, the Amazon rainforest is not rainy year round. Further from the equator, rainfall is more seasonal, with dry periods that sometimes last for months.
Climate change could dramatically change forests in Central America
(05/02/2007) Drought could cause dramatic shifts in rainforest plant communities in Central America, reports a new study published in the May 3 issue of Nature. The research shows that many rainforest plants are ill-equipped to deal with extended dry periods, putting them at elevated risk from changes in climate projected for the region.
Climate change may decimate Indonesia's food supplies, worsen fires
(04/30/2007) Climate change could worsen food shortages in Indonesia by delaying the onset of monsoon rains reports a new study published in Proceedings of the National Academy of Sciences (PNAS). The findings suggest that the country could face increasing risk of drought and forest fire if nothing is done to control rising greenhouse gas emissions.
Soybeans may worsen drought in the Amazon rainforest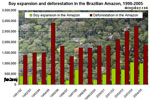 (04/18/2007) The rapid expansion of soybean cultivation in the Amazon may be having a larger impact on climate than previously believed, according to research published last week in Geophysical Research Letters. Using experimental plots in the Amazon, a team of scientists led by Marcos Costa from the Federal University of Vicosa in Brazil found that clearing for soybeans increases the reflectivity or albedo of land, reducing rainfall by as much as four times relative to clearing for pasture land.
Climate report warns of drought, rising sea levels, species extinction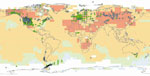 (04/05/2007) Global warming is likely to have wide-ranging impacts on the world's ecosystems, water availablity, and sea levels warned the U.N. Intergovernmental Panel on Climate Change (IPCC) in its latest installment. It said that mitigation and adaption strategies are the best way to reduce and prepare for the coming changes.
Largest tropical glacier retreating at 200 feet per year in Peru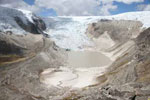 (02/18/2007) Peru's largest glacier is melting rapidly and could complete disappear by 2012 says a glaciologist from Ohio State University. Speaking at the annual meeting of the American Association for the Advancement of Science in San Francisco last week, Dr. Lonnie Thompson said that Peru's Qori Kalis glacier is melting at a rate of some 60 meters (200 feet) per year. Qori Kalis glacier is part of the Quelccaya Ice Cap, the largest body of ice in the tropics.





America needs to plan for global warming-induced drought

(02/16/2007) Models suggest that climate change is likely to produce increased incidence of summer droughts in the western United States. Researchers from Oregon State University say that now is the time to prepare for potential catastrophe.







African river basins are drying up says NASA

(12/13/2006) New satellite data from NASA show that the Mississippi and Colorado River basins are storing more water over the past five years, while the Congo, Zambezi and Nile basins are drying.





Global warming threatens western U.S.

(10/06/2006) Global warming will cause drastic changes -- including reduction in snowpack, worsening droughts, increases in wildfire and invasive species, and loss of regional biodiversity -- in the American West if greenhouse gas emissions are not curtailed according to a new report from the National Wildlife Federation.





Global water problem: one in three face water scarcity

(08/21/2006) One in three people is enduring one form or another of water scarcity, according to a new report from the International Water Management Institute (IWMI). The assessment, carried out by 700 experts from around the world over the last five years, was released at World Water Week in Stockholm, a conference exploring the management of global water resources.





Most of world's forests could be gone by 2100

(08/15/2006) New research claims that more than half the world's largest forests will be lost if global temperatures rise by an average of 3 degrees or more by the end of the century.The study, published in the current Proceedings of the National Academy of Sciences, says that a warmer climate also increases the risk of extreme floods, forest fires and droughts.





2006 on pace to be warmest year on record in the US

(07/17/2006) The average temperature for the continental United States from January through June 2006 was the warmest first half of any year since records began in 1895, according to scientists at the National Oceanic and Atmospheric Administration's (NOAA) National Climatic Data Center (NCDC). NOAA data showed that the average January-June temperature for the contiguous United States was 51.8 degrees F (11.0 degrees C) -- 3.4 degrees F (1.8 degrees C) above the 20th century (1901-2000) average. The government agency noted that five states (Texas, Oklahoma, Kansas, Nebraska, and Missouri) experienced record warmth for the period while no state was cooler than average. NOAA also reported that last month was the second warmest June on record and national precipitation was below average. It said that continued below-normal-levels of precipitation combined with warmer-than-average temperatures expanded drought conditions across the country.





Droughts in India to worsen with climate change -- study

(05/12/2006) India could face worse droughts according to a new study by scientists at Scripps Institution of Oceanography at the University of California, San Diego. In a study published in the May 15 issue of Journal of Climate, Chul Eddy Chung and V. Ramanathan of Scripps Oceanography say that cooler-than-normal temperatures in the northern part of the Indian ocean have weakened the region's natural climate circulation and monsoon conditions, resulting in reduced rainfall over India and increased rainfall over the Sahel area south of the Sahara in Africa,





China's glaciers shrinking by 7 percent per year

(05/02/2006) The glaciers of China's Qinghai-Tibet plateau are shrinking by 7 percent a year due to global warming according to a report from Xinhua, the state news agency of China. In an interview with the agency, Professor Dong Guangrong with the Chinese Academy of Sciences warned that melting glaciers could turn parts of Tibet into desert, worsening droughts and increasing the incidence of sandstorms that regularly blast Chinese cities. He based his conclusions based on analysis of 40 years' worth of data from China's weather stations.





Prairies at risk from climate change, drought, human activities

(04/03/2006) The Canadian prairies are facing an unprecedented water crisis due to a combination of climate warming, increase in human activity and historic drought, says new research by the University of Alberta's Dr. David Schindler, one of the world's leading environmental scientists/





40 percent of the Amazon could be grassland by 2050

(03/22/2006) Scientists today warned that 40 percent of the Amazon rainforest could be lost by 2050 due to agricultural expansion unless strict measures are taken to protect the world's largest tropical forest.





Disappearing drylands spell trouble says UN

(03/21/2006) According to the United Nations, the continuing degradation of the world'apos;apos;s dryland ecosystems is threatening biodiversity and worsening poverty around the globe. In an effort to bring attention to the dire condition of these important lands, which cover almost half the planet'apos;apos;s land surface, the world organization has proclaimed 2006 the International Year of Deserts and Desertification.





Climate change increases California flood, drought risk

(02/07/2006) Climate change may increase the risk of winter floods and summer water shortages--even within the same year--says new research by scientists Lawrence Livermore National Laboratory. The study, which appeared in the January 27 edition of the journal Geophysical Research Letters shows that global warming is likely to change river flows in ways that may result in both increased flood risk and water shortages.





Number of hungry Africans doubles in a decade

(01/24/2006) number of Africans requiring food assistance has doubled in the past decade due to crop failures, drought, failing governments, civil strife, and the impact of AIDS, said the United Nations World Food Programme. The World Food Programme says it will to provide food assistance this year to some 43 million people across Africa, including some 35 million in need of emergency food aid, for a total of over $1.8 billion.




Page 1 | Page 2 | Page 3 | Page 4 | Page 5