News articles on drought

---
Mongabay.com news articles on drought in blog format. Updated regularly.





Scientists unlock indigenous secret to sustainable agriculture in the Amazon's savannas

(04/11/2012) Indigenous populations in the Amazon successfully farmed without the use of fire before the arrival of Europeans, demonstrating a potentially sustainable approach to land management in a region that is increasingly vulnerable to man-made fires.


"Strong evidence" linking extreme heatwaves, floods, and droughts to climate change

(03/28/2012) As North America recovers from what noted meteorologist Jeff Masters has called "the most incredible spring heatwave in U.S. and Canadian recorded history," a new paper argues that climate change is playing an important role in a world that appears increasingly pummeled by extreme weather. Published in Nature Climate Change, the paper surveys recent studies of climate change and extreme weather and finds "strong evidence" of a link between a warming world and the frequency and intensity of droughts, floods, and heatwaves—such as the one that turned winter into summer in the U.S.


Bad feedback loop: climate change diminishing Canadian forest's carbon sink

(01/30/2012) Climate change, in the form of rising temperatures and less precipitation, is shrinking the carbon sink of western Canada's forest, according to a new study released today in the Proceedings of the National Academy of Sciences (PNAS). Tree mortality and a general loss of biomass has cut the carbon storage capacity of Canada's boreal forests by around 7.28 million tons of carbon annually, equal to nearly 4 percent of Canada's total yearly carbon emissions.


Deforestation, climate change threaten the ecological resilience of the Amazon rainforest

(01/19/2012) The combination of deforestation, forest degradation, and the effects of climate change are weakening the resilience of the Amazon rainforest ecosystem, potentially leading to loss of carbon storage and changes in rainfall patterns and river discharge, finds a comprehensive review published in the journal Nature.


Delayed response to Somalia famine cost thousands of lives

(01/18/2012) A hesitant response by the international community likely led to thousands of unnecessary deaths in last year's famine in East Africa finds a new report released by Oxfam and Save the Children. The report, entitled A Dangerous Delay, says that early warning systems worked in informing the international community about the likelihood of a dire food crisis in East Africa, however a "culture of risk aversion" led to months-long delays. By the time aid arrived it was already too late for many. The British government has estimated somewhere between 50,000 and 100,000 people perished in the famine, half of whom were likely children under five.


Top 10 Environmental Stories of 2011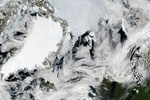 (12/22/2011) Many of 2011's most dramatic stories on environmental issues came from people taking to the streets. With governments and corporations slow to tackle massive environmental problems, people have begun to assert themselves. Victories were seen on four continents: in Bolivia a draconian response to protestors embarrassed the government, causing them to drop plans to build a road through Tipnis, an indigenous Amazonian reserve; in Myanmar, a nation not known for bowing to public demands, large protests pushed the government to cancel a massive Chinese hydroelectric project; in Borneo a three-year struggle to stop the construction of a coal plant on the coast of the Coral Triangle ended in victory for activists; in Britain plans to privatize forests created such a public outcry that the government not only pulled back but also apologized; and in the U.S. civil disobedience and massive marches pressured the Obama Administration to delay a decision on the controversial Keystone XL pipeline, which would bring tar sands from Canada to a global market.


Earth systems disruption: Does 2011 indicate the "new normal" of climate chaos and conflict?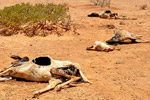 (12/21/2011) The year 2011 has presented the world with a shocking increase in irregular weather and disasters linked to climate change. Just as the 2007 "big melt" of summer arctic sea ice sent scientists and environmentalists scrambling to re-evaluate the severity of climate change, so have recent events forced major revisions and updates in climate science.


Texas loses half a billion trees to epic drought

(12/21/2011) A punishing drought in Texas has not only damaged crops, killed cattle, and led to widespread fires, but has also killed off a significant portion of the state's trees: between 100 and 500 million trees have perished to drought stress according to preliminary analysis. The estimate does not include tree mortality caused by fires. The drought has been linked to La Niña conditions, which causes drying in the Southern U.S., and has likely been exacerbated by global climate change.


Droughts could push parts of Africa back into famine

(12/19/2011) Drought and erratic rains could lead to further food scarcities in Africa warns the United Nations World Food Program (WFP). The WFP singles out South Sudan, the world's newest nation, and Niger as nations of particular concern. Earlier this year famine killed scores of people, including an estimated 30,000 children, in Somalia.


Is the Russian Forest Code a warning for Brazil?


(12/19/2011) Brazil, which last week moved to reform its Forest Code, may find lessons in Russia's revision of its forest law in 2007, say a pair of Russian scientists. The Brazilian Senate last week passed a bill that would relax some of forest provisions imposed on landowners. Environmentalists blasted the move, arguing that the new Forest Code — provided it is not vetoed by Brazilian President Dilma Rousseff next year — could undermine the country's progress in reducing deforestation.


Evidence mounts that Maya did themselves in through deforestation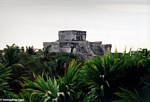 (12/08/2011) Researchers have garnered further evidence for a smoking gun behind the fall of the great Maya civilization: deforestation. At the American Geophysical Union (AGU) conference, climatologist Ben Cook presented recent research showing how the destruction of rainforests by the Mayan ultimately led to declines in precipitation and possibly civilization-rocking droughts. While the idea that the Maya may have committed ecological-suicide through deforestation has been widely discussed, including in Jared Diamond's popular book Collapse, Cook's findings add greater weight to the theory.


Monarch butterflies decline at wintering grounds in Mexico, Texas drought adds to stress to migration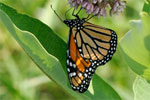 (11/10/2011) Every fall, millions of monarch butterflies travel south to Mexico and take refuge in twelve mountain sanctuaries of oyamel fir forests. Now, declining numbers of the overwintering butterflies expose the migration's vulnerability and raise questions about threats throughout the monarch's lifecycle. A study published online last spring in Insect Conservation and Diversity shows a decrease in Mexico's overwintering monarch butterflies between 1994 and 2011. The butterflies face loss of wintering habitat in Mexico and breeding habitat in the United States. Extreme weather, like winter storms in Mexico and the ongoing drought in Texas, adds yet another challenge.


Climate change already worsening weird, deadly, and expensive weather

(11/02/2011) Unprecedented flooding in Thailand, torrential rains pummeling El Salvador, long-term and beyond-extreme drought in Texas, killer snowstorm in the eastern US—and that's just the last month or so. Extreme weather worldwide appears to be both increasing in frequency and intensity, and a new report from the Intergovernmental Panel on Climate Change (IPCC) connects the dots between wilder weather patterns and global climate change.


Killer Russian heatwave product of climate change

(10/26/2011) Last year's Russian heatwave and drought resulted in vast wildfires and a morality rate that was 56,000 people higher than the same period in 2009. Now, researchers have published a paper in the Proceedings of the National Academy of Sciences (PNAS) that finds the heatwave would very likely have never happened if not for climate change. The study flies in the face of previous research by the National Oceanic and Atmospheric Administration (NOAA) that concluded the heatwave was simply due to natural variation and not a warming world.


2010 Amazon drought released more carbon than India's annual emissions

(10/09/2011) The 2010 drought that affected much of the Amazon rainforest triggered the release of nearly 500 million tons of carbon (1.8 billion tons of carbon dioxide) into the atmosphere, or more than the total emissions from deforestation in the region over the period, estimates a new study published in the journal Environmental Research Letters.


World's newest nation faces prospect of famine

(10/06/2011) As East Africa reels from a devastating famine, which is hitting Somalia the hardest, there are new fears that another African nation could soon slip into a similar situation. On July 9th of this year, South Sudan became the world's newest nation; however a few months later drought, conflict, refugees, and rising food prices could push the eastern region of South Sudan into a famine, warned officials from the fledgling nation yesterday.


Photos: World Food Program works to save lives in East Africa famine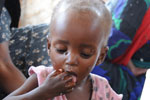 (08/28/2011) Over 12 million people across East Africa are imperiled by a hunger crisis brought on by extreme drought. The worst of the crisis is in Somalia, where famine has been declared in 5 areas of Somalia to date—the first famine to be declared by the UN in three decades. Somalia is unique, because here the drought has been exacerbated by a long-failed government and militants. Refugee camps have been set up in Kenya and Ethiopia, but are strained. A number of aid groups are working on the ground to provide emergency food and medical attention to hunger victims, but funding is still below what is needed. The largest group is probably the UN's World Food Program (WFP). Mongabay.com spoke to Dena Gubaitis, Communications Officer for the WFP, for background on the famine and how relief efforts are going on the ground.


Climate change may fuel increase in warfare, finds study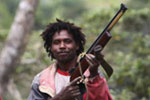 (08/24/2011) Civil war is twice as likely in tropical countries during particularly hot and dry years, according to a new study in Nature. The researchers found that El Niño conditions, which generally cuts rainfall and raises temperatures in the tropics, may have played a factor in one-fifth of the world's total conflicts during the past 50 years. El Niño conditions occur every 3-7 years. While the study did not examine global climate change in conjunction with conflict, the study links a warmer world to a more conflict-prone one, as least in the tropics.


Lessons from the world's longest study of rainforest fragments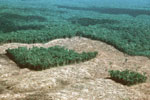 (08/15/2011) For over 30 years, hundreds of scientists have scoured eleven forest fragments in the Amazon seeking answers to big questions: how do forest fragments' species and microclimate differ from their intact relatives? Will rainforest fragments provide a safe haven for imperiled species or are they last stand for the living dead? Should conservation focus on saving forest fragments or is it more important to focus the fight on big tropical landscapes? Are forest fragments capable of regrowth and expansion? Can a forest—once cut-off—heal itself? Such questions are increasingly important as forest fragments—patches of forest that are separated from larger forest landscapes due to expanding agriculture, pasture, or fire—increase worldwide along with the human footprint.


Famine spreads: 29,000 young children perish

(08/04/2011) As the UN announces that famine has spread in Somalia to three additional regions (making five in total now), the US has put the first number to the amount of children under 5 who have so far perished from starvation in the last 90 days: 29,000. Nearly half of the total population of Somalia is currently in need of emergency food assistance. Yet, the al Qaeda-linked group al-Shabaab, which controls parts of Somalia, has made bringing assistance to many of the malnourished incredibly difficult, if not impossible. The famine in Somalia has been brought-on by lack of governance combined with crippling droughts throughout East Africa, which some experts have linked to climate change. High food prices worldwide and a lagging response by the international community and donors have made matters only worse.


Chart: US suffers record drought

(08/01/2011) An exceptional drought is still scorching major parts of Texas, New Mexico, Oklahoma, and Louisiana. A new report from the National Drought Mitigation Center finds that over July, nearly 12 percent of the US saw exceptional drought conditions, the highest record since monitoring began a dozen years. Exceptional drought is the worst possible on a 5-scale drought scale.


Adaptation, justice and morality in a warming world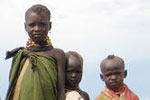 (07/28/2011) If last year was the first in which climate change impacts became apparent worldwide—unprecedented drought and fires in Russia, megaflood in Pakistan, record drought in the Amazon, deadly floods in South America, plus record highs all over the place—this may be the year in which the American public sees climate change as no longer distant and abstract, but happening at home. With burning across the southwest, record drought in Texas, majors flooding in the Midwest, heatwaves everywhere, its becoming harder and harder to ignore the obvious. Climate change consultant and blogger, Brian Thomas, says these patterns are pushing 'prominent scientists' to state 'more explicitly that the pattern we're seeing today shows a definite climate change link,' but that it may not yet change the public perception in the US.


U.S. park to reopen after massive peat forest fires

(07/24/2011) Authorities are reopening Okefenokee National Wildlife Refuge in Georgia five weeks after the 402,000-acre swamp was closed due to a massive forest fire sparked by a lightning strike during the state's severe drought.


Tens of thousands starving to death in East Africa

(07/20/2011) As the US media is focused like a laser on theatric debt talks and the UK media is agog at the heinous Rupert Murdoch scandal, millions of people are undergoing a starvation crisis in East Africa. The UN has upgraded the disaster—driven by high food prices, conflict, and prolonged drought linked by some to climate change—to famine in parts of Somalia today. Mark Bowden, UN humanitarian coordinator for Somalia, has said that tens of thousands Somalis have died from malnutrition recently, "the majority of whom were children."


Amazon drought and forest fire prediction system devised

(07/18/2011) Researchers have devised a model to anticipate drought and forest fires in the Amazon rainforest.


Global forests offset 16% of fossil fuel emissions

(07/14/2011) Between 1990 and 2007 global forests absorbed nearly one-sixth of all carbon released by fossil fuel emissions, reports a new study published in Science. The results suggest forests play an even bigger role in fighting climate change than previously believed.


Worst drought in 60 years brings starvation fears to East Africa

(06/30/2011) A prolonged drought in East Africa is bringing many of the region's impoverished to their knees: the World Food Program (WFP) is warning that 10 million people in the region are facing severe shortages. While not dubbed a famine yet, experts say it could become one. Meanwhile, a recent study by FEWS NET/USGS has revealed that the current drought is the worst in 11 of 15 East African regions since 1950-51. Worsening droughts are one of the predictions for the region as the world grows warmer.


Climate change and deforestation pose risk to Amazon rainforest


(05/20/2011) Deforestation and climate change will likely decimate much of the Amazon rainforest, says a new study by Brazil's National Institute for Space Research (INPE) and the UK's Met Office Hadley Centre. Climate change and widespread deforestation is expected to cause warmer and drier conditions overall, reducing the resistance of the rainforest ecosystem to natural and human-caused stressors while increasing the frequency of extreme rainfall events and droughts by the end of this century. While climate models show that higher temperatures resulting from global climate change will threaten the resilience of the Amazon, current deforestation is an immediate concern to the rainforest ecosystem and is likely driving regional changes in climate.


Burning up: warmer world means the rise of megafires

(05/12/2011) Megafires are likely both worsened by and contributing to global climate change, according to a new United Nations report. In the tropics, deforestation is playing a major role in creating giant, unprecedented fires.


Are US floods, fires linked to climate change?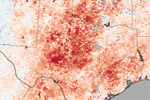 (04/28/2011) The short answer to the question of whether or not on-going floods in the US Midwest and fires in Texas are linked to a warming Earth is: maybe. The long answer, however, is that while it is difficult—some argue impossible—for scientists to link a single extreme weather event to climate change, climate models have long shown that extreme weather events will both intensify and become more frequent as the world continues to heat up. In other words, the probability of such extreme events increases along with global average temperature.


NASA image reveals extent of 2010 Amazon drought

(04/17/2011) NASA has revealed a satellite image of the crippling effect of last year's record-breaking drought on the Amazon ecosystem. For those of you counting, that's two record droughts in the Amazon Basin in 5 years.


Last year's drought hit Amazon hard: nearly a million square miles impacted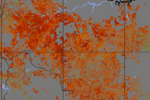 (03/29/2011) A new study on its way to being published shows that the Amazon rainforest suffered greatly from last year's drought. Employing satellite data and supercomputing technology, researchers have found that the Amazon was likely hit harder by last year's drought than a recent severe drought from 2005. The droughts have supported predictions by the Intergovernmental Panel on Climate Change's (IPCC) that climate change, among other impacts, could push portions of the Amazon to grasslands, devastating the world's greatest rainforest. "The greenness levels of Amazonian vegetation—a measure of its health—decreased dramatically over an area more than three and one-half times the size of Texas and did not recover to normal levels, even after the drought ended in late October 2010," explains the study's lead author Liang Xu of Boston University.


What's behind the 85% decline of mammals in West Africa's parks?

(03/28/2011) A recent, well-covered study found that African mammals populations are in steep decline in the continent's protected areas. Large mammal populations over forty years have dropped by 59% on average in Africa [read an interview on the study here] and by 85% in west and central Africa, according to the study headed by Ian Craigie, which links the decline to continuing habitat degradation as well as hunting and human-wildlife conflict. However, a new opinion piece in mongabay.com's open access journal Tropical Conservation Science argues that this study missed an important factor in central and west Africa where the decline in mammals was the worst: rainfall.


Food crisis 2011?: drought in China could push food prices even higher

(02/09/2011) The UN's Food and Agriculture Organization (FAO) has warned that a drought in China could devastate the nation's winter wheat crop and further inflate food prices worldwide. Already, food prices hit a record high in January according to the FAO. Rising 3.4 percent since December, prices reached the highest point since tracking began in 1990. While many fear a food crisis similar to the one in 2008-2007, experts say the world has more food in reserve this time around and gasoline, at least for now, remains cheaper. However, if China loses its winter wheat that could scuttle any hopes of avoiding another price rise in crop staples.


Two massive droughts evidence that climate change is 'playing Russian roulette' with Amazon

(02/03/2011) In 2005 the Amazon rainforest underwent a massive drought that was labeled a one-in-100 year event. The subsequent die-off of trees from the drought released 5 billion tons of CO2. Just five years later another major drought struck. The 2010 drought, which desiccated entire rivers, may have been even worse according to a new study in Science, adding on-the-ground evidence to fears that climate change may inevitably transform the world's greatest rainforest.


Top 10 Environmental Stories of 2010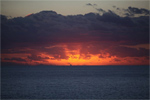 (12/20/2010) Below is a quick review of some of the biggest environmental stories of 2010: Climate change rears it ugly head; Oil spill in the Gulf; Agreement to save global biodiversity; Illegal logging crisis in Madagascar; REDD kicks off in Indonesia; Brazil deforestation falls to its lowest level; Hungary's red sludge; Nestle caves to social media activists; New mammals galore' and Global climate framework back on the table?


'These are the facts': 2010 to be among top three hottest years

(12/02/2010) Despite La Nina arriving at the end of the year—which bring cooler than average conditions—and bitter cold showing up recently in the Northern Hemisphere due to the North Atlantic Oscillation (NAO), 2010 was smoldering enough worldwide that it will very likely be among the top three hottest years since record-keeping began 160 years ago, reports the World Meteorological Organization (WMO) today.


Climate change linked to 21,000 deaths in nine months

(11/30/2010) Extreme weather events linked to climate change has caused the deaths of 21,000 people worldwide in the first nine months of 2010, according to Oxfam. This is already twice the casualties of 2009. In a new report More than ever: climate talks that work for those that need them most, the organization outlines the casualties of such weather-related disasters, for example devastating floods in Pakistan which killed 2,000 people and affected more than 20 million.


Earth could see 4 degrees Celsius warming in less than a lifetime

(11/29/2010) By the time children born this year reach 50 years old, the Earth could be 4 degrees Celsius warmer (7.2 degrees Fahrenheit) warns a new study as governments meet in Cancun for this year's UN climate summit, which is not expected to produce an agreement. Last year governments pledged in the non-binding Copenhagen Accord to keep temperatures below a 2 degree Celsius rise, but a new study in Philosophical Transactions of the Royal Society A argues that even with current promises to cut emissions this is unlikely and, in a worst-case scenario, a rise of 4 degrees Celsius is possible by 2060.


Amazon suffers worst drought in decades

(10/24/2010) The worst drought since 1963 has created a regional disaster in the Brazilian Amazon. Severely low water levels have isolated communities dependent on river transport. Given a worsening situation, Brazil announced on Friday an emergency package of $13.5 million for water purification, tents, and food airdrops.


NASA image captures one of the warmest Julys on record

(08/19/2010) The NASA Goddard Institute for Space Studies (GISS) has found that the global average temperature of July 2010 was nearly 1 degree Fahrenheit (0.55 degrees Celsius) higher than average temperatures from July1951-1980. In fact, this July was tied for the warmest on record with July 2005 and 1998.


Exploring Kenya's sky island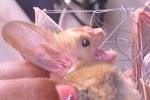 (08/18/2010) Rising over 2,500 meters from Kenya's northern desert, the Mathews Range is a sky island: isolated mountain forests surrounded by valleys. Long cut off from other forests, 'sky islands' such as this often contain unique species and ecosystems. Supported by the Nature Conservancy, an expedition including local community programs Northern Rangelands Trust and Namunyak Conservancy recently spent a week surveying the mountain range, expanding the range of a number of species and discovering what is likely a new insect.


New NASA images reveal devastating impact of Russian fires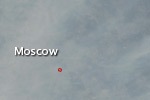 (08/11/2010) A new series of images released by NASA show the extent of smoke hovering over Moscow and Central European Russia, while another image measures the amount of carbon monoxide in the area, a gas which can produce a number of health problems. Russia is in the midst of a full-scale disaster as hundreds of forest and peatland fires are covering part of the world's largest nation in a thick cloud of smoke. Temperatures in Moscow and elsewhere have broken past heat records several times in the last month while a long drought combined with fires have led to the loss of 20 percent of Russia's grain crop, causing Prime Minister Vladimir Putin to ban grain exports. Russian officials say that it;s likely some 15,000 people to date have died from the disaster.


Summer from hell: seventeen nations hit all-time heat records

(08/09/2010) The summer isn't over yet, but already seventeen nations have matched or beaten their all-time heat records. According to Jeff Masters' WunderBlog, Belarus, the Ukraine, Cyprus, Russia, Finland, Qatar, the Sudan, Saudi Arabia, Niger, Chad, Kuwait, Iraq, Pakistan, Colombia, Myanmar, Ascension Island, and the Solomon Islands have all equaled or broken their top temperature records this year. In addition, the hottest temperature ever recorded in Asia was taken in Pakistan at 128 degrees Fahrenheit (53 degrees Celsius); this incredible temperature still has to be reviewed by the World Meteorological Organization (WMO).


Officials point to Russian drought and Asian deluge as consistent with climate change

(08/08/2010) Government officials are pointing to the drought and wildfires in Russia, and the floods across Central and East Asia as consistent with climate change predictions. While climatologists say that a single weather event cannot be linked directly to a warming planet, patterns of worsening storms, severer droughts, and disasters brought on by extreme weather are expected as the planet warms.


Amazongate fraud

(06/21/2010) The Sunday Times over the weekend retracted a column that accused the Intergovernmental Panel on Climate Change (IPCC) of making a 'bogus rainforest claim' when it cited a report warning that up to 40 percent of the Amazon could be "drastically" affected by climate change. The 'Amazongate' column, authored by Jonathan Leake, Science & Environment Editor of the Sunday Times, was immediately seized upon by climate skeptics as further evidence to discredit the IPCC just two weeks after it was found to be using shoddy glacier data in its 2007 climate assessment. But now the Sunday Times has removed Leake's column from its web site and issued on apology, admitting that the Amazon claim was indeed supported by scientific research. The Sunday Times also acknowledged misconduct in the way one of the story's sources—Simon Lewis of the University of Leeds in Britain—was quoted.


A total ban on primary forest logging needed to save the world, an interview with activist Glen Barry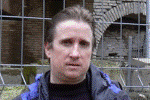 (06/02/2010) Radical, controversial, ahead-of-his-time, brilliant, or extremist: call Dr. Glen Barry, the head of Ecological Internet, what you will, but there is no question that his environmental advocacy group has achieved major successes in the past years, even if many of these are below the radar of big conservation groups and mainstream media. "We tend to be a little different than many organizations in that we do take a deep ecology, or biocentric approach," Barry says of the organization he heads. "[Ecological Internet] is very, very concerned about the state of the planet. It is my analysis that we have passed the carrying capacity of the Earth, that in several matters we have crossed different ecosystem tipping points or are near doing so. And we really act with more urgency, and more ecological science, than I think the average campaign organization."


Food crisis in Niger occurring "out of the public eye"

(04/26/2010) The West African nation of Niger is facing an increasingly alarming food crisis as the UN announced it would double the number of people it was feeding today despite continuing budget shortfalls in its World Food Program (WFP). Failing rains have caused crop yields in Niger to decline, while food prices are rising and livestock prices falling. Officials say these trends have created a perfect-storm for a crisis in Niger, which according to Amadou Sayo from CARE International, is occurring "out of the public eye."


World failing on every environmental issue: an op-ed for Earth Day


(04/22/2010) The biodiversity crisis, the climate crisis, the deforestation crisis: we are living in an age when environmental issues have moved from regional problems to global ones. A generation or two before ours and one might speak of saving the beauty of Northern California; conserving a single species—say the white rhino—from extinction; or preserving an ecological region like the Amazon. That was a different age. Today we speak of preserving world biodiversity, of saving the 'lungs of the planet', of mitigating global climate change. No longer are humans over-reaching in just one region, but we are overreaching the whole planet, stretching ecological systems to a breaking point. While we are aware of the issues that threaten the well-being of life on this planet, including our own, how are we progressing on solutions?


El Niño in Venezuela: Hugo Chávez's "Katrina" Moment?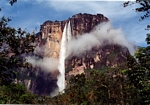 (03/22/2010) Venezuelan President Hugo Chávez has been in power for more than ten years, during which time he has deflected numerous electoral challenges, a recall effort, a coup d'etat and even an oil lock out. A politically adroit statesman, he has demonstrated enormous staying power throughout all these political crises. Yet, Chávez's luck may have finally run out: a devastating El Niño-linked drought has recently ravaged Venezuela and the government has been forced to undertake conservation measures for water and electricity. Hardly amused, some are holding Chávez responsible for the energy crunch and the drought could exact a heavy toll on the Venezuelan president in September's legislative elections.



Page 1 | Page 2 | Page 3 | Page 4 | Page 5