News articles on drought

---
Mongabay.com news articles on drought in blog format. Updated regularly.






U.S. Central Plains and Southwest will likely face apocalyptic drought
(02/12/2015) In the recent film Interstellar, a mysterious phenomenon known as "the blight" is wiping out agriculture around the world until only corn—for some reason—survives. Humanity is on the brink of starvation. While the blight may be science fiction, global warming is not, and a new study finds that future warming could decimate the western U.S. over the next century.
Pollution from fossil fuels decreased rainfall in Central America
(02/10/2015) Fossil fuel pollution may have caused a southern shift in a vital rainfall belt across Central America, according to a new study in Nature Geoscience, potentially leading to drier conditions and droughts in some northern tropical countries. Using data from a single stalagmite in a Belizean cave, the researchers were able to create an accurate record of both rainfall and temperature for the last 450 years.
How termites hold back the desert
(02/05/2015) Some termite species erect massive mounds that look like great temples springing up from the world's savannas and drylands. But aside from their aesthetic appeal—and incredible engineering—new research in Science finds that these structures do something remarkable for the ecosystem: they hold back the desert.
Changing California forests may help us prepare for the future
(01/21/2015) A new study published by the Proceedings of the National Academy of Sciences examines how California's forests have changed since the 1930s--and, according to its authors, can help us understand how forests will respond to the changing global climate in the future.
Top 10 Environmental Stories of 2014
(12/23/2014) In 2014, the unimaginable happened: companies representing the majority of palm oil production and trade agreed to stop cutting down rainforests and draining peatlands for new oil palm plantations. After years of intense campaigning by environmentalists and dire warnings from scientists, nearly two dozen major producers, traders, and buyers established zero deforestation policies.
Could California be facing a mega-drought?
(10/13/2014) Scientists and politicians, everyone agrees: California is in deep trouble. As the state enters its fourth year of drought and the soil has never been drier. Some look at the sky with hope that El Niño will bring much needed rain. But most are starting to wonder if this is just the beginning. Are we entering a mega-drought that could last for more than a decade?
Indonesia's forests so damaged they burn whether or not there's drought
(08/21/2014) Air pollution caused by fires set for land-clearing on Sumatra has become a regularly occurrence in Southeast Asia. While these fires are often termed forest fires, the reality is much of the area that burns each year has already been deforested and today mostly consists of grass, scrub, and remnants of what was once forest. But the impacts are nonetheless very substantial, finds a new study published in the journal Scientific Reports.
Rainforests on fire: climate change is pushing the Amazon over the edge
(04/18/2014) From 1999-2010, nearly three percent of the Amazon rainforest burned, and climate forecasts indicate dry conditions conducive to fire will only become more commonplace in the future. A new study indicates that rainforests are more vulnerable to fire than previously thought, and it warns the current combination of climate change and deforestation may be pushing Amazon forests past the breaking point.
Featured video: Showtime releases first episode of major new climate change series online
(04/08/2014) Although Showtime's landmark new climate change series doesn't premiere until Sunday, the network has released an edited version of the first episode of Years of Living Dangerously to the public (see below). The nine-part documentary series is being billed as a "groundbreaking" exploration into the many ways that climate change is already wreaking havoc on the lives of people around the world.
How locals and conservationists saved the elephants of Mali amidst conflict and poverty
(04/02/2014) At a time when Africa's elephants are facing a relentless poaching crisis, one community has managed to safeguard their elephants in the most unlikely of places: Mali. In a country that has suffered from widespread poverty, environmental degradation, and, most recently, warfare, a collaboration between conservationists and the local community has kept Mali's elephants from extinction.
Is Brazil's epic drought a taste of the future?

(02/25/2014) With more than 140 cities implementing water rationing, analysts warning of collapsing soy and coffee exports, and reservoirs and rivers running precipitously low, talk about the World Cup in some parts of Brazil has been sidelined by concerns about an epic drought affecting the country's agricultural heartland.
Amazon deforestation could cause droughts in California
(11/08/2013) Complete deforestation of the Amazon rainforest could reduce rainfall in the Pacific Northwest by up to 20 percent and snowpack in the Sierra Nevada by up to 50 percent, suggests new research published in the Journal of Climate. The study is based on high resolution computer modeling that stripped the Amazon of its forest cover and assessed the potential impact on wind and precipitation patterns. While the scenario is implausible, it reveals the global nature of the ecological services afforded by the world's largest rainforest.
Deforestation may hurt U.S. agriculture, affect monsoon cycle
(11/04/2013) Unchecked deforestation will have far-reaching impacts on temperature, rainfall, and monsoon cycles in regions well outside the tropics, affecting agriculture and water availability, warns a new report published by Greenpeace International. The report is a synthesis of dozens of recent scientific papers that assess the effects of forest cover loss on weather patterns, local climate, and agricultural productivity.
Climate change to hurt children most

(09/25/2013) Children will bear the brunt of the impact of climate change because of their increased risk of health problems, malnutrition and migration, according to a new study published on Monday. And food prices are likely to soar as a result of warming, undoing the progress made in combating world hunger.
Worst drought in 30 years threatens millions in southern Africa with food insecurity

(08/19/2013) Around 2 million people face food insecurity in northern Namibia and southern Angola as the worst regional drought in decades takes its toll, according to the UN. Two years of failed rains have pushed families into desperate conditions in a region already known for its desert-like conditions. In Namibia alone, experts estimate that over 100,000 children under five are at risk for acute malnutrition.
Zoo races to save extreme butterfly from extinction
(08/15/2013) In a large room that used to house aquatic mammals at the Minnesota Zoo, Erik Runquist holds up a vial and says, 'Here are its eggs.' I peer inside and see small specks, pale with a dot of brown at the top; they look like a single grain of cous cous or quinoa. Runquist explains that the brown on the top is the head cap of the larva, a fact that becomes more clear under a microscope when you can see the encased larva squirm. I'm looking at the eggs of a Poweshiek skipperling, a species that is more imperiled than pandas, tigers, or bluewhales. Once superabundant, only several hundred Poweshiek skipperlings may survive on Earth today and the eggs I'm looking at are the only ones in captivity.
Fracking sucks up all the water from Texas town

(08/15/2013) Beverly McGuire saw the warning signs before the town well went dry: sand in the toilet bowl, the sputter of air in the tap, a pump working overtime to no effect. But it still did not prepare her for the night last month when she turned on the tap and discovered the tiny town where she had made her home for 35 years was out of water.
Amazon fire risk on the rise, says NASA

(06/09/2013) The Amazon rainforest is facing a higher risk of fires this dry season, warns a fire prediction system developed by researchers using NASA and NOAA data.
NASA: 3% of Amazon rainforest burned between 1999-2010

(06/08/2013) 33,000 square miles (85,500 square kilometers) or 2.8 percent of the Amazon rainforest burned between 1999-2010 finds new NASA-led research that measured the extent of fires that smolder under the forest canopy.
'Suffering...without witnesses': over a quarter of a million people perished in Somali famine
(05/06/2013) A new report estimates that 258,000 people died in 2011 during a famine in Somalia, the worst of such events in 25 years and a number at least double the highest estimations during the crisis. Over half of the victims, around 133,000, were children five and under. The report, by the UN Food and Agricultural Organization (FAO), argues that the international community reacted too late and too little to stem the mass starvation brought on by government instability, conflict, high food prices, and failed rains, the last of which has been linked to climate change by some scientists.
Indigenous tribes say effects of climate change already felt in Amazon rainforest
(04/30/2013) Tribal groups in Earth's largest rainforest are already being affected by shifts wrought by climate change, reports a paper published last week in the British journal Philosophical Transactions of the Royal Society B. The paper, which is based on a collection of interviews conducted with indigenous leaders in the Brazilian Amazon, says that native populations are reporting shifts in precipitation patterns, humidity, river levels, temperature, and fire and agricultural cycles. These shifts, measured against celestial timing used by indigenous groups, are affecting traditional ways of life that date back thousands of years.
Burned rainforest vulnerable to grass invasion

(04/24/2013) Rainforests that have been affected by even low-intensity fires are far more vulnerable to invasion by grasses, finds a new study published in special issue of the journal Philosophical Transactions of the Royal Society B. The findings are significant because they suggest that burned forests may be more susceptible to subsequent fires which may burn more intensely due to increased fuel loads.
Featured video: stemming human-caused fires in the Amazon

(04/09/2013) A new series of 5 films highlights how people use fire in the Amazon rainforest and how such practices can be mitigated. Collectively dubbed "Slash & Burn" each film explores a different aspect of fire-use in the Amazon. In recent years the Amazon has faced unprecedented droughts, possibly linked to climate change and vast deforestation, making the issue of human-started fires even more important.
Australia reels from record heatwave, fires

(01/09/2013) Yesterday Australia recorded its highest average temperature yet: 40.33 degrees Celsius (104.59 Fahrenheit). The nation has been sweltering under an unprecedented summer heatwave that has spawned wildfires across the nation, including on the island of Tasmania where over 100 houses were engulfed over the weekend. Temperatures are finally falling slightly today, providing a short reprieve before they are expected to rise again this weekend.
Amazon rainforest failing to recover after droughts

(12/24/2012) The impact of a major drought in the Amazon rainforest in 2005 persisted far longer than previously believed, raising questions about the world's largest tropical forest to cope with the expected impacts of climate change, reports a new study published in the journal Proceedings of the National Academy of Sciences.
Top 10 Environmental Stories of 2012
(12/18/2012) Below is a quick review of some of the biggest environmental stories of 2012. The 'top stories' are listed in no particular order. Climate change, overpopulation, consumption, and ecological destruction is pushing planet Earth toward a tipping point according to a major study in Nature released over the summer. This could result in a new 'planetary state' that would be far harsher and bleaker than the current one (beginning around 12,000 years ago), which saw the rise and success of human society.
Advanced technology reveals massive tree die-off in remote, unexplored parts of the Amazon
(12/12/2012) Severe drought conditions in 2010 appear to have substantially increased tree mortality in the Western Amazon, a region thought largely immune from the worst effects of changes occurring in other parts of the world's largest rainforest, reported research presented last week at the fall meeting of the American Geophysical Union (AGU). The findings suggest that the Amazon may face higher-the-expected vulnerability to climate change, potentially undercutting its ability to help mitigate greenhouse gas emissions by absorbing carbon dioxide through faster growth.
Forests worldwide near tipping-point from drought
(11/23/2012) Forests worldwide are at 'equally high risk' to die-off from drought conditions, warns a new study published this week in the journal Nature. The study, conducted by an international team of scientists, assessed the specific physiological effects of drought on 226 tree species at 81 sites in different biomes around the world. It found that 70 percent of the species sampled are particularly vulnerable to reduction in water availability. With drought conditions increasing around the globe due to climate change and deforestation, the research suggests large swathes of the world's forests — and the services they afford — may be approaching a tipping point.
World Bank: 4 degrees Celsius warming would be miserable
(11/20/2012) A new report by the World Bank paints a bleak picture of life on Earth in 80 years: global temperatures have risen by 4 degrees Celsius spurring rapidly rising sea levels and devastating droughts. Global agriculture is under constant threat; economies have been hampered; coastal cities are repeatedly flooded; coral reefs are dissolving from ocean acidification; and species worldwide are vanishing. This, according to the World Bank, is where we are headed even if all of the world's nations meet their pledges on cutting greenhouse gas emissions. However, the report also notes that with swift, aggressive action it's still possible to ensure that global temperatures don't rise above 4 degrees Celsius.
Remembering the Dust Bowl: it could happen again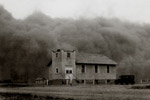 (11/15/2012) The Dust Bowl, a film by Ken Burns and Dayton Duncan, and The Dust Bowl: An Illustrated History, a book authored by Dayton Duncan and Ken Burns, chronicles the worst man-made ecological disaster in American history. Told in first-person narrative by survivors of the Dust Bowl and brought to color through vivid storytelling and over 300 rare archival photos, these two combined efforts must be watched and read by those concerned with our human impact on Earth.
Obama breaks climate silence at press conference

(11/14/2012) At a news conference today, a question by New York Times reporter Mark Landler pushed President Obama to speak at some length about climate change. In his answer, Obama re-iterated his acceptance of climate science and discussed how progress on tackling climate change might proceed in his second term, though he also noted that he wouldn't put action on the climate ahead of the economy. President Obama made a small reference to climate change in his victory speech following his historic re-election last Tuesday, but his answer today was the most the president has talked about the issue at any length since at least Hurricane Sandy.
One in eight people suffer from malnutrition worldwide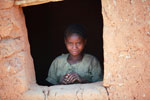 (10/16/2012) In a world where technology has advanced to a point where I can instantly have a face-to-face conversation via online video with a friend in Tokyo, nearly 870 million people, or one in eight, still suffer from malnutrition, according to a new UN report. While worldwide hunger declined from 1990 to 2007, progress was slowed by the global economic crisis. Over the last few years, numerous and record-breaking extreme weather events have also taken tolls on food production. Currently, food prices hover just below crisis levels.
Over 70 percent of Americans: climate change worsening extreme weather

(10/10/2012) According to a new poll, 74 percent of Americans agree that climate change is impacting weather in the U.S., including 73 percent who agreed, strongly or somewhat, that climate change had exacerbated record high temperatures over the summer. The findings mean that a large majority of Americans agree with climatologists who in recent years have found increasingly strong evidence that climate change has both increased and worsened extreme weather events.
Climate change causing forest die-off globally
(09/09/2012) Already facing an onslaught of threats from logging and conversion for agriculture, forests worldwide are increasingly impacted by the effects of climate change, including drought, heightened fire risk, and disease, putting the ecological services they afford in jeopardy, warns a new paper published in the journal Nature Climate Change.
Extreme heatwaves 50 to 100 times more likely due to climate change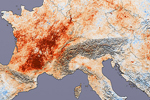 (08/05/2012) A recent rise in deadly, debilitating, and expensive heatwaves was caused by climate change, argues a new statistical analysis published in the Proceedings of the National Academy of Sciences (PNAS). Climatologists found that extreme heatwaves have increased by at least 50 times during the last 30 years. The researchers, including James Hansen of NASA, conclude that climate change is the only explanation for such a statistical jump.





Drought pits farmers against frackers

(08/01/2012) Drought has created a standoff over water supplies in the U.S. Midwest between energy producers and farmers, reports Bloomberg. Natural gas and oil producers have been forced to seek new water sources as they mull calls from farmers and activists to recycle their water, a practice that would make 'fracking' more expensive.





Featured video: climate change bringing on the extremes

(07/24/2012) Focusing on extreme weather events in the U.S. this summer, a new compilation video highlights the connection between climate change and increasing and worsening extremes, such as heatwaves, droughts, and floods.





U.S. drought could set in motion global food crisis

(07/23/2012) The U.S. is suffering drought levels not seen in over 50 years—and drawing comparisons to the Dust Bowl—with 56 percent of the contiguous U.S. in moderate to extreme drought. Some experts fear that the drought, and resulting hikes in food prices, could propel another global food crisis like those seen in 2008 and 2010.







Borneo's forests face dire future from global warming

(07/18/2012) Already wracked by extensive deforestation and forest degradation, the future looks grim for Borneo's tropical rainforests, reports a new study published in the Journal of Geophysical Research-Biogeosciences.




Page 1 | Page 2 | Page 3 | Page 4 | Page 5