News articles on documentary

---
Mongabay.com news articles on documentary in blog format. Updated regularly.





Cute koalas have become 'urban refugees'


(01/28/2013) According to Susan Kelly, koalas have become "urban refugees," under siege by expanding cities that bring with them deforestation, dogs, traffic, and other ills for native wildlife. Director of Global Witness, and writer, producer and director of the new documentary Koala Hospital, Kelly has spent 3 years working to understand the rising threats to one of the world's most beloved marsupials. While Koala Hospital highlights the many perils facing koalas, including climate change due to record fires across Australia, it also looks at the efforts of individuals who work to save koalas one—by—one at Port Macquarie Koala Hospital, taking in patients who have been orphaned, hit by cars, scarred in fires, or attacked by dogs.


High-tech hell: new documentary brings Africa's e-waste slum to life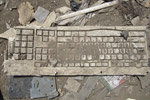 (04/30/2012) Shirtless boys rapidly pull the computer apart, discarding bits and pieces, until they expose the wires, yank them out, and toss them into a fire. Acrid, toxic smoke blooms as the boys prod the wires and the fire strips the plastic around the wires, leaving the sought-after copper. Welcome, to Agbogbloshie, where your technology goes to die. A new film e-wasteland captures the horrors of the world's largest e-waste slum through surreal and staggering images. Shot over three weeks by one-man guerrilla filmmaker, David Fedele, e-wasteland is an entirely visual experience without dialogue or voiceover.


Madagascar - The Last Inheritor of Gondwana: Documentary Review

(02/20/2012) Madagascar split from the supercontinent of Gondwana about 150 million years ago. As a result, most of the living creatures in Madagascar are unique to the ecosystems in the island. Madagascar: The Last Inheritor of Gondwana is a documentary that does an excellent job of showing Madagascar's magnificent biodiversity, but falls short in delivering Madagascar's "clear" and "urgent" message.