News articles on diseases

---
Mongabay.com news articles on diseases in blog format. Updated regularly.





From theory to deadly reality: malaria moving upslope due to global warming


(03/06/2014) Malaria is a global scourge: despite centuries of efforts to combat the mosquito-borne disease, it still kills between 660,000 to 1.2 million people a year, according to World Health Organization data from 2010. Astoundingly, experts estimate that around 300 million people are infected with the disease every year or about 4 percent of the world's total population. And these stats may only get worse. For years scientists have vigorously debated whether or not malaria will expand as global warming worsens, but a new study in Science lays down the first hard evidence.


Armored giant turns out to be vital ecosystem engineer


(10/24/2013) The giant armadillo (Priodontes maximus) is not called a giant for nothing: it weighs as much as a large dog and grows longer than the world's biggest tortoise. However, despite its gigantism, many people in its range—from the Amazon to the Pantanal—don't even know it exists or believe it to be more mythology than reality. This is a rare megafauna that has long eluded not only scientific study, but even basic human attention. However, undertaking the world's first long-term study of giant armadillos has allowed intrepid biologist, Arnaud Desbiez, to uncovered a wealth of new information about these cryptic creatures. Not only has Desbiez documented giant armadillo reproduction for the first time, but has also discovered that these gentle giants create vital habitats for a variety of other species.


WHO: air pollution causes cancer

(10/17/2013) Outdoor air pollution has been officially classified as carcinogenic by the cancer arm of the World Health Organization. The International Agency for Research on Cancer (IARC) said air pollution from traffic and industrial fumes was a definite cause of lung cancer and also linked to bladder cancer. The strong verdict from IARC, a cautious body that pronounces only when the evidence is strong, will put pressure on governments to take action.


Hope rises as new malaria vaccine shows promise


(08/12/2013) Last week U.S. scientists with the biotech company, Sanaria, announced a possible breakthrough on an experimental malaria vaccine: an early trial led to a success rate of 80 percent for the two highest doses. Malaria remains one of the world's worst scourges. In 2010, the World Health Organization reported 219 million documented cases of malaria (millions more likely went undocumented) and estimated that between 660,000 and 1.2 million died of the disease, mostly children in Africa, that year alone. Mortality is not the only impact of the disease, however: experts have long noted circular links between malaria, poverty, and stalled development.


Burning coal responsible for over 20,000 deaths a year in Europe


(06/13/2013) Air pollution from Europe's 300 largest coal power stations causes 22,300 premature deaths a year and costs companies and governments billions of pounds in disease treatment and lost working days, says a major study of the health impacts of burning coal to generate electricity. The research, from Stuttgart University's Institute for energy economics and commissioned by Greenpeace International, suggests that a further 2,700 people can be expected to die prematurely each year if a new generation of 50 planned coal plants are built in Europe. "The coal-fired power plants in Europe cause a considerable amount of health impacts," the researchers concluded.


U.S. loses nearly a third of its honey bees this season


(05/09/2013) Nearly a third of managed honeybee colonies in America died out or disappeared over the winter, an annual survey found on Wednesday. The decline—which was far worse than the winter before—threatens the survival of some bee colonies. The heavy losses of pollinators also threatens the country's food supply, researchers said. The US Department of Agriculture has estimated that honeybees contribute some $20bn to the economy every year.


Saviors or villains: controversy erupts as New Zealand plans to drop poison over Critically Endangered frog habitat


(04/10/2013) New Zealand's Department of Conservation (DOC) is facing a backlash over plans to aerially drop a controversial poison, known as 1080, over the habitat of two endangered, prehistoric, and truly bizarre frog species, Archey's and Hochsetter's frogs, on Mount Moehau. Used in New Zealand to kill populations of invasive mammals, such as rats and the Australian long-tailed possum, 1080 has become an increasingly emotive issue in New Zealand, not just splitting the government and environmentalists, but environmental groups among themselves. Critics allege that the poison, for which there is no antidote, decimates local animals as well as invasives, while proponents say the drops are the best way to control invasive mammals that kill endangered species like birds and frogs and may spread bovine tuberculosis (TB).


Burning coal may be killing over 100,000 people in India every year


(03/13/2013) India's dependence on coal-fired power plants for energy may be leading directly to the deaths of 80,000 to 115,000 of its citizens every year, according to the first ever report on the health impacts of coal in the country. The report, commissioned by the Conservation Action Trust and Greenpeace-India, deals only with the direct health impact of coal and not climate change. But even ignoring the rising pain of global warming, the bleak report outlines that coal consumption in India is causing over 20 million asthma attacks, nearly a million emergency room visits, and killing some 10,000 children under five annually.


Captive frogs may be spreading diseases to wild cousins across Southeast Asia

(03/07/2013) Scientists have documented a series of links between exotic frogs for trade and diseases in wild frogs in Southeast Asia, including the first documented case of the chytrid fungus—a virulent and lethal disease—in Singapore. According to researchers writing in a new study in EcoHealth, frogs imported into Southeast Asia as pets, food, or traditional medicine are very likely spreading diseases to wild populations.


Scientist: releasing invasive birds in Turkey to eat ticks will backfire


(02/04/2013) As Turkey raises and releases thousands of non-native helmeted guineafowl (Numida meleagris) to eat ticks that carry the deadly Crimean-Congo hemorrhagic fever virus, new research suggests guineafowl actually eat few ticks, carry the parasites on their feathers, and further spread the disease.


Presence of trees may mitigate cardiovascular and respiratory disease

(01/17/2013) Scientists with the U.S. Forest Service have observed a link between human health and trees, implying that trees may actually mitigate both cardiovascular and lower respiratory disease. Although the researchers do not yet put forward a reason why or how the presence of trees save lives, they are convinced there is a link.


Gold mine approved in French Guiana's only national park


(01/15/2013) Tensions have risen in the small Amazonian community of Saül in French Guiana after locals discovered that the French government approved a large-scale gold mining operation near their town—and inside French Guiana's only national park—against their wishes. Run by mining company, Rexma, locals and scientists both fear that the mine would lead to deforestation, water pollution, and a loss in biodiversity for a community dependent on the forest and ecotourism.


El Salvador mulls total ban on mining


(10/22/2012) On hot days the broken stone and dried up silt from the San Sebastian mine in Eastern El Salvador bake in the sun. The slew of refuse is freckled with rock stained bright blue with cyanide, open to the elements that on rainier days will wash it downhill into the Rio San Sebastian below. The openings of passages into the mine dot the mountainside, and further downhill a bright orange stream with a chemical stench flows into another. The American Commerce Group ceased operating here in 1999 but sought to return when the price of gold began its current escalation.


Climate change may be worsening impacts of killer frog disease

(08/13/2012) Climate change, which is spawning more extreme temperatures variations worldwide, may be worsening the effects of a devastating fungal disease on the world's amphibians, according to new research published in Nature Climate Change. Researchers found that frogs infected with the disease, known as chytridiomycosis, perished more rapidly when temperatures swung wildly. However scientists told the BBC that more research is needed before any definitive link between climate change and chytridiomycosis mortalities could be made.


Scientists testing anti-fungal bacteria on diseased frogs in California

(07/23/2012) Researchers are treating tadpoles in Kings Canyon National Park with a bacteria they hope will provide immunity to an infamous fungal disease, reports the San Francisco Gate. The bacteria could be key not only to saving California's mountain yellow-legged frog (Rana muscosa), which is listed as Endangered by the IUCN Red List, but also frog species around the planet, many of which have been decimated by the chytrid fungal disease.


Vietnam buys stakes in controversial oil blocks threatening Peru's most vulnerable indigenous people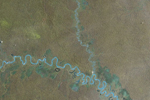 (07/11/2012) Vietnam's state oil and gas company, PetroVietnam Exploration and Production (PVEP), has announced its intention to acquire a major stake in controversial oil operations in the remote Peruvian Amazon. This area, known as Lot 67, is one of the most biodiverse in the world and home to indigenous people living without regular contact with outsiders, sometimes dubbed 'isolated' or 'uncontacted', who could be decimated by contact with oil company workers because they are highly vulnerable to disease.


California city bans bullfrogs to safeguard native species


(01/26/2012) Santa Cruz, California has become the first city in the U.S. to ban the importation, sale, release, and possession of the American bullfrog (Rana catesbeiana). Found throughout Eastern and Central U.S., the frogs have become an invasive threat to wildlife in the western U.S. states and Canada.


Frog plague found in India

(01/03/2012) The chytrid fungus, which is responsible for the collapse of numerous amphibian populations as well as the extinction of entire species, has been located for the first time in India, according to a paper in Herpetological Review. Researchers took swabs of frog in the genus Indirana in the Western Ghats and found the killer fungus known as chytridiomycosis.


Chemotherapy tree facing extinction

(11/10/2011) A yew tree in the Himalayas that produces the chemotherapy drug, Taxol, is in danger of extinction. An update to the IUCN Red List, has moved the tree, named Taxus contorta, from Vulnerable to Endangered. Overharvesting for medicine and fuelwood have placed the species in serious danger.


New site is a match-maker for world's endangered frogs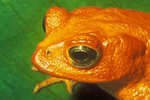 (11/03/2011) A new initiative by the conservation group, Amphibian Ark, hopes to match lonely, vanishing frogs with a prince/princess to to save them. Dubbed FrogMatchMaker.com after online dating sites, the program is working to connect supporters and donors with amphibian conservation programs in need. Currently, amphibians are among the world's most imperiled species with 41 percent threatened with extinction according to the IUCN Red list.


Bat-killing culprit identified by scientists

(10/31/2011) First identified in 2005, white-nose syndrome has killed over a million bats in the US, pushing once common species to the edge of collapse and imperiling already-endangered species. Striking when bats hibernate, the disease leaves a white dust on the bat's muzzle, causing them to starve to death. Long believed to be caused by a fungus in the genus Geomyces, researchers publishing in Nature have confirmed that the disease is produced by the species, Geomyces destructans.


Malaria may hurt conservation efforts, aid poachers

(07/31/2011) In 2009, 781,000 people died of malaria worldwide and nearly a quarter billion people contracted the mosquito-bourne disease, according to the World Health Organization (WHO). While the impacts of malaria on people—among the world's worst diseases—have long been researched, a new study in Biological Conservation finds that malaria has a significant indirect impact on protected species. Many species contract various malaria strains, but the study also found that malaria in humans has the potential to leave endangered species unprotected.


Shareholders to Chevron: company showing 'poor judgment' in Ecuador oil spill case

(05/26/2011) After being found guilty in February of environmental harm and ordered to pay $8.6 billion in an Ecuador court of law, Chevron this week faced another trial: this time by shareholders in its Annual General Meeting in California. While Chevron has appealed the Ecuador case and a US court has put an injunction barring the enforcement of the ruling in the US, notable Chevron investors say the company has gone astray in its seemingly endless legal battle with indigenous groups in the Ecuadorian Amazon.


15 conservation issues to watch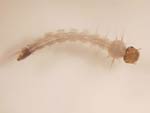 (03/14/2011) Deforestation, oil spills, coral acidification: these are just a few examples of ongoing, and well-researched, environmental changes that are imperiling the world's biodiversity. But what issues are on the horizon? At the end of 2010, experts outlined in Trends in Ecology & Evolution 15 issues that may impact conservation efforts this year and beyond, but are not yet widely known. These are issues you may never hear about it again or could dominate tomorrow's environmental headlines. "Our aim was to identify technological advances, environmental changes, novel ecological interactions and changes in society that could have substantial impacts on the conservation of biological diversity […] whether beneficial or detrimental," the authors write in the paper. Experts originally came up with 71 possible issues and then whittled it down to the 15 most important—and least known.


Worldwide search for 'lost frogs' ends with 4% success, but some surprises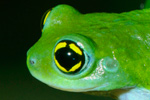 (02/16/2011) Last August, a group of conservation agencies launched the Search for Lost Frogs, which employed 126 researchers to scour 21 countries for 100 amphibian species, some of which have not been seen for decades. After five months, expeditions found 4 amphibians out of the 100 targets, highlighting the likelihood that most of the remaining species are in fact extinct; however the global expedition also uncovered some happy surprises. Amphibians have been devastated over the last few decades; highly sensitive to environmental impacts, species have been hard hit by deforestation, habitat loss, pollution, agricultural chemicals, overexploitation for food, climate change, and a devastating fungal disease, chytridiomycosis. Researchers say that in the past 30 years, its likely 120 amphibians have been lost forever.


Chevron found guilty, ordered to pay $8.2 billion in epic oil contamination fight

(02/14/2011) It was the environmental legal battle that some believed would never end (and they may still be right). But today in Lago Agrio, Ecuador, after 18 years of an often-dramatic court case, Chevron was found guilty of environmental harm and ordered to pay $8.2 billion in damages, however the oil giant says it will appeal the ruling. The lawsuit was filed by indigenous groups in the Ecuadorian Amazon who argue that poor environmental safeguards from Texaco in the 1970s and 80s led to widespread oil contamination and high rates of diseases, including cancer, among the populace. In 2001 Chevron purchased Texaco and inherited the legal fight. For its part, Chevron has dubbed the ruling "illegitimate" and with an appeal will drag the case on longer.


Forgotten species: the plummeting cycad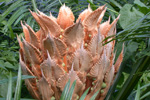 (12/06/2010) I have a declarative statement to make: cycads are mind-blowing. You may ask, what is a cycad? And your questions wouldn't be a silly one. I doubt Animal Planet will ever replace its Shark Week with Cycad Week (perhaps the fact that it's 'animal' planet and not 'plant' planet gave that away); nor do I expect school children to run to see a cycad first thing when they arrive at the zoo, rushing past the polar bear and the chimpanzee; nor do I await a new children's book about a lonely little anthropomorphized cycad just looking for a friend. In the world of species-popularity, the cycad ranks pretty low. For one thing, it's a plant. For another thing, it doesn't produce lovely flowers. And for a final fact, it looks so much like a palm tree that most people probably wouldn't know it wasn't. Still, I declare the cycad to be mind-blowing.


Climate change to take the lives of 5 million by 2020, mostly children

(12/06/2010) A new report by humanitarian research organization DARA and the Climate Vulnerable Forum finds that if nations continue to fail at lowering greenhouse gas emissions, five million people—mostly children—are likely to die from climate change impacts over the next 10 years. The report, called the Climate Vulnerability Monitor, predicts, in addition, that by 2030, one million people every year will perish from climate change impacts. The dire predictions come as nations struggle at a UN Climate Summit in Mexico this week to come up with a coordinated response to climate change, although an agreement is not expected this year.


Epidemic hits Amazonian indigenous group

(10/31/2010) An epidemic, suspected to be malaria, has struck down dozens of people of the Yanomami tribe in the Venezuelan Amazon, reports the Associated Press. Leaders of the three impacted village told health workers that approximately 50 people have died so far, many of them children.


Monarch butterflies medicate their sick kids

(10/12/2010) A new study in Ecology Letters has discovered that monarch butterflies employ medicinal plants to treat their larva. Researchers found that certain species of milkweed, which the larva feed on, can reduce the threat of a sometime deadly parasite. However, even more surprising: "we have also found that infected female butterflies prefer to lay their eggs on plants that will make their offspring less sick, suggesting that monarchs have evolved the ability to medicate their offspring," says lead author Jaap de Roode.


The role of wildlife conservation in human health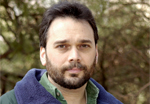 (09/07/2010) Livestock farming is an important traditional way for communities in sub-Saharan Africa to build and maintain wealth, as well as attain food security. Essentially, the transfrontier or transboundary conservation areas (TFCA) concept and current internationally accepted approaches to the management of transboundary animal diseases (TADs) are largely incompatible. The TFCA concept promotes free movement of wildlife over large geographic areas, whereas the present approach to the control of TADs (especially for directly transmitted infections) is to use vast fences to prevent movement of susceptible animals between areas where TADs occur and areas where they do not, and to similarly restrict trade in commodities derived from animals on the same basis. In short, the incompatibility between current regulatory approaches for the control of diseases of agro-economic importance and the vision of vast conservation landscapes without major fences needs to be reconciled in the interest of regional risk-diversification of land-use options and livelihood opportunities. An integrated, interdisciplinary approach offers the most promising way to address these issues—one where the well-being of wildlife and ecosystems, domestic animals, and Africa's people are assessed holistically, with a "One World – One Health" perspective.


Malaria increases 50 percent following deforestation in the Amazon

(06/16/2010) A new study shows that deforestation in the Amazon helps spread disease by creating an optimal environment for malaria-carrying mosquitoes. The study, published in the online issue of the CDC journal Emerging Infectious Diseases, found that clearing forests in the Brazilian Amazon raised incidences of malaria by almost 50 percent.


When it comes to Yellow Fever, conserving howler monkeys saves lives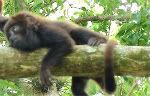 (03/29/2010) Abundant and diverse wildlife help people in many ways: for example bees pollinate plants, birds and mammals disperse seeds, bats control pest populations, and both plants and animals have produced life-saving medicines and technological advances. But how could howler monkeys save people from a Yellow Fever outbreak? A new study in the open-access journal Tropical Conservation Science explores the link between howler monkeys, mosquitoes, and humans during a recent yellow fever outbreak in the state of Rio Grande do Sul, Brazil.


Bronx Zoo puts 'extinct' frogs on display

(02/02/2010) The Bronx Zoo has a put a most unusual frog on display: the Kihansi spray toad. For one thing, the Kihansi spray toad survived on only 5 acres in the Kihansi gorge in Tanzania, adapted to the areas' unique and constant mist from the gorge and a waterfall. For another, female Kihansi spray toads give birth to live young, instead of laying eggs. Finally, the Kihansi spray toad is extinct—at least in the wild.


Scientists uncover mystery of how frog plague kills its victims

(10/22/2009) One hundred and twenty species of frogs are reported to have gone extinct since 1980 (although the number is likely even higher). While devastated by habitat loss, pollution, and climate change, a baffling disease may be the biggest factor behind the alarming extinctions of frogs. Called chytridiomycosis, the disease is caused by the microscopic fungus Batrachochytrium dendrobatidis which kills its tiny victims indiscriminately.


Saving gorillas by bringing healthcare to local people in Uganda, an interview with Dr. Gladys Kalema-Zikusoka


(09/16/2009) How can bringing healthcare to local villagers in Uganda help save the Critically Endangered mountain gorilla? The answer lies in our genetics, says Dr. Gladys Kalema-Zikusoka, wildlife veterinarian and director of Conservation through Public Health (CTPH). "Because we share 98.4% genetic material with gorillas we can easily transmit diseases to each other." Therefore, explains Kalema-Zikusoka "our efforts to protect the gorillas will always be undermined by the poor public health of the people who they share a habitat with. In order to effectively improve the health of the gorillas we needed to also improve the health of the people, which will not only directly reduced the health threat to gorillas through improvement of public health practices, but also improved community attitudes toward wildlife conservation."


Howler monkeys poisoned because of misinformed link to yellow fever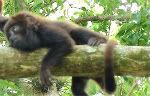 (04/22/2009) There have been numerous reports of howler monkeys poisoned in the southernmost Brazilian state of Rio Grande do Sul due to misinformation regarding the monkeys and the yellow fever virus. Some locals believed that the monkeys, which also suffer from yellow fever, were in fact the disease-carriers, but yellow fever is carried by mosquitoes not monkeys. A new campaign headed by Dr. Julio Cesar Bicca Marques wants to set the record straight. The campaign, entitled 'Save Our Guardian Angels', is working to inform the public of the actual and important role of howler monkeys in yellow fever outbreaks.


Climate change may trigger spread of disease from animals to people

(10/07/2008) Wildlife Conservation Society (WCS) experts have released a report warning of 12 "zoonotic" or animal-linked diseases that are likely to spread due to climate change. Released today at the IUCN World Conservation Congress in Barcelona the report, entitled "The Deadly Dozen: Wildlife Diseases in the Age of Climate Change", argues for preliminary action and research to keep ahead of spreading disease.


High bird diversity reduces risk of West Nile virus to humans

(06/25/2008) Areas with higher levels of bird diversity have lower incidences of West Nile virus infection in human populations, reports a new study published in the open-access journal PLoS ONE.