News articles on disasters

---
Mongabay.com news articles on disasters in blog format. Updated regularly.





Predator appreciation: how saving lions, tigers, and polar bears could rescue ourselves


(01/29/2014) In the new book, In Predatory Light: Lions and Tigers and Polar Bears, authors Elizabeth Marshall Thomas, Sy Montgomery, and John Houston, and photographers Cyril Christo and Marie Wilkinson share with us an impassioned and detailed appeal to appreciate three of the world's biggest predators: lions, tigers, and polar bears. Through lengthy discussions, combining themes from scientific conservation to local community folklore, In Predatory Light takes us step by step deeper into the wild world of these awe-inspiring carnivores and their varied plight as they facedown extinction.


A series of oil spills sully Caribbean paradise, coating mangroves and wildlife (photos)


(01/29/2014) On December 17th, officials first discovered a massive oil spill in the Caribbean-island nation of Trinidad and Tobago. Since then, a series of oil spills have been discovered, coating beaches, sullying mangrove forests, and very likely decimating wildlife in Trinidad's Gulf of Paria. The oil spills have been linked to the state-owned oil company, Petrotrin, which has claimed that sabotage is behind at least two of the spills. However Trinidad and Tobago's Environmental Management Authority has recently slapped the company with a $3.1 million fine by for the damage, while some politicians have called for an independent investigation into the slew of spills.


Court orders logging company to clean up pollution disaster in Chile wetlands


(01/17/2014) Chile is probably best known for its volcanoes, earthquakes and the formidable peaks of the Andes, but as a country that spans 4,300 km (2,670 miles) from top to bottom, it also boasts a huge variety of bird life. And, until recently, it was home to what was thought to be the largest population of black-necked swans (Cygnus melancoryphus) in South America. Not long ago, these swans, as well as 100 other species of rare or vulnerable bird species, could be seen nesting in the Carlos Anwandter Nature Sanctuary in Valdivia, a Ramsar site that covers 12,000 acres in the south of Chile. But in 2004 the swans began to die.


Philippines' delegate calls out climate change deniers after Haiyan

(11/12/2013) Yesterday, the Filipino delegate to the ongoing climate summit, Naderev 'Yeb' Saño, dared climate change deniers to take a hard look at what's happening not just in the Philippines, but the whole world. Over the weekend, the Philippines was hit by what may have been the largest typhoon to ever make landfall—Typhoon Haiyan. Reports are still coming in days later, but the death toll may rise to over 10,000 with whole cities simply swept away.


Delegate for the Philippines vows to stop eating at climate summit


(11/11/2013) Following the devastation wrought by Typhoon Haiyan—which is arguably the strongest typhoon to ever make landfall—Filipino delegate, Naderev 'Yeb' Saño, has vowed to go on a fast at the UN Climate Summit that opened today in Warsaw, Poland. Saño made the vow during a powerful speech in which he said he would fast, 'until we stop this madness.'


Bangladesh plans massive coal plant in world's biggest mangrove forest


(11/11/2013) On October 22nd Bangladeshi and Indian officials were supposed to hold a ceremony laying the foundation stone for the Rampal power plant, a massive new coal-fired plant that will sit on the edge of the Sundarbans, the world's largest mangrove forest. However, the governments suddenly cancelled the ceremony, instead announcing that the project had already been inaugurated in early October by the countries' heads of state via a less-ornate Skype call. While the governments say the change was made because of busy schedules, activists contend the sudden scuttling of the ceremony was more likely due to rising pressure against the coal plant, including a five-day march in September that attracted thousands.


Will Haiyan's impact in the Philippines be worsened by deforestation?


(11/08/2013) While it's too early to assess the impact of Super Typhoon Haiyan — reportedly the strongest tropical storm ever recorded to make landfall — in the Philippines, the damage could be exacerbated by the large-scale loss of the country's forests.


Climate change to hurt children most

(09/25/2013) Children will bear the brunt of the impact of climate change because of their increased risk of health problems, malnutrition and migration, according to a new study published on Monday. And food prices are likely to soar as a result of warming, undoing the progress made in combating world hunger.


Worst drought in 30 years threatens millions in southern Africa with food insecurity

(08/19/2013) Around 2 million people face food insecurity in northern Namibia and southern Angola as the worst regional drought in decades takes its toll, according to the UN. Two years of failed rains have pushed families into desperate conditions in a region already known for its desert-like conditions. In Namibia alone, experts estimate that over 100,000 children under five are at risk for acute malnutrition.


Drastic cuts to greenhouse gases could save hundreds of U.S. cities from watery grave


(08/01/2013) More than 1,700 American cities and towns – including Boston, New York, and Miami – are at greater risk from rising sea levels than previously feared, a new study has found. By 2100, the future of at least part of these 1,700 locations will be "locked in" by greenhouse gas emissions built up in the atmosphere, the analysis published in the Proceedings of the National Academy of Sciences on Monday found.


Arctic melt to cost trillions

(07/30/2013) Rapid thawing of the Arctic could trigger a catastrophic "economic timebomb" which would cost trillions of dollars and undermine the global financial system, say a group of economists and polar scientists. Governments and industry have expected the widespread warming of the Arctic region in the past 20 years to be an economic boon, allowing the exploitation of new gas and oilfields and enabling shipping to travel faster between Europe and Asia.


U.S. bombs Great Barrier Reef, promises 'rapid recovery' of armaments

(07/23/2013) Four unarmed bombs dropped by the US military into the Great Barrier Reef Marine Park pose a low risk to wildlife and a joint mission will aim for their "rapid recovery", according to the government agency in charge of the reef. The Great Barrier Reef Marine Park Authority said two of the bombs are inert, containing concrete, while the other two were not armed, making the chance of detonation "extremely low".


Typhoon Bopha decimated coral reefs


(01/24/2013) When Typhoon Bopha, also known as Pablo, ran ashore on Mindanao, it was the largest tropical storm it ever hit the Philippine island. In its wake the massive superstorm left over 1,000 people were dead and 6.2 million affected with officials saying illegal logging and mining worsened the scale of the disaster. However, the Category 5 typhoon also left a trail of destruction that has been less reported: coral reefs.


2012 was America's warmest year on record

(01/08/2013) 2012 was the warmest year on record for the contiguous U.S. according to the National Oceanic and Atmospheric Administration (NOAA).


Lessons From Sandy: extreme weather will be the new normal

(12/21/2012) In a recent forum held at the Harvard School of Public Health four expert panelists discussed the most important lessons learned from Hurricane Sandy.


Climate Summit in Doha characterized by lack of ambition


(12/09/2012) Ahead of the 18th United Nations Framework Convention on Climate Change (UNFCCC) in Doha, Qatar a variety of reports warned that the world was running out of time to avoid dangerous climate change, and that there was a widening gap between what nations have pledged to do and what the science demanded. A landmark report by the World Bank painted an almost apocalyptic picture of a world in which global temperatures have risen 4 degrees Celsius above pre-industrial levels, including unprecedented heatwaves and droughts, rising sea levels, global agriculture crises, and a stunning loss of species. In addition, scientific studies released near the two week conference found that sea levels were rising 60 percent faster than predicted, forests around the world were imperiled by increasing drought, marine snails were dissolving in the Southern Ocean due to ocean acidification, and ice melt in Greenland and Antarctica was on the rise.


Illegal logging, mining worsened impact of Philippines' killer typhoon

(12/06/2012) According to Filipino officials, rampant illegal logging and mining were likely a part of the cause for the high casualty count from Category 5 Typhoon Bopha (Pablo), especially in the Compostela Valley where government officials had warned people to stop the illegal activities. So far, 370 people have been found dead on the island of Mindanao with another 400 missing. Waters rose so high even emergency shelters were inundated.


World Bank: 4 degrees Celsius warming would be miserable


(11/20/2012) A new report by the World Bank paints a bleak picture of life on Earth in 80 years: global temperatures have risen by 4 degrees Celsius spurring rapidly rising sea levels and devastating droughts. Global agriculture is under constant threat; economies have been hampered; coastal cities are repeatedly flooded; coral reefs are dissolving from ocean acidification; and species worldwide are vanishing. This, according to the World Bank, is where we are headed even if all of the world's nations meet their pledges on cutting greenhouse gas emissions. However, the report also notes that with swift, aggressive action it's still possible to ensure that global temperatures don't rise above 4 degrees Celsius.


BP fined $4.5 billion for Gulf of Mexico oil spill, but company may spend more buying its own stocks

(11/19/2012) Last week the U.S. federal government fined BP $4.5 billion for the Deepwater Horizon disaster in 2010, which killed 11 workers and leaked nearly 5 million barrels of oil into the Gulf of Mexico. The oil giant also plead guilt to 12 felonies and two misdemeanors. However, even this fine—the largest in U.S. history—failed to dampen shareholder support of BP: stocks actually rose one percent following the announcement. Meanwhile, according to the Sunday Times, BP plans to spend $5.9 billion (over a billion more than the fine) buying back its own shares in order to boost stock prices.


Asian cities face high disaster risk with 650,000 killed in 2000's

(11/16/2012) Asia's cities are increasing vulnerable to natural disasters due to climate change, urban expansion, and poor planning, warns a report published this week by the Asian Development Bank. Disasters risk undermining recent economic gains in the region.


Remembering the Dust Bowl: it could happen again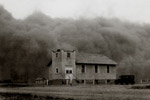 (11/15/2012) The Dust Bowl, a film by Ken Burns and Dayton Duncan, and The Dust Bowl: An Illustrated History, a book authored by Dayton Duncan and Ken Burns, chronicles the worst man-made ecological disaster in American history. Told in first-person narrative by survivors of the Dust Bowl and brought to color through vivid storytelling and over 300 rare archival photos, these two combined efforts must be watched and read by those concerned with our human impact on Earth.


Hurricane Sandy pushes Haiti toward full-blown food crisis

(11/12/2012) Although Haiti avoided a direct hit by Hurricane Sandy, the tropical storm caused severe flooding across the southern part of the country decimating agricultural fields. The UN Office for the Coordination of Humanitarian Affairs now warns that 1.5 million Haitians are at risk of severe food insecurity, while 450,000 people face severe acute malnutrition, which can kill.


It's not just Sandy: U.S. hit by record droughts, fires, and heatwaves in 2012


(11/05/2012) As the devastation wrought by Hurricane Sandy—killing over 100 people and producing upwards of $50 billion in damage along the U.S. East Coast—has reignited a long-dormant conversation on climate change in the media, it's important to note that this is not the only weird and wild weather the U.S. has seen this year. In fact, 2012 has been a year of record-breaking weather across the U.S.: the worst drought in decades, unprecedented heatwaves, and monster forest fires. While climatologists have long stated that it is not yet possible to blame a single extreme weather event on climate change, research is showing that rising temperatures are very likely increasing the chances of extreme weather events and worsening them when they occur.


Photos of flooded New York Aquarium released


(11/02/2012) The Wildlife Conservation Society (WCS) today released pictures showing damage caused earlier this week at the New York Aquarium by Hurricane Sandy. The photos show extensive flooding in parts of the aquarium, which is located on the Coney Island boardwalk and is run by WCS.


Facing 'critical' situation, New York Aquarium closed indefinitely

(10/31/2012) The New York Aquarium on Coney Island suffered 'serious flood damage' during Hurricane Sandy and will be closed 'indefinitely', according to the Wildlife Conservation Society (WCS), which runs the aquarium and other zoos in New York City.


New York Aquarium entirely 'underwater'

(10/30/2012) Hurricane Sandy, which brought storm surges that reached 14 feet to New York City, has put the Wildlife Conservation Society's New York Aquarium "under water," according to a statement from the organization. The aquarium is located on the Coney Island boardwalk, in the heart of an area where rescue operations are currently under way to save people stranded in their homes. There are reports that flooding has reached some people's roofs.


Hours before Hurricane Sandy hit, activists protested climate inaction in Times Square


(10/30/2012) On Sunday, as Hurricane Sandy roared towards the coast of the Eastern U.S., activists took to the streets in New York City to highlight the issue of climate change. Activists organized by 350.org unfurled a huge parachute in Times Square with the words, "End Climate Silence," a message meant to call attention to the fact that there has been almost zero mention of climate change during the presidential campaign, including not a single reference to the issue in the four presidential debates.


How climate change may be worsening Hurricane Sandy


(10/29/2012) While scientists are still debating some fundamental questions regarding hurricanes and climate change (such as: will climate change cause more or less hurricanes?), there's no debating that a monster hurricane is now imperiling the U.S. East Coast. A few connections between a warmer world and Hurricane Sandy can certainly be made, however: rising sea levels are likely to worsen storm surges; warmer waters bring more rain to increase flooding; and hotter temperatures may allow the hurricane to push both seasonal and geographic boundaries.


Extreme heatwaves 50 to 100 times more likely due to climate change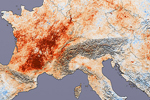 (08/05/2012) A recent rise in deadly, debilitating, and expensive heatwaves was caused by climate change, argues a new statistical analysis published in the Proceedings of the National Academy of Sciences (PNAS). Climatologists found that extreme heatwaves have increased by at least 50 times during the last 30 years. The researchers, including James Hansen of NASA, conclude that climate change is the only explanation for such a statistical jump.


Featured video: climate change bringing on the extremes

(07/24/2012) Focusing on extreme weather events in the U.S. this summer, a new compilation video highlights the connection between climate change and increasing and worsening extremes, such as heatwaves, droughts, and floods.


Deepwater Horizon oil spill may have played role in dolphin deaths

(07/22/2012) In the first four months of 2011, 186 bottlenose dolphins (Tursiops truncatus) were found dead in the Gulf of Mexico, nearly half of them dolphin calves many of whom were perinatal, or near birth. Researchers now believe a number of factors may have killed the animals. Writing in the open-access journal PLoS ONE, scientists theorize that the dolphins died a sudden influx of freshwater from snowmelt after being stressed and weakened by an abnormally cold winter and the impacts of the BP oil spill.


The Human Quest: Prospering Within Planetary Boundaries – Book Review

(07/22/2012) Icarus, according to ancient Greek myth, attempted to escape Crete by flying using wings that his father constructed from feathers and wax. Icarus willfully flew too close to the sun causing his wings to melt resulting in him falling into the sea and drowning.


Deja vu: U.S. undergoes hottest 12 months on record...again and again

(07/12/2012) According to new data from the National Oceanic and Atmospheric Administration (NOAA)'s National Climatic Data Center, the last twelve months have been the warmest on record for the contiguous United States. This record, set between July 2011 through June 2012, beat the last consecutive twelve month record set only a month earlier between June 2011 and May 2012, which in turn beat the previous record holder, you guessed it: May 2011 through April 2012.


As U.S. sees record heat, extreme weather pummels 4 continents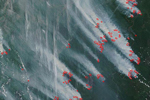 (07/10/2012) It's not only the U.S. that has experienced record-breaking extreme weather events recently, in the last couple months extreme weather has struck around the world with startling ferocity. In addition to the much-covered heatwaves, wildfires, and droughts in the U.S., killer floods struck India, the worst drought yet recorded plagued South Korea, and massive forest fires swept through Siberia to name just a few.


Scientist: 'no doubt' that climate change is playing a role in U.S. fires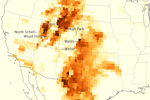 (07/02/2012) A noted climate scientist says there is 'no doubt' that climate change is 'playing a role' in this year's series of record fires in the western U.S. A massive wildfire in Colorado has forced the evacuation of 36,000 people, destroyed over 300 homes, and killed two people. The devastation wrought by the Waldo Canyon Fire even prompted a visit form U.S. President Barack Obama. But this is not the only epic fire in the U.S. this year: less than a month before the Colorado disaster, New Mexico experienced its largest fire on record in Gila Nation Forest; the conflagration burned up 247,000 acres (100,000 hectares). Other major wildfires have occurred in Utah and Wyoming, as well as other parts of New Mexico and Colorado.


U.S. undergoes warmest spring on record

(06/12/2012) Spring in the U.S. was the warmest on record, beating the past record-year (1910), by a stunning two degrees Fahrenheit, according to new data from the National Oceanic and Atmospheric Administration (NOAA). The data also shows that the past 12 months--from June 2011 through May 2012--was the warmest on record in the contiguous U.S. as well.


As Colorado and New Mexico burn, scientists say prepare for more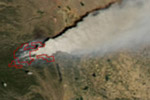 (06/12/2012) A massive wildlife in Colorado still burns after it has killed one person and damaged or destroyed over a hundred structures. The fire, the third largest in Colorado's history, has burned 39,500 acres (16,000 hectares) to date. Meanwhile in central New Mexico, another wildfire has damaged or destroyed 35 structures and burned 34,500 acres (14,000 hectares). This comes just weeks after New Mexico's largest wildfire ever—still going—burned up over 247,000 acres (100,000 hectares) of the Gila Forest. Weeks of heroic efforts by thousands of firefighters have contained this megafire by only 37 percent to date. Now, a new scientific study in Ecospshere has found that North America and Europe must prepare for even more fires as global temperatures continue to rise from climate change.


The vanishing Niger River imperils tourism and livelihoods in the desert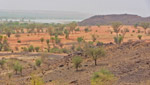 (06/04/2012) Severely affected by recent turmoil across its northern frontiers, Nigerien tourism pins hope on river valley attractions to play a major role in rebuilding its tourism industry in the upcoming years. Even though the river itself is threatened. Located in the heart of the Sahel Region, the vast desert lands of Niger have captivated European tourists seeking a taste of its immensely varied natural landscapes.


BP Deepwater Horizon deformities: eyeless shrimp, clawless crabs

(04/24/2012) Two years after the BP-leased Deepwater Horizon drilling rig exploded in the Gulf of Mexico, killing eleven and causing an oil spill that lasted three months, scientists say the impacts on the Gulf ecosystem are only beginning to come to light and the discoveries aren't pretty.


Researchers recreate bee collapse with pesticide-laced corn syrup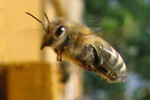 (04/05/2012) Scientists with the Harvard School of Public Health (HSPH) have re-created the mysterious Colony Collapse Disorder in several honeybee hives simply by giving them small doses of a popular pesticide, imidacloprid. Bee populations have been dying mysteriously throughout North America and Europe since 2006, but the cause behind the decline, known as Colony Collapse Disorder, has eluded scientists. However, coming on the heels of two studies published last week in Science that linked bee declines to neonicotinoid pesticides, of which imidacloprid is one, the new study adds more evidence that the major player behind Colony Collapse Disorder is not disease, or mites, but pesticides that began to be widely used in the 1990s.


Smoking gun for bee collapse? popular pesticides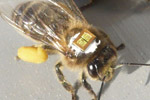 (03/29/2012) Commonly used pesticides may be a primary driver of the collapsing bee populations, finds two new studies in Science. The studies, one focused on honeybees and the other on bumblebees, found that even small doses of these pesticides, which target insect's central nervous system, impact bee behavior and, ultimately, their survival. The studies may have far-reaching repercussions for the regulation of agricultural chemicals, known as neonicotinoid insecticides, that have been in use since the 1990s.


"Strong evidence" linking extreme heatwaves, floods, and droughts to climate change

(03/28/2012) As North America recovers from what noted meteorologist Jeff Masters has called "the most incredible spring heatwave in U.S. and Canadian recorded history," a new paper argues that climate change is playing an important role in a world that appears increasingly pummeled by extreme weather. Published in Nature Climate Change, the paper surveys recent studies of climate change and extreme weather and finds "strong evidence" of a link between a warming world and the frequency and intensity of droughts, floods, and heatwaves—such as the one that turned winter into summer in the U.S.


Appeal for help as death toll in Madagascar tops 110 from tropical storm

(03/11/2012) More than 110 are dead and 330,000 homeless after two tropical storms battered Madagascar over the past month, says the island nation's disaster management agency.


Tornado season likely to expand due to climate change

(03/06/2012) Last Friday, around a hundred tornadoes left a wake of destruction in the U.S., killing 39 people to date and destroying entire towns. The tragedy hit hardest in Kentucky and Indiana and experts predict the weather-disaster will cost over $1 billion. But isn't this early for tornado season? Yes, say experts, and climatologists add that while research on tornadoes and climate change is currently in its infancy, it's possible, probably even likely, that climate change is expanding tornado season in the U.S. due to the earlier arrival of spring.


Thai king: punish corrupt officials who allowed logging

(02/27/2012) Thailand's King Bhumibol Adulyadej urged the Thai government to punish officials who allowed illegal logging which he blamed for worsening floods last year that left more than 1,000 people dead.


Black Swans and bottom-up environmental action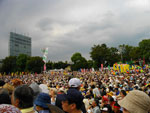 (02/08/2012) The defining events shaping the modern world - economic, social, environmental, progressive and disruptive - are frequently characterized as "Black Swans."The Black Swan term and theory were characterized by author and analyst Nassim Nicholas Taleb who explains, "What we call here a Black Swan (and capitalize it) is an event with the following three attributes. First, it is an outlier, as it lies outside the realm of regular expectations, because nothing in the past can convincingly point to its possibility. Second, it carries an extreme impact. Third, in spite of its outlier status, human nature makes us concoct explanations for its occurrence after the fact, making it explainable and predictable." Taleb identifies the emergence of the internet, the attacks of September 11, 2001, the popularity of Facebook, stock market crashes, the success of Harry Potter, and World War I as among Black Swan events.


Delayed response to Somalia famine cost thousands of lives

(01/18/2012) A hesitant response by the international community likely led to thousands of unnecessary deaths in last year's famine in East Africa finds a new report released by Oxfam and Save the Children. The report, entitled A Dangerous Delay, says that early warning systems worked in informing the international community about the likelihood of a dire food crisis in East Africa, however a "culture of risk aversion" led to months-long delays. By the time aid arrived it was already too late for many. The British government has estimated somewhere between 50,000 and 100,000 people perished in the famine, half of whom were likely children under five.


Climate change media coverage drops 20 percent in 2011

(01/05/2012) Global media reporting on climate change issues was down again last year, according to a new analysis from The Daily Climate. The news organization counted around 19,000 stories on climate issues during the year written by 7,140 journalists, falling 20 percent from 2010 levels.


Top 10 Environmental Stories of 2011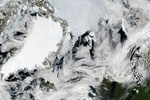 (12/22/2011) Many of 2011's most dramatic stories on environmental issues came from people taking to the streets. With governments and corporations slow to tackle massive environmental problems, people have begun to assert themselves. Victories were seen on four continents: in Bolivia a draconian response to protestors embarrassed the government, causing them to drop plans to build a road through Tipnis, an indigenous Amazonian reserve; in Myanmar, a nation not known for bowing to public demands, large protests pushed the government to cancel a massive Chinese hydroelectric project; in Borneo a three-year struggle to stop the construction of a coal plant on the coast of the Coral Triangle ended in victory for activists; in Britain plans to privatize forests created such a public outcry that the government not only pulled back but also apologized; and in the U.S. civil disobedience and massive marches pressured the Obama Administration to delay a decision on the controversial Keystone XL pipeline, which would bring tar sands from Canada to a global market.


Earth systems disruption: Does 2011 indicate the "new normal" of climate chaos and conflict?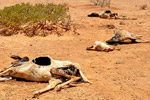 (12/21/2011) The year 2011 has presented the world with a shocking increase in irregular weather and disasters linked to climate change. Just as the 2007 "big melt" of summer arctic sea ice sent scientists and environmentalists scrambling to re-evaluate the severity of climate change, so have recent events forced major revisions and updates in climate science.



Page 1 | Page 2 | Page 3 | Page 4 | Page 5