News articles on Dinosaurs

---
Mongabay.com news articles on Dinosaurs in blog format. Updated regularly.





Meet the dinosaur that looks like a crow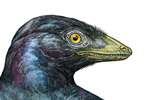 (03/08/2012) The more we discover about dinosaurs, the more these "terrible lizards" resemble otherworldly birds. None more so than the microraptor, which paleontologists have meticulously reconstructed in a paper in Science. Not only was the microraptor about the size of a modern-day crow, it looked very crow-like according to paleontologists, even down to the discovery that it sported dark iridescent feathers, the first yet recorded in nature.


Scientists discover giant species of crocodile; luckily it is extinct

(09/15/2011) Researchers excavating a coal mine in Colombia have discovered a previously unknown species of prehistoric crocodile. The beast is described in the September 15 issue of the journal Palaeontology.


King of dinosaurs was a hunter, not a scavenger

(01/26/2011) Ecologists say they have used a computer model to put to rest a nearly century-old debate. Did Tyrannosaurus Rex, one of the world's most well-known dinosaurs, hunt down its prey like a lion on the plains, or, instead, did it scavenge meals from other hunters like a vulture? According to scientists with the Zoological Society of London (ZSL) the Tyrannosaurus had only one choice in order to survive: hunt.


Picture: scientists identify first known single-fingered dinosaur



(01/25/2011) Paleontologists working in China have discovered a first for dinosaurs: a species with only one finger. Named Linhenykus monodactylus, the extinct species stood only about two feet high and weighed about as much as a large parrot. Although small, the new dinosaur was a member of the carnivorous therapod dinosaurs, which include the infamous Tyrannosaurus Rex. The find was announced in the Proceedings of the National Academy of Sciences.


Pictures: Scientists discover carnivorous pygmy dinosaur

(01/13/2011) Scientists have announced the discovery of a new species of carnivorous dinosaur which lived 230 million years ago in what is today Argentina.


2 new dinosaur species, including 15-horned beast, discovered in Utah

(09/23/2010) Scientists discovered two previously unknown species of dinosaur in southern Utah, reports the Associated Press.


Dwarf dinosaur confirmed: the horse-sized sauropod of Transylvania

(05/04/2010) A dinosaur mystery over a hundred years old has been unraveled according to a new study in the Proceedings of the National Academy of Sciences.


Prehistoric snake gobbled-up dinosaur babies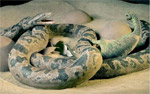 (03/02/2010) A fossilized snake has been discovered inside a titanosaur nest in India, leading researchers to conclude that the snake fed on newly-hatched dinosaur babies, rather than their eggs like modern snakes. Paleontologist and snake expert Jason Head says that the snake, known as Sanajeh indicus, lacked the wipe-jaws needed to swallow eggs, but just-hatched baby titanosaurs would have been perfect prey for the 3.5 meter (nearly 12 feet) long serpent. Titanosaurs belong to the sauropods, long-necked herbivorous dinosaurs which includes the world's largest animals to ever walk the land.


Present day tropical plant families survived in warmer, wetter tropics 58 million years ago


(10/18/2009) Fifty eight million years ago the tropical rainforests of South America shared many similarities with today's Neotropical forests, according to research published in the Proceedings of the National Academy of Sciences. Looking at over 2,000 fossils in Colombia from one of the world's largest open pit coal mines, scientists were able to recreate for the first time the structure of a long vanished rainforest. One inhabited by a titanic snake, giant turtles, and crocodile-like reptiles.


48 'new' species of dinosaur discovered

(02/09/2009) In just four years a University of Portsmouth palaeontologist has discovered 48 new species from the age of the dinosaurs.


Missing link between fish and land animals discovered

(11/07/2008) A study published in the October 16 issue of Nature details research into and implications of a fossil fish, Tiktaalik roseae, discovered last year at Ellesmere Island in Canada. The Devonian fossil shows an array of features found in both terrestrial and aquatic animals, providing the best glimpse so far into the transitory period during which vertebrates were able to adapt to life out of water. The find provides some of the first osteological evidence of neck development, a crucial adaptation to terrestrial life because it allows an animal's body to remain stationary while it surveys its environment.


Researchers devise new comparison of mass extinction events

(09/02/2008) Researchers have created a new way to compare historical mass extinction events. The scoring system, presented in the early online edition of the journal Proceedings of the National Academy of Sciences, works by multiplying the number of taxa — species, genera, and families — that went extinct by the inverse of the time it took to produce a measure dubbed "greatness", which represents the magnitude of the event. Using the system, Celal Sengor and colleagues from Istanbul Teknik Universitesi of Turkey rank the Cretaceous-Tertiary (K-T) event — when the dinosaurs were extinguished in a flash by an asteroid strike or mass oceanic poisoning by a spasm of volcanic activity — as the greatest mass extinction in history. The Permian, which featured a greater loss of species (90-95 percent of marine species and 70 percent of land species) but played out over a longer period to time some 250 million years ago, ranks third after the Silurian, which occurred around 440 million years ago.


Two strange carnivorous dinosaurs discovered in the Sahara

(02/12/2008) Two previously unknown species of dinosaur discovered in the Sahara were unusual meat-eaters, report scientists from the University of Chicago and the University of Bristol.


New duck-billed dinosaur discovered in Mexico

(02/12/2008) A previously unknown species of dinosaur has been discovered in Mexico, shadding new light on the history of western North America, report researchers from the Utah Museum of Natural History at the University of Utah.


Mini-pterodactyl discovered in China

(02/11/2008) Scientists have discovered a previously unknown species of pterodactyl in northeastern China.


Massive carnivorous dinosaur discovered

(12/11/2007) A massive carnivorous dinosaur discovered in Niger has been described as a new species, according to research published in current issue of the Journal of Vertebrate Paleontology.


Cow-like dinosaur discovered

(11/15/2007) A dinosaur discovered in the Sahara had a mouth that worked like a vacuum cleaner and operated more like a "Mesozoic cow" than a reptile, report researchers writing in today's issue of the journal PLoS ONE.


Orchids may have co-existed with dinosaurs

(08/29/2007) Orchids are old enough to have co-existed with dinosaurs, report Harvard University scientists.


T. rex could outrun a human athlete

(08/22/2007) T. rex could reach speeds of up to 18mph, according to new supercomputer simulations that are believed to be the most accurate projections ever produced.


Dinosaurs' rise to dominance was a gradual

(07/19/2007) Dinosaurs' rise to dominance was a gradual rather than sudden, suggests new research published in Science.


Ancient gliding reptile discovered

(06/12/2007) A remarkable new long-necked, gliding reptile discovered in 220 million-year old sediments of eastern north America is described in the latest issue of the Journal of Vertebrate Paleontology (Vol. 27, No. 2), scientists report. Mecistotrachelos apeoros (meaning "soaring, long-necked") is based on two fossils excavated at the Solite Quarry that straddles the Virginia-North Carolina state line.


Tyrannosaurus rex was slow

(06/07/2007) Tyrannosaurus rex was a slow, lumbering beast according to new research published in the Journal of Theoretical Biology.


Dinosaurs could swim

(05/24/2007) Researchers found evidence that terrestrial dinosaurs were capable of swimming. Examining fossilized footmarks left on the floor of an ancient lake bed in northern Spain 125 million years ago, scientists led by Loic Costeur of the Universite de Nantes in France said the tracks were left by a swimming meat-eating dinosaur.


Possible baby dinosaur tracks discovered near Denver

(05/24/2007) A researcher may have discovered incredibly rare dinosaur tracks of baby stegosaurs near downtown Denver, reports the Denver Post.


Largest dinosaur bones in Australia discovered

(05/03/2007) The largest bones of any dinosaur known in Australia went on display at the Queensland Museum for the first time today.


Dinosaur extinction didn't produce current mammal evolution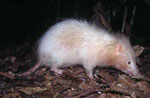 (03/28/2007) A new Nature study argues that the demise of dinosaurs did not fuel the rise of mammals. Devising a new tree of life for 4,500 species of mammals using molecular evolutionary trees, an international team of researchers challenges the prevailing hypothesis that a mass extinction of dinosaurs 65 million years ago played a major role in the diversification of mammals.


Evolutionary precursor to snake discovered

(03/23/2007) A University of Alberta paleontologist has helped discover the existence of a 95 million-year-old snakelike marine animal, a finding that provides not only the earliest example of limbloss in lizards but the first example of limbloss in an aquatic lizard.


Newly discovered burrowing dinosaur loved its offspring

(03/20/2007) The first known burrowing dinosaur has been discovered in southwest Montana, according to a paleontologist at Montana State University. The finding, published in the journal Proceedings of The Royal Society B: Biological Sciences, may shed light on parental care among dinosaurs as well as fuel controversy over what caused the extinction of the prehistoric beasts.


Prehistoric lizard glided through air using ribs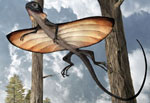 (03/19/2007) An extinct species of lizard used a wing-like membrane supported by the animal's elongated ribs for gliding through the air according to Chinese researchers. The 6-inch (15.5 cm) lizard, found in the Liaoning Province of northeastern China, lived during the Early Cretaceous period. The specimen is described in the early online edition of the journal Proceedings of the National Academy of Sciences (PNAS).


Early dinosaur flew like a biplane

(01/23/2007) Reanalysis of fossil remains suggests that the earliest flying dinosaurs used two sets of wings like a biplane. The research, published by Sankar Chatterjee of Texas Tech University and R. Jack Templin in this week&aposs online issue of Proceedings of the National Academy of Sciences, argues that Microraptor gui, one of the earliest known gliders dating to 125 million years ago, utilized four wings to glide between treetops.


Carnivorous 'terror bird' stalked America before isthmus formation

(01/23/2007) A prehistoric 7-foot-tall flightless 'terror bird,' arrived in North America from South America well before the formation of the Panamanian land bridge according to a study led by University of Florida (UF) researchers. The results will be published January 23 in the online version of the journal Geology.


Giant dinosaur discovered in Spain - largest ever recorded in Europe

(12/21/2006) Researchers working in Teruel, Spain have discovered the fossil remains of a giant dinosaur that weighed between 40 to 48 tons and was 30-37 meters (100-120 feet) long -- the length of an NBA basketball court. It is the largest dinosaur ever found in Europe -- most giant dinosaurs have been found previously in the New World and Africa.


How did giant dinosaurs digest their food without molars?

(12/20/2006) The giant dinosaurs had a problem. Many of them had narrow, pointed teeth, which were more suited to tearing off plants rather than chewing them. But how did they then grind their food? Until recently many researchers have assumed that they were helped by stones which they swallowed. In their muscular stomach these then acted as a kind of 'gastric mill'. But this assumption does not seem to be correct, as scientists at the universities of Bonn and Tubingen have now proved. Their research findings can be found in the current issue of the journal Proceedings of the Royal Society.


Single strike killed the dinosaurs says new study

(12/01/2006) A new study argues that "one and only one" meteorite impact -- not multiple impacts as some scientists have suggested -- caused the extinction of dinosaurs some 65 million years ago.


Ancient sea monster found in Montana

(11/04/2006) A fossil-hunting trip to celebrate a son's homecoming resulted in the recent discovery of an ancient sea monster in central Montana.


Dinosaurs survived rapid climate change

(09/23/2006) New research suggests the existence of periods of dramatic climate change during the Mesozoic Era, a time when dinosaurs ruled the Earth. The research, published in the September issue of Geology, presents evidence that ocean surface temperatures varied as much as 6 degrees Celsius (about 11 degrees Fahrenheit) during the Aptian Epoch of the Cretaceous Period 120 million years ago according to scientists from Indiana University Bloomington and the Royal Netherlands Institute for Sea Research who examined ancient rocks from the bottom of the Pacific Ocean. The results challenge the idea that the period was characterized by a stable, hot and humid climate.


Birds evolved from gliding four-legged dinosaurs

(09/22/2006) Birds may have evolved from gliding four-legged dinosaurs accofding to new research by a University of Calgary paleontologist.


Recovery of biodiversity after dinosaurs was chaotic

(08/24/2006) The recovery of biodiversity after the end-Cretaceous mass extinction was much more chaotic than previously thought, according to paleontologists. New fossil evidence shows that at certain times and places, plant and insect diversity were severely out of balance, not linked as they are today. The extinction took place 65.5 million years ago. Labeled the K-T extinction, it marks the beginning of the Cenozoic Era and the Paleocene Epoch.


Ancient blue whale was a shark killer

(08/22/2006) A 25-million-year-old whale fossil from southeastern Australia suggests a curious origin for baleen whales. Presented at the at the Melbourne Museum last week, the fossil shows that earliest baleen whales were small, toothed and highly predatory creatures with enormous eyes -- virtually the opposite of the baleen whales we know today. These, like the blue whale and the humpback are gentle, toothless giants that feed on krill and other tiny organism.


Large dinosaurs may have been hot-blooded

(07/11/2006) If you think dinosaurs are hot today, just think back to about 110 million years ago when they really ran hot and heavy. One of the larger animals, a behemoth called Sauroposeidon proteles, weighed close to 120,000 pounds as an adult. Now, a new study led by the University of Florida suggests it may have had a body temperature close to 48 degrees Celsius. The new findings show that even though dinosaurs were cold-blooded reptiles, large dinosaurs dissipated body heat more slowly, and thus maintained higher, more constant body temperatures similar to today's birds and mammals.


Giant "Turkeysaurus" dinosaur found in Utah

(04/05/2006) Scientists from the University of Utah and the Utah Museum of Natural History have discovered the remains of a new bird-like, meat-eating dinosaur in Grand Staircase-Escalante National Monument (GSENM), southern Utah. Although represented only by the fossilized remains of hand and foot bones, comparisons with more complete skeletons found in Asia demonstrate that this animal was about seven feet tall when standing upright. Discovery of this Utah giant, which is much larger than its counterparts in Canada and the northern US, nearly doubles the documented range of these dinosaurs in North America, and demonstrates that they roamed much farther south than previously thought.


Pictures of newly discovered T-Rex dinosaur

(02/08/2006) A team of scientists led by James M. Clark, Ronald B. Weintraub Associate Professor of Biology at The George Washington University, and Xu Xing of the Institute of Vertebrate Paleontology and Paleoanthropology in Beijing, have discovered a new genus and species of dinosaur that is the oldest known and most primitive tyrannosauroid.