News articles on deforestation

---
Mongabay.com news articles on deforestation in blog format. Updated regularly.





Palm oil companies linked to haze see share prices drop

(06/24/2013) Three firms linked to fires in Sumatra saw their share prices decline since the haze crisis worsened a week ago.


Solving 'wicked problems': ten principles for improved environmental management


(06/23/2013) As agriculture continues to expand at the expense of forests in the tropics, humanity struggles to meet environmental protection goals. Despite global efforts towards sustainable agriculture and some progress towards the gazetting of protected areas, there are as yet no general and effective solutions for meeting both conservation goals and food needs, and thus the loss and degradation of natural habitats continues. The Food and Agricultural Organization (FAO) has estimated a 70% increase in food production will be needed by 2050 to feed a population that will exceed 9 billion. How can such food production be met in ways that conserve the environment while also alleviating poverty?


Indonesian logging giant pulls out of FSC certification scheme

(06/22/2013) Following a complaint filed by environmental groups, Indonesian forestry giant Asia Pacific Resources International Limited (APRIL) has pulled out of the Forest Stewardship Council (FSC), an eco-labeling initiative for timber and other forest products.


Sarawak targets 1M ha of tree plantations by 2020

(06/22/2013) Sarawak, a state in Malaysian Borneo, aims to have 1 million hectares of industrial tree plantations by 2020 to offset declining timber production due to unsustainable forest management practices.


Logging endangers UNESCO World Heritage Site in Solomon Islands

(06/22/2013) A world heritage site in the Solomon Islands is 'in danger' due to logging, warns the United Nations Educational, Scientific and Cultural Organization (UNESCO).


Singapore air pollution hits worst level on record, government blames palm oil and timber plantations in Sumatra

(06/21/2013) Singapore's Pollutant Standards Index hit the highest level on record Friday as 'haze' driven by fires burning across plantations, peatlands, and forest areas continued to rage across Sumatra. The air pollution gauge touched a record 400 at 11 am local time on Friday, according to the National Environment Agency's website. The level is considered "very unhealthy" with people advised to 'minimize all outdoor exposure' and wear masks when outside.


Singapore chokes on haze from deforestation fires

(06/17/2013) Singapore and Malaysian officials have asked Indonesia to take 'urgent measures' to address forest fires in Sumatra that are sending choking haze northward, reports AFP.


Tigers, orangutans, rhinos: Sumatra's big mammals on the edge of extinction

(06/12/2013) Karman Lubis's body was found near where he had been working on a Sumatran rubber plantation. His head was found several days later a mile away and they still haven't found his right hand. He had been mauled by a Sumatran tiger that has been living in Batang Gadis National Park and he was one of five people killed there by tigers in the last five years.


Norwegian Parliament calls for stronger implementation of no-deforestation policy for investments

(06/12/2013) The Norwegian Parliament has called for the country's pension fund to strengthen its commitment to avoid investing in companies linked to rainforest destruction.


Conserving the long-neglected freshwater fish of Borneo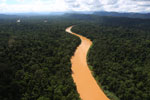 (06/11/2013) Borneo is a vast tropical island known for orangutans, rhinos, elephants, sun bears, proboscis monkeys, hornbills, and ubiquitous leeches. Conservationists have championed all of these species (aside from the leeches) in one way or another, but like many tropical regions Borneo's freshwater species have long been neglected, despite their rich biodiversity and importance to local people. But a new organization, the Kinabatangan River Spirit Initiative, is working to change that.


NASA: Deforestation jumps in Malaysia

(06/10/2013) Deforestation jumped during the first three months of 2013 in Malaysia, Nepal and Mexico, according to a forest tracking tool developed by a team of NASA researchers.


Brazil may lift ban on Amazon ethanol expansion

(06/09/2013) In coming weeks Brazil will vote on a bill that would lift a ban on sugar cane mills across a large extent of the Amazon region, sparking fears that ethanol production could drive new deforestation and tarnish the country's image as an attractive source biofuels for environmentally-conscious markets,


NASA: 3% of Amazon rainforest burned between 1999-2010

(06/08/2013) 33,000 square miles (85,500 square kilometers) or 2.8 percent of the Amazon rainforest burned between 1999-2010 finds new NASA-led research that measured the extent of fires that smolder under the forest canopy.


U.S. govt has role to play in stopping commodity-driven deforestation

(06/07/2013) The U.S. government could play a key role in breaking the link between commodity production and greenhouse gas emissions associated with tropical deforestation, argues a new report released by seven environmental groups.


Saving one of Africa's most stunning parks through biomass briquettes and fuel-efficient stoves


(06/06/2013) When Rebecca Goldstone and Michael Stern first arrived in Uganda's Kibale National Park in 2000 to study monkeys, little did they know then that they would stay on to kick-start an innovative organization, The New Nature Foundation, connecting locals to the park through videos and visits. Nor did they know they would soon tackle the biggest threat to Kibale: deforestation for cooking fuel wood. Since 2006, the couple's organization has implemented a hugely-successful program that provides biomass briquettes for environmentally-friendly fuel for locals, cutting down on the need for forest destruction.


Controversial palm oil project in Cameroon rainforest to resume

(06/06/2013) The Cameroonian government has lifted the suspension on controversial palm oil project in the northwestern part of the Central African nation, reports the AFP.


Southern U.S. logging soars to meet foreign biofuel demand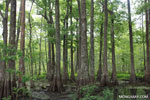 (06/06/2013) In order to meet the European Union's goal of 20% renewables by 2020, some European utility companies are moving away from coal and replacing it with wood pellet fuel. The idea is simple: trees will regrow and recapture the carbon released in the burning of wood pellets, making the process supposedly carbon-neutral. But just like other simple ideas, it misses out important details that can turn it on its head.


Brazil touts progress in reducing deforestation, but fails to note recent jump in clearing

(06/05/2013) Today in a press release for the U.N.'s World Environment Day, the Brazilian government highlighted a sharp drop in deforestation since 2012. The trouble is, the South American superpower failed to acknowledge what appears to be a sharp rise in Amazon forest loss since last year, reports Greenpeace.


Palm oil expansion endangering rare frogs in Malaysia

(06/04/2013) Expansion of the palm oil industry in Malaysia is destroying key habitat for endangered frogs, putting them at greater risk, finds a new study published in the journal Conservation Biology.


Mining in Indonesia taking a heavy social, environmental toll


(06/03/2013) In a patch of rainforest in northern Sumatra, a 28-year-old in jeans and tall rubber boots snubs out his cigarette and pulls a headlamp over his short black hair. Standing under a tarp, he flicks the light on and leans over the entrance of a narrow shaft lined with wooden planks that he and other miners cut from trees that once stood here. He gives a sharp tug on a rope that dangles 100 meters, plateauing in sections, and slides down. For hours, the man, Sarial, will use a pick to scrape away and bag rocks that are hauled to the surface by another miner, using a wooden wheel.


Saving Gorongosa: E.O. Wilson on protecting a biodiversity hotspot in Mozambique


(05/30/2013) If you fly over the Great African Rift Valley from its northernmost point in Ethiopia, over the great national parks of Kenya and Tanzania, and follow it south to the very end, you will arrive at Gorongosa National Park in central Mozambique. Plateaus on the eastern and western sides of the park flank the lush valley in the center. Dramatic limestone cliffs, unexplored caves, wetlands, vast grasslands, rivers, lakes, and a patchwork of savanna and forest contribute to the incredible diversity of this park. What makes this place truly unique, however, is Mount Gorongosa—a towering massif that overlooks the valley below.


Indonesian official arrested for running $150m illegal logging ring

(05/30/2013) A former police officer has been arrested in Indonesia for orchestrating a $150 million illegal logging ring in Indonesian New Guinea.


Snowy tigers and giant owls: conservation against the odds in Russia's Far East


(05/28/2013) The Russian Far East is one of the wildest places on Earth: where giant tigers roam snow-covered forests and the world's biggest owls stalk frozen rivers. Bordering northern China and North Korea, the forests of Primorye are known for the diversity of habitats, including coastal forests along the Sea of Japan, vast coniferous forests in the Sikhote-Alin mountains, and even steppe. These diverse ecosystems also makes the forests a hotspot for endangered species, including Amur tigers (Panthera tigris altaica), Blakiston's fish owls (Bubo blakistoni), and one of the world's rarest big cats, Amur leopards (Panthera pardus orientalis), which number only 30-50 animals.


Controversial palm oil project halted in Cameroon

(05/24/2013) An American company has halted work on a controversial palm oil project in Cameroon due to opposition from local communities and environmentalists, reports Reuters.


Forest certification body revokes Swiss logging company's certificate over alleged Congo abuses

(05/21/2013) The Forest Stewardship Council (FSC), a body that certifies forest management practices, has revoked all certificates granted to the Danzer Group, a multinational logging company, over alleged human rights abuses by one of its former subsidiaries in the Democratic Republic of Congo (DRC), reports Bloomberg.


Top Indonesian official calls out misinformation in environmental campaign

(05/20/2013) Indonesia's top REDD+ official confirmed there is no plan to open 1.2 million hectares of forest in Sumatra's Aceh Province, calling into question numbers used by environmentalists in their bid to stop reclassification of the province's forest land.


Deforestation in the Brazilian Amazon pacing 88% higher than last year's rate

(05/18/2013) Satellite analysis by a Brazil-based NGO indicates that deforestation in the Brazilian Amazon continues to pace well ahead of last year, when the government passed a weakened version of its law governing use of forest lands.


In landmark ruling, Indonesia's indigenous people win right to millions of hectares of forest


(05/17/2013) In a landmark ruling, Indonesia's Constitutional Court has invalidated the Indonesian government's claim to millions of hectares of forest land, potentially giving indigenous and local communities the right to manage their customary forests, reports Mongabay-Indonesia. In a review of a 1999 forestry law, the court ruled that customary forests should not be classified as "State Forest Areas". The move is significant because Indonesia's central government has control over the country's vast forest estate, effectively enabling agencies like the Ministry of Forestry to grant large concessions to companies for logging and plantations even if the area has been managed for generations by local people.


NGO: conflict of interests behind Peruvian highway proposal in the Amazon


(05/16/2013) As Peru's legislature debates the merits of building the Purús highway through the Amazon rainforest, a new report by Global Witness alleges that the project has been aggressively pushed by those with a financial stake in opening up the remote area to logging and mining. Roads built in the Amazon lead to spikes in deforestation, mining, poaching and other extractive activities as remote areas become suddenly accessible. The road in question would cut through parts of the Peruvian Amazon rich in biodiversity and home to indigenous tribes who have chosen to live in "voluntary isolation."


Gabon convicts environmentalist of defamation in palm oil case

(05/15/2013) An environmental activist in Gabon is facing jail time and a $10,000 fine over his campaign against a Singaporean agroindustrial giant's plan to develop tens of thousands of hectares in oil palm, timber, and rubber plantations in the Central African nation.


Indonesia officially extends forestry moratorium

(05/15/2013) The Indonesian government has officially extended its moratorium on new logging and plantation concessions in 65 million hectares of forests and peatlands for another two years. The move, which had been expected, was announced Wednesday by Indonesian President Susilo Bambang Yudhoyono.


Eat insects to mitigate deforestation and climate change


(05/14/2013) A new 200-page-report by the UN Food and Agriculture Organization (FAO) urges human society to utilize an often-ignored, protein-rich, and ubiquitous food source: insects. While many in the industrialized west might turn up their noses at the idea of eating insects, already around 2 billion people worldwide eat over 1,900 species of insect, according to the FAO. Expanding insect-eating, the authors argue, may be one way to combat rising food needs, environmental degradation, and climate change.


Deforestation will undercut effectiveness of rainforest dams


(05/13/2013) Deforestation may significantly decrease the hydroelectric potential of tropical rainforest regions, warns a new study published in Proceedings of the National Academy of Science. The study, used climate, hydrological, and land use models to forecast the impact of potential forest loss on hydropower generation on the Xingu River, a major tributary of the Amazon where the world's third largest dam — Belo Monte — is currently under construction.


Palm oil company violated RSPO standards, evicted from sustainability body

(05/13/2013) The Roundtable on Sustainable Palm Oil (RSPO) has evicted Indonesian palm oil giant Dutapalma Nusantara for violating key principles for sustainability.


Indonesian palm oil giant cutting deforestation from supply chain


(05/13/2013) Indonesian palm oil giant Golden Agri-Resources (GAR) is continuing to reduce deforestation under its 2011 forest conservation policy despite ongoing forest destruction by other palm oil producers in the sector, finds a new assessment by Greenomics, an Indonesian activist group. However the report finds GAR's operations are not completely deforestation-free.


Continued deforestation in the Amazon may kill Brazil's agricultural growth

(05/09/2013) Continuing deforestation in the Amazon rainforest could undermine agricultural productivity in the region by reducing rainfall and boosting temperatures, warns a new study published in the journal Environmental Research Letters.


New UN report gives Indonesia low marks in forest governance


(05/09/2013) A new UN report exposes serious flaws in Indonesia's forest governance, serving as a wake up call to policy makers aiming to conserve forests in the country, which boasts the third largest area of tropical forest coverage in the world. On Monday, the United Nations Development Programme (UNDP) together with the Government of Indonesia launched a comprehensive forest governance index, which evaluates forest governance at the central, provincial and district levels and offers policy recommendations designed to better equip the country to conserve forests and peatlands.


Brazil's satellite monitoring reduced Amazon deforestation by 60,000 sq km in 5 years

(05/08/2013) Brazil's advanced satellite monitoring system, coupled with increased law enforcement, was responsible for nearly 60 percent of the 101,000 square kilometer-drop in deforestation observed between 2007 and 2011, argues a new study published an international think tank.


Debate heats up over California's plan to reduce emissions via rainforest protection


(05/07/2013) As the public comment period for California's cap-and-trade program draws to a close, an alliance of environmental activists have stepped up a heated campaign to keep carbon credits generated by forest conservation initiatives in tropical countries out of the scheme. These groups say that offsets generated under the so-called Reducing Emissions from Deforestation and Degradation (REDD+) mechanism, will undermine efforts to cut emissions as home, while potentially leading to abuses abroad. However supporters of forest conservation-based credits say the program may offer the best hope for saving the world's beleaguered rainforests, which continue to fall at a rate of more than 8 million hectares per year.


Court rules for palm oil company in controversial deforestation case


(05/05/2013) Court orders Aceh governor to reverse decision to cancel palm oil concession in protected peatlands. An Indonesian court has ruled in favor of plantation company PT Kallista Alam in a lawsuit brought against the governor of Indonesia's Aceh province for revoking the company's license to develop palm oil plantations in a protected peat swamp forest.


Mekong region has lost a third of its forests in 30 years, may lose another third by 2030

(05/03/2013) The Greater Mekong region of Cambodia, Laos, Myanmar (Burma), Thailand and Vietnam will lose a third of its remaining forest cover by 2030 unless regional governments improve management of natural resources and transition toward a greener growth model, warns a new report issued by WWF.


Endangered primates and cats may be hiding out in swamps and mangrove forests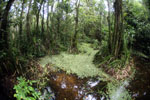 (05/02/2013) What happens to animals when their forest is cut down? If they can, they migrate to different forests. But in an age when forests are falling far and fast, many species may have to shift to entirely different environments. A new paper in Folia Primatologica theorizes that some 60 primate species and 20 wild cat species in Asia and Africa may be relying more on less-impacted environments such as swamp forests, mangroves, and peat forests.


Is it possible to reduce the impact of oil drilling in the Amazon rainforest?


(05/02/2013) Oil extraction in the Amazon rainforest has been linked to severe environmental degradation — including deforestation and pollution — which in some areas has spurred violent social conflict. Yet a vast extent of the Colombian, Peruvian, Ecuadorian, Bolivian, and Brazilian Amazon is currently under concession for oil and gas exploration and production. It seems clear that much of this hydrocarbon development is going to proceed whether environmentalists and human rights groups like it or not.


13 year search for Taiwan's top predator comes up empty-handed

(05/01/2013) After 13 years of searching for the Formosan clouded leopard (Neofelis nebulosa brachyura), once hopeful scientists say they believe the cat is likely extinct. For more than a decade scientists set up over 1,500 camera traps and scent traps in the mountains of Taiwan where they believed the cat may still be hiding out, only to find nothing.


Indigenous tribes say effects of climate change already felt in Amazon rainforest


(04/30/2013) Tribal groups in Earth's largest rainforest are already being affected by shifts wrought by climate change, reports a paper published last week in the British journal Philosophical Transactions of the Royal Society B. The paper, which is based on a collection of interviews conducted with indigenous leaders in the Brazilian Amazon, says that native populations are reporting shifts in precipitation patterns, humidity, river levels, temperature, and fire and agricultural cycles. These shifts, measured against celestial timing used by indigenous groups, are affecting traditional ways of life that date back thousands of years.


Conservation without supervision: Peruvian community group creates and patrols its own protected area


(04/30/2013) When we think of conservation areas, many of us think of iconic National Parks overseen by uniformed government employees or wilderness areas purchased and run from afar by big-donor organizations like The Nature Conservancy, Wildlife Conservation Society, WWF, or Conservation International. But what happens to ecosystems and wildlife in areas where there's a total lack of government presence and no money coming in for its protection? This is the story of one rural Peruvian community that took conservation matters into their own hands, with a little help from a dedicated pair of primate researchers, in order to protect a high biodiversity cloud forest.


What if companies actually had to compensate society for environmental destruction?


(04/29/2013) The environment is a public good. We all share and depend on clean water, a stable atmosphere, and abundant biodiversity for survival, not to mention health and societal well-being. But under our current global economy, industries can often destroy and pollute the environment—degrading public health and communities—without paying adequate compensation to the public good. Economists call this process "externalizing costs," i.e. the cost of environmental degradation in many cases is borne by society, instead of the companies that cause it. A new report from TEEB (The Economics of Ecosystems and Biodiversity), conducted by Trucost, highlights the scale of the problem: unpriced natural capital (i.e. that which is not taken into account by the global market) was worth $7.3 trillion in 2009, equal to 13 percent of that year's global economic output.


Probe confirms Singapore-based palm oil company engaged in land-grabbing in Borneo

(04/26/2013) An independent investigation has shown that First Resources Ltd, a palm oil plantation company and member of the Roundtable on Sustainable Palm Oil (RSPO), failed to obtain proper consent from local communities before clearing rainforests for plantations in Indonesian Borneo, an Indonesian indigenous rights group reported last week.


Samsung admits to using tin linked to child labor, deforestation; Apple mum on sourcing


(04/25/2013) Mobile device giant Samsung has admitted to using tin sourced from a controversial mining operation on the Indonesian island of Bangka, where unregulated mining kills 150 miners a year and causes substantial environmental damage, reports The Guardian and Mongabay-Indonesia.


Environmentalists unhappy with new palm oil standard


(04/25/2013) Environmentalists are unhappy with Thursday's approval of new criteria for the world's leading palm oil certification standard. After members of the Roundtable on Sustainable Palm Oil (RSPO) in a special assembly approved the body's new 'principles and criteria' (P&Cs) for palm oil certification, several groups voiced concern that the rules won't protect against conversion of carbon-dense rainforests and peatlands for oil palm plantations.



Page 1 | Page 2 | Page 3 | Page 4 | Page 5 | Page 6 | Page 7 | Page 8 | Page 9 | Page 10 | Page 11 | Page 12 | Page 13 | Page 14 | Page 15 | Page 16 | Page 17 | Page 18 | Page 19 | Page 20 | Page 21 | Page 22 | Page 23 | Page 24 | Page 25 | Page 26 | Page 27 | Page 28 | Page 29 | Page 30 | Page 31 | Page 32 | Page 33 | Page 34 | Page 35 | Page 36 | Page 37 | Page 38 | Page 39 | Page 40 | Page 41 | Page 42 | Page 43 | Page 44 | Page 45