News articles on deforestation

---
Mongabay.com news articles on deforestation in blog format. Updated regularly.





Aceh, Papua, Amazonas governors sign carbon-for-forests pact

(12/08/2007) Three governors have signed the Forests Now Declaration to protect tropical forests for their carbon value. The Governors, Irwandi Yusuf (Aceh, Indonesia), Barnabas Suebu (Papua, Indonesia), and Eduardo Braga (Amazonas, Brazil), agreed to the declaration's action plan which calls for compensation for reduced greenhouse gas emissions from deforestation and protection of standing forests. Deforestation and forest degradation account for roughly 20 percent of human-caused greenhouse gas emissions, but steps to reduce forest loss will help mitigate climate change. The UK government's 2005 Stern Review said that forest protection could be one of the most cost-effective ways to address climate change.


Amazon deforestation rates drop 20% in 2007

(12/08/2007) Deforestation rates in Brazil's Amazon rainforest dropped 20 percent since last year, reported the Brazilian National Institute of Space Research (INPE).


REDD will fail if needs of forest communities aren't addressed

(12/07/2007) Initiatives to reduce emissions by reducing tropical deforestation (REDD) will fail unless policymakers adequately address the underlying drivers of forest degradation and destruction, argues a new report published by the Center for International Forestry Research (CIFOR).


Bali talks update: Brazil blocks deforestation initiative, US stalls

(12/07/2007) Thousands of United Nation's delegates are convening over the next ten days to chart a new course for tackling climate change. One of the hottest topics at the United Nations Convention on Climate Change is Reducing Emissions from Deforestation in Developing Countries (REDD). Tropical deforestation causes 20% of global greenhouse gases. REDD is based on the principal that if the world wants to fight climate change and deforestation - conservation behvaior must be more profitable than destruction. The UN diplomats are trying to reach accord on new financial resources that will empower developing countries to slow down their rates of deforestation.


Rainforest logging moratorium established in Indonesian provinces, Amazonas state

(12/07/2007) Governors from the Brazilian state of Amazonas and the Indonesian provinces of Aceh, Papua and West Papua signed a historic agreement to protect threatened rainforests.


Peatlands restoration is a cheap way to cut CO2 emissions

(12/07/2007) Rehabilitating damaged peatlands in Indonesia may be one of the most cost-effective ways to cut emissions of greenhouse gases, said an international NGO.


U.S. to cut funding for rainforest conservation during Bali climate talks

(12/06/2007) While delegates meet in Bali to discuss a post-Kyoto framework on climate change, it appears likely that the U.S. Treasury Department will cut funding for the Tropical Forest conservation Act (TFCA), the largest pool of U.S. government money exclusively for helping developing countries conserve threatened tropical forests, according to the Tropical Forest Group, a forest policy group based in Santa Barbara.


New satellite system will penetrate clouds to track deforestation

(12/05/2007) Satellite monitoring will play a critical role in any agreement that compensates tropical countries for preserving their forests, such as "Reduced Emissions from Deforestation and Degradation" (REDD) mechanisms currently under discussion at UN climate talks in Bali. Released Tuesday, a new study, "New Eyes in the Sky: Cloud-Free Tropical Forest Monitoring for REDD with the Japanese Advanced Land Observation Satellite (ALOS)", details significant advancements in the field of remote sensing of forests.


Forest carbon may not fully offset fossil carbon, says expert

(12/03/2007) As policymakers meet in Bali, Indonesia to discuss various mechanisms for mitigating greenhouse emissions, a tropical ecologist from Sri Lanka warns that one ton of forest carbon is not equal to one ton of fossil carbon when it comes to using offsets to fight global warming. The implications: considerably larger forest areas (preferably old growth since it has higher carbon values than plantations) would need to be protected and reforested than are presently anticipated by most policymakers.


Could the carbon market save the Amazon rainforest?

(11/29/2007) The global carbon market could play a key role in saving the Amazon from the effects of climate change and economic development, which could otherwise trigger dramatic ecological changes, reports a new paper published in Science. The authors argue that a well-articulated plan, financed by carbon markets, could prevent the worst outcomes for the Amazon forest while generating economic benefits for the region's inhabitants.


Cooking oil, palm oil biodiesel can reduce emissions relative to diesel

(11/28/2007) A lifecycle analysis of biodiesel by Australia's Commonwealth Scientific and Industrial Research Organization (CSIRO) shows that using palm oil derived from existing plantations can be an effective biofuel feedstock for reducing greenhouse gas emissions relative to conventional diesel fuel. However, palm oil sourced from rainforest and peatlands generating emissions 8 to 21 times greater than those from diesel.


Carbon credits for forest conservation concept faces challenges

(11/27/2007) While environmentalists, scientists, development exports, and policymakers across the political spectrum are ethusiastic about the idea of offsetting carbon emissions by preventing deforestation (a concept known as "avoided deforestation" or Reduced Emissions from Deforestation and Degradation (REDD)), the concept still faces many challenges, especially in implementation.


Guyana's forests offered as massive carbon offset

(11/26/2007) Guyana has offered up the entirity of its remaining forest cover as a giant carbon offset, reports The Independent.


Palm oil industry announces "eco" standards for production

(11/26/2007) Palm oil producers -- under fire from environmentalists who say the industry is driving the wholesale destruction of biodiverse rainforests in Malaysia and Indonesia -- last week announced a new certification process to ensure greener environmental standards for palm oil, reports Reuters.


Global warming may provoke evolution

(11/26/2007) Some 80 million years ago, during a period of global warming, a group of relatively immobile salamanders trekked from western North America to the continent that became Asia, report researchers writing in this week's issue of the journal Proceedings of the National Academy of Science.


UN says palm oil destroys forests, indigenous cultures in Indonesia, Malaysia

(11/26/2007) Europe's demand for supposedly eco-friendly biodiesel is fueling destruction of biodiverse rainforests in southeast Asia, warns a new report from the United Nations Development Programme (UNDP).


Is the oil-palm industry using global warming to mislead the public?

(11/23/2007) Members of the Indonesian Palm Oil Commission are distributing materials that misrepresent the carbon balance of oil-palm plantations, according to accounts from people who have seen presentations by commission members. These officials are apparently arguing that oil-palm plantations store and sequester many times the amount of CO2 as natural forests, and therefore that converting forests for plantations is the best way to fight climate change. In making such claims, these Indonesian representatives evidently are ignoring data that show the opposite, putting the credibility of the oil-palm industry at risk, and undermining efforts to slow deforestation and rein in greenhouse gas emissions.


Carbon offset returns beat forest conversion for agriculture in Indonesia

(11/21/2007) Conversion of forests and peatlands for agriculture in Indonesia has generated little economic benefit while releasing substantial amounts of greenhouse gases into the atmosphere, reports a new study from the the World Agroforestry Centre (ICRAF), the Center for International Forestry Research (CIFOR) and their Indonesian partners.


Indonesia will need 7 years to stop illegal logging

(11/16/2007) Indonesia will take seven years to stop illegal logging and deforestation, said the country's minister of forestry.


7-year old nature guide becomes Belize environmental hero as adult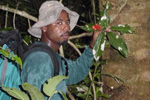 (11/16/2007) Each year hundreds of thousands of nature-oriented tourists visit Belize to see the Central American country's spectacular coral reefs, biodiverse rainforests, and ancient Mayan ruins. However few visitors realize that Belize's natural resources are at risk. Timber and oil extraction, agricultural encroachment, coastal development, pollution and unrestrained tourism are all increasing threats to Belizean ecosystems. Unless something is done to address these concerns, within a generation these pressures could present considerable problems for Belize. Dr. Colin Young, head of the environmental science program at Galen University in Belize, says that while he is greatly concerned about these issues, there is still time to ensure healthy forests and reefs in Belize.


Law enforcement key to saving Borneo's rainforests



(11/13/2007) In an interview with mongabay.com, Dr. Rhett Harrison, a Smithsonian Tropical Research Institute (STRI) associate researcher and Secretary for the Asia-Pacific Chapter of ATBC, says that law enforcement could be the key to safeguarding biodiversity contained in Borneo's lowland parks. Harrison says there may be opportunities for conservationists to work with oil palm to developers to ensure that existing forests are not converted for plantations and that palm oil can be produced in a sustainable manner. He also adds that carbon offsets may eventually offer a means to fund conservation and sustainable development efforts in areas that still have standing forest.


Sun Bears reclassified by IUCN as Vulnerable

(11/13/2007) The world's smallest bear has been recently classified as vulnerable by the IUCN due to habitat loss and poaching. Co-chair of the IUCN Bear Specialist Group, Dave Garshelis, states that "although we do not have any reliable population estimates for the sun bear, or any of the other Asian bears for that matter, we fear that bears in Southeast Asia are declining at a particularly rapid rate due to extensive loss of forest habitat combined with rampant poaching."


Greenwashing the palm oil industry

(11/12/2007) A new report from Greenpeace alleges that members of the Roundtable on Sustainable Palm Oil -- an industry-driven initiative to clean up palm oil production -- are using palm oil derived by clearing endangered rainforests and draining carbon-rich peatlands on the Indonesian island of Sumatra.


Planned logging of Woodlark Island for biofuels opposed by islanders and scientists

(11/12/2007) On Woodlark Island, one-hundred and seventy miles from Papua New Guinea, a struggle is occurring between islanders and biofuel company Vitroplant Ltd. The company is planning to clear much of the island's forest for oil palm plantations to produce biofuels. Vitorplant Ltd.'s contract specifies that they would deforest 60,000 hectares of land for plantations; Woodlark Island is 85,000 hectares in total, meaning over 70% of the island would be converted. Last week, one hundred islanders (out of a total population of 6,000) traveled to the capital of Milne Bay Province, Alotau, to voice their concern over the plans to turn their forested island into plantations.


Sun bear gets 'vulnerable' listing due to deforestation, poaching

(11/12/2007) The sun bear, the world's smallest bear, has been added to the global list of species threatened with extinction, said the World conservation Union (IUCN).


Oil palm does not store more carbon than forests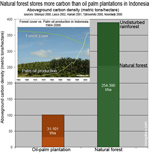 (11/08/2007) Officials from the Indonesian ministry of agriculture and the palm oil industry are distributing materials that misrepresent the carbon balance oil palm plantations, according to accounts from people who have seen presentations by members of the Indonesian Palm Oil Commission. Ministry of agricultural officials are apparently arguing that oil palm plantations store and sequester many times the amount of CO2 as natural forests and therefore converting forests for plantations is the best way to fight climate change. In making such claims, these Indonesian officials are ignoring data that show the opposite, putting the credibility of the oil palm industry at risk, and undermining efforts to slow deforestation and reign in greenhouse gas emissions.


Proposed gold mine proves controversial in French Guiana rainforest

(11/07/2007) Commercial gold mining threatens a key forest reserve and wetland in French Guiana say scientists who warn that exploitation could pollute rivers with toxic compounds, threaten wildlife, and put indigenous populations at risk.


Subtle threats could ruin the Amazon rainforest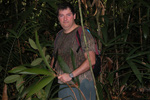 (11/07/2007) While the mention of Amazon destruction usually conjures up images of vast stretches of felled and burned rainforest trees, cattle ranches, and vast soybean farms, some of the biggest threats to the Amazon rainforest are barely perceptible from above. Selective logging -- which opens up the forest canopy and allows winds and sunlight to dry leaf litter on the forest floor -- and 6-inch high "surface" fires are turning parts of the Amazon into a tinderbox, putting the world's largest rainforest at risk of ever-more severe forest fires. At the same time, market-driven hunting is impoverishing some areas of seed dispersers and predators, making it more difficult for forests to recover. Climate change -- an its forecast impacts on the Amazon basin -- further looms large over the horizon.


Carbon-negative bioenergy to cut global warming could drive deforestation

(11/06/2007) A proposed mechanism for generating carbon-negative bioenergy -- an energy source that reduces atmospheric carbon dioxide levels -- could drive large-scale deforestation in the tropics and undermine efforts to conserve forests for carbon offsets says a biofuel expert.


Agriculture is primary driver of mangrove destruction

(10/31/2007) Agricultural expansion -- not shrimp farming -- is driving the rapid destruction of the world's mangrove forests, reports a new study published in the Journal of Biogeography.


Dutch: no subsidies for biofuels-driven rainforest destruction

(10/31/2007) The Dutch government will exclude palm oil from "green energy" subsidies as growing evidence suggests that palm oil is often less sustainable than advertised.


WSJ inquiry pushes FSC to cancel logging certification in endangered forest

(10/30/2007) An inquiry by The Wall Street Journal prompted the Forest Stewardship Council (FSC), an environmental body that runs a widely accepted "green" labeling system for forestry products, to revoke certification for a Singapore-based Asia Pulp & Paper Co. (APP) project on the Indonesian island of Sumatra.


Avoided deforestation beats timber, palm oil, in tax revenue for Indonesia

(10/29/2007) Indonesia could more than double its tax revenue by protecting forests and selling the resulting carbon emission credits instead of timber and palm oil, a University of Michigan researcher told Bloomberg.


Madagascar fires mapped with Google Earth in real-time

(10/29/2007) Every year as much as one-third of Madagascar, one of the planet's most biodiverse islands, goes up in flames. Now a new tool gives scientists the ability to monitor and track Madagascar's fires in real-time through the Internet.


Global warming puts primates at greater risk

(10/25/2007) 29 percent of the world's primate species are in danger of going extinct warns a new report from the Primate Specialist Group of IUCN's Species Survival Commission (SSC) and the International Primatological Society (IPS).


North Atlantic carbon sinks absorbing less CO2

(10/23/2007) The capacity of the North Atlantic ocean to absorb atmospheric carbon dioxide (CO2) has declined significantly since in the mid 1990s, report researchers from the University of East Anglia. The findings raise concerns that oceans may be slowing their uptake of CO2, potentially worsening the climate impact of greenhouse gas emissions.


Does palm oil alleviate rural poverty in Malaysia?



(10/23/2007) While it is often argued that the economic benefits of oil palm plantations outweigh the environmental costs of converting biodiverse ecosystems to monocultures, new analysis suggests that the role of plantations in reducing rural poverty may be overstated.


2007 Amazon fires among worst ever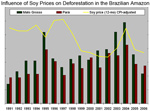 (10/22/2007) By some measures, forest fires in the Amazon are at near-record levels, according to analysis Brazilian satellite data by mongabay.com. A surge in soy and cattle prices may be contributing to an increase in deforestation since last year. Last year environmentalists and the Brazilian government heralded a sharp fall in deforestation rates, the third consecutive annual decline after a peak in 2004. Forest loss in the 2006-2007 season was the lowest since record-keeping began in the late in 1970s. While the government tried to claim credit for the drop, analysts at the time said that commodity prices were a more likely driver of slow down: both cattle and soy prices had declined significantly over the previous months.


Carbon sinks failing to keep up with emissions

(10/22/2007) Atmospheric carbon dioxide (CO2) growth has increased 35 percent faster than expected since 2000, report scientists writing in Proceedings of the National Academy of Sciences. Worryingly, more than half the increase came from a decreased efficiency of natural land and ocean sinks to absorb CO2 from the atmosphere. The reminder came from a slowing in the efficiency of use of fossil fuels.


Uganda cancels controversial rainforest logging plan

(10/18/2007) Uganda's government abandoned a controversial plan to grant protected rainforest land to a sugar company, reports Reuters.


Congo pygmies to meet World Bank President Zoellick over forest destruction

(10/17/2007) A delegation of 'Pygmies' from Democratic Republic of Congo are visiting Washington this week to discuss World Bank-sanctioned logging of their rainforest home. The 'Pygmies' are scheduled to meet with bank President Robert Zoellick, according to the Rainforest Foundation, a lobby group that sponsored the trip.


Amazon rainforest burning "worst" in memory



(10/16/2007) Fires continue to rage in the Amazon, according to local reports. John Cain Carter, a rancher who runs Alianca da Terra, an environmental accountability group for agricultural operators, says that the fires are the worst he has ever seen in the region. "I have never seen fires this bad," he told mongabay.com. "The fires are even worse than in 1998's El Nino event." NASA satellite images released at the end of September confirm widespread burning in the Amazon state of Mato Grosso.


South American development plan could destroy the Amazon

(10/04/2007) A plan to link South America's economies through a series of infrastructure projects, could destroy much of the Amazon rainforest, warns a new study by conservationists.


Forests reduce flooding

(10/04/2007) While conventional wisdom holds that forests help buffer against catastrophic flooding, there has been little evidence to support such notions. A 2005 report by the Food and Agricultural Organization of the United Nations (FAO) and the Center for International Forestry Research (CIFOR) cited this lack of evidence and argued that flood mitigation efforts though forest preservation could not be justified on economic grounds. Now, a new study, published in the journal Global Change Biology, suggests that forests do impact the occurrence and severity of destructive flooding. A prominent researcher is already calling the new work a "landmark study" in support of forest conservation.


Biodiesel demand could destroy world's forests

(10/04/2007) Growing demand for biodiesel could drive large-scale forest conversion for energy crops, warns a study published in conservation Biology.


Fires rage in Amazon rainforest park

(10/04/2007) Forest fires are raging in Xingu National Park in the Amazon rainforest, according to a pioneering cattle rancher-turned-conservationist in the Brazilian state of Mato Grosso.


Environmentalists and palm oil producers should work together

(09/25/2007) Environmentalists and palm-oil producers are increasingly at odds. Greens groups say palm oil is driving the conversion of tens of thousands of hectares of peatlands and lowland forest in Indonesia, putting wildlife at risk, increasing the vulnerability of forests to fires, and triggering large emissions of greenhouse gases.


38 key global environmental indicators worsen - report

(09/14/2007) Consumption of energy and many other critical resources is consistently breaking records, disrupting the climate and undermining life on the planet, according to the latest Worldwatch Institute report, Vital Signs 2007-2008.


Environmentalists announce support for carbon trading

(09/14/2007) A coalition of environmental groups announced it will support the development of carbon trading policies that help protect tropical rainforests and other important ecosystems, noting that "conservation alone has proven no match for commerce."


Rainforest countries form pact to push global warming solutions

(09/13/2007) Eight tropical countries containing 80 percent of the world's remaining tropical forest cover have formed an alliance to have forest conservation included in a post-Kyoto agreement on climate change, reports the Financial Times. The "Forestry Eight", as the group is called, includes Brazil, Malaysia, Papua New Guinea, Gabon, Cameroon, Costa Rica, Congo and Indonesia.



Page 1 | Page 2 | Page 3 | Page 4 | Page 5 | Page 6 | Page 7 | Page 8 | Page 9 | Page 10 | Page 11 | Page 12 | Page 13 | Page 14 | Page 15 | Page 16 | Page 17 | Page 18 | Page 19 | Page 20 | Page 21 | Page 22 | Page 23 | Page 24 | Page 25 | Page 26 | Page 27 | Page 28 | Page 29 | Page 30 | Page 31 | Page 32 | Page 33 | Page 34 | Page 35 | Page 36 | Page 37 | Page 38