News articles on dead zone

---
Mongabay.com news articles on dead zone in blog format. Updated regularly.





Organic yields lag behind industrial farming, but that's not the whole story


(04/26/2012) In general, industrial agriculture beats organic farming in yields, according to a comprehensive new study in Nature. The study adds new data to the sometimes heated debate of organic versus conventional farming. Proponents of organic farming argue that these practices are environmentally friendly, sustainable over the long-term, and provide a number of social goods. However, critics argue that organic farming requires more land, thereby increasing global deforestation, which offsets any other environmental benefits of organic food production. At stake is whether organic or conventional is capable of feeding the world's seven billion people (and rising), including increasing demand for energy-intensive foods like meat in the developing world.


Ocean prognosis: mass extinction


(06/20/2011) Multiple and converging human impacts on the world's oceans are putting marine species at risk of a mass extinction not seen for millions of years, according to a panel of oceanic experts. The bleak assessment finds that the world's oceans are in a significantly worse state than has been widely recognized, although past reports of this nature have hardly been uplifting. The panel, organized by the International Program on the State of the Ocean (IPSO), found that overfishing, pollution, and climate change are synergistically pummeling oceanic ecosystems in ways not seen during human history. Still, the scientists believe that there is time to turn things around if society recognizes the need to change.


Record dead zone projected due to Midwest floods

(06/16/2011) Flooding in the Midwest is likely to cause the largest-ever dead zone in the Gulf of Mexico, reports the National Oceanic and Atmospheric Administration (NOAA).


Prosperity without Growth: Economics for a Finite Planet

(05/23/2011) Prosperity without Growth: Economics for a Finite Planet challenges us to imaging a world where growth and unmitigated consumption do not equal development. In fact, as clearly described throughout, countries with unmitigated consumption are the underdeveloped countries of the 21st Century expanding our global ecological debt at the expense of countries who are more sophisticated in their development practices with similar prosperity levels while incurring less "national" ecological debt.


Growing Atlantic dead zone shrinks habitat for billfish and tuna, may lead to over-harvest

(12/29/2010) A dead zone off the coast of West Africa is reducing the amount of available habitat for Atlantic tuna and billfish species, reports the National Oceanic and Atmospheric Administration in a study published in Fisheries Oceanography. The zone is growing due to global warming and is expected to cause over-harvest of tuna and billfish as the fish seek higher levels of oxygen in areas with greater fisheries activity.


Backbone of marine food chain in alarming decline

(07/28/2010) Tiny marine algae, known as phytoplankton, are the backbone of the marine food chain, yet a new study in Nature has found that this backbone is disintegrating. Researchers discovered that since 1950 phytoplankton has declined by approximately 40 percent across the Northern Hemisphere, a decline that corresponds to warming waters due to climate change. Given that phytoplankton feed the oceans' abundance all the way up the food chain—from zooplankton to fish to seabird to sharks to humans—the decline has likely impacted the very structure of the ocean.


New NASA image reveals the oceans' dead zones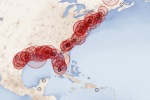 (07/22/2010) A new image by NASA reveals the extent of the world's marine dead zones, which a study in 2008 found were doubling every decade. At that time 415 dead zones had been identified worldwide. Dead zones are regions of the ocean where dissolved oxygen has fallen to such low levels that most marine species can no longer survive. Such conditions are often seasonal.


Biofuel company eyes dead zone in the Gulf of Mexico for creating fish-powered fuel

(08/18/2009) 'Dead zones' in the ocean are called such for a reason. Every year agricultural run-off, especially fertilizer, floods the oceans with an abundance of nutrients leading to algae blooms, i.e. massive explosions of phytoplankton. The demise of these blooms, and the rise of bacteria feeding on them, eventually starves the entire area of oxygen creating a 'dead zone' where the vast majority marine life can't survive. Considered by most to be an environmental catastrophe, a new company is looking at dead zones in a different light: fuel and profit.


Will jellyfish take over the world?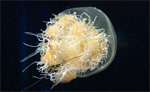 (06/16/2009) It could be a plot of a (bad) science-fiction film: a man-made disaster creates spawns of millions upon millions of jellyfish which rapidly take over the ocean. Humans, starving for mahi-mahi and Chilean seabass, turn to jellyfish, which becomes the new tuna (after the tuna fishery has collapsed, of course). Fish sticks become jelly-sticks, and fish-and-chips becomes jelly-and-chips. The sci-fi film could end with the ominous image of a jellyfish evolving terrestrial limbs and pulling itself onto land—readying itself for a new conquest.


Climate change, ocean acidification may doom jumbo squid

(12/15/2008) Ocean acidification — driven by rising carbon dioxide levels in the atmosphere — may hurt the Humboldt squid, report researchers writing in the journal Proceedings of the National Academy of Sciences.


U.S. needs environmental standards for biofuels

(10/02/2008) The U.S. lacks criteria to ensure that cellulosic ethanol production will not harm the environment, warn scientists writing in the journal Science. The researchers say that with proper safeguards, cellulosic ethanol can help the U.S. meet its energy needs sustainably.


The long-ignored ocean emergency and what can be done to address it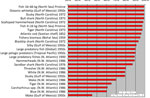 (08/18/2008) This year has been full of bad news regarding marine ecosystems: one-third of coral species threatened with extinction, dead-zones spread to 415 sites, half of U.S. reefs in fair or bad condition, increase in ocean acidification, tuna and shark populations collapsing, and only four percent of ocean considered pristine. Jeremy Jackson, director of the Scripps Center for Marine Biodiversity and Conservation at the University of California, San Diego, synthesizes such reports and others into a new paper, published in the journal Proceedings of the National Academy of Sciences, that boldly lays out the scope of the oceanic emergency and what urgently needs to be done.


Marine 'dead zones' double every decade

(08/14/2008) Dead zones have spread across the ocean at alarming rates. Currently 415 sites, usually along coastlines, have shown signs of seasonal to persistent hypoxia—a severe lack of oxygen. In a new essay in Science, researchers Robert Diaz and Rutger Rosenberg argue that marine dead zones have "become a major worldwide environmental problem". Marine dead zones now occupy a portion of the ocean equal to that of the United Kingdom and continue to grow, doubling every decade since the 1960s and showing no sign of abating.


U.S. dead zones may reach record levels this summer

(07/15/2008) "Dead zones" in the Gulf of Mexico and Chesapeake Bay will likely expand to record levels this summer due to rising rising agricultural runoff in part triggered by large-scale flooding in the Midwest, according to a forecast by a researcher from the University of Michigan.


Nitrogen pollution harming ecosystems and contributing to global warming

(05/15/2008) Nitrogen pollution of the world's oceans is harming marine ecosystems and contributing to global warming, report two reviews published in the journal Science.


Global warming to worsen ocean dead zones, hurt fisheries

(05/01/2008) Warming oceans will worsen oxygen-deficient or hypoxic dead zones, affecting ecosystems and fisheries, warn researchers writing in the journal Science.


Ocean dead zones have nearly quadrupled since 1994

(04/03/2008) Coastal areas worldwide are suffering from over-enrichment of their waters by nitrogen and phosphorus, finds a new study from the World Resources Institute (WRI). This over-enrichment, known as eutrophication, causes numerous environmental problems, eventually devastating coastal environments. In overly nutrient-rich waters phytoplankton, micro- and macroalgae grow to excessive portions; these 'algal blooms' diminish subaquatic vegetation, damage coral reefs, and deplete populations of fish, shellfish, marine mammals, and sea birds. In the worst case scenarios the massive algal blooms form hypoxic or dead zones due to loss of oxygen in the water, essentially condemning the ecosystem.


Corn ethanol is worsening the Gulf dead zone

(03/10/2008) Proposed legislation that will expand corn-ethanol production in the United States will worsen the growing "dead zone" in the Gulf of Mexico and hurt marine fisheries, report researchers writing in the Proceedings of the National Academy of Sciences (PNAS).


Why are oceans at risk from global warming?

(02/17/2008) Climate change is putting the world's oceans at risk by increasing the temperature and acidity of seawater, and altering atmospheric and oceanic circulation, warned a panel of scientists this week at the American Association for the Advancement of Science (AAAS) annual meeting in Boston.


U.S. biofuels policy drives deforestation in Indonesia, the Amazon

(01/17/2008) U.S. incentives for biofuel production are promoting deforestation in southeast Asia and the Amazon by driving up crop prices and displacing energy feedstock production, say researchers.


Cellulosic ethanol production could fight Gulf Dead Zone, help fisheries

(01/16/2008) Feedstocks for cellulosic ethanol production could help fight the massive "dead zone" that forms each year in the Gulf of Mexico as a result of current farming practices, says a University of Alabama in Huntsville biologist.


Oregon dead zone event over, but cause still unknown

(10/30/2006) The hypoxic dead zone off the coast of Oregon has finally dissipated but researchers still don't know why it has formed each of the past summers.


'Dead Zone' causing wave of death off Oregon coast

(08/10/2006) The most severe low-oxygen ocean conditions ever observed on the West Coast of the United States have turned parts of the seafloor off Oregon into a carpet of dead Dungeness crabs and rotting sea worms, a new survey shows. Virtually all of the fish appear to have fled the area.


Hypoxic "dead zone" growing off the Oregon Coast

(07/31/2006) A hypoxic "dead zone" has formed off the Oregon Coast for the fifth time in five years, according to researchers at Oregon State University. A fundamental new trend in atmospheric and ocean circulation patterns in the Pacific Northwest appears to have begun, scientists say, and apparently is expanding its scope beyond Oregon waters.


Lack of oxygen triggers sex imbalance in fish

(03/29/2006) Oceanic oxygen depletion resulting from agricultural run-off and pollution can trigger sex imbalance in fish and pose an extinction risk according to a new study published by researchers in Hong Kong. The finding raises new concerns about "dead zones",expanses of water so devoid of oxygen that most sea life cannot survive.


Gulf dead zone larger than expected

(08/02/2005) Gulf dead zone larger than expected.


Gulf dead zone may by increasing according to researchers

(04/15/2005) Gulf dead zone may by increasing according to researchers