News articles on cultures

---
Mongabay.com news articles on cultures in blog format. Updated regularly.








Breaking the mold: Divya Karnad takes on fisheries and science journalism in India
(04/15/2013) Fishing is not a woman's domain in most countries across the globe. In parts of India there are fishing communities who believe that having a woman onboard a fishing boat brings bad luck. Despite this, Divya Karnad, a scientist who studies marine life in India, has spent several years studying fisheries and their impact on species like sharks and sea turtles. Her work forms a part of global efforts to track declining marine species and encourage more sustainable fishing.
An insidious threat to tropical forests: over-hunting endangers tree species in Asia and Africa
(04/04/2013) A fruit falls to the floor in a rainforest. It waits. And waits. Inside the fruit is a seed, and like most seeds in tropical forests, this one needs an animal—a good-sized animal—to move it to a new place where it can germinate and grow. But it may be waiting in vain. Hunting and poaching has decimated many mammal and bird populations across the tropics, and according to two new studies the loss of these important seed-disperser are imperiling the very nature of rainforests.
Beyond the resorts: traveling the real and wild Dominican Republic (photos)
(01/29/2013) For its stunning variety of ecosystems, the Dominican Republic is like a continent squished into half an island. Lowland rainforests, cloud forests, pine forests, dry forests, mangroves, savannah, coastal lagoons, salt lakes, a rift valley, karst land formations, four mountain ranges—including the highest mountain in the Caribbean—and not to mention some of the best beaches, snorkeling, and scuba diving in the hemisphere can all be reached within just a few hours drive of the capital, Santo Domingo. Yet, bizarrely, most tourists who visit the Dominican Republic never venture out of their all-inclusive resort, missing out on some of the most stunning landscapes—and accessible wildlife viewing—in the Caribbean.
Highest priority conservation sites provide essential services for people too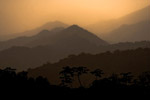 (06/05/2012) Preventing the extinction of the world's most imperiled species would also bring untold benefits to people according to new research in the open-access journal PLoS ONE. Looking at the world's nearly 600 Alliance for Zero Extinction (AZE) sites, the study found that preserving these ecosystems would benefit humans even beyond preserving biodiversity, including safeguarding freshwater, carbon storage, and protecting cultural diversity. AZE sites are identified as habitats containing one or more species listed as Endangered or Critically Endangered by the IUCN Red List, in which the survival of the species is highly dependent on the conservation of the ecosystem in question.
Indigenous groups fight for recognition and illumination in Peru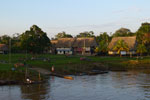 (03/26/2012) "Shh, wait here," Wilson told me. I ducked down behind the buttress of a large tree to wait. We had been walking through the jungle for a few hours. At first we followed a path through the undergrowth, a wet world of ferns, trunks and lianas speckled with the sunlight that made it down through the canopy and understory, but soon we simply walked along a route Wilson picked out. I had been trying to concentrate on the myriad sounds: cicadas were the background and various small birds tweeted from different points. We were listening and looking for signs that would lead us to prey—perhaps the calm whistle of a perdiz or the scent—marking of a boar—but just before Wilson became excited I had heard nothing. He stopped and said, "Red monkeys," pointing ahead.
Supernatural beliefs keep hunting sustainable on Indonesian island

(02/02/2012) How do indigenous communities hunt without pushing target species to local extinction? In other words, how have communities retained sustainable practices over countless generations. One answer is given in a new study by the Center for International Forestry Research (CIFOR) and the Center for International Research in Agronomy and Development (CIRAD): supernatural beliefs. Looking at a community of indigenous people on the Indonesian island of Seram, researchers found that supernatural hunting beliefs ensured animals never vanished for good.
Featured video: music in Madagascar to protest illegal logging

(01/22/2012) A new video highlights the plight of Madagascar's protected tropical forests, which are falling prey to illegal logging and foreign contractors. Featuring Razia Said, Malagasy singer and songwriter, the video shows concerts to raise awareness about illegal logging, especially near Maosala National Park.
Featured video: plight of orangutans highlighted with new rock song

(01/17/2012) An Indonesian rock band, Navicula, is highlighting the plight of orangutans in their native country through a new song entitled, aptly, "Orangutan." The band has created a music video for the song, including footage of a documentary, Green: The Film that follows a starving female orangutan named Green. The band "dedicated the song to encourage people to do more in orangutan conservation, to protect this endangered species."
Will Taiwan save its last pristine coastline?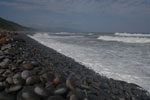 (01/05/2012) Voters in the January 14 Taiwanese presidential election will decide the fate of the island's last pristine wilderness known as the Alangyi Trail. Amongst the three candidates, only one (Tsai Ing-wen from the Democratic Progressive Party) may support the conservation of Alangyi Trail and its coastline. One of the top domestic stories of 2011 were the efforts by the Pingtung County government, indigenous tribes, and NGOs to preserve the Alangyi Trail, according to the Taiwan Environmental Information Center. Alangyi is now a major issue reflecting steadily growing environmental concern amongst the Taiwanese, but its fate is sadly uncertain.
Cultural shifts in Madagascar drive lemur-killing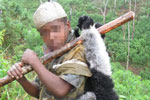 (12/15/2011) Conservationists have often found that some cultural norms, religious beliefs, and taboos play a role in holding back traditional peoples from overusing their environment. Examples of such beliefs include days wherein one cannot hunt or fish, or certain species or regions that are off limits to exploitation. But the influence of the modern world can rapidly extinguish such beliefs, sometimes for the better, in other cases not. In many parts of Madagascar, lemurs are off the menu. These primates, found only in Madagascar, play a big role in Malagasy 'fady' or taboo-related folk stories: lemurs are protectors and, in some cases, even relatives. However, according to a new paper in PLoS ONE an influx of migrants, widespread poverty, lack domestic meat, and poor law enforcement has caused a sudden rise in eating lemurs, many of which are already near-extinction due to habitat loss.
Locals key to saving primate-rich wetlands in Cote D'Ivoire

(12/12/2011) Saved from being converted into a vast palm oil plantation by PALM-CI in 2009, the Ehy Tanoé wetlands and forest in the Cote D'Ivoire (Ivory Coast) is home to three gravely endangered primates and as well as many other species. Since 2006, a pilot community management program has been working to protect the 12,000 hectare area, and a new study in mongabay.com's open access journal Tropical Conservation Science finds that long-term conservation of the Ehy Tanoé wetlands and forest is, in fact, vital for locals who depend on the area for hunting, fishing, firewood, building materials, and medicinal plants. In addition, the study finds that the ecosystem has special cultural and spiritual importance to locals.
Cultural erosion among indigenous groups in Venezuela brings new risks for Caura rainforest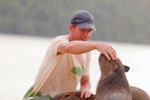 (11/14/2011) One of the planet's most beautiful landscapes is in danger. Deep in southern Venezuela, among ancient forested tabletop mountains known as tepuis, crystalline rivers, and breathtaking waterfalls, outside influences — malaria, the high price of gold, commercial hunting, and cultural erosion — are threatening one of world's largest remaining blocks of wilderness, one that is home to indigenous people and strikingly high levels of biological diversity.
New eco-tour to help save bizarre antelope in 'forgotten' region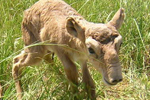 (05/01/2011) Imagine visiting a region that is largely void of tourists, yet has world-class bird watching, a unique Buddhist population, and one of the world's most bizarre-looking and imperilled mammals: the saiga. A new tour to Southern Russia hopes to aid a Critically Endangered species while giving tourists an inside look at a region "largely forgotten by the rest of the world," says Anthony Dancer. Few species have fallen so far and so fast in the past 15 years as Central Asia's antelope, the saiga. Its precipitous decline is reminiscent of the bison or the passenger pigeon in 19th Century America, but conservationists hopes it avoids the fate of the latter.
Using Google Earth to monitor threats to archeological sites

(03/16/2011) A new alert system uses Google Earth and other satellite-based tools to protect cultural heritage sites from fire, looting, encroachment, destructive tourism, and other threats, says the Global Heritage Fund, the group that launched the initiative.
World's weirdest aphrodisiac: elephant-digested durian fruit

(01/20/2011) The spiky, odorous, weighty, and almost impenetrable durian fruit is considered by some to be a fine delicacy, but others a putrid horror. Its taste has been described between a delicious custard and old gym socks. Still, even durian lovers may be uncomfortable with the idea of eating the fruit after it has been consumed and expelled by a wild Asian elephant. But according to the New Straits Times recently wealthy businessmen are willing to pay over $300 for a sample of elephant-ingested durian, which they believe acts as an aphrodisiac.
The true cost of the Commonwealth Games

(09/30/2010) UK newspapers have been flooded this week and last by reports of the Commonwealth Games' venue literally caving in and collapsing, athletes have deemed their village accommodation "filthy" and terrorists have apparently threatened attacks. Thanks to the late monsoon this year, floods are now a fear, and the Games' venue has been choked by a cloud of toxic insect repellent due to further fears of an outbreak of the potentially fatal dengue fever because of mosquitoes being drawn to the floods' stagnant water.
Oil devastates indigenous tribes from the Amazon to the Gulf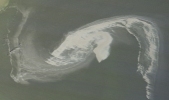 (07/27/2010) For the past few months, the mainstream media has focused on the environmental and technical dimensions of the Gulf mess. While that's certainly important, reporters have ignored a crucial aspect of the BP spill: cultural extermination and the plight of indigenous peoples. Recently, the issue was highlighted when Louisiana Gulf residents in the town of Dulac received some unfamiliar visitors: Cofán Indians and others from the Amazon jungle. What could have prompted these indigenous peoples to travel so far from their native South America? Victims of the criminal oil industry, the Cofán are cultural survivors. Intent on helping others avoid their own unfortunate fate, the Indians shared their experiences and insights with members of the United Houma Nation who have been wondering how they will ever preserve their way of life in the face of BP's oil spill.
Secrets of the Amazon: giant anacondas and floating forests, an interview with Paul Rosolie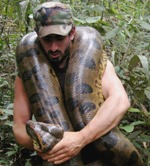 (03/10/2010) At twenty-two Paul Rosolie has seen more adventure than many of us will in our lifetime. First visiting the Amazon at eighteen, Rosolie has explored strange jungle ecosystems, caught anaconda and black caiman bare-handed, joined indigenous hunting expeditions, led volunteer expeditions, and hand-raised a baby giant anteater. "Rainforests were my childhood obsession," Rosolie told Mongabay.com. "For as long as I can remember, going to the Amazon had been my dream […] In those first ten minutes [of visiting], cowering under the bellowing calls of howler monkeys, I saw trails of leaf cutter ants under impossibly large, vine-tangled trees; a flock of scarlet macaws crossed the sky like a brilliant flying rainbow. I saw a place where nature was in its full; it is the most amazing place on earth."
The real Avatar story: indigenous people fight to save their forest homes from corporate exploitation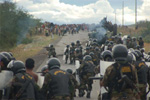 (12/22/2009) In James Cameron's newest film Avatar an alien tribe on a distant planet fights to save their forest home from human invaders bent on mining the planet. The mining company has brought in ex-marines for 'security' and will stop at nothing, not even genocide, to secure profits for its shareholders. While Cameron's film takes place on a planet sporting six-legged rhinos and massive flying lizards, the struggle between corporations and indigenous people is hardly science fiction.
How rainforest shamans treat disease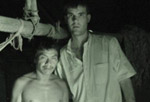 (11/10/2009) Ethnobotanists, people who study the relationship between plants and people, have long documented the extensive use of medicinal plants by indigenous shamans in places around the world, including the Amazon. But few have reported on the actual process by which traditional healers diagnose and treat disease. A new paper, published in the Journal of Ethnobiology and Ethnomedicine, moves beyond the cataloging of plant use to examine the diseases and conditions treated in two indigenous villages deep in the rainforests of Suriname. The research, which based on data on more than 20,000 patient visits to traditional clinics over a four-year period, finds that shamans in the Trio tribe have a complex understanding of disease concepts, one that is comparable to Western medical science. Trio medicine men recognize at least 75 distinct disease conditions—ranging from common ailments like fever [këike] to specific and rare medical conditions like Bell's palsy [ehpijanejan] and distinguish between old (endemic) and new (introduced since contact with the outside world) illnesses. In an interview with mongabay.com, Lead author Christopher Herndon, currently a reproductive medicine physician at the University of California, San Francisco, says the findings are a testament to the under-appreciated healing prowess of indigenous shaman.
Language and conservation: why words matter
(10/28/2009) The words we choose matter. Benjamin Lee Whorf, an influential American linguist theorized that the language one speaks directly impacts our thoughts; he is quoted as saying, "language shapes the way we think, and determines what we can think about". If this is the case then those who believe in conservation must select their words wisely. My wife and I recently traveled to Africa where we visited wildlife parks in both Zimbabwe and Botswana. The animals we encountered and the scenes we were fortunate enough to witness proved so beautiful and wondrous that I have a difficult time describing them—at least in any way that accurately depicts the experience.
Penan tribe to continue blockade against loggers with blowpipes and spears

(09/01/2009) A meeting between the Penan indigenous tribe, Malaysian government officials, and representatives of a logging company ended without an agreement on Friday. After the meeting, a Penan spokesman declared that the group's blockade would continue. Blockaders, dressed in traditional garb, have armed themselves with blowguns and spears.
New Amazonian reserve saves over a million acres in Peru
(08/30/2009) On August 27th Peru's Ministry of the Environment approved the creation of the Matses National Reserve to protect the region's biodiversity, ensure its natural resources, and preserve the home of the Matses indigenous peoples (known as the Mayorunas in Brazil). The park is 1,039,390 acres (or 420,626 hectares) of lowland Amazonian rainforest in eastern Peru. The park is the culmination of over a decade of work by the local non-profit CEDIA (the Center for the Development of the Indigenous Amazonians) funded in part by the Worldland Trust.
An interview a shaman in the Amazon rainforest

(07/28/2008) Deep in the Suriname rainforest, an innovative conservation group is working with indigenous tribes to protect their forest home and culture using traditional knowledge combined with cutting-edge technology. The Amazon Conservation Team (ACT) is partnering with the Trio, an Amerindian group that lives in the remote Suriname-Brazil border area of South America, to develop programs to protect their forest home from illegal gold miners and encroachment, improve village health, and strengthen cultural ties between indigenous youths and elders at a time when such cultures are disappearing even faster than rainforests. In June 2008 mongabay.com visited the community of Kwamalasamutu in Suriname to see ACT's programs in action. During the visit, Amasina, a Trio shaman who works with ACT, answered some questions about his role as a traditional healer in the village.
New theory on the evolution of pygmies

(12/10/2007) The small body size of forest-dwelling "pygmies" evolved as a life history consequence of early death, not as an adaptation to their environment or endurance against starvation, argues a new study published in the journal Proceedings of the National Academy of Sciences (PNAS).
Does language extinction matter?

(02/16/2007) Most of humanity's 6,000 languages could be extinct within the next two centuries. Does it matter? At the American Association for the Advancement of Science annual meeting, University of Alaska Fairbanks professor emeritus Michael Krauss argued it does.
Indians are key to rainforest conservation efforts says renowned ethnobotanist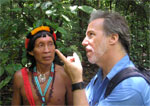 (10/31/2006) Tropical rainforests house hundreds of thousands of species of plants, many of which hold promise for their compounds which can be used to ward off pests and fight human disease. No one understands the secrets of these plants better than indigenous shamans -medicine men and women - who have developed boundless knowledge of this library of flora for curing everything from foot rot to diabetes. But like the forests themselves, the knowledge of these botanical wizards is fast-disappearing due to deforestation and profound cultural transformation among younger generations. The combined loss of this knowledge and these forests irreplaceably impoverishes the world of cultural and biological diversity. Dr. Mark Plotkin, President of the non-profit Amazon conservation Team, is working to stop this fate by partnering with indigenous people to conserve biodiversity, health, and culture in South American rainforests. Plotkin, a renowned ethnobotanist and accomplished author (Tales of a Shaman's Apprentice, Medicine Quest) who was named one of Time Magazine's environmental "Hero for the Planet," has spent parts of the past 25 years living and working with shamans in Latin America. Through his experiences, Plotkin has concluded that conservation and the well-being of indigenous people are intrinsically linked -- in forests inhabited by indigenous populations, you can't have one without the other. Plotkin believes that existing conservation initiatives would be better-served by having more integration between indigenous populations and other forest preservation efforts.
Traditional customs pit young versus old in Indonesia's Torajaland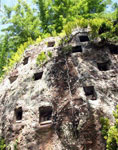 (10/19/2006) Cultural Bankruptcy: Maintaining History at a Tremendous Cost in Sulawesi's Torajaland. The Torajanese people of Central Sulawesi, Indonesia, have long been renown for their extravagant celebrations of the dead in their funerals, graves and effigies. Just outside of Rantepao, the regional capital of Torajaland, ostentatious, costly and increasingly generationally divisive funerals take place on a regular basis. Like other indigenous cultures around the world, a growing rift between the young and old generations is calling the foundations of tradition into question.
Bering Strait land bridge may have flooded earlier than thought

(10/11/2006) Researchers have found evidence suggesting that the Bering Strait land bridge believed to be the major route for human migration from Asia to the Americas may have flooded about 1,000 years earlier than widely thought. The findings may help scientists develop ocean and climate histories for the region to better understand human migration. The study is published in the October issue of Geology magazine by researchers at the Woods Hole Oceanographic Institution, the Scripps Institution of Oceanography, and the University of Massachusetts, Amherst.
Bison-hunting Plains indians more advanced than thought

(08/15/2006) A controversial new theory argues that ancient plains Indians may have developed complex tribal social structures far earlier than many researchers believe. Dr. Dale Walde, an archaeologist at the University of Calgary, says that evidence from bison kill sites together with ceramics found in Alberta and Saskatchewan suggests that pressure from agricultural societies from the Midwestern U.S. may have prompted Bison hunters to change their bison hunting strategies and to organize themselves into larger groups.
Venomous snakes key to human evolution says new theory

(07/21/2006) The ability to spot venomous snakes may have played a major role in the evolution of monkeys, apes and humans, according to a new hypothesis by Lynne Isbell, professor of anthropology at UC Davis. The work is published in the July issue of the Journal of Human Evolution.
Secrets of hallucinogenic mushrooms uncovered by scientists

(07/11/2006) Using unusually rigorous scientific conditions and measures, Johns Hopkins researchers have shown that the active agent in "sacred mushrooms" can induce mystical/spiritual experiences descriptively identical to spontaneous ones people have reported for centuries.
Amazon Stonehenge suggests advanced ancient rainforest culture

(05/14/2006) The discovery of an ancient astrological observatory in Brazil lends support to the theory that the Amazon rainforest was once home to advanced cultures and large sedentary populations of people. Besides the well-known empires of the Inca and their predecessors, millions of people once lived in the forests and shaped the environment to suit their own needs. Archaeologists with the Amapa Institute of Scientific and Technological Research said they uncovered the ruin near Calcoene, 390 kilometers (240 miles) from Macapa, the capital of Amapa state, near Brazil's border with French Guiana.
Easter Island settled around 1200, later than originally believed

(03/13/2006) New evidence suggests that colonization of Easter Island (Rapa Nui) took place later than originally believed. The research is published in this week's issue of the journal Science. A later settlement supports the premise that human impact on the environment played a key role in the downfall of Easter Island society
Pre-Columbian Amazon supported millions of people

(10/18/2005) Controversial evidence uncovered over the past decade suggests that the Amazon rainforest was once home to large sedentary populations of people. Besides the well-known empires of the Inca and their predecessors, the Huari, millions of people once lived in the forests and shaped the environment to suit their own needs.
Simplified stereotypes of "typical" Americans, Brazilians, Chinese are common but mistaken

(10/06/2005) Simplified stereotypes of "typical" Americans, Brazilians, Chinese, and other groups are common but highly mistaken, according to a National Institute on Aging (NIA) study that examined the accuracy of national character stereotypes in 49 cultures worldwide. The finding has important implications regarding beliefs that characterize groups of people, including the elderly, the researchers said.
Medicinal plants explored at Conservatory of Flowers

(09/06/2005) Plants have long been used by humans for treating a wide range of ills from childhood leukemia to hangovers. Indeed, many of the pharmaceuticals currently available to Western doctors have a long history of use as herbal remedies including quinine, opium, aspirin, and coca.
Q&A: What are the most spoken languages on earth?

(07/25/2005) According to figures from UNESCO, the United Nations Educational, Scientific and Cultural Organization, the most widely spoken language on earth is Mandarin which is spoken as a first language by nearly a billion people. Second on the list is English with around 358 million, followed by Spanish. French is spoken as a first language by a mere 81 million, good for number on the list.
In Madagascar, Woodworking Zafimaniry remember lost forests

(05/12/2005) In the rolling hills of the southeastern highlands of Madagascar there lives a group of people known as the Zafimaniry, or the "the people of the forest." The Zafimaniry are renowned sculptors of wood and traditionally, virtually every member of the community was involved in some aspect of woodworking and cabinetmaking. However, these are not good times for many Zafimaniry. Severe deforestation for slash-and-burn cultivation ("tavy") has left their surroundings nearly completely devoid of trees. Once encircled by vigorous forests, some Zafimaniry villages are more than a day's trek from the nearest natural wood source. As a result, over the past decade, the Zafimaniry have increasingly looked toward tourism as an answer to their the economic plight. The unmoderated flow of tourists into these remote and delicate communities has denigrated their culture and left some Zafimaniry further entrenched in poverty.
indigenous people oppose National Geographic, IBM project

(05/09/2005) The Indigenous Peoples Council on Biocolonialism (IPCB), an organization that provides educational and technical support to indigenous peoples in the protection of their biological resources, cultural integrity, knowledge and collective rights, is distressed at the news of this new endeavor.
Project seeks to understand human origins and migration

(05/09/2005) Ted Waitt, founder of the Waitt Family Foundation, believes the Genographic Project will promote harmonious living across national boundaries and cultural lines by improving and expanding understanding and awareness about shared origins and journeys.
Bridging the Great Divide: Hollywood Versus the Avant-garde

(04/02/2005) Fritz Lang's films M and Scarlet Street illuminate the gaping, yet often blurred division between high avant-garde art and low, appropriated imitation by mass culture. Lang's two films, when juxtaposed, begin to engage in a dialogue about the cultural position of each of the two forms--one, a typical European art film, and the other, an production of the Hollywood school.