News articles on cryptozoology

---
Mongabay.com news articles on cryptozoology in blog format. Updated regularly.





Could the Tasmanian tiger be hiding out in New Guinea?


(05/20/2013) Many people still believe the Tasmanian tiger (Thylacinus cynocephalus) survives in the wilds of Tasmania, even though the species was declared extinct over eighty years ago. Sightings and reports of the elusive carnivorous marsupial, which was the top predator on the island, pop-up almost as frequently as those of Bigfoot in North America, but to date no definitive evidence has emerged of its survival. Yet, a noted cryptozoologist (one who searches for hidden animals), Dr. Karl Shuker, wrote recently that tiger hunters should perhaps turn their attention to a different island: New Guinea.


Scientists document baby giant armadillo for first time (photos)


(02/19/2013) Despite weighing as much as full-grown human, almost nothing is known about the giant armadillo (Priodontes maximus) including its breeding and reproductive behaviors. How does mating occur? How long does pregnancy last? How many babes are typically born? Scientists are simply in the dark, but a ground-breaking study employing camera traps is beginning to change this. For the first time, scientists in the Brazilian Pantanal have documented giant armadillo breeding and the happy outcome: a baby giant armadillo.


Jaguars, tapirs, oh my!: Amazon explorer films shocking wildlife bonanza in threatened forest


(02/19/2013) Watching a new video by Amazon explorer, Paul Rosolie, one feels transported into a hidden world of stalking jaguars, heavyweight tapirs, and daylight-wandering giant armadillos. This is the Amazon as one imagines it as a child: still full of wild things. In just four weeks at a single colpa (or clay lick where mammals and birds gather) on the lower Las Piedras River, Rosolie and his team captured 30 Amazonian species on video, including seven imperiled species. However, the very spot Rosolie and his team filmed is under threat: the lower Las Piedras River is being infiltrated by loggers, miners, and farmers following the construction of the Trans-Amazon highway.


Genetics study claims to prove existence of Bigfoot


(02/13/2013) A new study purporting to uncover DNA evidence for Bigfoot has been published today in DeNovo Scientific Journal. While Bigfoot-enthusiasts have long argued that the cryptic monster is an unidentified ape species, the new study says their genetic evidence shows the Sasquatch is in fact a hybrid of modern human females mating with an unidentified primate species 13,000 years ago. The only problem: the journal in which the study is published—DeNovo Scientific Journal—appears to have been created recently with the sole purpose to publish this study.


Bloodsucking flies help scientists identify rare, hard-to-find mammals


(01/16/2013) Last year scientists released a study that is likely to revolutionize how conservationists track elusive species. Researchers extracted the recently sucked blood of terrestrial leeches in Vietnam's remote Annamite Mountains and looked at the DNA of what they'd been feeding on: remarkably researchers were able to identify a number of endangered and rarely-seen mammals. In fact two of the species gleaned from these blood-meals had been discovered by scientists as late as the 1990s. In the past, trying to find rare and shy jungle animals required many man hours and a lot of funding. While the increasing use of remote camera traps has allowed scientists to expand their search, DNA sampling from leeches could be the next big step in simplifying (and cheapening) the quest for tracking the world's mammals.


New Guinea singing dog photographed in the wild for the first time

(12/03/2012) A rarely seen canine has been photographed in the wild, likely for the first time. Tom Hewitt, director of Adventure Alternative Borneo, photographed the New Guinea singing dog during a 12-day expedition up a remote mountain in Indonesian Papua. Very closely related to the Australian dingo, the New Guinea singing dog, so named for its unique vocalizations, has become hugely threatened by hybridization with domesticated dogs.


Whale only known from bones washes up on beach in New Zealand


(11/05/2012) In 2010, a whale mother and male calf were found dead on Opape Beach in New Zealand. Although clearly in the beaked whale family—the most mysterious marine mammal family—scientists thought the pair were relatively well-known Gray's beaked whales (Mesoplodon grayi). That is until DNA findings told a shocking story: the mother and calf were actually spade-toothed beaked whales (Mesoplodon traversii), a species no one had ever seen before as anything more than a pile of bones.


Unidentified poodle moth takes Internet by storm


(08/29/2012) A white moth from Venezuela that bears a striking resemblance to a poodle has become an Internet sensation, after cryptozoologist Karl Shuker posted about the bizarre-looking species on his blog. Photographed in 2009 in Venezulea's Canaima National Park in the Gran Sabana region by zoologist Arthur Anker from Kyrgyzstan, the white, cuddly-looking moth with massive black eyes has yet to be identified and could be a species still unknown to science.


Elephant ancestors and Africa's Bigfoot: new initiative works to preserve a continent's wildest tales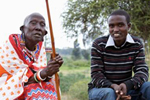 (08/20/2012) Paula Kahumbu, the Executive Director of WildlifeDirect and a 2011 National Geographic Emerging Explorer, is on a mission to reconnect young Africans with the natural world through storytelling. In a new initiative dubbed Africa's Wildest Stories, Kahumbu and others are recording the wit and wisdom of African elders in Kenya as they share their love of nature and the way in which Africans, for millennia, have co-existed with their environment and its astounding wildlife.


Scientific expedition to survey species in China's Bigfoot territory

(07/02/2012) This month, nearly 40 scientists will enter a wild and remote region of western China, reports China's state media Xinhua. Spending several weeks in Shennongjia Nature Reserve, the researchers hope to study rare species like the golden snub-nosed monkey (Rhinopithecus roxellana), which is listed as Endangered by the IUCN Red List. But the forest is also the source of China's 'wild man' sightings; known locally as the 'Yeren,' the unconfirmed primate has also been dubbed China's Bigfoot.


Traditional belief in mythical beasts help protect forests

(06/19/2012) Cultural practices including beliefs in mythical beasts and animals that dance have helped maintain forests in the West African country of the Gambia and Malaysian Borneo, said a researcher from Oxford University speaking at the annual meeting of the Association for Tropical Biology and Conservation in Bonito, Brazil.


Does the Tasmanian tiger exist? Is the saola extinct? Ask the leeches


(04/30/2012) The use of remote camera traps, which photograph animals as they pass, has revolutionized research on endangered and cryptic species. The tool has even allowed scientists to document animals new to science or feared extinct. But as important as camera traps have become, they are still prohibitively expensive for many conservationists and require many grueling hours in remote forests. A new paper in Current Biology, however, announces an incredibly innovative and cheaper way of recording rare mammals: seek out the leeches that feed on them. The research found that the presence of mammals, at least, can be determined by testing the victim's blood for DNA stored in the leech.


Beyond Bigfoot: the science of cryptozoology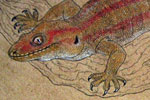 (03/26/2012) Anyone who doubts cryptozoology, which in Greek means the "study of hidden animals," should remember the many lessons of the past 110 years: the mountain gorilla (discovered in 1902), the colossal squid (discovered in 1925, but a full specimen not caught until 1981), and the saola (discovered in 1992) to name a few. Every year, almost 20,000 new species are described by the world's scientists, and a new book by Dr. Karl Shuker, The Encycloapedia of New and Rediscovered Animals, highlights some of the most incredible and notable new animals uncovered during the past century.


Javan officials employ camera traps to find extinct tiger

(03/13/2012) Although officially declared extinct in 2003, some people believe the Javan tiger (panthera tigris sondaica) is still alive in the island's Meru Betiri National Park. To prove the big cat has not vanished for good, wildlife officials have installed five camera traps in the park, reports Antara News.


The camera trap revolution: how a simple device is shaping research and conservation worldwide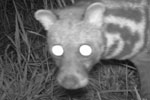 (02/14/2012) I must confess to a recent addiction: camera trap photos. When the Smithsonian released 202,000 camera trap photos to the public online, I couldn't help but spend hours transfixed by the private world of animals. There was the golden snub-monkey (Rhinopithecus roxellana), with its unmistakably blue face staring straight at you, captured on a trail in the mountains of China. Or a southern tamandua (Tamandua tetradactyla), a tree anteater that resembles a living Muppet, poking its nose in the leaf litter as sunlight plays on its head in the Peruvian Amazon. Or the dim body of a spotted hyena (Crocuta crocuta) led by jewel-like eyes in the Tanzanian night. Or the less exotic red fox (Vulpes vulpes) which admittedly appears much more exotic when shot in China in the midst of a snowstorm. Even the giant panda (Ailuropoda melanoleuca), an animal I too often connect with cartoons and stuffed animals, looks wholly real and wild when captured by camera trap: no longer a symbol or even a pudgy bear at the zoo, but a true animal with its own inner, mysterious life.


If camera traps don't prove existence of Bigfoot or Yeti nothing will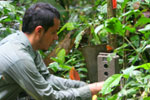 (10/13/2011) Let me state for the record that I am skeptical of the existence of Bigfoot or the Yeti, however I do have a fascination for following the latest news on the seemingly never-ending search for these hidden hominids. This week a Yeti conference in Russia announced 'indisputable proof' of the legendary hairy ape in the wilds of Southern Siberia. What did this proof consist of? Not DNA, photographs, video, or the Yeti itself (dead or alive) as one would expect from the word 'indisputable', but a few alleged Yeti hairs, an alleged bed, and alleged footprints. Cryptozoologists, those who are fascinated by hidden species such as the proposed Yeti and Bigfoot, don't serve their cause by stating the reality of a species without the evidence long-deemed necessary by scientific community to prove it—either a body or DNA samples combined with clear photographic evidence—instead they make themselves easy targets of scorn and ridicule.


'Indisputable proof' of Yeti discovered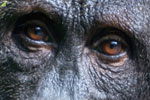 (10/10/2011) A conference has announced that given recent evidence they are 95 percent convinced the yeti, a mythical or perhaps actual primate, exists in the cold wilds of Siberia. Scientists and cryptozoologists (those who have a fascination for the 'study of hidden species' such as Bigfoot) met in the Kemerovo region of Russia to exchange information on the yeti, also known as the Abominable Snowman, and to conduct fieldwork. According to a statement from the conference, members found new evidence of the yeti's cryptic existence.


The saola: rushing to save the most 'spectacular zoological discovery' of the 20th Century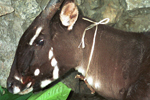 (04/04/2011) The saola (Pseudoryx nghetinhensis) may be the most enigmatic, beautiful, and endangered big mammal in the world—that no one has ever heard of. The shy ungulate looks like an African antelope—perhaps inhabiting the wide deserts of the Sahara—but instead it lives in the dense jungles of Vietnam and Laos, and is more related to wild cattle than Africa's antelopes. The saola is so unusual that is has been given its own genus: Pseudoryx, due to its superficial similarities to Africa's oryx. In the company of humans this quiet forest dweller acts calm and tame, but has yet to survive captivity long. Yet strangest of all, the 200 pound (90 kilogram) animal remained wholly unknown to science until 1992.


Hairy enigma of the Serengeti photographed again

(11/29/2010) A mysterious—and extremely hairy—animal has been photographed again in the Serengeti. Robert Berntsen, a frequent traveler to East Africa, photographed the creature, almost certainly a gazelle, in Kenya's Masai Mara Reserve. It was earlier photographed by Paolo Torchio in the same reserve.


Back from extinction: Tasmanian tiger caught on video?

(11/16/2010) A 9 second video released today on YouTube claims to show a living Tasmanian tiger. The footage was captured by Murray McAllister last year. McAllister says he has seen the believed-to-be-extinct Tasmanian tiger several times in the last few years.


Mystery of the chupacabra monster likely solved

(10/22/2010) The mystery of the legendary chupacabra, a beast that is said to drain the blood of domestic animals at night, has been solved according to a scientist at the University of Michigan.


Beyond bizarre: strange hairy antelope photographed in Kenya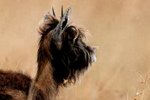 (08/19/2010) Is it a hairy goat roaming the plains? An antelope with some genetic mix-up? At this point no one knows. This strange creature was photographed in Kenya's Masai Mara National Reserve. Apart of the Serengeti plains, the Masai Mara covers 1,500 square kilometers and is home to a wide-range of iconic African savannah species, from elephants to lions and giraffes to hippos.The photos were first published on conservation organization WildlifeDirect's website.


Photo: Mystery 'alien-beast' in Panama is likely a sloth

(09/19/2009) The 'mystery alien-beast' discovered by four teens in a community in Panama and widely reported in the media over the past few days is likely a deformed sloth.


Time to give up on Tasmanian tiger, says DNA expert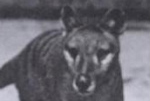 (03/02/2009) Money and energy spent on finding the Tasmanian tiger should be used for other conservation purposes, according to Dr. Jeremy Austin from the University of Adelaide's Centre for Ancient DNA. The Tasmanian tiger, or Thylacine, has captured the imagination of cryptozoologists ever since the last known individual died in the 1936 in the Hobart Zoo, which closed the next year. There have been several unreported sightings throughout the island since the 1930s, including inconclusive photos taken by German tourists.


Photos of '100-foot monster snake' surface

(02/20/2009) A photo of '100-foot monster snake' that has surfaced on the Internet and is certainly fake has stirred up a lot of interest in recent days, reports the Telegraph Online.


Yeti 'proof' actually belongs to cliff-dwelling goral

(10/14/2008) In 2003 an Indian forester claimed to have seen a Yeti three days in a row. Dipu Marak, general secretary of the Achik Tourism Society and Yeti enthusiast, followed the man's trail and discovered strands of hair that he believed belonged to the mysterious creature. According to popular tradition, the Yeti is an ape-like animal that lives in the Himalayan forests.


Bigfoot "discovery" looks to be a hoax

(08/18/2008) A much-hyped press conference claiming to present evidence of the existence of Bigfoot offered little in the way of proof but a lot of shameless self-promotion by the "discoverers".


Chupacubra is actually a hairless coyote

(11/02/2007) DNA analysis has identified the creature discovered on a Texas ranch as nothing more than a coyote, according to the Associated Press. The animal may have had mange or another sickness or disorder.


Chupacabra story is a hoax; likely a Xolo dog breed

(09/04/2007) An alleged chupacabra carcass found in Texas is likely a hoax to sell T-shirts say dog experts. The animal, described in an Associated Press report last week as "a cross between two or three different things", was found as road kill last month near the Texas town of Cuero. The woman who discovered the carcass has been using it to market chupacabra T-shirts. In lively Internet discussions dog breeders say the carcass appears to be a Xoloitzcuintle or Xolo, otherwise known as a Mexican Hairless dog, rather than the blood-sucking creature of legend.


Rare Chinese river dolphin sighting in doubt

(09/01/2007) A prominent researcher is skeptical of last week's reported sighting of the baiji, the Chinese river dolphin declared extinct earlier this year, according to the New York Times. The sighting near Tongling city in Anhui Province -- widely reported in Chinese and Western media -- was captured on video.


Legendary blood-sucking chupacabra found in Texas?

(09/01/2007) Phylis Canion, a woman in Texas, believes she may have found the mythical blood-sucking chupacabra as roadkill near her ranch, reports the Associated Press.


Scientists to investigate Bigfoot sighting in India

(06/10/2007) Indian authorities will conduct a "scientific study" to examine claims by villagers of Indo-Asian News Service. Villagers in the jungles of the Indian northeastern state of Meghalaya claim to have evidence of Bigfoot or Sasquatch, reports the Indo-Asian News Service. Government authorities said they will conduct a "scientific study" to examine the purported sightings near the border with Bangladesh.


BBC airs purported footage of Loch Ness monster

(05/31/2007) BBC Scotland has aired video footage of what a man claims to be 'Nessie', the mysterious creature rumored to dwell in the deep Scottish lake. While scientists have thoroughly rejected the idea that Nessie is a dinosaur surviving from prehistoric times, they allow that the Loch Ness could house unknown species of fish or eels that could be mistaken for the beast of legend.


Ivory-billed Woodpecker sighting may be a mistake

(03/14/2007) A new study casts doubt on the apparent rediscovery of the Ivory-billed Woodpecker in Arkansas. J. Martin Collinson, a researcher at the University of Aberdeen in Scotland, says that the sighting of the thought-to-be-extinct bird is a case of mistaken identity. Using video analysis, Collinson argues that ornithologists have confused the Ivory-billed Woodpecker (Campephilus principalis) with the similar Pileated Woodpecker (Dryocopus pileatus).


Unusual prehistoric shark beast captured in Japan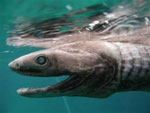 (01/24/2007) A rare frilled shark was captured live by fishermen off the coast of Japan. The toothy eel-like creature was taken to Awashima Marine Park in Shizuoka where it later died according to Reuters.


Giant squid captured!

(12/22/2006) Japanese researchers captured a small female giant squid near the Ogasawara islands, 1,000 km (620 miles) south of Tokyo. The squid, which measured 3.5 meters (11 ft 6 in) long and weighed 50 kg (110 lb), was hooked at a depth of 650 meters (2,150 ft). The capture comes a year after researchers produced the first photographs and video of living squid.


In search of Bigfoot, scientists may uncover unknown biodiversity in Malaysia

(02/01/2006) Malaysian scientists are scouring the rainforests of Johor state in search of the legendary ape-man Bigfoot, supposedly sighted late last year. But they are more likely to encounter some less fantastic but unique creatures that dwell in these still unexplored ecosystems.


Scientists search for Mongolian Death Worm

(05/03/2005) A group of English scientists are spending a month in the Gobi desert in search of the Mongolian Death Worm, a fabled creature said to lurk in the sands of the hostile region. The three to five feet long long creature is known to the locals as Allghoi khorkhoi, Mongolian for intestine worm because it is reported to look like the intestine of a cow. Mongolian nomads have made extraordinary claims about the animal, reporting that the death worm can spit a corrosive yellow saliva that acts like acid and that they have the ability to generate blasts of electricity powerful enough to kill a full grown camel.