News articles on corporate role in conservation

---
Mongabay.com news articles on corporate role in conservation in blog format. Updated regularly.






South African Airways bans all wildlife trophies from flights
(05/14/2015) Trophy hunters may need to find another flight home, as South African Airlines (SAA) has announced a new ban on any wildlife trophies from their flights. The debate over trophy hunting in Africa is rising as many of the continent's most beloved mammals—including lions, elephants, rhinos, and giraffes—face precipitous declines.
Indonesian forestry giant calls for stronger forest moratorium
(05/11/2015) Asia Pulp & Paper (APP), an Indonesian forestry giant once targeted by environmentalists for its logging practices, has joined a growing chorus of voices calling for a stronger moratorium on deforestation and policies that enable companies to support conservation efforts. In a letter released Monday, Aida Greenbury, APP's Managing Director of Sustainability, asked Indonesian President Joko Widodo to extend the country's moratorium on new logging and plantation concessions.
Archer Daniels Midland to demand suppliers stop chopping down forests
(03/31/2015) Agribusiness giant Archer Daniels Midland (NYSE:ADM) will establish a zero deforestation policy for its global commodity supply chains, potentially forcing its soy, palm oil, and cattle suppliers to also eliminate deforestation from their operations or face losing business with the firm. The move, announced today and expected to be formally approved in May, came after a campaign by institutional investors and environmentalist groups.
Forestry giant's zero deforestation commitment put to test
(02/05/2015) An independent audit of the world's largest pulp and paper producer found that the company had achieved a wide range of results in meeting promises to end deforestation and resolve conflicts with forest communities. In 2013 Asia Pulp and Paper (APP) announced its Forest Conservation Policy (FCP), which included a pledge to end deforestation among its suppliers, improve communication and conflict resolution with forest communities, protecting peatlands, and sourcing fiber only from responsible suppliers.
Brazil's soy moratorium dramatically reduced Amazon deforestation
(01/23/2015) The moratorium on forest conversion established by Brazilian soy giants in 2006 dramatically reduce deforestation for soy expansion in the Amazon, and have been more effective in cutting forest destruction than the government's land use policy in the region, finds a study published today in the journal Science.
Despite high deforestation, Indonesia making progress on forests, says Norwegian official
(10/02/2014) Despite having a deforestation rate that now outpaces that of the Brazilian Amazon, Indonesia is beginning to undertake critical reforms necessary to curb destruction of its carbon-dense rainforests and peatlands, says a top Norwegian official. Speaking with mongabay.com in Jakarta on Monday, Stig Traavik, Norway's ambassador to Indonesia, drew parallels between recent developments in Indonesia and initiatives launched in Brazil a decade ago, when deforestation was nearly five times higher than it is today.
Cargill commits to zero deforestation across entire global supply chain: all commodities
(09/24/2014) Cargill, one of the world's largest agricultural companies, has extended its zero deforestation commitment for palm oil to all commodities it produces. The commitment, announced Tuesday at the United Nations Climate Summit in New York, is the most far-reaching zero deforestation policy ever established, covering Cargill's sprawling global empire of businesses, including palm oil, sugar, soy, cattle, and cocoa.
Scientists name new endangered species after the company that will decide its fate
(08/24/2014) Scientists have discovered a new snail species near a cement quarry in Malaysia, which as far as they know lives nowhere else in the world. It lives on a limestone hill called Kanthan given as a concession to an international company Lafarge. The cement producer quarries the hill for raw materials. As a result, the scientists have named the species after the company that will decide if it goes extinct.
ConAgra adopts greener palm oil policy

(08/14/2014) U.S. food giant ConAgra has adopted a new sourcing policy that will exclude palm oil produced at the expense of rainforests and peatlands.
Cargill to cut off suppliers who don't provide deforestation-free palm oil
(07/30/2014) Agricultural giant Cargill, America's largest palm oil importer, will no longer buy palm oil from sources associated with deforestation, conversion of peatlands, and social conflict. The policy follows similar commitments made by other major palm oil buyers, including Unilever and Nestle, and comes after years of campaigning led by the Rainforest Action Network.
New palm oil sustainability manifesto met with criticism from environmentalists
(07/11/2014) This week several palm oil giants announced new environmental criteria for palm oil production. The companies say the initiative goes beyond the industry-leading standard set by the Roundtable on Sustainable Palm Oil (RSPO), but two prominent environmental groups quickly disagreed, arguing the measure has substantial loopholes that will allow growers to continue destroying forests.
APP won't acquire companies that continue to destroy forests
(07/08/2014) Asia Pulp & Paper (APP) will not acquire companies that continue to destroy forests, according to a new procedure for association introduced by the Indonesian forestry giant. The procedure, developed after months of consultations with NGOs, effectively closes a loophole some environmentalists feared would allow APP to sidestep its zero deforestation commitment by acquiring companies that continued to clear forest after its February 5, 2013 deadline.
APP: Indonesia needs a new business model
(07/04/2014) In response to news that Indonesia has now surpassed Brazil as the world's top deforester, the head of sustainability at one of Indonesia's biggest forestry companies is calling for a new business model in how the Southeast Asian nation manages its forest. In a letter published Friday, Aida Greenbury, Asia Pulp & Paper's Managing Director Sustainability, said Indonesia needs to take a more comprehensive approach to tackling deforestation.
Ag giant ADM boosts greener palm oil

(05/13/2014) Archer Daniels Midland (ADM) will join a growing list of companies committing to stricter standards for palm oil production as part of an effort to reduce environmental damage and social conflict associated with the crop.
APP commits to conserve, restore 1M ha of Indonesian forest; WWF pledges support
(04/28/2014) Asia Pulp & Paper (APP), Indonesia's largest pulp and paper company and a long-time target of environmental campaigners, has committed to protect and restore a million hectares of forest across Indonesia. The pledge, which represents an area equivalent to the total plantation area from which it sourced pulp in 2013, was immediately welcomed by WWF, which until today has remained one of APP's staunchest critics.
Cargill commits to zero deforestation, but environmentalists have questions
(04/09/2014) After years of criticism from environmental groups, Cargill says it will establish policies to eliminate deforestation, peatlands conversion, and social conflict from its palm oil supply chain. But activists aren't yet sure what to make of the agribusiness giant's pledge. On Tuesday Cargill released a letter it sent to the Roundtable on Sustainable Palm Oil (RSPO), a body that sets eco-certification standards, in response to a Greenpeace Report linking it to deforestation.
Procter & Gamble, Cargill pledge to cut deforestation linked to palm oil
(04/08/2014) Procter & Gamble (P&G) and Cargill today announced new measures to cut deforestation from their palm oil supply chains. P&G (NYSE:PG), a consumer products giant that owns brands like Head & Shoulders and Oil of Olay, pledged to establish traceability of palm oil to supplier mills by the end of 2015. The policy commits it to eliminate deforestation from its supply chain by 2020.
General Mills, Colgate-Palmolive announce deforestation-free policies for palm oil sourcing
(03/24/2014) Two consumer products giants have joined the wave of companies committing to deforestation-free palm oil. On Monday General Mills and Colgate-Palmolive both announced palm oil policies that go beyond standards set by the Roundtable on Sustainable Palm Oil (RSPO), the industry's main certification body. The policies include provisions to protect wildlife-rich rainforests and carbon-dense peatlands, while respecting the rights of local communities.
Will zero deforestation commitments save Indonesia's forests?
(03/17/2014) Skirting the Malacca Strait near the Indonesian city of Dumai the air is thick with haze from peat fires burning below. As the sky clears, a landscape of sharply-cut geometric shapes becomes apparent. What was once carbon-dense peat forests and rainforests are today massive oil palm and wood pulp plantations.
Snickers, Twix to be deforestation-free
(03/10/2014) Mars, Inc., the maker of M&M's, Snickers, Twix, and a variety of other food products, has committed to a zero deforestation policy for the palm oil it sources, reports Greenpeace. The policy pledges Mars to only using palm oil produced legally and without conversion of high conservation value areas, peatlands, or high carbon stock areas like tropical rainforests.
After GAR expands policy, over 50% of world's palm oil bound by zero deforestation commitments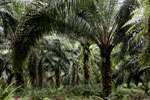 (03/03/2014) Over half the world's palm oil traded internationally is now bound by zero deforestation commitments after Singapore-based Golden-Agri Resources (GAR) extended its forest conservation policy across all palm oil it produces, sources and trades. In a filing posted Friday Singapore Stock Exchange, GAR announced its breakthrough forest conservation policy now applies to all the palm oil it trades.
APP, environmentalists talk future of Indonesia's forests
(02/20/2014) In February 2013, one of the world's most notorious forestry companies announced it would no longer chop down rainforests and peatlands to produce pulp and paper. The move was met with considerable skepticism by critics who had seen the company break previous high profile commitments to end deforestation. Why would this time be any different?
Rainforest news review for 2013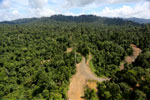 (12/26/2013) 2013 was full of major developments in efforts to understand and protect the world's tropical rainforests. The following is a review of some of the major tropical forest-related news stories for the year. As a review, this post will not cover everything that transpired during 2013 in the world of tropical forests. Please feel free to highlight anything this post missed via the comments section at the bottom. Also please note that this review focuses only on tropical forests.
Ongoing deforestation reported in Borneo concession held by APP supplier
(12/18/2013) Up to 1,400 hectares of forest have been cleared in a concession belonging to an Asia Pulp & Paper (APP) supplier in Borneo, potentially putting the company in breach of the forestry giant's zero deforestation commitment, reports a coalition of local NGO's. In a report released Tuesday, Relawan Pemantau Hutan Kalimantan (RPHK), a coalition of NGO's in part supported by WWF-Indonesia, said that blocks of natural forest have been cleared in a concession belonging to PT Daya Tani Kalbar (DTK), an APP supplier. The clearing has taken place since APP's moratorium went into effect February 1, 2013.
Big data shows tropical mammals on the decline
(12/12/2013) The world's largest remote camera trap initiative—monitoring 275 species in 17 protected areas—is getting some big data assistance from Hewlett-Packard (HP). To date, the monitoring program known as the Tropical Ecology Assessment and Monitoring (TEAM) Network has taken over 1.5 million photos of animals in 14 tropical countries, but conservationists have struggled with how to quickly evaluate the flood of data.
World's biggest palm oil company makes zero deforestation commitment
(12/05/2013) Wilmar, the world's largest palm oil trader and a long-time target of environmentalists, has signed a landmark policy that commits the company to eliminate deforestation from its supply chain. The deal, if fully implemented, has the potential to transform the palm oil industry, which has emerged over the past decade as one of the world's most important drivers of tropical forest destruction.
Green investors urge companies to clean up palm oil industry
(12/04/2013) A coalition of investors and asset managers is urging stakeholders in the palm oil industry to adopt policies that exclude deforestation and human rights violations from their supply chains. The call, coordinated by Green Century Capital Management, was issued in the form of letters sent to 40 major palm oil producers, financiers and buyers.
Greener palm oil on the horizon?

(11/18/2013) A group of environmental activists, conservation groups, and palm oil producers officially announced a new initiative that aims to showcase best practices in the palm oil industry, demonstrating that palm oil can be produced without social conflict, conversion of peatlands, or destruction of wildlife-rich forests.
Aiming to avoid deforestation, Unilever to trace all palm oil it sources
(11/12/2013) In a move that represents a significant development for efforts to reduce the environmental impact of palm oil, consumer products giant Unilever today announced it will be able to trace all of the palm oil it sources by the end of 2014. Implementing a traceability system means that by the end of next year, Unilever will able to pinpoint the origin of its palm oil back to the plantations that produce the fresh fruit bunches that are milled into the widely-used vegetable oil.
International Paper commits to working with longtime foe to protect endangered forests

(04/10/2013) In another sign that the global paper industry may be steering toward more sustainable practices following years of bruising activist campaigns and pressure from buyers, International Paper (IP) has committed to identifying and protecting endangered forests and high conservation value areas in the southern U.S. The company, which is the world's largest paper maker, will be partnering with its tenacious NGO critic, the Dogwood Alliance, in order to map out forests in the region and, furthermore, move away from converting natural forests into pine plantations.
Nordic energy giant launches 'no deforestation' policy

(04/07/2013) Neste Oil, a Finnish energy giant, has announced a new 'no deforestation' policy for sourcing palm oil. The company, which is one of the world's largest buyers of palm oil, had faced criticism from environmentalists for purchasing palm oil potentially linked to rainforest and peatland destruction in southeast Asia.
Can we meet rising food demand and save forests?
(04/03/2013) A few weeks ago the Skoll World Forum hosted an online debate on how increased global consumption can be balanced with sustainability. The debate asks how a rapidly growing world that is ever consuming can hope to feed everyone, and at the same time address the deforestation that is emitting massive amounts of carbon into the atmosphere and destroying the world's greatest tropical forests. Many contributors made very strong points—even contradicting one another in their approaches and ideas.
U.S. book industry using 24 percent recycled paper on average
(04/01/2013) From 2004 to 2010, book publishers increased their use of recycled fiber by nearly five times, from 5 percent to 24 percent on average, according to a new report by the Book Industry Environmental Council (BIEC) and Green Press Initiative. The report, which depends on voluntary statistics from the book industry, also found that nearly all (89 percent) of book publishers have environmental policies.
APP conservation policy came after it pulped most of its forests
(03/19/2013) Asia Pulp & Paper's widely heralded forest conservation policy came after the forestry giant had already cleared nearly all of the legally protected forests within its concessions in Sumatra, alleges a new report published by Greenomics, an Indonesian environmental group.





Indonesian palm oil giant launches conservation pilot project

(03/19/2013) Golden Agri-Resources, one of the largest palm oil producers in Indonesia, is launching a pilot program designed to protect forests within its concession areas that have high carbon stock and those most important for conservation. Greenpeace Indonesia, which has long urged the company to adopt more sustainable practices, praised the effort, and called on other palm oil companies and the Indonesian government to follow suit.




Page 1 | Page 2 | Page 3 | Page 4