News articles on corn

---
Mongabay.com news articles on corn in blog format. Updated regularly.





Migrating monarch butterflies hit shockingly low numbers


(01/31/2014) The monarch butterfly population overwintering in Mexico this year has hit its lowest numbers ever, according to WWF-Mexico. Monarch butterflies covered just 0.67 hectares in Mexico's forest, a drop of 44 percent from 2012 already perilously low population. To put this in perspective the average monarch coverage from 1994-2014 was 6.39 or nearly ten times this year's. For years conservationists feared that deforestation in Mexico would spell the end of the monarch migration, but now scientists say that agricultural and policy changes in the U.S. and Canada—including GMO crops and habitat loss—is strangling off one of the world's great migrations.


Tropical croplands expand by 48m ha in 10 years, raising environmental concerns


(03/19/2013) Croplands in the tropics expanded by an average of 4.8 million hectares per year between 1999 and 2008, increasing pressure on forest areas and other ecosystems, reports a study published in the journal PLoS ONE. The research found that soybeans and maize (corn) expanded the most of any crops in terms of absolute area, followed by rice, sorghum, oil palm, beans, and sugar cane. The countries which added the largest area of new cropland were Nigeria, Indonesia, Ethiopia, Sudan and Brazil.


Drought drives corn prices to record high

(08/09/2012) Drought in America's Midwest drive corn prices to record highs on Thursday.


Palm oil does not meet U.S. renewable fuels standard, rules EPA

(01/27/2012) The U.S. Environmental Protection Agency (EPA) ruled on Friday that palm oil-based biofuels will not meet the renewable fuels standard due to carbon emissions associated with deforestation.


Prehistoric Peruvians enjoyed popcorn

(01/18/2012) Researchers have uncovered corncobs dating back at least 3,000 years ago in two ancient mound sites in Peru according to a paper published in Proceedings of the National Academy of Sciences (PNAS). The ancient corn remnants, which proved residents were eating both popped corn and corn flour, are the earliest ever discovered in South America and may go back as far as 4,700 BCE (6,700 years ago), over fifteen hundred years before the early Egyptians developed hieroglyphics and while woolly mammoths still roamed parts of the Earth.


Record dead zone projected due to Midwest floods

(06/16/2011) Flooding in the Midwest is likely to cause the largest-ever dead zone in the Gulf of Mexico, reports the National Oceanic and Atmospheric Administration (NOAA).


Do corporate sweetheart deals make French fries less healthy?

(01/18/2010) Few would argue that French fries are a healthy food choice, but a new study shows that French fries from national restaurant chains in the United States are actually worse for you-and the environment-than many believed. The study published in the Proceedings of the National Academy of Science (PNAS) found that due to corporate deals French fries in national restaurant chains are largely fried in one of the worse possible vegetable oils: corn oil.


Monsanto GM Corn a Disaster in South Africa

(07/31/2009) Three different varieties of genetically modified (GM) corn provided by the Monsanto Corporation to farmers in South Africa have been reported to be failing to seed. The company claims that "less than 25 percent" of the seeds were susceptible to the problem, and that the crop failure was caused by "underfertilization processes in the laboratory."


Smart biofuels that don't hurt people or the environment are possible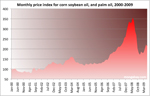 (07/16/2009) Sustainable biofuels can be a reality but only in combination with reductions in fuel demand and increased productivity on existing agricultural lands, argue researchers writing in the journal Science. Five years ago biofuels were seen as a panacea for the world's energy hunger and the need to address climate change, but increased production of biofuels soon contributed to a clutch of problems, including competition with food, resulting in rising prices, and large-scale conversion of rainforests and tropical grasslands for feedstocks, resulting in biodiversity loss and increased greenhouse gas emissions. Environmentalists and scientists condemned many biofuels — including ethanol produced from Midwestern corn ethanol and biodiesel generated from European rapeseed and Southeast Asian palm oil — as a short-sighted energy solution. Some biofuels were found to be even worse for the environment, and more costly, than conventional gasoline. However some researchers remain optimistic that smart biofuel production could help meet energy demand without hurting people or the planet. In a Science Policy Forum piece, David Tilman and colleagues explore some of these options, noting that biofuels can be produced in substantial quantities at low environmental cost


Republic of Congo to turn over 25 M acres of land to South African farmers

(04/20/2009) The government of Republic of Congo (Brazzaville) has offered 25 million acres (10 million hectares) of land to South African farmers in an effort to improve the central African nation's food security, reports Reuters. The area is nearly twice the amount of arable land in South Africa.


Global warming will hit corn yields, costing US over a billion dollars annually

(04/10/2009) Corn is the staple crop of the US. Its annual yield is more than twice that of any other American crop, covering an astounding 125,000 square miles. However, this behemoth crop is currently threatened. A new analysis by Environment America, shows that lower yields of corn due to global warming will cost farmers 1.4 billion every year.


80% of agricultural expansion since 1980 came at expense of forests


(02/15/2009) More than half of cropland expansion between 1980 and 2000 occurred at the expense of natural forests, while another 30 percent of occurred in disturbed forests, reported a Stanford University researcher presenting Saturday at the annual meeting of the American Association for the Advancement of Science (AAAS) in Chicago.


Political violence in Madagascar may lead Daewoo to abandon controversial farm project

(02/10/2009) Political instability and low commodity prices may lead South Korea's Daewoo Logistics to delay or pull out of a controversial agricultural project in Madagascar, reports Reuters.


Cellulosic ethanol healthier, better for the environment, than corn ethanol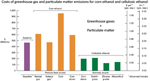 (02/03/2009) Ethanol produced from switchgrass, prairie biomass, and Miscanthus will reduce the environmental and health impacts of expanded biofuels production relative to using corn as a feedstock, report researchers writing in the journal Proceedings of the National Academy of Sciences.


What does slowing economy mean for rainforest conservation?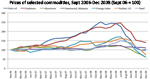 (01/26/2009) Plunging commodity prices may offer a reprieve for the world's beleaguered tropical forests. The global economic downturn has caused demand for many commodities to plummet. The resulting decline in the prices of timber, energy, minerals and agricultural products may do what conservationists have largely failed to achieve in recent years: slow deforestation. Fueled by surging demand from China and other emerging economies, and boosted by the convergence of food and energy markets in response to American and European incentives for biofuels, the worldwide commodity boom over the past few years helped trigger a land rush that precipitated the conversion of natural forests for farms, plantations, and ranches. At the same time, high prices for metals, fossil fuels, and other industrial resources drove a global search for exploitable reserves, many of which lie in tropical forest countries. Now that the bonanza is unwinding, with prices for everything from palm oil to bauxite to crude oil cratering, the incentives to clear forests are retreating. Developers large and small are abandoning projects and forgoing planned expansion around the world.


Corn expansion is hurting ladybugs

(12/15/2008) Expansion of corn acreage to meet ethanol targets is reducing the ability of beneficial insects to control pests, a loss valued at $58 million in the four states studied (Michigan, Iowa, Minnesota and Wisconsin), report researchers writing in the journal Proceedings of the National Academy of Sciences.


Agricultural firms cut incentives for Amazon deforestation

(12/02/2008) As grain prices plummet and concerns over cash mount, agricultural giants are cutting loans to Brazilian farmers, reports the Wall Street Journal. Tighter farm credit may be contributing to a recent slowing in deforestation in the Brazilian Amazon, where agriculture is an increasingly important driver of forest clearing.


Madagascar denies 'land grab' by South Korean conglomerate

(11/22/2008) Officials from Madagascar are denying they have reached an agreement to turn over half the island nation's arable land to a South Korean corporation for food production, reports Reuters. The controversial deal — which would have paid Madagascar nothing and turned over 1.3 million hectares to produce corn and palm oil for export at a time when one-third of country's children are malnourished — was reported last week by the Financial Times.


American fast food is almost entirely made of corn

(11/10/2008) American fast food is almost entirely produced from corn according to a chemical analysis of dishes served at McDonald's, Burger King, and Wendy's. The study is published in the journal Proceedings of the National Academy of Sciences.


U.S. needs environmental standards for biofuels

(10/02/2008) The U.S. lacks criteria to ensure that cellulosic ethanol production will not harm the environment, warn scientists writing in the journal Science. The researchers say that with proper safeguards, cellulosic ethanol can help the U.S. meet its energy needs sustainably.


Republicans backtrack, call for end to ethanol requirements in gas

(09/02/2008) Meeting at the Republican National Convention in St. Paul, Minnesota, Republicans Monday called for an end to a requirement that gasoline contain a set amount of ethanol, reports Reuters.


Climate change to hurt Brazil's farm exports by 2020

(08/11/2008) Climate change could have a significant impact on thye value of Brazil's agricultural exports according to a study presented Monday at an agribusiness conference in Sao Paulo, reports the Financial Times.


Facing criticism, biofuels industry forms new lobby group to influence lawmakers

(07/25/2008) Under attack by politicians, aid groups, and environmentalists for driving up food prices and fueling destruction of ecologically sensitive habitats, some of the world's largest agroindustrial firms have formed a lobby group to influence consumers and lawmakers to support continued subsidies for biofuel production, reports Reuters.


Using farm waste for ethanol may hurt crop yields in some areas

(07/15/2008) Cellulosic ethanol proponents have pushed the idea of using farm waste as a way to boost biofuel production without impacting food crops, but such conversion may carry a hidden cost in areas with insufficient rainfall or lacking irrigation, warns a soil scientist from Washington State University.


Louisiana signs non-corn ethanol law to produce a better biofuel

(07/01/2008) Louisiana has signed into law legislation to develop an advanced biofuel industry that excludes corn as a feedstock, reports Biopact.


U.S. may allow corn farming on conservation land

(06/23/2008) The U.S. Department of Agriculture may allow farmers to plant corn on million of acres of conservation land to bolster the food supply in response to flooding in the Midwest and record high prices spurred by demand for domestic ethanol production, according to a report in the New York Times.


Cellulosic biofuels may be viable alternative to gas within 5 years

(06/02/2008) A new institute in the San Francisco Bay Area is seeking to make cellulosic biofuel an economically viable alternative to corn ethanol and gasoline within the next five years. The Joint BioEnergy Institute (JBEI), a partnership between three national laboratories and three Bay Area universities, was formed in June 2007 after the U.S. Department of Energy awarded the institute a $125 million grant to develop better methods for making liquid biofuels from the natural cellulose in trees and grasses. JBEI researchers expect cellulosic biofuels to yield more energy, produce less greenhouse gases, and have less impact on the environment than other alternatives to gasoline, such as corn ethanol.


Global ban on biofuels would lead to immediate decline in food prices

(05/16/2008) A global moratorium on biofuels produced from food crops would result in a significant decline in the price of corn, sugar, cassava and wheat by 2010, reports the International Food Policy Research Institute (IFPRI).


Amazon soy ban seems to be effective in reducing explicit deforestation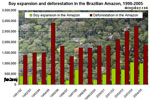 (04/03/2008) An industry-led ban on soy production in the Amazon appears to be proving effective at reducing new clearing for explicit soy production, according to a survey published Monday by Greenpeace and the Brazilian Vegetable Oils Industry Association. The moratorium, which was signed by some of the largest soy crushers in the Amazon in response to a campaign by environmental group Greenpeace, went into effect in October 2006. While soy is believed to be having an indirect impact on deforestation by driving up land prices and competing with the dominant form of land use in the Amazon — cattle ranching — the news is a hopeful sign for conservationists.


Corn planting to drop 8% in 2008

(03/31/2008) The UDSA's National Agricultural Statistics Service (NASS) expects American farmers to plant 86 million acres of corn in 2008, down 8 percent from last year. The news comes amid record high prices for competitive crops including soybeans and wheat.


Corn ethanol is worsening the Gulf dead zone

(03/10/2008) Proposed legislation that will expand corn-ethanol production in the United States will worsen the growing "dead zone" in the Gulf of Mexico and hurt marine fisheries, report researchers writing in the Proceedings of the National Academy of Sciences (PNAS).


World fertilizer prices surge 200% in 2007, hurting the poor

(02/20/2008) World fertilizer prices surged by more than 200 percent in 2007, as farmers sought to maximize corn production for ethanol, according to the International Center for Soil Fertility and Agricultural Development (IFDC). Poor African farmers were hardest hit by the increase.


UN: biofuels are starving the poor by driving up food prices

(02/14/2008) Echoing sentiments increasingly expressed by politicians, scientists, and advocates for the poor, the U.N. Food and Agriculture Organization warned that the world's poorest people are suffering as a result of the push to use food crops for biofuel production.


Bloomberg: global warming "just as lethal" as terrorism

(02/12/2008) New York City mayor Michael Bloomberg told reporters Monday that global warming is as big a threat to humanity as terrorism, according to Reuters.