News articles on coral bleaching

---
Mongabay.com news articles on coral bleaching in blog format. Updated regularly.






Does haze from burning forests affect marine life?
(03/10/2014) Two scientists are calling on researchers, NGOs, and governments to begin studying the impact of burning forests and peatlands in Indonesia on the already-threatened marine ecosystems of Southeast Asia. Every year, Indonesian farmers set forests, vegetation, and peatlands alight to clear them for agriculture, often palm oil, and pulp and paper plantations. Not only do these practices destroy hugely-diverse tropical forests, but the resulting haze spreads to many parts of Southeast Asia, threatening regional health and impacting economies. Now, a new paper argues that the sinister impacts of Indonesia's burning may extend as far as the oceans.
Corals thriving despite acidified conditions in remote Pacific bay
(02/25/2014) Scientists have discovered a small island bay in the Pacific which could serve as a peephole into the future of the ocean. Palau's Rock Island Bay harbors a naturally occurring anomaly – its water is acidified as much as scientists expect the entire ocean to be by 2100 as a result of rising carbon dioxide emissions.
Mesoamerican Reef needs more local support, says report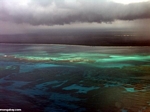 (09/13/2013) From massive hotel development through the agriculture industry, humans are destroying the second largest barrier reef in the world: the Mesoamerican Reef. Although global climate change and its effects on reefs via warming and acidification of coastal waters have made recent headlines, local human activities may destroy certain ecosystems before climate change has a chance to do it. The harmful effects of mining, agriculture, commercial development, and fishing in coastal regions have already damaged more than two-thirds of reefs across the Caribbean, in addition to worsening the negative effects of climate change.
Threatened Galapagos coral may predict the future of reefs worldwide
(11/07/2012) The Galapagos Islands have been famous for a century and a half, but even Charles Darwin thought the archipelago's list of living wonders didn't include coral reefs. It took until the 1970s before scientists realized the islands did in fact have coral, but in 1983, the year the first major report on Galapagos reef formation was published, they were almost obliterated by El Niño. This summer, a major coral survey found that some of the islands' coral communities are showing promising signs of recovery. Their struggle to survive may tell us what is in store for the rest of the world, where almost three-quarters of corals are predicted to suffer long-term damage by 2030.
Great Barrier Reef loses half its coral in less than 30 years
(10/01/2012) The Great Barrier Reef has lost half of its coral cover in the last 27 years, according to a new study released today in the Proceedings of the National Academy of Sciences (PNAS). Based on over 2,000 surveys from 1985 to this year the study links the alarming loss to three impacts: tropical cyclone damage, outbreaks crown-of-thorns starfish that devour corals, and coral bleaching.
Coral reefs in Caribbean on life support

(09/11/2012) Only 8 percent of the Caribbean's reefs today retain coral, according to a new report by the International Union for Conservation of Nature (IUCN). With input and data from 36 scientists, the report paints a bleak picture of coral decline across the region, threatening fisheries, tourism, and marine life in general.
Coral calcification rates fall 44% on Australia's Great Barrier Reef

(09/04/2012) Calcification rates by reef-building coral communities on Australia's Great Barrier Reef have slowed by nearly half over the past 40 years, a sign that the world's coral reefs are facing a grave range of threats, reports a new study published in the Journal of Geophysical Research - Biogeosciences.
Strangest island in the Caribbean may be a sanctuary for critically endangered coral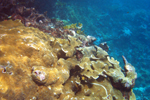 (07/16/2012) Don't feel bad if you've never heard of Navassa Island, even though it's actually part of the U.S. according to the Guano Islands Act of 1856. This uninhabited speck between Haiti and Jamaica, barely bigger than New York City's Central Park, has a bizarre and bloody history—and may be a crucial refuge for endangered coral in the Caribbean.
2,600 scientists: climate change killing the world's coral reefs
(07/10/2012) In an unprecedented show of concern, 2,600 (and rising) of the world's top marine scientists have released a Consensus Statement on Climate Change and Coral Reefs that raises alarm bells about the state of the world's reefs as they are pummeled by rising temperatures and ocean acidification, both caused by greenhouse gas emissions. The statement was released at the 12th International Coral Reef Symposium.
Coral crisis: 75% of the world's coral reefs in danger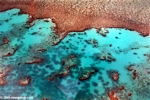 (02/23/2011) Marine scientists have been warning for years that coral reefs, the most biodiverse ecosystems in the ocean, are facing grave peril. But a new comprehensive analysis by the World Resources Institute (WRI) along with twenty-five partners ups the ante, finding that 75% of the world's coral reefs are threatened by local and global impacts, including climate change. An updating of a 1996 report, the new analysis found that threats had increased on 30% of the world's reefs. Clearly conservation efforts during the past decade have failed to save reefs on a large-scale.
Beyond gloom: solutions to the global coral reef decline

(11/10/2010) The world's coral reefs are in trouble. Due to a variety of factors—including ocean acidification, warming temperatures from climate change, overfishing, and pollution—coral cover has decline by approximately 125,000 square kilometers in the past 50 or so years. This has caused some marine biologists, like Charlie Veron, Former Chief Scientist of the Australian Institute of Marine Science, to predict that coral reefs will be largely extinguished within a century. This year alone, large-scale coral bleaching events, whereby coral lose their symbiotic protozoa and become prone to disease and mortality, were seen off the coasts of Indonesia, the Philippines, and some Caribbean islands. However a new paper in Trends in Ecology and Evolution attempts to dispel the gloom over coral reefs by pointing to strategies, and even some successes, to save them.
Majority of Americans confused on climate change basics

(10/17/2010) Most Americans don't understand the basics of climate change, according to a new poll by researchers with Yale. The poll found that over half of Americans deserve an 'F' on basic understanding of climate science and climate change, while only 1% would receive an 'A'.
Colossal coral bleaching kills up to 95 percent of corals in the Philippines

(09/23/2010) It is one of the most worrisome observations: fast massive death of coral reefs. A severe wide-scale bleaching occurred in the Philippines leaving 95 percent of the corals dead. The bleaching happened as the result of the 2009-2010 El Niño, with the Indian Ocean and Southeast Asia waters experiencing significant thermal increase especially since the beginning of 2010.
The biology and conservation of declining coral reefs, an interview with Kristian Teleki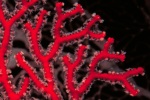 (08/15/2010) Coral reefs are often considered the "rainforests of the sea" because of their amazing biodiversity. In fact, coral reefs are one of the most diverse ecosystems on earth. It is not unusual for a reef to have several hundred species of snails, sixty species of corals, and several hundred species of fish. While they comprise under 1% of the world's ocean surface, one-quarter of all marine species call coral reefs their home. Fish, mollusks, sea stars, sea urchins, and more depend on this important ecosystem, and humans do too. Coral reefs supply important goods and services–from shoreline protection to tourism and fisheries–which by some estimates are worth $375 billion a year.
Amazing reefs: how corals 'hear', an interview with Steve Simpson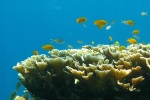 (07/21/2010) Corals aggregate to form vast reefs, which are home to numerous species and provide vital ecological services such as protecting shorelines. However, coral reefs are one of the most threatened ecosystems in the world due to many factors, such as global warming and ocean acidification. Recent research by Simpson and his team of scientists has shown that corals, rather than drifting aimlessly after being released by their parent colonies and by chance landing back on reefs, instead find their way purposefully to reefs by detecting the sound of snapping shrimps and grunting fish on the reef. However, that discovery also means that the larvae might struggle to find reefs when human noises, like drilling or boats, mask the natural ocean sounds.
Healthy coral reefs produce clouds and precipitation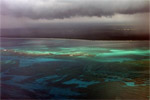 (03/03/2010) Twenty years of research has led Dr. Graham Jones of Australia's Southern Cross University to discover a startling connection between coral reefs and coastal precipitation. According to Jones, a substance produced by thriving coral reefs seed clouds leading to precipitation in a long-standing natural process that is coming under threat due to climate change.
If protected coral reefs can recover from global warming damage

(01/10/2010) A study in the Caribbean has found that coral reefs can recover from global warming impacts, such as coral bleaching, if protected from fishing. Marine biologists have long been worried that coral reefs affected by climate change may be beyond recovery, however the new study published in PLoS ONE shows that alleviating another threat, overfishing, may allow coral reefs to cope with climate change.
Climate change will increase the erosion of coral reefs

(07/28/2008) Coral reefs are particularly susceptible to climate change. Warming waters have been shown to bleach coral, killing off symbiotic algae that provide them with sustenance, and often leading to the death of the coral itself. Much attention has been placed on bleaching coral, but now scientists have discovered an additional danger to coral reefs in a warming world: erosion.
Coral susceptibility to bleaching due to small differences in symbiotic relationship

(07/22/2008) Coral reefs are now considered the second most threatened group of animals in the world, with nearly one-third of corals listed as endangered (amphibians retain the dubious honor of being number one). Although corals face many threats, the greatest is bleaching caused by warming oceans due to climate change. However, some coral populations are more susceptible to bleaching than others, even including corals of the same species. New research has uncovered that the reason lies in small differences in the symbiotic relationship between corals and their symbionts, small marine animals and protozoa. Such differences, however minuscule, have a huge impact on the likelihood of a coral's ability to survive warming oceans.