News articles on conservation

---
Mongabay.com news articles on conservation in blog format. Updated regularly.






Saving the tsingy forests in Madagascar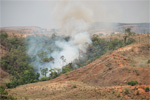 (08/17/2009) After the success of their Sahafina Forest project, Biodiversity Conservation Madagascar is now branching out to the tsingy forest of Beanka, a project set to launch in October this year. Biodiversity Conservation Madagascar (BCM) has been granted a 25-year lease on a 14,000-hectare area of dry hardwood forest, the Beanka tsingy, situated 75 km east of Maintirano in western Madagascar. 'Tsingy' are spectacular razor-sharp limestone pinnacles found on the west and north of the island, formed by acidic rain erosion. The deciduous forests that inhabit them are characterized by high plant and animal endemism. The Malagasy organization plans to apply the same principles here – protection of the forest, socio-economic development and forest restoration – that brought them success with their last project, the 2,500-hectare forest block of Sahafina on Madagascar's east coast.
Largely unexplored rainforest slated to be leveled for gold mining in Colombia
(08/13/2009) Serrania de San Luca is a rainforest-covered massif rising to 2,300 meters (7,500 feet) in northern Colombia. Despite being little-explored and containing several endangered species, the forest is threatened by industrial gold mining operations, according to the local conservation group ProAves. Already the forest has been reduced to 10 percent of its original 2.5 million acres due to agriculture, small-scale mining, and other human impacts. Now, the Colombian government has granted large concessions to AngloGold Ashanti, a gold mining company out of South Africa which has been criticized by the Human Rights Watch for allegedly aligning itself with locally armed gangs in the Democratic Republic of Congo.
Lessons from the crisis in Madagascar, an interview with Erik Patel
(08/11/2009) On March 17th of this year the President of Madagascar, Marc Ravalomanana, resigned his post. This made way for Andry Rajoelina, mayor of Madagascar's capital, to install himself as president with help from the military. The unrest and confusion that usually accompanies such a coup brought disaster on many of Madagascar's biological treasures. Within days of Ravalomanana's resignation, armed gangs, allegedly funded by Chinese traders, entered two of Madagascar's world-renowned national parks, Marojejy and Masoala parks, and began to log rosewood, ebonies, and other valuable hardwoods. The pillaging lasted months but the situation began to calm down over the summer. Now that the crisis in Madagascar has abated—at least for the time being—it's time to take stock. In order to do so, Mongabay spoke to Erik Patel, an expert on the Critically Endangered Silky Sifaka and frequent visitor to Madagascar, to find out what the damage looks like firsthand and to see what lessons might be learned.
Photos: hundreds of new species discovered in Himalayan region, threatened by climate change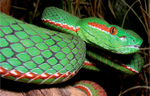 (08/10/2009) Scientists from a variety of organizations have found over 350 new species in the Eastern Himalayas, including a flying frog, the world's smallest deer, and a gecko which has walked the earth for 100-million-years, according to a new report by the World Wildlife Fund (WWF). The report, entitled Where World's Collide, warns that these rare biological treasures, as well as numerous other species, are threatened in the Eastern Himalayas by climate change.
Priorities in global bird conservation 'misplaced'

(08/10/2009) Bird conservation is misplacing its priorities by focusing on non-threatened bird species in developed countries, rather than threatened species from tropical nations, report researchers writing in Tropical Conservation Science.
Gorillas orphaned by bushmeat trade set free on island
(08/10/2009) The Fernan-Vaz Gorilla Project has set free six young gorillas on an island outside of Loango National Park in Gabon. The release marks a new stage in the rehabilitation of the gorillas. The six western lowland gorillas, ranging from two to seven years of age, were orphaned when their respective parents were killed for bushmeat. The island provides a refuge from poachers and other predators where the gorillas are able to acclimate to the wild in safety.
New website consolidates national red lists for endangered species

(08/09/2009) The Zoological Society of London (ZSL) has brought together national red lists from around the world for the first time in one location. From the cliff tiger beetle in the United Kingdom (classified as 'rare') to the Asian elephant in Sir Lanka (considered 'vulnerable') the website (www.nationalredlists.org) brings together data on over 50,000 species from 40 countries.
Peru to raise payment to indigenous communities for Amazon forest conservation
(08/03/2009) Peru's environment minister now says the government will pay indigenous communities 10 sols ($3.30) for every hectare of rainforest they help to preserve, reports the Latin American Herald. Previously Antonio Brack said that communities would see about half that amount. The $3.30-per-hectare figure is low by international standards. Under a proposed mechanism that compensates countries for reducing deforestation (REDD), forest land could be worth $800 or more per hectare for its carbon (225 tons of carbon/ha), depending on its level of threat. Forests in areas of high deforestation would be compensated at a higher rate than inaccessible forests at low-risk of development. But Brack left open the possibility that communities could receive higher payment if parties agree to include REDD compensation in a future climate framework.
Turning wasteland into rainforest

(07/31/2009) The highly touted reforestation project launched by orangutan conservationist Willie Smits in Indonesian Borneo is detailed in this week's issue of Science.
Global fisheries begin to show signs of recovery where management is strong

(07/30/2009) New research reveals hopeful signs that overfished marine ecosystems can recover provided adequate protections. The two-year study, publish in the journal Science, found that efforts to reduce overfishing are beginning to succeed in five of the ten large marine ecosystems examined, suggesting that "sound management can contribute to the rebuilding of fisheries."
REDD shouldn't neglect biodiversity say scientists

(07/30/2009) Schemes to mitigate climate change by protecting tropical forests must take into account biodiversity conservation, said two leading scientific organizations at the conclusion of a four day meeting in Marburg, Germany.
Borneo orangutan release in jeopardy over fate of coal mining concession
(07/29/2009) A plan to release orangutans in a 250,000-hectare (618,000-acre) tract of forest in the Heart of Borneo has been disrupted by uncertainty around BHP Billiton's decision to pull out of a coal mining project in Kalimantan, the Indonesian part of Borneo, reports the Independent and conservation groups familiar with the situation. BHP Billiton had provided funds to help establish the forest reserve in Central Kalimantan and offered conservationists mapping support and use of helicopters to deposit orangutans into otherwise inaccessible areas. The two-year program would have reintroduced scores of orangutans but the first scheduled airlift of 48 orangutans for July 20 was canceled after BHP warned it could no longer guarantee the safety of reintroduced orangutans.
Nike implements policy to avoid leather produced via Amazon deforestation

(07/22/2009) Nike is working with Greenpeace to ensure its products don't contribute to destruction of the Amazon rainforest, according to statements from the shoe giant and the environmental activist group. The partnership comes after Greenpeace report accused Nike of using leather derived from cattle raised on illegal deforested Amazon land. The report, "Slaughtering the Amazon", also linked other shoemakers to rainforest destruction, including Adidas, Reebok and Timberland.
Pangolins threatened by illegal trade for traditional Chinese medicine

(07/14/2009) While their trade has been prohibited under the Convention on International Trade in Endangered Species of Wild Fauna and Flora (CITES) since 2002, Asian pangolin populations are rapidly declining due to poaching for use in traditional Chinese medicine, report conservationists. Trade has nearly wiped out the species in Cambodia, Viet Nam and Laos, once strongholds for the scaly, toothless anteater.
New glass could reduce one billion annual bird deaths from U.S. window collisions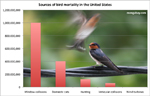 (07/13/2009) The deaths of billions of birds annually due to collision with window glass can be reduced through simple measures including dimming lights in buildings at night, landscaping changes, and using window coverings that make glass more visible to birds, reports a bird expert writing in The Wilson Journal of Ornithology. Conducting experiment with different types of firm on plastics and glass, Daniel Klem Jr., an ornithologist at Muhlenberg College in Allentown, Pennsylvania, found coverings that create visual "noise" can dramatically reduce bird-window collisions without drastically increasing costs or impeding visibility for humans relative to conventional glass. The most effective covering was a new exterior film with evenly spaced ultraviolet (UV)-reflecting and UV-absorbing patterns, which can be seen by birds but not humans.
India hopes to reintroduce cheetah 60 years after extinction

(07/09/2009) India hopes to reintroduce the world's fastest land animal some 60 years after it went extinct in the country, reports The Independent. India's Environment Minister Jairam Ramesh said the government has commissioned a study to determine whether it is possible to reintroduce the cheetah into India by importing pairs from Namibia.
Parks in Sumatra may reduce deforestation in adjacent unprotected areas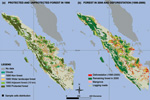 (07/06/2009) The establishment of protected areas on the Indonesian island of Sumatra may have helped reduce deforestation in adjacent unprotected areas, reports new research published in Journal of Biogeography. The results run counter to recent studies elsewhere that suggest the establishment of nature reserves attracts development projects and migrants to surrounding areas, undermining overall conservation efforts.
A Tasmanian tragedy? : How the forestry industry has torn an island apart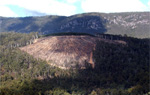 (07/02/2009) This is by no means a new battle: in fact, Tasmanian industrial foresters and environmentalists have been fighting over the issue of clearcutting the island's forests for decades. The battle—some would probably prefer 'war'—is over nothing less than the future of Tasmania. Some Tasmanians see the rich forests that surround them in terms of income, dollars and cents; they see money literally growing on trees, or more appropriately growing on monoculture plantations and government owned native forests. They see the wilderness of Tasmania as an exploitative resource.
Coastal seagrass disappearing as quickly as coral reefs and rainforests

(06/30/2009) Findings from the first comprehensive global survey of coastal seagrass ecosystems are nothing to cheer about. Fifty-eight percent of seagrass meadows are declining, according to an international team of scientists who compiled data from 215 studies and 1,800 observations of seagrass habitat beginning in 1879. Since that year, 29 percent of seagrass ecosystems have vanished entirely.
U.S. forgives $30M in debt to protect rainforests in Sumatra, Indonesia
(06/30/2009) The United States will forgive nearly $30 million in debt owed by Indonesia in exchange for increased protection of endangered rainforests on the island of Sumatra, reports the Wall Street Journal. The deal is the largest debt-for-nature swap under the U.S. Tropical Forest Conservation Act — unanimously reauthorized this May by the Senate Foreign Relations Committee last week — and its first such agreement with Indonesia, which has the second highest annual loss of forest cover after Brazil. Under the terms of the pact the government of Indonesia will put $30 million into a trust over the next eight years. The trust will issue annual grants for forest conservation and restoration work in Sumatra, an island that lost nearly half of its forest cover between 1985 and 2007 as a result of logging, conversion for plantations, and forest fires.
A New Idea to Save Tropical Forests Takes Flight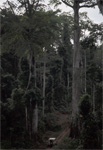 (06/29/2009) Every year, tens of millions of acres of tropical forests are destroyed. This is the most destabilizing human land-use phenomenon on Earth. Tropical forests store more aboveground carbon than any other biome. They harbor more species than all other ecosystems combined. Tropical forests modulate global water, air, and nutrient cycles. They influence planetary energy flows and global weather patterns. Tropical forests provide livelihoods for many of the world's poorest and marginalized people. Drugs for cancer, malaria, glaucoma, and leukemia are derived from rainforest compounds. Despite all these immense values, tropical forests are vanishing faster than any other natural system. No other threat to human welfare has been so clearly documented and simultaneously left unchecked. Since the 1992 Rio Earth Summit (when more than 100 heads of State gathered to pledge a green future) 500 million acres of tropical forests have been cut or burned. For decades, tropical deforestation has been the No. 1 cause of species extinctions and the No. 2 cause of human greenhouse gas emissions, after the burning of fossil fuels. For decades, a few conservation heroes tried their best to plug holes in the dikes, but by and large the most diverse forests on Earth were in serious decline.
Saving one of the last tropical dry forests, an interview with Edwina von Gal
(06/29/2009) Often we hear about endangered species—animals or plants on the edge of extinction—however we rarely hear about endangered environments—entire ecosystems that may disappear from Earth due to humankind's growing footprint. Tropical dry forests are just such an ecosystem: with only 2 percent of the world's tropical dry forest remaining it is one of the world's most endangered ecosystems. A newly established organization, the Azuero Earth Project, is working not only to preserve some of the world's last tropical dry forest on the Azuero peninsula in Panama, but also to begin restoration projects hoping to aid both the forest's viability and the local people. Edwina von Gal, a landscape designer, is one of the founders of the Azuero Earth Project, as well as president of the organization.
Over 30 percent of open ocean sharks and rays face extinction
(06/25/2009) The first global study of open ocean (pelagic) sharks and rays found that 32 percent of the species are threatened with extinction largely due to overfishing and bycatch, making pelagic sharks and rays more threatened than birds (12 percent), mammals (20 percent), and even amphibians (31 percent), which are considered to be undergoing an extinction crisis. The situation worsens when only sharks taken in high-seas fisheries are considered: 52 percent of these species are threatened.
Cambodia signs REDD agreement

(06/24/2009) Terra Global Capital, a San Francisco-based firm seeking to capitalize on emerging markets for ecosystem services, has signed an avoided deforestation deal with the government of Cambodia.
Saving tigers by counting feces
(06/24/2009) Scientists have been counting tiger populations for decades, using a variety of methods including camera traps and DNA collected from tissue or blood after darting and sedating the world's largest cat. However, a new method of surveying tiger populations could change scientists' ability to non-invasively obtain accurate numbers for tiger populations around the world, according to a study in Biological Conservation.
Proving the 'shifting baselines' theory: how humans consistently misperceive nature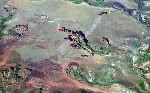 (06/24/2009) The theory of shifting baselines was first elucidated by scientists exploring urban children's perception of nature in 1995. In the same year, marine biologist Daniel Pauly coined the term 'shifting baselines'. Since then the idea of humans perceiving nature inaccurately, through 'shifting baselines', has taken the conservation world by storm: the theory appeared to describe a commonly noticed problem regarding people's view of the natural world around them. However, the theory had yet to be tested in a scientific manner: were people actually undergoing shifting baselines or was something else going on? For the first time a new paper in Conservation Letters empirically tests the shifting baselines theory.
First comprehensive study of insect endangerment: ten percent of dragonflies threatened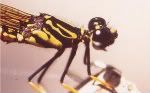 (06/23/2009) A lot of time, effort, and funds have been spent on programs evaluating the threat of extinction to species around the world. Yet insects have not benefited from these programs, which have largely focused on more 'charismatic' species such as mammals, birds, amphibians, and reptiles. This gap is clearly shown by the fact that 42 percent of vertebrates have been assessed by the International Union for the Conservation of Nature (IUCN), and only 0.3 percent of invertebrates.
New Yangtze River dam could doom more endangered species

(06/22/2009) Eight Chinese environmentalists and scientists have composed a letter warning that a new dam under consideration for the Yangtze River could lead to the extinction of several endangered species. The letter contends that Xiaonanhia Dam, which would be 30 kilometers upstream from the city of Chongqing, will negatively impact the river's only fish reserve. Spanning 400 kilometers in the upper Yangtze, the reserve is home to 180 fish species, including the Endangered Chinese sturgeon, and the Critically Endangered Chinese paddlefish, as well as the finless porpoise.
War and conservation in Cambodia
(06/21/2009) The decades-long conflict in Cambodia devastated not only the human population of the Southeast Asian country but its biodiversity as well. The conflict led to widespread declines of species in the once wildlife-rich nation while steering traditional society towards unsustainable hunting practices, resulting in a situation where wildlife is still in decline in Cambodia, according to a new study from researchers with the World Wildlife Fund (WWF).
Fate of world's rainforests likely to be determined in next 2 years

(06/19/2009) The fate of millions of hectares of tropical forests will probably be sealed this year and next year, reports a new set of policy papers detailing an emerging climate change mitigation mechanism known as Reducing Emissions from Deforestation and Degradation (REDD). REDD has been proposed by the U.N. and other entities as a form of carbon finance under which industrialized nations would pay tropical countries for conserving their forest cover.
Commission on Climate and Tropical Forests forms to advise Congress, Obama on forest conservation
(06/18/2009) Leaders in business, government, advocacy, conservation, global development, science and national security have formed a commission to "provide bipartisan recommendations to Congress and the President about how to reduce tropical deforestation through U.S. climate change policies," according to a statement released by the newly established group, named the Commission on Climate and Tropical Forests.
Cameroon rainforest given 30 days to be conserved or sold off for logging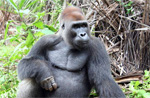 (06/18/2009) An 830,000-hectare tract of rainforest in Cameroon has been granted a 30-day reprieve from logging following a 4-week exploratory expedition that turned up large populations of lowland gorillas, forest elephants, mandrills, and chimpanzees, according to expedition leader Mike Korchinsky, founder of the conservation group Wildlife Works. The Cameroonian government has given Wildlife Works, which pioneered the first forest-based carbon project in Kenya, 30 days to come up with a competitive proposal to logging. The group is now scrambling to secure necessary funding to finance the early stages of the project.
First captive bonobos released into the wild

(06/16/2009) A group of 17 orphaned bonobos are being released into the wild for the first time this month. Set free by the world's only bonobo sanctuary, Lola ya Bonobo in the Democratic Republic of Congo (DRC), the bonobos will be released into a 50,000 acre (20,000 hectare) forest where the species has been absent for years.
Amazon could lose 60% of forest without triggering catastrophic die-off, claims new study
(06/16/2009) Brazil's setting aside of more than 500,000 square miles (1.25 million square kilometers) of rainforest in protected areas over the past decade may effectively buffer the Amazon from the effects of climate change, preventing Earth's largest rainforest from tipping towards arid savanna in the face of ongoing deforestation and rising temperatures, argues a new paper published in Proceedings of the National Academy of Sciences.
Photos: treasure trove of new species discovered in Ecuador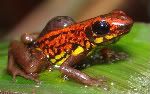 (06/16/2009) Near the once-contentious border of Ecuador and Peru in the mountainous forests of the Cordillera del Condor, scientists from Conservation International (CI) conducted a Rapid Assessment Program (RAP), uncovering what they believe are several new species, including four amphibians, one lizard, and seven insects. The team focused on the Upper Nanharitza River Basin, which has been geologically isolated from the rest of the Andes, giving it broad potential for new species.
Attacking the demand side of deforestation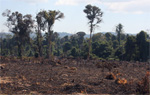 (06/16/2009) A new UK government-sponsored initiative seeks to address the demand side of deforestation by identifying how an organization's activities and supply chains contribute to forest destruction. The initiative, called the Forest Footprint Disclosure Project (FFD Project), will ask companies to "disclose how their operations and supply chains are impacting forests worldwide, and what is being done to manage those impacts responsibly." The disclosure information will be reported on an annual basis, enabling investors to identify possible risks related to a company's "forest footprint." Disclosure will also provide consumers with information to make better informed decisions about the products they purchase.
Caribou and reindeer population plunges 60 percent in three decades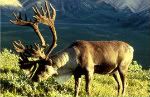 (06/14/2009) The first ever comprehensive survey of caribou worldwide (known as reindeer in Europe) has found that the species has suffered a staggering decline. Researchers from the University of Alberta discovered that the caribou population has fallen 60 percent in half as many years. The study published in Global Change Biology points to global warming and industrial development as the reasons behind the decline.
Conservation success in Madagascar proves illusory in crisis

(06/12/2009) Despite the popularity he enjoyed abroad, domestic support for ousted president Marc Ravalomanana eroded rather quickly last February when he went head to head with Andry Rajoelina, the rookie mayor of Madagascar's capital. Rajoelina rallied disparate opposition groups to the cause and soon toppled the incumbent to become, at his own proclamation, President of the "High Authority of Transition." For the country as a whole, the results have not been encouraging. The tourism industry has shriveled to a shadow of itself, important donors have suspended non-humanitarian aid, and a power vacuum has set in in remote regions of the island, wreaking havoc on some of its most fragile and prized ecosystems.
Frogs species discovered living in elephant dung
(06/10/2009) Three different species of frogs have been discovered living in the dung of the Asian elephant in southeastern Sri Lanka. The discovery—the first time anyone has recorded frogs living in elephant droppings—has widespread conservation implications both for frogs and Asian elephants, which are in decline. "I found the frogs fortuitously during a field study about seed dispersal by elephants," Ahimsa Campos-Arceiz, a research fellow from the University of Tokyo, told Monagaby.com.
NASA photos reveal destruction of 99% of rainforest park in Rwanda

(06/09/2009) Satellite images released by NASA show nearly complete destruction of Rwanda's Gishwati Forest between 1986 and 2001. Deforestation of the forest reserve is largely the result of subsistence harvesting and cultivation by refugees in the aftermath of the country's 1994 genocide. Overall only 600 hectares of Gishwati's original 100,000 hectares of forest remain, a loss of 99.4 percent.
Climate pact must halt deforestation and industrial logging of old-growth forests, exclude carbon credits for forest conservation, say activists
(06/09/2009) A global framework on climate change must immediately halt deforestation and industrial logging of the world's old-growth forests, while protecting the rights of forest communities and indigenous groups, said a broad coalition of activist groups in a consensus statement issued today at U.N. climate talks in Bonn Germany. The statement said the successor treaty to the Kyoto Protocol should not include mechanisms that allow industrialized countries to "offset" their emissions by purchasing carbon credits from reducing deforestation in developing countries, a position that puts the coalition at odds with larger environmental groups who say a market-based approach with tradable credits is the only way to generate enough money fund forest protection on a global scale.





Canada expands park: over three times larger than Yellowstone

(06/09/2009) The government of Canada and the Dehcho First Nation announced today the expansion of Nahanni National Park from 1,865 square miles (4,830 square kilometers) to 12,000 square miles (31,080 square kilometers), over six times its original size.




Page 1 | Page 2 | Page 3 | Page 4 | Page 5 | Page 6 | Page 7 | Page 8 | Page 9 | Page 10 | Page 11 | Page 12 | Page 13 | Page 14 | Page 15 | Page 16 | Page 17 | Page 18 | Page 19 | Page 20 | Page 21 | Page 22 | Page 23 | Page 24 | Page 25 | Page 26 | Page 27 | Page 28 | Page 29 | Page 30 | Page 31 | Page 32 | Page 33 | Page 34 | Page 35 | Page 36 | Page 37 | Page 38 | Page 39 | Page 40 | Page 41 | Page 42 | Page 43 | Page 44 | Page 45 | Page 46 | Page 47 | Page 48 | Page 49 | Page 50 | Page 51