News articles on conservation

---
Mongabay.com news articles on conservation in blog format. Updated regularly.





Featured video: WWF's Astonish Me

(08/16/2011) Highlighting new species recently discovered around the world, the short film Astonish Me, was created as apart of a happy 50th birthday celebration for conservation organization WWF.


Lessons from the world's longest study of rainforest fragments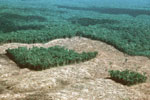 (08/15/2011) For over 30 years, hundreds of scientists have scoured eleven forest fragments in the Amazon seeking answers to big questions: how do forest fragments' species and microclimate differ from their intact relatives? Will rainforest fragments provide a safe haven for imperiled species or are they last stand for the living dead? Should conservation focus on saving forest fragments or is it more important to focus the fight on big tropical landscapes? Are forest fragments capable of regrowth and expansion? Can a forest—once cut-off—heal itself? Such questions are increasingly important as forest fragments—patches of forest that are separated from larger forest landscapes due to expanding agriculture, pasture, or fire—increase worldwide along with the human footprint.


The glass is half-full: conservation has made a difference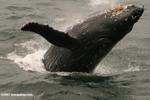 (08/11/2011) Don't despair: that's the message of a new paper in Trends in Ecology and Evolution, which argues that decades of conservation actions at multiple scales have had a positive impact for many of the world's endangered species. While such actions have not yet turned back the tide of the current mass extinction crisis, they have achieved notable successes which often get lost in the gloom-and-doom news stories on biodiversity declines. According to the paper, conservation actions take place on three scales. Microscale conservation focuses on a single species or ecosystem; mesoscale means conservation cooperation between a number of countries, such as efforts to curb the illegal wildlife trade or protect wide-ranging species; and finally macroscale means global organizations or campaigns, such as those that pressure multinational corporations to become more biodiversity-friendly.


Taking corporate sustainability seriously means changing business culture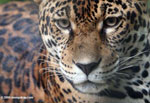 (08/11/2011) As more and more people demand companies to become sustainable and environmentally conscious, many corporations are at a loss of how to begin making the changes necessary. If they attempt to make changes—but fall short or focus poorly—they risk their actions being labeled as 'greenwash'. In addition, if they implement smart changes and self-regulations, but their employees don't buy-in to the process, all their investments will be for nothing. This is where Accountability Now, a young, fresh social responsibility agency, comes in. Clare Raybould, director of Accountability Now, believes companies—large and small—have the potential to change the world for the better, but they simply need a guiding hand to change not just the way a company works, but its culture.


A modest proposal for wealthy countries to reforest their land for the common good

(08/11/2011) The Coalition of Financially Challenged Countries with Lots of Trees, known as "CoFCCLoT", representing most of the world's remaining tropical forests is asking wealthy nations to share global responsibilities and reforest their land for the common good of stabilizing climate and protecting biodiversity.


Balancing agriculture and rainforest biodiversity in India's Western Ghats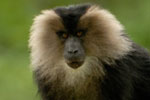 (08/08/2011) When one thinks of the world's great rainforests the Amazon, Congo, and the tropical forests of Southeast Asia and Indonesia usually come to mind. Rarely does India—home to over a billion people—make an appearance. But along India's west coast lies one of the world's great tropical forests and biodiversity hotspots, the Western Ghats. However it's not just the explosion of life one finds in the Western Ghats that make it notable, it's also the forest's long—and ongoing—relationship to humans, lots of humans. Unlike many of the world's other great rainforests, the Western Ghats has long been a region of agriculture. This is one place in the world where elephants walk through tea fields and tigers migrate across betel nut plantations. While wildlife has survived alongside humans for centuries in the region, continuing development, population growth and intensification of agriculture are putting increased pressure on this always-precarious relationship. In a recent paper in Biological Conservation, four researchers examine how well agricultural landscapes support biodiversity conservation in one of India's most species-rich landscapes.


Featured video: Trouble in Lemur Land

(08/08/2011) A new film, Trouble in Lemur Land, showcases the Critically Endangered silky sifaka (Propithecus candidus). With only some 300 silky sifaka's surviving in the wild, this large and distinct lemur is considered one of the top 25 most endangered primates in the world.


Protected areas not enough to save life on Earth


(08/03/2011) Since the creation of Yellowstone National Park in 1872 protected areas have spread across the world. Today, over 100,000 protected areas—national parks, wildlife refuges, game reserves, marine protected areas (MPAs), wildlife sanctuaries, etc.—cover some 7.3 million square miles (19 million kilometers), mostly on land, though conservation areas in the oceans are spreading. While there are a number of reasons behind the establishment of protected areas, one of the most important is the conservation of wildlife for future generations. But now a new open access study in Marine Ecology Progress Series has found that protected areas are not enough to stem the loss of global biodiversity. Even with the volume of protected areas, many scientists say we are in the midst of a mass extinction with extinction levels jumping to 100 to 10,000 times the average rate over the past 500 million years. While protected areas are important, the study argues that society must deal with the underlying problems of human population and overconsumption if we are to have any chance of preserving life on Earth—and leaving a recognizable planet for our children.


Ironic conservation: APP touts tiger relocation after allegedly destroying tiger's home

(08/02/2011) A female Sumatran tiger (Panthera tigris sumatrae) has been relocated from her threatened rainforest home to Sembilang National Park. According to Asia Pulp and Paper (APP) and the Sumatran Tiger Conservation Foundation (YPHS), the tiger had become an issue in its home region due to human and wildlife conflict. The group touted saving the tiger as 'a significant moment for Sumatran tiger preservation'. However, Greenpeace says that the tiger would never have been a problem if APP were not destroying its habitat.


Malaria may hurt conservation efforts, aid poachers

(07/31/2011) In 2009, 781,000 people died of malaria worldwide and nearly a quarter billion people contracted the mosquito-bourne disease, according to the World Health Organization (WHO). While the impacts of malaria on people—among the world's worst diseases—have long been researched, a new study in Biological Conservation finds that malaria has a significant indirect impact on protected species. Many species contract various malaria strains, but the study also found that malaria in humans has the potential to leave endangered species unprotected.


Indigenous peoples in Suriname still wait for land rights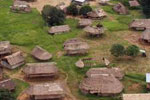 (07/31/2011) Legal rights and recognition for the diverse indigenous peoples of Suriname have lagged behind those in other South American countries. Despite pressure from the UN and binding judgments by the Inter-American Court of Human Rights, Suriname has yet to recognize indigenous and tribal land rights, a situation that has disconnected local communities from decisions regarding the land they have inhabited for centuries and in some cases millennia. A new report, Securing Indigenous Peoples' Rights in Conservation in Suriname: A Review outlines how this lack of rights has alienated indigenous communities from conservation efforts in Suriname. Instead of having an active say in the creation of conservation reserves, as well as their management, decisions on indigenous lands have traditionally been imposed from the 'top-down' either by government officials or NGOs.


Saving the wrong rhino in Indonesia?

(07/29/2011) The slideshow titled "APP: Establishing the Facts" would indeed be laughable if they were not so sad. In the slides on "Investing in Biodiversity," APP appears to want to show how innovative it is in the conservation arena by focusing on the Javan rhino. The slides depict photos of wildlife and the Javan Rhino Sanctuary.


How to fight organized wildlife crime in East Asia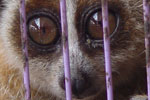 (07/27/2011) Organized criminal syndicates are wiping out some of the world's most charismatic wildlife to feed a growing appetite for animal parts in East Asia#8212;and so far governments and law enforcement are dropping the ball. This is the conclusion from a new paper in Oryx, which warns unless officials start taking wildlife crime seriously a number of important species could vanish from the Earth.


Saving (and studying) one of Nigeria's last montane forests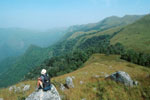 (07/26/2011) Between 2000 and 2010, Nigeria lost nearly a third (31 percent) of its forest cover, while its primary forests suffered even worse: in just five years (2000 to 2005) over half of the nation's primary forests were destroyed, the highest rate in the world during that time. Yet, Nigeria's dwindling forests have never received the same attention as many other country's, such as Indonesia, Brazil, Malaysia, or Peru, even though in many ways Nigeria struggles with even deeper problems than other developing nations. Despite vast oil business, the nation is plagued by poverty and destitution, a prime example of what economists call the 'resource curse'. Environmentally, it has been named one of the worst in the world. Yet, not all forest news out of Nigeria is bleak: the success of the Nigerian Montane Forest Project in one of the country's remaining forests is one such beacon of hope, and one example of how the country could move forward.


Video: Tiger trapped in Asia Pulp and Paper logging concession dies a gruesome death

(07/25/2011) Caught in a snare and left for days without access to food and water, a wild Sumatran tiger (Panthera tigris sumatrae) perished from its wounds hours after forest officers reached it. As reported by Greenpeace—which photographed and filmed the rescue attempt—the tiger was trapped at the edge of a acacia plantation and remaining forest area actively being logged by Asia Pulp and Paper (APP) in Riau Province. Sumatran tigers are listed as Critically Endangered by the IUCN Red List; the subspecies, restricted to the Indonesian island, is in decline due to large-scale habitat loss and poaching.


US House Republicans propose to eliminate migratory bird conservation act

(07/25/2011) The US House of Representatives has proposed an environmental spending bill that strips funds from many environmental agencies, including eliminating altogether the Neotropical Migratory Bird Conservation Act. The vote has been denounced by House Democrats.


WWF partnering with companies that destroy rainforests, threaten endangered species


(07/25/2011) Arguably the globe's most well-known conservation organization, the World Wide Fund for Nature (WWF), has been facilitating illegal logging, vast deforestation, and human rights abuses by pairing up with notorious logging companies in a flagging effort to convert them to greener practices, alleges a new report by Global Witness. Through its program, the Global Forest and Trade Network (GFTN), WWF—known as World Wildlife Fund in the US and Canada—has become entangled with some dubious companies, including one that is imperiling orangutans in Borneo and another which has been accused of human rights abuses in the Congo rainforest. Even with such infractions, these companies are still able to tout connections to WWF and use its popular panda logo. The Global Witness report, entitled Pandering to the Loggers, calls for WWF to make large-scale changes in order to save the credibility of its corporate program.


Amazon tribes win support to protect 46 million ha of Amazon forest

(07/21/2011) Indigenous communities working to protect the Amazon rainforest got a boost last week with the launch of a "biocultural conservation corridor" initiative in two regions of Brazil.


How to Save the Tiger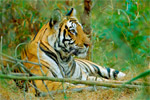 (07/19/2011) We are losing the tiger. Two hundred years ago, Asia's great cat numbered in the hundreds of thousands and inhabited virtually the entire continent, from Siberia to Turkey, and Afghanistan to Bali. Today there are, at best, around 3,200 wild tigers left. The tiger is extinct in at least 14 countries and hangs on in only 7% of the habitat it once occupied - tiny, mostly isolated fragments in what was once an ocean of forest. Three sub-species, from Bali, Java and Central Asia are lost forever, and a fourth, the South China tiger has not been recorded in the wild for over a decade.


Blue iguana back from the dead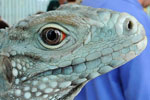 (07/18/2011) The blue iguana (Cyclura lewisi) was once king of the Caribbean Island, Grand Cayman. Weighting in at 25 pounds, measuring over 5 feet, and living for over sixty years, nothing could touch this regal lizard. But then the unthinkable happened: cars, cats, and dogs, along with habitat destruction, dethroned Grand Cayman's reptilian overlord. The lizard went from an abundant population that roamed the island freely to practically assured extinction. In 2002, researchers estimated that two dozen—at best—survived in the wild. Despite the bleak number, conservationists started a last ditch effort to save the species. With help from local and international NGOs, the effort, dubbed the Blue Iguana Recovery Program, has achieved a rarity in conservation. Within nine years it has raised the population of blue iguanas by twenty times: today 500 wild blue iguanas roam Salina Reserve.


5,000 Muslim imams to battle haze, deforestation in Indonesia

(07/18/2011) The Indonesian government plans to recruit and dispatch 5,000 Muslim imams across the archipelago to discourage forest destruction and open burning that contributes to the choking haze now spreading across Singapore and Malaysia, reports the Jakarta Post.


Hundreds of Critically Endangered apes found in remote Vietnam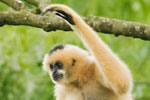 (07/18/2011) A new population—hundreds strong—of northern white-cheeked crested gibbon (Nomascus leucogenys) has been found in Vietnam by researchers with Conservation International (CI). The group estimates that around 130 gibbon groups—455 individuals—survive in Pu Mat National Park, making it the only known viable population of this species in the world and effectively tripling the global populations. Unfortunately, these newly-discovered gibbons are imperiled by road-building through the park.


Decline in top predators and megafauna 'humankind's most pervasive influence on nature'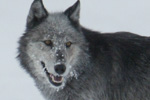 (07/14/2011) Worldwide wolf populations have dropped around 99 percent from historic populations. Lion populations have fallen from 450,000 to 20,000 in 50 years. Three subspecies of tiger went extinct in the 20th Century. Overfishing and finning has cut some shark populations down by 90 percent in just a few decades. Though humpback whales have rebounded since whaling was banned, they are still far from historic numbers. While some humans have mourned such statistics as an aesthetic loss, scientists now say these declines have a far greater impact on humans than just the vanishing of iconic animals. The almost wholesale destruction of top predators—such as sharks, wolves, and big cats—has drastically altered the world's ecosystems, according to a new review study in Science. Although researchers have long known that the decline of animals at the top of food chain, including big herbivores and omnivores, affects ecosystems through what is known as 'trophic cascade', studies over the past few decades are only beginning to reveal the extent to which these animals maintain healthy environments, preserve biodiversity, and improve nature's productivity.


'Trophy' cell phone pictures lead to arrests of tiger poachers

(07/14/2011) Two poachers were arrested in Thailand after a cell phone they left behind in the forest provided evidence of tiger poaching, reports the Wildlife Conservation Society (WCS).


Viable population of snow leopards still roam Afghanistan (pictures)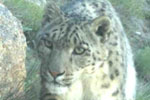 (07/13/2011) Decades of war and poverty has not exterminated snow leopards (Panthera uncia) in Afghanistan according to a new paper in the International Journal of Environmental Studies, written by researchers with the Wildlife Conservation Society (WCS). Instead the researchers report a healthy population of the world's most elusive big cat in Afghanistan's remote and peaceful Wakhan Corridor region. Monitored by camera trap in the region, WCS researchers were able to identify 30 snow leopards in 16 different locations.


Indonesia's new forest moratorium map improved, say experts

(07/13/2011) The latest version of Indonesia's forest moratorium map is much improved over its predecessor, say forestry analysts from Daemeter Consulting.


Forgotten species: the rebellious spotted handfish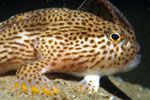 (07/12/2011) Evolution is a bizarre mistress. In her adaptation workshop she has crafted parrots that don't fly, amphibians with lifelong gills, poison-injecting rodents, and tusked whales. In an evolutionary hodge-podge that is reminiscent of such mythical beasts as chimeras and griffins, she has from time-to-time given some species' attributes of others, such as the marine iguana who is as happy underwater as a seal, the duck-billed platypus that lays eggs like a reptile, and the purple frog that has a lifestyle reminiscent of a mole. Then there's one of her least-known hodge-podges: the fish who 'walks' with hands instead of swimming.


South Sudan's choice: resource curse or wild wonder?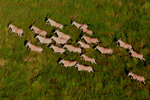 (07/11/2011) After the people of South Sudan have voted overwhelmingly for independence, the work of building a nation begins. Set to become the world's newest country on July 9th of this year, one of many tasks facing the nation's nascent leaders is the conservation of its stunning wildlife. In 2007, following two decades of brutal civil war, the Wildlife Conservation Society (WCS) surveyed South Sudan. What they found surprised everyone: 1.3 million white-eared kob, tiang (or topi) antelope and Mongalla gazelle still roamed the plains, making up the world's second largest migration after the Serengeti. The civil war had not, as expected, largely diminished the Sudan's great wildernesses, which are also inhabited by buffalo, giraffe, lion, bongo, chimpanzee, and some 8,000 elephants. However, with new nationhood comes tough decisions and new pressures. Multi-national companies seeking to exploit the nation's vast natural resources are expected to arrive in South Sudan, tempting them with promises of development and economic growth, promises that have proven uneven at best across Africa.


Climate change to push over 10 percent of the world's species to extinction by 2100

(07/11/2011) Scientists have predicted for decades that climate change could have a grave impact on life on Earth, which is already facing numerous threats from habitat loss, over-exploitation, pollution, invasive species, and other impacts. However, empirical proof of extinctions--and even endangerment--due to climate change have been difficult to come by. A new study in the Proceeding of the National Academy of Science has found that by the time today's infants are 90 years old (i.e. the year 2100) climate change could have pushed over 11 percent of the world's species to extinction.


BNDES paradox: bank funds both destruction and conservation of indigenous lands

(07/07/2011) At the same time it is funding a dam that will devastate indigenous lands and block the Xingu River, Brazil's National Development Bank (BNDES) may allocate some $14.3 million (BRL 22.3 million) in grants for projects developed within the Kayapo indigenous lands, reports Conservation International.


June in review: Amazon deforestation, giant dam moves forward, Barbie faces protests

(07/02/2011) Brazil, Indonesia, Tanzania, and Google Earth dominated the list of popular mongabay.com stories for the month of June.


Unpaved road through Serengeti to progress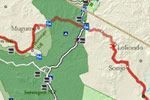 (07/02/2011) After a week of confusion, the Tanzanian government has finally clarified its position on the hugely-controversial Serengeti road. The Minister for Natural Resources and Tourism, Ezekiel Maige, confirmed that a paved highway will not be built through the northern Serengeti National Park, however the government is still planning to construct a gravel road through the park. Yet critics have long warned that even an unpaved road would open Pandora's box: eventually commercial and population pressure would push the road to be paved, widened, and fenced leading to a collapse of the world's largest remaining-and most famous-land migration. Two million wildebeest, zebra, and Thomson's gazelle pass along this route in annual migration from Tanzania to Kenya.


2-4 new shrew species discovered in Sulawesi

(06/28/2011) A research expedition has turned up two to four new species of shrew on the Indonesian island of Sulawesi, reports a conservation group working to protect their forest habitat.


Camera traps reveal no tigers, but other carnivores in Khao Yai National Park

(06/27/2011) A four-year camera trap project has revealed that Khao Yai National Park in Thailand is still home to a wide-variety of carnivore species, but tigers may be on their way out or already gone finds a new study from mongabay.com's open access journal Tropical Conservation Science. Photographing with 15 cameras the study snapped photos of 14 carnivore species in the park. However, the photographic evidence implies that predator populations have fallen in the park over the past decade due to human activities, including poaching.


Conservationists seek $15M for rarest chimp

(06/27/2011) A new conservation plan calls for $14.6 million to save the world's rarest subspecies of chimp: the Nigeria-Cameroon chimpanzee, reports the Wildlife Conservation Scoeity (WCS).


Back from a century of extinction, conservation proposed for elusive Asian flying squirrel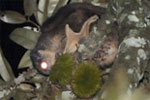 (06/27/2011) The Travancore flying squirrel (Petinomys fuscocapillus) occurs in the forests of the Western Ghats and Sri Lanka, a global biodiversity hotspot, and is listed as Near Threatened on the IUCN Red List. During the first half of the 20th century the species was thought to be extinct, but was rediscovered in the 1960s, then not seen again for over twenty years.


Best way to count white-tailed deer populations in tropical forests

(06/27/2011) Getting accurate estimates on wildlife populations is difficult in any habitat, but especially tricky in tropical forests where even large mammals are capable of melting into the foliage like ghosts. If you've ever spent time in a tropical rainforest, you know you could walk within a couple meters of a jaguar and never even know. Therefore, scientists have to come up with creative ways—from camera traps to pawprints to studying feces—to estimate population size. In the new issues of mongabay.com's open access journal Tropical Conservation Science, researchers look at the most accurate way to count white-tailed deer (Odocoileus virginianus) in central Mexican forests.


FSC mulls controversial motion to certify plantations responsible for recent deforestation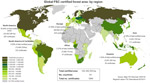 (06/24/2011) Members of the Forest Stewardship Council (FSC), meeting in Malaysia this week for its General Assembly, will consider various changes to the organization, including a vote on a controversial motion that would open the door—slightly at first—to sustainable-certification of companies that have been involved in recent forest destruction for pulp and paper plantations. Known as Motion 18, the change is especially focusing on forestry in places where recent deforestation has been rampant, such as Indonesia and Malaysia.


Sabah applies for heritage status for rainforest reserves to block political expropriation

(06/23/2011) Sabah, the eastern-most state in Malaysian Borneo, has applied for World Heritage status for three rainforest areas, reports the Sabah Wildlife Department.


Serengeti road cancelled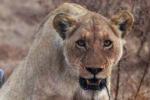 (06/23/2011) In what is a victory for environmentalists, scientists, tourism, and the largest land migration on Earth, the Tanzanian government has cancelled a commercial road that would have cut through the northern portion of the Serengeti National Park. According to scientists the road would have severed the migration route of 1.5 million wildebeest and a half million other antelope and zebra, in turn impacting the entire ecosystem of the Serengeti plains.


World Bank loans Madagascar $52m to address environmental crisis

(06/22/2011) The World Bank has approved a $52 million loan to bolster conservation efforts in Madagascar, which have suffered from a collapse in funding and governance in the aftermath of a 2009 military coup, reports Reuters.


Indonesia's moratorium undermines community forestry in favor of industrial interests


(06/21/2011) Indonesia's moratorium on new concessions in primary forest areas and peatlands "completely ignores" the existence of community forestry management licenses, jeopardizing efforts to improve the sustainability of Indonesia's forest sector and ensure benefits from forest use reach local people, say environmentalists. According to Greenomics-Indonesia, a Jakarta-based NGO, community and village forestry licenses are not among the many exemptions spelled under the presidential instruction that defines the moratorium. The instruction, issued last month, grants exemptions for industrial developers and allows business-as-usual in secondary forest areas by the pulp and paper, mining and palm oil industries.


How do we save Africa's forests?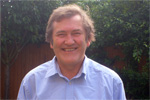 (06/19/2011) Africa's forests are fast diminishing to the detriment of climate, biodiversity, and millions of people of dependent on forest resources for their well-being. But is the full conservation of Africa's forests necessary to mitigate global climate change and ensure environmental stability in Africa? A new report by The Forest Philanthropy Action Network (FPAN), a non-profit that provides research-based advice on funding forest conservation, argues that only the full conservation of African forests will successfully protect carbon stocks in Africa.


Over 900 species added to endangered list during past year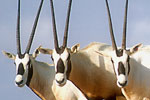 (06/16/2011) The past twelve months have seen 914 species added to the threatened list by the world's authority of species endangerment, the International Union for the Conservation of Nature (IUCN)'s Red List. Over 19,000 species are now classified in one of three threatened categories, i.e. Vulnerable, Endangered, and Critically Endangered, a jump of 8,219 species since 2000. Species are added to the threatened list for a variety of reasons: for many this year was the first time they were evaluated, for others new information was discovered about their plight, and for some their situation in the wild simply deteriorated. While scientists have described nearly 2 million species, the IUCN Red List has evaluated only around 3 percent of these.


Conservation biology loses a leader: Navjot Sodhi, 1962-2011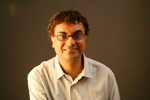 (06/14/2011) Over the weekend I received very sad and unexpected news: my friend Navjot Sodhi, a scientist whose mentorship and research made him a leader in the field of conservation biology, died after a short battle with an aggressive blood cancer. He was 49. Navjot leaves behind his wife Charanjit, children Ada and Darwin, and bevy of friends, colleagues, and admirers.


Germany backs out of Yasuni deal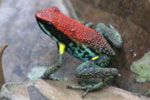 (06/13/2011) Germany has backed out of a pledge to commit $50 million a year to Ecuador's Yasuni ITT Initiative, reports Science Insider. The move by Germany potentially upsets an innovative program hailed by environmentalists and scientists alike. This one-of-a-kind initiative would protect a 200,000 hectare bloc in Yasuni National Park from oil drilling in return for a trust fund of $3.6 billion, or about half the market value of the nearly billion barrels of oil lying underneath the area. The plan is meant to mitigate climate change, protect biodiversity, and safeguard the rights of indigenous people.


Environment versus economy: local communities find economic benefits from living next to conservation areas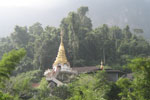 (06/12/2011) While few would question that conserving a certain percentage of land or water is good for society overall, it has long been believed that protected areas economically impoverish, rather than enrich, communities living adjacent to them. Many communities worldwide have protested against the establishment of conservation areas near them, fearing that less access and increased regulations would imperil their livelihoods. However, a surprising study overturns the common wisdom: showing that, at least in Thailand and Costa Rica, protected areas actually boost local economies and decrease poverty.


Conservation issues in Tanzania


(06/09/2011) What's happening in Tanzania? This is a question making the rounds in East African conservation circles. Why is a nation that has so much invested in wild lands and wild animals pursuing projects that researchers say will not only gravely harm some of the nation's world-famous wildlife and ecosystems, but also undercut its economically-important tourism industry?


Indonesian president urges other countries not to buy illegally logged wood from Indonesia

(06/08/2011) Indonesian President Susilo Bambang Yudhoyono asked consuming countries to join the fight against illegal logging in Indonesia, reports the Jakarta Globe.


Do kids learn anything at zoos?

(06/07/2011) A new study shows that zoos aren't just a fun place for kids to visit; they are also a teaching opportunity. Interviewing more than 3,000 children between 7 and 14, the largest study of its kind found that just over half of the kids (53 percent) showed improvement in at least one of three areas: conservation-related knowledge, concern for endangered species, or desire to participate in conservation efforts.



Page 1 | Page 2 | Page 3 | Page 4 | Page 5 | Page 6 | Page 7 | Page 8 | Page 9 | Page 10 | Page 11 | Page 12 | Page 13 | Page 14 | Page 15 | Page 16 | Page 17 | Page 18 | Page 19 | Page 20 | Page 21 | Page 22 | Page 23 | Page 24 | Page 25 | Page 26 | Page 27 | Page 28 | Page 29 | Page 30 | Page 31 | Page 32 | Page 33 | Page 34 | Page 35 | Page 36 | Page 37 | Page 38 | Page 39 | Page 40 | Page 41