News articles on congo rainforest

---
Mongabay.com news articles on congo rainforest in blog format. Updated regularly.






Expedition in the Congo rediscovers lost primate
(04/14/2015) The last time there was a sighting of Bouvier's red colobus disco was all the rage, the Internet was non-existent, and Madonna still referred solely to the mother of God. But then the African monkey vanished and conservationists feared it had gone extinct—a victim of the bushmeat trade. For years, research groups called for an expedition to find out if Bouvier's red colobus still survived.
Camera traps capture rare footage of wild bonobos (video)
(12/29/2014) Bonobos, our ape cousins, love peace. Unlike chimpanzees, also our close relatives, bonobos are known to resolve conflict through sex instead of aggression. They kiss, they caress, and females display genito-genital rubbing (also called G-G rubbing) to communicate, bond, and reconcile.
Almost 90 percent of Republic of the Congo's lowland forests open to logging
(05/06/2014) Although the Republic of the Congo has opened up nearly 90 percent of its lowland forests to logging, the majority of the logging occurring in the country is still illegal, according to a new report from the Chatham House. In fact the UK policy institute finds that illegal logging in the Republic of the Congo may make up as much as 70-75 percent of the industry.
Okapi-killing warlord shot dead in the Democratic Republic of the Congo
(04/17/2014) The head of an informal militia and poaching group, Paul Sadala a.k.a. 'Morgan,' was killed on Monday after surrendering himself to the army in the Democratic Republic of the Congo (DRC). A well-known elephant poacher and terrorist, Morgan became most famous for leading an attack on the Okapi Wildlife Reserve station in 2012.
Nearly 90 percent of logging in the DRC is illegal
(04/08/2014) The forestry sector in the Democratic Republic of Congo (DRC) is completely out of control, according to a new eye-opening report. Put together by the Chatham House, the report estimates that at least 87 percent of logging in the DRC was illegal in 2011, making the DRC possibly the most high-risk country in the world for purchasing legal wood products.
Bonobos: the Congo Basin's great gardeners
(12/11/2013) The survival of primary forests depends on many overlapping interactions. Among these interactions include tropical gardeners, like the bonobo (Pan pansicus) in the Congo Basin, according to a new study in the Journal of Tropical Ecology. Bonobos are known as a keystone species, vital to the diversification and existence of their forests.
28 percent of potential bonobo habitat remains suitable
(11/27/2013) Only 27.5 percent of potential bonobo habitat is still suitable for the African great ape, according to the most comprehensive study of species' range yet appearing in Biodiversity Conservation. 'Bonobos are only found in lowland rainforest south of the sweeping arch of the Congo River, west of the Lualaba River, and north of the Kasai River,' lead author Jena Hickey with Cornell told mongabay.com. 'Our model identified 28 percent of that range as suitable for bonobos. This species of ape could use much more of its range if it weren't for the habitat loss and forest fragmentation that gives poachers easier access to illegally hunt bonobos.'
Elusive giraffe-relative - the okapi - now listed as Endangered
(11/26/2013) The discovery of the okapi shocked the world in 1901. African explorer, Henry Stanley, called it 'donkey-like,' while others thought it a new species of zebra, given the stripes. However, this notoriously-secretive rainforest ungulate proved to be the world's only living relative of the giraffe, making it one of most incredible taxonomic discoveries of the Twentieth Century as well as one of the last large-bodied mammals to be uncovered by scientists. But the future of the okapi (Okapia johnstoni) is increasingly in doubt: a new update of the IUCN Red List released today has raised the threatened level for the okapi from Vulnerable to Endangered.
Honey badgers and more: camera traps reveal wealth of small carnivores in Gabon (photos)
(10/17/2013) Gabon has lost most of its big meat-eaters including lions, spotted hyenas, and African wild dogs (although it's still home to leopards), but a new study focuses on the country's lesser-known species with an appetite for flesh. For the first time, researchers surveyed Gabon's small carnivores, including 12 species from the honey badger (Mellivora capensis) to the marsh mongoose (Atilax paludinosus).
Controversial oil palm company now accused of illegal logging in Cameroon rainforest

(09/18/2013) Environmental group, Greenpeace, has accused Herakles Farms of illegal logging in Cameroon after the company has already been lambasted by scientists and conservationists for its plan to build a 70,000 hectare palm oil plantation in one of Africa's most biodiverse rainforests. Herakles Farms has been under fire from green groups—both in Cameroon and abroad—for years over its oil palm plantation plans, including facing protests from locals who live in the forest to be cleared.
Elephant killer gets five years in prison in the Republic of Congo

(08/01/2013) The Congolese Supreme Court has ordered Ghislain Ngondjo (known as Pepito) to five years in prison for slaughtering dozens of elephants for their ivory tusks. The five year sentence is the maximum in the Republic of Congo for poaching. Ngondjo was considered the "kingpin" of an elephant poaching group; in addition to killing pachyderms, Ngondjo recruited new poachers and made death threats to park rangers and staff in Odzala National Park.
Meet Thor's shrew: scientists discover new mammal with a superior spine
(07/30/2013) In 1917, Joel Asaph Allen examined an innocuous species of shrew from the Congo Basin and made a remarkable discovery: the shrew's spine was unlike any seen before. Interlocking lumbar vertebrae made the species' spine four times strong than any other vertebrate on Earth adjusted for its size. The small mammal had been discovered only seven years before and was dubbed the hero shrew (Scutisorex somereni), after the name give to it by the local Mangbetu people, who had long known of the shrew's remarkable abilities.
17 poachers allegedly enter elephant stronghold in Congo, conservationists fear massacre
(05/07/2013) Local researchers and wildlife guards say 17 armed elephant poachers have gained access to Dzanga Bai, a large waterhole and clearing where up to 200 forest elephants visit daily in the Central African Republic (CAR)'s Dzanga-Ndoki National Park. WWF, which works in the region but has recently evacuated due to rising violence, is calling on the CAR government to rapidly mobilize its military to stop another elephant bloodbath in central Africa. Elephants are being killed across their range for their ivory, which is mostly smuggled to East Asia.
Beautiful striped bat is the "find of a lifetime" (photos)
(04/10/2013) Scientists have uncovered a rare, brilliantly-striped bat in South Sudan that has yielded new secrets after close study. Working in Bangangai Game Reserve during July of last year, biologist DeeAnn Redeer and conservationist Adrian Garsdie with Fauna & Flora International (FFI) came across an unmissable bat, which has been dubbed by various media outlets as the "badger bat" and the "panda bat."
Infamous elephant poacher turns cannibal in the Congo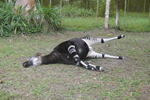 (04/03/2013) Early on a Sunday morning last summer, the villagers of Epulu awoke to the sounds of shots and screaming. In the eastern reaches of the Democratic Republic of the Congo, that can often mean another round of violence and ethnic murder is under way. In this case, however, something even more horrific was afoot.
Forging zoos into global conservation centers, an interview with Cristian Samper, head of WCS
(03/25/2013) The Wildlife Conservation Society (WCS) is one of the world's leading environmental organizations. Founded in 1895 (originally as the New York Zoological Society), the WCS manages 200 million acres of wild places around the globe, with over 500 field conservation projects in 65 countries, and 200 scientists on staff. The WCS also runs five facilities in New York City: the Central Park Zoo, the New York Aquarium, Prospect Park and Queens Zoos, and the world renowned Bronx Zoo.
Seeing the forest through the elephants: slaughtered elephants taking rainforest trees with them
(03/11/2013) Elephants are vanishing. The booming illegal ivory trade is decimating the world's largest land animal, but no place has been harder hit than the Congo basin and its forest elephants (Loxodonta cyclotis). The numbers are staggering: a single park in Gabon, Minkebe National Park, has seen 11,100 forest elephants killed in the last eight years; Okapi Faunal Reserve in the Democratic Republic of the Congo has lost 75 percent of its elephants in fifteen years; and a new study in PLoS ONE estimates that in total 60 percent of the world's forest elephants have been killed in the last decade alone. But what does that mean for the Congo forest?
New illegal logging ban in EU could sever all ties with companies working in DRC
(03/04/2013) Yesterday, the EU joined the U.S. and Australia in banning all timber that was illegally harvested abroad. The new regulation could have a major impact on where the EU sources its timber, and no where more so than the Democratic Republic of Congo (DRC). According to a new report by Greenpeace, the DRC's current moratorium on industrial logging is being systematically circumvented making all timber from the country suspect.
Warlords, sorcery, and wildlife: an environmental artist ventures into the Congo
(02/25/2013) Last year, Roger Peet, an American artist, traveled to the Democratic Republic of Congo (DRC) to visit one of the world's most remote and wild forests. Peet spent three months in a region that is largely unknown to the outside world, but where a group of conservationists, headed by Terese and John Hart, are working diligently to create a new national park, known as Lomami. Here, the printmaker met a local warlord, discovered a downed plane, and designed a tomb for a wildlife ranger killed by disease, in addition to seeing some of the region's astounding wildlife. Notably, the burgeoning Lomami National Park is home to the world's newest monkey species, only announced by scientists last September.
Activists warn of industrial palm oil expansion in Congo rainforest
(02/21/2013) Industrial oil palm plantations are spreading from Malaysia and Indonesia to the Congo raising fears about deforestation and social conflict. A new report by The Rainforest Foundation UK (RFUK), dramatically entitled The Seeds of Destruction, announces that new palm oil plantations in the Congo rainforest will soon increase fivefold to half a million hectares, an area nearly the size of Delaware. But conservationists warn that by ignoring the lessons of palm oil in Southeast Asia, this trend could be disastrous for the region's forests, wildlife, and people.
Controversial palm oil project concession in Cameroon is 89 percent 'dense natural forest'
(02/21/2013) Satellite mapping and aerial surveys have revealed that a controversial palm oil concession in Cameroon is almost entirely covered by "dense natural forest," according to a new report by Greenpeace. The activist group alleges that the concession, owned by Herakles Farms, is under 89 percent forest cover. The U.S.-based corporation intends to build a 70,000 hectare palm oil plantation in a region surrounded by four protected areas, including Korup National Park, but has faced stiff criticism from numerous environmental groups as well as conflict with locals.
Over 11,000 elephants killed by poachers in a single park [warning: graphic photo]
(02/06/2013) Surveys in Gabon's Minkebe National Park have revealed rare and hard data on the scale of the illegal ivory trade over the last eight years: 11,100 forest elephants have been slaughtered for their tusks in this remote protected area since 2004. In all, poachers have cut down the park's elephant population by two-thirds, decimating what was once believed to be the largest forest elephant population in the world.
Gorilla paradise: new park safeguards 15,000 western lowland gorillas

(01/31/2013) In 2008 the Wildlife Conservation Society (WCS) announced a jaw-dropping discovery: remote swamp forests in northern Republic of Congo contained a stunning population of 125,000 western lowland gorillas that had somehow gone unnoticed by scientists. At the time the President of WCS, Steven E. Sanderson, called the area the "mother lode of gorillas," and expressed hope that the discovery would lead to a new park. Well, late last year, a park was finalized.
Mountain gorilla population up by over 20 percent in five years

(11/13/2012) A mountain gorilla census in Uganda's Bwindi Impenetrable National Park has a population that continues to rise, hitting 400 animals. The new census in Bwindi means the total population of mountain gorillas (Gorilla beringei beringei) has reached 880—up from 720 in 2007—and marking a growth of about 4 percent per year.
Foreign loggers and corrupt officials flouting logging moratorium in the Democratic Republic of Congo
(11/08/2012) In 2002 the Democratic Republic of Congo (DRC) announced a moratorium on commercial logging in a bid to save rapidly falling forests, however a new report by Global Witness alleges that industrial loggers are finding a way around the logging freeze. Through unscrupulous officials, foreign companies are abusing artisanal permits—meant for local community logging—to clear-cut wide swathes of tropical forest in the country. These logging companies are often targeting an endangered tree—wenge (Millettia laurentii)—largely for buyers in China and Europe.
NASA satellites catch vast deforestation inside Virunga National Park

(10/03/2012) Two satellite images by NASA, one from February 13, 1999 and the other from September 1, 2008 (see below), show that Virunga National Park is under assault from deforestation. Located in the eastern edge of the Democratic Republic of Congo (DRC) the park has been assailed by entrenched conflict between rebels and government forces, as well as slash-and-burn farming, the charcoal trade, and a booming human population.
British government comes out against drilling in Virunga National Park by UK company

(10/01/2012) The British government has come out in opposition against oil drilling plans by UK-based, SOCO International, in Virunga National Park, reports Reuters. The first national park established on the continent, Virunga is home to one of only two populations of mountain gorillas (Gorilla beringei beringei) in the world. In March of this year, two oil exploratory permits came to light granting SOCO seismic testing inside the park by the government of the Democratic Republic of Congo (DRC).
Rodents have lowest diversity in primary forests in the Congo

(09/17/2012) For many animal families, diversity and abundance rises as one moves away from human-impacted landscapes, like agricultural areas, into untouched places, such as primary rainforests. However, a new study in mongabay.com's open access journal Tropical Conservation Science, shows that the inverse can also be true. In this case, scientists working in the Democratic Republic of Congo's (DRC) Maskao Forest found that both rodent diversity and abundance was lowest in primary forest.
Remarkable new monkey discovered in remote Congo rainforest
(09/12/2012) In a massive, wildlife-rich, and largely unexplored rainforest of the Democratic Republic of the Congo (DRC), researchers have made an astounding discovery: a new monkey species, known to locals as the 'lesula'. The new primate, which is described in a paper in the open access PLoS ONE journal, was first noticed by scientist and explorer, John Hart, in 2007. John, along with his wife Terese, run the TL2 project, so named for its aim to create a park within three river systems: the Tshuapa, Lomami and the Lualaba (i.e. TL2), a region home to bonobos, okapi, forest elephants, Congo peacock, as well as the newly-described lesula.
Turning gorilla poachers into conservationists in the Congo [warning: graphic photos]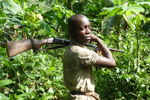 (08/13/2012) Although founded only four years ago, Endangered Species International-Congo, has ambitious plans to protect dwindling Western gorilla populations and aid local people in the Republic of the Congo. The organization, an offshoot of Endangered Species International (ESI), has been spending the last few years studying the bushmeat trade in Pointe-Noire, the country's second largest city, and developing plans for turning hunters into conservationists.
Cute animal picture of the day: sitatunga calf

(07/24/2012) The sitatunga (Tragelaphus spekii) is a swamp-dwelling antelope that makes its home in Central and Southern Africa, including the Congo Rainforest. They have waterproof coats and often take to the water to help avoid predators. The sitatunga is listed as Least Concern by the IUCN Red List.
Innovative conservation: bandanas to promote new park in the Congo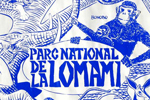 (07/16/2012) American artist, Roger Peet—a member of the art cooperative, Justseeds, and known for his print images of vanishing species—is headed off to the Democratic Republic of the Congo (DRC) to help survey a new protected area, Lomami National Park. With him, he'll be bringing 400 bandanas sporting beautifully-crafted images of the park's endangered fauna. Peet hopes the bandanas, which he'll be handing out freely to locals, will not only create support and awareness for the fledgling park, but also help local people recognize threatened species.
Poacher known as 'Morgan' behind devastating massacre at Okapi Wildlife Reserve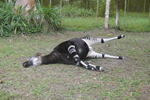 (07/05/2012) Officials have pointed to an infamous elephant poacher known as 'Morgan' as the head of the murderous attack at the Okapi Wildlife Reserve station in the Democratic Republic of the Congo (DRC) late last month. The attack by Morgan and his crew left seven people dead, including two wildlife rangers. The poachers also shot dead 13 captive okapis at the headquarters, which were considered ambassadors for the imperiled forest. One okapi remains alive, but injured and conservationists are not optimistic about its survival. UNESCO and the the NGO Fauna and Flora international have issued an emergency appeal to raise $120,000 dollars within two weeks for the victim's families as well as for rapidly rebuilding the station.
Congolese experts needed to protect Congo Basin rainforests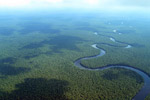 (06/20/2012) This summer, the Democratic Republic of Congo (DRC) is expected to approve a new higher education strategy which the country has developed with the World Bank and other international donors. The shape of this educational reform initiative will be critical to Congo's future in many ways. It could finally offer Congo's long-suffering people a route into the 21st century. It will also help determine the future of the DRC's forests. Nearly half of the Congo Basin's remaining rainforest is in the DRC—yet the critical role of Congolese experts in forestry, agricultural science, wildlife management and other rural sciences in protecting this forest is not widely recognized.
Over 700 people killed defending forest and land rights in past ten years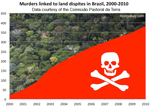 (06/19/2012) On May 24th, 2011, forest activist José Cláudio Ribeiro da Silva and his wife, Maria do Espírito Santo da Silva, were gunned down in an ambush in the Brazilian state of Pará. A longtime activist, José Cláudio Ribeiro da Silva had made a name for himself for openly criticizing illegal logging in the state which is rife with deforestation. The killers even cut off the ears of the da Silvas, a common practice of assassins in Brazil to prove to their employers that they had committed the deed. Less than a year before he was murdered, da Silva warned in a TEDx Talk, "I could get a bullet in my head at any moment...because I denounce the loggers and charcoal producers."
Gabon to burn ivory stockpiles

(04/09/2012) The government of Gabon has announced it will burn its stockpiles of ivory later this year in a bid to undercut illegal elephant poaching, which is decimating populations in central Africa.
Oil exploration approved in Africa's oldest park, Virunga National Park

(03/19/2012) Permits for controversial oil exploration in Virunga National Park have been released after request by NGO Global Witness. Oil company, SOCO International, has confirmed it has received two permits to undertake preliminary exploration, including seismic tests, in the UNESCO World Heritage Site. Located in the Democratic Republic of Congo (DRC), Virunga is famous for its population of the Critically Endangered mountain gorillas (Gorilla beringei beringei).
Republic of the Congo expands park to protect fearless chimps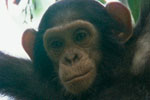 (02/16/2012) The Republic of the Congo has expanded its Nouabalé-Ndoki National Park by 37,295 hectares (144 square miles) to include a dense swamp forest, home to a population of chimpanzees (Pan troglodytes) that show no fear of humans. Known as the Goualougo Triangle, the swamp forest is also home to forest elephants (Loxodonta cyclotis) and western lowland gorillas (Gorilla gorilla gorilla). The expansion of the park to include the Goualougo Triangle makes good on a government commitment from 2001.