News articles on community development

---
Mongabay.com news articles on community development in blog format. Updated regularly.





Innovative idea: wildlife income may help people withstand drought in Africa

(03/18/2013) Getting local people to become invested in wildlife conservation is not always easy, especially in parts of the world where protected areas are seen as taking away natural resources from local communities. This tension lies around Gonarezhou National Park in Zimbabwe, where a growing population of livestock herders competes with wildlife.


Improving community healthcare helps protect rainforests in Borneo


(03/14/2013) Providing high quality healthcare to communities around a rainforest park in Indonesian Borneo may be helping reduce chronic illegal logging, suggests a new assessment published by a conservation group. The five-year impact assessment published by Indonesia-based Alam Sehat Lestari (ASRI) is based on surveys of nearly 1,500 households and 6,345 people living around Gunung Palung National Park in West Kalimantan. The study compares key health, economic, and conservation indicators to a baseline survey taken in 2007, prior to the launch of the project.


New illegal logging ban in EU could sever all ties with companies working in DRC


(03/04/2013) Yesterday, the EU joined the U.S. and Australia in banning all timber that was illegally harvested abroad. The new regulation could have a major impact on where the EU sources its timber, and no where more so than the Democratic Republic of Congo (DRC). According to a new report by Greenpeace, the DRC's current moratorium on industrial logging is being systematically circumvented making all timber from the country suspect.


Featured video: moving green, local energy forward in Southeast Asia


(02/25/2013) A new video highlights the work and drive of renewable energy proponents at the inaugural meeting of Southeast Asia Renewable Energy People's Assembly (SEAREPA) in the Malaysian state of Sabah. Held last year, the meeting brought together 80 organizations from 12 countries to discuss the potential and challenges of green energy in the region. The idea of SEAREPA came about after activists in Sabah successfully defeated plans for a coal-fired power plant to be built adjacent to old-growth rainforest and one of the world's most biodiverse coral reefs.


Wolves, mole rats, and nyala: the struggle to conserve Ethiopia's highlands


(11/20/2012) There is a place in the world where wolves live almost entirely off mountain rodents, lions dwell in forests, and freshwater rolls downstream to 12 million people, but the place—Ethiopia's Bale Mountains National Park—remains imperiled by a lack of legal boundaries and encroachment by a growing human population. "Much of the land in Africa above 3,000 meters has been altered or degraded to the point where it isn't able to perform most of the ecosystem functions that it is designed to do. Bale, although under threat and already impacted to a degree by anthropogenic activities, is still able to perform its most important ecosystem functions, and as such ranks among only a handful of representative alpine ecosystems in Africa."


Tanzania weighs new soda ash plant in prime flamingo territory


(11/08/2012) In a choice between flamingoes and a soda ash plant, a new report shows that local residents near Lake Natron, Tanzania prefer flamingoes. This is good news for conservationists as the area is the most important breeding site in the world for lesser flamingos (Phoenicopterus minor). While the report shows agreement between residents and conservation groups that the project isn't worth its cost or risk, the Tanzanian government is not giving up yet.


Foreign loggers and corrupt officials flouting logging moratorium in the Democratic Republic of Congo


(11/08/2012) In 2002 the Democratic Republic of Congo (DRC) announced a moratorium on commercial logging in a bid to save rapidly falling forests, however a new report by Global Witness alleges that industrial loggers are finding a way around the logging freeze. Through unscrupulous officials, foreign companies are abusing artisanal permits—meant for local community logging—to clear-cut wide swathes of tropical forest in the country. These logging companies are often targeting an endangered tree—wenge (Millettia laurentii)—largely for buyers in China and Europe.


Micro-hydro and decentralized green energy goals set in Borneo

(11/04/2012) The first ever meeting of the Southeast Asia Renewable Energy People's Assembly (SEAREPA) ended with agreement on 12 future projects, including developing community micro-hydro power and pushing for new policies on decentralized renewable energy in the region. Held in Malaysian state of Sabah on the island, the meeting brought together 130 people from some 80 different groups.


After defeating coal plant, Borneo hosts renewable energy meeting

(10/31/2012) Last year, a coalition of environmentalists and locals won a David-versus-Goliath battle against a massive coal plant in the Malaysian state of Sabah on Borneo. After facing a protracted campaign—including expert analysis of green energy options for Sabah—the state government announced it was scuttling plans to build the coal plant on a beach overlooking the Coral Triangle. Now, victorious grassroots campaigners are hosting the inaugural meeting of the Southeast Asia Renewable Energy People's Assembly (SEAREPA), bringing 80 organizations together to discuss green energy options across southeast Asia.


In midst of rhino poaching epidemic, Lewa Wildlife Conservancy has happy problem: too many black rhinos


(10/02/2012) So far this year, South Africa has lost 430 rhinos to poachers, more than one animal a day. The epidemic of rhino poaching, fueled by demand for black-market powdered rhino horn in Vietnam and China, is decimating rhino species worldwide. In fact, last year saw the official extinction of two rhino subspecies: the Vietnamese rhino (Rhinoceros sondaicus annamiticus), a subspecies of the Javan, and the western black rhino (Diceros bicornis longipes), a subspecies of the black. However there is one place where rhinos still thrive. The Lewa Wildlife Conservancy in Kenya has found itself with a unique, but happy, problem: they have so many black rhinos, which are considered Critically Endangered by the IUNC Red List, that they need to move some to stop rhino-fights. In other words, their rhino population has hit its limit for the 25,000 hectare (62,000 acre) nonprofit protected area.


Livelihoods depend on the environment in the Western Ghats

(09/27/2012) In the Uttar Kannada district of the Western Ghats, the livelihood of the average individual depends largely on the well being of the environment. Six months ago, before large-scale mangrove planting of the area, if someone were to walk through the banks of the mangroves in the Western Ghats he would see many fishermen casting their long nets and wires, time and time again noticing pieces of trash such as plastic grocery bags tangled in the nets.


Smartphones promoted as a tool for indigenous forest protection

(07/23/2012) Smartphones beeping in the woods may be a welcome presence that augurs the increased ability of indigenous communities to be stewards of their own biodiverse forests. Representatives of these communities and their supporters have advocated that international conservation policies like Reduced Emissions through Deforestation and Degradation (REDD) be increasingly managed by the communities themselves.


Experts: sustainable logging in rainforests impossible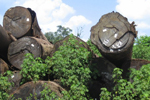 (07/19/2012) Industrial logging in primary tropical forests that is both sustainable and profitable is impossible, argues a new study in Bioscience, which finds that the ecology of tropical hardwoods makes logging with truly sustainable practices not only impractical, but completely unprofitable. Given this, the researchers recommend industrial logging subsidies be dropped from the UN's Reducing Emissions from Deforestation and Forest Degradation (REDD+) program. The study, which adds to the growing debate about the role of logging in tropical forests, counters recent research making the case that well-managed logging in old-growth rainforests could provide a "middle way" between conservation and outright conversion of forests to monocultures or pasture.


Can loggers be conservationists?


(05/10/2012) Last year researchers took the first ever publicly-released video of an African golden cat (Profelis aurata) in a Gabon rainforest. This beautiful, but elusive, feline was filmed sitting docilely for the camera and chasing a bat. The least-known of Africa's wild cat species, the African golden cat has been difficult to study because it makes its home deep in the Congo rainforest. However, researchers didn't capture the cat on video in an untrammeled, pristine forest, but in a well-managed logging concession by Precious Woods Inc., where scientist's cameras also photographed gorillas, elephants, leopards, and duikers.


10 rules for making REDD+ projects more equitable

(02/02/2012) The International Institute for Environment and Development has published a new report on benefit distribution under Reducing Emissions from Deforestation and Forest Degradation (REDD+) programs. The report includes a top ten list of recommendations to ensure REDD+ works for poor communities that live in and around forests.


The other side of the Penan story: threatened tribe embraces tourism, reforestation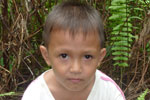 (12/19/2011) News about the Penan people is usually bleak. Once nomadic hunter-gatherers of the Malaysian state of Sarawak on Borneo, the indigenous Penan have suffered decades of widespread destruction of their forests and an erosion of their traditional culture. Logging companies, plantation developments, massive dams, and an ambivalent government have all played a role in decimating the Penan, who have from time-to-time stood up to loggers through blockades, but have not been successful in securing recognition of legal rights to their traditional lands. Yet even as the Penan people struggle against the destruction of their homelands, they are not standing still. Several Penan villages have recently begun a large-scale reforestation program, a community tourism venture, and proclaimed their a portion of their lands a "Peace Park."


Group pushes entrepreneurship model for conservation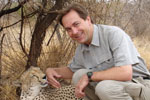 (09/28/2011) The Wildlife Conservation Network (WCN) is dedicated to protecting endangered species and preserving their natural habitats. This group supports innovative strategies for people and wildlife to co-exist and thrive. This year the group celebrates it's ten year anniversary. The WCN Expo is October 1st and 2nd, 2011. The following is an interview with Charles Knowles, the WCN's Executive Director and co-founder.


Nobel laureate and Green Belt Movement founder Wangari Maathai dead at 71

(09/26/2011) Kenyan environmentalist and Nobel laureate Wangari Maathai died Sunday after a battle with ovarian cancer. She was 71.


Measuring Livelihoods and Environmental Dependence: Methods for Research and Fieldwork - Book Review

(09/18/2011) eveloping a systematic approach applicable globally to measuring the environmental impacts associated with rural economic development in the developing world, as measured through landscape-level carbon accounting, is critically important as these communities begin to implement land-based carbon projects. To be able to successfully compare carbon sequestration activities between communities, we need to develop quantitatively robust methodologies to measure rural livelihoods' environmental impacts. With these methodologies in place it is possible to begin to measure financial effectiveness and equitable distribution of revenue associated with these land-based carbon projects.


Saving (and studying) one of Nigeria's last montane forests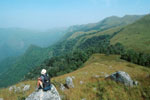 (07/26/2011) Between 2000 and 2010, Nigeria lost nearly a third (31 percent) of its forest cover, while its primary forests suffered even worse: in just five years (2000 to 2005) over half of the nation's primary forests were destroyed, the highest rate in the world during that time. Yet, Nigeria's dwindling forests have never received the same attention as many other country's, such as Indonesia, Brazil, Malaysia, or Peru, even though in many ways Nigeria struggles with even deeper problems than other developing nations. Despite vast oil business, the nation is plagued by poverty and destitution, a prime example of what economists call the 'resource curse'. Environmentally, it has been named one of the worst in the world. Yet, not all forest news out of Nigeria is bleak: the success of the Nigerian Montane Forest Project in one of the country's remaining forests is one such beacon of hope, and one example of how the country could move forward.


Indonesia's moratorium undermines community forestry in favor of industrial interests


(06/21/2011) Indonesia's moratorium on new concessions in primary forest areas and peatlands "completely ignores" the existence of community forestry management licenses, jeopardizing efforts to improve the sustainability of Indonesia's forest sector and ensure benefits from forest use reach local people, say environmentalists. According to Greenomics-Indonesia, a Jakarta-based NGO, community and village forestry licenses are not among the many exemptions spelled under the presidential instruction that defines the moratorium. The instruction, issued last month, grants exemptions for industrial developers and allows business-as-usual in secondary forest areas by the pulp and paper, mining and palm oil industries.


Environment versus economy: local communities find economic benefits from living next to conservation areas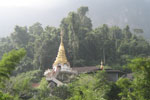 (06/12/2011) While few would question that conserving a certain percentage of land or water is good for society overall, it has long been believed that protected areas economically impoverish, rather than enrich, communities living adjacent to them. Many communities worldwide have protested against the establishment of conservation areas near them, fearing that less access and increased regulations would imperil their livelihoods. However, a surprising study overturns the common wisdom: showing that, at least in Thailand and Costa Rica, protected areas actually boost local economies and decrease poverty.


Locals clash with 'sustainable' FSC logging company in the Congo

(05/22/2011) Two separate protests against logging companies by local communities have turned violent in the Democratic Republic of Congo (DRC), leaving at least one dead. According to Greenpeace, one of the companies involved in the violence, Sodefor, is sustainably certified by the Forest Stewardship Council (FSC). Given that the industry in DRC is rife with social conflict and corruption, Greenpeace is advocating that FSC place a moratorium on certifying new industrial-style logging concessions in the central African nation.


Is Indonesia losing its most valuable assets?


(05/16/2011) Deep in the rainforests of Malaysian Borneo in the late 1980s, researchers made an incredible discovery: the bark of a species of peat swamp tree yielded an extract with potent anti-HIV activity. An anti-HIV drug made from the compound is now nearing clinical trials. It could be worth hundreds of millions of dollars a year and help improve the lives of millions of people. This story is significant for Indonesia because its forests house a similar species. In fact, Indonesia's forests probably contain many other potentially valuable species, although our understanding of these is poor. Given Indonesia's biological richness — Indonesia has the highest number of plant and animal species of any country on the planet — shouldn't policymakers and businesses be giving priority to protecting and understanding rainforests, peatlands, mountains, coral reefs, and mangrove ecosystems, rather than destroying them for commodities?


Program that cuts illegal logging by providing high quality health care in Borneo wins major conservation award

(05/14/2011) The co-founder of an initiative that discourages illegal logging by bringing affordable, high quality health care to impoverished communities in Indonesian Borneo has been recognized with a prestigious conservation award.


Involving communities in forest governance boosts biodiversity, local income

(03/24/2011) Involving local communities in the governance of forest resources boosts economic returns and biodiversity relative to areas where locals have little participation, report researchers writing in Science. The findings have implications for efforts to protect and sustainably manage forests under the reducing emissions from deforestation and degradation (REDD) mechanism.


Fighting illegal logging in Indonesia by giving communities a stake in forest management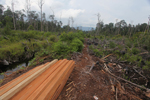 (03/10/2011) Over the past twenty years Indonesia lost more than 24 million hectares of forest, an area larger than the U.K. Much of the deforestation was driven by logging for overseas markets. According to the World Bank, a substantial proportion of this logging was illegal. Curtailing illegal logging may seem relatively simple, but at the root of the problem of illegal logging is something bigger: Indonesia's land policy. Can the tide be turned? There are signs it can. Indonesia is beginning to see a shift back toward traditional models of forest management in some areas. Where it is happening, forests are recovering. Telapak understands the issue well. It is pushing community logging as the 'new' forest management regime in Indonesia. Telapak sees community forest management as a way to combat illegal logging while creating sustainable livelihoods.


Flight of the Monarchs Reveals Environmental Connections across a Continent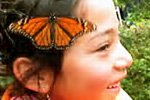 (11/08/2010) As autumn settles across North America, one hallmark of the season is the gentle southward flight of the Monarch Butterflies as they migrate towards the forests that shelter their species during the winter months. Unfortunately, as with other forests across the planet, the Monarch's "over- wintering grounds" in Mexico are suffering from increased human pressures. An innovative conservation group called the ECOLIFE Foundation has stepped up to help safeguard the Monarch's winter forests, and in the process discovered that addressing the Monarch's plight came only after uncovering connections that bind us all. The following article is an interview with Bill Toone, the Executive Director of ECOLIFE.


Can 'boutique capitalism' help protect the Amazon?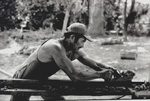 (10/11/2010) Most companies talk green, but few—almost none in fact—actually walk the walk. Sustainable design company, Ecostasy, not only walks the walk, but actually seeks out among the most challenging places to work: the imperiled Brazilian Amazon. Specializing in hand-crafted products by indigenous groups—such as jewelry, pots, and furniture—Ecostasy seeks to balance smart economics, environmental protection, and community development. Make no mistake, however, Ecostasy is not a non-profit, but a rare and refreshing example of a company truly dedicated to changing the world for the better. "In my mind, a virtuous company does not compromise ethical principles for economic interests. For me, being ethical is comprised of conducting oneself with honesty and responsibility to one's constituencies (customers, employees, suppliers), society and the environment," Katherine Ponte, founder of Ecostasy, told mongabay.com in an interview.