News articles on climate science

---
Mongabay.com news articles on climate science in blog format. Updated regularly.





Record number of nations hit all time temperature highs

(11/23/2010) To date, nineteen nations have hit or matched record high temperatures this year, according to Jeff Master's Wunder Blog, making 2010 the only year to have so many national records. In contrast, no nation this year has hit a record cold temperature.


Rainforests thrived in warmer conditions in the past, yet study requires "caution"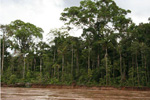 (11/11/2010) A new study in Science is likely to reopen the contentious debate about the impact of climate change on tropical rainforests. Scientific modeling of future climate conditions in tropical rainforests, such as the Amazon, has shown that climate change—combined with deforestation and fire—could create a tipping point whereby a significant portion of the Amazon could turnover to savannah, pushing untold species to extinction and undercutting the many ecosystem services provided by tropical rainforests. Yet, a new study headed by Carlos Jaramillo, staff scientist at the Smithsonian Tropical Research Institute (STRI), has found a tropical forest ecosystem thriving in much warmer conditions than today.


US elects barrage of climate change deniers, threatening support for green energy

(11/03/2010) The US midterm election, which won Republicans the House but safeguarded the Senate for Democrats, has brought in a number of self-proclaimed climate change deniers, ending any likelihood that an energy bill will be passed over the next two years and essentially stumbling the White House's strategy on climate change. Newly elected Republican Senators Rand Paul of Kentucky and Marc Rubio of Florida, both members of the nascent Tea Party, have stated they do not believe in climate change despite that scientists overwhelming agree the Earth is warming due to human impacts.


Mixed messages on geoengineering: international community approves moratorium, US pushes research

(10/31/2010) Efforts to explore geoengineering, whereby governments would employ large-scale projects to alter the world's climate in a bid to combat climate change, received mixed messages this week. In Nagoya, Japan—where all but three of the world's nations (the US, Andorra, and the Holy See) met at the Convention on Biological Diversity (CBD) to hammer out an agreement on stemming biodiversity loss—member nations agreed on Friday to a moratorium on geoengineering schemes. On the same day a US congressional report on geoengineering, which it termed climate engineering, recommended "research now to better understand which technologies or methods, if any, represent viable stopgap strategies for managing our changing climate."


Majority of Americans confused on climate change basics

(10/17/2010) Most Americans don't understand the basics of climate change, according to a new poll by researchers with Yale. The poll found that over half of Americans deserve an 'F' on basic understanding of climate science and climate change, while only 1% would receive an 'A'.


Do wind farms drive local warming?

(10/11/2010) Using decades-old data researchers have proven a long-suspected effect of wind turbines: under certain conditions large-scale wind farms can change local weather. Temperatures recorded from a wind farm in San Gorgonio, California in 1989 shows that turbines cooled local temperatures during the day, but warmed them at night. However, researchers in the paper published in the Proceedings of the National Academy of Science say that the impact of wind farms on local temperatures will not be the same everywhere.


Obama science adviser wields evidence to undercut climate change denier

(10/04/2010) US President Barack Obama's science adviser, John Holdren, took on climate change deniers in a comprehensive, data-heavy speech last month at the Kavli Science Forum in Oslo, Norway. Proclaiming that "the earth is getting hotter", Holden went on to enumerate on the causes of climate change (human impacts) and its overall effect (not good), discussing at length the science that underpins the theory of climate change. For environmentalists and international officials frustrated with the US's slow pace on combating climate change—which is decades behind Europe's and many other nations'—Holdren touted that the Obama Administration had made progress on the issue and stated that the administration plans to pursue legislation again after a new congress is elected. However, given current predictions that Republicans will pick up seats in November, comprehensive climate and energy legislation seems unlikely since historically the majority of the GOP has been against tackling climate change.


An undamaged Amazon produces its own clouds and rain

(09/21/2010) Researchers recently traveled to the remote Brazilian Amazon to investigate how clouds are formed and rain falls in an atmosphere unburdened by human-caused pollution. Studying the atmospheric aerosol particles, which impact cloud formation and particles, above a pristine forests, researchers discovered that when left alone the Amazon acts as its own 'bioreactor': clouds and precipitation are produced by the abundance of plant materials.


NASA image captures one of the warmest Julys on record

(08/19/2010) The NASA Goddard Institute for Space Studies (GISS) has found that the global average temperature of July 2010 was nearly 1 degree Fahrenheit (0.55 degrees Celsius) higher than average temperatures from July1951-1980. In fact, this July was tied for the warmest on record with July 2005 and 1998.


The biology and conservation of declining coral reefs, an interview with Kristian Teleki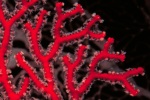 (08/15/2010) Coral reefs are often considered the "rainforests of the sea" because of their amazing biodiversity. In fact, coral reefs are one of the most diverse ecosystems on earth. It is not unusual for a reef to have several hundred species of snails, sixty species of corals, and several hundred species of fish. While they comprise under 1% of the world's ocean surface, one-quarter of all marine species call coral reefs their home. Fish, mollusks, sea stars, sea urchins, and more depend on this important ecosystem, and humans do too. Coral reefs supply important goods and services–from shoreline protection to tourism and fisheries–which by some estimates are worth $375 billion a year.


Summer from hell: seventeen nations hit all-time heat records

(08/09/2010) The summer isn't over yet, but already seventeen nations have matched or beaten their all-time heat records. According to Jeff Masters' WunderBlog, Belarus, the Ukraine, Cyprus, Russia, Finland, Qatar, the Sudan, Saudi Arabia, Niger, Chad, Kuwait, Iraq, Pakistan, Colombia, Myanmar, Ascension Island, and the Solomon Islands have all equaled or broken their top temperature records this year. In addition, the hottest temperature ever recorded in Asia was taken in Pakistan at 128 degrees Fahrenheit (53 degrees Celsius); this incredible temperature still has to be reviewed by the World Meteorological Organization (WMO).


Backbone of marine food chain in alarming decline

(07/28/2010) Tiny marine algae, known as phytoplankton, are the backbone of the marine food chain, yet a new study in Nature has found that this backbone is disintegrating. Researchers discovered that since 1950 phytoplankton has declined by approximately 40 percent across the Northern Hemisphere, a decline that corresponds to warming waters due to climate change. Given that phytoplankton feed the oceans' abundance all the way up the food chain—from zooplankton to fish to seabird to sharks to humans—the decline has likely impacted the very structure of the ocean.


June was the 304th month in a row above average temperatures

(07/20/2010) Data released from the US's National Oceanic and Atmospheric Administration (NOAA) and the National Climatic Data Center shows that June 2010 was a record breaker. It was the warmest month of June globally since record-taking began in 1880 and it is the 304th month in a row that has been above the 20th Century average. The last month to fall below the average was February 1985: the month Nelson Mandela, who recently celebrated his 92nd birthday, rejected an offer of freedom from the then apartheid government.


Arctic ice hits lowest record for June

(07/14/2010) In June the average sea ice extent in the Arctic was the lowest on record for that month, according to the National Snow and Ice Data Center (NSIDC). Measured by satellites, the seasonal movements of Arctic ice have been tracked since 1979 with a dramatic decline seen over the last 30 years. This decline is linked by climatologists to climate change.


Freak floods in US predicted by 2009 climate change report

(06/16/2010) A rash of flash floods has struck the US during this spring: Rhode Island, Tennessee, Arkansas, and most recently Oklahoma have all faced devastating floods that have resulted in the loss of property and in some cases tragic deaths. While flash floods have occurred throughout US history, the number of big floods this year appears abnormal at best, but not unexpected by researchers. Climatologists warned last year that an increase in floods and severe storms is very probable as the world warms.


A total ban on primary forest logging needed to save the world, an interview with activist Glen Barry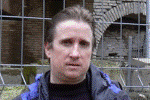 (06/02/2010) Radical, controversial, ahead-of-his-time, brilliant, or extremist: call Dr. Glen Barry, the head of Ecological Internet, what you will, but there is no question that his environmental advocacy group has achieved major successes in the past years, even if many of these are below the radar of big conservation groups and mainstream media. "We tend to be a little different than many organizations in that we do take a deep ecology, or biocentric approach," Barry says of the organization he heads. "[Ecological Internet] is very, very concerned about the state of the planet. It is my analysis that we have passed the carrying capacity of the Earth, that in several matters we have crossed different ecosystem tipping points or are near doing so. And we really act with more urgency, and more ecological science, than I think the average campaign organization."


NASA satellite image reveals record low snow for the United States

(06/02/2010) According to the National Oceanic and Atmospheric Administration, snow cover retreated to its lowest extent ever recorded in North America by the end of this April. Snow cover was 2.2 million square kilometers below average. With records of snow extent beginning in 1967, this is the lowest in 43 years and the largest negative anomaly in the past 521 months.


Warmest April on record

(05/20/2010) According to the National Oceanic and Atmospheric Administration (NOAA), the past April was the warmest globally since record taking began in the late 19th Century. Combining both land and ocean temperatures, the NOAA recorded that April 2010 was 0.76 degrees Celsius (1.37 degrees Fahrenheit) above the 20th Century average.


255 scientists: 'deeply disturbed' by 'political assaults on scientists'

(05/06/2010) Signed by 255 members of the National Academy of Science, a new letter in the journal Science expresses that researchers are "deeply disturbed" by the rancor toward them from some in media and politics. Furthermore the letter outlines, once again, that the science of climate change is based on "compelling, comprehensive, and consistent objective evidence that humans are changing the climate in ways that threaten our societies and the ecosystems on which we depend."


Climatologists cleared of any "scientific malpractice"

(04/15/2010) Two inquiries into the research of several climatologists at the University of East Anglia's Climate Research Unit (CRU) have now cleared the researchers of any wrong-doing. The second inquiry, which looked specifically at 11 representatives studies including global temperature findings and work with tree rings, announced yesterday that they found "no evidence of any deliberate scientific malpractice in any of the work of the Climatic Research Unit, and had it been there we believe that it is likely that we would have detected it," according to the panel, which included experts from the United States, Switzerland, and the UK.


'Very dramatic' changes in Greenland: ice loss spreads north

(03/28/2010) Over the past ten years scientists have measured increasing ice loss along southern Greenland. Now a new study in Geophysical Research Letters shows that the ice loss has spread north with likely consequences for global sea level rise.


El Niño in Venezuela: Hugo Chávez's "Katrina" Moment?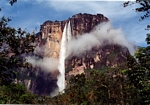 (03/22/2010) Venezuelan President Hugo Chávez has been in power for more than ten years, during which time he has deflected numerous electoral challenges, a recall effort, a coup d'etat and even an oil lock out. A politically adroit statesman, he has demonstrated enormous staying power throughout all these political crises. Yet, Chávez's luck may have finally run out: a devastating El Niño-linked drought has recently ravaged Venezuela and the government has been forced to undertake conservation measures for water and electricity. Hardly amused, some are holding Chávez responsible for the energy crunch and the drought could exact a heavy toll on the Venezuelan president in September's legislative elections.


Scientists: new study does not disprove climate change threat to Amazon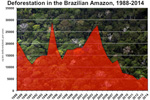 (03/19/2010) Recently, Boston University issued a press release on a scientific study regarding the Amazon's resilience to drought. The press release claimed that the study had debunked the Intergovernmental Panel on Climate Change's (IPCC) theory that climate change could turn approximately 40 percent of the Amazon into savanna due to declining rainfall. The story was picked up both by mass media, environmental news sites (including mongabay.com), and climate deniers' blogs. However, nineteen of the world's top Amazonian experts have issued a written response stating that the press release from Boston University was "misleading and inaccurate".


Amazon confusion: new research shows forest is resilient to drought, but is this the whole picture?


(03/15/2010) A drought that happens once in a hundred years had little negative or positive effect on the Amazon rainforest according to a NASA funded study in Geophysical Research Letters. "We found no big differences in the greenness level of these forests between drought and non-drought years, which suggests that these forests may be more tolerant of droughts than we previously thought," said Arindam Samanta, the study's lead author from Boston University.


Massive methane leak in Arctic could trigger abrupt warming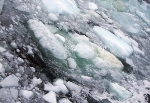 (03/04/2010) Methane, a greenhouse gas 30 times more potent than carbon, is spewing from what was believed to be an impermeable barrier in Siberia in amounts equal to methane releases from the world's oceans. The discovery has lead researchers to fear the possibility of abrupt climate warming. According to the study published in Science, subsea permafrost below the East Siberian Arctic Shelf has become compromised, leaking vast amounts of methane into the atmosphere.


Healthy coral reefs produce clouds and precipitation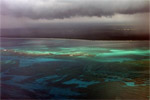 (03/03/2010) Twenty years of research has led Dr. Graham Jones of Australia's Southern Cross University to discover a startling connection between coral reefs and coastal precipitation. According to Jones, a substance produced by thriving coral reefs seed clouds leading to precipitation in a long-standing natural process that is coming under threat due to climate change.


James Inhofe is not a climatologist: a journalist's perspective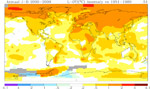 (02/25/2010) As a child when I came down with pneumonia my parents did not rush me to see a policeman, a cattle rancher, or a local businessman. Instead they took me to see a medical doctor—someone who had studied that science for at least twelve years—and I was quickly given injections and put on antibiotics. Thanks to my parents' ability to tell the difference between experts and non-experts, I survived.


Climate change melting southern Antarctic Peninsula ice shelves

(02/23/2010) The US Geological Survey (USGS) has found that every ice front in the southern part of the Antarctic Peninsula—the coldest part—has been retreating overall for the past sixty years with the greatest changes visible since 1990.


"No change whatsoever" in scientists' conviction that climate change is occurring

(02/22/2010) Despite some politicians and TV personalities claiming that climate change is dead, a panel of influential US and European scientists held a press conference at the annual meeting of the American Association for the Advancement of Science to set the record straight on the state of the science and the recent media frenzy against climate change. "There has been no change in the scientific community, no change whatsoever" in the consensus that globally temperatures are rising, said Gerald North, professor of atmospheric sciences at Texas A&M University. Recent data has shown that the decade from 2000-2009 was the warmest decade on record.


Decline in fog threatens California's iconic redwood ecosystems

(02/15/2010) A surprising new study finds that during the past century the frequency of fog along California's coast has declined by approximately three hours a day. Published in the Proceedings of the National Academy of Sciences the researchers are concerned that this decrease in fog threatens California's giant redwoods and the unique ecosystem they inhabit.


Rainforest expert agrees with IPCC: warns of 'tipping point' for Amazon


(02/03/2010) Amid questions over the Amazon forests' capacity to survive climate change, a renowned tropical biologist says that in fact the fears are real, reports Tierramerica. Speaking at the Biodiversity Science Policy Conference in Paris, Thomas Lovejoy, biodiversity chair at the Washington DC-based Heinz Center for Science, Economics and the Environment, and chief biodiversity adviser to the president of the World Bank, described the Amazon rainforest as "very close to a tipping point".


NASA: Arctic melt season lengthening

(02/03/2010) Newly released images from NASA and the National Snow and Ice Data Center show that the Arctic's melt season has lengthened significantly over the past few decades.


White roofs could cool cities

(01/28/2010) Painting urban roofs white could effectively counteract some of the urban heat-island effect and even lower greenhouse gas emissions in cities, reports a new study in Geophysical Research Letters.


Scientists call for research on geoengineering scheme to block sunlight

(01/27/2010) The idea goes something like this: nations would send megatons of light-scattering aerosol particles into the globe's upper atmosphere, significantly reducing sunlight reaching the earth and thereby immediately cooling the Earth. While the idea may sound like science-fiction—or desperate, depending on your opinion—researchers writing in Science say that it may be one of the best ways to lower the Earth's temperature. They argue that international research and field testing of the idea, known as solar-radiation management (SRM), should begin immediately.


NASA: 2009 second warmest year on record

(01/24/2010) According to NASA's Goddard Institute for Space Studies (GISS), last year was tied for the second warmest year on record after 2005, the warmest year on record. If just looking at the southern hemisphere, however, 2009 proved the warmest yet recorded since record-taking began in 1880. Overall 2009 tied a total of five other years—four from the 2000s—for the second warmest on record. But, researchers say what is most important was that the past decade, from January 1st 2000 to December 31st 2009, proved the warmest on record.


Chinese official links extreme snowstorm to global warming

(01/05/2010) Bitter cold and snow have shut down Beijing after it received 4-8 inches (10-20 centimeters) of snow on Sunday, the largest snowfall since 1951, according to the Sydney Morning Herald. Guo Hu, the head of the Beijing Meteorological Bureau linked the storm to global climate change.


Record-breaking snow across the US and climate change

(12/26/2009) Over the past few weeks the United States has been pounded by a number of big snow storms. A week ago Washington DC received 18 inches of snow, setting a number of records. Over Christmas, the middle of the country, from Texas to Minnesota was also hit by record amounts of snow. While snow fall over the East Coast and middle of the country in the United States in December is hardly unusual, a number of record amounts of precipitation may point to a larger shift in the climate. Scientists say that higher temperatures causes more water evaporation, which increases the chances of heavy precipitation events, such as floods and snowstorms.


Catastrophic sea level rise could occur with only two degrees Celsius warming

(12/17/2009) Allowing the climate to rise by just two degrees Celsius—the target most industrialized nations are currently discussing in Copenhagen—may still lead to a catastrophic sea level rise of six to nine meters, according to a new study in Nature. While this rise in sea levels would take hundreds of years to fully occur, inaction this century could lock the world into this fate.


Well-known climate change denialist labels activists in Copenhagen 'Hitler Youth'

(12/15/2009) Prominent climate change denialist and past advisor to Margaret Thatcher, Viscount Christopher Monckton, has persisted in labeling protestors in Copenhagen 'Hitler Youth' despite little historical connection.


Climate change causing irreversible acidification in world's oceans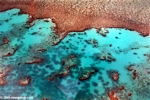 (12/15/2009) A new study from the Secretariat of the Convention on Biological Diversity has synthesized over 300 reports on ocean acidification caused by climate change. The report finds that increasing acidification will lead to irreversible damage in the world's oceans, creating a less biodiverse marine environment. Released today the report determines that the threat to marine life by ocean acidification must be considered by policymakers at the UN Climate Change Conference in Copenhagen.


Photos: ten beloved species threatened by global warming



(12/14/2009) The International Union for the Conservation of Nature (IUCN) has released a list of ten species that are likely to be among the hardest hit by climate change, including beloved species such as the leatherback sea turtle, the koala, the emperor penguin, the clownfish, and the beluga whale. The timing of the list coincides with the negotiations by world leaders at the UN Climate Change Conference to come up with an international agreement to combat climate change.


Sea levels set to rise more than expected due to 'deeply surprising' Greenland melt

(12/14/2009) A new study by the Arctic Monitoring and Assessment Program estimates that the sea will rise by 0.5 to 1.5 meters by 2100, threatening coastal cities and flooding island nations. This is double the predicted rise estimated by the UN's Intergovernmental Panel on climate Change (IPCC) in 2007, which did not incorporate sea level rise due to the melting of Greenland and Antarctica's ice sheets.


1700 UK researchers sign statement standing behind global warming science

(12/10/2009) 1,700 British scientists have signed a statement put out by the Met Office declaring that they have the "utmost confidence" in the science behind climate change. The statement and signatures comes after emails by prominent climate change researchers were stolen from the University of East Anglia. Critics say that the emails show that the researchers have hidden and manipulated evidence. However, many scientists, including those who sent the emails, contend that statements in the emails have been taken out of context by climate change deniers and the media.


Bangladesh tops list of most vulnerable countries to climate change

(12/09/2009) According to the Global Climate Risk Index, Bangladesh is the most vulnerable nation to extreme weather events, which many scientists say are being exacerbated by climate change. From 1990 to 2008, Bangladesh has lost 8,241 lives on average every year due to natural disasters. In addition, rising sea levels also threaten millions of Bangladeshis.


Current decade is the warmest on record

(12/08/2009) As 192 countries meet in Copenhagen to wrangle out a complex and at times sticky agreement to combat climate change, the World Meteorological Organization (WMO) has released new evidence that the world is undergoing warming. According to the WMO the current decade is likely the warmest on record.


Email scandal may be turning against climate change deniers

(12/07/2009) It may be that climate change scientists and policymakers have simply had enough, and it may be that the emails which were hacked did not reveal the massive conspiracy that they were supposed to, either way climatologists and politicians have gone on the offensive against claims that the hacked emails from the East Anglia's Climate Research Unit are evidence that climate change is a conspiracy or hoax.


Not just the polar bear: ten American species that are feeling the heat from global warming

(12/01/2009) A new report, America's Hottest Species, highlights a variety of American wildlife that are currently threatened by climate change from a small bird to a coral reef to the world's largest marine turtle.


Zoos call for deeper emission cuts to save life on Earth

(11/30/2009) To save species around the world zoos say deeper emission cuts are needed than governments are currently proposing. Over 200 zoos worldwide have signed a petition calling on governments to set the target of atmospheric carbon below 350 parts per million (ppm) far lower than most government targets.


Global warming will increase likelihood of civil war in Africa by 55 percent

(11/23/2009) There have been many warnings by policymakers that rising temperatures in Africa could lead to civil conflict, however a new study in Proceedings of the National Academy of Sciences is the first to uncover empirical evidence for these warnings and quantify them. The results—that higher temperatures increased the likelihood of civil war in sub-Saharan Africa by over 50 percent—took aback even the researchers.


Oceans' ability to sequester carbon diminishing

(11/18/2009) A new study—the first of its kind—has completed an annual accounting of the oceans' intake of carbon over the past 250 years, and the news is troubling. According to the study, published in Nature, the oceans' ability to sequester carbon is struggling to keep-up with mankind's ever-growing emissions. Since 2000 researchers estimate that while every year the oceans continue to sequester more anthropogenic carbon emission, the overall proportion of carbon taken in by the oceans is declining.



Page 1 | Page 2 | Page 3 | Page 4 | Page 5 | Page 6 | Page 7 | Page 8 | Page 9 | Page 10 | Page 11 | Page 12 | Page 13 | Page 14 | Page 15