News articles on climate science

---
Mongabay.com news articles on climate science in blog format. Updated regularly.





Obama: 'We will respond to the threat of climate change'

(01/21/2013) In Obama's second inauguration speech today, the newly re-elected president of the U.S. reaffirmed his commitment to taking action on climate during his second term. Noting that ignoring climate change would "betray our children and future generations," Obama argued whole-heartedly for a transition to clean energy.


Climate change already pummeling U.S. according to government report

(01/14/2013) Climate change is on the march across the U.S. according to a new draft report written by U.S. government scientists with input from 240 experts. It documents increasing and worsening extreme weather, rising sea levels, and ocean acidification among other impacts. Released Friday for public review, the report will be officially launched later this year or early in 2014.


Paradigm shift needed to avert global environmental collapse, according to author of new book The Blueprint: Averting Global Collapse


(01/10/2013) Global strategist, trained educator, and international lecturer Daniel Rirdan set out to create a plan addressing the future of our planet. His book The Blueprint: Averting Global Collapse, published this year, does just that. "It has been a sixty hour a week routine," Rirdan told mongabay.com in a recent interview. "Basically, I would wake up with the burden of the world on my shoulders and go to sleep with it. It went on like this for eighteen months." It becomes apparent when reading The Blueprint that it was indeed a monumental undertaking.


Australia reels from record heatwave, fires

(01/09/2013) Yesterday Australia recorded its highest average temperature yet: 40.33 degrees Celsius (104.59 Fahrenheit). The nation has been sweltering under an unprecedented summer heatwave that has spawned wildfires across the nation, including on the island of Tasmania where over 100 houses were engulfed over the weekend. Temperatures are finally falling slightly today, providing a short reprieve before they are expected to rise again this weekend.


Climate Summit in Doha characterized by lack of ambition


(12/09/2012) Ahead of the 18th United Nations Framework Convention on Climate Change (UNFCCC) in Doha, Qatar a variety of reports warned that the world was running out of time to avoid dangerous climate change, and that there was a widening gap between what nations have pledged to do and what the science demanded. A landmark report by the World Bank painted an almost apocalyptic picture of a world in which global temperatures have risen 4 degrees Celsius above pre-industrial levels, including unprecedented heatwaves and droughts, rising sea levels, global agriculture crises, and a stunning loss of species. In addition, scientific studies released near the two week conference found that sea levels were rising 60 percent faster than predicted, forests around the world were imperiled by increasing drought, marine snails were dissolving in the Southern Ocean due to ocean acidification, and ice melt in Greenland and Antarctica was on the rise.


Illegal logging, mining worsened impact of Philippines' killer typhoon

(12/06/2012) According to Filipino officials, rampant illegal logging and mining were likely a part of the cause for the high casualty count from Category 5 Typhoon Bopha (Pablo), especially in the Compostela Valley where government officials had warned people to stop the illegal activities. So far, 370 people have been found dead on the island of Mindanao with another 400 missing. Waters rose so high even emergency shelters were inundated.


Animals dissolving due to carbon emissions


(12/03/2012) Marine snails, also known as sea butterflies, are dissolving in the Southern Seas due to anthropogenic carbon emissions, according to a new study in Nature GeoScience. Scientists have discovered that the snail's shells are being corroded away as pH levels in the ocean drop due to carbon emissions, a phenomenon known as ocean acidification. The snails in question, Limacina helicina antarctica, play a vital role in the food chain, as prey for plankton, fish, birds, and even whales.


'No-one is listening to the entire scientific community': global carbon emissions set to hit new high


(12/03/2012) Global carbon dioxide (CO2) emissions from industrial sources are set to hit a new record high this year according to a new analysis by Global Carbon Project. The analysis in Nature Climate Changes predicts that CO2 emissions will rise another 2.6 percent, hitting 35.6 billion tonnes. The scientists warn that such steep climbs in global emissions year-after-year means that the door is rapidly closing on a global agreement to keep temperatures from rising 2 degree Celsius (3.6 degrees Fahrenheit) above pre-industrial levels.


Watery world: sea level rising 60 percent faster than predicted

(11/28/2012) Sea levels are rising 60 percent faster than Intergovernmental Panel on Climate Change (IPCC) has estimated, according to a new study in the open access Environmental Research Letters. In addition to imperiling coastal regions and islands, global sea level rise is worsening the damage inflicted by extreme weather such as Hurricane Sandy, which recently brought catastrophic flooding to the New Jersey coast and New York City.


Hotter and hotter: concentrations of greenhouse gases hit another new record

(11/20/2012) As expected, greenhouse gas concentrations in the Earth's atmosphere hit another record last year, according to a new UN World Meteorological Organization (WMO). The increasing concentrations of greenhouse gases means that radiative forcing—changes in the atmosphere's energy balance that leads to warming—has jumped 30 percent in the last twenty years.


World Bank: 4 degrees Celsius warming would be miserable


(11/20/2012) A new report by the World Bank paints a bleak picture of life on Earth in 80 years: global temperatures have risen by 4 degrees Celsius spurring rapidly rising sea levels and devastating droughts. Global agriculture is under constant threat; economies have been hampered; coastal cities are repeatedly flooded; coral reefs are dissolving from ocean acidification; and species worldwide are vanishing. This, according to the World Bank, is where we are headed even if all of the world's nations meet their pledges on cutting greenhouse gas emissions. However, the report also notes that with swift, aggressive action it's still possible to ensure that global temperatures don't rise above 4 degrees Celsius.


Climate change threatens population of Earth's largest sea turtle


(11/19/2012) A drier, hotter climate in Central America could wipe out the population of leatherback sea turtles from the eastern Pacific Ocean by the year 2100, according to a grim projection published on July 1 in Nature Climate Change. Already critically endangered from fisheries by-catch and historic egg poaching, leatherbacks can hardly accommodate another human-related threat. Yet scientists still hold out hope for interventions that could save the turtles.


Gaining from rain: precipitation is an indicator of tropical forest biodiversity

(11/12/2012) Policymakers seeking to conserve forests in southern India should focus on those receiving the highest levels of rainfall, according to new research. Scientists from the Center for International Forestry Research (CIFOR) found rainfall to be the most important environmental determinant of species richness in the Anamalai region of the southern Western Ghats.


It's not just Sandy: U.S. hit by record droughts, fires, and heatwaves in 2012


(11/05/2012) As the devastation wrought by Hurricane Sandy—killing over 100 people and producing upwards of $50 billion in damage along the U.S. East Coast—has reignited a long-dormant conversation on climate change in the media, it's important to note that this is not the only weird and wild weather the U.S. has seen this year. In fact, 2012 has been a year of record-breaking weather across the U.S.: the worst drought in decades, unprecedented heatwaves, and monster forest fires. While climatologists have long stated that it is not yet possible to blame a single extreme weather event on climate change, research is showing that rising temperatures are very likely increasing the chances of extreme weather events and worsening them when they occur.


From 'fertilizer to fork': food accounts for a quarter of the world's greenhouse gas emissions

(11/01/2012) Growing, transporting, refrigerating, and wasting food accounts for somewhere between 19-29 percent of the world's greenhouse gas emissions in 2008, according to a new analysis by the CGIAR Research Program on Climate Change, Agriculture and Food Security (CCAFS). In hard numbers that's between 9.8 and 16.9 billion tonnes of carbon dioxide, more than double the fossil fuel emissions of China in the same year. Over 80 percent of food emissions came from production (i.e. agriculture) which includes deforestation and land use change.


Hours before Hurricane Sandy hit, activists protested climate inaction in Times Square


(10/30/2012) On Sunday, as Hurricane Sandy roared towards the coast of the Eastern U.S., activists took to the streets in New York City to highlight the issue of climate change. Activists organized by 350.org unfurled a huge parachute in Times Square with the words, "End Climate Silence," a message meant to call attention to the fact that there has been almost zero mention of climate change during the presidential campaign, including not a single reference to the issue in the four presidential debates.


How climate change may be worsening Hurricane Sandy


(10/29/2012) While scientists are still debating some fundamental questions regarding hurricanes and climate change (such as: will climate change cause more or less hurricanes?), there's no debating that a monster hurricane is now imperiling the U.S. East Coast. A few connections between a warmer world and Hurricane Sandy can certainly be made, however: rising sea levels are likely to worsen storm surges; warmer waters bring more rain to increase flooding; and hotter temperatures may allow the hurricane to push both seasonal and geographic boundaries.


Will we need to pull carbon out of the atmosphere to save ourselves?


(10/17/2012) This year saw the Arctic sea ice extent fall to a new and shocking low, while the U.S. experienced it warmest month ever on record (July), beating even Dust Bowl temperatures. Meanwhile, a flood of new research has convincingly connected a rise in extreme weather events, especially droughts and heatwaves, to global climate change, and a recent report by the DARA Group and Climate Vulnerability Forum finds that climate change contributes to around 400,000 deaths a year and costs the world 1.6 percent of its GDP, or $1.2 trillion. All this and global temperatures have only risen about 0.8 degrees Celsius (1.44 degrees Fahrenheit) since the early Twentieth Century. Scientists predict that temperatures could rise between 1.1 degrees Celsius (2 degrees Fahrenheit) to a staggering 6.4 degrees Celsius (11.5 degrees Fahrenheit) by the end of the century.


September tied for world's warmest on record

(10/16/2012) September 2012 tied with 2005 for the warmest on record around the globe, according to new data released by the National Oceanic and Atmospheric Administration (NOAA). The average land and ocean temperature was 16.27 degrees Celsius (61.31 degrees Fahrenheit) for this September, 0.67 degrees Celsius (1.21 degrees Fahrenheit) above the 20th Century average for the month. Shockingly, this is the 331st month in a row that has been above the 20th Century average.


Arctic sea ice is 'toast' as old record shattered

(09/19/2012) Some twenty days after breaking the record for the lowest sea ice extent, the Arctic sea ice has hit a new rock bottom and finally begun its seasonal recovery. In the end, the Arctic sea ice extent fell to just 3.4 million square kilometers (1.32 million square miles) when only a few months ago scientists were wondering if it would break the 4 million square kilometers. The speed of the sea ice decline due to climate change has outpaced all the computer models, overrun all expert predictions, and shocked even the gloomiest scientists.


Private reserve safeguards newly discovered frogs in Ecuadorian cloud forest


(08/28/2012) Although it covers only 430 hectares (1,063 acres) of the little-known Chocó forest in Ecuador, the private reserve las Gralarias in Ecuador is home to an incredible explosion of life. Long known as a birder's paradise, the Reserva las Gralarias is now making a name for itself as a hotspot for new and endangered amphibians, as well as hundreds of stunning species of butterfly and moth. This is because the reserve is set in the perfect place for evolution to run wild: cloud forest spanning vast elevational shifts. "The pacific slope cloud forests [...] are among the most endangered habitats in the world," explains Reserva las Gralarias' founder, Jane Lyons, in a recent interview with mongabay.com.


Sea ice falls to record low with over two weeks of melting left

(08/27/2012) One of the most visible impacts of climate change—melting summer sea ice in the Arctic—just hit a new milestone. Scientists with the U.S. National Snow and Ice Data Center (NSIDC) have declared that this year's Arctic sea ice extent dipped below the previous record set in 2007 as of yesterday. The record is even more notable, however, as it occurred more than a fortnight before the Arctic's usual ice melt season ends, meaning the old record will likely not just be supplanted, but shattered.


Fourth warmest July yet around the world

(08/20/2012) Last month was the fourth warmest July in the record books going back to 1880 worldwide, according to new data released by the National Oceanic and Atmospheric Administration (NOAA). It was notably warmer in the Northern Hemisphere than in the South: the month was the warmest July ever in the North. Worldwide temperatures were 0.62 degrees Celsius (1.12 degrees Fahrenheit) above the 20th Century average.


Climate change may be worsening impacts of killer frog disease

(08/13/2012) Climate change, which is spawning more extreme temperatures variations worldwide, may be worsening the effects of a devastating fungal disease on the world's amphibians, according to new research published in Nature Climate Change. Researchers found that frogs infected with the disease, known as chytridiomycosis, perished more rapidly when temperatures swung wildly. However scientists told the BBC that more research is needed before any definitive link between climate change and chytridiomycosis mortalities could be made.


Extreme heatwaves 50 to 100 times more likely due to climate change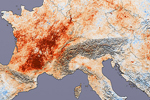 (08/05/2012) A recent rise in deadly, debilitating, and expensive heatwaves was caused by climate change, argues a new statistical analysis published in the Proceedings of the National Academy of Sciences (PNAS). Climatologists found that extreme heatwaves have increased by at least 50 times during the last 30 years. The researchers, including James Hansen of NASA, conclude that climate change is the only explanation for such a statistical jump.


Scientists: iron fertilization could be a big climate help

(07/18/2012) For a long time, oceanic iron fertilization was seen as a promising mechanism to combat global climate change. But then in 2009 a well-publicized study found that iron fertilization stored 80 times less carbon than expected, dampening enthusiasm and support around the geoengineering scheme. Now, however, the idea of fertilizing the ocean with iron may be back: a new study in Nature reports that iron fertilization, in the right conditions, could store carbon in the deep ocean for centuries.


Deja vu: U.S. undergoes hottest 12 months on record...again and again

(07/12/2012) According to new data from the National Oceanic and Atmospheric Administration (NOAA)'s National Climatic Data Center, the last twelve months have been the warmest on record for the contiguous United States. This record, set between July 2011 through June 2012, beat the last consecutive twelve month record set only a month earlier between June 2011 and May 2012, which in turn beat the previous record holder, you guessed it: May 2011 through April 2012.


Climate change increased the probability of Texas drought, African famine, and other extreme weather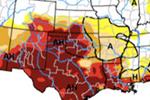 (07/11/2012) Climate change is here and its increasing the chances for crazy weather, according to scientists. A prestigious group of climatologists have released a landmark report that makes the dramatic point that climate change is impacting our weather systems—and in turn our food crops, our economies, and even our lives—here-and-now. The new report in the American Meteorological Society is first of what is intended to be an annual offering that will attempt to tease out the connections between climate change and individual extreme weather events, such as heatwaves, droughts and floods.


As U.S. sees record heat, extreme weather pummels 4 continents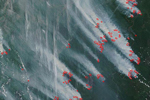 (07/10/2012) It's not only the U.S. that has experienced record-breaking extreme weather events recently, in the last couple months extreme weather has struck around the world with startling ferocity. In addition to the much-covered heatwaves, wildfires, and droughts in the U.S., killer floods struck India, the worst drought yet recorded plagued South Korea, and massive forest fires swept through Siberia to name just a few.


2,600 scientists: climate change killing the world's coral reefs


(07/10/2012) In an unprecedented show of concern, 2,600 (and rising) of the world's top marine scientists have released a Consensus Statement on Climate Change and Coral Reefs that raises alarm bells about the state of the world's reefs as they are pummeled by rising temperatures and ocean acidification, both caused by greenhouse gas emissions. The statement was released at the 12th International Coral Reef Symposium.


Pre-industrial deforestation still warming atmosphere

(07/03/2012) Fossil fuels were not burned in massive quantities prior to the Industrial Revolution, but humans were still pumping carbon into the atmosphere due to land use change, especially deforestation. In fact, a new study in Environmental Research Letters finds that deforestation prior to 1850 is still heating up our atmosphere today.


Scientist: 'no doubt' that climate change is playing a role in U.S. fires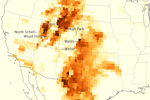 (07/02/2012) A noted climate scientist says there is 'no doubt' that climate change is 'playing a role' in this year's series of record fires in the western U.S. A massive wildfire in Colorado has forced the evacuation of 36,000 people, destroyed over 300 homes, and killed two people. The devastation wrought by the Waldo Canyon Fire even prompted a visit form U.S. President Barack Obama. But this is not the only epic fire in the U.S. this year: less than a month before the Colorado disaster, New Mexico experienced its largest fire on record in Gila Nation Forest; the conflagration burned up 247,000 acres (100,000 hectares). Other major wildfires have occurred in Utah and Wyoming, as well as other parts of New Mexico and Colorado.


Second warmest May yet worldwide

(06/18/2012) Last month was the second warmest May since record-keeping of global temperatures began 132 years ago. Globally, temperatures were 0.66 degrees Celsius (1.19 Fahrenheit) above the 20th Century Average and were only topped by May 2010, according to preliminary findings by the National Oceanic and Atmospheric Administration (NOAA).


Warmer forests expel carbon from soils creating "vicious cycle"


(06/13/2012) As the world warms, temperate forests could become a source of carbon dioxide emission rather than a sink according to a new study in the Proceedings of the National Academy of Sciences (PNAS). Scientists found that two forest sites in the U.S. (Wisconsin and North Carolina) emitted long-stored carbon from their soils when confronted with temperatures 10-20 degrees Fahrenheit (5.5-11.1 degrees Celsius) higher than average.


As Colorado and New Mexico burn, scientists say prepare for more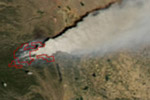 (06/12/2012) A massive wildlife in Colorado still burns after it has killed one person and damaged or destroyed over a hundred structures. The fire, the third largest in Colorado's history, has burned 39,500 acres (16,000 hectares) to date. Meanwhile in central New Mexico, another wildfire has damaged or destroyed 35 structures and burned 34,500 acres (14,000 hectares). This comes just weeks after New Mexico's largest wildfire ever—still going—burned up over 247,000 acres (100,000 hectares) of the Gila Forest. Weeks of heroic efforts by thousands of firefighters have contained this megafire by only 37 percent to date. Now, a new scientific study in Ecospshere has found that North America and Europe must prepare for even more fires as global temperatures continue to rise from climate change.


Carbon dioxide hits 400 parts per million in Northern Hemisphere

(05/31/2012) Concentrations of carbon dioxide in the atmosphere have risen above 400 parts per million (ppm) in recording stations across the Arctic going as far south as Mongolia, reports the Associated Press. Such levels have not been seen in at least 800,000 years according to researchers. Carbon levels fluctuate depending on the region and the season and scientists say global concentrations will likely remain at around 395 ppm for the time being.


Charting a new environmental course in China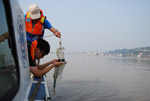 (05/21/2012) Founded in 1951, The Nature Conservancy (TNC) works in more than 30 countries and has projects in all 50 of the United States. The Conservancy has over one million members, and has protected more than 119 million acres of wild-lands and 5,000 miles of rivers worldwide. TNC has taken an active interest in China, the world's most populated nation, and in many important ways, a critical center of global development. The following is an interview with multiple directors of The Nature Conservancy's China Program.


Featured video: why one scientist is getting arrested over climate change

(05/16/2012) In March 2012 the head of NASA's Goddard Institute for Space Studies and well-known climatologist, James Hansen, spoke at a TED conference to explain what would push a 70-year-old scientist to participate in civil disobedience against mountaintop coal mining and the Keystone Pipeline, even leading to several arrests.


Just how far can a polar bear swim?

(05/03/2012) Polar bears (Ursus maritimus) are capable of swimming incredible distances, according to a new study published in Zoology, which recorded polar bears regularly swimming over 30 miles (48 kilometers) and, in one case, as far as 220 miles (354 kilometers). The researchers believe the ability of polar bears to tackle such long-distance swims may help them survive as seasonal sea ice vanishes due to climate change.


Thousands worldwide to "connect the dots" between climate change and extreme weather this weekend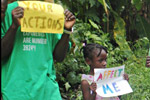 (05/03/2012) On Saturday, May 5th vulnerable populations from the United States to Bangladesh will "connect the dots" between devastating extreme weather and climate change in a global day of action organized by 350.org. The nearly 1,000 events occurring in over half of the world's nations are meant to highlight to governments, media, and the public that climate change is impacting lives through an increase in number and intensity of devastating weather events, such as droughts, heatwaves, and floods.


U.S. suffers warmest March, breaking over 15,000 record temperatures

(04/11/2012) March was the warmest ever recorded in the U.S. with record-keeping going back to 1895, according to new data by the National Oceanic and Atmospheric Administration (NOAA). But the month wasn't just a record-breaker, it was shockingly aberrant: an extreme heatwave throughout much of the eastern and central U.S. shattered 15,272 day and nighttime records across the U.S. In all March 2012 was 0.5 degrees Fahrenheit above the previous warmest March in 1910, and an astounding 8.6 degrees Fahrenheit above the 20th Century average for March in the U.S.


Oceans heating up for over 100 years

(04/02/2012) In 1872 the HMS Challenger pulled out from Portsmouth, England to begin an unprecedented scientific expedition of the world's oceans. During its over three year journey the HMS Challenger not only collected thousands of new species and sounded unknown ocean depths, but also took hundreds of temperature readings—data which is now proving invaluable to our understanding of climate change.


General Motors cuts funding to Heartland Institute due to climate change denialism

(04/02/2012) After being outed as a financial contributor to the conservative advocacy group Heartland Institute, known for its denial of global climate change, General Motors has faced harsh criticism from environmentalists. The car company, which is pushing its new all-electric model, the Chevy Volt, has now announced it will no longer be contributing to the Heartland Institute.


"Strong evidence" linking extreme heatwaves, floods, and droughts to climate change

(03/28/2012) As North America recovers from what noted meteorologist Jeff Masters has called "the most incredible spring heatwave in U.S. and Canadian recorded history," a new paper argues that climate change is playing an important role in a world that appears increasingly pummeled by extreme weather. Published in Nature Climate Change, the paper surveys recent studies of climate change and extreme weather and finds "strong evidence" of a link between a warming world and the frequency and intensity of droughts, floods, and heatwaves—such as the one that turned winter into summer in the U.S.


2010, not 1998, warmest year on record

(03/20/2012) An updated temperature analysis by the Met Office and the University of East Anglia's Climatic Research Unit has confirmed that 2010, not 1998, was the warmest year since record keeping began in the late 19th Century. The new analysis adds in temperature data from 400 stations across northern Canada, Russia, and the Arctic, which had been left out of the previous analysis.


Climate change could increase fires, logging, and hunting in rainforests


(03/13/2012) The combined impacts of deforestation and climate change will bring a host of new troubles for the world's tropical rainforests argues a new study in Trends in Ecology and Evolution. Drying rainforests due to climate change could lead to previously inaccessible forests falling to loggers, burning in unprecedented fires, or being overexploited by hunters.


Climate journalism gone awry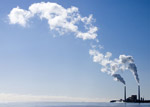 (03/12/2012) A leading journalist and editor at The Atlantic made a startling admission regarding how she writes about climate science last week. Megan McArdle, who not long ago wrote in-depth about documents leaked from Heartland Institute, has noted that as a journalist she depends on her comprehension of climate science on two non-experts and one climatologist who is widely viewed as an outlier for his view that climate change may actually be good for the world.


TransCanada to build southern half of Keystone to avoid State Department approval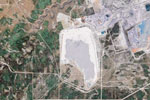 (02/29/2012) Keystone XL is becoming the project that refuses to die: TransCanada, the company behind the pipeline, has said it plans to build the southern half of the pipeline while it waits to determine a new route for the northern section. The company does not need approval from the State Department, which turned down the entire pipeline in January, to build the southern half from Texas to Oklahoma. However, the Obama Administration has embraced the idea. Carrying carbon-intensive tar sands oil down from Canada to a global market, the proposed pipeline galvanized environmental and climate activists last year, resulting in several large protests and civil disobedience actions.


Arctic warms to highest level yet as researchers fear tipping points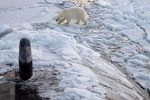 (02/13/2012) Last year the Arctic, which is warming faster than anywhere else on Earth due to global climate change, experienced its warmest twelve months yet. According to recent data by NASA, average Arctic temperatures in 2011 were 2.28 degrees Celsius (4.1 degrees Fahrenheit) above those recorded from 1951-1980. As the Arctic warms, imperiling its biodiversity and indigenous people, researchers are increasingly concerned that the region will hit climatic tipping points that could severely impact the rest of the world. A recent commentary in Nature Climate Change highlighted a number of tipping points that keep scientists awake at night.


Black Swans and bottom-up environmental action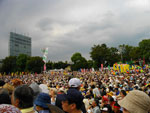 (02/08/2012) The defining events shaping the modern world - economic, social, environmental, progressive and disruptive - are frequently characterized as "Black Swans."The Black Swan term and theory were characterized by author and analyst Nassim Nicholas Taleb who explains, "What we call here a Black Swan (and capitalize it) is an event with the following three attributes. First, it is an outlier, as it lies outside the realm of regular expectations, because nothing in the past can convincingly point to its possibility. Second, it carries an extreme impact. Third, in spite of its outlier status, human nature makes us concoct explanations for its occurrence after the fact, making it explainable and predictable." Taleb identifies the emergence of the internet, the attacks of September 11, 2001, the popularity of Facebook, stock market crashes, the success of Harry Potter, and World War I as among Black Swan events.



Page 1 | Page 2 | Page 3 | Page 4 | Page 5 | Page 6 | Page 7 | Page 8 | Page 9 | Page 10 | Page 11 | Page 12 | Page 13 | Page 14 | Page 15