News articles on climate science

---
Mongabay.com news articles on climate science in blog format. Updated regularly.






Ebola outbreaks may worsen with global warming

(11/15/2006) Ebola outbreaks are linked to wildlife and climate according to new research published in the journal Transactions of the Royal Society of Tropical Medicine and Hygiene. Ebola, a deadly hemorrhagic fever made famous in Richard Preston's book The Hot Zone, periodically emerges to affect human populations in Central Africa. Until now, scientists had little understanding of the pattern behind Ebola outbreaks.
Election results means U.S. climate action likely by 2010

(11/15/2006) "Enactment of mandatory U.S. climate action is plausible by 2008, and likely by 2010," says a new report from the Pew Center on Global Climate Change. The Pew Center, which brings together business leaders, policy makers, scientists, and other experts to discuss climate change, says that "the new Democratic congressional majority puts control of the agenda in the hands of policymakers who, to a large extent, favor climate action."
Species evolution not making up for extinction caused by climate change

(11/14/2006) Current global warming has already caused extinctions in the world's most sensitive habitats and will continue to cause more species to go extinct over the next 50 to 100 years says a new study published in Annual Review of Ecology, Evolution, and Systematics by a University of Texas at Austin biologist. The study, Dr. Camille Parmesan, an associate professor of integrative biology, also showed that species are not evolving fast enough to avoid extinction.
Sweden doing most to fight global warming, Saudi Arabia the least

(11/14/2006) Sweden, Britain and Denmark top the list of countries doing the most to address global warming, while the United States, China, Malaysia and Saudi Arabia rank as doing the least according to a new report released by environmental groups. Still, warns the report, even the best ranking countries are not doing enough to stave off climate change.
Global warming could doom many bird species

(11/14/2006) Up to 72 percent of bird species in northeastern Australia and more than a third in Europe could go extinct unless action is taken to address global warming said a report from environmental group WWF. The report, "Bird Species and Climate Change: The Global Status Report", reviews more than 200 scientific articles on birds and identifies groups of birds at high risk from climate change: migratory, mountain, island, wetland, Arctic, Antarctic and seabirds. It says that species that can easily migrate to new habitats will likely thrive, while birds that live in niche environments may decline.
400% increase in carbon dioxide emissions growth since 1990s

(11/13/2006) Carbon dioxide emissions from fossil fuel combustion are currently increasing four times faster than they were in the 1990s said scientists meeting at the Beijing Conference on Global Environment Change. Scientists from the Earth System Science Partnership (ESSP) warned that growing emissions put the Earth at risk of catastrophic climate change and urged governments to take immediate action to reduce emissions.
Fleet of spacecraft could block catastrophic global warming

(11/09/2006) A space sunshield could be used to cool the Earth in an emergency scenario in which global warming reaches crisis levels, according to an astronomer at the University of Arizona. In a paper to be published in the Proceedings of the National Academy of Sciences, Roger Angel, Director of the Steward Observatory Mirror Laboratory and the Center for Astronomical Adaptive Optics, proposes launching "trillions of small free-flying spacecraft a million miles above Earth" into the L-1 orbit, an orbit aligned with the sun.
United States acting unethically on global warming says new report

(11/08/2006) A new paper argues that ethics, human rights, and justice should be key components to international negotiations on global warming. It says that some countries, notably the United States, are currently taking positions that are "ethically problematic" and may violate basic human rights of people living in other countries.
Africa will suffer dearly from global warming

(11/06/2006) Already the world's poorest continent, Africa will suffer dearly from global warming unless greenhouse gas emissions are cut by an eventual 80 percent, according to a report from the U.N. issued on the eve of a global climate conference in Nairobi, Kenya.
Carbon dioxide levels set record again

(11/04/2006) Atmospheric concentrations of the greenhouse gas carbon dioxide reached record levels in 2005 according to the World Meteorological Organization (WMO). The U.N. organization said that carbon dioxide (CO2) levels now stand at 379.1 parts per million (ppm), up 0.53 percent from 377.1 ppm in 2004. WMO also found that atmospheric nitrous oxide concentrations, another heat-trapping gas, also reached record levels, up 0.19 percent 319.2 parts per billion (ppb) from 318.6 ppb. Methane levels remained stable at 1873 ppb, after rising slightly between 2002 and 2003.
Is Indonesia the third largest greenhouse gas polluter?

(11/03/2006) Is Indonesia the world's third largest producer of greenhouse gases? A new study by Wetlands International says it is, if the country's destruction of peat bogs is taken into account. A report released Thursday by Wetlands International and Delft Hydraulics, a Dutch research institute, estimates that emissions from Indonesia's destruction of its extensive peat bogs releases 2 billion tonnes of carbon dioxide a year -- about ten percent of world greenhouse gas emissions from human activities. For comparison, the United States, the world's largest emitter of heat-trapping gases, produces about 7.3 billion tons of greenhouse gases per year. 70 percent of emissions result from the burning of peatlands, while 30 percent result from drainage, according to the report, titled Peatland degradation fuels climate change.
Coral reefs can be saved from global warming

(11/03/2006) The outlook for coral reefs -- often termed the rainforests of the sea -- is dire. Overfishing, pollution, damage from anchors, mining for construction materials, and over-collection for the pet trade are all over-shadowed by climate change which could decimate reefs by higher water temperatures and increasingly acidic conditions which could render many coral species incapable of forming carbonate support structures. Nevertheless a new report from the World conservation Union (IUCN) and The Nature Conservancy says that measures can be taken to help increase the survival chances for coral reefs. The report, "Coral Reef Resilience and Resistance to Bleaching", outlines strategies for helping reefs to be better adapt to the impacts of climate change.
Ancient climate record preserved in prehistoric plants

(11/02/2006) About 350 million years ago, at the boundary of the Devonian and Carboniferous ages, the climate changed. There was no one around to record it, but there are records nonetheless in the rocks deposited by glaciers and in tissues preserved in fossils of ancient life.
Shift toward toward service-based economy won't end global warming

(11/02/2006) The shift toward a service-based economy won't automatically reduce the amount of greenhouse gases in the air, a University of Minnesota researcher has found. His research contradicts assumptions about global warming often preferred by some economists and national policy experts.
Avoided deforestation could send $38 billion to third world under global warming pact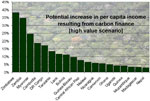 (11/01/2006) Avoided deforestation will be a hot point of discussion at next week's climate meeting in Nairobi, Kenya. Already a coalition of 15 rainforest nations have proposed a plan whereby industrialized nations would pay them to protect their forests to offset greenhouse gas emissions. Meanwhile, last month Brazil -- which has the world's largest extent of tropical rainforests and the world's highest rate of forest loss -- said it promote a similar initiative at the talks. At stake: potentially billions of dollars for developing countries. When trees are cut greenhouse gases are released into the atmosphere -- roughly 20 percent of annual emissions of such heat-trapping gases result from deforestation and forest degradation. Avoided deforestation is the concept where countries are paid to prevent deforestation that would otherwise occur. Policymakers and environmentalists alike find the idea attractive because it could help fight climate change at a low cost while improving living standards for some of the world's poorest people and preserving biodiversity and other ecosystem services. A number of prominent conservation biologists and development agencies including the World Bank and the U.N. have already endorsed the idea.
Global warming tops list of Americans' environmental concerns

(10/31/2006) Americans now rank climate change as the country's most important environmental concern according to a survey released today by MIT. The poll found that almost three-quarters of the respondents felt the government should do more to deal with global warming and 60 percent agreed that there's enough evidence to warrant some level of action. It also found that individuals were willing to contribute their own money to help prevent climate change - am average of $21 more per month on their electricity bill to "solve" global warming.
Blair: U.S. must act on global warming

(10/30/2006) Delaying action on global warming will take the planet into "dangerous territory" warns a new report released Monday by the British government. In The Sun Tony Blair, Britain's Prime Minister called the report "the important document on the future" he's read since becoming Prime Minister.
Bacteria can generate renewable energy from pollution, help fight global warming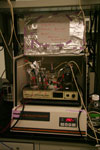 (10/26/2006) Currently, most energy production generates carbon dioxide, a potent greenhouse gas that contributes to global warming and local pollution. At the same time that carbon dioxide concentrations are rising in the atmosphere, fueling higher temperatures, burgeoning population growth of humans and livestock is producing ever-increasing amounts of organic pollution and waste. Now researchers at the Center for Biotechnology at the Biodesign Institute of Arizona State University are working on a way to solve both problems using bacteria to convert organic wastes into a source of electricity. Bruce Rittmann, Director of the Center for Environmental Biotechnology at the Biodesign Institute, and his team of researchers are developing microbial fuel cells (MFC) that can oxidize organic pollutants and create electricity from pollution.
Global warming could put New York City at hurricane, flood risk

(10/25/2006) NASA researchers are investigating the potential impact of climate change on New York City using computer models to simulate future climates and sea level rise. Their studies, to date, forecast a 15 to 19 inch-increase in sea levels by the 2050s that could put the city at higher risk of flooding during storm surges.
Wood stoves in poor countries worse than expected for global warming

(10/25/2006) Wood stoves used in developing countries emit more harmful smoke particles and could have a much greater impact on global climate change than previously thought, according to research published in the Nov. 1 issue of the American Chemical Society journal Environmental Science & Technology. The study's lead authors, Dr. Tami Bond of the Department of Civil & Environmental Engineering the University of Illinois, Urbana-Champaign and graduate student Christoph Roden, estimate that some 400 million of these stoves are used on a daily basis for cooking and heating by more than 2 billion people.
World Bank says carbon trading will save rainforests

(10/24/2006) Monday the World Bank endorsed carbon trading as a way to save tropical rainforests which are increasingly threatened by logging, agricultural development, subsistence agriculture, and climate change itself. The World Bank report comes on the heels of a proposal by a coalition of developing countries to seek compensation from industrialized countries for conserving their rainforests to fight global warming. Brazil is expected to announce a similar plan at upcoming climate talks in Nairobi.
Global warming could cause catastrophic die-off of Amazon rainforest by 2080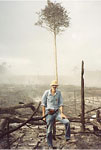 (10/23/2006) For the Amazon, there is an immense threat looming on the horizon: climate change could well cause most of the Amazon rainforest to disappear by the end of the century. Dr. Philip Fearnside, a Research Professor at the National Institute for Research in the Amazon in Manaus, Brazil and one of the most cited scientists on the subject of climate change, understands the threat well. Having spent more than 30 years in Brazil and now recognized as one of the world's foremost experts on the Amazon rainforest, Fearnside is working to do nothing less than to save this remarkable ecosystem. Fearnside believes saving the Amazon will require a fundamental shift in perception where the Amazon is recognized as an asset beyond the current price of mahogany, soybeans, or cattle, where its value is only unlocked by its destruction. The Amazon is far worth more than this he says. It can play a key role in fighting climate change while providing economic sustenance for millions through sustainable agriculture and rational utilization of its renewable products. It can serve as a storehouse for biodiversity while at the same time ensuring reliable water supplies and moderating regional temperature and precipitation. In short, maintaining the Amazon as a viable ecosystem makes sense economically and ecologically -- it is in our best interest to preserve this resource while we still can.





Climate change to cause more extreme weather

(10/19/2006) Climate change will cause extreme weather to be a more common occurrence according to new computer modeling by researchers from the National Center for Atmospheric Research (NCAR), Texas Tech University, and Australia's Bureau of Meteorology Research Centre.





Tremendous loss of ice in Greenland finds new NASA study

(10/19/2006) For the first time NASA scientists have confirmed that Greenland's ice sheet is shrinking. Using a new remote sensing technique that reveals regional changes in the weight of the massive ice sheet across the entire continent, researchers at NASA's Goddard Space Flight Center found that Greenland suffered a net loss of 25 cubic miles (101 gigatons) of ice per year between 2003 and 2005.





Brazil says no to rainforest privatization plan, asks Gore for help

(10/18/2006) On Tuesday Brazil rejected a alleged British proposal to fight climate change by 'privatizing' parts of the Amazon rainforest, according to Reuters. In an editorial published on the opinion page of Folha de S.Paulo newspaper, Environment Minister Marina Silva and Foreign Minister Celso Amorim said that the Amazon was 'not for sale'. Their comments were expected since Brazil has long objected to internationalization of the Amazon, seeing such attempts as a threat to its sovereignty. The 'Amazon privatization' report, which originally appeared in Britain's Sunday Telegraph newspaper on October 1, 2006, said that David Miliband, Britain's Environment Secretary, planned to propose an initiative that would turn parts of the Amazon into an 'international trust' wherein credible buyers could lockup parts of the rainforest for preservation. However, shortly after the article was published, Miliband's office strongly rejected the story.







Unchecked global warming will cost trillions says report

(10/14/2006) A new Friends of the Earth-backed report by economists at Tufts University's Global Development and Environment Institute says that global warming could cost trillions of dollars should temperature increases exceed two degrees centigrade (3.6 degrees Fahrenheit)







Shell estimates cost of fighting climate change at 0.3% GDP

(10/13/2006) A new report by Shell Oil estimates that the cost of fighting climate change in the Britain by 2010 would be equivalent to just 0.3 percent of GDP. The report also says that the effort to address climate change could be worth £30bn ($56 billion) to businesses in the UK.





Methane from peat bogs may worsen global warming

(10/13/2006) New research says that methane released from peat bogs at the end of the past ice age worsen global warming. The study warns that a similar event could worsen climate change by causing a rapid shift in atmospheric greenhouse gas concentrations.





Warming climate causing Alaska lakes to dry up

(10/12/2006) More than 10,000 Alaskan lakes "shrunk in size or completely dried up" between 1950 and 2002 according to a study published in the Journal of Geophysical Research--Biogeosciences. The study says that during this period, "Alaska has experienced a warming climate with longer growing seasons, increased thawing of permafrost, and greater water loss due to evaporation from open water and transpiration from vegetation; yet there has been no substantial change in precipitation."





Extinction may be linked to Earth's tilt and orbital variations

(10/12/2006) A new study suggests that variations in Earth's orbit and tilt may be linked to extinctions of mammal species. Examining the fossilized teeth of rodents over a 22 million year period, researchers lead by Jan van Dam of Utrecht University in the Netherlands found that the disappearance of mammal species -- which survive an average of 2.5 million years before going exinct -- cluster around specific cycles at one million and 2.4 million years. The one million year cycle correponds to wobbles in Earth's orbit, while the 970,000-year cycle is tied to shifts of the Earth on its axis. The cycles are assocation with lower temperatures and changes in precipitation.





Massive coral bleaching in Madagascar

(10/06/2006) A new survey of reefs along Madagascar's southwestern coast found massive damage from coral bleaching, including some reefs that lost up to 99 percent of their coral cover. But the survey team, led by the conservation groups Blue Ventures and the Wildlife conservation Society (WCS) and funded by conservation International (CI), also found some signs of hope. Scientists discovered several small reefs with corals that appeared to be resilient to rising sea temperatures and could ultimately be used to reseed damaged reefs. These resilient reefs may also provide valuable information about how to protect corals from future damage.





Global warming threatens western U.S.

(10/06/2006) Global warming will cause drastic changes -- including reduction in snowpack, worsening droughts, increases in wildfire and invasive species, and loss of regional biodiversity -- in the American West if greenhouse gas emissions are not curtailed according to a new report from the National Wildlife Federation.







Arctic sea ice levels fall

(10/04/2006) Arctic sea ice fell to the fourth lowest level on record according to researchers at the University of Colorado at Boulder.





Ozone loss hits record in 2006

(10/02/2006) The European Space Agency (ESA) said that ozone loss in Antarctica hit a record in 2006. ESA reports that ozone measurements made by the Envisat satellite showed the ozone loss of 40 million tons of ozone, a level exceeding the previous record ozone loss of about 39 million tonnes for 2000.





One year later: Hurricane Katrina in review

(08/28/2006) While hurricane Katrina was the most devastating, causing 1833 fatalities and over $81 billion in damage, it was not the strongest storm of the year -- both Hurricane Rita and Hurricane Wilma were more powerful. Katrina, which at one point in the Gulf of Mexico was a Category 5 hurricane, was only a Category 3 hurricane when it made landfall near New Orleans on August 29, 2005. Nevertheless, the damage was extensive.





Climate change causing early spring

(08/25/2006) Spring is arriving earlier across Europe than it did 30 years ago according to new research published in the journal Global Change Biology. Scientists from 17 nations examined 125,000 studies involving 561 species and found that spring is beginning on average six to eight days earlier than it did 30 years ago. The researchers said that in countries where rapid increases in temperature have occurred, that figure is almost doubled.







Why some Himalayan glaciers aren't melting due to climate change

(08/25/2006) New research into climate change in the Western Himalaya and the surrounding Karakoram and Hindu Kush mountains could explain why many glaciers there are growing and not melting. The findings suggest this area, known as the Upper Indus Basin, could be reacting differently to global warming, the phenomenon blamed for causing glaciers in the Eastern Himalaya, Nepal and India, to melt and shrink.





North Atlantic Ocean freshening could weaken Gulf Stream

(08/24/2006) A new analysis of 50 years of changes in freshwater inputs to the Arctic Ocean and North Atlantic may help shed light on what's behind the recently observed freshening of the North Atlantic Ocean. In a report, published in the August 25, 2006 issue of the journal, Science, MBL (Marine Biological Laboratory) senior scientist Bruce J. Peterson and his colleagues describe a first-of-its-kind effort to create a big-picture view of hydrologic trends in the Arctic. Their analysis reveals that freshwater increases from Arctic Ocean sources appear to be highly linked to a fresher North Atlantic.





Americans believe hot weather, hurricanes linked to global warming

(08/23/2006) As first anniversary of Hurricane Katrina nears, a just-released Zogby poll shows that not only are Americans more convinced global warming is happening, they are also linking recent intense weather events like Hurricane Katrina and this summer's heat wave and droughts to global warming.





New potential fuel source carries global warming risk

(08/22/2006) Scientists supported by the Integrated Ocean Drilling Program, an international marine research program that explores sea floor sediments and rocks, announced that they found deposits of methane gas hydrates at considerably less depth than expected. The discovery, published in the August. 15, 2006 edition of EOS may have implications for future energy use as well as climate change.





Forest fires causing mercury pollution in North America

(08/21/2006) Increasing numbers of wildfires due to climate change could worsen mercury pollution in North America according to a new study from researchers at Michigan State University, the U.S. Geological Survey, the National Center for Atmospheric Research, and the Canadian Forest Service. Wildfires are releasing mercury long ago sequesterd in Northern wetlands.




Page 1 | Page 2 | Page 3 | Page 4 | Page 5 | Page 6 | Page 7 | Page 8 | Page 9 | Page 10 | Page 11 | Page 12 | Page 13 | Page 14 | Page 15