News articles on climate policy

---
Mongabay.com news articles on climate policy in blog format. Updated regularly.





Upcoming EPA Proposal could put America back on track to lead on global warming


(05/27/2014) A regulation proposal on coal plants that the U.S. Environmental Protection Agency (EPA) will release in June could be great news for the climate change initiative. The EPA rolled out tough regulations on new constructions of electric generation facilities in January, but the nation's 1,500 existing power plants were left unaffected.


The beef with beef: how 12 strategies could drastically cut agricultural emissions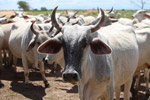 (04/25/2014) Eating less beef, cutting food waste, and utilizing farm landscapes to sequester carbon are three ways a new report suggests the world could rapidly tackle agricultural emissions. Currently, global agriculture accounts for nearly a fifth of the world's greenhouse gas emissions when agriculturally-linked deforestation is included.


Climate change solution? UN touts ambitious (but cheap) investment in renewable energy


(04/14/2014) The world is warming rapidly due to greenhouse gas emissions, threatening everything from our food supply to our ecosystems, but the solution may be surprisingly cheap, according to the third and final report from the Intergovernmental Panel on Climate Change (IPCC). The report recommends a rapid and aggressive switch from fossil fuel-based energy to renewables.


Apocalypse now? Climate change already damaging agriculture, acidifying seas, and worsening extreme weather


(03/31/2014) It's not just melting glaciers and bizarrely-early Springs anymore; climate change is impacting every facet of human civilization from our ability to grow enough crops to our ability to get along with each other, according to a new 2,300-page report from the Intergovernmental Panel on Climate Change (IPCC). The massive report states definitively that climate change is already affecting human societies on every continent.


Climate fail: Geoengineering would cool planet, but screw up rainfall patterns


(01/14/2014) For decades, scientists have been grappling with the consequences of climate change and working toward viable solutions. Climate engineering, also known as geoengineering, is the most controversial possible solution. Currently, one of the most talked about geoengineering ideas is Solar Radiation Management (SRM), which intends to block shortwave solar radiation, thus cooling the Earth to offset rising temperatures. In other words, SRM may be one way in which global temperatures could be artificially stabilized.


Down Under scorching: Australia experiences warmest year on record

(01/06/2014) Australia had its warmest year on record, with annual temperatures 1.2 degrees Celsius (2.16 degrees Fahrenheit) above the 1961-1990 average, according to a new analysis from Australia's Bureau of Meteorology (BOM). This is 0.5 degrees Celsius higher than the previous warmest year on record—2005—for Australia. Global warming due to burning fossil fuels is increasing temperatures worldwide.


Making cap-and-trade work: the history and future of a proven program


(12/09/2013) While the merits for slowing climate change will be treated here as a given, the method for doing so looms elusive. In a recent article, I described pricing carbon through carbon taxes and carbon credits as a way to mitigate greenhouse gas emissions and slow global climate change. As there has been some emotive controversy towards both of these, I would like to analyze them more deeply, starting here with carbon credits.


Delegate for the Philippines vows to stop eating at climate summit


(11/11/2013) Following the devastation wrought by Typhoon Haiyan—which is arguably the strongest typhoon to ever make landfall—Filipino delegate, Naderev 'Yeb' Saño, has vowed to go on a fast at the UN Climate Summit that opened today in Warsaw, Poland. Saño made the vow during a powerful speech in which he said he would fast, 'until we stop this madness.'


Bangladesh plans massive coal plant in world's biggest mangrove forest


(11/11/2013) On October 22nd Bangladeshi and Indian officials were supposed to hold a ceremony laying the foundation stone for the Rampal power plant, a massive new coal-fired plant that will sit on the edge of the Sundarbans, the world's largest mangrove forest. However, the governments suddenly cancelled the ceremony, instead announcing that the project had already been inaugurated in early October by the countries' heads of state via a less-ornate Skype call. While the governments say the change was made because of busy schedules, activists contend the sudden scuttling of the ceremony was more likely due to rising pressure against the coal plant, including a five-day march in September that attracted thousands.


Clock is ticking on fossil fuels: for first time IPCC scientists outline global carbon budget


(10/01/2013) The world's leading climate scientists have set out in detail for the first time how much more carbon dioxide humans can pour into the atmosphere without triggering dangerous levels of climate change—and concluded that more than half of that global allowance has been used up.


Climate change policy is just good economics

(09/25/2013) For the majority of the new century, Americans have largely stopped caring about the environment. In that time, America has suffered 9/11, two of the nation's four longest wars, the deepest depression in 80 years, increased inequality, and incompetent or fractured leadership. There's been a lot on the public mind.


Tools against climate change: carbon tax and cap-and-trade

(09/04/2013) Climate-conscious folk agree that atmospheric carbon concentration is a key greenhouse gas and a large factor in global climate change. However, there are discrepancies in the methods chosen to address the problem. Some say that carbon emissions should be banned. Some say fossil fuels should be priced. Others say that there are nuances within each. Which tools can we realistically use to mitigate climate change and the drastic effects it will have on our world?


In defense of the financial industry: stocking up to end climate change

(08/20/2013) On a cross-country bus trip through the American Midwest, I watch cool morning mist rise from patchwork fields. Between the fields stand groves of dark green mid-summer trees, I am reminded that this scene is in jeopardy. The region is cited for its vulnerability to desertification associated with climate change.


Campaign contributions suggest dead-end for Congressional action on climate

(06/26/2013) Sources of campaign contributions to members of Senate suggest Congress will be unlikely to take action on comprehensive climate legislation, indicates data collected by MapLight, a group that tracks money's influence on politics.


After long wait, Obama lays out fight against climate change


(06/25/2013) Five years after being elected president and six months after winning a second term, President Obama today gave his first speech devoted solely to climate change and announced several executive actions to begin weaning the United States (historically the largest emitter of greenhouse gases) off fossil fuels. At Georgetown University today, Obama stated that his administration would expand renewable energy projects on federal lands, raise energy efficiency standards on appliances, and, most importantly, limit carbon pollution from both existing and new power plants, which represent about 40 percent of the U.S.'s emissions. Obama also noted that the U.S. would spearhead global efforts to combat climate change which is pushing sea levels higher, melting glaciers and sea ice, exacerbating fires, imperiling species, and worsening extreme weather worldwide.


Pacific islanders are the 'victims of industrial countries unable to control their carbon dioxide emissions'

(05/15/2013) With islands and atolls scattered across the ocean, the small Pacific island states are among those most exposed to the effects of global warming: increasing acidity and rising sea level, more frequent natural disasters and damage to coral reefs. These micro-states, home to about 10 million people, are already paying for the environmental irresponsibility of the great powers.


Climate Myths: how climate denialists are getting away with bad science


(04/29/2013) In Climate Myths: The Campaign Against Climate Science, Dr. John J. Berger deconstructs the climate change denialists' myths in simple, easy-to-read terms. According to the Pew Research Center: "Nearly seven-in-ten (69%) [Americans] say there is solid evidence that the earth's average temperature has been getting warmer over the past few decades, up six points since November 2011 and 12 points since 2009." Yet implementing national-level climate change mitigation legislation is not occurring in the U.S.


'Carbon bubble' could cause next global financial crisis

(04/22/2013) The world could be heading for a major economic crisis as stock markets inflate an investment bubble in fossil fuels to the tune of trillions of dollars, according to leading economists. "The financial crisis has shown what happens when risks accumulate unnoticed," said Lord (Nicholas) Stern, a professor at the London School of Economics. He said the risk was "very big indeed" and that almost all investors and regulators were failing to address it.


Climate Summit in Doha characterized by lack of ambition


(12/09/2012) Ahead of the 18th United Nations Framework Convention on Climate Change (UNFCCC) in Doha, Qatar a variety of reports warned that the world was running out of time to avoid dangerous climate change, and that there was a widening gap between what nations have pledged to do and what the science demanded. A landmark report by the World Bank painted an almost apocalyptic picture of a world in which global temperatures have risen 4 degrees Celsius above pre-industrial levels, including unprecedented heatwaves and droughts, rising sea levels, global agriculture crises, and a stunning loss of species. In addition, scientific studies released near the two week conference found that sea levels were rising 60 percent faster than predicted, forests around the world were imperiled by increasing drought, marine snails were dissolving in the Southern Ocean due to ocean acidification, and ice melt in Greenland and Antarctica was on the rise.


Illegal logging, mining worsened impact of Philippines' killer typhoon

(12/06/2012) According to Filipino officials, rampant illegal logging and mining were likely a part of the cause for the high casualty count from Category 5 Typhoon Bopha (Pablo), especially in the Compostela Valley where government officials had warned people to stop the illegal activities. So far, 370 people have been found dead on the island of Mindanao with another 400 missing. Waters rose so high even emergency shelters were inundated.


Wealthy nations' fossil fuel subsidies dwarf climate financing

(12/05/2012) A new analysis finds that 21 wealthy countries spent five-times more on subsidizing fossil fuels in 2011 than they have on providing funds for poor nations to cut greenhouse gas emissions and adapt to the impacts of climate change. The analysis, by Oil Change International, comes in the midst of the current UN Climate Summit held in Doha, Qatar; progress at the talks has been stymied due to the gulf between poor and rich nations, including on the issue of climate financing.


'No-one is listening to the entire scientific community': global carbon emissions set to hit new high


(12/03/2012) Global carbon dioxide (CO2) emissions from industrial sources are set to hit a new record high this year according to a new analysis by Global Carbon Project. The analysis in Nature Climate Changes predicts that CO2 emissions will rise another 2.6 percent, hitting 35.6 billion tonnes. The scientists warn that such steep climbs in global emissions year-after-year means that the door is rapidly closing on a global agreement to keep temperatures from rising 2 degree Celsius (3.6 degrees Fahrenheit) above pre-industrial levels.


Hopes pinned on Obama again as Doha Climate Summit opens


(11/26/2012) A number of observers have expressed hope that the Obama Administration, fresh from a re-election victory in the U.S., will take a more active and ambitious role at this year's UN Climate Summit, held in Doha, Qatar. The summit opens amid fresh—and increasingly dire—warnings over climate change from the World Bank, the International Energy Agency, and the UN itself.


As Doha Climate Summit kicks off, more ambitious cuts to greenhouse gas emissions needed

(11/26/2012) As the 18th meeting of the UN Framework Convention on Climate Change (UNFCCC) kicks off this morning in oil and gas rich Qatar, the world body warns that much more ambitious greenhouse gas cuts are needed to keep catastrophic climate change at bay. A new report by the UN Environment Program (UNEP) and the European Climate Foundation finds that even if all current emissions pledges are kept, the world will still spew 8 billion tonnes of CO2 equivalent above what is needed by 2020, putting the globe on a fast-track to dangerous climate change.


Obama criticized for lack of urgency on climate change

(11/15/2012) Following the devastation wrought by Hurricane Sandy—which many scientists say was likely worsened by climate change—and a long silence on the issue of global warming during the Presidential campaign, environmentalists yesterday were disappointed when re-elected President Barack Obama seemingly put action on climate change on the back burner.


Obama breaks climate silence at press conference

(11/14/2012) At a news conference today, a question by New York Times reporter Mark Landler pushed President Obama to speak at some length about climate change. In his answer, Obama re-iterated his acceptance of climate science and discussed how progress on tackling climate change might proceed in his second term, though he also noted that he wouldn't put action on the climate ahead of the economy. President Obama made a small reference to climate change in his victory speech following his historic re-election last Tuesday, but his answer today was the most the president has talked about the issue at any length since at least Hurricane Sandy.


Cowards at Rio?: organizations decry 'pathetic' agreement


(06/20/2012) As world leaders head to Rio de Janeiro for the UN Summit on Sustainable Development, environmental and poverty groups are denouncing the last-minute text agreed on by dignitaries as "pathetic," (Greenpeace), a "damp squib" (Friends of the Earth), "a dead end" (Oxfam), and, if nothing changes, "a colossal waste of time" (WWF). "We were promised the 'future we want' but are now being presented with a 'common vision' of a polluter's charter that will cook the planet, empty the oceans and wreck the rain forests," the head of Greenpeace, Kumi Naidoo, said. "This is not a foundation on which to grow economies or pull people out of poverty, it's the last will and testament of a destructive twentieth century development model."


Rio+20 and economic perils in Europe: opportunity for linkage

(06/19/2012) This month, momentous events will occur on the global scene that will set the tone for whether 2012 will be a hopeful year or one in which dislocations and disconnects are further exacerbated by political failings. The EU will decide on its fiscal and monetary union that hinges on Greece's recent June election, which backed the political party that wants to stay in the Euro zone, but insists on adjustments to the earlier-negotiated economic rescue package.


Scientists give world leaders 'Fs' on climate change, biodiversity, and desertification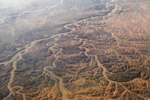 (06/19/2012) It seems world leaders may need to retake environmental studies. As the Rio+20 Summit on Sustainable Development opens, the scientific journal, Nature, has evaluated the progress made on three treaties signed at the Rio Earth Summit in 1992: climate change, biodiversity decline, and desertification. Unfortunately the publication gives progress on all three treaties an 'F', highlighting how little progress has been made on the global environmental crisis.


Experts: ignoring climate change at Rio+20 makes other goals "meaningless"


(06/18/2012) The Climate Change Task Force (CCTF)—made up of 30 climate scientists, other experts and world leaders—warned today that sidelining climate change at the Rio+20 Summit on Sustainable Development threatened progress on the conference's other goals, which includes combating poverty and building economies that value nature. "I am very concerned and worried because the draft final document of the Rio+20 conference does not give proper attention to climate change," says former Russian President Mikhail Gorbachev in a press statement.


Charting a new environmental course in China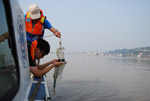 (05/21/2012) Founded in 1951, The Nature Conservancy (TNC) works in more than 30 countries and has projects in all 50 of the United States. The Conservancy has over one million members, and has protected more than 119 million acres of wild-lands and 5,000 miles of rivers worldwide. TNC has taken an active interest in China, the world's most populated nation, and in many important ways, a critical center of global development. The following is an interview with multiple directors of The Nature Conservancy's China Program.


Featured video: why one scientist is getting arrested over climate change

(05/16/2012) In March 2012 the head of NASA's Goddard Institute for Space Studies and well-known climatologist, James Hansen, spoke at a TED conference to explain what would push a 70-year-old scientist to participate in civil disobedience against mountaintop coal mining and the Keystone Pipeline, even leading to several arrests.


"Don't be so silly" about climate change: Mohamed Nasheed on The Daily Show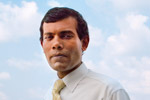 (04/04/2012) Mohamed Nasheed, former president of the Maldives, told the world on The Daily Show Monday night: "Just don't be so silly" about climate change. Nasheed, who in February was forced to resign his presidency, is visiting the U.S. to meet with government officials as well as to push for climate action during the release of a new documentary film about his presidency, entitled The Island President.