News articles on climate change

---
Mongabay.com news articles on climate change in blog format. Updated regularly.






Climate change threatens population of Earth's largest sea turtle
(11/19/2012) A drier, hotter climate in Central America could wipe out the population of leatherback sea turtles from the eastern Pacific Ocean by the year 2100, according to a grim projection published on July 1 in Nature Climate Change. Already critically endangered from fisheries by-catch and historic egg poaching, leatherbacks can hardly accommodate another human-related threat. Yet scientists still hold out hope for interventions that could save the turtles.
Good Derivatives: A Story of Financial and Environmental Innovation – Book Review

(11/18/2012) In Good Derivatives: A Story of Financial and Environmental Innovation, Richard Sandor, PhD has written a rich compelling first-person narrative of the development of financial futures and environmental markets over the past 40 years. With personal stories describing both failures and successes, Dr. Richard Sandor engages us with details that expand our knowledge of the capacities and limitations capital markets present to us in our efforts to finance climate change mitigation and natural resources conservation.
Asian cities face high disaster risk with 650,000 killed in 2000s

(11/16/2012) Asia's cities are increasing vulnerable to natural disasters due to climate change, urban expansion, and poor planning, warns a report published this week by the Asian Development Bank. Disasters risk undermining recent economic gains in the region.
Obama criticized for lack of urgency on climate change

(11/15/2012) Following the devastation wrought by Hurricane Sandy—which many scientists say was likely worsened by climate change—and a long silence on the issue of global warming during the Presidential campaign, environmentalists yesterday were disappointed when re-elected President Barack Obama seemingly put action on climate change on the back burner.
Bats face new perils from climate change
(11/15/2012) Global climate change could devastate bat populations around the world, threatening to tear yet another thread from the tapestry of biodiversity should current temperature trends persist, according to a new study. "Bats were the focus for this study because they are relatively understudied but due to their sensitivity to environmental stress, they are excellent indicators of climate change," Hayley Ann Sherwin, co-author of the paper published in Mammal Review, with the Queen University in Belfast, told mongabay.com.
Obama breaks climate silence at press conference

(11/14/2012) At a news conference today, a question by New York Times reporter Mark Landler pushed President Obama to speak at some length about climate change. In his answer, Obama re-iterated his acceptance of climate science and discussed how progress on tackling climate change might proceed in his second term, though he also noted that he wouldn't put action on the climate ahead of the economy. President Obama made a small reference to climate change in his victory speech following his historic re-election last Tuesday, but his answer today was the most the president has talked about the issue at any length since at least Hurricane Sandy.
Gaining from rain: precipitation is an indicator of tropical forest biodiversity

(11/12/2012) Policymakers seeking to conserve forests in southern India should focus on those receiving the highest levels of rainfall, according to new research. Scientists from the Center for International Forestry Research (CIFOR) found rainfall to be the most important environmental determinant of species richness in the Anamalai region of the southern Western Ghats.
Day after Obama re-elected, group plans massive march over Keystone Pipeline and climate change

(11/07/2012) Hours after President Obama's historic re-election, climate group 350.org announced a massive rally to apply pressure on the administration to reject the Keystone Pipeline, which would bring tar sands from Alberta to an international market. In 2011 the group and its partners carried out massive civil disobedience action, resulting in over 1,000 arrests, and a rally 12,000-strong that literally encircled the White House. The pressure, which was also brought to Obama campaign offices around the country, helped spur the Obama Administration to suspend the pipeline.
Threatened Galapagos coral may predict the future of reefs worldwide
(11/07/2012) The Galapagos Islands have been famous for a century and a half, but even Charles Darwin thought the archipelago's list of living wonders didn't include coral reefs. It took until the 1970s before scientists realized the islands did in fact have coral, but in 1983, the year the first major report on Galapagos reef formation was published, they were almost obliterated by El Niño. This summer, a major coral survey found that some of the islands' coral communities are showing promising signs of recovery. Their struggle to survive may tell us what is in store for the rest of the world, where almost three-quarters of corals are predicted to suffer long-term damage by 2030.
It's not just Sandy: U.S. hit by record droughts, fires, and heatwaves in 2012
(11/05/2012) As the devastation wrought by Hurricane Sandy—killing over 100 people and producing upwards of $50 billion in damage along the U.S. East Coast—has reignited a long-dormant conversation on climate change in the media, it's important to note that this is not the only weird and wild weather the U.S. has seen this year. In fact, 2012 has been a year of record-breaking weather across the U.S.: the worst drought in decades, unprecedented heatwaves, and monster forest fires. While climatologists have long stated that it is not yet possible to blame a single extreme weather event on climate change, research is showing that rising temperatures are very likely increasing the chances of extreme weather events and worsening them when they occur.
Micro-hydro and decentralized green energy goals set in Borneo

(11/04/2012) The first ever meeting of the Southeast Asia Renewable Energy People's Assembly (SEAREPA) ended with agreement on 12 future projects, including developing community micro-hydro power and pushing for new policies on decentralized renewable energy in the region. Held in Malaysian state of Sabah on the island, the meeting brought together 130 people from some 80 different groups.
From 'fertilizer to fork': food accounts for a quarter of the world's greenhouse gas emissions

(11/01/2012) Growing, transporting, refrigerating, and wasting food accounts for somewhere between 19-29 percent of the world's greenhouse gas emissions in 2008, according to a new analysis by the CGIAR Research Program on Climate Change, Agriculture and Food Security (CCAFS). In hard numbers that's between 9.8 and 16.9 billion tonnes of carbon dioxide, more than double the fossil fuel emissions of China in the same year. Over 80 percent of food emissions came from production (i.e. agriculture) which includes deforestation and land use change.
Above the ocean: saving the world's most threatened birds
(11/01/2012) A life on the ocean is a perilous one for any bird. They must expend energy staying aloft for thousands of miles and learn to be marathon swimmers; they must seek food beneath treacherous waves and brave the world's most extreme climates; they must navigate the perils both of an unforgiving sea and far-flung islands. Yet seabirds, which includes 346 global species that depend on marine ecosystems, have evolved numerous strategies and complex life histories to deal with the challenges of the sea successfully, and they have been doing so since the dinosaur's last stand. Today, despite such a track record, no other bird family is more threatened; yet it's not the wild, unpredictable sea that endangers them, but pervasive human impacts.
After defeating coal plant, Borneo hosts renewable energy meeting

(10/31/2012) Last year, a coalition of environmentalists and locals won a David-versus-Goliath battle against a massive coal plant in the Malaysian state of Sabah on Borneo. After facing a protracted campaign—including expert analysis of green energy options for Sabah—the state government announced it was scuttling plans to build the coal plant on a beach overlooking the Coral Triangle. Now, victorious grassroots campaigners are hosting the inaugural meeting of the Southeast Asia Renewable Energy People's Assembly (SEAREPA), bringing 80 organizations together to discuss green energy options across southeast Asia.
Hours before Hurricane Sandy hit, activists protested climate inaction in Times Square
(10/30/2012) On Sunday, as Hurricane Sandy roared towards the coast of the Eastern U.S., activists took to the streets in New York City to highlight the issue of climate change. Activists organized by 350.org unfurled a huge parachute in Times Square with the words, "End Climate Silence," a message meant to call attention to the fact that there has been almost zero mention of climate change during the presidential campaign, including not a single reference to the issue in the four presidential debates.
How climate change may be worsening Hurricane Sandy
(10/29/2012) While scientists are still debating some fundamental questions regarding hurricanes and climate change (such as: will climate change cause more or less hurricanes?), there's no debating that a monster hurricane is now imperiling the U.S. East Coast. A few connections between a warmer world and Hurricane Sandy can certainly be made, however: rising sea levels are likely to worsen storm surges; warmer waters bring more rain to increase flooding; and hotter temperatures may allow the hurricane to push both seasonal and geographic boundaries.
Lack of climate change in presidential debates part of larger trend

(10/23/2012) The final presidential debate between President Barack Obama and Governor Mitt Romney, focusing on foreign policy, ended like all the others: without a mention of climate change or its likely impacts on Americans, from rising sea levels to worsening extreme weather to the threat of instability abroad. While environmental groups have kicked-off a campaign to target this "climate silence," the lack of discussion on climate change is a part of a larger trend in the U.S. where media coverage of the issue has declined even as scientists argue that impacts are increasing.
Will we need to pull carbon out of the atmosphere to save ourselves?
(10/17/2012) This year saw the Arctic sea ice extent fall to a new and shocking low, while the U.S. experienced it warmest month ever on record (July), beating even Dust Bowl temperatures. Meanwhile, a flood of new research has convincingly connected a rise in extreme weather events, especially droughts and heatwaves, to global climate change, and a recent report by the DARA Group and Climate Vulnerability Forum finds that climate change contributes to around 400,000 deaths a year and costs the world 1.6 percent of its GDP, or $1.2 trillion. All this and global temperatures have only risen about 0.8 degrees Celsius (1.44 degrees Fahrenheit) since the early Twentieth Century. Scientists predict that temperatures could rise between 1.1 degrees Celsius (2 degrees Fahrenheit) to a staggering 6.4 degrees Celsius (11.5 degrees Fahrenheit) by the end of the century.
One in eight people suffer from malnutrition worldwide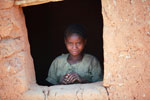 (10/16/2012) In a world where technology has advanced to a point where I can instantly have a face-to-face conversation via online video with a friend in Tokyo, nearly 870 million people, or one in eight, still suffer from malnutrition, according to a new UN report. While worldwide hunger declined from 1990 to 2007, progress was slowed by the global economic crisis. Over the last few years, numerous and record-breaking extreme weather events have also taken tolls on food production. Currently, food prices hover just below crisis levels.
September tied for world's warmest on record

(10/16/2012) September 2012 tied with 2005 for the warmest on record around the globe, according to new data released by the National Oceanic and Atmospheric Administration (NOAA). The average land and ocean temperature was 16.27 degrees Celsius (61.31 degrees Fahrenheit) for this September, 0.67 degrees Celsius (1.21 degrees Fahrenheit) above the 20th Century average for the month. Shockingly, this is the 331st month in a row that has been above the 20th Century average.
Norway to double carbon tax on oil industry for climate change programs

(10/15/2012) Beginning next year, Norway will nearly double the carbon tax on its domestic oil industry to help set up a $1 billion climate change fund for programs in developing nations among other green projects. The Scandinavian nation is the world's 13 largest oil producer and third biggest oil exporter, yet has been one of the most active champions of funding climate change projects.
Over 70 percent of Americans: climate change worsening extreme weather

(10/10/2012) According to a new poll, 74 percent of Americans agree that climate change is impacting weather in the U.S., including 73 percent who agreed, strongly or somewhat, that climate change had exacerbated record high temperatures over the summer. The findings mean that a large majority of Americans agree with climatologists who in recent years have found increasingly strong evidence that climate change has both increased and worsened extreme weather events.
Indigenous groups re-occupy Belo Monte dam in the Amazon

(10/09/2012) Construction on Brazil's megadam, Belo Monte, has been halted again as around 150 demonstrators, most of them from nearby indigenous tribes, have occupied the main construction site at Pimental. Over a hundred indigenous people joined local fishermen who had been protesting the dam for 24 days straight. Indigenous people and local fishermen say the dam will devastate the Xingu River, upending their way of life.
90 percent of oil palm plantations came at expense of forest in Kalimantan
(10/08/2012) From 1990 to 2010 almost all palm oil expansion in Kalimantan came at the expense of forest cover, according to the most detailed look yet at the oil palm industry in the Indonesian state, published in Nature: Climate Change. Palm oil plantations now cover 31,640 square kilometers of the state, having expanded nearly 300 percent since 2000. The forest loss led to the emission of 0.41 gigatons of carbon, more than Indonesia's total industrial emissions produced in a year. Furthermore the scientists warn that if all current leases were converted by 2020, over a third of Kalimantan's lowland forests outside of protected areas would become plantations and nearly quadruple emissions.
Nary a mention of climate change during U.S. presidential debate

(10/04/2012) The hour-and-a-half long debate between President Barack Obama and ex-governor Mitt Romney last night ended without a single reference to climate change. Frustrated with the lack of discussion on the issue from both candidates, environmental activists sent a petition with over 160,000 signatures to debate moderator, Jim Lehr, urging him to ask a question about climate change. The petition fell on deaf ears.
Great Barrier Reef loses half its coral in less than 30 years
(10/01/2012) The Great Barrier Reef has lost half of its coral cover in the last 27 years, according to a new study released today in the Proceedings of the National Academy of Sciences (PNAS). Based on over 2,000 surveys from 1985 to this year the study links the alarming loss to three impacts: tropical cyclone damage, outbreaks crown-of-thorns starfish that devour corals, and coral bleaching.
Penguins face a slippery future
(09/26/2012) Penguins have spent years fooling us. With their image seemingly every where we turn—entertaining us in animated films, awing us in documentaries, and winking at us in commercials—they have made most of us believe they are doing just fine; the penguin's charming demeanor has lulled us into complacency about their fate. But penguin populations are facing historic declines even as their popularity in human society rises. Overfishing is decimating some of their prey species, climate change is shifting their resources and imperiling their habitat, meanwhile pollution, such as oil spills, are putting even healthy colonies at risk. Now, a young organization, the Global Penguin Society (GPS), is working to save all of the world's 18 penguin species by working with scientists, governments, and local communities.
Arctic sea ice is 'toast' as old record shattered

(09/19/2012) Some twenty days after breaking the record for the lowest sea ice extent, the Arctic sea ice has hit a new rock bottom and finally begun its seasonal recovery. In the end, the Arctic sea ice extent fell to just 3.4 million square kilometers (1.32 million square miles) when only a few months ago scientists were wondering if it would break the 4 million square kilometers. The speed of the sea ice decline due to climate change has outpaced all the computer models, overrun all expert predictions, and shocked even the gloomiest scientists.
Another mishap kills Shell's Arctic oil drilling for the year

(09/18/2012) Following global protests, a series of embarrassing mishaps, and a lengthy regulatory process, Dutch Royal Shell has announced it is abandoning its hugely controversial off-shore oil drilling in the Arctic—this year. The announcement came after the company damaged a containment dome meant to cap an oil spill. The incident was the latest in a series of delays and problems that oil the giant faced in its $4 billion plan to drill in the Chukchi and Beaufort Seas.
Coral reefs in Caribbean on life support

(09/11/2012) Only 8 percent of the Caribbean's reefs today retain coral, according to a new report by the International Union for Conservation of Nature (IUCN). With input and data from 36 scientists, the report paints a bleak picture of coral decline across the region, threatening fisheries, tourism, and marine life in general.
Featured video: Chasing Ice trailer

(09/11/2012) A new film, opening in the U.S. in November, follows the exploits of National Geographic photographer, James Balog, as he attempts to photograph the end of glaciers and great ice sheets, which are diminishing and, in some cases, collapsing under the heat of global climate change. The film, which won a cinematography award at Sundance, documents the lengths one person will go to capture images of a vanishing world.
Wind can power the world, says two new studies

(09/10/2012) Wind power is up to the challenge of providing more-than-enough energy for global society, according to two new and unrelated studies. Both studies, one published in Nature Climate Change and the other in the Proceedings of the National Academy of Sciences (PNAS), found that wind power from surface winds alone could produce hundreds of terrawatts (TW) meanwhile current global society uses around 18 TW.
Shell begins offshore drilling in the Alaskan Arctic

(09/10/2012) With the approval of the Obama Administration, Royal Dutch Shell began drilling into the ocean floor of the Chukchi Sea off the coast of Alaska yesterday morning. The controversial operation, which has been vehemently opposed by environmental and Native groups, will likely only last a few weeks this year until the Arctic winter sets in. The U.S. government has said that Shell must complete operations by September 24th, however the oil giant has asked for an extension.
Amazon deforestation could trigger drop in rainfall across South America
(09/06/2012) Deforestation could cause rainfall across the Amazon rainforest to drop precipitously, warns a new study published in the journal Nature. Using a computer model that accounts for forest cover and rainfall patterns, Dominick Spracklen of the University of Leeds and colleagues estimate that large-scale deforestation in the Amazon could reduce basin-wide rainfall 12 percent during the wet season and 21 percent in the dry season by 2050. Localized swings would be greater.
Obama approves preparation for oil drilling in Arctic, Shell en route

(08/30/2012) In the same week that sea ice in the Arctic Ocean hit another record low due to climate change, the Obama Administration has given final approval to Royal Dutch Shell to prepare for exploratory drilling in the region. Vehemently opposed by environmentalists and indigenous groups, the drilling plans are a part of the Obama Administrations 'all of the above' energy policy. Whether or not Shell will actually drill a well this season, however, is still up in the air as its oil spill containment barge remains docked in Washington state for an upgrade that could last several days.
Sea ice falls to record low with over two weeks of melting left

(08/27/2012) One of the most visible impacts of climate change—melting summer sea ice in the Arctic—just hit a new milestone. Scientists with the U.S. National Snow and Ice Data Center (NSIDC) have declared that this year's Arctic sea ice extent dipped below the previous record set in 2007 as of yesterday. The record is even more notable, however, as it occurred more than a fortnight before the Arctic's usual ice melt season ends, meaning the old record will likely not just be supplanted, but shattered.
Greenpeace abandons occupation of Arctic oil drilling rig after workers throw metal at them

(08/26/2012) On Friday the head of Greenpeace, Kumi Naidoo, and five other activists occupied an Arctic oil platform owned by Russian oil and gas giant Gazprom to protest exploiting fossil fuel beds in the Arctic ocean. The action by Greenpeace was short-lived after workers began spraying them with cold water from high-powered hoses and then threw pieces of metal at them, according to Naidoo, who communicated via Twitter during the civil disobedience.
Arctic sea ice approaches another record melt

(08/22/2012) Sea ice extent in the Arctic is very near to beating the previous record low set in 2007, according to the U.S. National Snow and Ice Data Center. Researchers told Reuters that they expect the record to be beaten by the end of month, well over a week before the melt season ends in the frozen north.
Pictures of the day: NASA captures stunning images of U.S. wildfires at night

(08/21/2012) NASA is now able to capture satellite images of wildfires—at night. Using the The Suomi National Polar-orbiting Partnership satellite (S-NPP), which has instruments that are particularly sensitive to light, NASA was able to take images of fires burning nocturnally across the American West in what has been a record year, to date, for fires in the country.
Shell running out of time to drill in U.S. Arctic - this year

(08/20/2012) The clock is running out for oil giant, Royal Dutch Shell, to drill controversial oil wells in the U.S. Arctic before the harsh winter sets in, reports the Wall Street Journal and Bloomberg. While the company is still optimistic it can reach the Arctic by summer's end, it awaits a number of final permits after suffering numerous setbacks, including one of its drilling ships going adrift and nearly running aground in Alaska.
Fourth warmest July yet around the world

(08/20/2012) Last month was the fourth warmest July in the record books going back to 1880 worldwide, according to new data released by the National Oceanic and Atmospheric Administration (NOAA). It was notably warmer in the Northern Hemisphere than in the South: the month was the warmest July ever in the North. Worldwide temperatures were 0.62 degrees Celsius (1.12 degrees Fahrenheit) above the 20th Century average.
Greenland suffers record melt

(08/16/2012) Four weeks before Greenland's melting season usually ends, it has already blown past all previous records. By August 8th, nearly a month before cooler weather usually sets in around the world's largest island, the island toppled the past record set in 2010.
United States ranks near bottom on first ever energy efficiency scorecard

(08/15/2012) Last month, the American Council for an Energy Efficient Economy released its first ever international energy efficiency scorecard, which gave the United Kingdom the top score. Using data points honed over years of rating U.S. states, the organization hoped to inspire nations to learn from each others' effective policies, as well as encourage "friendly competition" in the spirit of lowering global carbon emissions. At number one, the United Kingdom achieved a score of 67 out of 100 points, followed by Germany, Italy and Japan. As a whole, the European Union tied with China and Australia, and nine points below them, the United States came in with a score of 47 out of 100.
Climate change may be worsening impacts of killer frog disease

(08/13/2012) Climate change, which is spawning more extreme temperatures variations worldwide, may be worsening the effects of a devastating fungal disease on the world's amphibians, according to new research published in Nature Climate Change. Researchers found that frogs infected with the disease, known as chytridiomycosis, perished more rapidly when temperatures swung wildly. However scientists told the BBC that more research is needed before any definitive link between climate change and chytridiomycosis mortalities could be made.
July 2012: hottest month in U.S. history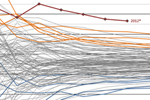 (08/08/2012) Last month was not only the hottest July in U.S. weather history, but the hottest month ever recorded in the contiguous U.S, besting a record struck in July 1936 during the Dust Bowl, according to new data from the National Oceanic and Atmospheric Administration (NOAA). The average temperature last month over the contiguous U.S. was 77.6 degrees Fahrenheit, or 3.3 degrees Fahrenheit above the 20th Century average. Making matters worse, crippling drought continued to spread over 63 percent of the lower 48 states.
Climate and culture: abrupt change and rapid response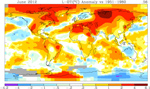 (08/06/2012) As the world experiences record heat, increased drought and fires, unprecedented ice melt and similar extreme weather anomalies decades before expected, climatologists have been forced to reconsider previous climate change projections and research techniques. Less than a decade ago, scientific consensus considered warming of more than 2 C and atmospheric levels of carbon dioxide near 450 parts per million (ppm) as acceptable or "safe". Revised climate science literature and expert opinion now regard safe atmospheric levels of carbon dioxide as below 350 ppm, or less than 1 C rise in average planetary temperature. Many researchers and environmentalists, however, recognize that the present deviation from pre-industrial temperatures of 0.8 C may be unacceptable to prevent runaway climate change and widespread disasters.
Earth's ecosystems still soaking up half of human carbon emissions
(08/06/2012) Even as humans emit ever more carbon dioxide into the atmosphere, Earth's ecosystems are still sequestering about half, according to new research in Nature. The study finds that the planet's oceans, forests, and other vegetation have stepped into overdrive to deal with the influx of carbon emitted from burning fossil fuels, but notes that this doesn't come without a price, including the acidification of the oceans.
Extreme heatwaves 50 to 100 times more likely due to climate change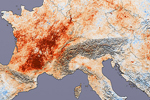 (08/05/2012) A recent rise in deadly, debilitating, and expensive heatwaves was caused by climate change, argues a new statistical analysis published in the Proceedings of the National Academy of Sciences (PNAS). Climatologists found that extreme heatwaves have increased by at least 50 times during the last 30 years. The researchers, including James Hansen of NASA, conclude that climate change is the only explanation for such a statistical jump.
Tigers vs. coal in India: when big energy meets vanishing cats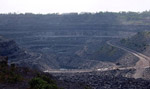 (08/01/2012) Burning coal fuels climate change, causes acid rain, and spreads toxic pollutants into the environment, but now a new Greenpeace report warns that coal may also imperil the world's biggest feline: the tiger. Home to world's largest population of tigers—in this case the Bengal subspecies (Panthera tigris tigris)—India is also the world's third largest coal producer. The country's rapacious pursuit of coal—it has nearly doubled production since 2007—has pushed the industry into tiger territory, threatening to destroy forests and fragment the tiger's already threatened population.




Page 1 | Page 2 | Page 3 | Page 4 | Page 5 | Page 6 | Page 7 | Page 8 | Page 9 | Page 10 | Page 11 | Page 12 | Page 13 | Page 14 | Page 15 | Page 16 | Page 17 | Page 18 | Page 19 | Page 20 | Page 21 | Page 22 | Page 23 | Page 24 | Page 25 | Page 26 | Page 27 | Page 28 | Page 29 | Page 30 | Page 31 | Page 32 | Page 33 | Page 34