News articles on climate change

---
Mongabay.com news articles on climate change in blog format. Updated regularly.





Warmer forests expel carbon from soils creating "vicious cycle"


(06/13/2012) As the world warms, temperate forests could become a source of carbon dioxide emission rather than a sink according to a new study in the Proceedings of the National Academy of Sciences (PNAS). Scientists found that two forest sites in the U.S. (Wisconsin and North Carolina) emitted long-stored carbon from their soils when confronted with temperatures 10-20 degrees Fahrenheit (5.5-11.1 degrees Celsius) higher than average.


U.S. undergoes warmest spring on record

(06/12/2012) Spring in the U.S. was the warmest on record, beating the past record-year (1910), by a stunning two degrees Fahrenheit, according to new data from the National Oceanic and Atmospheric Administration (NOAA). The data also shows that the past 12 months--from June 2011 through May 2012--was the warmest on record in the contiguous U.S. as well.


As Colorado and New Mexico burn, scientists say prepare for more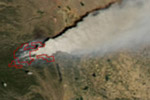 (06/12/2012) A massive wildlife in Colorado still burns after it has killed one person and damaged or destroyed over a hundred structures. The fire, the third largest in Colorado's history, has burned 39,500 acres (16,000 hectares) to date. Meanwhile in central New Mexico, another wildfire has damaged or destroyed 35 structures and burned 34,500 acres (14,000 hectares). This comes just weeks after New Mexico's largest wildfire ever—still going—burned up over 247,000 acres (100,000 hectares) of the Gila Forest. Weeks of heroic efforts by thousands of firefighters have contained this megafire by only 37 percent to date. Now, a new scientific study in Ecospshere has found that North America and Europe must prepare for even more fires as global temperatures continue to rise from climate change.


Massive algae bloom in Arctic like "finding the Amazon rainforest in the Mojave Desert"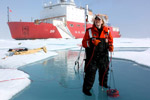 (06/11/2012) Given everything marine researchers know about phytoplankton, a type of algae, no one expected to find some of the world's largest blooms beneath Arctic sea ice. But this is exactly what scientists stumbled on during an ICESCAPE expedition in the Chukchi Sea, which is examining the massive impacts of climate change in the region. Researchers recorded a 100 kilometer (62 miles) long bloom underneath the Arctic ice pack that was four times richer than adjacent ice-free waters.


Forgotten Species: the wonder-inducing giant clam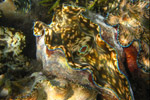 (06/11/2012) The first time I ever saw a giant clam was at a ride in Walt Disney World's Magic Kingdom. My family and I piled into the Nautilus submersible at the 20,000 Leagues Under the Sea: Submarine Voyage and descended into the playtime depths. While we saw sea turtles, sharks, lobsters, mermaids, and even a sea monster, the creature that lingered in my mind most was the giant clam, raising and closing its pearly shell in the weedy abyss. Of course, none of these aquatic wonders were real—they were animatronics—but to a child with a vivid imagination they stirred within me the deep mystery of the boundless ocean, and none more so than that monstrous clam with its gaping maw.


Scientists: if we don't act now we're screwed


(06/07/2012) Scientists warn that the Earth may be reaching a planetary tipping point due to a unsustainable human pressures, while the UN releases a new report that finds global society has made significant progress on only four environmental issues out of ninety in the last twenty years. Climate change, overpopulation, overconsumption, and ecosystem destruction could lead to a tipping point that causes planetary collapse, according to a new paper in Nature by 22 scientists. The collapse may lead to a new planetary state that scientists say will be far harsher for human well-being, let alone survival.


Want to stop climate change: buy fossil fuel deposits


(06/07/2012) Governments, NGOs, and others fighting climate change should consider buying coal and oil deposits—not to exploit them, but to keep them from being exploited, according to a bold new policy paper in the Journal of Political Economy. Economist Bard Harstad with the Kellogg School of Management argues that climate coalitions could quickly slash carbon emissions by purchasing and conserving marginal fossil fuel deposits, a strategy that would solve the current problem of carbon leakage, i.e. when cutting emissions in one place pushes others to burn more elsewhere. Given that carbon emissions rose to a new record last year—31.6 gigatons—and carbon has hit 400 parts per million (ppm) in the atmosphere for the first time in at least 800,000 years, Harstad's analysis comes at a time when scientists are warning that urgent and bold action is needed to mitigate global climate change before it becomes irreversible.


Climate change creating "novel ecosystem" in Arctic

(06/06/2012) If melting sea ice and glaciers weren't enough, now climate change is producing what researchers call a "structurally novel ecosystem" in the northwestern Eurasian tundra. Warmer weather and precipitation changes in the region, which covers western Russia into Finland, has allowed shrubs of willow and alder to grow into sparse forests within just forty years, according to a new study in Nature Climate Change. The new ecosystem could have global implications as researchers say it is likely to worsen global warming due to a decline in the region's albedo, i.e. the sunlight reflected back into the atmosphere due to snow cover.


NASA image: New Mexico suffers record megafire

(06/04/2012) To date, around 250,000 acres (101,000 hectares) of the Gila Forest in New Mexico have burned in the state's largest fire ever recorded. Begun on May 16th due to lightning strikes, the unprecedented fire has likely been made possible by a combination of land-use changes, unflagging drought, and climate change.


The vanishing Niger River imperils tourism and livelihoods in the desert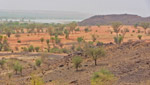 (06/04/2012) Severely affected by recent turmoil across its northern frontiers, Nigerien tourism pins hope on river valley attractions to play a major role in rebuilding its tourism industry in the upcoming years. Even though the river itself is threatened. Located in the heart of the Sahel Region, the vast desert lands of Niger have captivated European tourists seeking a taste of its immensely varied natural landscapes.


Carbon dioxide hits 400 parts per million in Northern Hemisphere

(05/31/2012) Concentrations of carbon dioxide in the atmosphere have risen above 400 parts per million (ppm) in recording stations across the Arctic going as far south as Mongolia, reports the Associated Press. Such levels have not been seen in at least 800,000 years according to researchers. Carbon levels fluctuate depending on the region and the season and scientists say global concentrations will likely remain at around 395 ppm for the time being.


Another record in global carbon emissions puts globe on track for 'devastating consequences'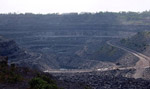 (05/29/2012) Last year global carbon dioxide emissions rose 3.2 percent to a new record of 31.6 gigatons, keeping the planet on track to suffer dangerous climate change, which could propel global crop failures, sea level rise, worsening extreme weather, and mass extinction. According to data from the International Energy Agency (IEA), China's carbon emissions rose the most last year (9.3 percent) while emissions in Europe and the U.S. dipped slightly. China is the currently the world's largest emitter of greenhouse gases, while the U.S. has emitted the most historically.


Groups urge President Obama to attend Rio+20 Sustainability Summit

(05/22/2012) Twenty-two conservation, indigenous, health and science groups have called on U.S. President Barack Obama to attend the up-coming Rio+20 Summit on Sustainable Development.


Charting a new environmental course in China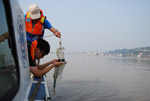 (05/21/2012) Founded in 1951, The Nature Conservancy (TNC) works in more than 30 countries and has projects in all 50 of the United States. The Conservancy has over one million members, and has protected more than 119 million acres of wild-lands and 5,000 miles of rivers worldwide. TNC has taken an active interest in China, the world's most populated nation, and in many important ways, a critical center of global development. The following is an interview with multiple directors of The Nature Conservancy's China Program.


As La Nina ends, world experiences 5th warmest April

(05/21/2012) La Nina conditions, which generally bring colder temperatures to many parts of the world, ended last month resulting in the fifth warmest April since record-keeping began, and the hottest April yet in the terrestrial Northern Hemisphere, according to the National Oceanic and Atmospheric Administration (NOAA).


Featured video: why one scientist is getting arrested over climate change

(05/16/2012) In March 2012 the head of NASA's Goddard Institute for Space Studies and well-known climatologist, James Hansen, spoke at a TED conference to explain what would push a 70-year-old scientist to participate in civil disobedience against mountaintop coal mining and the Keystone Pipeline, even leading to several arrests.


Consumption, population, and declining Earth: wake-up call for Rio+20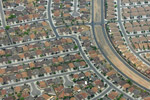 (05/15/2012) Currently, human society is consuming natural resources as if there were one-and-a-half Earths, and not just a single blue planet, according to the most recent Living Planet Report released today. If governments and societies continue with 'business-as-usual' practices, we could be consuming three years of natural resources in 12 months by 2050. Already, this ecological debt is decimating wildlife populations worldwide, disproportionately hurting the world's poor and most vulnerable, threatening imperative resources like food and water, heating up the atmosphere, and risking global well-being.


President of Czech Republic to give keynote at Heartland climate summit despite backlash over murderer billboards

(05/14/2012) Companies are abandoning the Heartland Institute left-and-right following the conservative group's controversial climate change billboard campaign, but Czech President, Václav Klaus, is sticking with the group, reports the Guardian. Although he criticized the Heartland's short-lived campaign, Klaus is still planning to be the keynote speaker at the Heartland Institute's upcoming annual climate change summit, which gathers prominent climate denialists from around the world.


U.S. undergoes warmest 12 months yet

(05/10/2012) Americans would not be remiss in asking, "is it getting hot in here?" According to new data from the National Oceanic and Atmospheric Administration (NOAA)'s National Climatic Data Center, the last twelve months (from May 2011 through April 2012) were the warmest on record for the lower 48 U.S. states since record keeping began in the late 19th Century.


'The real Hunger Games': a million children at risk as Sahel region suffers punishing drought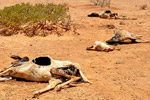 (05/09/2012) The UN warns that a million children in Africa's Sahel region face malnutrition due to drought in region. In all 15 million people face food insecurity in eight nations across the Sahel, a region that is still recovering from drought and a food crisis of 2010. In some countries the situation is worsened by conflict.


Heartland Institute losing major corporate sponsors after comparing climate change advocates to mass-murderers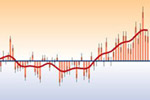 (05/08/2012) The Heartland Institute has lost two corporate supporters since it unveiled a billboard campaign that compared those who accept the science of climate change to mass murderer Ted Kaczynski also known as the Unabomber. Yesterday, State Farm Insurance confirmed it was severing ties with the group, while on Sunday, Diageo, a major alcoholic drink company, announced it was also cutting its support of the conservative think tank. Even before this, General Motors (GM) cut ties with the group over its climate stance. The exodus of the three corporate supporters has lost the Heartland Institute an estimated $180,000 for 2012, according to fundraising documents leaked to the media.


13 arrested for blockading coal train, including Nobel Prize winning economist

(05/07/2012) Thirteen Canadians were peacefully arrested this weekend for blockading Burlington Northern Santa Fe (BNSF) Railway train tracks in order to prevent the passage of coal stemming from the United States and destined to be burned in Asia. Among those arrested was Mark Jaccard, an economics professor with Simon Fraser University, who won the Nobel Prize for his work with the Intergovernmental Panel on Climate Change (IPCC).


Pictures of the day: activists highlight personal impacts of climate change worldwide

(05/07/2012) On Saturday, people around the world gathered to highlight the varied impacts of climate change on their lives. Organized by 350.org, the global day of action was a call to "connect the dots" between a warming Earth and extreme weather events, such as droughts, floods, and fires among other impacts. Nearly 1,000 events were held worldwide.


Fallout for Heartland Institute after it likens those who accept climate change to 'murderers' and 'madmen'

(05/07/2012) According to the Heartland Institute, a conservative think tank, those who accept the science of climate change are 'on the radical fringe' with the movements most 'prominent advocates' being 'murderers, tyrants, and madmen.' The Heartland Institute's statements came as it launched a billboard campaign featuring notorious mass-murderer, Ted Kaczynski also known as the Unabomber, on a billboard in Chicago that read 'I still believe in Global Warming? Do you?' The Kaczynski billboard remained live for 24 hours before widespread condemnation, including from the Heartland Institute's own supporters, pushed the group to pull the billboard. It has now suspended the short-lived campaign which was also going to feature similar billboards with Fidel Castro, Osama Bin Laden, and hostage-taker James J. Lee.


Just how far can a polar bear swim?

(05/03/2012) Polar bears (Ursus maritimus) are capable of swimming incredible distances, according to a new study published in Zoology, which recorded polar bears regularly swimming over 30 miles (48 kilometers) and, in one case, as far as 220 miles (354 kilometers). The researchers believe the ability of polar bears to tackle such long-distance swims may help them survive as seasonal sea ice vanishes due to climate change.


Thousands worldwide to "connect the dots" between climate change and extreme weather this weekend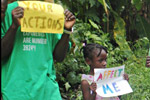 (05/03/2012) On Saturday, May 5th vulnerable populations from the United States to Bangladesh will "connect the dots" between devastating extreme weather and climate change in a global day of action organized by 350.org. The nearly 1,000 events occurring in over half of the world's nations are meant to highlight to governments, media, and the public that climate change is impacting lives through an increase in number and intensity of devastating weather events, such as droughts, heatwaves, and floods.


Featured video: climate, water, and desperation in Texas

(05/01/2012) As a part of PBS' new series Coping with Climate Change reporters visited several towns in Texas, which has suffered unprecedented drought beginning in 2010. The drought, which climatologists say is consistent with climate change predictions, has led to forest fires, vast tree mortalities, agricultural and livestock losses, and water shortages.


Greenpeace activists occupy icebreaker set for Arctic drilling

(05/01/2012) Greenpeace has announced that 20 of its activists, stemming from 13 countries, have locked themselves in an icebreaker ship in Helsinki, Finland. The ship is scheduled to move out to the Alaskan Arctic to aid in exploratory offshore drilling by oil giant Shell. Another icebreaker has already left for the U.S. Arctic; both have been leased to Shell by their owner, the Finnish government.


Organic yields lag behind industrial farming, but that's not the whole story


(04/26/2012) In general, industrial agriculture beats organic farming in yields, according to a comprehensive new study in Nature. The study adds new data to the sometimes heated debate of organic versus conventional farming. Proponents of organic farming argue that these practices are environmentally friendly, sustainable over the long-term, and provide a number of social goods. However, critics argue that organic farming requires more land, thereby increasing global deforestation, which offsets any other environmental benefits of organic food production. At stake is whether organic or conventional is capable of feeding the world's seven billion people (and rising), including increasing demand for energy-intensive foods like meat in the developing world.


Mexico passes aggressive climate bill


(04/23/2012) Last week, Mexico's Senate passed an aggressive and comprehensive climate change bill, making it the first developing nation and only the second country to do so, after the UK. The bill, which far outshines anything achieved by its far wealthier northern neighbors, sets ambitious targets for cutting emissions while creating new incentive programs for clean energy. Largely dependent on fossil fuels, Mexico is approximately the 11th highest greenhouse gas emitter in the world.


For Earth Day, 17 celebrated scientists on how to make a better world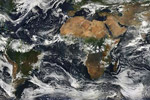 (04/22/2012) Seventeen top scientists and four acclaimed conservation organizations have called for radical action to create a better world for this and future generations. Compiled by 21 past winners of the prestigious Blue Planet Prize, a new paper recommends solutions for some of the world's most pressing problems including climate change, poverty, and mass extinction. The paper, entitled Environment and Development Challenges: The Imperative to Act, was recently presented at the UN Environment Program governing council meeting in Nairobi, Kenya.


Featured video: Google Earth highlights imperiled coral reefs around the world

(04/18/2012) A new video by Google Earth and the World Resources Institute (WRI) highlights the world's many endangered coral reefs. A part of the WRI's Reefs at Risk program, the video highlights regional and global threats to the oceans' most biodiverse ecosystem. According to the WRI, a stunning 75 percent of the world's reefs are currently threatened.


U.S. suffers warmest March, breaking over 15,000 record temperatures

(04/11/2012) March was the warmest ever recorded in the U.S. with record-keeping going back to 1895, according to new data by the National Oceanic and Atmospheric Administration (NOAA). But the month wasn't just a record-breaker, it was shockingly aberrant: an extreme heatwave throughout much of the eastern and central U.S. shattered 15,272 day and nighttime records across the U.S. In all March 2012 was 0.5 degrees Fahrenheit above the previous warmest March in 1910, and an astounding 8.6 degrees Fahrenheit above the 20th Century average for March in the U.S.


"Don't be so silly" about climate change: Mohamed Nasheed on The Daily Show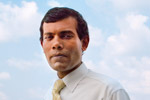 (04/04/2012) Mohamed Nasheed, former president of the Maldives, told the world on The Daily Show Monday night: "Just don't be so silly" about climate change. Nasheed, who in February was forced to resign his presidency, is visiting the U.S. to meet with government officials as well as to push for climate action during the release of a new documentary film about his presidency, entitled The Island President.


Massive coal mine in Australia beats back climate change legal challenge

(04/03/2012) An Australian court last week ruled that climate change was not reason enough to halt the $6.3 billion Wandoan coal mine in Australia in a landmark case. Swiss coal mining company Xstrata succeeded in defeating a challenge from the environmental NGO Friends of the Earth and local farmers, which argued that the mine should be halted due to its resulting carbon emissions.


Oceans heating up for over 100 years

(04/02/2012) In 1872 the HMS Challenger pulled out from Portsmouth, England to begin an unprecedented scientific expedition of the world's oceans. During its over three year journey the HMS Challenger not only collected thousands of new species and sounded unknown ocean depths, but also took hundreds of temperature readings—data which is now proving invaluable to our understanding of climate change.


General Motors cuts funding to Heartland Institute due to climate change denialism

(04/02/2012) After being outed as a financial contributor to the conservative advocacy group Heartland Institute, known for its denial of global climate change, General Motors has faced harsh criticism from environmentalists. The car company, which is pushing its new all-electric model, the Chevy Volt, has now announced it will no longer be contributing to the Heartland Institute.


Obama Administration, Shell moving ahead with Arctic oil exploitation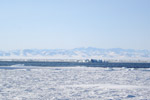 (04/02/2012) Last week, the U.S. Department of the Interior approved oil spill clean-up plans by Royal Dutch Shell Oil in the Beaufort Sea, paving the way for offshore oil drilling in the Arctic to begin as soon this year. The Interior's approval was blasted by environmentalists, who contend that oil companies have no viable way of dealing with a spill in the icy, hazardous conditions of the Arctic, far from large-scale infrastructure. Shell, which has spent $4 billion to date to gain access to the Arctic, must still be granted final permits for drilling.


"Strong evidence" linking extreme heatwaves, floods, and droughts to climate change

(03/28/2012) As North America recovers from what noted meteorologist Jeff Masters has called "the most incredible spring heatwave in U.S. and Canadian recorded history," a new paper argues that climate change is playing an important role in a world that appears increasingly pummeled by extreme weather. Published in Nature Climate Change, the paper surveys recent studies of climate change and extreme weather and finds "strong evidence" of a link between a warming world and the frequency and intensity of droughts, floods, and heatwaves—such as the one that turned winter into summer in the U.S.


NASA image shows decline in maximum sea ice extent

(03/28/2012) Data released by the National Snow and Ice Data Center (NSIDC) shows that Arctic sea ice for the winter of 2011-2012 reached its maximum extent on March 18 at 15.24 million square kilometers (5.88 million square miles). The mark is well below the 1979–2000 average, but was above the record low of the 2010–2011 winter.


Cloud forests may be particularly vulnerable to climate change

(03/26/2012) Mexico could lose nearly 70 percent of its cloud forests due to climate change by 2080, according to new research published in Nature Climate Change, that has implications for cloud forests worldwide.


NASA image: records shattered across U.S. as summer arrives before spring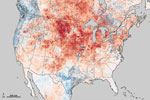 (03/22/2012) Central U.S. and parts of Canada have seen over a thousand record temperatures shattered over the past week and a half, as an abnormally-long and bizarrely-hot warm spell moves across portions of North America. The direct cause of the weird weather is a blocked high pressure system, but as the U.S. experiences what may be the warmest March on record, meteorologists say climate change may be playing a role in the severity of the heatwave.


Featured Video: FEVER, the climate change challenge for indigenous people

(03/21/2012) Four short films have been produced highlighting the challenges of climate change for indigenous people in the tropics. Produced by LifeMosaic, the indigenous right organization says the films are "designed to inform and empower indigenous communities."


2010, not 1998, warmest year on record

(03/20/2012) An updated temperature analysis by the Met Office and the University of East Anglia's Climatic Research Unit has confirmed that 2010, not 1998, was the warmest year since record keeping began in the late 19th Century. The new analysis adds in temperature data from 400 stations across northern Canada, Russia, and the Arctic, which had been left out of the previous analysis.


Featured Video: the true cost of the tar sands

(03/15/2012) What's the big deal about the tar sands? Canadian photographer Garth Lenz presents the local environmental and social concerns presented by the tar sands in a concise, impassioned speech in a TEDx talk in Victoria, Canada.


Climate change could increase fires, logging, and hunting in rainforests


(03/13/2012) The combined impacts of deforestation and climate change will bring a host of new troubles for the world's tropical rainforests argues a new study in Trends in Ecology and Evolution. Drying rainforests due to climate change could lead to previously inaccessible forests falling to loggers, burning in unprecedented fires, or being overexploited by hunters.


Climate journalism gone awry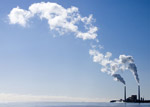 (03/12/2012) A leading journalist and editor at The Atlantic made a startling admission regarding how she writes about climate science last week. Megan McArdle, who not long ago wrote in-depth about documents leaked from Heartland Institute, has noted that as a journalist she depends on her comprehension of climate science on two non-experts and one climatologist who is widely viewed as an outlier for his view that climate change may actually be good for the world.


Environmental news - month in review: wildlife traffickers busted, funders of climate denial revealed

(03/08/2012) Mongabay.com provides a quick review of forest-related news for February 2012.


Tornado season likely to expand due to climate change

(03/06/2012) Last Friday, around a hundred tornadoes left a wake of destruction in the U.S., killing 39 people to date and destroying entire towns. The tragedy hit hardest in Kentucky and Indiana and experts predict the weather-disaster will cost over $1 billion. But isn't this early for tornado season? Yes, say experts, and climatologists add that while research on tornadoes and climate change is currently in its infancy, it's possible, probably even likely, that climate change is expanding tornado season in the U.S. due to the earlier arrival of spring.


TransCanada to build southern half of Keystone to avoid State Department approval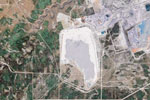 (02/29/2012) Keystone XL is becoming the project that refuses to die: TransCanada, the company behind the pipeline, has said it plans to build the southern half of the pipeline while it waits to determine a new route for the northern section. The company does not need approval from the State Department, which turned down the entire pipeline in January, to build the southern half from Texas to Oklahoma. However, the Obama Administration has embraced the idea. Carrying carbon-intensive tar sands oil down from Canada to a global market, the proposed pipeline galvanized environmental and climate activists last year, resulting in several large protests and civil disobedience actions.



Page 1 | Page 2 | Page 3 | Page 4 | Page 5 | Page 6 | Page 7 | Page 8 | Page 9 | Page 10 | Page 11 | Page 12 | Page 13 | Page 14 | Page 15 | Page 16 | Page 17 | Page 18 | Page 19 | Page 20 | Page 21 | Page 22 | Page 23 | Page 24 | Page 25 | Page 26 | Page 27 | Page 28 | Page 29 | Page 30 | Page 31 | Page 32