News articles on climate change

---
Mongabay.com news articles on climate change in blog format. Updated regularly.








Climate change will worsen drought, hunger in Africa

(04/10/2007) Africa will suffer the brunt of climate change reports the latest installment of the Intergovernmental Panel on Climate Change (IPCC). The IPCC says that the projected increases in greenhouse gas emissions will put up to 1.8 billion more Africans at risk of water stress this century. Modest rises in temperature will reduce water availability in parts of the continent.
Indonesia and Australia sign deforestation pact
(04/09/2007) Indonesia and Australia have agreed to reduce deforestation in southeast Asia according to Malcolm Turnbull, the Australian Minister for the Environment and Water Resources. Turnbull was in Jakarta meeting with the Indonesian Minister for Forestry, M. S. Kaban, and the Minister for the Environment, Rachmat Witoelar.
Could global deforestation fight climate change?
(04/09/2007) While many climate change mitigation schemes rely on reforestation schemes to sequester carbon dioxide from the atmosphere, those located in temperate regions may actually be warming the planet, worsening global change, reports a new study published in the April 9-13 online edition of the Proceedings of the National Academy of Sciences. Surprisingly, the research suggests that global-scale deforestation would produce a net cooling effect, but that forest preservation efforts and reforestation in the tropics is more effective in cooling the planet.
Climate report warns of drought, rising sea levels, species extinction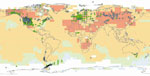 (04/05/2007) Global warming is likely to have wide-ranging impacts on the world's ecosystems, water availablity, and sea levels warned the U.N. Intergovernmental Panel on Climate Change (IPCC) in its latest installment. It said that mitigation and adaption strategies are the best way to reduce and prepare for the coming changes.
Arctic sea ice extent second lowest on record

(04/04/2007) Winter sea ice in the Arctic was the second smallest area on record, narrowly missing the 2006 mark, according to scientists from the University of Colorado's National Sea and Ice Data Center (NSIDC).
Palm oil doesn't have to be bad for the environment
(04/04/2007) As traditionally practiced in southeast Asia, oil palm cultivation is responsible for widespread deforestation that reduces biodiversity, degrades important ecological services, worsens climate change, and traps workers in inequitable conditions sometimes analogous to slavery. This doesn't have to be the case. Following examples set forth by the Roundtable on Sustainable Palm Oil and firms like Golden Hope Plantations Berhad, a Malaysian palm oil producer, oil palm can be cultivated in a manner that helps mitigate climate change, preserves biodiversity, and brings economic opportunities to desperately poor rural populations.
Eco-friendly palm oil could help alleviate poverty in Indonesia
(04/03/2007) The Associated Press (AP) recently quoted Marcel Silvius, a climate expert at Wetlands International in the Netherlands, as saying palm oil is a failure as a biofuel. This would be a misleading statement and one that doesn't help efforts to devise a workable solution to the multiplicity of issues surrounding the use of palm oil.
Protected areas must be adapted to survive global warming

(04/03/2007) Protected areas can play an important role in reducing biodiversity loss due to global warming, reports a new study published March 30 in the journal Frontiers in Environment and Ecology (FREE). The research says that conservation efforts must factor in shifts in species' ranges to be successful.
2007 hurricane season will be 'very active' but not due to global warming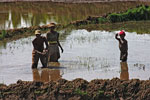 (04/03/2007) Developing La Nina conditions, not global warming, should make the 2007 Atlantic hurricane season 'very active' according to a top U.S. hurricane forecaster. William Gray of the Department of Atmospheric Science at Colorado State University said he expects 17 named storms this year, including 9 hurricanes. He says there is a 74 percent chance that a category 3, 4, or 5 hurricane will hit the U.S. coastline (the historic average for the past century is 52 percent) and a 49 percent chance that such a storm would hit the Gulf Coast of the United States (versus an average of 30 percent for the past century).
Global warming could hurt salmon fisheries in Pacific Northwest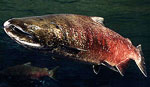 (04/02/2007) Global warming could cause Chinook salmon populations in Washington state to decline 20-40 percent by 2050 according to a new study published in the online early edition of PNAS. The researchers urge policymakers to focus on restoration of lower elevation habitats in order to reduce the expected impact of climate change on salmon populations.
Supreme Court rebukes Bush Administration on global warming rule
(04/02/2007) The U.S. Supreme Court ruled against the Bush Administration in a landmark case with global warming implications. In Massachusetts v. EPA, the Supreme Court ruled 5-4 that (1) state governments and environmental groups have the right to sue the EPA, and (2) the EPA has the right to regulate CO2 emissions as a pollutant under the Clean Air Act. On a third point, where the EPA can choose not to regulate CO2 emissions, the Supreme Court directed the agency to "reconsider its refusal based on the factors set forth in the law."
U.S. can cut oil imports to zero by 2040, use to zero by 2050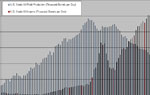 (03/29/2007) The United States could dramatically cut oil usage over the next 20-30 years at low to no net cost, said Amory B. Lovins, cofounder and CEO of the Colorado-based Rocky Mountain Institute, speaking at Stanford University Wednesday night for a week-long evening series of lectures sponsored by Mineral Acquisition Partners, Inc.
Some corals may survive acidification caused by rising CO2 levels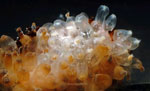 (03/29/2007) Several studies have shown that increased atmospheric carbon dioxide levels are acidifying the world's oceans. This is significant for coral reefs because acidification strips carbonate ions from seawater, making it more difficult for corals to build the calcium carbonate skeletons that serve as their structural basis. Research has shown that many species of coral, as well as other marine microorganisms, fare quite poorly under the increasingly acidic conditions forecast by some models. However, the news may not be bad for all types of corals. A study published in the March 30 issue of the journal Science, suggests that some corals may weather acidification better than others.
Non-CO2 gases also cause global warming

(03/29/2007) While most of the focus in developing a policy to fight global warming has been on carbon dioxide, other gases also contribute to climate change. The effect of these gases is still poorly understood and should be the subject of further research say two climate scientists writing in the March 30 issue of the journal Science.
CO2 levels tightly linked with climate change over past 420 million years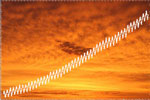 (03/28/2007) New research shows that sensitivity of Earth's climate to changes in the greenhouse gas carbon dioxide (CO2) have been relatively consistence for at least 420 million years, suggesting that presently rising levels of carbon dioxide resulting from fossil fuel use will indeed produce higher temperatures in the future.
Hundreds of millions at risk from rising sea levels

(03/27/2007) Hundreds of millions are at risk from cyclones and rising seas resulting from climate change reports a new study by researchers from the International Institute for Environment and Development (IIED) in the UK, the City University of New York, and Columbia University.
Climate change will cause biomes to shift and disappear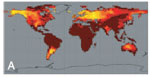 (03/26/2007) Many of the world's local climates could be radically changed if global warming trends continue, reports a new study published in the early online edition of the journal Proceedings of the National Academy of Sciences. The authors warn that current climates may shift and disappear, increasing the risk of biodiversity extinction and other ecological changes.
Extinction, like climate change, is complicated
(03/26/2007) Extinction is a hotly debated, but poorly understood topic in science. The same goes for climate change. When scientists try to forecast the impact of global change on future biodiversity levels, the results are contentious, to say the least. While some argue that species have managed to survive worse climate change in the past and that current threats to biodiversity are overstated, many biologists say the impacts of climate change and resulting shifts in rainfall, temperature, sea levels, ecosystem composition, and food availability will have significant effects on global species richness.
Congo rainforest was dry savanna 25,000 years ago

(03/25/2007) Scientists from the Netherlands Organization for Scientific Research and University of Bremen in Germany have created the first detailed temperature record for tropical central Africa over the past 25,000 years. Their results confirm the thought that the Congo basin has been considerably drier than it is today.
Global warming may cause biodiversity extinction

(03/21/2007) Extinction is a hotly debated, but poorly understood topic in science. The same goes for climate change. When scientists try to forecast the impact of global change on future biodiversity levels, the results are contentious, to say the least. While some argue that species have managed to survive worse climate change in the past and that current threats to biodiversity are overstated, many biologists say the impacts of climate change and resulting shifts in rainfall, temperature, sea levels, ecosystem composition, and food availability will have significant effects on global species richness.
Global warming reduced crop yields over past 20 years
(03/16/2007) Global warming has already caused crop losses according to a new study by researchers at the Lawrence Livermore National Laboratory and the Carnegie Institution at Stanford University. The study, published March 16 in the online journal Environmental Research Letters, shows that warming temperatures have reduced the combined production of wheat, corn, and barley by 40 million metric tons per year between 1981-2002. The authors, David Lobell of Lawrence Livermore and Christopher Field of the Carnegie Institution, estimate the annual losses at $5 billion.
Past winter (2006-2007) was warmest on record

(03/16/2007) This winter was the warmest on record according to the U.S. government's National Oceanic and Atmospheric Administration (NOAA). NOAA also reported that precipitation was above average in much of the United States.
UK to cut CO2 emissions by 60%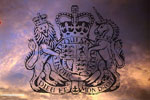 (03/13/2007) Tony Blair pledged Wednesday to cut Britain's carbon dioxide emissions by 60 percent by 2050 in an effort to fight global warming. In announcing the Climate Change Bill, Britain becomes the first country to set legally binding targets.
Biodiversity extinction crisis looms says renowned biologist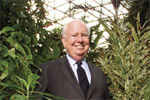 (03/12/2007) While there is considerable debate over the scale at which biodiversity extinction is occurring, there is little doubt we are presently in an age where species loss is well above the established biological norm. Extinction has certainly occurred in the past, and in fact, it is the fate of all species, but today the rate appears to be at least 100 times the background rate of one species per million per year and may be headed towards a magnitude thousands of times greater. Few people know more about extinction than Dr. Peter Raven, director of the Missouri Botanical Garden. He is the author of hundreds of scientific papers and books, and has an encyclopedic list of achievements and accolades from a lifetime of biological research. These make him one of the world's preeminent biodiversity experts. He is also extremely worried about the present biodiversity crisis, one that has been termed the sixth great extinction.
Coral species may help fight global warming impact

(03/04/2007) While many coral species appear to be potentially doomed by global warming, some species may help fight the impact of climate change, in effect helping protect coral reef ecosystems, argues a Cornell University biologist.
U.S. GHG emissions to rise 20% by 2020

(03/03/2007) The United States expects to emit 19 percent more greenhouse gases in 2020 than it did in 2020 according to a report from the Associated Press. The draft report, which is still in progress and is more than a year late, projects 9.2 billion tons of greenhouse gas emissions in 2020, a 19 percent increase from 7.7 billion tons in 2000, if the Bush Administration climate policy proceeds as planned.
Role of global warming in extinction may be overestimated
(03/01/2007) Extinction is a hotly debated, but poorly understood topic in science. The same goes for climate change. When you bring the two together to forecast the impact of global change on biodiversity, chaos reigns. While many ecologists argue that climate change could well doom many more species to extinction, others say that the threat is overstated.
Global warming is causing stronger Atlantic hurricanes finds new study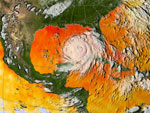 (03/01/2007) Global warming is fueling stronger hurricanes according to a new Geophysical Research Letters study that revises that database of historic hurricanes. Previously the hurricane database was considered inconsistent for measuring the record of tropical storms since there have been significant improvements in the technology to measure storms since recording-keeping began. Before the development of weather satellites, scientists relied on ship reports and sailor logs to record storms. The advent of weather satellites in the 1960s improved monitoring, but records from newer technology have never been squared with older data. The new study normalizes the hurricane record since 1983.
Climate change will worsen species extinction in South America

(02/28/2007) The combination of rising levels of carbon dioxide and increasing deforestation could reduce biodiversity in the tropical forests of Northern South America, reports a study published in the current edition of the journal Global Ecology and Biogeography.
Melting ice reveals unknown species in Antarctica

(02/26/2007) An expedition to an area of seabed recently exposed by melting ice in Antarctica has discovered several previously unknown species of marine life, including deep sea lilies, gelatinous sea squirts, glass sponges, amphipod crustaceans, and orange starfish. The findings were announced Sunday by the Census of Antarctic Marine Life, a 10-year effort to map the biodiversity of the world's oceans.
Global warming, cod collapse cause changes in Atlantic ecosystem

(02/22/2007) North Atlantic ecosystems are undergoing rapid change due to overfishing and global warming reports a Cornell University oceanographer in the February 23 issue of the journal Science. Charles Greene, director of the Ocean Resources and Ecosystems Program in Cornell's Department of Earth and Atmospheric Sciences, says that while other scientists have argued that ecosystem change is the result of the population crash of cod, be has found evidence that climate change is playing a significant role in the region.
Carbon offset schemes damage environment says report

(02/21/2007) Existing carbon offset schemes are confusing and may be damaging the environment rather than helping fight climate change says a new report by the Transnational Institute, a Dutch pressure group that runs carbontradewatch.org.
Largest firms to cut global warming emissions

(02/20/2007) More than 100 top executives from the private sector and leaders of international governmental and non-governmental organizations unveileved a plan to cut greenhouse gas emissions. They said governments need to take immediate steps to stop global warming.
Largest tropical glacier retreating at 200 feet per year in Peru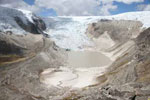 (02/18/2007) Peru's largest glacier is melting rapidly and could complete disappear by 2012 says a glaciologist from Ohio State University. Speaking at the annual meeting of the American Association for the Advancement of Science in San Francisco last week, Dr. Lonnie Thompson said that Peru's Qori Kalis glacier is melting at a rate of some 60 meters (200 feet) per year. Qori Kalis glacier is part of the Quelccaya Ice Cap, the largest body of ice in the tropics.
Past climate change may have fried rainforests

(02/18/2007) Three hundred million years ago, Earth's climate shifted dramatically from icehouse to hothouse, with major environmental consequences. That shift was the result of both rising atmospheric carbon dioxide concentrations and the melting of vast ice sheets, new research by University of Michigan paleoclimatologist Christopher Poulsen shows.
Climate change is a "threat to society" says largest scientific body

(02/18/2007) The world's largest scientific society today voiced concern over global warming, calling it a "threat to society." It was the first consensus statement of the board of the American Association for the Advancement of Science (AAAS) on climate change. The announcement comes sixteen days after the International Panel on Climate Change (IPCC) issued its most recent report on global change.






Page 1 | Page 2 | Page 3 | Page 4 | Page 5 | Page 6 | Page 7 | Page 8 | Page 9 | Page 10 | Page 11 | Page 12 | Page 13 | Page 14 | Page 15 | Page 16 | Page 17 | Page 18 | Page 19 | Page 20 | Page 21 | Page 22 | Page 23 | Page 24 | Page 25 | Page 26 | Page 27 | Page 28 | Page 29 | Page 30 | Page 31 | Page 32 | Page 33 | Page 34