News articles on climate change

---
Mongabay.com news articles on climate change in blog format. Updated regularly.





Careless humanity batters the Arctic

(07/03/2007) I feel the need to say from the outset when I discuss topics such as Global-Warming that I am indeed a greenie of sorts, and I believe that the obvious downward spiral that our planet is taking is due to the careless attitudes towards the environment that the industrialized and predominantly white nations have taken over the past decades. I, as a note, am white, and have no qualms in pointing the finger at my own country (Australia) and others that we support, and that support us. In fact, I am ashamed to be one of the only two countries in the world not to have signed the Kyoto Protocol (the other, for reference, being the United States of America).


China to ban ozone-depleting CFCs

(06/28/2007) China has moved to ban the production of ozone-depleting chlorofluorocarbons (CFCs), according to a statement from the country's environmental protection agency. The action is in accordance with the 1987 Montreal Protocol to phase out the use of ozone layer-depleting products . China, which signed the agreement in 1991, says it will end all CFC production by 2010.


Industrialized countries outsource CO2 emissions to China

(06/22/2007) Facing criticism as it surpasses the U.S. as the world's largest producer of carbon dioxide, China says that industrialized countries are hypocritical for criticizing its greenhouse gas emissions while buying its products, according to the Associated Press. China argues that developed countries are effectively outsourcing emissions by shifting manufacturing to its factories.


Melting Antarctic icebergs help increase biodiversity, slow climate change

(06/21/2007) Icebergs breaking off Antarctica are unexpected hotspots of biological productivity and have a surprising role in climate change, reports a new study published in the journal Science.


$100 billion invested in renewable energy in 2006

(06/20/2007) $100 billion poured into renewable energy and energy efficiency in 2006, a 25 percent jump from 2005, reports a new analysis by the UN Environment Programme (UNEP).


Most Americans back a $10 monthly global warming tax

(06/20/2007) 73 percent of Americans back a $10-per-month charge to underwrite renewable energy production reports a new survey by New Scientist Magazine, Stanford University and Resources for the Future, an independent think tank. The research indicates that 85 percent of Americans believe global warming in currently happening.


China surpasses the U.S. in CO2 emissions

(06/20/2007) China has surpassed the United States as the world's largest producers of greenhouse gas emissions, reports the Netherlands Environmental Assessment Agency (EEA), a group that advises the Dutch government.


Google to be carbon neutral by year end

(06/20/2007) Google Inc. aims to be carbon neutral by the end of 2007, according to a statement posted on the Official Google Blog. The search giant plans to fight global warming by investing in and using renewable energy sources; reducing energy consumption by maximizing efficiency, and purchasing carbon offsets for the greenhouse gas emissions that it cannot reduce directly.


Amazon.com, eBay rank worst for global warming efforts

(06/20/2007) Amazon.com and eBay rank at the bottom of the list when it comes to reducing their impact on climate, reports a new analysis from Climate Counts, a nonprofit that works to promote responsible climate policy among corporations. Microsoft and Yahoo rank at the top of Internet and software companies rated, while Google is in the middle of the pack.


Spring arrives 2 weeks earlier in Arctic due to climate change

(06/19/2007) Arctic summers are arriving two weeks earlier than just a decade ago reports a study published the June 19th issue of Current Biology. The research, based on phenology--the study of the timing of familiar signs of spring seen in plants, insects, birds, and other species--found that the arrival of spring is advancing at 14.5 days per decade.


Study: Global cooling of oceans did not occur from 2003-2005

(06/18/2007) The top 700-meters of global oceans did not cool from 2003-2005, reports a study published in the June 18 early online edition of the journal Proceedings of the National Academy of Sciences. The results challenge recent findings that suggest otherwise.


France to see scorching summers due to global warming

(06/14/2007) Mediterranean countries will face a 200-500 percent rise in the number of dangerously hot days due to global warming, reports a study published in the June 15 Geophysical Research Letters.


Dirty snow may warm Arctic as much as GHG emissions

(06/07/2007) Dirty snow from soot and forest fires is responsible for one-third or more of Arctic warming reports a new study from researchers at the University of California at Irvine (UCI) and the National Center for Atmospheric Research in Boulder.


Nobel prize winner debates future of nuclear power

(06/07/2007) Two renowned energy experts sparred in a debate over nuclear energy Wednesday afternoon at Stanford University. Amory Lovins, Chairman and Chief Scientist of the Rocky Mountain Institute, an energy think tank, argued that energy efficiency and alternative energy sources will send nuclear power the way of the dinosaurs in the near future. Dr. Burton Richter, winner of the 1976 Nobel Prize in physics, said that nuclear would play an important part of the future energy portfolio needed to cut carbon emissions to fight global warming.


U.S. refuses to talk global warming cuts at G8 summit

(06/06/2007) President Bush said he opposed setting firm targets for greenhouse gas cuts at a G8 summit but said that his proposal to fight climate change would not undermine U.N. efforts, as critics have claimed.


Can cattle ranchers and soy farmers save the Amazon?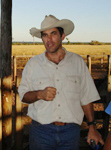 (06/06/2007) John Cain Carter, a Texas rancher who moved to the heart of the Amazon 11 years ago and founded what is perhaps the most innovative organization working in the Amazon, Alianca da Terra, believes the only way to save the Amazon is through the market. Carter says that by giving producers incentives to reduce their impact on the forest, the market can succeed where conservation efforts have failed. What is most remarkable about Alianca's system is that it has the potential to be applied to any commodity anywhere in the world. That means palm oil in Borneo could be certified just as easily as sugar cane in Brazil or sheep in New Zealand. By addressing the supply chain, tracing agricultural products back to the specific fields where they were produced, the system offers perhaps the best market-based solution to combating deforestation. Combining these approaches with large-scale land conservation and scientific research offers what may be the best hope for saving the Amazon.


Glaciers speed up due to global warming

(06/05/2007) Antarctic glaciers are moving faster due to global warming, reports the British Antarctic Survey.


China Unveils Global Warming Initiative

(06/05/2007) Scientists documented 467 species, including 24 species believed new to science, during a rainforest survey in eastern Suriname, South America. The expedition, led by conservation International (CI), was sponsored by two mining companies, BHP-Billiton Maatschappij Suriname (BMS) and Suriname Aluminium Company LLC (Suralco), hoping to mine the area for bauxite, the raw material used to make aluminum. conservation International said the Rapid Assessment Survey (RAP) will help "give miners guidance on protecting unique plants and animals during potential future development," according to a statement from the organization.


10-20% of birds extinct by 2100 due to global warming, deforestation


(06/04/2007) Ten to twenty percent of the world's terrestrial bird species could be threatened with extinction by 2100 due to climate change and habitat destruction reports a study published in the June 5 issue of the journal PLoS Biology. The numbers are in line with estimates published last year in The Proceedings of the National Academy of Sciences. Combining future projections on global warming, agricultural expansion and human population growth from the global Millennium Ecosystem Assessment with current geographic ranges of the world's 8,750 species of terrestrial birds, researchers Walter Jetz, David Wilcove, and Andrew Dobson estimate that 950 to 1800 species may be condemned to extinction by 2100.


Geoengineering could stop global warming but carries big risks

(06/04/2007) Using radical techniques to ,engineer, Earth's climate by blocking sunlight could cool Earth but presents great risks that could well worsen global warming should they fail or be discontinued, reports a new study published in the June 4 early online edition of The Proceedings of the National Academy of Sciences.


Globalization could save the Amazon rainforest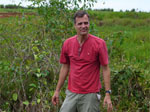 (06/03/2007) The Amazon basin is home to the world's largest rainforest, an ecosystem that supports perhaps 30 percent of the world's terrestrial species, stores vast amounts of carbon, and exerts considerable influence on global weather patterns and climate. Few would dispute that it is one of the planet's most important landscapes. Despite its scale, the Amazon is also one of the fastest changing ecosystems, largely as a result of human activities, including deforestation, forest fires, and, increasingly, climate change. Few people understand these impacts better than Dr. Daniel Nepstad, one of the world's foremost experts on the Amazon rainforest. Now head of the Woods Hole Research Center's Amazon program in Belem, Brazil, Nepstad has spent more than 23 years in the Amazon, studying subjects ranging from forest fires and forest management policy to sustainable development. Nepstad says the Amazon is presently at a point unlike any he's ever seen, one where there are unparalleled risks and opportunities. While he's hopeful about some of the trends, he knows the Amazon faces difficult and immediate challenges.


Hurricanes may help cool climate

(05/31/2007) Tropical cyclones and hurricanes play an important role in the ocean circulation patterns that transport heat and maintain the climate of North America and Europe, report researchers from Purdue University.


Monsoon pattern linked to climate change

(05/31/2007) Researchers have constructed a 155,000 record of monsoon history. The findings could help climatologists better understand the impact of climate change on monsoon patterns, which play a critical role in agriculture for hundreds of millions of people.


Bush unveils global warming strategy

(05/31/2007) Thursday, President Bush outlined his proposal for reducing greenhouse gas emissions, calling for a series of meetings between the world's largest polluters to establish a global target for emissions reduction. The Associated Press reported that environmentalists quickly dismissed the plan as a "do-nothing" approach, while other critics said the plan comes too late to restore the administration's credibility after years of dragging its feet and outright rejecting action on global warming.


Global warming will worsen fires in Australia

(05/31/2007) Global warming will put Australia at significantly higher risk of catastrophic bushfires said a leading climate scientists. Speaking at a climate conference in Sydney, Andy Pitman, co-director of the University of New South Wales's climate change research center, said that Australia will face a 100 to 200 percent increase in bushfire vulnerability by 2100 if greenhouse gas emissions aren't curbed.


HSBC invests $100M in global warming research

(05/30/2007) HSBC announced Wednesday it would spend $100 million on climate change research. The investment, which will go to the Climate Group, Earthwatch Institute, Smithsonian Tropical Research Institute (STRI) and WWF over a five year period, is the largest donation ever made by a British company.


HSBC puts $100 towards global warming research

(05/30/2007) HSBC announced Wednesday it would spend $100 million on climate change research. The investment, which will go to the Climate Group, Earthwatch Institute, Smithsonian Tropical Research Institute (STRI) and WWF over a five year period, is the largest donation ever made by a British company.


Greenpeace pressures China on global warming

(05/30/2007) Greenpeace stepped up the pressure on China to do something about its surging greenhouse gas emissions, launching a campaign that warns melting glaciers could hurt Chinese agriculture and hydroelectric projects. The environmental group cited a Chinese Academy of Sciences' projection that 80 percent of the glaciers in Tibet and the surrounding region could melt by 2035, though other research suggests more moderate melting.


Global warming may be key factor in frog deaths

(05/30/2007) Three papers published in this week's issue of the journal Nature debate the proximate causes for the global decline of amphibians, but nonetheless reveal mounting concerns among scientists over the continuing disappearance of frogs, salamanders, and their relatives.


Does drought cause war?

(05/30/2007) A new study links drought to the outbreak of war, reports New Scientist Magazine.


U.S. responsible for 44% of global warming bill-Oxfam

(05/29/2007) The U.S.is responsible for 44% of the annual $50 billion needed to fight global warming said aid agency Oxfam as expectations mount that the United States will reject stiff targets and timetables for reducing carbon dioxide emissions. The U.S. and other G8 nations are meeting next week in Germany to discuss climate change.


Hurricanes occur during cool periods as well

(05/28/2007) A team of scientists have found evidence of intense hurricane activity during both cool and warm periods reports The New York Times. The findings suggest that factors other than sea temperature play a role in the formation and intensity of tropical storms.


NASA issues guide on global warming

(05/22/2007) NASA issued a guide to global warming on its Earth Observatory web site, possibly marking a shift for the agency, which in recent years has often skirted use of the term "global warming", famously censoring comments on the subject by James E. Hansen, the director of the agency's Goddard Institute for Space Studies.


Improving energy efficiency will require overcoming market distortions

(05/20/2007) In a new study, McKinsey&Company, one the world's most respected management consulting firms, reports that the world should be able to cut energy demand growth by half over the next 15 years without compromising economic growth. However it says that market forces along will not drive the transition--targeted policies will be needed to overcome present market failures and policy distortions.


Did asteroid wipe out America's first people?

(05/17/2007) An asteroid may have caused the near-extinction of North America's first humans, argues a series of studies to be presented May 24, at the American Geophysical Union's meeting in Acapulco, Mexico. Nature reports that while the theory has been discounted in the past, new research suggests that an comet or asteroid could have exploded above or on the northern ice cap some 13,000 years ago, plunging regional temperatures to plunge for the next 1000 years. The theory would also help explain the disappearance of the continent's large mammals, including woolly mammoths, American lions, and the saber tooth tiger.


Coral diseases largely result from human activities

(05/17/2007) The apparent increase in infectious disease among coral is likely the result of environmental change and, as such, researchers should focus on understanding the relationship between coral diseases and environmental changes, rather than the diseases themselves, argues a paper published in the August 2007 issue of the Journal of Experimental Marine Biology and Ecology.


Southern Ocean may not absorb more CO2 emissions

(05/17/2007) Climate change has weakened one the Earth's largest natural carbon 'sinks' raising the possibility that increased warming could reduce the capacity of some systems to absorb carbon dioxide, reports a study published this week in the journal Science.


California-sized area of snow melt spotted in Antarctica

(05/16/2007) NASA has found clear evidence of a California-sized area of snow melting in west Antarctica in January 2005 in response to warm temperatures.


Urban parks can offset warming effects of climate change says study

(05/14/2007) Increasing the number of urban parks and street trees in a city could offset the local heat effects of global warming, reports a new study by researchers at the University of Manchester.


Global warming to cause summer temperature spike in Eastern U.S.

(05/11/2007) NASA scientists warn that average summer temperatures in the eastern United States will climb as much as 10 degrees Fahrenheit by the 2080s as a result of human-induced global warming.


Climate shift in East Africa due to geology, not global climate change


(05/11/2007) A shift towards a drier climate in East Africa may be due to geological changes like the emergence of the Rift Valley, not global climate change suggests research published in the current issue of the journal Nature. Dr. Bonnie Jacobs, Chair of Environmental Science Program at Southern Methodist University (SMU) in Dallas, Texas, reports that the rise of the high Ethiopian plateau may have caused dramatic shifts in the region's vegetation.


Ocean 'burps' may have ended last ice ages

(05/10/2007) A University of Colorado at Boulder-led research team tracing the origin of a large carbon dioxide increase in Earth's atmosphere at the end of the last ice age has detected two ancient 'burps' that originated from the deepest parts of the oceans.


Reducing tropical deforestation will help fight global warming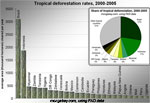 (05/10/2007) Scientists have lent support to a plan by developing countries to fight global warming by reducing deforestation rates. Tropical deforestation releases more than 1.5 billion metric tons of carbon into the atmosphere every year, though in some years, like the 1997-1998 el Nino year when fires released some 2 billion tons of carbon from peat swamps alone in Indonesia, emissions are more than twice that. Writing in the journal Science, an international team of scientists argue that the Reducing Emissions from Deforestation (RED) initiative, launched in 2005 by the United Nations Framework Convention on Climate Change, is scientifically and technologically sound, and that political and economic challenges facing the plan can be overcome.


NASA: U.S. may face extreme summer temperatures

(05/09/2007) A new NASA study warns that the eastern United States could experience extreme warming by 2080, with average summer temperatures rising 10 degrees Fahrenheit.


Global carbon cycle is key to understanding climate change

(05/09/2007) Despite its importance to mankind, the global carbon cycle is poorly understood. With concerns over climate change mounting, it becomes all the more imperative to understand how carbon is absorbed by the Earth's oceans, vegetation, and atmosphere.


Amazon rainforest locks up 11 years of CO2 emissions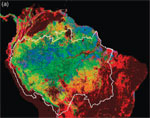 (05/08/2007) The amount and distribution of above ground biomass (or the amount of carbon contained in vegetation) in the Amazon basin is largely unknown, making it difficult to estimate how much carbon dioxide is produced through deforestation and how much is sequestered through forest regrowth. To address this uncertainty, a team of scientists from Caltech, the Woods Hole Institute, and INPE (Brazil's space agency), have developed a new method to determine forest biomass using remote sensing and field plot measurements. The researchers say the work will help them better understand the role of Amazon rainforest in global climate change.


North Atlantic circulation may be more sensitive to Greenland melting than thought

(05/08/2007) According to two international-research studies on the last ice age, studies with the participation of Dr Rainer Zahn, research professor in the ICREA at the UAB Institute of Environmental Science and Technology (ICTA), before the great ice sheets of the Arctic Ocean began to melt, early sporadic episodes of melting of the old ice sheet which covered the British Isles had already begun to affect the circulation of the ocean currents, which played a key role in the climatic stability of the planet. Based on this observation, scientists consider that the acceleration of the melting of the Greenland ice cap could play an important role in the future stability of ocean circulation and, hence, in the development of climate change.


Global warming will hurt migratory birds


(05/07/2007) 84 percent of migratory birds have the potential to be affected by climate change warned the United Nations Monday. Lowered water tables, changes in food supplies and prey range, rising sea levels, and increased storm frequency are the greatest threats to birds, said officials with the African Eurasian Migratory Waterbirds Agreement (AEWA) and the Convention on Migratory Species (CMS), two United Nations Environment Programme (UNEP)-led Treaties for the conservation of wildlife.


Global warming is killing coral reefs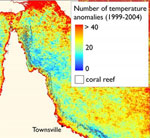 (05/07/2007) A new study provides further evidence that climate change is adversely affecting coral reefs. While previous studies have linked higher ocean temperatures to coral bleaching events, the new research, published in PLoS Biology, found that climate change may increasing the incidence of disease in Great Barrier Reef corals. Omniously, the research also shows that healthy reefs, with the highest density of corals, are hit the hardest by disease.


Tropical plants may be more adaptable to climate change

(05/07/2007) Tropical plants may be more adaptable to environmental change by extracting nitrogen from a variety of sources, reports a study published in the May 7 early online edition of The Proceedings of the National Academy of Sciences.



Page 1 | Page 2 | Page 3 | Page 4 | Page 5 | Page 6 | Page 7 | Page 8 | Page 9 | Page 10 | Page 11 | Page 12 | Page 13 | Page 14 | Page 15 | Page 16 | Page 17 | Page 18 | Page 19 | Page 20 | Page 21 | Page 22 | Page 23 | Page 24 | Page 25 | Page 26 | Page 27 | Page 28 | Page 29 | Page 30 | Page 31 | Page 32 | Page 33