News articles on climate change

---
Mongabay.com news articles on climate change in blog format. Updated regularly.








Climate coup: Rockefeller announces they are dropping fossil fuel investments

(09/22/2014) In 1870, John D. Rockefeller founded the Standard Oil Company. Rapidly becoming the world's largest oil refiner, Standard made Rockefeller a billionaire and one of the world's greatest philanthropists. 144 years later and John D. Rockefeller's descendants have announced they are stripping fossil fuels from the Rockefeller Brothers Fund, a private charity with around $860 million in assets.
Chinese now emit more carbon per capita than Europeans

(09/22/2014) Last year, the people of China emitted more carbon per person than those in the EU, according this year's Global Carbon Budget. The report, updated annually, also found that global emissions jumped 2.5 percent last year and are set to hit a record high of 40 billion tonnes this year. The findings highlight how little global society has done to stem emissions, despite numerous pledges and past global agreements.
Changing climate, changing conservation paradigms in Canada's boreal forests
(09/19/2014) Crackling heat and thick billowing smoke raced across the landscape. After weeks of scorching dry summer weather, the wildfire seemed to hungrily consume the earth. In northern Alberta, Canada, the Richardson fire of 2011 gained particular notoriety for ravaging nearly 700,000 hectares – and threatening the Athabasca oil sand development. Yet it is these very wildfires that are so crucial in shaping our boreal forests – which make up nearly one third of the world's forests.
World population could surpass 13 BILLION by the end of the century

(09/18/2014) By 2100, over 13 billion people could be walking the planet. That's the conclusion of a new study published today in Science, which employed UN data to explore the probability of various population scenarios. The new study further demolishes the long-held theory that human population growth will quit growing by mid-century and then fall.
The cheap option on climate change: recognize indigenous rights to forests
(09/18/2014) Since 2008, governments have invested $1.64 billion in funds to kick-start REDD+, or Reducing Emissions from Deforestation and Degradation, the global effort to conserve the world's forests in order to better mitigate climate change. However, a new report by the Rights and Resources Initiative (RRI) finds that same amount of money could have secured the legal rights of indigenous and local people to 450 million hectares of forest, an area 40 percent larger than India.
Thought wiped out by climate change, 'extinct' snail rediscovered in Seychelles
(09/09/2014) The Aldabra banded snail was declared extinct in 1997 as one of the world's first recorded direct casualties of climate change. But last month, a monitoring team found a population on one of the atoll's islands, surprising the team and giving hope that other species whose habitats are being degraded by climate change may still be able to cling to existence.
Australia cancels plan to dump dredge in Great Barrier Reef

(09/02/2014) A consortium of companies—North Queensland Bulk Ports, GVK Hancock and Adani Group—have announced they are giving up on a hugely-controversial plan to dump five million tonnes of dredged sediment in the Great Barrier Reef. The plans ran into considerable opposition from environment, conservation, and tourism groups who feared harm to the world's largest coral reef system.
More trouble with tar sands: oil extraction leading to big forest loss in Alberta
(08/29/2014) Tar sands operations have been the subject of much controversy over the past few years as expected economic gains for Canada the may come at the cost of environmental damage from the proposed Keystone XL pipeline and increased greenhouse gas emissions. Now another negative impact has come to light - deforestation of the boreal forest overlying the oil deposits.
Indonesia's children see ravaged environment in their future
(08/11/2014) A generation ago, Borneo was one of the wildest places on the planet. But decades of logging and oil palm plantations has changed the landscape of Borneo forever: in fact a recent study found that the island has lost 30 percent of its total forest cover since 1973. In the face of this large-scale environmental destruction, a new study finds that Indonesian Borneo's children have a pessimistic view of their future.
Desperate measures: researchers say radical approaches needed to beat extinctions
(07/24/2014) Today, in the midst of what has been termed the "Sixth Great Extinction" by many in the scientific community, humans are contributing to dizzying rates of species loss and ecosystem changes. A new analysis suggests the time may have come to start widely applying intensive, controversial methods currently used only as "last resort" strategies to save the word's most imperiled species.
Peru slashes environmental protections to attract more mining and fossil fuel investment
(07/23/2014) In an effort to kickstart investment in mining and fossil fuels, Peru has passed a controversial law that overturns many of its environmental protections and essentially defangs its Ministry of Environment. The new law has environmentalists not only concerned about its impact on the country but also that the measures will undermine progress at the up-coming UN Climate Summit in December.
'A high price to pay': new Indonesian peatland regulation may do more harm than good
(07/22/2014) The Government Regulation on Peatland Ecosystem Protection and Management, initially drafted by the Ministry of Forestry in 2013, is getting mixed acceptance from civil society. On one hand, the regulation would offer more protection to the country's vast peatland areas. However, on the other, some NGOs have slammed the draft as a potential source of new conflicts for local people.
Germany tops energy efficiency rating while U.S. remains stuck near the bottom

(07/21/2014) Two years after the first energy efficiency ranking report put out by the American Council for an Energy-Efficient Economy (ACEEE), and the U.S. still lags widely behind most of the world's other large economies. In the second report, the U.S. came in at number 13 out of 16 nations—even beaten by new-comer to the report, India—while Germany took the top spot.
Two years after coming into effect, Australia kills carbon tax

(07/17/2014) In a significant victory for Prime Minister Tony Abbott, the Australian Senate has voted to repeal the country's two-year-old carbon tax. Abbott made dismantling the tax one of the cornerstones of his campaign last September even as Australia remains one of the highest carbon emitters per capita in the industrialized world.
Scientists can now accurately count polar bears...from space

(07/17/2014) Polar bears are big animals. As the world's largest land predators, a single male can weigh over a staggering 700 kilograms (about 1,500 pounds). But as impressive as they are, it's difficult to imagine counting polar bears from space. Still, this is exactly what scientists have done according to a new paper in the open-access journal PLOS ONE.
Attack of the killer vines: lianas taking over forests in Panama
(07/14/2014) A worrying trend has emerged in tropical forests: lianas, woody long-stemmed vines, are increasingly displacing trees, thereby reducing forests' overall ability to store carbon. The study, recently published in Ecology, found several detrimental effects of increased liana presence.
Booming populations, rising economies, threatened biodiversity: the tropics will never be the same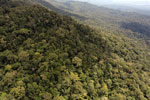 (07/07/2014) For those living either north or south of the tropics, images of this green ring around the Earth's equator often include verdant rainforests, exotic animals, and unchanging weather; but they may also be of entrenched poverty, unstable governments, and appalling environmental destruction. A massive new report, The State of the Tropics, however, finds that the truth is far more complicated.
Next big idea in forest conservation? The 'double-edged sword' of democracy
(07/03/2014) Dr. Douglas Sheil considers himself an ecologist, but his research includes both conservation and management of tropical forests. Currently teaching at the Norwegian University of Life Sciences (NMBU) Sheil has authored and co-authored over 200 publications including scholarly articles, books, and popular articles on the subject.
Unrelenting population growth driving global warming, mass extinction
(06/26/2014) It took humans around 200,000 years to reach a global population of one billion. But, in two hundred years we've septupled that. In fact, over the last 40 years we've added an extra billion approximately every dozen years. And the United Nations predicts we'll add another four billion—for a total of 11 billion—by century's end.
Super warm oceans make May the hottest on record

(06/26/2014) Last month was the warmest May on record, according to new data from the National Oceanic and Atmospheric Administration (NOAA). While global land surface temperatures were the fourth warmest, it was the ocean surface where things really heated up.
Global warming puts trillions at stake, but mitigation offers big economic gains

(06/25/2014) Two new reports this week look at the economics of global warming. The first, Risky Business, tallies the cost of climate change to the U.S., including tens-of-billions lost to destruction of coastal property, crop failures, drought, wildfires, and heatwaves. In contrast, the second report, by the World Bank, turns climate change economics on its head.
Study finds tiny cloud forests have big biodiversity
(06/24/2014) Tropical cloud forests are situated in mountains and are characterized by the frequent presence of low-level clouds. Scientists have always regarded them as having high biodiversity, but a recent study adds a new dimension: it found cloud forests contain a significant and surprising array of tree and bromeliad species, even when they are relatively small.
'Borne by the rest of the world': deforestation has global impact, reduces food security
(06/13/2014) Research indicates that areas with more forest cover tend to have superior food resilience compared to areas with less. In addition, the loss of forest cover to deforestation has long-term impacts not only locally, but also globally. These topics were discussed by international experts during the 2020 Conference on Building Resilience for Food and Nutrition Security, held last month in Addis Ababa, Ethiopia.
What's an environmental journalist to do with so much good news?
(06/12/2014) As an environmental journalist covering stories from the great Arctic ice melt to the rhino poaching crisis in Africa, you'll forgive me if sometimes in the morning—before I turn my computer on—I have a sudden desire to spend a few extra minutes in bed or have a leisurely breakfast with my daughter or just sit in the back yard with a cup of tea and a good book.
EPA carbon proposal may be crucial step in addressing global climate change

(06/10/2014) The U.S. Environmental Protection Agency's (EPA) June 2nd regulation proposal hit all the expected chords. Following on the heels of a January regulation for new power plants, the Clean Power Plan focuses on all existing electric generation. By 2030, the plan aims to reduce 2005-level carbon dioxide emissions by 30 percent.
Tree-huggers: koalas cuddle up to keep cool
(06/06/2014) For animals that live in places that are both hot and dry, using valuable water stores to cool off via evaporation may put them at risk of dehydration. Now, as described in a new study published in Biology Letters, it seems that koalas have figured out a way to stay both cool and dry: by hugging trees.
Ignoring boreal forests could speed up global warming
(06/04/2014) Greenhouse gas emissions from human activity have caused global air and sea surface temperatures to rise approximately 0.8 Celsius (1.4 degrees Fahrenheit) since the beginning of the 20th century, contributing to a plethora of problems worldwide from rising sea levels to desertification. A new study finds that global temperatures may start to increase even faster if more is not done to protect Earth's boreal forests.
Upcoming EPA Proposal could put America back on track to lead on global warming
(05/27/2014) A regulation proposal on coal plants that the U.S. Environmental Protection Agency (EPA) will release in June could be great news for the climate change initiative. The EPA rolled out tough regulations on new constructions of electric generation facilities in January, but the nation's 1,500 existing power plants were left unaffected.
April ties for warmest on record
(05/27/2014) Globally, this April was a scorcher, tying with 2010 for the warmest April on record, according to new data released by the National Oceanic and Atmospheric Administration (NOAA) last week. This makes 2014, to date, the sixth warmest year on record going back to 1880 when comparing the first four months.
Extreme cold and drought in U.S. linked to climate change
(05/23/2014) The U.S. Midwest and Northeast experienced one of the coldest, snowiest winters on record this past season. This might seem contrary to warming trends forecast by climate scientists, but a new analysis released today in Science points out that climate change caused by greenhouse gas emissions may actually have contributed to the well-below average temperatures seen in parts of the U.S.
Climate change's ominous secret
(05/21/2014) Climate change is happening and humans are causing it, primarily from the increase in atmospheric carbon dioxide caused by burning fossil fuels. This much we know. The 'secret' comes from changes happening in the fast-warming Arctic: we may be surprisingly close to an Earth that supports far fewer humans than it does today.
Tipping point already reached? West Antarctica in slow-motion, unstoppable melt
(05/14/2014) Two hundred years from now, the planet could look very different. This week two landmark studies revealed that West Antarctica's ice sheet is in a state of seemingly inevitable collapse linked to climate change. The slow-motion collapse would by itself eventually lead to a rise in global levels of 3.6-4.5 meters (12-15 feet).
Underwater horrors: shells of marine life melting off the coast of the U.S.
(05/08/2014) It could be the plot of a horror movie: humans wake up one day to discover that chemical changes in the atmosphere are dissolving away parts of their bodies. But for small marine life known as sea butterflies, or pteropods, this is what's happening off the West Cost of the U.S. Increased carbon in the ocean is melting away shells of sea butterflies.
Stanford kicks coal out of its $18 billion endowment
(05/07/2014) The fossil fuel divestment campaign won a major victory today as Stanford University announced it would drop coal companies from its massive $18.7 billion endowment, the fourth largest of any American university. The action follows a petition by student group Fossil Free Stanford and five months of research by Stanford's Advisory Panel on Investment Responsibility and Licensing.




Page 1 | Page 2 | Page 3 | Page 4 | Page 5 | Page 6 | Page 7 | Page 8 | Page 9 | Page 10 | Page 11 | Page 12 | Page 13 | Page 14 | Page 15 | Page 16 | Page 17 | Page 18 | Page 19 | Page 20 | Page 21 | Page 22 | Page 23 | Page 24 | Page 25 | Page 26 | Page 27 | Page 28 | Page 29 | Page 30 | Page 31 | Page 32 | Page 33 | Page 34