News articles on climate change

---
Mongabay.com news articles on climate change in blog format. Updated regularly.








Japan throws down gauntlet, vows to cut greenhouse gas emissions 25 percent by 2020

(09/07/2009) The new prime minister of Japan, Yukio Hatoyama, has thrown down the gauntlet to other industrialized nations in the lead-up to the UN Climate Change Summit in Copenhagen this December. He had pledged to cut his nation's greenhouse gas emissions 25 percent from 1990 levels (the set date for the Kyoto Treaty) by 2020.
Sea levels set to rise as Arctic warming replaces millennia long natural cooling cycle
(09/03/2009) According to a new study published in Science the Arctic should be cooling, and in fact has been cooling for millennia. But beginning in 1900 Arctic summer temperatures began rising until the mid-1990s when the cooling trend was completely overcome. Researchers fear that this sudden up-tick in temperatures could lead to rising sea levels threatening coastal cities and islands. "Scientists have known for a while that the current period of warming was preceded by a long-term cooling trend," said lead author Darrell Kaufman of Northern Arizona University. "But our reconstruction quantifies the cooling with greater certainty than ever before."
Summer sea ice likely to disappear in the Arctic by 2015

(08/31/2009) If current melting trends continue, the Arctic Ocean is likely to be free of summer sea ice by 2015, according to research presented at a conference organized by the National Space Institute at Technical University of Denmark, the Danish Meteorological Institute and the Greenland Climate Center.
Greenhouse gas emissions drop in the EU for the fourth year in a row

(08/31/2009) In 2008 greenhouse gas emissions in the EU fell 1.3 percent, the European Environment Agency (EEA) said today. This figure measures only the emissions in the 15 EU countries that have commitments to reduce emissions, however when all 27 members of the EU are included, greenhouse gas emissions actually fell further: 1.5 percent.
Cost of climate change adaptation to be 2-3 times higher than current estimates

(08/27/2009) The cost of adapting to climate change will be significantly higher than estimated by the UN Framework Convention on Climate Change (UNFCCC) warns a new report published by the International Institute for Environment and Development and the Grantham Institute for Climate Change at Imperial College London.
The Pope: "creation is under threat"

(08/26/2009) Pope Benedict XVI spoke today on environmental issues, singling out the importance of a September U.N. summit in New York to work on negotiations for an international framework to tackle climate change, preparing for the U.N. Conference on Climate Change in Copenhagen in December.
Environmental disappointments under Obama

(08/24/2009) While the President has been bogged down for the last couple months in an increasingly histrionic health-care debate-which has devolved so far into ridiculousness that one doesn't know whether to laugh or cry-environmental decisions, mostly from the President's appointees have still been coming fast and furious. However, while the administration started out pouring sunshine on the environment (after years of obfuscated drudgery under the Bush administration), they soon began to move away from truly progressive decisions on the environment and into the recognizable territory of playing it safe-and sometimes even stupid.
Record global ocean temperature in July

(08/19/2009) The world's ocean surface temperature was the warmest on record for July, breaking the previous record set in 1998, reports NOAA's National Climatic Data Center. At 62.56°F (16.99°C), ocean temperatures were 1.06°F (0.59°C) above the 20th century average.
Economic crisis threatens conservation programs and endangered species, an interview with Paula Kahumbu of WildlifeDirect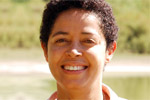 (08/17/2009) Founded in 2004 by legendary conservationist Richard Leakey, WildlifeDirect is an innovative member of the conservation community. WildlifeDirect is really a meta-organization: it gathers together hundreds of conservation initiatives who blog regularly about the trials and joys of practicing on-the-ground conservation. From stories of gorillas reintroduced in the wild to tracking elephants in the Okavango Delta to saving sea turtles in Sumatra, WildlifeDirect provides the unique experience of actually hearing directly from scientists and conservationists worldwide.
China moves forward on global warming: top scientists recommend emissions peak in 2030
(08/17/2009) In a move that many have seen as a step forward for China in terms of its willingness to combat climate change, the nation's top climatologists have released a report recommending that China begin drawing down greenhouse gas emissions after 2030. The report comes just four months before a widely anticipated global meeting to set up a new international framework to combat climate change in Copenhagen, Denmark.
Climate change will challenge US military

(08/11/2009) US military intelligence analysts claim that climate change will present significant strategic issues around the world. The increased occurrences and severity of storms, droughts, resource shortages, and the spread of disease are all linked to climate change.
Photos: hundreds of new species discovered in Himalayan region, threatened by climate change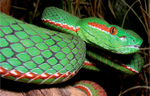 (08/10/2009) Scientists from a variety of organizations have found over 350 new species in the Eastern Himalayas, including a flying frog, the world's smallest deer, and a gecko which has walked the earth for 100-million-years, according to a new report by the World Wildlife Fund (WWF). The report, entitled Where World's Collide, warns that these rare biological treasures, as well as numerous other species, are threatened in the Eastern Himalayas by climate change.
Global ocean temperatures at warmest level since 1880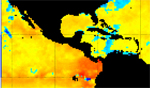 (07/21/2009) Global ocean temperatures rose to the warmest on record, according to data released last week by the National Oceanic and Atmospheric Administration (NOAA). The combined average global land and ocean surface temperature for June was second-warmest since global recording-keeping began in 1880. NOAA also reported a return of el Niño, raising the prospect of dryness—and risk of forest fires—in Southeast Asia.
A Tasmanian tragedy? : How the forestry industry has torn an island apart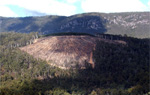 (07/02/2009) This is by no means a new battle: in fact, Tasmanian industrial foresters and environmentalists have been fighting over the issue of clearcutting the island's forests for decades. The battle—some would probably prefer 'war'—is over nothing less than the future of Tasmania. Some Tasmanians see the rich forests that surround them in terms of income, dollars and cents; they see money literally growing on trees, or more appropriately growing on monoculture plantations and government owned native forests. They see the wilderness of Tasmania as an exploitative resource.
Russia pledges to raise carbon emissions to combat global warming

(06/25/2009) In a bizarre announcement that threatens to further weaken the international community's ability to come together on climate change, Russia has said it will reduce its emissions 10-15 percent from 1990 levels by 2020. The problem is that in 1990 Russia's carbon emissions were much higher than they are today, so this 'lowering' of carbon emissions actually means that Russia will raise its emissions by 2 to 2.5 percent annually until 2020.
Massive deforestation in the past decreased rainfall in Asia
(06/25/2009) Between 1700 and 1850 forest cover in India and China plummeted, falling from 40-50 percent of land area to 5-10 percent. Forests were cut for agricultural use across Southeast Asia to feed a growing population, but the changes from forests to crops had unforeseen consequences. A new study published in the Proceedings of the National Academy of Sciences links this deforestation across Southeast Asia with changes in the Asian Monsoon, including significantly decreased rainfall.
Wind could power the entire world

(06/22/2009) Wind power may be the key to a clean energy revolution: a new study in the Proceedings of the National Academy of Science finds that wind power could provide for the entire world's current and future energy needs.
New report predicts dire consequences for every U.S. region from global warming
(06/17/2009) Government officials and scientists released a 196 page report detailing the impact of global warming on the U.S. yesterday. The study, commissioned in 2007 during the Bush Administration, found that every region of the U.S. faces large-scale consequences due to climate change, including higher temperatures, increased droughts, heavier rainfall, more severe weather, water shortages, rising sea levels, ecosystem stresses, loss of biodiversity, and economic impacts.
Will jellyfish take over the world?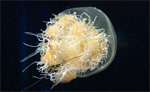 (06/16/2009) It could be a plot of a (bad) science-fiction film: a man-made disaster creates spawns of millions upon millions of jellyfish which rapidly take over the ocean. Humans, starving for mahi-mahi and Chilean seabass, turn to jellyfish, which becomes the new tuna (after the tuna fishery has collapsed, of course). Fish sticks become jelly-sticks, and fish-and-chips becomes jelly-and-chips. The sci-fi film could end with the ominous image of a jellyfish evolving terrestrial limbs and pulling itself onto land—readying itself for a new conquest.
Photo: guano stains helps researchers track penguins by satellite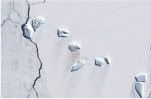 (06/10/2009) Researchers from the British Antarctic Survey (BAS) have uncovered a novel way to locate the world's largest penguin's breeding sites, employing satellite imagery they seek out Emperor penguin guano, droppings which show up starkly on the otherwise unsullied white sea ice of Antarctica. Searching for the penguins themselves had proven too difficult, since the birds' black-and-white coloring allowed them to blend in with the shadows made by the ice. The penguin droppings however are light-brown—a colors that has no other source on sea ice, besides guano.
Burning fossil fuels is disrupting nitrogen cycle

(06/04/2009) The burning of fossil fuels has disrupted the nitrogen cycle by altering that amount of nitrogen in the biosphere, according to scientists from Brown University and the University of Washington. It has long been known that fossil fuel combustion releases nitric oxides into the air—which combine with other elements to form both smog and acid rain—but until now scientists have been unsure as to the extent nitric oxide emissions have affected the natural nitrogen cycle.
Bill Clinton speaks out for rainforests in Brazil

(06/03/2009) Former US president Bill Clinton spoke out against rainforest destruction on Monday in Brazil. Headlining the Ethanol Summit 2009 in Sao Paulo, Clinton spoke of the positive role ethanol could play in lowering carbon emissions, but not when at the expense of rainforest.
Network of parks can save Africa's birds in warmer world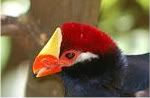 (06/02/2009) As Africa's birds are forced to move habitats due to climate change, a new study finds that the continent's current park system will continue to protect up to 90 percent of bird species. "We looked at bird species across the whole network of protected areas in Africa and the results show that wildlife conservation areas will be essential for the future survival of many species of birds," said Dr. Stephen Willis from Durham University. "Important Bird Areas (IBAs) will provide new habitats for birds that are forced to move as temperatures and rainfall change and food sources become scarce in the areas where they currently occur. Protected areas are a vital conservation tool to help birds adapt to climate change in the 21st century."
US responsible for 29 percent of greenhouse gas emissions over past 150 years

(05/31/2009) In the past 150 years, the United States has emitted more greenhouse gas emissions than any other nation in the world, according to a recent report by Greenpeace. In fact, US emissions account for 29 percent of the world's total since the mid-1800s. The US emitted 328,264 million metric tons of carbon dioxide (MtCO2) in the past 150 years, which is over 3 times the amount emitted by China in the same century-and-a-half.
Rich countries buy up agricultural land in poor countries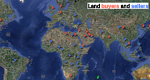 (05/26/2009) Over two-and-half million hectares in the Democratic Republic of the Congo; half a million hectares in Tanzania; and a quarter of a million hectares in Libya: these figures represent just some of the recent international land deals where wealthy countries buy up land in poorer nations for food, and sometimes biofuel, production. The controversial trend has sparked a recent report from the International Food Policy Research Institute (IFPRI) highlighting what nations have to gain—and lose—from participating in such deals.
Green groups, corporations call for forest conservation to counter global warming
(05/20/2009) A group of leading U.S. businesses and environmental groups today formed a coalition calling for the inclusion of forest conservation in domestic cap-and-trade legislation. The pact endorses policies that would allow companies to receive credit for reducing emissions by financing activities that protect forests in tropical countries. It also calls for five percent of proceeds from the auctioning of greenhouse gas emissions allowances under a cap-and-trade system to go towards funding forest conservation projects.
Global warming estimates double in severity according to new MIT modeling

(05/20/2009) Employing the MIT Integrated Global System Model, scientists have found that global warming could be more than twice as severe as previous estimates six years ago. The MIT Integrated Global Systems Model, which uses computer simulations to analyze the relationship between climatic changes and the global economy, found during 400 runs of the model that there is a 90 percent probability that temperatures will have risen 3.5 to 7.4 degrees Celsius by the end of the century.
Study refutes criticism of polar bear listing under the Endangered Species Act

(05/20/2009) In May 2008 the Bush Administration listed the polar bear under the Endangered Species Act (ESA). The listing immediately received allegations of being politically biased and not based on sound science. However, a new paper addresses the allegations point by point and concludes that the decision to add the polar bear under the ESA was not only scientifically sound, but right.
Global warming pushes mammals north in Michigan

(05/14/2009) A new study shows that mammals in the state of Michigan are moving north because of climate change, pushing out other species on the way. Researchers studied the distribution and population of nine small mammals from live-trapping data over 30 years and notes from research museums covering the past hundred years. They utilized over 14,000 records covering the nine species.
Blue whales return to migration pattern used before commercial whaling
(05/13/2009) The blue whale may be returning to a migration route that it abandoned during commercial whaling. Researchers have discovered whales migrating from California to the coastlines of British Columbia and the Gulf of Alaska for the first time since 1965. Fifteen different cases of whales have been recorded in the north Pacific; four of the whales were individuals who had been viewed off the coast of California, as well.
Bioelectricity bests ethanol on two fronts: land use and global warming

(05/07/2009) Yesterday the Obama Administration established a Biofuels Interagency Working Group to oversee implementation of new rules and research regarding biofuels. On the group's first day of work they would do well to look at a new study in Science Magazine comparing the efficacy of ethanol versus bioelectricity.
Prince Charles' new online initiative for rainforests makes media splash

(05/06/2009) Releasing a video with as many species of celebrity as ants in the rainforest, while simultaneously turning to online sites such as MySpace and YouTube, appears to have worked for Prince Charles, a longtime advocate of rainforest conservation. His conservation organization's new outreach to online users has garnered considerable coverage from the international media.
Canada and Britain abandon conventional coal

(04/29/2009) In an effort to curb climate change, both Britain and Canada have announced plans to stop building new conventional coal power plants, a move long-advocated by environmentalists. Both nations have turned their sights to the possibility of clean coal, a controversial and still unproven method that has divided environmentalists, scientists, and policy makers.
Global warming to cripple Southeast Asia economically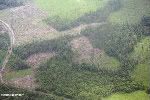 (04/28/2009) By the end of the century nations in Southeast Asia will face debilitating economic loss due to global warming, according to a new study from the Asian Development Bank. Analyzing Indonesia, Philippines, Thailand, and Vietnam the study found that they could suffer an annual loss of 6.7 percent ($230 billion dollars) in combined gross domestic product by 2100, more than double the global average which is estimated at a loss of 2.6 percent.
Tropical storms affect carbon sinks by knocking down forests

(04/27/2009) Studying nearly a hundred and fifty years of tropical storm landfalls in the United States, researchers have discovered that the storm systems have a sizable impact on forest carbon sinks due to the large-scale destruction of trees.
Fire contributes 20% of global warming emissions

(04/23/2009) Fire accounts for roughly half of greenhouse gas emissions from deforestation and about twenty percent of total emissions from human activities, report researchers writing in the journal Science. The estimates — based on analysis of fire's impact on emissions of carbon dioxide, nitrous oxide, and methane; albedo or the reflectivity of Earth's surface; and release of aerosols and other particulates — suggest fire plays a major large role in climate than conventionally believed.
Antarctica's sea ice increasing due to ozone hole, but scientists predict global warming will catch-up

(04/23/2009) Increasing ice in Antarctica is not a sign that the earth is actually cooling instead of warming as some climate change-skeptics have attested. A new study finds that the growth in Antarctic ice during the last 30 years is actually due to shifting weather patterns caused by the hole in the ozone layer. The researchers predict that eventually global warming will catch up to Antarctica leading to overall melting as it has in the Arctic.
River systems worldwide are losing water due to global warming

(04/22/2009) Many rivers around the world are losing water due to global climate change, according to a new study from the American Meteorological Society's Journal of Climate. Large populations depend on some of the rivers for everything from agriculture to clean drinking resources, including the Yellow River, the Ganges, the Niger, and the Colorado, which have all shown significant declines.
Colorado River unlikely to meet current water demands in warmer, drier world

(04/20/2009) Feeding the water habits of such major cities as Los Angeles, Las Vegas, and Phoenix, in addition to providing irrigation waters for the entire Southwestern United States, has stretched the Colorado River thin. The river no longer consistently reaches the sea as it once did. Now a new study warns that the Colorado River system, which has proven dependable for human use throughout the 20th Century, may soon experience shortages due to global warming.
Global warming could turn forests from sink to source of carbon emissions
(04/16/2009) Rising temperatures could reverse the role forests play in mitigating climate change, turning them into net sources of greenhouse gases, reports a new assessment by the International Union of Forest Research Organizations (IUFRO). The report, titled "Adaptation of Forests and People to Climate Change – A Global Assessment" and authored by 35 forestry scientists, examined the potential impacts of climate change across the world's major forest types as well as the capacity of forest biomes to adapt to climate shifts. Among the conclusions: a 2.5-degree-C rise in temperatures would eliminate the net carbon sequestering function of global forests. Presently forests worldwide capture about a quarter of carbon emissions.




Page 1 | Page 2 | Page 3 | Page 4 | Page 5 | Page 6 | Page 7 | Page 8 | Page 9 | Page 10 | Page 11 | Page 12 | Page 13 | Page 14 | Page 15 | Page 16 | Page 17 | Page 18 | Page 19 | Page 20 | Page 21 | Page 22 | Page 23 | Page 24 | Page 25 | Page 26 | Page 27 | Page 28 | Page 29 | Page 30 | Page 31 | Page 32 | Page 33