News articles on climate change

---
Mongabay.com news articles on climate change in blog format. Updated regularly.






Why seed dispersers matter, an interview with Pierre-Michel Forget, chair of the FSD International Symposium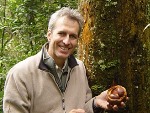 (03/07/2010) There are few areas of research in tropical biology more exciting and more important than seed dispersal. Seed dispersal—the process by which seeds are spread from parent trees to new sprouting ground—underpins the ecology of forests worldwide. In temperate forests, seeds are often spread by wind and water, though sometimes by animals such as squirrels and birds. But in the tropics the emphasis is far heavier on the latter, as Dr. Pierre-Michel Forget explains to mongabay.com. "[In rainforests] a majority of plants, trees, lianas, epiphytes, and herbs, are dispersed by fruit-eating animals. […] As seed size varies from tiny seeds less than one millimetres to several centimetres in length or diameter, then, a variety of animals is required to disperse such a continuum and variety of seed size, the smaller being transported by ants and dung beetles, the larger swallowed by cassowary, tapir and elephant, for instance."
Massive methane leak in Arctic could trigger abrupt warming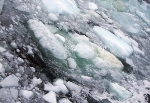 (03/04/2010) Methane, a greenhouse gas 30 times more potent than carbon, is spewing from what was believed to be an impermeable barrier in Siberia in amounts equal to methane releases from the world's oceans. The discovery has lead researchers to fear the possibility of abrupt climate warming. According to the study published in Science, subsea permafrost below the East Siberian Arctic Shelf has become compromised, leaking vast amounts of methane into the atmosphere.
Photos: Madagascar's wonderful and wild frogs, an interview with Sahonagasy

(03/03/2010) To save Madagascar's embattled and beautiful amphibians, scientists are turning to the web. A new site built by herpetologists, Sahonagasy, is dedicated to gathering and providing information about Madagascar's unique amphibians in a bid to save them from the growing threat of extinction. "The past 20 years have seen resources wasted because of a poor coordination of efforts," explains Miguel Vences, herpetologist and professor at the Technical University of Braunschweig. "Many surveys and reports have been produced that were never published, many tourists found and photographed amphibians but these photos were not made available to mapping projects, many studies carried out by Malagasy students did not make use of literature because it was not available."
Healthy coral reefs produce clouds and precipitation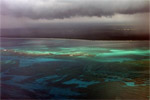 (03/03/2010) Twenty years of research has led Dr. Graham Jones of Australia's Southern Cross University to discover a startling connection between coral reefs and coastal precipitation. According to Jones, a substance produced by thriving coral reefs seed clouds leading to precipitation in a long-standing natural process that is coming under threat due to climate change.
Polar bears are newcomers on the world stage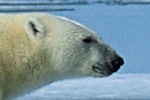 (03/01/2010) One of the most well-known animals, the polar bear, is a newcomer on the world stage, according to research published in the Proceedings of the National Academy of Sciences. By studying the DNA of an ancient polar bear jawbone uncovered in 2004 in Norway scientists have for the first time pinpointed the time when the polar bear split from its closest relative, the brown bear. "Our results confirm that the polar bear is an evolutionarily young species that split off from brown bears some 150,000 years ago and evolved extremely rapidly during the late Pleistocene, perhaps adapting to the opening of new habitats and food sources in response to climate changes just before the last interglacial period."
How that cork in your wine bottle helps forests and biodiversity, an interview with Patrick Spencer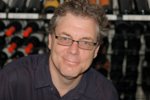 (03/01/2010) Next time you're in the supermarket looking to buy a nice bottle of wine: think cork. Although it's not widely known, the cork industry is helping to sustain one of the world's most biodiverse forests, including a number of endangered species such as the Iberian lynx and the Barbary deer. Spreading across 6.6 million acres in southern Europe (France, Spain, Portugal, and Italy) and northern Africa (Algeria, Morocco, and Tunisia) oak cork trees Quercus suber are actually preserved and protected by the industry.
UN to appoint independent board to audit the IPCC

(02/26/2010) The U.N. will appoint an independent board of scientists to review the Intergovernmental Panel on Climate Change (IPCC), the embattled U.N. climate body charged with evaluating the risk of climate change caused by human activity, reports Reuters.
Galapagos fur seals exploit warmer waters to establish colony off Peru

(02/25/2010) As suggested by their name, the Galapagos fur seals were once endemic to the Galapagos island chain off the coast of Ecuador. But in a warming world species are on the move, and the Galapagos fur seal is no exception. According to a recent story in Reuters the Galapagos fur seals have established what appears to be a permanent colony off the coast of Peru, 900 miles from their home.
James Inhofe is not a climatologist: a journalist's perspective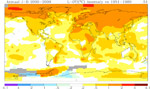 (02/25/2010) As a child when I came down with pneumonia my parents did not rush me to see a policeman, a cattle rancher, or a local businessman. Instead they took me to see a medical doctor—someone who had studied that science for at least twelve years—and I was quickly given injections and put on antibiotics. Thanks to my parents' ability to tell the difference between experts and non-experts, I survived.
Grizzly bears move into polar bear territory, threatening polar cubs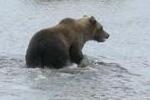 (02/24/2010) Two of the world's largest land carnivores are converging on the same territory, according to data recently published in Canadian Field Naturalist. Grizzly bears ( Ursus arctos horribilis) are moving into an area that has long been considered prime polar bear habitat in Manitoba, Canada. Although polar bears (Ursus maritimus) are bigger than their grizzly relatives—they are the world's largest land carnivores—biologists are concerned that grizzlies will kill polar cubs, further threatening the polar bear, which is already thought to be imperiled by ice loss in the Arctic.
"No change whatsoever" in scientists' conviction that climate change is occurring

(02/22/2010) Despite some politicians and TV personalities claiming that climate change is dead, a panel of influential US and European scientists held a press conference at the annual meeting of the American Association for the Advancement of Science to set the record straight on the state of the science and the recent media frenzy against climate change. "There has been no change in the scientific community, no change whatsoever" in the consensus that globally temperatures are rising, said Gerald North, professor of atmospheric sciences at Texas A&M University. Recent data has shown that the decade from 2000-2009 was the warmest decade on record.
Humans push half of the world's primates toward extinction, lemurs in particular trouble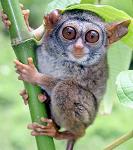 (02/18/2010) Of the known 634 primate species in the world 48 percent are currently threatened with extinction, making mankind's closes relatives one of the most endangered animal groups in the world. In order to bring awareness to the desperate state of primates, a new report by the International Union for the Conservation of Nature highlights twenty-five primates in the most need of rapid conservation action. Compiled by 85 experts the report, entitled Primates in Peril: The World's 25 Most Endangered Primates, 2008–2010, includes six primates from Africa, eleven from Asia, three from Central and South America, and five from the island of Madagascar.
Decline in fog threatens California's iconic redwood ecosystems

(02/15/2010) A surprising new study finds that during the past century the frequency of fog along California's coast has declined by approximately three hours a day. Published in the Proceedings of the National Academy of Sciences the researchers are concerned that this decrease in fog threatens California's giant redwoods and the unique ecosystem they inhabit.
Bill Gates: ban coal and invest in clean energy technology

(02/12/2010) The planet needs "energy miracles" to overcome the dual challenges of meeting energy demand and addressing climate change, said Microsoft founder Bill Gates during a speech Friday at the TED Conference in Long Beach, California.
Desertification threatens 38 percent of the world

(02/10/2010) Over one third of the world's land surface (38 percent) is threatened with desertification, according to a new study published in theInternational Journal of Life Cycle Assessment. The study found that eight of fifteen eco-regions are threatened by desertification, including coastal areas, the prairies, the Mediterranean region, the savannah, the temperate steppes, the temperate deserts, tropical and subtropical steppes, and the tropical and subtropical deserts.
Forest conservation in U.S. climate policy: an interview with Jeff Horowitz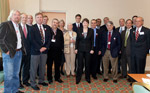 (02/05/2010) The Copenhagen Accord signed in December is widely seen as a disappointment. The Accord set no binding targets for greenhouse gas emissions targets and did not even commitment to a legally binding treaty in the future. Serious work is needed to bring the process back on track. But some progress was made. Countries agreed on international monitoring of emissions (a point of conflict between China and the United States) and funding (rich countries pledged $3 billion a year for the next three years and up to $100 billion a year by 2020) for mitigation and adaptation in developing countries. Furthermore, there were gains for the REDD mechanism, a U.N.-backed plan to compensate developing countries for reducing emissions from deforestation and degradation.
The Amazongate fiasco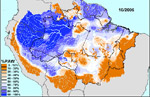 (02/03/2010) A claim published in the Sunday Times over the veracity of a statement published in an Intergovernmental Panel on Climate Change (IPCC) report may land the British newspaper in hot water. On Sunday, Jonathan Leake, Science & Environment Editor of the Sunday Times, accused the IPCC of making a "bogus rainforest claim" when it cited a report warning that up to 40 percent of the Amazon could be "drastically" affected by climate change. Climate change skeptics immediately seized on "Amazongate" as further evidence to discredit the IPCC just two weeks after it was found to be using shoddy glacier data in its 2007 climate assessment.
Rainforest expert agrees with IPCC: warns of 'tipping point' for Amazon
(02/03/2010) Amid questions over the Amazon forests' capacity to survive climate change, a renowned tropical biologist says that in fact the fears are real, reports Tierramerica. Speaking at the Biodiversity Science Policy Conference in Paris, Thomas Lovejoy, biodiversity chair at the Washington DC-based Heinz Center for Science, Economics and the Environment, and chief biodiversity adviser to the president of the World Bank, described the Amazon rainforest as "very close to a tipping point".
NASA: Arctic melt season lengthening

(02/03/2010) Newly released images from NASA and the National Snow and Ice Data Center show that the Arctic's melt season has lengthened significantly over the past few decades.
Could special bonds fund the green revolution and stabilize the climate?
(02/02/2010) There is no question that governments around the world are moving slowly and sluggishly to combat climate change, especially when placed against the measures recommended by climate scientists. Only a handful of nations have actually cut overall greenhouse gas emissions, and the past couple decades have seen emissions rise rapidly worldwide as nations like India and China industrialize while Brazil and Indonesia continue massive deforestation. Global temperatures are rising in concert (though with natural fluctuations): the past decade is the warmest on record. After the failure of Copenhagen this past December to produce an ambitious and binding treaty, many are wondering if the world will ever address the threat of climate change or if future generations are set to live in a world far different—and more volatile—than the one we currently enjoy.
On World Wetland's Day bad news for America's iconic ducks

(02/02/2010) World Wetland Day 2010 brings with it new research on America's prairie wetlands and bad news for the country's waterfowl. A new study in BioScience finds that America's prairies are greatly susceptible to climate change: a warmer and drier prairie will desiccate wetlands needed by ducks and other waterfowl for food, shelter, and breeding.
Photos: New tropical frog undergoes remarkable transformation

(02/01/2010) Nature never runs out of surprises. Exploring Sudest Island off of Papua New Guinea, researchers discovered a new species of frog that drastically changes its appearance from juvenile to adulthood, a transformation that has never been seen in another frog.The new species, named Oreophryne ezra, is shiny black with bright yellow spots. Yet when it matures, the frog becomes rose-colored and even its eyes change from black to blue.
White roofs could cool cities

(01/28/2010) Painting urban roofs white could effectively counteract some of the urban heat-island effect and even lower greenhouse gas emissions in cities, reports a new study in Geophysical Research Letters.
Will it be possible to feed nine billion people sustainably?

(01/28/2010) Sometime around 2050 researchers estimate that the global population will level-out at nine billion people, adding over two billion more people to the planet. Since, one billion of the world's population (more than one in seven) are currently going hungry—the largest number in all of history—scientists are struggling with how, not only to feed those who are hungry today, but also the additional two billion that will soon grace our planet. In a new paper in Science researchers make recommendations on how the world may one day feed nine billion people—sustainably.
Scientists call for research on geoengineering scheme to block sunlight

(01/27/2010) The idea goes something like this: nations would send megatons of light-scattering aerosol particles into the globe's upper atmosphere, significantly reducing sunlight reaching the earth and thereby immediately cooling the Earth. While the idea may sound like science-fiction—or desperate, depending on your opinion—researchers writing in Science say that it may be one of the best ways to lower the Earth's temperature. They argue that international research and field testing of the idea, known as solar-radiation management (SRM), should begin immediately.
Iceland leads world on environmental issues, but China, US, and Canada plummet

(01/27/2010) Evaluating 163 nations on their environmental performance, the Environmental Performance Index (EPI) has named Iceland the most environmental nation. Released every two years, the EPI also found that the world's two largest super-powers—China and the US—have both fallen behind on confronting environmental challenges.
The warmest decade on record

(01/27/2010) The 2000s were the warmest decade on record according to analysis by NASA's Goddard Institute for Space Studies (GISS).
NASA: 2009 second warmest year on record

(01/24/2010) According to NASA's Goddard Institute for Space Studies (GISS), last year was tied for the second warmest year on record after 2005, the warmest year on record. If just looking at the southern hemisphere, however, 2009 proved the warmest yet recorded since record-taking began in 1880. Overall 2009 tied a total of five other years—four from the 2000s—for the second warmest on record. But, researchers say what is most important was that the past decade, from January 1st 2000 to December 31st 2009, proved the warmest on record.
New study: overhunting by humans killed off Australia's megafauna

(01/21/2010) For over a century and a half researchers have debated whether humans or climate change killed off Australia's megafuana. A new paper in Science argues with new evidence that Australia's giant marsupials, monstrous reptiles, and large flightless birds were brought to extinction not by an unruly climate, but by the arrival of humans.
Photos: park in Ecuador likely contains world's highest biodiversity, but threatened by oil

(01/19/2010) In the midst of a seesaw political battle to save Yasuni National Park from oil developers, scientists have announced that this park in Ecuador houses more species than anywhere else in South America—and maybe the world. "Yasuní is at the center of a small zone where South America's amphibians, birds, mammals, and vascular plants all reach maximum diversity," Dr. Clinton Jenkins of the University of Maryland said in a press release. "We dubbed this area the 'quadruple richness center.'"
Photos: expedition in Ecuador reveals numerous new species in threatened cloud forest

(01/14/2010) An expedition into rainforests on Ecuador's coast by Reptile & Amphibian Ecology International (RAEI) have revealed a number of possible new species including a blunt-snouted, slug-eating snake; four stick insects; and up to 30 new 'rain' frogs. The blunt-snouted snake, which feeds on gastropods like slugs, is especially interesting, as its closest relative is in Peru, 350 miles away. In addition, a fifteen-year-old volunteer with the organization found a snake that specializes on snails. The researchers are unsure of this is a new species: the closest similar snake is 600 miles away in Panama.
Climate change pushes massive Antarctic glacier past tipping point

(01/14/2010) A new study shows that a major Antarctic glacier has likely passed its tipping point, putting it on track to lose 50 percent of its ice in 100 years. Such a loss is estimated to raise global sea levels by 24 centimeters (9.4 inches), according to the study published in the Proceedings of Royal Society A.
Canadians say climate change bigger threat than terrorism

(01/11/2010) A new poll shows that Canadians now see climate change as a larger threat than terrorism, even though their government has largely scaled back efforts to combat climate change. Half of the poll's respondents said that climate change was a 'critical threat', while only a quarter said the same about terrorism.
Could space technology save our planet?

(01/06/2010) A new book, Paradise Regained: the Regreening of Earth argues that the solutions to the world's current environmental crises—including climate change—could be lying far beyond our planet.
Chinese official links extreme snowstorm to global warming

(01/05/2010) Bitter cold and snow have shut down Beijing after it received 4-8 inches (10-20 centimeters) of snow on Sunday, the largest snowfall since 1951, according to the Sydney Morning Herald. Guo Hu, the head of the Beijing Meteorological Bureau linked the storm to global climate change.
Underwater rocks could be used for massive carbon storage on America's East Coast

(01/05/2010) Considering it is unlikely that global carbon emissions will start dropping anytime soon, researchers are beginning to look at other methods to combat climate change. One of these is to hook polluting power plants up to massive carbon sinks where instead of the carbon going into the atmosphere it would be stored away in rocks. The process is known as carbon capture and storage or CCS. But before one can even debate the pros and cons of setting up CCS, scientists must see if high-quality sites exist.
A 'dangerous world' for migratory birds, an interview with Sarah Lehnen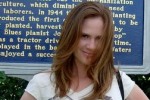 (01/04/2010) Sarah Lehnen has worked with America's rich birdlife for a decade: she has studied everything from songbirds inhabiting dwindling shrub land in Ohio to shorebirds stopping over in the Mississippi Rive alluvial valley, always with an eye towards conservation. Most recently she has been involved in testing migratory birds for avian flu. It may come as a surprise, but American birds are in serious decline. In March of last year, US Secretary of the Interior, Ken Salazar, announced that one-in-three American birds are endangered. Even once common birds are showing precipitous declines. Birds face a barrage of threats, which are only complicated—and heightened—for migratory birds.
Gone: a look at extinction over the past decade

(01/03/2010) No one can say with any certainty how many species went extinct from 2000-2009. Because no one knows if the world's species number 3 million or 30 million, it is impossible to guess how many known species—let alone unknown—may have vanished recently. Species in tropical forests and the world's oceans are notoriously under-surveyed leaving gaping holes where species can vanish taking all of their secrets—even knowledge of their existence—with them.
Record-breaking snow across the US and climate change

(12/26/2009) Over the past few weeks the United States has been pounded by a number of big snow storms. A week ago Washington DC received 18 inches of snow, setting a number of records. Over Christmas, the middle of the country, from Texas to Minnesota was also hit by record amounts of snow. While snow fall over the East Coast and middle of the country in the United States in December is hardly unusual, a number of record amounts of precipitation may point to a larger shift in the climate. Scientists say that higher temperatures causes more water evaporation, which increases the chances of heavy precipitation events, such as floods and snowstorms.
The real Avatar story: indigenous people fight to save their forest homes from corporate exploitation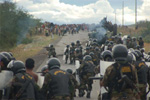 (12/22/2009) In James Cameron's newest film Avatar an alien tribe on a distant planet fights to save their forest home from human invaders bent on mining the planet. The mining company has brought in ex-marines for 'security' and will stop at nothing, not even genocide, to secure profits for its shareholders. While Cameron's film takes place on a planet sporting six-legged rhinos and massive flying lizards, the struggle between corporations and indigenous people is hardly science fiction.





Canada at Copenhagen: "delay, obstruction, and total inaction"

(12/21/2009) Canada was the biggest obstructer at the Climate Change conference in Copenhagen, according to the Climate Action Network (CAN) an organization made-up of 450 NGOs. On Friday CAN awarded Canada the 'Colossal Fossil Award' for doing the most to obstruct an ambitious climate change agreement and for doing the least to mitigate climate change.





Full Text of the Copenhagen Accord

(12/20/2009) We underline that climate change is one of the greatest challenges of our time. We emphasise our strong political will to urgently combat climate change in accordance with the principle of common but differentiated responsibilities and respective capabilities.






Page 1 | Page 2 | Page 3 | Page 4 | Page 5 | Page 6 | Page 7 | Page 8 | Page 9 | Page 10 | Page 11 | Page 12 | Page 13 | Page 14 | Page 15 | Page 16 | Page 17 | Page 18 | Page 19 | Page 20 | Page 21 | Page 22 | Page 23 | Page 24 | Page 25 | Page 26 | Page 27 | Page 28 | Page 29 | Page 30 | Page 31 | Page 32 | Page 33