News articles on climate change

---
Mongabay.com news articles on climate change in blog format. Updated regularly.








Last year's greenhouse gas emissions topple worst-case scenario

(11/06/2011) Global greenhouse gas emissions last year exceeded worst-case scenario predictions from just four years before, according to the US Department of Energy (DOE). A rise of 6 percent (564 million additional tons) over 2009 levels was largely driven by three nations: the US, India, and China. Emissions from burning coal jumped 8 percent overall. The new data, supported by a similar report from International Energy Agency (IEA), make it even more difficult for nations to make good on a previous pledge to hold back the world from warming over 2 degrees Celsius.
Climate change already worsening weird, deadly, and expensive weather

(11/02/2011) Unprecedented flooding in Thailand, torrential rains pummeling El Salvador, long-term and beyond-extreme drought in Texas, killer snowstorm in the eastern US—and that's just the last month or so. Extreme weather worldwide appears to be both increasing in frequency and intensity, and a new report from the Intergovernmental Panel on Climate Change (IPCC) connects the dots between wilder weather patterns and global climate change.
11 challenges facing 7 billion super-consumers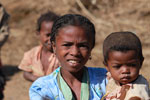 (10/31/2011) Perhaps the most disconcerting thing about Halloween this year is not the ghouls and goblins taking to the streets, but a baby born somewhere in the world. It's not the baby's or the parent's fault, of course, but this child will become a part of an artificial, but still important, milestone: according to the UN, the Earth's seventh billionth person will be born today. That's seven billion people who require, in the very least, freshwater, food, shelter, medicine, and education. In some parts of the world, they will also have a car, an iPod, a suburban house and yard, pets, computers, a lawn-mower, a microwave, and perhaps a swimming pool. Though rarely addressed directly in policy (and more often than not avoided in polite conversations), the issue of overpopulation is central to environmentally sustainability and human welfare.
Romney joins climate change denier camp?

(10/28/2011) Presidential hopeful Mitt Romney reversed his position on the underlying drivers of recent climate climate change, stating "we don't know what's causing climate change," reports ThinkProgress.org.
Killer Russian heatwave product of climate change

(10/26/2011) Last year's Russian heatwave and drought resulted in vast wildfires and a morality rate that was 56,000 people higher than the same period in 2009. Now, researchers have published a paper in the Proceedings of the National Academy of Sciences (PNAS) that finds the heatwave would very likely have never happened if not for climate change. The study flies in the face of previous research by the National Oceanic and Atmospheric Administration (NOAA) that concluded the heatwave was simply due to natural variation and not a warming world.
Sober up: world running out of time to keep planet from over-heating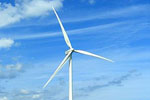 (10/24/2011) If governments are to keep the pledge they made in Copenhagen to limit global warming within the 'safe range' of two degrees Celsius, they are running out of time, according to two sobering papers from Nature. One of the studies finds that if the world is to have a 66 percent chance of staying below a rise of two degrees Celsius, greenhouse gas emissions would need to peak in less than a decade and fall quickly thereafter. The other study predicts that pats of Europe, Asia, North Africa and Canada could see a rise beyond two degrees Celsius within just twenty years.
California finalizes cap-and-trade program

(10/24/2011) Bucking long-stalled efforts in the US to combat global climate change, California has approved final rules for a cap-and-trade program set to go into effect in 2013. The program will require large polluters in California to reduce emissions or to 'trade' emissions on the carbon market with another company or initiative that is sequestering carbon. The rules even allow companies outside the state to participate, creating clean energy incentives across the US.
Independent climate study comes to same conclusion as world's climatologists

(10/23/2011) An 'independent' climate study known as the Berkeley Earth Project has re-confirmed decades of research on climate change. Undertaken largely by physicists, the study, which approached temperature data in a new way, confirms the long-standing science behind a warming world, while negating a number of criticisms put forward by climate skeptics.
New study: price carbon at the point of fossil fuel extraction

(10/17/2011) Global carbon emissions are a complicated matter. Currently, officials estimate national fossil fuel-related emissions by what is burned (known as production) within a nation, but this approach underestimates the emissions contributions from countries that extract oil and oil for export. Is there a better way to account for a country's total climate change footprint?
Australia's carbon tax moves closer to reality

(10/12/2011) By a margin of just two votes (74-72), Australia's plan to put a price on carbon passed its toughest hurdle today. It is now expected that the Australian legislator will moved forward to put the carbon tax into law. The carbon tax, pushed aggressively by Australian Prime Minister Julia Gillard, was just as ferociously opposed by business leaders and opposition party leader, Tony Abbott.
Meat consumption jumps 20 percent in last decade with super-sized environmental impacts
(10/11/2011) Meat consumption and production remains on the rise, according to a new report Worldwatch Institute, with large-scale environmental impacts especially linked to the spread of factory farming. According to the report, global meat production has tripled since 1970, and jumped by 20 percent since 2000 with consumption rising significantly faster than global population.
Tar sands pipeline 'another dirty needle feeding America's fossil fuel addiction'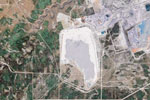 (10/11/2011) Climate and environmental activism in the US received a shot of enthusiasm this summer when it focused unwaveringly on the Keystone XL Pipeline. During a two week protest in front of the White House, 1,253 activists—from young students to elder scientists, from religious leaders to indigenous people—embraced civil disobedience for their cause and got themselves arrested. Jamie Henn, spokesperson with Tar Sands Action, which organized the protests, and co-founder of climate organization 350.org, told mongabay.com that,"the reason the Keystone XL pipeline has emerged as such a key fight is because it is on a specific time horizon, the Administration says it will issue a decision by the end of this year, and the decision whether or not to grant the permit rests solely on President Obama's desk. This is a clear test for the President."
Keystone pipeline company hand-picked US government's environmental assessor

(10/10/2011) A little over a month after 1,252 people were arrested in two weeks of civil action against the Keystone XL Pipeline, The New York Times has revealed that the Obama administration allowed a consulting firm with financial ties to the pipeline to conduct the project's Environmental Impact Assessment (EIA). While it is not uncommon for government departments to 'outsource' EIAs, legal experts quoted in the piece expressed surprise that the State Department would select a firm so close to the company proposing the project.
2010 Amazon drought released more carbon than India's annual emissions

(10/09/2011) The 2010 drought that affected much of the Amazon rainforest triggered the release of nearly 500 million tons of carbon (1.8 billion tons of carbon dioxide) into the atmosphere, or more than the total emissions from deforestation in the region over the period, estimates a new study published in the journal Environmental Research Letters.
Fossil fuel subsidies going in the wrong direction?

(10/05/2011) In 2009, G20 nations committed to phasing out fossil fuel subsidies over the medium term, yet are further away today than they were two years ago from keeping the pledge. According to the International Energy Agency (IEA) fossil fuel subsidies rose by nearly $100 billion in the last year alone, from $312 billion in 2009 to $409 billion in 2010. The agency warned that subsidies could reach $660 billion by 2020 if governments don't act on reform.
Putting people to work: restoring our ecosystems, sequestering carbon

(10/02/2011) President Obama's sole focus of his September 8th speech to the United States Congress was job creation. He closed his speech by summoning an earlier time of promise: "President Kennedy once said, ' Our problems are man-made—therefore they can be solved by man. And man can be as big as he wants.' These are difficult years for our country. But we are Americans. We are tougher than the times we live in, and we are bigger than our politics have been. So let's meet the moment. Let's get to work..." Inspiration is surely needed because in addition to the United States, where unemployment remains at about 9 percent, severe unemployment is found throughout the world, with Greece, Spain, and South Africa, for example, having 2011 summer unemployment rates at over 16, 20, and 25 percent, respectively.
After protracted campaign, Girl Scouts pledges to cut out some palm oil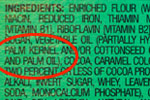 (10/02/2011) Girl Scouts USA has announced that it will lessen palm oil in its ubiquitous cookies by using alternatives when possible and cutting overall usage. The organization also committed to purchasing GreenPalm certificates for all of its palm oil in order to financially support more environmentally sustainable palm oil, even if the palm oil in the cookies is not.
Deepwater spill 'meets the Titanic': groups sue to stop Arctic drilling

(09/29/2011) Following the Obama administration's approval of Royal Dutch Shell to drill in the Arctic's Beaufort Sea, a wide-swathe of environmental have filed a lawsuit to stop the drilling, which could begin as early as next summer. Those filing the lawsuit today blasted Shell for what they perceived as a pathetic oil spill response plan, and the Obama administration for acquiescing to the big oil company.
Climate change shocker: Canada's ice shelves halved in six years

(09/28/2011) After the Arctic sea ice extent hit its second lowest size on record this summer—or lowest (depending on the source)—comes another climate change shocker: in the past six years Canada's millennia-old ice shelves have shed nearly half their size. One ice shelf—the Serson shelf—is almost entirely gone, while another—the Ward Hunt shelf—has split into two distinct shelves. The ice shelves have lost 3 billion tons in this year alone.
Over 100 arrested as tar sands civil disobedience spreads to Canada

(09/27/2011) After two weeks of sustained protesting at the US White House against the Keystone XL pipeline, with 1,252 people arrested, civil disobedience has now spread to Canada, home of the tar sands. Yesterday, around 500 people protested in Ottawa against Canada's controversial tar sands; 117 were arrested as they purposefully crossed a barrier separating them from the House of Commons in an act of civil disobedience.
Activists worldwide push for leaving the fossil fuel age behind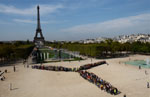 (09/25/2011) On six continents, in over 75 percent of the world's countries, people came out en masse yesterday to attend over 2,000 events to demonstrate the power of renewable energy to combat global climate change. As apart of the 'Moving Planet' campaign organized by 350.org, activists created a giant human-windmill in Paris, gave out bike lessons in Buenos Aires, practiced evacuation measure in the Pacific island of Tuvalu imperiled by rising sea levels, and marched in Cape Town for a strong agreement at the next UN climate meeting hosted in Durban, South Africa.
Climate test for Obama: 1,252 people arrested over notorious oil pipeline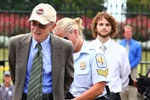 (09/06/2011) Two weeks of climate disobedience at the White House ended over the weekend with 1,252 people arrested in total. Activists were protesting the controversial Keystone XL pipeline in an effort to pressure US President Barack Obama to turn down the project. If built the pipeline would bring oil from Alberta's tar sands through six US states down to Texas refineries. While protestors fear pollution from potential spills, especially in the Ogallala Aquifer which supplies water to millions, the major fight behind the pipeline is climate change: Canada's tar sands emit significantly more carbon than conventional sources of oil.
Mass walrus haul-outs, polar bear cub mortality linked to climate change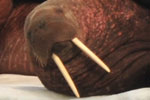 (09/01/2011) Recent, unprecedented walrus haul-outs and increased instances of long-distance swims by polar bears show the direct impacts on wildlife of dwindling Arctic sea ice from climate change. These threatened species also face the prospect of offshore drilling in the Arctic after the Obama Administration recently approved a number of plans to move forward on oil exploration. At least 8,000 walruses hauled out on an Alaskan beach along the Chukchi Sea on August 17. Only a day before, the U.S. Geological Survey announced it would begin tagging walruses near Point Lay, Alaska to study how a lack of sea ice is affecting the species.
World on the Edge: How to Prevent Environmental and Economic Collapse

(08/30/2011) World on the Edge: How to Prevent Environmental and Economic Collapse clearly describes in terms of national and social security how the looming current threat to our collective global future is not from catastrophic war as many describe in hindsight the 20th Century, rather from cataclysmic climate change, biodiversity loss, and water degradation.
Climate change may fuel increase in warfare, finds study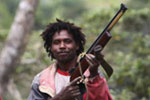 (08/24/2011) Civil war is twice as likely in tropical countries during particularly hot and dry years, according to a new study in Nature. The researchers found that El Niño conditions, which generally cuts rainfall and raises temperatures in the tropics, may have played a factor in one-fifth of the world's total conflicts during the past 50 years. El Niño conditions occur every 3-7 years. While the study did not examine global climate change in conjunction with conflict, the study links a warmer world to a more conflict-prone one, as least in the tropics.
Over 100 protestors arrested as civil action begins against tar sands pipeline to US

(08/22/2011) In the first two days of a planned two week sit-in at the White House in Washington DC, over 100 activists against the Keystone XL pipeline have been arrested, reports Reuters. If approved by the Obama Administration, the 1,700 mile pipeline would bring around 700,000 barrels of oil daily from Canada's notorious tar sands to oil refineries in Texas.
World nations see six all-time record high temperatures, no lows so far in 2011

(08/16/2011) Eight months into the year, six nations have seen record high temperatures, including Kuwait, Iraq, Armenia, Iran, and Republic of the Congo, reports Jeff Master's Wunderblog. To date no record lows have been recorded in any country in the world so far. This is similar, though not quite as extreme, to last year when twenty countries broke all time highs with none hitting an all time low.
Lessons from the world's longest study of rainforest fragments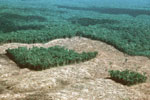 (08/15/2011) For over 30 years, hundreds of scientists have scoured eleven forest fragments in the Amazon seeking answers to big questions: how do forest fragments' species and microclimate differ from their intact relatives? Will rainforest fragments provide a safe haven for imperiled species or are they last stand for the living dead? Should conservation focus on saving forest fragments or is it more important to focus the fight on big tropical landscapes? Are forest fragments capable of regrowth and expansion? Can a forest—once cut-off—heal itself? Such questions are increasingly important as forest fragments—patches of forest that are separated from larger forest landscapes due to expanding agriculture, pasture, or fire—increase worldwide along with the human footprint.
Taking corporate sustainability seriously means changing business culture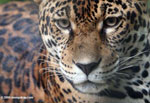 (08/11/2011) As more and more people demand companies to become sustainable and environmentally conscious, many corporations are at a loss of how to begin making the changes necessary. If they attempt to make changes—but fall short or focus poorly—they risk their actions being labeled as 'greenwash'. In addition, if they implement smart changes and self-regulations, but their employees don't buy-in to the process, all their investments will be for nothing. This is where Accountability Now, a young, fresh social responsibility agency, comes in. Clare Raybould, director of Accountability Now, believes companies—large and small—have the potential to change the world for the better, but they simply need a guiding hand to change not just the way a company works, but its culture.
Arctic sea ice in free fall: new record low for July

(08/10/2011) Average Arctic sea ice extent hit a new record low for July according to the National Snow and Ice Data Center (NSIDC).If the melt continues apace, the sea ice extent could hit its lowest point since record keeping by satellite began 32 years ago. However, ice loss slowed through the second half of July as weather grew colder in the Arctic, and by the end of the month was slightly above conditions in 2007, in which the lowest sea ice extent ever was measured.
Arctic open for exploitation: Obama administration grants Shell approval to drill

(08/08/2011) Less than a year and a half after the oil spill in the Gulf of Mexico, the Obama administration has bucked warnings from environmentalists to grant preliminary approval to oil giant, Royal Dutch Shell, to drill off the Arctic coast. Exploratory drilling will occur just north of the western edge of the Arctic National Wildlife Refuge (ANWR) in the Beaufort Sea, home to bowhead and beluga whales, seals, walruses, polar bears, and a wide variety of migrating birds.
Famine spreads: 29,000 young children perish

(08/04/2011) As the UN announces that famine has spread in Somalia to three additional regions (making five in total now), the US has put the first number to the amount of children under 5 who have so far perished from starvation in the last 90 days: 29,000. Nearly half of the total population of Somalia is currently in need of emergency food assistance. Yet, the al Qaeda-linked group al-Shabaab, which controls parts of Somalia, has made bringing assistance to many of the malnourished incredibly difficult, if not impossible. The famine in Somalia has been brought-on by lack of governance combined with crippling droughts throughout East Africa, which some experts have linked to climate change. High food prices worldwide and a lagging response by the international community and donors have made matters only worse.
Chart: US suffers record drought

(08/01/2011) An exceptional drought is still scorching major parts of Texas, New Mexico, Oklahoma, and Louisiana. A new report from the National Drought Mitigation Center finds that over July, nearly 12 percent of the US saw exceptional drought conditions, the highest record since monitoring began a dozen years. Exceptional drought is the worst possible on a 5-scale drought scale.
Adaptation, justice and morality in a warming world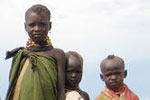 (07/28/2011) If last year was the first in which climate change impacts became apparent worldwide—unprecedented drought and fires in Russia, megaflood in Pakistan, record drought in the Amazon, deadly floods in South America, plus record highs all over the place—this may be the year in which the American public sees climate change as no longer distant and abstract, but happening at home. With burning across the southwest, record drought in Texas, majors flooding in the Midwest, heatwaves everywhere, its becoming harder and harder to ignore the obvious. Climate change consultant and blogger, Brian Thomas, says these patterns are pushing 'prominent scientists' to state 'more explicitly that the pattern we're seeing today shows a definite climate change link,' but that it may not yet change the public perception in the US.





Climate activist sentenced to 2 years in jail for civil disobedience

(07/27/2011) Yesterday a federal court in Salt Lake City, Utah convicted climate activist Tim DeChristopher of defrauding the US government, sentencing him to two years in jail and a fine of $10,000, reports the Associated Press. In December 2008, Tim DeChristopher, won the mineral rights for 22,500 acres of US Interior Department land at a Bureau of Land Management auction with a $1.8 million bid. The only problem was: DeChristopher did not have the money to pay for his bid nor did he ever intend to pay for his drilling rights. Instead, he was committing civil disobedience in order to draw attention to the oil industry and government's complacence on global climate change; in his words, DeChristopher meant to 'expose, embarrass, and hold accountable the oil industry to the point that it cut into their $100 billion profits'. However, his actions have now landed him in jail.





Yellowstone burning: big fires to hit world's first national park annually by 2050

(07/25/2011) An icon of conservation and wilderness worldwide, Yellowstone National Park could see its ecosystem flip due to increased big fires from climate change warn experts in a new study in the Proceedings of the National Academy of Science (PNAS). A sudden increase in large fires—defined as over 200 hectares (500 acres)—by mid-century could shift the Yellowstone ecosystem from largely mature conifer forests to younger forests with open shrub and grasslands.





'Heatwave' in Arctic decimating sea ice

(07/21/2011) Arctic sea ice could hit a record low by the end of the summer due to temperatures in the North Pole that are an astounding 11 to 14 degrees Fahrenheit (6 to 8 degrees Celsius) above average in the first half of July, reports the National Snow and Ice Data Center (NSIDC). Already the sea ice extent is tracking below this time in 2007, which remains the record year for the lowest sea ice extent. The sea ice hits its nadir in September before rebounding during the Arctic winter.





Tens of thousands starving to death in East Africa

(07/20/2011) As the US media is focused like a laser on theatric debt talks and the UK media is agog at the heinous Rupert Murdoch scandal, millions of people are undergoing a starvation crisis in East Africa. The UN has upgraded the disaster—driven by high food prices, conflict, and prolonged drought linked by some to climate change—to famine in parts of Somalia today. Mark Bowden, UN humanitarian coordinator for Somalia, has said that tens of thousands Somalis have died from malnutrition recently, "the majority of whom were children."





Global forests offset 16% of fossil fuel emissions

(07/14/2011) Between 1990 and 2007 global forests absorbed nearly one-sixth of all carbon released by fossil fuel emissions, reports a new study published in Science. The results suggest forests play an even bigger role in fighting climate change than previously believed.





NASA image: hotter lows and hotter highs in the US

(07/13/2011) New images show just how much US temperatures in July and January have changed recently as the nation feels the impact of global climate change. Dubbed the 'new normals' of US climate, the maps focus on July maximums – typically the hottest month of the year – and January minimums – typically the coldest month. While both July highs and January lows warmed recently, January lows saw the biggest jump.





Climate change to push over 10 percent of the world's species to extinction by 2100

(07/11/2011) Scientists have predicted for decades that climate change could have a grave impact on life on Earth, which is already facing numerous threats from habitat loss, over-exploitation, pollution, invasive species, and other impacts. However, empirical proof of extinctions--and even endangerment--due to climate change have been difficult to come by. A new study in the Proceeding of the National Academy of Science has found that by the time today's infants are 90 years old (i.e. the year 2100) climate change could have pushed over 11 percent of the world's species to extinction.





Worst drought in 60 years brings starvation fears to East Africa

(06/30/2011) A prolonged drought in East Africa is bringing many of the region's impoverished to their knees: the World Food Program (WFP) is warning that 10 million people in the region are facing severe shortages. While not dubbed a famine yet, experts say it could become one. Meanwhile, a recent study by FEWS NET/USGS has revealed that the current drought is the worst in 11 of 15 East African regions since 1950-51. Worsening droughts are one of the predictions for the region as the world grows warmer.




Page 1 | Page 2 | Page 3 | Page 4 | Page 5 | Page 6 | Page 7 | Page 8 | Page 9 | Page 10 | Page 11 | Page 12 | Page 13 | Page 14 | Page 15 | Page 16 | Page 17 | Page 18 | Page 19 | Page 20 | Page 21 | Page 22 | Page 23 | Page 24 | Page 25 | Page 26 | Page 27 | Page 28 | Page 29 | Page 30 | Page 31 | Page 32 | Page 33 | Page 34