News articles on climate change and conservation

---
Mongabay.com news articles on climate change and conservation in blog format. Updated regularly.






Fishing industry could lose up to $41 billion due to climate change
(01/16/2015) Climate change is already having a severe impact on the atmosphere and oceans around the world. These changes are also impacting specific economic sectors including the fishing and aquaculture industries. According to a recent report by the European Climate Foundation, the Sustainable Fisheries Partnership and the University of Cambridge, the fishing industry is projected to lose tens-of-billions as the world continues to heat up.
The only solution for polar bears: 'stop the rise in CO2 and other greenhouse gases'
(10/08/2014) Steven Amstrup, Chief Scientist for Polar Bears International, has worked diligently on polar bears for over 30 years. He radio-collared some of the first bears and discovered that annual activity areas for 75 tracked females averaged at a stunning 149,000 square kilometers. His recent work highlighted the cost of global warming to these incredible animals and the sea ice they so closely depend on.
Bambi in the 21st Century: roe deer not adapting to climate change
(05/01/2014) Once almost extinct in parts of Europe in the late 17th century, the roe deer (Capreolus capreolus) eventually bounced back, and how: today, it is one of the most widespread deer in Europe. But will its luck dry out in the future? A new study published in PLoSBiology suggests that while roe deer populations are still increasing, it may not be adapting to climate change.
Climate fail: Geoengineering would cool planet, but screw up rainfall patterns
(01/14/2014) For decades, scientists have been grappling with the consequences of climate change and working toward viable solutions. Climate engineering, also known as geoengineering, is the most controversial possible solution. Currently, one of the most talked about geoengineering ideas is Solar Radiation Management (SRM), which intends to block shortwave solar radiation, thus cooling the Earth to offset rising temperatures. In other words, SRM may be one way in which global temperatures could be artificially stabilized.
Redeeming REDD: a conversation with Michael Brown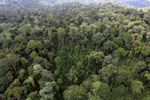 (11/11/2013) In Redeeming REDD: Policies, Incentives and Social Feasibility for Avoided Deforestation, anthropologist Michael Brown relays a constructive critique of the contemporary aims, standards and modalities for mitigating climate change by reducing emissions from deforestation and degradation (REDD). Brown advocates for REDD as a viable mechanism for the long-term pro-poor conservation and restoration of tropical forests as well—but only if local forest dwellers and Indigenous. Peoples can join the negotiating table and act as forest stewards. Local people must first be empowered to make 'socially feasible' decisions that are necessary for their livelihoods and well-being. In other words, there can be no environmentalism without credible local leadership, which requires investment in capacity building at the local level for sustainable institutions.
Organization proposes climate change warning labels at the gas pump
(09/05/2013) Rob Shirkey is the founder of the Toronto-based, not-for-profit organization Our Horizon. Inspired by his grandfather's last words to him, "Do what you love," Shirkey quit his job and founded the organization. Our Horizon is founded on the basis that we are all responsible for global climate change through our daily collective choices. It endeavors to influence those choices, specifically with the goal of convincing municipalities to require climate change warning labels on gasoline pumps.
Conserving top predators results in less CO2 in the air
(06/19/2013) What does a wolf in Yellowstone National Park have in common with an ambush spider on a meadow in Connecticut? Both are predators and thus eat herbivores, such as elk (in the case of wolves) and grasshoppers (in the case of spiders). Elk and grasshoppers also have more in common than you probably imagine: they both consume large quantities of plant matter. While scientists have long-known that predators lead to carbon storage by reducing herbivore populations, a new study reveals a novel way in which top predators cause an ecosystem to store more carbon.
Should zoos educate the public about climate change?
(06/18/2013) Zoos are usually thought of as entertainment destinations. As a place to take the kids on a nice afternoon, they are sometimes perceived to lack the educational heft of an art museum or a theatre. However, over the past few decades many of the world's best zoos and aquariums have also worked to educate their visitors about conservation issues, in addition to funding and supporting programs in the field to save the ever-growing number of imperiled species. But as threats to the world's species mount—including climate change—many are beginning to ask what, if anything, zoos and aquariums should do to address the global environmental crisis.
Climate change to halve habitat for over 10,000 common species

(05/13/2013) Even as concentrations of carbon dioxide in the atmosphere hit 400 parts per million (ppm) for the first time in human history last week, a new study in Nature Climate Change warns that thousands of the world's common species will suffer grave habitat loss under climate change.
Norwegian Pinot Noir?: global warming to drastically shift wine regions

(04/08/2013) In less than 40 years, drinking wine could have a major toll on the environment and wildlife, according to a new study in the Proceedings of the National Academy of Sciences (PNAS). The study finds that climate change will likely force many vineyards to move either north or to higher altitudes, leading to habitat loss, biodiversity declines, and increased pressure for freshwater. Some famous wine-growing areas could be lost, including in the Mediterranean, while development of new wine areas—such as those in the Rocky Mountains and northern Europe—could lead to what the the scientists describe as "conservation conflicts."
Will Amazon species lose the climate change race?
(02/14/2013) Deforestation could increase the risk of biodiversity loss in the Amazon by forcing species to migrate further in order to remain at equilibrium with changing climates, says new research. "As migration models are made more realistic through the inclusion of multiple climatic, biotic, abiotic and human factors, the predicted distances between current and future climate analogues invariably increases," Kenneth Feeley, lead author of the paper published in Global Change Biology, told mongabay.com.
U.S. proposes to list wolverine under Endangered Species Act

(02/05/2013) Arguably one of the toughest animals on Earth, the wolverine (Gulo gulo) may soon find itself protected under the U.S.'s Endangered Species Act (ESA) as climate change melts away its preferred habitat. Last week, the U.S. Fish and Wildlife Service (FWS) announced it was proposing to place the world's largest terrestrial mustelid on the list. Only 250-300 wolverines are believed to survive in the contiguous U.S.
Scientists could name every species on Earth in 50 years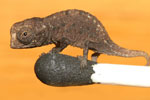 (01/28/2013) A bold new paper in Science argues that the world's species could be named and described before they vanish into extinction, though the threat of eventual extinction will remain for many, especially as climate change worsens. The scientists say that contrary to popular belief, there are more taxonomists working than ever before and there are likely less species on Earth than often reported, making finding and naming the world's species within reach this century.
Cute koalas have become 'urban refugees'
(01/28/2013) According to Susan Kelly, koalas have become "urban refugees," under siege by expanding cities that bring with them deforestation, dogs, traffic, and other ills for native wildlife. Director of Global Witness, and writer, producer and director of the new documentary Koala Hospital, Kelly has spent 3 years working to understand the rising threats to one of the world's most beloved marsupials. While Koala Hospital highlights the many perils facing koalas, including climate change due to record fires across Australia, it also looks at the efforts of individuals who work to save koalas one—by—one at Port Macquarie Koala Hospital, taking in patients who have been orphaned, hit by cars, scarred in fires, or attacked by dogs.
Asia's third largest animal may be on the rebound

(01/17/2013) Unlike Asia's largest animal (the elephant) and its second largest (the rhino), the wild yak—the third largest animal on the world's biggest continent—rarely makes headlines and is never paraded by conservation groups to garner donations. Surviving on the top of the world, in the Tibetan-Qinghai Plateau, the wild yak (Bos mutus) lives it life out in such obscurity that even scientists know almost nothing about it.
Bats face new perils from climate change
(11/15/2012) Global climate change could devastate bat populations around the world, threatening to tear yet another thread from the tapestry of biodiversity should current temperature trends persist, according to a new study. "Bats were the focus for this study because they are relatively understudied but due to their sensitivity to environmental stress, they are excellent indicators of climate change," Hayley Ann Sherwin, co-author of the paper published in Mammal Review, with the Queen University in Belfast, told mongabay.com.
Penguins face a slippery future
(09/26/2012) Penguins have spent years fooling us. With their image seemingly every where we turn—entertaining us in animated films, awing us in documentaries, and winking at us in commercials—they have made most of us believe they are doing just fine; the penguin's charming demeanor has lulled us into complacency about their fate. But penguin populations are facing historic declines even as their popularity in human society rises. Overfishing is decimating some of their prey species, climate change is shifting their resources and imperiling their habitat, meanwhile pollution, such as oil spills, are putting even healthy colonies at risk. Now, a young organization, the Global Penguin Society (GPS), is working to save all of the world's 18 penguin species by working with scientists, governments, and local communities.
First snow leopards collared in Afghanistan as species faces rising threat from climate change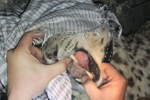 (07/18/2012) Scientists have captured and collared two snow leopards (Panthera uncia), arguably one of the world's most elusive predators, in Afghanistan for the first time. Undertaken by researchers with Wildlife Conservation Society (WCS) and Afghani vets, the successful operation was conducted as a new study finds that snow leopard habitat could shrink by nearly one-third due to anthropogenic climate change in the Himalayas.
Birders beware: climate change could push 600 tropical birds into extinction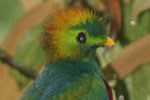 (02/21/2012) There may be less birds for birders to see in the world as the planet warms. Climate change, in combination with deforestation, could send between 100 and 2,500 tropical birds to extinction before the end of century, according to new research published in Biological Conservation. The wide range depends on the extent of climate and how much habitat is lost, but researchers say the most likely range of extinctions is between 600 and 900 species, meaning about 10-14 percent of tropical birds, excluding migratory species.