News articles on clean energy

---
Mongabay.com news articles on clean energy in blog format. Updated regularly.






Accounting for natural capital on financial exchanges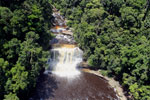 (01/26/2015) Last month, Norway's stock exchange, the Oslo Børs, introduced a way for investors to use their money to promote sustainability. A new list by the stock exchange highlights green bonds, financial products issued by companies to raise capital for environmentally friendly projects. Notably, the list requires that issuing companies obtain and publicize outside opinions on the projects' environmental features.
Climate change solution? UN touts ambitious (but cheap) investment in renewable energy
(04/14/2014) The world is warming rapidly due to greenhouse gas emissions, threatening everything from our food supply to our ecosystems, but the solution may be surprisingly cheap, according to the third and final report from the Intergovernmental Panel on Climate Change (IPCC). The report recommends a rapid and aggressive switch from fossil fuel-based energy to renewables.
Offshore wind farms could blunt hurricane damage
(02/28/2014) Massive offshore wind turbine arrays would reduce hurricane wind speeds and storm surge, reports a study published this week in Nature Climate Change. And while the size (tens of thousands of turbines) and cost (hundreds of billions of dollars) is difficult to imagine, the reduction in storm damage and value of electricity produced would effectively bring the price tag to zero according to the study authors.
Indigenous groups protest hydropower congress as controversy hits meeting in Malaysia
(05/22/2013) The opening of the International Hydropower Association (IHA) World Congress in the Malaysian state of Sarawak was marred today by indigenous protests and controversy after a local indigenous leader was barred from attending a pre-conference workshop. Over 300 people from local indigenous people protested the ongoing construction of around a dozen mega-dams in the state that threaten to flood traditional lands, force villages to move, and upend lives in the state. The Sarawak hydropower plans are some of the most controversial in the world—making the choice of Kuching, Sarawak for the IHA meeting an arguably ironic one—with critics contending that the dams are have been mired in political corruption, including kickbacks and bribes. IHA brings together dam builders, banks, and various related organizations worldwide every two years.
'Carbon bubble' could cause next global financial crisis

(04/22/2013) The world could be heading for a major economic crisis as stock markets inflate an investment bubble in fossil fuels to the tune of trillions of dollars, according to leading economists. "The financial crisis has shown what happens when risks accumulate unnoticed," said Lord (Nicholas) Stern, a professor at the London School of Economics. He said the risk was "very big indeed" and that almost all investors and regulators were failing to address it.
Proposed coal plant threatens Critically Endangered Philippine cockatoo
(04/02/2013) One kilometer off the Philippine island of Palawan lies the Rasa Island Wildlife Sanctuary; here forest grows unimpeded from a coral island surrounded by mangroves and coral reefs. Although tiny, over a hundred bird species have been recorded on the island along with a major population of large flying foxes, while in the waters below swim at least 130 species of coral fish, three types of marine turtles, and that curious-looking marine mammal, dugongs. Most importantly, perhaps, the island is home to the world's largest population of Philippine cockatoos (Cacatua haematuropygia), currently listed as Critically Endangered. But, although uninhabited by people, Rasa Island may soon be altered irrevocably by human impacts.
Featured video: moving green, local energy forward in Southeast Asia
(02/25/2013) A new video highlights the work and drive of renewable energy proponents at the inaugural meeting of Southeast Asia Renewable Energy People's Assembly (SEAREPA) in the Malaysian state of Sabah. Held last year, the meeting brought together 80 organizations from 12 countries to discuss the potential and challenges of green energy in the region. The idea of SEAREPA came about after activists in Sabah successfully defeated plans for a coal-fired power plant to be built adjacent to old-growth rainforest and one of the world's most biodiverse coral reefs.
Looking bright: solar power passes 100 gigawatts worldwide

(02/12/2013) The world's installed solar capacity hit 101 gigawatts last year, according to new data from the European Photovoltaic Industry Association (EPIA). Last year alone, saw nearly 30 gigawatts of solar power added around the world.
Paradigm shift needed to avert global environmental collapse, according to author of new book The Blueprint: Averting Global Collapse
(01/10/2013) Global strategist, trained educator, and international lecturer Daniel Rirdan set out to create a plan addressing the future of our planet. His book The Blueprint: Averting Global Collapse, published this year, does just that. "It has been a sixty hour a week routine," Rirdan told mongabay.com in a recent interview. "Basically, I would wake up with the burden of the world on my shoulders and go to sleep with it. It went on like this for eighteen months." It becomes apparent when reading The Blueprint that it was indeed a monumental undertaking.
Micro-hydro and decentralized green energy goals set in Borneo

(11/04/2012) The first ever meeting of the Southeast Asia Renewable Energy People's Assembly (SEAREPA) ended with agreement on 12 future projects, including developing community micro-hydro power and pushing for new policies on decentralized renewable energy in the region. Held in Malaysian state of Sabah on the island, the meeting brought together 130 people from some 80 different groups.
After defeating coal plant, Borneo hosts renewable energy meeting

(10/31/2012) Last year, a coalition of environmentalists and locals won a David-versus-Goliath battle against a massive coal plant in the Malaysian state of Sabah on Borneo. After facing a protracted campaign—including expert analysis of green energy options for Sabah—the state government announced it was scuttling plans to build the coal plant on a beach overlooking the Coral Triangle. Now, victorious grassroots campaigners are hosting the inaugural meeting of the Southeast Asia Renewable Energy People's Assembly (SEAREPA), bringing 80 organizations together to discuss green energy options across southeast Asia.
Tigers vs. coal in India: when big energy meets vanishing cats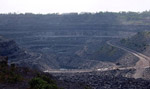 (08/01/2012) Burning coal fuels climate change, causes acid rain, and spreads toxic pollutants into the environment, but now a new Greenpeace report warns that coal may also imperil the world's biggest feline: the tiger. Home to world's largest population of tigers—in this case the Bengal subspecies (Panthera tigris tigris)—India is also the world's third largest coal producer. The country's rapacious pursuit of coal—it has nearly doubled production since 2007—has pushed the industry into tiger territory, threatening to destroy forests and fragment the tiger's already threatened population.
Consumption, population, and declining Earth: wake-up call for Rio+20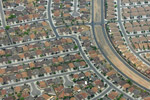 (05/15/2012) Currently, human society is consuming natural resources as if there were one-and-a-half Earths, and not just a single blue planet, according to the most recent Living Planet Report released today. If governments and societies continue with 'business-as-usual' practices, we could be consuming three years of natural resources in 12 months by 2050. Already, this ecological debt is decimating wildlife populations worldwide, disproportionately hurting the world's poor and most vulnerable, threatening imperative resources like food and water, heating up the atmosphere, and risking global well-being.
Mexico passes aggressive climate bill
(04/23/2012) Last week, Mexico's Senate passed an aggressive and comprehensive climate change bill, making it the first developing nation and only the second country to do so, after the UK. The bill, which far outshines anything achieved by its far wealthier northern neighbors, sets ambitious targets for cutting emissions while creating new incentive programs for clean energy. Largely dependent on fossil fuels, Mexico is approximately the 11th highest greenhouse gas emitter in the world.
Solar cells cross new threshold

(03/08/2012) Imagine powering your cell phone by leaving it on the window sill. Sounds like science fiction? Actually, this might soon turn into reality. Scientists have been exploring the potential of solar energy for decades. One of the cheapest ways to turn solar energy into electricity is by creating solar cells from organic polymers, which are easily manipulated by scientists. However, such cells are not efficient at converting sunlight to electricity. But now, researchers at UCLA's Department of Materials Science and Engineering have come up with a new type of solar cell that sets the record in changing sunlight into power.
California sets tough new clean car standards

(01/30/2012) The U.S. state that takes climate change most seriously—California—has unanimously approved new rules dubbed the Advanced Clean Cars program to lower carbon emissions, reduce oil dependence, mitigate health impacts from pollution, and save consumers money in the long-term. According to the new standards, by 2025 cars sold in California must cut greenhouse gas emissions by 34 percent and smog emissions by 75 percent. The program will also require 15.4 percent of all cars sold in California to be zero or near-zero emissions by 2025.
Sarah Laskow: even renewable energy has a dark side

(01/03/2012) Sarah Laskow is a freelance writer who has covered environmental issues for Grist, GOOD, and Newsweek.com, among others. Raised in New Jersey and educated at Yale where she studied literature, Sarah now lives across the river in Manhattan with her partner. She's done extensive traveling in West Africa, Europe, and Central America. Sarah can be found on twitter as @slaskow.
Top 10 Environmental Stories of 2011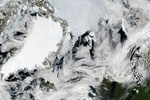 (12/22/2011) Many of 2011's most dramatic stories on environmental issues came from people taking to the streets. With governments and corporations slow to tackle massive environmental problems, people have begun to assert themselves. Victories were seen on four continents: in Bolivia a draconian response to protestors embarrassed the government, causing them to drop plans to build a road through Tipnis, an indigenous Amazonian reserve; in Myanmar, a nation not known for bowing to public demands, large protests pushed the government to cancel a massive Chinese hydroelectric project; in Borneo a three-year struggle to stop the construction of a coal plant on the coast of the Coral Triangle ended in victory for activists; in Britain plans to privatize forests created such a public outcry that the government not only pulled back but also apologized; and in the U.S. civil disobedience and massive marches pressured the Obama Administration to delay a decision on the controversial Keystone XL pipeline, which would bring tar sands from Canada to a global market.
Facebook pledges to go green...someday soon

(12/15/2011) After a massive campaign by Greenpeace to get everyone's favorite social media site to quit coal energy, Facebook has announced a new energy policy and a partnership with Greenpeace. The policy includes a goal "to power all of our operations with clean and renewable energy," however does not go so far as to state it is dropping coal at this time or give a timeline as to when it may do so. Still, Greenpeace is calling the new policy by Facebook a victory.
IEA warns: five years to slash emissions or face dangerous climate change

(11/13/2011) Not known for alarmism and sometimes criticized for being too optimistic, the International Energy Agency (IEA) has warned that without bold action in the next five years the world will lock itself into high-emissions energy sources that will push climate change beyond the 2 degrees Celsius considered relatively 'safe' by many scientists and officials.
Activists worldwide push for leaving the fossil fuel age behind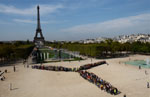 (09/25/2011) On six continents, in over 75 percent of the world's countries, people came out en masse yesterday to attend over 2,000 events to demonstrate the power of renewable energy to combat global climate change. As apart of the 'Moving Planet' campaign organized by 350.org, activists created a giant human-windmill in Paris, gave out bike lessons in Buenos Aires, practiced evacuation measure in the Pacific island of Tuvalu imperiled by rising sea levels, and marched in Cape Town for a strong agreement at the next UN climate meeting hosted in Durban, South Africa.
Has the green energy revolution finally arrived?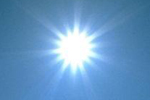 (05/17/2011) When historians look back at the fight to combat climate change—not to mention the struggle to overcome our global addiction to fossil fuels—will 2011 be considered a watershed moment? Maybe. In the last couple months, three countries—each in the top ten in terms of GDP—have suddenly made major renewable energy promises. Germany, Japan, and, just today, Britain are giving speeches and producing plans that, if successful, could be the global tipping point needed to move beyond fossil fuels to, one day, a world run entirely on green.
Violent protests follow approval of massive dam project in Patagonia

(05/16/2011) The wild rivers of Patagonia may soon never be the same. Last week, Chile's Aysén Environmental Review Commission approved the environmental assessment of a five dam proposal on two rivers. The approval, however, is marred in controversy and has set off protests in many cities, including Santiago. Critics say the series of dams will destroy a largely untouched region of Patagonia.
Obama focuses on climate change in Earth Day proclamation

(04/22/2011) After a long absence of speaking directly to the issue of climate change—he did not mention it once in his State of the Union speech in January—US President Barack Obama used his Earth Day proclamation to focus on it.
Bats worth billions

(04/03/2011) US agriculture stands to lose billions in free ecosystem services from the often-feared and rarely respected humble bat. According to a recent study in Science bats in North America provide the US agricultural industry at least $3.7 billion and up to a staggering $53 billion a year by eating mounds of potentially pesky insects. Yet these bats, and their economic services, are under threat by a perplexing disease known as white-nose syndrome (WNS) and to a lesser extent wind turbines.
Sustainability takes only cents

(03/30/2011) Real economic global results from decoupling economic growth from unsustainable natural resource management and inefficient industrial processes are the central themes of Cents and Sustainability. Implementing wealth creation strategies at the local, national, and international level is the primary economic theme, or modus operandi, of the 21st Century, as opposed to 20th Century wealth appropriation strategies. This begets the question do concrete auditable examples of wealth creation while sustainably managing natural resources at the national level exist?
Clean energy investments rise 630% in 7 years

(03/29/2011) According to a report by the US Pew Environment Group global clean energy investments, which do not include nuclear power, jumped 630% since 2004. The report detailing 2010 clean energy investments found that China remains the global leader in clean energy, while the US fell from 2nd to 3rd. This is the second year in a row that the US fell: in 2009 it lost first place to China. In all $243 billion were invested in clean energy in 2010.
Coal's true cost in the US: up to half a trillion

(02/20/2011) According to the global market coal is cheap, yet a new study in the Annals of the New York Academy of Sciences finds that the hidden costs of coal are expensive, very expensive. Estimating the hidden costs of coal, such as health and environmental impacts, the study found that burning coal costs the US up to $523 billion a year. Dubbed 'externalities' by economists, the paper argues that these costs are paid by the American public to the tune of $1,698 per person every year.
Is Obama's clean energy revolution possible?

(01/26/2011) Last night US President Barack Obama called for a massive green energy make-over of the world's largest economy. Describing the challenge as 'this generation's Sputnik moment' the US president set a goal of producing 80 percent of America's energy by clean sources by 2035. While this may sound improbable, two recent analyses back the president up, arguing that a global clean energy revolution is entirely possible within a few decades using contemporary technology and without breaking the bank. "Based on our findings, there are no technological or economic barriers to converting the entire world to clean, renewable energy sources," Mark Z. Jacobson, a professor of civil and environmental engineering at Stanford said in a press release. "It is a question of whether we have the societal and political will."
New Zealand: Can you sink a rainbow?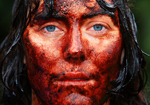 (01/12/2011) In a world wracked by Cold War, New Zealand's Prime Minister, David Lange defends the country's fledgling nuclear free policy by refusing the nuclear warship USS Buchanan's entry into New Zealand's shores. A historic day. He had received an almost unprecedented standing ovation at the Oxford Union Debate four months earlier where he had successfully argued the proposition that "nuclear weapons are morally indefensible". He was held high in the estimations of dedicated environmental group, Greenpeace for doing this, who were also fighting for the cease of nuclear testing and for New Zealand to be a leader in environmental protection. In addition, he was respected by his country for his bold stand.
U.S. Department of Energy makes $1.5B loan to massive solar plant

(12/30/2010) The U.S. Department of Energy has finalized a guarantee to provide a loan of $1.45 billion to Abengoa Solar Inc. which will fund the world's largest parabolic trough concentrating solar plant. The plant is expected to serve 70,000 households and avoid 475,000 tons of carbon dioxide emissions per year.
US elects barrage of climate change deniers, threatening support for green energy

(11/03/2010) The US midterm election, which won Republicans the House but safeguarded the Senate for Democrats, has brought in a number of self-proclaimed climate change deniers, ending any likelihood that an energy bill will be passed over the next two years and essentially stumbling the White House's strategy on climate change. Newly elected Republican Senators Rand Paul of Kentucky and Marc Rubio of Florida, both members of the nascent Tea Party, have stated they do not believe in climate change despite that scientists overwhelming agree the Earth is warming due to human impacts.
Majority of Americans confused on climate change basics

(10/17/2010) Most Americans don't understand the basics of climate change, according to a new poll by researchers with Yale. The poll found that over half of Americans deserve an 'F' on basic understanding of climate science and climate change, while only 1% would receive an 'A'.
New Google wind project moves clean energy forward in US

(10/12/2010) While the US has fallen far behind China and Europe in clean energy power, an announcement by Google today brings hope to green energy backers. Google is putting its considerable name and a lot of cash behind a $5 billion energy transmission line that would link up proposed wind turbines off the US's East Coast to consumers.
Farms in the sky, an interview with Dickson Despommier
(10/12/2010) To solve today's environmental crises—climate change, deforestation, mass extinction, and marine degradation—while feeding a growing population (on its way to 9 billion) will require not only thinking outside the box, but a "new box altogether" according to Dr. Dickson Despommier, author of the new book, The Vertical Farm. Exciting policy-makers and environmentalists, Despommier's bold idea for skyscrapers devoted to agriculture is certainly thinking outside the box.
Citizens of 188 countries challenge leaders on climate change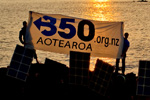 (10/11/2010) As world leaders continue to fumble a coherent, rapid, and comprehensive response to climate change, citizens from around the world yesterday sent a message to inert politicians by participating in over 7,300 events against climate change, according to 350.org, the head organizer of the day dubbed the 'Global Work Party'. "The fossil fuel industry may have thought that the collapse of the Copenhagen talks and its victory in the U.S. Congress were the final word—that people would give up in discouragement," said, Bill McKibben, founder of 350.org, so-called because 350 parts per millions (ppm) is the 'safe' amount of carbon in the atmosphere according to many scientists. Currently the concentration is around 390 ppm.
Do wind farms drive local warming?

(10/11/2010) Using decades-old data researchers have proven a long-suspected effect of wind turbines: under certain conditions large-scale wind farms can change local weather. Temperatures recorded from a wind farm in San Gorgonio, California in 1989 shows that turbines cooled local temperatures during the day, but warmed them at night. However, researchers in the paper published in the Proceedings of the National Academy of Science say that the impact of wind farms on local temperatures will not be the same everywhere.
Could biochar save the world?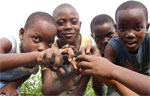 (08/16/2010) Biochar—the agricultural application of charcoal produced from burning biomass—may be one of this century's most important social and environmental revolutions. This seemingly humble practice—a technology that goes back thousands of years—has the potential to help mitigate a number of entrenched global problems: desperate hunger, lack of soil fertility in the tropics, rainforest destruction due to slash-and-burn agriculture, and even climate change. "Biochar is a recalcitrant form of carbon that will stay almost entirely unaltered in soils for very long periods of time. So you can sequester carbon in a simple, durable and safe way by putting the char in the soil. Other types of carbon in soils rapidly turn into carbon dioxide. Char doesn't," managing director of the Biochar Fund, Laurens Rademakers, told mongabay.com in a recent interview.
Fishermen express doubts about coal plant overlooking their fishing grounds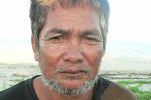 (06/13/2010) Local fishermen in the Malaysian state of Sabah are uncertain of their future, if the government pushes ahead to build a 300 megawatt coal power plant. They have been told they will be moved from their current seaside village to one deeper inland, and while the coal plant will provide manual labor work in its building stages, the fishermen express doubt about the impacts over the long-term effects of the coal plant on their livelihood. "Someone mentioned that maybe we have to move to Sungai Merah, which is quite far from our village. We are also worried because Sungai Merah is not next to the sea like [our village] is," local fishermen, Ali Hia, told Green SURF and Save Sandakan members—two local organizations opposed to the coal plant—who recently visited the seaside village of Kampung Sinakut, site of the proposed coal plant.
Photos reveal paradise-like site for coal plant in Borneo

(05/21/2010) With the world's eyes on the environmental catastrophe in the Gulf of Mexico, many are beginning to ponder the rightness of not just America's, but the world's dependence on fossil fuels. Yet large-scale fossil-fuel energy projects continue to march ahead, including one in the Malaysian state of Sabah on Borneo to build a 300 MW coal plant, which has come under fierce opposition from locals (already the project has been forced to move locations twice). The newest proposal will build the coal plant, as photos below reveal, on an undeveloped beach overlooking the Coral Triangle, one of the world's most biodiverse marine environments, with transmission lines likely running through nearby pristine rainforest that are home to several endangered species, including orangutans and Bornean rhinos.
Who's to blame for the oil spill?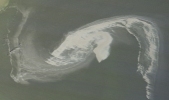 (05/04/2010) America, we deserve the oil spill now threatening the beautiful coast of Louisiana. This disaster is not natural, like the earthquake that devastated Haiti or tsunami that swept Southeast Asia in 2006; this disaster is man-made, American-made in fact, pure and simple. So, while in the upcoming weeks and months—if things go poorly—we may decry the oil-drenched wildlife, the economic loss for the region, the spoiled beeches, the wrecked ecosystems, the massive disaster that could take decades if not longer to recover from, we, as Americans, cannot think smugly that we are somehow innocent of what has happened. You play with fire: you will get burned. You drill for oil 1,500 meters below the surface of the ocean, you open up oil holes across the surface of your supposedly-beloved landscape, sooner or later there will be a spill, and sometimes that spill will be catastrophic.
US emissions from coal could be stopped in 20 years

(05/03/2010) A new study in Environmental Science and Technology (ES&T) concludes that the US could stop all emissions from coal-fired plants within 20 years time using only existing technologies and some that will be ready within the next decade. Such an accomplishment would go a long way toward lowering the US's carbon emissions and mitigating the impact of climate change, according to the researchers.
U.S. approves first offshore wind farm

(04/28/2010) The Obama Administration has approved the nation's first offshore wind farm after more than eight years of legal challenges, reports the Associated Press.
Analysis shows Borneo can say 'no' to coal power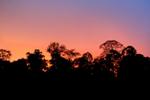 (03/17/2010) Plans for a coal power plant in the Malaysian state of Sabah in northern Borneo have run into stiff opposition. Environmentalists say the coal plant could damage extensive coral reef systems, pollute water supplies, open rainforests to mining, and contribute to global climate change, undercutting Sabah's image as a 'green' destination. The federal government contends that the coal plant is necessary to fix Sabah's energy problems. However, a recent energy audit by the Renewable and Appropriate Energy Laboratory (RAEL) at the University of California Berkeley shows that pollution-intensive coal doesn't have to be in Sabah's future.
Bill Gates: ban coal and invest in clean energy technology

(02/12/2010) The planet needs "energy miracles" to overcome the dual challenges of meeting energy demand and addressing climate change, said Microsoft founder Bill Gates during a speech Friday at the TED Conference in Long Beach, California.
China leaves US (and Europe) in the dust on renewable energy

(02/01/2010) This year China has become the world's largest manufacturer of solar panels and wind turbines, doubling its wind capacity since 2005. The economically booming nation—and the world's most populous—has also invested heavily in nuclear power and the world's most efficient coal plants, according to the New York Times.
Iceland leads world on environmental issues, but China, US, and Canada plummet

(01/27/2010) Evaluating 163 nations on their environmental performance, the Environmental Performance Index (EPI) has named Iceland the most environmental nation. Released every two years, the EPI also found that the world's two largest super-powers—China and the US—have both fallen behind on confronting environmental challenges.
New report: world must change model of economic growth to avert environmental disaster

(01/25/2010) For decades industrialized nations have measured their success by the size of their annual GDP (Gross Domestic Product), i.e. economic growth. The current economic model calls for unending growth—as well as ever-rising consumerism—just to remain stable. However, a new report by the New Economics Foundation (nef) states that if countries continue down a path of unending growth, the world will be unable to tackle climate change and other environmental issues.
Could space technology save our planet?

(01/06/2010) A new book, Paradise Regained: the Regreening of Earth argues that the solutions to the world's current environmental crises—including climate change—could be lying far beyond our planet.
United States to speed up green technology patents

(12/11/2009) Green technology patents will see a year shaved off the average forty month wait time to approve new patents in the US. The US Patent and Trademark Office (USPTO) is implementing a one-year pilot program to push green technology patent applications through the process more quickly, so that the technologies can reach the market faster.
US provides 3 billion in subsidies for Exxon-mobil project in Papua New Guinea

(12/10/2009) While officials from around their world are working night-and-day to come up with an international agreement to combat climate change in Copenhagen, the US Export-Import Bank confirmed it will subsidize a natural gas project in Papua New Guinea to the tune of 3 billion dollars—a record for the bank.
New rating systems seeks to promote sustainable landscapes from shopping malls to city parks

(11/15/2009) The Sustainable Sites Initiative has developed the United States' first rating system for the design, construction, and on-going maintenance of a wide-variety of landscapes, both with and without buildings, including shopping malls, subdivisions, university campuses, corporate buildings, transportation centers, parks and other recreation areas, and single-family homes.
Power, profit, and pollution: dams and the uncertain future of Sarawak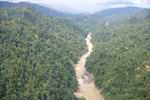 (09/03/2009) Sarawak, land of mystery, legend, and remote upriver tribes. Paradise of lush rainforest and colossal bat-filled caves. Home to unique and bizarre wildlife including flying lemurs, bearcats, orang-utans and rat-eating plants. Center of heavy industry and powerhouse of Southeast Asia. Come again? This jarring image could be the future of Sarawak, a Malaysian state on the island of Borneo, should government plans for a complex of massive hydroelectric dams comes to fruition. The plan, which calls for a network of 12 hydroelectric dams to be built across Sarawak's rainforests by 2020, is proceeding despite strong opposition from Sarawak's citizens, environmental groups, and indigenous human rights organizations. By 2037, as many as 51 dams could be constructed.
Solar powered conservation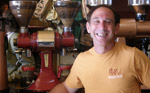 (08/25/2009) Electricity can be a difficult commodity to procure in the remote areas where conservationists often work. Typically field researchers and wildlife rangers rely on gas-powered generators, which require imported fuel, often produce noxious fumes and disruptive noise, and can be costly to maintain. A better option, especially in sun-drenched parts of the world, is solar. Clean and silent, with no need for supplemental fuel, solar seems like an ideal fit for conservation work except for one major drawback: cost. But Stephen Gold – Solar and Technology Manager for Wildlife Conservation Network has been working to overcome that obstacle.
Environmental disappointments under Obama

(08/24/2009) While the President has been bogged down for the last couple months in an increasingly histrionic health-care debate-which has devolved so far into ridiculousness that one doesn't know whether to laugh or cry-environmental decisions, mostly from the President's appointees have still been coming fast and furious. However, while the administration started out pouring sunshine on the environment (after years of obfuscated drudgery under the Bush administration), they soon began to move away from truly progressive decisions on the environment and into the recognizable territory of playing it safe-and sometimes even stupid.
Biofuel company eyes dead zone in the Gulf of Mexico for creating fish-powered fuel

(08/18/2009) 'Dead zones' in the ocean are called such for a reason. Every year agricultural run-off, especially fertilizer, floods the oceans with an abundance of nutrients leading to algae blooms, i.e. massive explosions of phytoplankton. The demise of these blooms, and the rise of bacteria feeding on them, eventually starves the entire area of oxygen creating a 'dead zone' where the vast majority marine life can't survive. Considered by most to be an environmental catastrophe, a new company is looking at dead zones in a different light: fuel and profit.
Will hydrocarbon biofuels replace gasoline and ethanol?

(08/13/2009) In a Perspectives piece in Science, John R. Regalbuto argues that the world will soon see a revolution in biofuels, but not those made from corn. Instead Regalbuto, program director of Catalysis and Biocatalysis at the National Science Foundation, says that the future of biofuels is in substances that can be converted into hydrocarbons, such as switch grass, woody biomass, corn stover, and even algae.
Wind could power the entire world

(06/22/2009) Wind power may be the key to a clean energy revolution: a new study in the Proceedings of the National Academy of Science finds that wind power could provide for the entire world's current and future energy needs.
New Yangtze River dam could doom more endangered species

(06/22/2009) Eight Chinese environmentalists and scientists have composed a letter warning that a new dam under consideration for the Yangtze River could lead to the extinction of several endangered species. The letter contends that Xiaonanhia Dam, which would be 30 kilometers upstream from the city of Chongqing, will negatively impact the river's only fish reserve. Spanning 400 kilometers in the upper Yangtze, the reserve is home to 180 fish species, including the Endangered Chinese sturgeon, and the Critically Endangered Chinese paddlefish, as well as the finless porpoise.
High-flying kites could power New York

(06/15/2009) A fleet of kites could harvest enough energy from high-altitude winds to power New York, report researchers from the Carnegie Institution and California State University.
Congo biochar initiative will reduce poverty, protect forests, slow climate change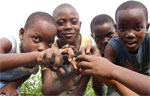 (05/19/2009) An initiative using soil carbon enrichment techniques to boost agricultural yields, alleviate poverty, and protect endangered forests in Central Africa was today selected as one of six projects to win funding under the Congo Basin Forest Fund (CBFF). The scientific committee of the CBFF awarded Belgium's Biochar Fund and its Congolese partner ADAPEL €300,000 to implement its biochar concept in 10 villages in the Equateur Province of the Democratic Republic of Congo. The approach improves the fertility of soils through the introduction of "biochar" — charcoal produced from the burning of agricultural residues and waste biomass under reduced oxygen conditions — thereby increasing crop yields and reducing the need to clear forest for slash-and-burn agriculture.
Bioelectricity bests ethanol on two fronts: land use and global warming

(05/07/2009) Yesterday the Obama Administration established a Biofuels Interagency Working Group to oversee implementation of new rules and research regarding biofuels. On the group's first day of work they would do well to look at a new study in Science Magazine comparing the efficacy of ethanol versus bioelectricity.





Canada and Britain abandon conventional coal

(04/29/2009) In an effort to curb climate change, both Britain and Canada have announced plans to stop building new conventional coal power plants, a move long-advocated by environmentalists. Both nations have turned their sights to the possibility of clean coal, a controversial and still unproven method that has divided environmentalists, scientists, and policy makers.







Largest US protest on climate change today

(03/02/2009) At 1 PM EST activists from across the US plan to engage in civil disobedience at Capitol Power Plant in Washington DC. Organizers from 90 different groups estimate that more than 2,500 people will be joining in the protests making it the largest US protest on climate change to date. Owned by congress, Capital Power Plant is seen by activists as a longtime symbol of the US government's consistent support for the use of coal, the leading source of CO2 emissions in the US.







Africa eyes geothermal power

(12/15/2008) Geothermal — the tapping of steam from hot underground rocks — could provide a source of clean, renewable energy in parts of Africa where electricity is currently limited, according to an assessment by the United Nations Environment Program (UNEP) and the Global Environment Facility (GEF).





Living up to the Pope's words: the Vatican turns to solar power

(11/28/2008) In his three years since being inaugurated, Pope Benedict XVI has made the environment one of his central issues, proclaiming that "God entrusted man with the responsibility of creation". He has described the need to confront climate change as a "moral obligation" and spoken eloquently on the destruction of arable soil, forests and marine life.





Limiting global warming to 2-degree rise will require $180/t carbon price says energy think tank

(11/13/2008) In a report released Wednesday the International Energy Agency warned that a business-as-usual approach to energy use would result in a 6°-degree rise in temperatures putting hundreds of millions at risk from reduced water supplies and diminished agricultural production. But the agency said that limiting temperature rise to 2-3°-rise by the end of the century would be "possible, but very hard."









EU's sustainable biofuels push angers Malaysia, Brazil

(11/07/2008) Eight developing countries threatened to file a World Trade Organization complaint against the E.U. for its proposed legislation to require imported biofuels to meet environmental standards, reports Reuters.





Rainforest fungus generates biodiesel, may drive energy of the future

(11/04/2008) A fungus recently discovered in the Patagonian rainforest has shocked biologists and environmentalists: the fungus produces gas almost identical to diesel. In a paper announcing the discovery in Microbiology, scientists state that they believe the fungus, called Gliocladium roseum, could become an incredibly efficient green energy source.





Green New Deal will spark global economy, create jobs

(10/22/2008) A "Global Green New Deal" that focuses the world economy "towards investments in clean technologies and 'natural' infrastructure such as forests and soils is the best bet for real growth, combating climate change and triggering an employment boom," according to a new initiative led by the United Nations Environment Programme (UNEP).





Financial crisis could pave way for greener economy inspired by nature

(10/20/2008) Biomimicry — the use of nature to inspire design — could serve as a model for a greener economy that rises out of the ashes of the financial crisis, said experts meeting at a sustainability conference in the San Francisco Bay Area. Speaking at the three-day Bioneers conference in San Rafael, Janine Benyus, a leading voice in the emerging field of biomimicry, said that nature offers lessons that can be applied to build better and more sustainable products and services as well as economic models.





Challenges of starting a green business

(10/20/2008) While green design offers the potential to greatly improve the sustainability of new goods and services without sacrificing performance, developing and bringing such products to market is a challenge, said a panel of innovators from companies using nature as inspiration for new technologies. Speaking at the 2008 Bioneers conference in San Rafael, California, Stephen Dewar of WhalePower, Charles Hamilton of Novomer, and Jay Harman of PAX Scientific told biomimicry expert Jane Benyus that radically new approaches to solving design and engineering problems is often met with skepticism from the existing market.





U.S. needs environmental standards for biofuels

(10/02/2008) The U.S. lacks criteria to ensure that cellulosic ethanol production will not harm the environment, warn scientists writing in the journal Science. The researchers say that with proper safeguards, cellulosic ethanol can help the U.S. meet its energy needs sustainably.







Europe cuts biofuel targets to 4% in 2015, 6% in 2020

(09/12/2008) The E.U. voted to relax biofuels targets following widespread criticism of their social, economic, and environmental impacts. Thursday the European Parliament's Industry and Energy Committee said it would push a plan calling for a 5 percent share of renewables in transport fuel by 2015 and a 10 percent target by 2020, a reduction from the 20 percent target set forth in March 2007. The plan effectively cuts targets for biofuels produced from conventional feedstocks to four percent in 2015 and six percent in 2020.





Obama talks science: ocean health, water scarcity, climate change, and more

(09/05/2008) Presidential nominee Barack Obama recently answered fourteen science-related questions for the organization Science Debate 2008. The questions covered a wide-variety of topics, including the importance of innovation, science and math education, energy policies, national security and biosecurity, genetics research, stem cells, space exploration, health, support for research and restoring scientific integrity in the Whitehouse. Below are brief descriptions of his answers on three topics: climate change, water scarcity, and the health of marine ecosystems. Republican presidential nominee John McCain has also been sent the same fourteen questions, so far he has not responded.





Biofuels 200 times more expensive than forest conservation for global warming mitigation

(08/27/2008) The British government should end subsidies for biofuels and instead use the funds to slow destruction of rainforests and tropical peatlands argues a new report issued by a U.K.-based think tank. The study, titled "The Root of the Matter" and published by Policy Exchange, says that "avoided deforestation" would be a more cost-effective way to address climate change, since land use change generates more emissions than the entire global transport sector and offers ancillary benefits including important ecosystem services.





How do wind turbines kill bats?

(08/25/2008) Numerous studies have shown that migratory bats are undergoing large fatalities due to wind turbines. Far more bats die due to wind turbines than birds, though they generally receive less attention. Now, researchers writing in Current Biology believe they know why bats are more susceptible to wind turbine fatalities.







PG&E will build the world's largest solar power plant

(08/15/2008) California electricity producer PG&E Thursday announced a plan to build two giant solar photovoltaic power plants that will cover 12.5 square miles and have a peak generating capacity of 800 megawatts.







Biofuels can reduce emissions, but not when grown in place of rainforests

(07/22/2008) Biofuels meant to help alleviate greenhouse gas emissions may be in fact contributing to climate change when grown on converted tropical forest lands, warns a comprehensive study published earlier this month in the journal Environmental Research Letters. Analyzing the carbon debt for biofuel crops grown in ecosystems around the world, Holly Gibbs and colleagues report that "while expansion of biofuels into productive tropical ecosystems will always lead to net carbon emissions for decades to centuries... [expansion] into degraded or already cultivated land will provide almost immediate carbon savings." The results suggest that under the right conditions, biofuels could be part of the effort to reduce humanity's carbon footprint.





Gore launches second campaign... for Earth

(07/17/2008) In a speech Thursday, Al Gore challenged the U.S. to generate 100 percent of its electricity from zero carbon emission sources within 10 years. Speaking at Washington's Constitution Hall, Gore said America's security, environmental and economic crises are all related, and that measures to rein in greenhouse gas emissions will make the U.S. stronger, safer, and cleaner. "The survival of the United States of America as we know it is at risk," Gore said. "I don't remember a time in our country when so many things seemed to be going so wrong simultaneously."







Oceans hold vast potential for wind power

(07/09/2008) The North Pacific, Tasmania, New Zealand, Tierra del Fuego in South America, and the mid-latitudes of the Atlantic and Pacific oceans are potential locations for wind power generation, according to new satellite data from NASA.





Whale biomimicry inspires better wind turbines

(07/07/2008) By studying and mimicking the characteristics of the flippers, fins and tails of whales and dolphins, engineers have devised more a efficient way to generate wind power, reports a researcher presenting at the Society for Experimental Biology's Annual Meeting in Marseille, France.







Clean energy gold rush in 2007

(07/01/2008) New investment in renewables and energy efficiency surpassed $148 billion in 2007, rising 60 percent rise from 2006, according to an analysis issued Tuesday July 1 by the UN Environment Programme (UNEP). High oil prices drove the trend.






Page 1 | Page 2