News articles on chemicals

---
Mongabay.com news articles on chemicals in blog format. Updated regularly.








Court orders logging company to clean up pollution disaster in Chile wetlands
(01/17/2014) Chile is probably best known for its volcanoes, earthquakes and the formidable peaks of the Andes, but as a country that spans 4,300 km (2,670 miles) from top to bottom, it also boasts a huge variety of bird life. And, until recently, it was home to what was thought to be the largest population of black-necked swans (Cygnus melancoryphus) in South America. Not long ago, these swans, as well as 100 other species of rare or vulnerable bird species, could be seen nesting in the Carlos Anwandter Nature Sanctuary in Valdivia, a Ramsar site that covers 12,000 acres in the south of Chile. But in 2004 the swans began to die.
Bee-harming pesticides may impact human nervous system

(12/23/2013) Neonicotinoid pesticides, which have been increasingly blamed for the collapse of bee populations, may also impact human's developing nervous system, according to a review of research by the European Food Safety Authority (EFSA). The EFSA says that current safety guidelines for two pesticides—acetamiprid and imidacloprid—may be too lax to protect humans, especially the developing brains of unborn children
Saviors or villains: controversy erupts as New Zealand plans to drop poison over Critically Endangered frog habitat
(04/10/2013) New Zealand's Department of Conservation (DOC) is facing a backlash over plans to aerially drop a controversial poison, known as 1080, over the habitat of two endangered, prehistoric, and truly bizarre frog species, Archey's and Hochsetter's frogs, on Mount Moehau. Used in New Zealand to kill populations of invasive mammals, such as rats and the Australian long-tailed possum, 1080 has become an increasingly emotive issue in New Zealand, not just splitting the government and environmentalists, but environmental groups among themselves. Critics allege that the poison, for which there is no antidote, decimates local animals as well as invasives, while proponents say the drops are the best way to control invasive mammals that kill endangered species like birds and frogs and may spread bovine tuberculosis (TB).
Popular pesticides kill frogs outright
(01/28/2013) Commonly used agrochemicals (pesticides, fungicides and herbicides) kill frogs outright when sprayed on fields even when used at recommended dosages, according to new research in Scientific Reports. Testing seven chemicals on European common frogs (Rana temporaria), the scientists found that all of them were potentially lethal to amphibians. In fact, two fungicides—Headline and Captain Omya—wiped out the entire population of frogs at the recommended dosage. The study warns that agricultural chemicals could be having a large-scale and largely unrecorded impact on the world's vanishing amphibians.
New study adds to evidence that common pesticides decimating bee colonies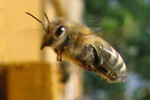 (10/24/2012) The evidence that common pesticides may be partly to blame for a decline in bees keeps piling up. Several recent studies have shown that pesticides known as "neonicotinoid" may cause various long-term impacts on bee colonies, including fewer queens, foraging bees losing their way, and in some cases total hive collapse. The studies have been so convincing that recently France banned the use of neonicotinoid pesticides. Now a new study finds further evidence of harm caused by pesticides, including that bees who are exposed to more than one chemical, i.e. neonicotinoid and pyrethroid, were the most vulnerable.
Featured video: trailer for Living Downstream

(09/25/2012) After suffering from bladder cancer at 20, Sandra Steingraber began to study the links between toxic chemicals and deadly diseases. Her research led her to write the the much-acclaimed book Living Downstream, which combines her personal struggles with disease and the on-going contamination of our environment. Now, a new film based on the book, Steingraber's life, and the science behind cancer and chemicals in our environmental, is being released worldwide. To see the list of screenings worldwide: LIVING DOWNSTREAM.