News articles on charismatic animals

---
Mongabay.com news articles on charismatic animals in blog format. Updated regularly.








Those eyes look human: could anthropomorphism be used for conservation?
(03/28/2014) It's easier to relate to someone you have something in common with; that feeling of connection can turn strangers into friends. And if those strangers belong to an entirely different species, then attributing human qualities to that species – a process called anthropomorphism – may aid conservation efforts by attracting public attention and funding resources.
Tigers gobble up 49 percent of India's wildlife conservation funds, more imperiled species get nothing

(02/12/2013) Nearly half of India's wildlife budget goes to one species: the tiger, reports a recent article in Live Mint. India has devoted around $63 million to wildlife conservation for 2013-2013, of which Project Tiger receives $31 million. The Bengal tiger (Panthera tigris tigris) is currently listed as Endangered by the IUCN Red List; however India is also home to 132 species currently considered Critically Endangered, the highest rating before extinction.
Cinderella animals: endangered species that could be conservation stars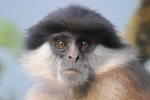 (04/18/2012) A cursory look at big conservation NGOs might convince the public that the only species in peril are tigers, elephants, and pandas when nothing could be further from the truth. So, why do conservation groups roll out the same flagship species over-and-over again? Simple: it is believed these species bring in donations. A new paper in Conservation Letters examines the success of using flagship species in raising money for larger conservation needs, while also pointing out that conservation groups may be overlooking an important fundraising source: "Cinderella animals."