News articles on central asia

---
Mongabay.com news articles on central asia in blog format. Updated regularly.






Conservationists appeal to donors after mystery kills 134,252 saiga
(06/10/2015) The good news: conservationists believe that whatever killed off over a hundred thousand saiga in Kazakhstan in less than a month has abetted. The bad news: the final death tally is 134,252 saiga or around half the population of an animal already considered Critically Endangered. Given the dire situation, conservationists are now asking for emergency donations.
120,000 dead: half of the world's saiga die in less than a month

(05/28/2015) No one knows what's killing them, but scientists estimate that almost half of the world's saiga (Saiga tatarica) have perished since May 10th. To date, researchers on-the-ground unofficially estimate that 120,000 saiga have died in Kazakhstan from what appears to be a wildly virulent disease, although no cause has been ruled out.
Locals lead scientists to new population of near-extinct reptile
(02/24/2015) By the early Twentieth Century, the world had pretty much given up on the Arakan forest turtle, named after the hills where it was found in 1875 in western Myanmar. Now, this Lazarus reptile —which has been dubbed one of the 25 most threatened turtles on the planet —has more good news: researchers have documented an entirely new population where no one
Are small-scale hydro projects always greener?
(02/23/2015) Rising energy demand and global efforts to mitigate climate change have made renewable energy projects increasingly attractive. One widely known and well-developed source of renewable energy is hydroelectricity. However, past environmental campaigns against large dams have resulted in policy changes in some parts of the world, leading to an increasing number of small hydropower projects.
Top 10 Environmental Stories of 2014
(12/23/2014) In 2014, the unimaginable happened: companies representing the majority of palm oil production and trade agreed to stop cutting down rainforests and draining peatlands for new oil palm plantations. After years of intense campaigning by environmentalists and dire warnings from scientists, nearly two dozen major producers, traders, and buyers established zero deforestation policies.
Children 'clean' oil spill with kitchen utensils in the Sundarbans
(12/15/2014) On December 9th, a tanker slammed into another vessel along the Shela River in the world's largest mangrove forest: the Sundarbans in Bangladesh. The tanker sank, spilling an estimated 75,000 gallons (350,000 liters) of fuel oil into waterways that are a part of a reserve for threatened Ganges river dolphins and Irrawaddy dolphins.
Old fishermen document declining range of the Indus River dolphin
(12/03/2014) The Indus River dolphin (Platanista gangetica minor) is an endangered freshwater mammal found only in the Indus River and tributaries draining the Himalayas. Since 1879, the dolphin—locally known as the bhulan—has vanished from 80 percent of its range. Now, a study using interviews with dozens of elders in the Pakistani fishing communities along the river documents when dolphins disappeared from different river sections.
Artists, musicians, writers protest government plans for massive coal plant in the Sundarbans

(10/28/2014) Over the weekend, Bangladeshi artists performed plays, sang songs, and recited poetry all in a bid to protect the Sundarbans—the world's biggest mangrove forest—from the threat of a massive coal plant. Construction is already under way on the hugely controversial Rampal coal plant, a 1,320 megawatt plant set just 14 kilometers from the edge of the Sundarbans.
Armed conflict decimates tigers, rhinos, and swamp deer in Indian park

(09/30/2014) The human cost of war is horrendous. However, while most attention is focused on the suffering caused to people—and rightly so—an understudied element is the impact on wildlife conservation. This is worrying given that many of the world's conflict zones are situated in biodiversity hotspots.
Meet the newest enemy to India's wildlife
(09/11/2014) A boom in infrastructure and population has forced India's wildlife to eke out a creative existence in an increasingly human-modified environment. Big cats such as the leopard are often spotted within large cities, on railway tracks, and sadly, on India's burgeoning and sprawling road network.
India, not China, has the world's worst urban air pollution

(05/12/2014) Breathing in urban India is hard: of the world's top twenty cities with the worst air, 13 of them are found in India, according to a new analysis by the World Health Organization (WHO). Despite the attention recently given to Chinese cities for atrocious air pollution, many of India's cities are actually worse when comparing annual averages of fine airborne particulates.
Saudi Prince kills two percent of global population of endangered bird
(05/01/2014) In a three week hunting safari between January 11th and 31st of this year, Saudi Arabian Prince Fahd bin Sultan bin Abdulaziz Al Saud and his party allegedly shot down 2,100 Asian Houbara bustards (Chlamydotis macqueenii) in Balochistan, Pakistan. Scientists aren't certain how many Houbara bustards survive today, but their best estimate is around 100,000 and declining.
Kala: the face of tigers in peril
(03/27/2014) In 1864, Walter Campbell was an officer in the British Army, stationed in India when he penned these words in his journal: "Never attack a tiger on foot—if you can help it. There are cases in which you must do so. Then face him like a Briton, and kill him if you can; for if you fail to kill him, he will certainly kill you." In a stroke of good fortune for the tiger, perceptions in India have changed drastically since Campbell's time. Tiger hunting is now banned and conservationists are usually able to rescue the big cats if they become stranded while navigating increasingly human-occupied areas. But is this enough to save the tiger?
Europe approves vet drug that killed off almost all of Asia's vultures
(03/25/2014) When Europeans first arrived in North America, they exterminated three to five billion passenger pigeons (Ectopistes migratorius) in the short span of a century through a combination of habitat destruction and hunting. In 1914, the last living passenger pigeon perished at the Cincinnati Zoo. Despite the staggering scale of this extinction event, three species of vulture from Southeastern Asia retain the dubious distinction of having had the most rapid population crash of any avian fauna. They might not have begun with numbers as large as the passenger pigeon, but within the space of a single decade, their populations were reduced by 96 to 99 percent.
Proposed rail and road projects could devastate Nepal's tigers and rhinos
(02/06/2014) Chitwan National Park is a conservation success story. Since its establishment in 1973 the park's populations of both Bengal tigers (Panthera tigris tigris) and one-horned rhinos (Rhinoceros unicornis) have quintupled, a success achieved during a time when both species have been under siege globally by poachers. A UNESCO World Heritage site, the park is also a vital economic resource for locals: last year the park admitted over 150,000 tourists who brought in nearly $2 million in entry fees alone. But all this is imperiled by government plans for a new railway that would cut the park in half and a slew of new roads, according to a group of international conservationists known as the Alliance of Leading Environmental Researchers and Thinkers (ALERT).
Alpine bumblebees capable of flying over Mt. Everest
(02/05/2014) The genus Bombus consists of over 250 species of large, nectar-loving bumblebees. Their bright coloration serves as a warning to predators that they are unwelcome prey and their bodies are covered in a fine coat of hair - known as pile - which gives them their characteristically fuzzy look. Bumblebees display a remarkably capable flight performance despite being encumbered with oversized bodies supported by relatively diminutive wings.
Feral crèches: parenting in wild India
(01/28/2014) The Wildlife Conservation Society-India has been camera trapping wild animals for over 20 years in the Western Ghats. The results reveal the most intimate, fascinating and sometimes comical insights into animal behavior and ecology. These mammals generally become secretive and protective during parenting, and therefore we seldom get to see little ones in the wild. But discretely placed camera traps have not only caught glimpses of these adorable wild babies, but also produced wonderful family albums!
Snow leopards and other mammals caught on camera trap in Uzbekistan (photos)
(01/16/2014) Scientists knew that snow leopards (Panthera uncia) still survived in the Central Asian country of Uzbekistan, but late last year they captured the first ever photos. Camera traps in the Gissar Nature Reserve took photos of the big cats, along with bear, lynx, ibex, wild boar, and other mammals. The camera trap program was led by biologists Bakhtiyor Aromov and Yelizaveta Protas working with Panthera, WWF's Central Asia Program, and Uzbekistan's Biocontrol Agency.
A bird's eye view of hornbills in northeast India
(12/16/2013) Hornbills are as peculiar, as they are magnificent. Their calls especially, can sound rather strange to the uninitiated - some grunt, some growl, and some cackle maniacally. These queer birds, with their large brightly-colored curved beaks, and a distinctive cavity-nesting habit, are also totem animals for many tribes in India.
Bangladesh plans massive coal plant in world's biggest mangrove forest
(11/11/2013) On October 22nd Bangladeshi and Indian officials were supposed to hold a ceremony laying the foundation stone for the Rampal power plant, a massive new coal-fired plant that will sit on the edge of the Sundarbans, the world's largest mangrove forest. However, the governments suddenly cancelled the ceremony, instead announcing that the project had already been inaugurated in early October by the countries' heads of state via a less-ornate Skype call. While the governments say the change was made because of busy schedules, activists contend the sudden scuttling of the ceremony was more likely due to rising pressure against the coal plant, including a five-day march in September that attracted thousands.
Photo essay: India's Western Ghats is a haven for endemic amphibians
(09/16/2013) The Western Ghats are a globally recognized repository of biological diversity for our planet. We know very little about most species found here, particularly the ecologically sensitive and spectacularly beautiful 179 amphibians. Astonishingly, 87% of all Western Ghats frogs are endemic and found nowhere else on the planet. Our collaborative research project with Drs Paul Robbins and Ashwini Chhatre examining biodiversity in production landscapes of Ghats unearthed some spectacular amphibians in 2013.
Are sea turtles responsible for lower fish catches in India?
(08/29/2013) Fishing communities on Agatti Island in Lakshwadeep, India, blame their reduced fish catch on green turtles; according to them, green turtles chomp their way through the seagrass beds lining the shallow reef waters that are essential for fish to breed. This leads some in the community to clandestinely kill sea turtles and destroy their nests.
First of its kind rescue and release for sloth bear in India
(08/08/2013) For a young wild sloth bear who found himself amidst a panic-stricken village in India, rescue was fortunately, and surprisingly, close at hand. In a one-of-a-kind heartwarming story, a team from Wildlife SOS (WSOS) India – a conservation and welfare NGO – successfully rescued, treated and subsequently released the sloth bear back into the wild, but this time with a radio collar fitted around its neck.
Nepal's tigers on the rebound

(07/30/2013) Nearly two hundred tigers roam the lowland forests of Nepal, according to a new survey. This is a 63 percent increase in the country's tiger population since 2009, and rare good news for global efforts to save the tiger from extinction.
Booming cashmere trade eating up habitat for snow leopards, saiga, and wild yak
(07/25/2013) Snow leopards, wild yaks and other iconic wildlife on the world's highest mountains and great steppes are becoming "fashion victims" of the surging global trade in cashmere, new research has revealed. Scientists found wildlife being driven to the margins of survival by the "striking but unintended consequences" of huge increases in the numbers of the goats producing the luxurious lightweight wool.
Over 16,000 wild mammals and birds sold in Nagaland market, India, annually
(06/24/2013) A comprehensive survey of the wildlife sold in the markets of Tuensang has resulted in a stunning record of the wildlife trade in the state of Nagaland in northeast India, as reported in a new study published in mongabay.com's open-access journal Tropical Conservation Science. Once a week, researchers with the Sálim Ali Centre for Ornithology and Natural History and the Near Chang Baptist group entered the Tuensang market and carried out intensive surveys and interviews of vendors selling wild birds or mammals.
Loris champion: conserving the world's most surprising primate family
(06/04/2013) Before Anna Nekaris began championing the cause of the world's lorises, little was known about this cryptic family of large-eyed, nocturnal, insect-eating, venomous primates. Nekaris, with Oxford Brookes University and founder of the Little Fireface project, has been instrumental in documenting rarely-seen loris behavior, establishing conservation programs, and identifying new species of these hugely-imperiled Asian primates.
Breaking the mold: Divya Karnad takes on fisheries and science journalism in India
(04/15/2013) Fishing is not a woman's domain in most countries across the globe. In parts of India there are fishing communities who believe that having a woman onboard a fishing boat brings bad luck. Despite this, Divya Karnad, a scientist who studies marine life in India, has spent several years studying fisheries and their impact on species like sharks and sea turtles. Her work forms a part of global efforts to track declining marine species and encourage more sustainable fishing.
Looking beyond the hundred legs: finding new centipedes in India requires many tools
(04/08/2013) A small, boneless creature, that lives underground, with a "hundred" legs, and a rather powerful sting; some of these creatures are drab, but some are so beautiful and brightly colored that they can startle. Centipedes. There is more to a centipede than its many legs, and its habit of darting out of dark places. One of the first lifeforms to turn up on land, some centipede fossils date back to about 450 million years ago. They have been evolving steadily since, with some estimates showing about 8,000 species today. Not even half of these species have been taxonomically described.
Scientists discover 8 new frogs in one sanctuary, nearly all Critically Endangered (photos)
(03/21/2013) Two surveys in the mountainous forests of Sri Lanka's Peak Wilderness Sanctuary have uncovered eight new species of frogs, according to a massive new paper in the Journal of Threatened Taxa. While every year over a hundred new amphibians are discovered, eight new discoveries in a single park is especially notable. Sri Lanka is an amphibian-lovers paradise with well over 100 described species, most of which are endemic, i.e. found only on the small island country. Unfortunately the country has also seen more frog extinctions than anywhere else, and seven of the eight new species are already thought to be Critically Endangered.
Scientists successfully reintroduce gaur in Indian park

(03/18/2013) Gaur (Bos gaurus gaurus) is one of the large wild ungulates of Asian jungles. It is the tallest living ox, and one of the four heaviest land mammals (elephant, rhino and wild buffalo are the other three), weighing up to 940 kilograms (2,070 pounds) and standing between 1.6 and 1.9 meters (5.2 to 6.2 feet) at the shoulder. Gaur were once distributed throughout the forested tracts of India and South Nepal, east to Vietnam and south to Malaya. Today, however, they are confined to just over a hundred existing, and 27 proposed, Protected Areas in India.
Burning coal may be killing over 100,000 people in India every year
(03/13/2013) India's dependence on coal-fired power plants for energy may be leading directly to the deaths of 80,000 to 115,000 of its citizens every year, according to the first ever report on the health impacts of coal in the country. The report, commissioned by the Conservation Action Trust and Greenpeace-India, deals only with the direct health impact of coal and not climate change. But even ignoring the rising pain of global warming, the bleak report outlines that coal consumption in India is causing over 20 million asthma attacks, nearly a million emergency room visits, and killing some 10,000 children under five annually.
Photographers threatening the already-abused slender loris
(03/12/2013) Caught in a beam of torchlight, the eyes of the slender loris reflect back a striking glow. In an effort to better understand these shy, nocturnal primates, a team of researchers set out to the Western Ghats of India. The resulting paper: Moolah, Misfortune or Spinsterhood? The Plight of the Slender Loris (Loris lydekkerianus) in Southern India was published in the Journal of Threatened Taxa in January of 2013. Forest walks and interviews with the Kani people, who live in close proximity to the lorises, supported evidence of a surprising new threat to the lorises: photographers.
Tigers gobble up 49 percent of India's wildlife conservation funds, more imperiled species get nothing

(02/12/2013) Nearly half of India's wildlife budget goes to one species: the tiger, reports a recent article in Live Mint. India has devoted around $63 million to wildlife conservation for 2013-2013, of which Project Tiger receives $31 million. The Bengal tiger (Panthera tigris tigris) is currently listed as Endangered by the IUCN Red List; however India is also home to 132 species currently considered Critically Endangered, the highest rating before extinction.
Claim of human and tiger 'coexistence' lacks perspective
(01/29/2013) Nepal's Chitwan National Park was the site of a study, published in September 2012 by Carter and others, which concluded that, tigers coexist with humans at fine spatial scales. This paper has ignited a scientific debate regarding its implications for large carnivore conservation worldwide, with scientists at institutions worldwide questioning the validity of claims of coexistence. At the foundation of this debate, perhaps, is the unresolved question, "what is coexistence?"
Living beside a tiger reserve: scientists study compensation for human-wildlife conflict in India
(01/21/2013) During an average year, 87% of households surrounding Kanha Tiger Reserve in Central India report experiencing some kind of conflict with wild animals, according to a new paper in the open-access journal PLOS One. Co-existence with protected, free-roaming wildlife can be a challenge when living at the edge of a tiger reserve. "Local residents most often directly bear the costs of living alongside wildlife and may have limited ability to cope with losses" wrote the authors of the new paper.
An avalanche of decline: snow leopard populations are plummeting

(01/03/2013) The trading of big cat pelts is nothing new, but recent demand for snow leopard pelts and taxidermy mounts has added a new commodity to the illegal trade in wildlife products, according to the Environmental Investigation Agency (EIA). Traditionally, the market for large cat products has centered around tiger bones and parts for traditional Chinese medicine. Snow leopards (Uncia uncia), however, are a novel trend in the illegal wildlife trade arena and skins and taxidermy mounts are the most recent fad in luxury home décor.
A new method to monitor stray dog abundance

(12/10/2012) Free-roaming dogs (Canis familiaris) can fill a variety of ecological roles including competitor, predator, prey, and transmitter of disease to both wildlife and people with particular concern for rabies. A range of methods has been used to control dog populations, but monitoring dogs is a critical part of assessing the effectiveness of these methods.
Gaining from rain: precipitation is an indicator of tropical forest biodiversity

(11/12/2012) Policymakers seeking to conserve forests in southern India should focus on those receiving the highest levels of rainfall, according to new research. Scientists from the Center for International Forestry Research (CIFOR) found rainfall to be the most important environmental determinant of species richness in the Anamalai region of the southern Western Ghats.
Leopard poaching is a bigger problem in India than previously believed
(10/31/2012) A recent study conducted by wildlife trade monitoring group TRAFFIC uncovered unnerving statistics about the illegal trade of leopards (Panthera pardus) in India: at least four leopards have been poached every week for the past decade in the country. The study, entitled Illuminating the Blind Spot: A study on illegal trade in Leopard parts in India, highlights the severity of leopard poaching from 2001 to 2010, despite preventative measures established in 1972 by the Wildlife Protection Act (WLPA) that prohibit the sale of leopard parts in India.
Wealthy nations, excluding U.S., pledge to double funds for biodiversity

(10/22/2012) Although negotiations came down to the wire, nations finally brokered a new deal at the 11th meeting of the Convention on Biological Diversity (CBD) in Hyderabad, India; at its heart is a pledge to double resources from wealthier countries to the developing world by 2015 to conserve embattled species and ecosystems. While no numbers were put on the table, observers say a doubling of current resources would mean around $10-12 billion a year. However, this amount is still far short of what scientists and conservation groups say is necessary to stem current extinctions.
India pledges over $60 million for biodiversity, but experts say much more needed

(10/18/2012) The Prime Minister of India, Manmohan Singh, pledged around $50 million (Rs. 264 crore) for domestic biodiversity protection, reports the Hindu. The pledge came this week at the Convention on Biological Diversity (CBD) meeting in Hyderabad, India. The CBD has set bold goals on stemming the rate of extinction worldwide, but these have suffered from a lack of funding. India also said it had set aside another $10 million (Rs. 50 crore) for biodiversity projects abroad. Still, such funds are far below what scientists say is necessary to stem ongoing extinctions.
Appreciating elephant individuality: a new approach to preventing conflicts with humans
(10/09/2012) To prevent conflicts between humans and elephants in developed areas, a new study shows there is much to learn from analyzing Asian elephant behavior at the individual level as opposed to population studies. Researchers have traditionally interpreted elephant behavior at the population level, looking for behavior patterns among elephants of similar ages, group sizes, and genders. Today, field researchers in India are studying elephant behavior at the individual level. Their goal is to appreciate the idiosyncrasies of individual elephants in the hopes of predicting their behavior. Nishant Srinivasaiah, of the Tata Institute of Fundamental Research and lead author of the study, told mongabay.com that it is vital "to get to know our elephants more intimately than ever before and, more importantly, to shift our focus from a population to include its individuals as well."
Cute animal picture of the day: red panda kits

(10/04/2012) Although called red pandas, these Asian animals are neither pandas nor bears, and despite a resemblance to raccoons they are not closely related to them either. Red pandas (Ailurus fulgens) are actually now thought to be the sole living representative of the taxonomic family, Ailuridae. The rest of their near-relatives are extinct, making red pandas a very important species.
Livelihoods depend on the environment in the Western Ghats

(09/27/2012) In the Uttar Kannada district of the Western Ghats, the livelihood of the average individual depends largely on the well being of the environment. Six months ago, before large-scale mangrove planting of the area, if someone were to walk through the banks of the mangroves in the Western Ghats he would see many fishermen casting their long nets and wires, time and time again noticing pieces of trash such as plastic grocery bags tangled in the nets.
Recommendations to save India's Western Ghats creates political stir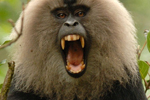 (08/20/2012) A massive expert panel report on the conservation of the Western Ghats has caused a political stir in India. The report, headed by noted ecologist Madhav Gadgil, recommends that the government phase out mining projects, cancel damaging hydroelectric projects, and move toward organic agriculture in ecologically-sensitive sections of the Ghats. The report, which was leaked after the government refused to release it, has yet to be implemented. Recently dubbed a UNESCO World Heritage Site, the Western Ghats is one of India's largest wildernesses and home to thousands of species, many found no-where else.
Tigers vs. coal in India: when big energy meets vanishing cats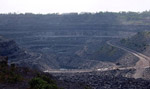 (08/01/2012) Burning coal fuels climate change, causes acid rain, and spreads toxic pollutants into the environment, but now a new Greenpeace report warns that coal may also imperil the world's biggest feline: the tiger. Home to world's largest population of tigers—in this case the Bengal subspecies (Panthera tigris tigris)—India is also the world's third largest coal producer. The country's rapacious pursuit of coal—it has nearly doubled production since 2007—has pushed the industry into tiger territory, threatening to destroy forests and fragment the tiger's already threatened population.
Conservation success: markhor population climbing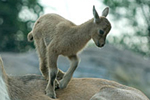 (07/24/2012) Pakistan's national mammal, the markhor, is making a remarkable comeback in the country as a result of community conservation efforts, according to the Wildlife Conservation Society (WCS). Surveys this year in the Kargah region of Northern Pakistan's Gilgit Baltistan territory, have estimated 300 individuals of this large wild goat, up from a low of 40-50 animals in 1991. What's more, the surveys suggest that numbers across the whole Gilgit Baltistan territory may have boomed to 1,500 individuals, whereas in 1999, there were believed to be fewer than 1,000 left. This represents an impressive climb—even for the markhor.
Cute animal picture of the day: baby Yemen chameleons

(07/23/2012) Ten Yemen chameleons (Chamaeleo calyptratus) were recently born at the Zoological Society of London's (ZSL) Whipsnade Zoo. A popular pet species, the chameleons, also known as veiled chameleons, still thrive in the mountainous wilds of Yemen and Saudi Arabia. It is listed as Least Concern by the IUCN Red List.
Animal picture of the day: leopard with giant prey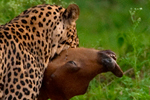 (07/19/2012) It's true: a leopard cannot change its spots—even after eight years! Using a computer program that looks at leopard spot patterns, researchers were able to identify the above leopard, which was snapped by an Indian photographer, with a leopard individual photographed eight years before by camera trap. This Indian leopard (Panthera pardus fusca) is known as BPL-123, and has made its home in India Bandipur Tiger Reserve.
First snow leopards collared in Afghanistan as species faces rising threat from climate change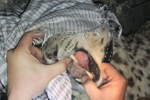 (07/18/2012) Scientists have captured and collared two snow leopards (Panthera uncia), arguably one of the world's most elusive predators, in Afghanistan for the first time. Undertaken by researchers with Wildlife Conservation Society (WCS) and Afghani vets, the successful operation was conducted as a new study finds that snow leopard habitat could shrink by nearly one-third due to anthropogenic climate change in the Himalayas.
Poaching results in elephant gender imbalance in Indian park

(07/09/2012) Scientists have undertaken a new census of Asian elephants (Elephas maximus) in India's Biligiri Rangaswamy Temple Tiger Reserve (BRT) following almost 30 years of sustained poaching. Estimating that the park contains four female elephants for every male, the scientists warn in a new study in mongabay.com's open access journal Tropical Conservation Science that this gender imbalance threatens the population. Poachers target male Asian elephants for their tusks, generally leaving females untouched.
Animal picture of the day: rare image of Asiatic cheetah and cubs

(07/03/2012) The Asiatic cheetah (Acinonyx jubatus venaticus), also known as the Iranian cheetah, is one the world's rarest cat subspecies with somewhere between 70-110 individuals left. No surprisingly it is considered Critically Endangered by the IUCN Red List.
India's Western Ghats rainforest declared UNESCO World Heritage Site

(07/03/2012) India's Western Ghats, considered one of the richest biodiversity hotspots in the world, has been dubbed a UNESCO World Heritage Site. In total, 39 different sites in the tropical rainforest—home to Asian elephants, Bengal tigers, lion-tailed macaques, and thousands of other species—have made it under the listing.
Nearly 50 tigers die in India in last six months

(06/18/2012) Since January 1st, 48 Bengal tigers (Panthera tigris tigris) have been found dead in India, which has the world's largest population of tigers. According to India's National Tiger Conservation Authority (NTCA), 19 of those deaths have been confirmed to be at the hands of poachers, but that number could become even higher. In order to combat a surge in tiger poaching, the Indian state of Maharashtra has recently granted legal immunity to any forest ranger who shoots a poacher.
Conservationists successfully hatch world's fourth most endangered turtle

(06/11/2012) The world's fourth most endangered turtle has received a happy boost from breeding efforts, reports the AFP. Bangladeshi scientists have successfully hatched 25 northern river terrapins (Batagur baska) using an artificial beach constructed in the country's Bhawal National Park.
IKEA logging old-growth forest for low-price furniture in Russia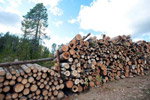 (05/30/2012) A new campaign is targeting IKEA, the world's biggest furniture retailer, for logging old-growth forests in the Karelia region of Russia. An alliance of groups, headed by the Swedish NGO Protect the Forest, allege that IKEA's subsidiary, Swedwood, is clearcutting thousands of hectares of old and biodiverse forests. But, Swedwood's 300,000 hectare concession is certified by the Forest Stewardship Council (FSC), generally considered the world's strongest forestry certifier.
Over half of world's tiger reserves lack minimum protection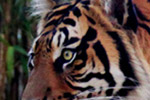 (05/21/2012) A year-and-a-half after a landmark summit that pledged to double the world's number of tigers by 2022, and still 65 percent of tiger reserves lack minimum standards of protection for the world's largest cat, according to the World Wide Fund for Nature (WWF). Reporting at the first meeting of all 13 tiger-range countries since the 2010 summit, WWF said that 41 tiger reserves of 63 did not have enough boots on the ground to combat tiger poaching.
Growing cardamom impacts forests for decades

(05/17/2012) Over 25 years after people stopped growing cardamom in Sri Lanka's Knuckles Forest Reserve (KFR), the spice crop is still having an impact on the forest, according to a recent study in Forest Ecology and Management. The clearing of understory plants and the use of fertilizers continue to shape the forest in the protected area.
Hail Mary effort aims to save the world's most endangered turtles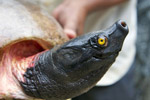 (04/17/2012) The Wildlife Conservation Society (WCS) has pledged to work with all of its institutions to save at least half of the world's most 25 endangered turtles as listed in a report by WCS and the Turtle Conservation Coalition last year. The program will include both conservation work in the field as well as participation from WCS's zoological institutions for captive breeding and future reintroductions. Even with WCS's ambitious program, however, it is likely this century will see a number of turtle extinctions.
Camera traps discover tigers, elephants in "empty" forest park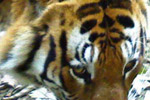 (04/16/2012) Although it's named Namdapha Tiger Reserve, conservationists had long feared that tigers, along with most other big mammals, were gone from the park in northeast India. However, an extensive camera trap survey has photographed not only Bengal tigers (Panthera tigris tigris), but also Asian elephants (Elephas maximus), which were also thought extirpated from the park. Once dubbed an "empty forest" due to poaching, the new survey shows that Namdapha still has massive conservation potential.
UN: wild teak forests declining

(03/28/2012) Wild teak forests continue to decline, threatening genetic diversity, while commercial planted teak forests are on the rise, according to a new assessment by the Food and Agriculture Organization (FAO). Overall, teak forests have declined by 1.3 percent, or 385,000 hectares, worldwide from 1992 to 2010. Teak (Tectona grandis) is used for a variety of commercial purposes, including outdoor furniture and flooring.
How tiny otters survive in agricultural India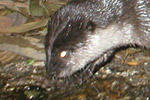 (03/19/2012) In the fragmented rainforests of India, many animals must move through human-modified landscapes such as agricultural fields to survive. This includes the world's smallest otter species: the Asian small-clawed otter (Aonyx cinereus). According to a new study published in mongabay.com's open access journal Tropical Conservation Society, the Asian small-clawed otter is widespread in streams flowing through tea and coffee estates of the Western Ghats, but requires improved protection.
Wildlife corridor key to conserving tigers, rhinos in Nepal

(03/19/2012) A single forest corridor links two of Nepal's great wildlife areas: Chitwan National Park and the Mahabharat mountain range, also known as the "little Himalayas." The Barandabhar Forest Corridor (BFC) has become essential for the long term survival Nepal's Indian rhinos (Rhinoceros unicornis) and Bengal tigers (Panthera tigris tigris). Yet, according to a new paper published in mongabay.com's open access journal Tropical Conservation Society (TCS), the corridor is imperiled by deforestation, a highway, and inconsistent management policies.
Featured Video: new family of legless amphibians discovered

(03/07/2012) Researchers exploring northeast India have discovered a new family of legless amphibians, known as caecilians. Although caecilians superficially resemble giant earthworms, they are in fact vertebrates and are most closely related to their amphibian kin, frogs and salamanders.
India targets forests for destruction, industrial development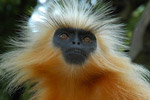 (02/28/2012) In a bid to fast-track industrial projects, India's Prime Minister's Office (PMO) is opening up 25 percent of forests that were previously listed as "no-go" areas, reports the Hindustan Times. The designation will allow between 30 and 50 new industrial projects to go ahead rapidly, including road construction and coal mining. Reportedly the changes came after industry representatives met with the Prime Minister's Office, headed by Manmohan Singh, to complain that projects were being held up by environmental regulations, in some cases taking six years for approval.
Cute baby animal photos of the day: twin slender lorises born at London Zoo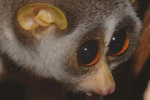 (02/27/2012) Twin grey slender lorises (Loris lydekkerianus) were born in the Zoological Society of London's (ZSL) zoo in London this month, a notable event since lorises rarely give birth to twins. Found in India and Sri Lanka, these nocturnal, big-eyed primates scour trees for insects. Although listed as Least Concern, the species is imperiled by deforestation, impacts from cats, electrocution on power lines, use in traditional medicine, and the pet trade.
Scientists discover world's deepest terrestrial animal

(02/22/2012) It's not the prehistoric monsters from the Jules Verne's Journey to the Center of the Earth or the human-bat hybrids of The Decsent, but it's an astonishing discovery nonetheless: intrepid scientists have discovered the world's deepest surviving terrestrial animal to date, a small wingless insect known as a springtail. Explorers discovered the new species, Plutomurus ortobalaganensis at a shocking 1.23 miles (1.98 kilometers) below the surface. The species was discovered by the Ibero-Russian CaveX Team Expedition in Krubera-Voronja Cave, the world's only known cave to go deeper than 2 kilometers.