News articles on central america

---
Mongabay.com news articles on central america in blog format. Updated regularly.





Mass amphibian die-offs affect ecosystems

(10/19/2008) Large-scale die-offs of amphibians due to the outbreak of a killer fungal disease is impacting the forest ecosystem in which they live, reports a new study published in the journal Ecosystems.


Rainforest biodiversity at risk from global warming

(10/09/2008) Climbing temperatures may doom many tropical species to extinction if they are unable to migrate to higher elevations or cooler latitudes, report researchers writing in Science.


Carbon market may fund dam in Panama that threatens natural reserve

(09/01/2008) The UN's Clean Development Mechanism (CDM) — a scheme that provides funds to projects that reduce emissions in developing nations — may be used to finance a hydroelectric dam in Panama which, according to environmentalists, threatens a biologically rich World Heritage site and an indigenous tribe, the Ngobe.


STRI goes carbon neutral as Panama indigenous community to see carbon payments from forest conservation

(08/21/2008) The Smithsonian Tropical Research Institute (STRI), the Panama-based branch of the Smithsonian Institution, will offset its carbon dioxide emissions by working with an indigenous community to conserve forests and reforest degraded lands with native tree species. The agreement was announced Sunday, August 17, 2008.


Biologists attacked in Costa Rica

(08/12/2008) Two ornithologists were attacked by a machete-weilding group while surveying birds in Costa Rica, reports National Geographic.


7 steps to solve the global biodiversity crisis

(08/11/2008) Many biologists believe Earth is entering a sixth mass extinction event, one that has is the direct of human activities, including over-exploitation, habitat destruction and introduction of alien species and pathogens. Climate change — largely driven by anthropogenic forces — is expected to soon increase pressure on Earth's biodiversity. With population and per-capita consumption expected to grow significantly by the mid 21st century, there seems little hope that species loss can be slowed. Nevertheless, writing in the journal PNAS, Stanford biologists Paul R. Ehrlich and Robert M. Pringle suggest seven steps to help improve the outlook for the multitude of species that share our planet.


New Costa Rica guide offers insight on responsible tourism

(08/04/2008) Costa Rica is the world's most popular destination for rainforest tourism thanks to its spectacular biodiversity, relative ease-of-access and safety, and many natural attractions. In 2007 nearly 2 million tourists visited the country, generating almost 2 billion in revenue -- more than the combined income from bananas and coffee.


Researchers discover "artistic" moth in Panama

(07/29/2008) Researchers have discovered a new species of Bagworm Moth that wraps its eggs individually in "beautiful cases" fashioned from its golden abdominal hairs, according to a new paper published in the Annals of the Entomology Society of America. The behavior is unique among insects.


Climate change will increase the erosion of coral reefs

(07/28/2008) Coral reefs are particularly susceptible to climate change. Warming waters have been shown to bleach coral, killing off symbiotic algae that provide them with sustenance, and often leading to the death of the coral itself. Much attention has been placed on bleaching coral, but now scientists have discovered an additional danger to coral reefs in a warming world: erosion.


Mangroves are key to healthy fisheries, finds study

(07/21/2008) Mangroves serve as a critical nursery for young marine life and therefore play an important role in the health of fisheries and the economic well-being of fishermen, report researchers writing in the early online edition of the Proceedings of the National Academy of Sciences.


Mexican canyon serves as key refuge for endangered spider monkeys

(06/09/2008) A picturesque canyon in Chiapas, Mexico is serving as an important refuge for the northernmost population of Spider monkeys, reports a study published in the June issue of Tropical conservation Science.


Defaunation, like deforestation, threatens global biodiversity



(05/20/2008) Loss of wildlife is a subtle but growing threat to tropical forests, says a leading plant ecologist from Stanford University. Speaking in an interview with mongabay.com, Dr. Rodolfo Dirzo says that the disappearance of wildlife due to overexploitation, fragmentation, and habitat degradation is causing ecological changes in some of the world's most biodiverse tropical forests. He ranks defaunation — as he terms the ongoing biological impoverishment of forests — as one of the world's most significant global changes, on par with environmental changes like global warming, deforestation, and shifts in the nitrogen cycle.


Frog chooses whether to lay eggs on land or in water

(05/19/2008) Researchers in Panama have discovered a frog that can choose whether it lays its eggs on land or in water. It is the first time such "reproductive flexibility" has been found in a vertebrate.


New research shows wild sloths sleep less than captive sloths

(05/14/2008) Wild sloths are considerably more active than their counterparts in captivity, reports the first electrophysiological study of sleep in a wild animal.


Rainforest recovery after deforestation can be enhanced by artificial bat houses

(04/23/2008) "Bat boxes" could help in the recovery of tropical rainforest after deforestation, reports research described in New Scientist Magazine.


Cache of rare and undiscovered species under threat in Panama

(04/21/2008) Rare and previously undiscovered species are under threat by loggers, ranchers, and poachers in an isolated patch of cloud forest in Panama, a prominent group of scientists has warned. The group, the Association for Tropical Biology and conservation (ATBC), has called on the Panamanian government to immediately provide protected-area status to the region.


Bats protect crops from insects

(04/04/2008) Bats eat as many insects at night as birds do during the day, according to research published in the journal Science.


Bats eat as many insects as birds

(04/03/2008) Bats eat as many insects at night as birds do during the day, according to research published in the journal Science.


Regrowing the rainforest

(03/30/2008) Half a century after most of Costa Rica's rainforests were cut down, researchers from the Boyce Thompson Institute took on a project that many thought was impossible - restoring a tropical rainforest ecosystem.


No global warming link to dying frogs?


(03/25/2008) Scientists have fired another salvo in the heated debate over the role of climate change in the global decline of amphibians. Writing in the March 25 issue of PLoS Biology, a team of researchers led by Karen Lips of Southern Illinois University-Carbondale report finding "no evidence to support the hypothesis that climate change has been driving outbreaks of amphibian chytridiomycosis" -- a disease blamed for large-scale die-offs of amphibians. Other researchers have argued that climate shifts are worsening the outbreak of the fungal disease.


Belize's world famous coral reefs and rainforests at risk

(03/03/2008) Belize's world famous coral reefs and tropical forests are increasingly vulnerable to environmental problems which could impact its tourism-dependent economy, argues a Belizean ecologist writing in the inaugural issue of the open access e-journal Tropical conservation Science.


Fragmentation puts Mexican howlers at risk

(03/03/2008) Forest fragmentation is putting mantled howler monkeys in southern Mexico at risk, reports a new study, published in the inaugural issue of the open access e-journal Tropical conservation Science.


The Panamanian golden frog declared extinct by BBC Natural History crew

(02/04/2008) A national symbol of Panama has been declared extinct by BBC filmmakers. The crew was in Panama to film the unique frog for David Attenborough's most recent series on reptiles and amphibians, entitled Life in Cold Blood. The filmmakers achieved their objective and captured the golden frog on film, including rarely seen behvaior.


Scientists discover four species of anole lizards in 24 hours in Panama

(01/13/2008) In January of 2006 a biological expedition uncovered four anole species in a single day. Dr. Gunther Koehler, a member of the expedition, described the discoveries as "a once in a life time experience; during expeditions before, we had found new species, one at a time--but four species within 24 hours, that was incredible!"


Three salamander species discovered in Costa Rica

(01/06/2008) Scientists from the Natural History Museum of London have discovered three new species of salamander in south-eastern Costa Rica. This brings the nation's total to forty-three species, meaning that this small tropical nation contains approximately nine percent of the world's salamanders.


Study shows that sea turtles can recover

(12/18/2007) conservation of sea turtle nesting sites is paying off for the endangered reptiles, reports a new study published this week in the journal Global Ecology and Biogeography. A team of researchers led researchers from IUCN and conservation International found that green turtle (Chelonia mydas) nesting on four beaches in the Pacific and two beaches in the Atlantic have increased by an four to fourteen percent annually over the past two to three decades as a result of beach protection efforts.


Physicists join fight to save amphibians from extinction

(11/19/2007) Physicists have joined the fight to save amphibians from extinction by using Optical Coherence Tomography (OCT) to investigate the properties of frogs skin.


Only 150 vaquita remain

(11/19/2007) Only 150 individual vaquita, the world's smallest cetacean, remain, according to a new study published in conservation Biology. The species has been decimated as accidental bycatch in fishing nets in its Gulf of California habitat. Researchers--who say there may be only a two-year window to save the species from extinction--have launched a last-ditch conservation effort.


Large-scale agriculture 'compromises' forest's ability to recover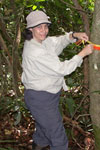 (11/19/2007) As deforestation of tropical forests continues unhindered, one of the future hopes for these damaged ecosystems is regeneration in secondary forests. Some areas that were once slash-and-burned for cattle ranching or subsistence agriculture have been abandoned, allowing scientists to study the possibility of recovery in the rainforest. If anyone has a clear idea of the potential of secondary forests it is Robin L. Chazdon. Dr. Chazdon, a full professor of Ecology and Evolutionary Biology at the University of Connecticut, has been studying the regeneration of secondary forest for over twenty-five years. She has published over 50 papers on tropical ecology, currently she serves as an active member of the Biotropica editorial board and is a member of the Bosques Project, which measures secondary forest recovery in Northern Costa Rica.


7-year old nature guide becomes Belize environmental hero as adult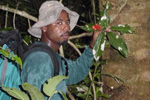 (11/16/2007) Each year hundreds of thousands of nature-oriented tourists visit Belize to see the Central American country's spectacular coral reefs, biodiverse rainforests, and ancient Mayan ruins. However few visitors realize that Belize's natural resources are at risk. Timber and oil extraction, agricultural encroachment, coastal development, pollution and unrestrained tourism are all increasing threats to Belizean ecosystems. Unless something is done to address these concerns, within a generation these pressures could present considerable problems for Belize. Dr. Colin Young, head of the environmental science program at Galen University in Belize, says that while he is greatly concerned about these issues, there is still time to ensure healthy forests and reefs in Belize.


Chocolate first used more than 3100 years ago

(11/12/2007) Cacao, the source of chocolate, was in use at least at least 3000 years ago according to evidence found by archaeologists working in Honduras. The discovery pushes back the earliest known use of cacao by 500 years.


Scientists find treatment for killer frog disease

(10/29/2007) New Zealand scientists have found a treatment for a disease blamed for the death of millions of amphibians worldwide, according to a report from BBC News. However, at best, the cure would only be applicable to captive populations. The disease is killing many amphibians in apparently pristine habitats.


As colorful frog leaps toward extinction, experts look for clues

(10/29/2007) A brightly coloured tropical frog under threat of extinction is the focus of a new research project hoping to better understand how environment and diet influence its development and behaviour.


Costa Rica gets $26M debt-for-nature swap

(10/18/2007) Under an agreement signed Wednesday by the governments of the United States and environmental groups, $26 million of Costa Rican debt will be forgiven in exchange for tropical forest conservation. The debt-for-nature swap comes under the Tropical Forest conservation Act of 1998, legislation intended to allow eligible developing countries to forego paying back debt owed to the U.S. in exchange for supporting local tropical forest conservation activities.


Do Costa Rica's payments for environmental services work?

(09/17/2007) While Costa Rica is now known as a world leader for conservation policies and ecotourism, the Central American country had some of the world's highest deforestation rates prior to establishing its reputation. Clearing for cattle pasture and agriculture destroyed much of the country's biodiverse rainforests in the 1960s and 1970s.


Two new species of salamander discovered in Panama

(09/09/2007) Scientists have discovered two new species of salamanders from the mountainous Costa Rica-Panama border region. The findings, published by David B. Wake, Jay M. Savage, and James Hanken in the journal Copeia, push the number of salamanders known in the region to 24, making it a hotspot in terms of salamander biodiversity.


Felix Death Toll Washes Up on Coastline

(09/07/2007) Nicaraguan and Honduran officials have announced that upwards of 100 people are confirmed dead, and another 120 still unaccounted for after Hurricane Felix made landfall earlier this week.


Can remittances and globalization help the environment?

(09/05/2007) Globalization and other economic trends appear to be helping the degraded forests of El Salvador recover, reports new research that evaluated the impact of global trade, land policy changes, and remittances on forest cover. The study, by Susanna B. Hecht of University of California at Los Angeles and Sassan S. Saatchi of the California Institute of Technology, used socioeconomic data, land-use surveys, and satellite imagery to document significant increases in the area of El Salvador covered by both light woodlands and forest since peace accords were signed in the warn-torn country in 1992.


Felix: first time two Category-5 storms hit land in same season

(09/04/2007) Hurricane Felix made landfall in Nicaragua around 7:45 a.m. Eastern Time as a Category 5 storm with top winds at 160 mph (260 km/h), according to the U.S. National Hurricane Center.


Groups demand AES withdraw from Panama dam projects

(08/23/2007) More than 50 green groups demanded Thursday that AES Corporation withdraw from three controversial hydroelectric projects that are threatening La Amistad International Park in Panama. Environmentalists say the dams threaten to displace wildlife and local communities -- the Naso and Ngobe people -- in the World Heritage site.


Dean was 3rd most intense Atlantic hurricane at landfall

(08/21/2007) Hurricane Dean was the third most intense Atlantic hurricane to make landfall, according to forecasters at the National Hurricane Center who measured the storm's central atmospheric pressure.


Crop domestication originated in compost piles

(08/19/2007) New research lends support to the theory that backyard gardens and refuse heaps played an important role in early crop domestication.


Clearing rainforest for cattle pasture drives surge in vampires

(08/15/2007) A new study confirms that vampire bats are thriving due to the clearing of rainforest for cattle pasture in Costa Rica. Instead of having to seek out scarce wildlife in the forest, vampire bats now prey on cattle kept in high densities on ranches.


Wild parrots tracked by satellite for the first time

(08/06/2007) Researchers are now tracking wild parrots from space.


"Virgin" rain forests of Costa Rica a misnomer

(07/25/2007) Radiocarbon dating of montane forest soils in Costa Rica uncovered evidence of charcoal that shows its otherwise "virgin" tropical forests are less than 200 years old. The findings, published in the journal Biotropica, have implications for the re-establishment of rain forests after clearing.


Set back for AES on rainforest dam project in Panama

(06/26/2007) The World Heritage Committee moved to assess threats to La Amistad International Park, a World Heritage site shared by Panama and Costa Rica, from AES Corporation's planned construction of four hydroelectric dams on the park's border. The decision was based on an April 2007 petition from the Center for Biological Diversity and more than 30 other organizations in the United States, Panama, and Costa Rica.


Coffee plantations may preserve tropical bird species

(06/18/2007) Agricultural areas offer opportunities for conservation in deforested landscapes in the tropics, reports a study published in the April 2007 issue of the journal conservation Biology by Stanford University biologists.


An interview with author and eco-lodge pioneer Jack Ewing



(06/12/2007) In 1970 a young man went to Costa Rica, a place he initially confused with Puerto Rico, on an assignment to accompany 150 head of cattle. 37 years and several lifetimes' worth of adventures later, Jack Ewing runs a eco-lodge that serves as a model for a country now considered the world leader in nature travel.


Can cattle ranchers and soy farmers save the Amazon?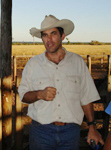 (06/06/2007) John Cain Carter, a Texas rancher who moved to the heart of the Amazon 11 years ago and founded what is perhaps the most innovative organization working in the Amazon, Alianca da Terra, believes the only way to save the Amazon is through the market. Carter says that by giving producers incentives to reduce their impact on the forest, the market can succeed where conservation efforts have failed. What is most remarkable about Alianca's system is that it has the potential to be applied to any commodity anywhere in the world. That means palm oil in Borneo could be certified just as easily as sugar cane in Brazil or sheep in New Zealand. By addressing the supply chain, tracing agricultural products back to the specific fields where they were produced, the system offers perhaps the best market-based solution to combating deforestation. Combining these approaches with large-scale land conservation and scientific research offers what may be the best hope for saving the Amazon.


Rural population decline may not slow deforestation


(06/03/2007) A new paper shoots down the theory that increasing urbanization will lead to increasing forest cover in the tropics. Writing in the July issue of the journal Biotropica, Sean Sloan, a researcher from McGill University in Montreal, argues that anticipated declines in rural populations via urbanization will not necessarily result in reforestation--a scenario put forth in a controversial paper published in Biotropica last year by Joseph Wright of the Smithsonian Tropical Research Institute in Panama and Helene Muller-Landau of the University of Minnesota. Wright and Muller-Landau said that deforestation rates will likely slow, then reverse, due to declining rural population density in developing countries.



Page 1 | Page 2 | Page 3 | Page 4 | Page 5