News articles on central america

---
Mongabay.com news articles on central america in blog format. Updated regularly.






Rodent robbers fill role of mega mammals, help spread tropical trees

(08/07/2012) In order to disperse their seeds, large-fruited tropical trees probably relied on massive mammals that roamed the earth over 10,000 years ago. But with giants such as the mastodon now extinct, thieving rodents—who continually excavate and rebury others' seeds—may be filling their role, according to a new study in the Proceedings of the National Academy of Sciences (PNAS).
Predicting the distribution of tropical dung beetles

(07/09/2012) Although they live in almost every ecosystem in the world—from your backyard to the Antarctic—scientists know very little about many insect species, including many individual species' distribution. A new study in mongabay.com's open-access journal Tropical Conservation Science attempts to predict the range of 53 dung beetle species in the genus Eurysternus, all of which are found in the American tropics. Dung beetles are hugely important to their environments, since they efficiently devour and recycle waste.
Herp paradise preserved in Guatemala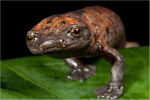 (05/29/2012) Fifteen conservation groups have banded together to save around 2,400 hectares (6,000 acres) of primary rainforest in Guatemala, home to a dozen imperiled amphibians as well as the recently discovered Merendon palm pit viper (Bothriechis thalassinus). The new park, dubbed the Sierra Caral Amphibian Reserve, lies in the Guatemalan mountains on the border with Honduras in a region that has been called the most important conservation area in Guatemala.
Less than 100 pygmy sloths survive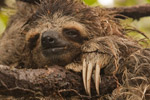 (05/24/2012) The pygmy three-toed sloth (Bradypus pygmaeus) is one of the world's most endangered mammals, according to a detailed survey of the population, which found less than 100 sloths hanging on in their island home. Only described by researchers in 2001, the pygmy sloth lives on a single uninhabited island off the coast of Panama. But human impacts, such as deforestation of the island's mangroves, may be pushing the species to extinction.
New frog species leaves scientists' fingers yellow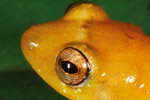 (05/22/2012) A beautiful, yellow frog species has been discovered in western Panama, according to a new paper in ZooKeys. Scientists were surprised when handling the new species to find their fingers stained bright yellow by its skin, but even after laboratory research the purpose of this dye remains a mystery. The new species, named Diasporus citrinobapheus, is a member of the large rain frog family, whose members skip the tadpole stage and instead are born directly from eggs as tiny froglets.
Animal picture of the day: the boat-billed heron

(05/16/2012) Boat-billed herons (Cochlearius cochlearius) are found in Central and South America, as far north as Mexico and as far south as Argentina. A notably bizarre heron, the species is the only member of the genus Cochlearius. Like many heron species it feeds on a wide variety of freshwater and terrestrial animals.
Jaguar v. sea turtle: when land and marine conservation icons collide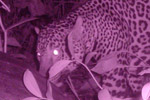 (05/16/2012) At first, an encounter between a jaguar (Panthera onca) and a green sea turtle (Chelonia mydas) seems improbable, even ridiculous, but the two species do come into fatal contact when a female turtle, every two to four years, crawls up a jungle beach to lay her eggs. A hungry jaguar will attack the nesting turtle, killing it with a bite to the neck, and dragging the massive animal—sometime all the way into the jungle—to eat the muscles around the neck and flippers. Despite the surprising nature of such encounters, this behavior, and its impact on populations, has been little studied. Now, a new study in Costa Rica's Tortuguero National Park has documented five years of jaguar attacks on marine turtles—and finds these encounters are not only more common than expected, but on the rise.
Wildlife in the tropics plummets by over 60 percent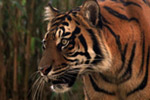 (05/15/2012) In 48 years wildlife populations in the tropics, the region that holds the bulk of the world's biodiversity, have fallen by an alarming 61 percent, according to the most recent update to the Living Planet Index. Produced by the World Wide Fund for Nature (WWF) and the Zoological Society of London (ZSL), the index currently tracks almost 10,000 populations of 2,688 vertebrate species (including mammals, birds, reptiles, amphibians, and fish) in both the tropics and temperate regions.
Oil company blamed for fire in Belize national park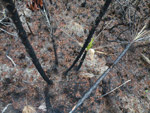 (05/01/2012) At the end of March in southern Belize the sun beats down through blackened trees onto what was the only known low-lying sphagnum moss bog in Central America. Now it is an expanse of ash and pale crusts of burned moss onto which dragonflies settle briefly before passing on. Fire spread through the area at the end of February 2012, and since then reeds have begun to sprout, but otherwise it remains a scene of devastation with no sign that the moss is regenerating.
Belize enacts moratorium on rosewood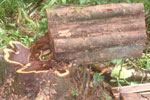 (03/20/2012) The Belizean Government has banned the harvesting and export of rosewood with immediate effect, in response to the widespread clearing of the hardwood species for the Asian market. A government statement released on Friday, March 16th claimed the moratorium was necessary "to carry out an orderly assessment of the situation on the ground and as a first response to regulate the timber trade occurring in southern Belize." The government would subsequently institute "a rigorous regulatory framework throughout the country."
Tink frog calls allow researchers to measure population

(03/19/2012) Given their often tiny size and cryptic nature, how does one determine frog populations in the rainforest? Just eavesdrop. A new study in mongabay.com's open access journal Tropical Conservation Society (TCS) employed automated recorders to listen to amphibian calls to determine if the common tink frog (Diasporus diastema) could be found in recovering secondary forests in Costa Rica.
Airborne lasers discover undocumented deforestation in Belize park

(03/19/2012) A NASA funded expedition using airborne lasers to study ancient Mayan ruins has also documented widespread illegal deforestation in the Caracol Archaeological Reserve. The lasers found that forest disturbance was actually 58 percent greater than recent satellite surveys showed, according new study in mongabay.com's open access journal Tropical Conservation Society (TCS). Such deforestation not only imperils biodiversity, carbon storage, and migration routes for Central American species, but could also lead to plundering of the Maya site of Caracol.
Camera traps go under the ocean, seeking sharks

(03/12/2012) Remote camera traps, which have become a hugely important conservation tool on land during the past decade, have now gone underwater. Marine biologists have used underwater video camera traps to compare the population of Caribbean reef sharks (Carcharhinus perezii) in Belize's protected areas versus fishing areas in a new study in the open-access journal PLoS ONE. Conducted from 2005-2010, the study found that reef sharks benefited significantly from conservation areas.
Evidence mounts that Maya did themselves in through deforestation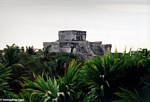 (12/08/2011) Researchers have garnered further evidence for a smoking gun behind the fall of the great Maya civilization: deforestation. At the American Geophysical Union (AGU) conference, climatologist Ben Cook presented recent research showing how the destruction of rainforests by the Mayan ultimately led to declines in precipitation and possibly civilization-rocking droughts. While the idea that the Maya may have committed ecological-suicide through deforestation has been widely discussed, including in Jared Diamond's popular book Collapse, Cook's findings add greater weight to the theory.
Featured video: saving baby orphaned sloths

(12/06/2011) The world's only sloth sanctuary works to save orphaned and injured sloths in Costa Rica. A recent short film (below) by Lucy Cooke highlights a few of the stars of the sloth sanctuary. Cooke has a new hour long film debuting on Animal Planet on December 17th at 8 PM EST, following the adventures of a number of these sloths.
Museum specimens reveal the tracks of an amphibian epidemic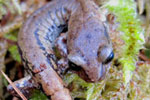 (11/07/2011) Dead men tell no tales, but dead frogs can speak volumes. Scientists have shown that frogs and salamanders preserved in museums tell the history of a deadly fungus and its spread across Mexico and Central America. The new finding, published recently in the Proceedings of the National Academy of Sciences (PNAS), may help explain past and ongoing amphibian die-offs in the region.
Climate change already worsening weird, deadly, and expensive weather

(11/02/2011) Unprecedented flooding in Thailand, torrential rains pummeling El Salvador, long-term and beyond-extreme drought in Texas, killer snowstorm in the eastern US—and that's just the last month or so. Extreme weather worldwide appears to be both increasing in frequency and intensity, and a new report from the Intergovernmental Panel on Climate Change (IPCC) connects the dots between wilder weather patterns and global climate change.
Picture of the day: cookies and cream moth?

(11/01/2011) This moth species from Panama has not yet been identified by mongabay.com. Moths makes up the bulk of the insect-family Lepidoptera, which also includes butterflies.
Cameratraps take global snapshot of declining tropical mammals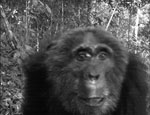 (08/17/2011) A groundbreaking cameratrap study has mapped the abundance, or lack thereof, of tropical mammal populations across seven countries in some of the world's most important rainforests. Undertaken by The Tropical Ecology Assessment and Monitoring Network (TEAM), the study found that habitat loss was having a critical impact on mammals. The study, which documented 105 mammals (nearly 2 percent of the world's known mammals) on three continents, also confirmed that mammals fared far better—both in diversity and abundance—in areas with continuous forest versus areas that had been degraded.
Animal picture of the day: the Jesus Christ lizard

(08/01/2011) The basilisk lizard walks on water. To escape danger the lizard will race across a stream, sprinting, literally, off the water's surface. But despite its nickname of 'Jesus Christ lizard' this is not a miracle, but adaptation.
Photo: six new mini-moths discovered

(07/19/2011) Researchers have discovered six new species of moth from Central America, according to a new paper in Zoo Keys. The moths belong to the primitive Yponomeutidae family, which are commonly known as ermine moths, since some of the species' markings resemble the coat of the ermine.
Best way to count white-tailed deer populations in tropical forests

(06/27/2011) Getting accurate estimates on wildlife populations is difficult in any habitat, but especially tricky in tropical forests where even large mammals are capable of melting into the foliage like ghosts. If you've ever spent time in a tropical rainforest, you know you could walk within a couple meters of a jaguar and never even know. Therefore, scientists have to come up with creative ways—from camera traps to pawprints to studying feces—to estimate population size. In the new issues of mongabay.com's open access journal Tropical Conservation Science, researchers look at the most accurate way to count white-tailed deer (Odocoileus virginianus) in central Mexican forests.
Honduras protects sharks in all its waters

(06/26/2011) Endangered sharks are finding more sanctuaries. Honduras has announced that commercial shark fishing will be banned from its 92,665 square miles (240,000 square kilometers) of national waters. Honduras says the ban, which follows a moratorium on shark fishing, will bring in tourism revenue and preserve the marine environment.
Environment versus economy: local communities find economic benefits from living next to conservation areas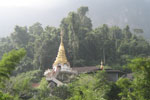 (06/12/2011) While few would question that conserving a certain percentage of land or water is good for society overall, it has long been believed that protected areas economically impoverish, rather than enrich, communities living adjacent to them. Many communities worldwide have protested against the establishment of conservation areas near them, fearing that less access and increased regulations would imperil their livelihoods. However, a surprising study overturns the common wisdom: showing that, at least in Thailand and Costa Rica, protected areas actually boost local economies and decrease poverty.
Scientists scramble to save dying amphibians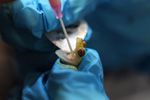 (04/28/2011) In forests, ponds, swamps, and other ecosystems around the world, amphibians are dying at rates never before observed. The reasons are many: habitat destruction, pollution from pesticides, climate change, invasive species, and the emergence of a deadly and infectious fungal disease. More than 200 species have gone silent, while scientists estimate one third of the more than 6,500 known species are at risk of extinction. Conservationists have set up an an emergency conservation measure to capture wild frogs from infected areas and safeguard them in captivity until the disease is controlled or at least better understood. The frogs will be bred in captivity as an insurance policy against extinction.
Amazon still neglected by researchers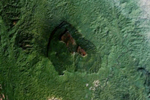 (03/28/2011) Although the Amazon is the world's largest tropical forest, it is not the most well known. Given the difficulty of access along with the fear of disease, dangerous species, indigenous groups, among other perceived perils, this great treasure chest of biology and ecology was practically ignored by scientists for centuries. Over the past few decades that trend has changed, however even today the Amazon remains lesser known than the much smaller, and more secure, tropical forests of Central America. A new study in mongabay.com's open access journal Tropical Conservation Science, which surveyed two prominent international tropical ecology journals (Biotropica and Journal of Tropical Ecology) between 1995 and 2008, finds that Central America was the subject of twice as many studies as the Amazon. In fact, according to the authors, much of the Amazon remains terra incognito to researchers, even as every year more of the rainforest is lost to human impacts.
Women are key to global conservation

(03/03/2011) In 1991, my nine-year-old daughter Rachel traveled with me to Guatemala where we were struck by the heartbreaking rural poverty and mudslides worsened by widespread deforestation. We vividly remember holding a three-year-old child who was so listless and malnourished he could scarcely lift his arms. The worry and fatigue on his mother's face and the child's condition affected us both profoundly, despite Rachel's relative youth.
Treasure chest of wildlife camera trap photos made public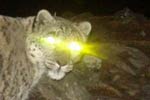 (02/27/2011) Photos taken by camera traps have not only allowed scientists to study little-seen, sometimes gravely endangered, species, they are also strangely mesmerizing, providing a momentary window—a snapshot in time—into the private lives of animals. These are candid shots of the wild with no human in sight. While many of the photos come back hazy or poor, some are truly beautiful: competing with the best of the world's wildlife photographers. Now the Smithsonian is releasing 202,000 camera trap photos to the public, covering seven projects in four continents. Taken in some of the world's most remote and untouched regions the automated cameras have captured such favorites as jaguars, pandas, and snow leopards, while also documenting little-known and rare species like South America's short-eared dog, China's golden snub-nosed monkey, and Southeast Asia's marbled cat.
American cougars on the decline: 'We're running against the clock,' says big cat expert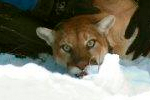 (01/17/2011) It holds the Guinness World Record for having the most names of any animal on the planet, with 40 in English alone. It's also the widest-ranging native land animal in the Americas, yet is declining throughout much of its range. Mongabay talks with big cat expert Dr. Howard Quigley about the status and research implications of the elusive, enigmatic, and unique cougar.
Harpy eagles nest in Belize for the first time in over 60 years (pictures)

(01/06/2011) Scientists have confirmed the presence of a harpy eagle nest in the Maya Mountains of Belize. The discovery represents the most northerly breeding pair in the Americas, and signals a comeback for a species which has become locally extinct in much of Central America due to human activity.
Good stewards of forests at home outsource deforestation abroad

(11/24/2010) As more nations adopt better laws and policies to save and restore forests at home, they may, in fact, be outsourcing deforestation to other parts of the world, according to a new study in the Proceedings of the National Academy of Sciences (PNAS). Looking at six developing nations where forests are recovering—instead of receding—the study found only one of them did not outsource deforestation to meet local demand for wood-products and food, a process known as 'leakage'.
Pictures: Belize Zoo devastated by hurricane

(11/15/2010) The world famous Belize Zoo is closed until further notice after suffering a direct hit from Hurricane Richard, which leveled trees and inflicted heavy damage on wire fences. The zoo has send out an urgent plea for building materials and funds to help with recovery. None of the facility's animals or staff were injured.
Belize lost 10,000 ha of forest per year since 1980
(11/07/2010) Forests in Belize have been cleared at a rate of nearly 10,000 hectares per year for the past 30 years, a recent study shows. In 1980, forests covered 79.5% of the land surface of Belize but as of February 2010 it had decreased to 62.7%. The area covered by forests in the country thus went from about 6500 square miles 30 years ago to around 5300 square miles today, losing an area the size of Rhode Island.
How the overlooked peccary engineers the Amazon, an interview with Harald Beck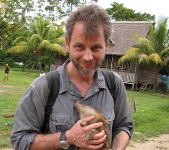 (09/20/2010) When people think of the Amazon rainforest, they likely think of roaring jaguars, jumping monkeys, marching ants, and squeezing anacondas. The humble peccary would hardly be among the first animals to cross their mind, if they even know such pig-like animals exists! Yet new research on the peccary is proving just how vital these species are to the world's greatest rainforest. As seed dispersers and seed destroyers, engineers of freshwater habitats and forest gaps, peccaries play an immense, long overlooked, role in the rainforest. "Peccaries have the highest density and biomass of any Neotropical mammal species. Obviously these fellows have quite an appetite for almost anything, but primarily they consume fruits and seeds. Their specialized jaws allow them to crush very hard seeds. The cracking sounds can be heard through the thick vegetation long before we could see them. As peccary herds bulldoze through the leaf litter in search for insects, frogs, seeds, and fruits, they destroy (i.e. snap and trample) many seedlings and saplings, sometimes leaving only the bare ground behind," Harald Beck, assistant professor at Towson University in Maryland, told mongabay.com in an interview.
30 frog species, including 5 unknown to science, killed off by amphibian plague in Panama

(07/19/2010) With advanced genetic techniques, researchers have drawn a picture of just how devastating the currently extinction crisis for the world's amphibians has become in a new study published in the Proceedings of the Nation Academy of Sciences (PNAS). Studying frog populations using DNA barcoding in Panama's Omar Torrijos National Park located in El Copé researchers found that 25 known species and 5 unknown species have vanished since 1998. None have returned.
With 'psychological cunning' wild cat lures monkeys by mimicking their babies' calls

(07/08/2010) It sounds like something out of a fairy-tale: the big bad predator lures its gullible prey by mimicking a loved one: 'why grandma, what big teeth you have!' But in this case it's the shocking strategy of one little-known jungle feline. In 2005 researchers with the Wildlife Conservation Society (WCS) were watching a group of eight pied tamarins ( Saguinus bicolor), squirrel-sized monkeys, feeding on a ficus tree in the Reserva Florestal Adolpho Ducke in Brazil. They then heard the sound of tamarin babies, but were surprised to see that the sound was not coming from young tamarins, but a hungry margay (Leopardus wiedii), a small cat native to Central and South America, which was hidden from the tamarins.
Inga alley cropping: a sustainable alternative to slash and burn agriculture

(06/14/2010) It has been estimated that as many as 300 million farmers in tropical countries may take part in slash and burn agriculture. A practice that is environmentally destructive and ultimately unstable. However, research funded by the EEC and carried out in Costa Rica in the late 1980s and early 1990s by Mike Hands offers hope that it is possible to farm more successfully and sustainably in these tropical regions.
Two new frogs discovered in Panama amidst amphibian plague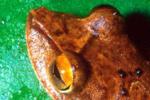 (06/06/2010) Researchers working to save Panama's frogs from a fatal disease have stumbled on two species unknown to science. In Omar Torrijos National Park they found a bigger version of a common species, which is now known to be a unique species, and near the Colombian border they discovered a new frog that has been named after Spanish for DNA. Both frogs were discovered while researchers searched for frog populations in chytridiomycosis-infected areas. The highly contagious disease chytridiomycosis has devastated frog species worldwide and is believe to be at least in part responsible for some 100 extinctions of amphibians.
How an agricultural revolution could save the world's biodiversity, an interview with Ivette Perfecto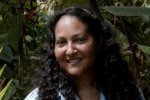 (05/04/2010) Most people who are trying to change the world stick to one area, for example they might either work to preserve biodiversity in rainforests or do social justice with poor farmers. But Dr. Ivette Perfecto was never satisfied with having to choose between helping people or preserving nature. Professor of Ecology and Natural Resources at the University of Michigan and co-author of the recent book Nature's Matrix: The Link between Agriculture, Conservation and Food Sovereignty, Perfecto has, as she says, "combined her passions" to understand how agriculture can benefit both farmers and biodiversity—if done right.
Diverse habitats needed for survival of small mammals in Mexico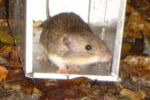 (03/29/2010) A new study in Tropical Conservation Science shows that small tropical mammals in Mexico—bats and rodents—require a variety of habitats to thrive. Surveying mammal populations in the Isthmus of Tehuantepec, Oaxaca, Mexico, researchers found that sites comprising the greatest habitat diversity carried also the greatest diversity of rodents. In turn bats lived in all variety of habitats and moved easily from one to another.
Forgotten Species: the marooned pygmy three-toed sloth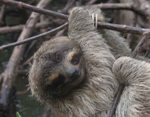 (03/16/2010) Many people consider tropical islands mini-paradises: sanctuaries cut-off from the rest of the world. Some species flourish on islands for the same reason. With few predators and a largely consistent environment, once a species has comfortably adapted to its habitat there's little to do but thrive. That is until something changes: like humans showing up. Changes in confined island ecosystems often have large and rapid impacts, too fast and too big for marooned species to survive.
How tree communities respond to distance to edges and canopy openness

(12/06/2009) Tropical forests frequently experience the opening and closing of canopy gaps as part of their natural dynamics. When an edge is created, and the area outside the boundary is a disturbed or unnatural system, forests can be seriously affected even at some distance from the fragmented edge, since sunlight and wind penetrate to a much greater extent. This increases tree mortality and, consequently, canopy openness close to the edge. Thus, canopy openness can be both part of a natural gap-dynamics cycle and the direct manifestation of human edge effects.
Costa Rica proposes to downgrade Las Baulas National Park, threatening leatherback sea turtles
(11/11/2009) Costa Rica is considered by many to be a shining example of environmental stewardship, preserving both its terrestrial and marine biodiversity while benefiting from being a popular tourist location. However, a new move by the Costa Rican government has placed their reputation in question. In May of this year the President of Costa Rica, Oscar Arias, presented a law to the legislature that would downgrade Las Baulas from a National Park to a 'mixed property wildlife refuge'. The downgrading would authorize a number of development projects that conservationists say would threaten the park's starring resident: the leatherback turtle.
Developer uses cover of national holiday to clear rainforest near Colon, Panama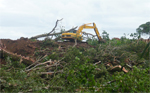 (11/06/2009) On Tuesday, November 3rd, while Panamanians celebrated Independence Day Holidays, heavy machinery unexpectedly entered and began cutting down tropical forest and mangroves near Galeta outside of Colon, Panama, report local sources. mongabay.com confirmed that the latest clearing has been carried out "almost in secret during national holidays so there would be no reaction from the public or the media." The clearing, conducted by a transportation cooperative called Serafin Niño, from Colon, is occurring in the buffer zone of the Galeta Protected Landscape and near Galeta Point Marine Laboratory, a facility of the Smithsonian Tropical Research Institute. The land will likely be used to store transportation equipment that moves cargo to and from the ports of Colon and the Free Zone.
The faster, fiercer, and always surprising sloth, an interview with Bryson Voirin

(10/25/2009) Sloths sleep all day; they are always slow; and they are gentle animals. These are just some of the popular misconceptions that sloth-scientist and expert tree-climber, Bryson Voirin, is overturning. After growing up among the wild creatures of Florida, spending his high school years in Germany, and earning a Bachelors degree in biology and environment at the New College of Florida, Voirin found his calling. At the New College of Florida, Voirin "met Meg Lowman, the famous canopy pioneer who invented many of the tree climbing techniques everyone uses today."





Guatemala latest country to declare food crisis: nearly half a million families face food shortages

(09/10/2009) The President of Guatemala, Alvaro Colom, has announced a "state of public calamity" to tackle food shortages throughout the Central American nation. The failure of bean and corn crops from drought, which cut the yields of these staple crops in half, has brought the crisis to a head. In addition, prime agricultural land in Guatemala is often used to grow export crops like coffee and sugar rather than staples.




Page 1 | Page 2 | Page 3 | Page 4 | Page 5 | Page 6