News articles on cattle

---
Mongabay.com news articles on cattle in blog format. Updated regularly.






New hope for the world's most endangered zebra
(05/22/2015) Writer and conservation biologist Nika Levikov embarked on the team's latest field mission led by Davidson, to the arid savannah landscape of northern Kenya to help find Grevy's zebras and attach GPS collars. This sub-population has never before been formally documented. With GPS, their movements can be tracked and scientists can learn more about this most endangered zebra species.
Indonesia, Brazil subsidizing forest loss far more than REDD+ slows it
(04/01/2015) International aid to protect forests in Indonesia and Brazil pales in comparison to domestic subsidies for commodities driving deforestation there. A study finds that while the countries received an annual average of $1 billion via REDD+, their agricultural and biofuel subsidies for palm oil, timber, soy and beef amounted to $41 billion per year.
Beef, palm oil, soy, and wood products from 8 countries responsible for 1/3 of forest destruction

(10/23/2014) Four commodities produced in just eight countries are responsible for a third of the world's forest loss, according to a new report. Those familiar with the long-standing effort to stop deforestation won't be surprised by the commodities named: beef, palm oil, soy, and wood products (including timber and paper). Nor will they be very surprised by most of the countries: Brazil, Indonesia, and Malaysia.
Global warming emissions from meat consumption rising rapidly
(07/22/2014) Greenhouse gas emissions from livestock production have increased by more than 50 percent over the past 50 years and are set to zoom higher as the developing world consumes more meat, finds a new study published in the journal Proceedings of the National Academy of Sciences (PNAS).
A taste for wildlife: what's driving bushmeat hunting in Tanzania?
(06/25/2014) Barbed-wire snares, spent shotgun shells, the lingering smell of gunpowder, and strips of curing meat: glimpses from a bushmeat hunt. Bushmeat hunting is the illegal hunting of wildlife for food and income. A new study reports regular bushmeat consumption by a large proportion of Tanzania's tribal populations. Co-authors Silvia Ceppi and Martin Nielson were hunting for their own answers: who was eating bushmeat and why?
Connecting forests, saving species: conservation group plans extensive wildlife corridor in Panama
(05/16/2014) With the cooperation of hundreds of ranchers and researchers, Azuero Earth Project aims to replant a swath of tropical dry forest, connecting the dry tropical forest on the coast to cloud forest further inland. The trees along the 140-kilometer (80-mile) wildlife corridor will create a continuous habitat for the Critically Endangered Azuero spider monkey (Ateles geoffroyi azuerensis) and improve the soil for people who farm and ranch along the way.
The beef with beef: how 12 strategies could drastically cut agricultural emissions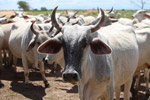 (04/25/2014) Eating less beef, cutting food waste, and utilizing farm landscapes to sequester carbon are three ways a new report suggests the world could rapidly tackle agricultural emissions. Currently, global agriculture accounts for nearly a fifth of the world's greenhouse gas emissions when agriculturally-linked deforestation is included.
Climate change increased the probability of Texas drought, African famine, and other extreme weather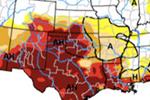 (07/11/2012) Climate change is here and its increasing the chances for crazy weather, according to scientists. A prestigious group of climatologists have released a landmark report that makes the dramatic point that climate change is impacting our weather systems—and in turn our food crops, our economies, and even our lives—here-and-now. The new report in the American Meteorological Society is first of what is intended to be an annual offering that will attempt to tease out the connections between climate change and individual extreme weather events, such as heatwaves, droughts and floods.
Wealthy consumption threatens species in developing countries
(07/11/2012) Consumption in wealthy nations is imperiling biodiversity abroad, according to a new study in Nature that investigates the link between international trade and biodiversity decline. The study shows how threats to biodiversity and ecosystems, located primarily in developing countries, can be connected to consumer demand for goods in wealthier nations. Some of the major commodities include coffee, cocoa, soy, beef and palm oil.