News articles on carnivores

---
Mongabay.com news articles on carnivores in blog format. Updated regularly.





Animal picture of the day: leopard with giant prey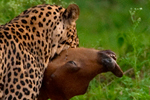 (07/19/2012) It's true: a leopard cannot change its spots—even after eight years! Using a computer program that looks at leopard spot patterns, researchers were able to identify the above leopard, which was snapped by an Indian photographer, with a leopard individual photographed eight years before by camera trap. This Indian leopard (Panthera pardus fusca) is known as BPL-123, and has made its home in India Bandipur Tiger Reserve.


First snow leopards collared in Afghanistan as species faces rising threat from climate change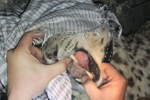 (07/18/2012) Scientists have captured and collared two snow leopards (Panthera uncia), arguably one of the world's most elusive predators, in Afghanistan for the first time. Undertaken by researchers with Wildlife Conservation Society (WCS) and Afghani vets, the successful operation was conducted as a new study finds that snow leopard habitat could shrink by nearly one-third due to anthropogenic climate change in the Himalayas.


First video footage of wild snow leopard cubs in their den in Mongolia

(07/18/2012) Panthera, a wild cat conservation group, and the Snow Leopard Trust have released the first footage of snow leopards with their mothers in their dens in Mongolia.


Cute animal picture of the day: spotted hyena cub

(07/15/2012) Spotted hyenas (Crocuta crocuta) are found across sub-Saharan Africa. Adept hunters, hyenas can also survive by scavenging and opportunism. They form the largest packs of any carnivore, which are run by matriarchs. Although, they resemble dogs, the hyena is actually more closely related to cats and weasels.


Marijuana farms poisoning carnivorous fishers in California, finds study

(07/13/2012) An illegal pesticide used by marijuana growers to kill rodents is poisoning weasel-like fishers in California, reports a new study published in the journal PLoS ONE.


Animal picture of the day: Sunda clouded leopard in Borneo

(07/09/2012) The Sunda clouded leopard (Neofelis diardi) is the largest wild cat in Borneo and is classified as Endangered by the IUCN Red list of threatened species. Due to their nocturnal and cryptic habits they are seldom observed and very little is known of their basic ecology and distribution. This large Clouded leopard was photographed by remote camera trap in Malua BioBank as part of the Bornean Banteng Program which studies the rare banteng (Bos javanicus lowi).


Animal picture of the day: rare image of Asiatic cheetah and cubs

(07/03/2012) The Asiatic cheetah (Acinonyx jubatus venaticus), also known as the Iranian cheetah, is one the world's rarest cat subspecies with somewhere between 70-110 individuals left. No surprisingly it is considered Critically Endangered by the IUCN Red List.


'Time pollution': loss of predators pushes nocturnal fish to take advantage of the day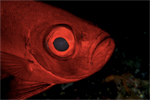 (06/25/2012) Nocturnal fish—which sport big eyes for improved night vision—are taking back the day in the coral reefs of the Tabuaeran Atoll, according to a new study in the open-access journal PLoS ONE. Overfishing has plundered the Pacific atoll of many of its notable predators, including sharks and barracudas, causing ripple effects through the ecosystem. One of these emerging changes appears to be that with less fear of being eaten, nocturnal fish are increasingly venturing out during the day.


Nearly 50 tigers die in India in last six months

(06/18/2012) Since January 1st, 48 Bengal tigers (Panthera tigris tigris) have been found dead in India, which has the world's largest population of tigers. According to India's National Tiger Conservation Authority (NTCA), 19 of those deaths have been confirmed to be at the hands of poachers, but that number could become even higher. In order to combat a surge in tiger poaching, the Indian state of Maharashtra has recently granted legal immunity to any forest ranger who shoots a poacher.


Jaguars photographed in palm oil plantation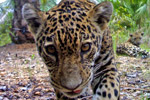 (06/06/2012) As the highly-lucrative palm oil plantation moves from Southeast Asia to Africa and Latin America, it brings with it concerns of deforestation and wildlife loss. But an ongoing study in Colombia is finding that small palm oil plantations may not significantly hurt at least one species: the jaguar. Researchers in Magdalena River Valley have taken the first ever photos of jaguars in a palm plantation, including a mother with two cubs, showing that the America's biggest cat may not avoid palm oil plantations like its Asian relative, the tiger.


New campaign targets snares in effort to save world's big cats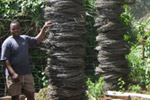 (06/05/2012) Last summer, a wild Sumatran tiger—one of only a few hundred surviving on the island—made news in a story that did not have a happy ending. The cat had become entangled in a snare in a logging concession owned by Asia Pulp and Paper (APP). The tiger spent seven days without food or water before wildlife rangers found it, but its snared right paw was a bloody black mess. Although the rangers were able to sedate and free the cat, it died shortly thereafter from its wounds.


Animal picture of the day: tracking cheetahs in Namibia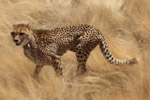 (06/04/2012) The N/a'an ku se Carnivore Conservation Research Project in Namibia has recently been tracking a male cheetah named Boris. After caught hunting in a game farm, Boris was captured, tagged with a radio collar for GPS tracking, and released back into the wild.


Rangers now allowed to shoot tiger poachers on sight in Indian state

(05/25/2012) In the wake of a surge in tiger poaching, the state government of Maharashtra, India will no longer consider the shooting of wildlife poachers by forest rangers a crime, reports the Associated Press.


Over half of world's tiger reserves lack minimum protection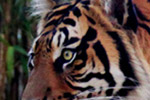 (05/21/2012) A year-and-a-half after a landmark summit that pledged to double the world's number of tigers by 2022, and still 65 percent of tiger reserves lack minimum standards of protection for the world's largest cat, according to the World Wide Fund for Nature (WWF). Reporting at the first meeting of all 13 tiger-range countries since the 2010 summit, WWF said that 41 tiger reserves of 63 did not have enough boots on the ground to combat tiger poaching.


Cute animal picture (and video) of the day: baby otters

(05/21/2012) The Wildlife Conservation Society's Prospect Park Zoo in New York City has recently seen the arrival of three baby North American river otters (Lontra canadensis), the first born in the city at a zoo or aquarium in over 50 years.


Jaguar v. sea turtle: when land and marine conservation icons collide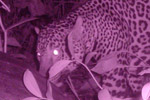 (05/16/2012) At first, an encounter between a jaguar (Panthera onca) and a green sea turtle (Chelonia mydas) seems improbable, even ridiculous, but the two species do come into fatal contact when a female turtle, every two to four years, crawls up a jungle beach to lay her eggs. A hungry jaguar will attack the nesting turtle, killing it with a bite to the neck, and dragging the massive animal—sometime all the way into the jungle—to eat the muscles around the neck and flippers. Despite the surprising nature of such encounters, this behavior, and its impact on populations, has been little studied. Now, a new study in Costa Rica's Tortuguero National Park has documented five years of jaguar attacks on marine turtles—and finds these encounters are not only more common than expected, but on the rise.


Pictures: Jaguar bonanza caught on camera

(05/13/2012) Images of several jaguars, including cubs, have been captured by camera traps on a Colombian ranch that is well known among cat researchers for its diversity of felines.


Just how far can a polar bear swim?

(05/03/2012) Polar bears (Ursus maritimus) are capable of swimming incredible distances, according to a new study published in Zoology, which recorded polar bears regularly swimming over 30 miles (48 kilometers) and, in one case, as far as 220 miles (354 kilometers). The researchers believe the ability of polar bears to tackle such long-distance swims may help them survive as seasonal sea ice vanishes due to climate change.


Rare leopard photographed in China

(04/25/2012) Camera traps in China's Hunchun Amur Tiger National Nature Reserve have captured an image of the critically endangered Amur leopard, reports the Wildlife Conservation Society. The photograph, coupled with a recent study that suggests the presence of 8-11 leopard in Jilin Province, suggests that Amur leopards may be rebounding in China.


Animal picture of the day: the spotless cheetah

(04/23/2012) A strange cheetah (Acinonyx jubatus) has been photographed in Kenya by wildlife artist Guy Combes. The "golden" cheetah's telltale spots are bizarrely diluted.


Pretty in pink: the strawberry leopard (Photo)

(04/20/2012) This photo of the day features a "strawberry" leopard walking in South Africa's Madikwe Game Reserve taken by wildlife photographer and safari guide, Deon De Villiers.


Animal picture of the day: the gray zorro

(04/18/2012) This canine has many names: the gray zorro, the chilla, and the South American gray fox. Despite its moniker as a fox, however, the species is more closely related to wolves and coyotes than actual foxes.


Javan officials employ camera traps to find extinct tiger

(03/13/2012) Although officially declared extinct in 2003, some people believe the Javan tiger (panthera tigris sondaica) is still alive in the island's Meru Betiri National Park. To prove the big cat has not vanished for good, wildlife officials have installed five camera traps in the park, reports Antara News.


Over 450 wolves shot dead in Idaho, Montana to date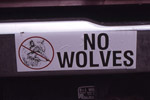 (02/27/2012) Less than a year after being pulled off the Endangered Species Act (ESA), gray wolves (Canis lupus) in the western U.S. are facing an onslaught of hunting. The hunting season for wolves has just closed in Montana with 160 individuals killed, around 75 percent of 220-wolf kill quota for the state. In neighboring Idaho, where 318 wolves have been killed so far by hunters and trappers, the season extends until June. In other states—Oregon, Washington, California, and Utah—wolf hunting is not currently allowed, and the species is still under federal protection in Wyoming.


The camera trap revolution: how a simple device is shaping research and conservation worldwide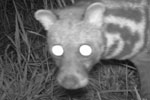 (02/14/2012) I must confess to a recent addiction: camera trap photos. When the Smithsonian released 202,000 camera trap photos to the public online, I couldn't help but spend hours transfixed by the private world of animals. There was the golden snub-monkey (Rhinopithecus roxellana), with its unmistakably blue face staring straight at you, captured on a trail in the mountains of China. Or a southern tamandua (Tamandua tetradactyla), a tree anteater that resembles a living Muppet, poking its nose in the leaf litter as sunlight plays on its head in the Peruvian Amazon. Or the dim body of a spotted hyena (Crocuta crocuta) led by jewel-like eyes in the Tanzanian night. Or the less exotic red fox (Vulpes vulpes) which admittedly appears much more exotic when shot in China in the midst of a snowstorm. Even the giant panda (Ailuropoda melanoleuca), an animal I too often connect with cartoons and stuffed animals, looks wholly real and wild when captured by camera trap: no longer a symbol or even a pudgy bear at the zoo, but a true animal with its own inner, mysterious life.


Invasion!: Burmese pythons decimate mammals in the Everglades

(01/30/2012) The Everglades in southern Florida has faced myriad environmental impacts from draining for sprawl to the construction of canals, but even as the U.S. government moves slowly on an ambitious plan to restore the massive wetlands a new threat is growing: big snakes from Southeast Asia. A new paper in the Proceedings of the National Academy of Sciences (PNAS) has found evidence of a massive collapse in the native mammal population following the invasion of Burmese pythons (Python molurus bivittatus) in the ecosystem. The research comes just after the U.S. federal government has announced an importation ban on the Burmese python and three other big snakes in an effort to safeguard wildlife in the Everglades. However, the PNAS study finds that a lot of damage has already been done.


Borneo's most elusive feline photographed at unexpected elevation



(01/11/2012) Although known to science for 138 years, almost nothing is actually known about the bay cat (Pardofelis badia). This reddish-brown wild feline, endemic to the island of Borneo, has entirely eluded researchers and conservationists. The first photo of the cat wasn't taken until 1998 and the first video was shot just two years ago, but basic information remains lacking. A new camera trap study, however, in the Kelabit Highlands of the Malaysian state of Sarawak has added to the little knowledge we have by photographing a bay cat at never before seen altitudes.


Weird carnivorous flower devours worms underground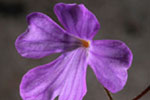 (01/09/2012) A worm measuring only a millimeter in length scoots its way through relatively massive grains of white sand. The worm, known as a nematode or roundworm, is seeking lunch in the form of bacteria. Suddenly, however, its journey is interrupted: it is caught on a large green surface. Unable to wiggle free the worm is slowly digested, becoming lunch itself for an innocuous purple flower called Philcoxia minensis.


World's most expensive tuna

(01/05/2012) A 593 pound Pacific bluefin tuna sold for $735,000 (56.49 million yen) in Tokyo's Tsukiji market today. This beats the previous record price hit last year by over $260,000. Why so expensive? Bluefin tuna, considered the best sashimi and sushi in the world, have been fished to near extinction with the population of the Pacific bluefin the most stable to date.


Animal picture of the day: rare photo of mother jaguar and cubs


(12/21/2011) A mother jaguar, named Kaaiyana by scientists, and cubs were recently photographed in Kaa Iya National Park in Bolivia. "Kaaiyana's tolerance of observers is a testimony to the absence of hunters in this area, and her success as a mother means there is plenty of food for her and her cubs to eat," said John Polisar, coordinator of Wildlife Conservation Society's (WCS) Jaguar Conservation Program. WCS released the photos.


Camera trap videos capture stunning wildlife in Thailand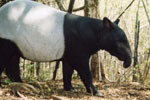 (12/20/2011) A year's worth of camera trap videos (see photos and video below) are proving that scaled-up anti-poaching efforts in Thailand's Western Forest Complex are working. Capturing rare glimpses of endangered, elusive animals—from clouded leopards (Neofelis nebulosa) to banteng (Bos javanicus), a rarely seen wild cattle—the videos highlight the conservation importance of the Western Forest Complex, which includes 17 protected areas in Thailand and Myanmar.


Giant snakes commonly attacked modern hunter-gatherers in Philippines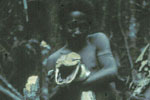 (12/13/2011) Humans have an ambivalent relationship with snakes. The legless reptiles are often feared and reviled, becoming stand-ins for the Devil and movie monster characters; yet many people have grown to love snakes, raising large, even dangerous, specimens as pets. Now, new research suggests that the ecological role between snakes and humans, as well as other primates, is more nuanced than expected. After spending decades living among the Agta Negritos people in the Philippines, anthropologist Thomas Headland has found that the hunter gatherer tribes were quite commonly attacked by reticulated pythons (Python reticulatus), while the people themselves had no qualms with hunting, killing, and consuming python.


Interview with conservation legend George Schaller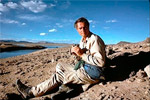 (12/13/2011) Dr George Schaller is a veteran ecologist affiliated with two conservation organizations in New York, Panthera and the Wildlife Conservation Society. Spending much of his time during the past six decades in various countries of Asia, Africa and South America, he has studied and helped protect species as diverse as the Tiger, Mountain Gorilla, Giant Panda and Tibetan Antelope. In addition, he has promoted the establishment of about 15 protected areas. His studies have been the basis for his scientific and popular writings.


Bushmeat trade driving illegal hunting in Zimbabwe park

(12/12/2011) Bushmeat hunting is one of the major threats to mammals in sub-Saharan Africa. Although widely discussed and recognized as an issues in Central and West Africa, a new study in mongabay.com's open access journal Tropical Conservation Science describes a pattern of bushmeat hunting that is also occurring in southern Africa. Interviewing 114 locals living adjacent to Gonarezhou National Park in Zimbabwe, Edson Gandiwa with Wageningen University found that the primary drivers of illegal hunting in the park were bushmeat and personal consumption (68 percent).


Wolverines live up to tough reputation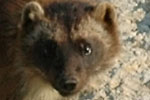 (12/05/2011) In the first X-Men film, the comic book character Wolverine is asked if it hurts when his claws retract from his knuckles. His unflinching response: "Every time." The real wolverine (Gulo gulo) is just as tenacious with new research proving it is a "winter endurance athlete." Eight years of radio-tracking 30 individual wolverines in the Rocky Mountains has provided an abundance of new data about the world's largest member of the weasel family, including that the feisty mammals survive year-round in harsh, snowy conditions 9,000 feet above see level. Although immeasurably tough, the animal is nearly extinct in the lower 48 states of the U.S.


Photos: five wild cat species documented in Sumatran forest imperiled by logging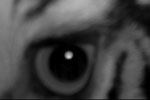 (11/16/2011) A single forest corridor in Sumatra has yielded camera trap photos of five wild cats species, including the Critically Endangered Sumatran tiger (Panthera tigris sumatrae). Photos were also taken of the Sunda clouded leopard (Neofelis diardi), the marbled cat (Pardofelis marmorata), the Asian golden cat (Pardofelis temminckii), and the leopard cat (Prionailurus bengalensis). The five species were all filmed by a WWF camera trap survey in a single forest corridor linking the forest of Bukit Tigapuluh and the Rimbang Baling Wildlife Sanctuary in Riau Province. Unfortunately this forest remains unprotected.


First ever survey shows Sumatran tiger hanging on as forests continue to vanish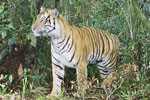 (11/10/2011) The first-ever Sumatran-wide survey of the island's top predator, the Sumatran tiger (Panthera tigris sumatrae), proves that the great cat is holding on even as forests continue to vanish. The study, carried out by eight NGOs and the Indonesian government, shows that the tiger is still present in 70 percent of the forests surveyed, providing hope for the long-term survival of the subspecies if remaining forests are protected.


Featured video: camera traps catch Andean cats and others in Argentina

(11/07/2011) Camera traps set up in the Jujuy Province of Argentina have captured rare images of the elusive and playful Andean cat and Pampas cat, along with other South American wildlife, including vizcachas, culpeo foxes, and skunks.


Photos: camera traps reveal oil's unexpected impact on Arctic birds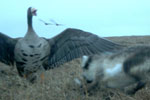 (10/26/2011) A study in the Alaskan Arctic, employing camera traps, has shown that oil drilling impacts migrating birds in an unexpected way. The study found that populations of opportunistic predators, which prey on bird eggs or fledglings, may increase in oil drilling areas, putting extra pressure on nesting birds. Predators like fox, ravens, and gulls take advantage of industry infrastructure for nests and dens, moving into areas that may otherwise be inhospitable. In addition, garbage provides sustenance for larger populations of the opportunists.


Animal picture of the day: Africa's smallest carnivore, the Dwarf Mongoose

(10/21/2011) Dwarf mongoose inhabit the grasslands of southern Africa. They are Africa's smallest carnivore.


Cute animal picture of the day: endangered baby Asiatic lions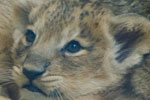 (10/20/2011) In the wild, the Asiatic lion subspecies (Panthera leo persica) survives only in India's Gir Forest National Park in the north-western state of Gujarat with a population of just over 400 individuals. Around 90 survive in zoos. The subspecies is listed as Endangered by the IUCN Red List. Given its tiny population and the fact that it survives in a single location, the Asiatic lion continues to be threatened by in-breeding, disease, fires, and illegal mining. As well, conflict with villagers continues, and lions have been poached and poisoned in the past.


Picture of the day: jaguars take self-portraits in Bolivia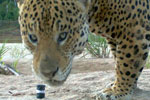 (10/19/2011) A study by the Wildlife Conservation Society (WCS) in Bolivia's Madidi National Park has produced 19 jaguar 'self-portraits' via digital cameras that snap photos of wildlife when they cross an infrared beam, known as camera traps. This is the most jaguars catalogued by camera trap study yet in Bolivia. "The preliminary results of this new expedition underscore the importance of the Madidi landscape to jaguars and other charismatic rainforest species," said Dr. Julie Kunen, Director of WCS's Latin America and Caribbean Program, in a press release.


Illuminating Africa's most obscure cat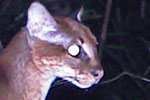 (10/18/2011) Africa is known as the continent of big cats: cheetahs, leopards, and of course, the king of them all, lions. Even servals and caracals are relatively well-known by the public. Still, few people realize that Africa is home to a number of smaller wild cat species, such as the black-footed cat and the African wild cat. But the least known feline on the continent is actually a cryptic predator that inhabits the rainforest of the Congo and West Africa. "The African golden cat has dominated my thoughts and energy for over a year and a half now. When carrying out a study like this one, you find yourself trying to think like your study animal," Laila Bahaa-el-din, University of Kwazulu Natal graduate student, told mongabay.com in a recent interview.


Animal picture of the day: jackal on the beach

(10/17/2011) The black-backed jackal (Canis mesomelas) is the world's oldest canine according to fossils, beating out wolves and coyotes.


Amur leopard returns to China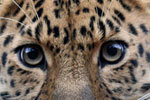 (10/13/2011) The Amur leopard has been confirmed in China with a camera trap taking the first photos of the cat in the country in 62 years, reports Xinhua. The Amur leopard (Panthera pardus orientalis) is on the edge of extinction with some 25-45 individuals left in the world. The Amur leopard was photographed twice by camera trap in Wangqing County, China by Sun Ge, a PhD candidate with Peking University. Technically, the Amur leopard, also known as the Manchurian leopard, is considered extinct in China.


Scientists confirm ancient Egyptian knowledge: Nile crocodile is two species

(09/20/2011) DNA has shown that the Nile crocodile is in fact two very different species: a bigger, more aggressive crocodile and a smaller, tamer species that today survives only in West Africa. While the taxonomy of the Nile crocodile has been controversial for over a century, the new study points out that the ancient Egyptians recognized the differences in the species and avoided the big crocodile for its rituals.


The heroic wolf: are wolves the key to saving the Canada lynx?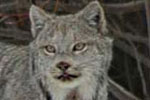 (08/31/2011) In 2000 the Canada lynx (Lynx canadensis) was listed as threatened under the US Endangered Species Act (ESA). While remaining stable in Canada and Alaska, the Canada lynx population had essentially collapsed in much of the continental US, excluding Alaska. Aside from habitat loss, one of the main factors imperiling the medium-sized wild cat was a decline in prey, specifically snowshoe hares (Lepus americanus). Researchers have now come up with an innovative way to aid hungry lynx in the US: wolves.


One of world's rarest cats caught on video for the first time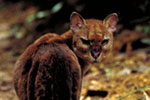 (08/30/2011) Africa is known as a continent of felines: leopards, cheetahs, servals, caracals, and of course the one who wears the crown, the lion. But, few people travel to Africa to see, or have probably ever heard of, the African golden cat. Native to the rainforests of central Africa (from Kenya to Cameroon) with a separate population in West Africa, the African golden cat (Caracal aurata) is considered the continent's least-studied feline. However, a team of researchers is hoping to change this: using camera traps scientists have taken the first ever public video of the African golden cat.


Leopards losing out to bushmeat hunters in competition for prey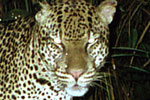 (08/25/2011) According to a surprising new study in the Journal of Zoology, bushmeat hunting is imperiling jungle-dwelling leopards (Panthera pardus) in Africa, even though hunters aren't targeting the elusive big cats themselves. Instead, by hunting many of the leopard's preferred prey—such as red river hogs and forest antelopes—bushmeat hunters are out-competing leopards.


Cameratraps take global snapshot of declining tropical mammals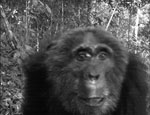 (08/17/2011) A groundbreaking cameratrap study has mapped the abundance, or lack thereof, of tropical mammal populations across seven countries in some of the world's most important rainforests. Undertaken by The Tropical Ecology Assessment and Monitoring Network (TEAM), the study found that habitat loss was having a critical impact on mammals. The study, which documented 105 mammals (nearly 2 percent of the world's known mammals) on three continents, also confirmed that mammals fared far better—both in diversity and abundance—in areas with continuous forest versus areas that had been degraded.



Page 1 | Page 2 | Page 3 | Page 4 | Page 5 | Page 6 | Page 7