News articles on carnivores

---
Mongabay.com news articles on carnivores in blog format. Updated regularly.






Living beside a tiger reserve: scientists study compensation for human-wildlife conflict in India
(01/21/2013) During an average year, 87% of households surrounding Kanha Tiger Reserve in Central India report experiencing some kind of conflict with wild animals, according to a new paper in the open-access journal PLOS One. Co-existence with protected, free-roaming wildlife can be a challenge when living at the edge of a tiger reserve. "Local residents most often directly bear the costs of living alongside wildlife and may have limited ability to cope with losses" wrote the authors of the new paper.
Three developing nations move to ban hunting to protect vanishing wildlife
(01/21/2013) Three developing countries have recently toughened hunting regulations believing the changes will better protect vanishing species. Botswana has announced it will ban trophy hunting on public lands beginning in 2014, while Zambia has recently banned any hunting of leopards or lions, both of which are disappearing across Africa. However, the most stringent ban comes from another continent: Costa Rica—often considered one of the "greenest" countries on Earth—has recently passed a law that bans all sport hunting and trapping both inside and outside protected areas. The controversial new law is considered the toughest in the Western Hemisphere.
In the kingdom of the black panther
(01/15/2013) The black panther has a mythical aura: Rudyard Kipling chose the animal for one of his heroes in the Jungle Book, in the 1970s it became the symbol of an African-American socialist party, while comic guru Stan Lee selected the stunning feline for his first black superhero. But the real black panther isn't an actual species, instead it's a rare dark pigmentation found most commonly in leopards, but also occasionally in jaguars and other wild cats. The rarity of the black panther—not to mention its striking appearance—has added to their mystery. However, recent studies have found that black panthers, in this case 'black leopards,' are astoundingly common in one part of the world: the Malayan peninsula.
Saving the Arabian leopard, the world's smallest leopard
(01/14/2013) Today most people are more likely to associate Yemen with warfare and bizarre terrorism plots rather than wildlife. But Yemen is home to a surprising diversity of animals, including a population of the world's smallest leopard: The Arabian leopard (Panthera pardus nimr). Native to the Arabian Peninsula, the Arabian leopard is today extremely rare — less than 200 animals are thought to survive in the wild. Despite the cat's precarious position, there is relatively little local enthusiasm to protect a species that is widely seen as a threat to livestock. Nevertheless one man in Yemen is trying to boost the value of leopard in the eyes of local people. David Stanton, an American teacher living in Yemen, had devoted his life to saving the Arabian leopard.
An avalanche of decline: snow leopard populations are plummeting

(01/03/2013) The trading of big cat pelts is nothing new, but recent demand for snow leopard pelts and taxidermy mounts has added a new commodity to the illegal trade in wildlife products, according to the Environmental Investigation Agency (EIA). Traditionally, the market for large cat products has centered around tiger bones and parts for traditional Chinese medicine. Snow leopards (Uncia uncia), however, are a novel trend in the illegal wildlife trade arena and skins and taxidermy mounts are the most recent fad in luxury home décor.
Lion population falls 68 percent in 50 years
(12/04/2012) African lions, one of the most iconic species on the planet, are in rapid decline. According to a new study in Biodiversity Conservation, the African lion (Panthera leo leo) population has dropped from around 100,000 animals just fifty years ago to as few as 32,000 today. The study, which used high resolution satellite imagery to study savannah ecosystems across Africa, also found that lion habitat had plunged by 75 percent.
Africa's great savannahs may be more endangered than the world's rainforests
(12/04/2012) Few of the world's ecosystems are more iconic than Africa's sprawling savannahs home to elephants, giraffes, rhinos, and the undisputed king of the animal kingdom: lions. This wild realm, where megafauna still roam in abundance, has inspired everyone from Ernest Hemingway to Karen Blixen, and David Livingstone to Theodore Roosevelt. Today it is the heart of Africa's wildlife tourism and includes staunch defenders such as Richard Leakey, Michael Fay, and the Jouberts. Despite this, the ecosystem has received less media attention than imperiled ecosystems like rainforests. But a ground-breaking study in Biodiversity Conservation finds that 75 percent of these large-scale intact grasslands have been lost, at least from the lion's point of view.
New Guinea singing dog photographed in the wild for the first time

(12/03/2012) A rarely seen canine has been photographed in the wild, likely for the first time. Tom Hewitt, director of Adventure Alternative Borneo, photographed the New Guinea singing dog during a 12-day expedition up a remote mountain in Indonesian Papua. Very closely related to the Australian dingo, the New Guinea singing dog, so named for its unique vocalizations, has become hugely threatened by hybridization with domesticated dogs.
Wolves, mole rats, and nyala: the struggle to conserve Ethiopia's highlands
(11/20/2012) There is a place in the world where wolves live almost entirely off mountain rodents, lions dwell in forests, and freshwater rolls downstream to 12 million people, but the place—Ethiopia's Bale Mountains National Park—remains imperiled by a lack of legal boundaries and encroachment by a growing human population. "Much of the land in Africa above 3,000 meters has been altered or degraded to the point where it isn't able to perform most of the ecosystem functions that it is designed to do. Bale, although under threat and already impacted to a degree by anthropogenic activities, is still able to perform its most important ecosystem functions, and as such ranks among only a handful of representative alpine ecosystems in Africa."
Controversial wolf hunt moves to the Midwest, 196 wolves killed to date
(11/14/2012) The hugely controversial wolf hunt in the U.S. has spread from the western U.S. (Montana, Idaho, and Wyoming) to the Midwest (Minnesota and Wisconsin) this year. Although the wolf hunt is less than a month old in the region—and only eleven days old in Minnesota—196 animals so far have been shot. As in the west, the wolf hunt has raised hackles among environmentalists along with fierce defenders among hunters. Wolves, which were protected under the the Endangered Species Act (ESA) since 1973, were stripped of that status by legislation in 2009, opening the door—should a state choose—to trophy hunting.
Conservationists turn camera traps on tiger poachers
(11/12/2012) Remote camera traps, which take photos or video when a sensor is triggered, have been increasingly used to document rare and shy wildlife, but now conservationists are taking the technology one step further: detecting poachers. Already, camera traps set up for wildlife have captured images of park trespassers and poachers worldwide, but for the first time conservationists are setting camera traps with the specific goal of tracking illegal activity.
Leopard poaching is a bigger problem in India than previously believed
(10/31/2012) A recent study conducted by wildlife trade monitoring group TRAFFIC uncovered unnerving statistics about the illegal trade of leopards (Panthera pardus) in India: at least four leopards have been poached every week for the past decade in the country. The study, entitled Illuminating the Blind Spot: A study on illegal trade in Leopard parts in India, highlights the severity of leopard poaching from 2001 to 2010, despite preventative measures established in 1972 by the Wildlife Protection Act (WLPA) that prohibit the sale of leopard parts in India.
Illegal hunting threatens iconic animals across Africa's great savannas, especially predators
(10/25/2012) Bushmeat hunting has become a grave concern for species in West and Central Africa, but a new report notes that lesser-known illegal hunting in Africa's iconic savannas is also decimating some animals. Surprisingly, illegal hunting across eastern and southern Africa is hitting big predators particularly hard, such as cheetah, lion, leopard, and wild dog. Although rarely targets of hunters, these predators are running out of food due to overhunting and, in addition, often becoming victims of snares set out for other species.
After seven year search, scientists film cryptic predator in Minas Gerais

(10/25/2012) South America's rare and little-known bush dog (Speothos venaticus) looks like a miniature dachshund who went bad: leaner, meaner, and not one to cuddle on your lap, the bush dog is found in 11 South American countries, but scientists believe it's rare in all of its habitats, which include the Amazon, the Pantanal wetlands, and the cerrado savannah. Given its scarcity, little is known about its wanderings.
Photos: emperor penguins take first place in renowned wildlife photo contest
(10/18/2012) Photographer, Paul Nicklen, says he'll never forget the moment when a slew of emperor penguins burst by him in the frigid Ross Sea; he'd waited in the cold water, using a snorkel, to capture this image. Now, Nicklen has won the much-coveted Veolia Environnement Wildlife Photographer of the Year Competition for the antic, bubbling photograph. Owned by the Natural History Museum and BBC Worldwide, this is the 48th year of the Veolia Environnement Wildlife Photographer of the Year, which hands out awards to 100 notable wildlife and environment photos.
Picture of the day: the maned lioness

(10/15/2012) The title is not a typo. Sometimes lioness grow manes as rich and large as males, and there appears to be larger proportion of such 'maned lionesses' in Botswana's Okavango Delta.
Photos: new mammal menagerie uncovered in remote Peruvian cloud forest
(10/03/2012) Every year scientists describe around 18,000 new species, but mammals make up less than half a percent of those. Yet mammal surprises remain: deep in the remote Peruvian Andes, scientists have made an incredible discovery: a rich cloud forest and alpine grassland ecosystem that may be home to no less than eight new mammal species. Although most of these new mammals are currently under study—and have not been officially described yet (a process which can take several years)—lead scientists, Horacio Zeballos of Peru and Gerardo Ceballos of Mexico are certain they have uncovered a small forest, surrounded by deforestation and farmland, that shelters a remarkable menagerie of mammals unknown to scientists until now.
Cute animal picture of the day: caracal kitten in Yemen

(10/01/2012) The first ever research project on the caracal (Caracal caracal) in Yemen has taken an astounding photo of a mother caracal and her kitten in the Hawf Protected Area. Conducted by largely local researchers, the study is aiming to estimate Yemen's caracal population and better understand the threats to the species.
Jaguar conservation gets a boost in North and Central America
(09/27/2012) Jaguar conservation has received a huge boost in the past few months both in Latin America and in the U.S. An historic agreement singed between the world's leading wild cat conservation organization Panthera and the government of Costa Rica in addition to a new U.S. Fish and Wildlife Service (FWS) proposal bring renewed hope to the efforts to revive the iconic jaguar in its current habitat and return the cats to the American Southwest.
Cute animal picture of the day: tiger triplets

(09/25/2012) Last month, the Wildlife Conservation Society's (WCS) Bronx Zoo saw the arrival of three Siberian tiger cubs (Panthera tigris altaica). Also known as Amur tigers, they are the world's largest cats with adult males weighing up to 318 kilograms (700 pounds). Most of the population is found in far eastern Russia, however a few animals also survive across the border in China.
Arachnopocalypse: with birds away, the spiders play in Guam
(09/17/2012) The island of Guam is drowning in spiders. New research in the open-access journal PLOS ONE has found that in the wet season, Guam's arachnid population booms to around 40 times higher than adjacent islands. Scientists say this is because Guam, a U.S. territory in the Pacific, has lost its insect-eating forest birds. Guam's forests were once rich in birdlife until the invasion of non-native brown tree snake (Boiga irregularis) in the 1940s decimated biodiverse bird communities. Now, the island is not only overrun with snakes, but spiders too.
Rare birds abound in Brazil's Acre state

(09/17/2012) The Brazilian state of Acre has had little attention by bird-lovers and bird scientists, though it lies deep in the Amazonian rainforest. Now a new survey in mongabay.com's open access journal Tropical Conservation Science by ornithologist, John J. DeLuca, works to build a better picture of rare birds in this largely-neglected region. The work is all the more important as the Brazil-Peru Interoceanic Highway could bring massive changes to the region.
Buffer zones key to survival of maned wolf
(09/17/2012) Known for its abnormally long lanky legs, its reddish-orange coat, and its omnivorous diet, the maned wolf (Chrysocyon brachyurus) is one of the more beautiful and bizarre predators of South America. However its stronghold, the Brazilian Cerrado, is vanishing rapidly to industrialized agriculture and urban development. Now, a new study in mongabay.com's open access journal Tropical Conservation Science reveals the key role of buffer zones and unprotected areas in keeping the maned wolf from extinction in the Cerrado savannah, where only 2 percent of the ecosystem is under protection.
Local knowledge matches scientific data on wildlife abundances

(09/17/2012) How far can scientists trust local knowledge when it comes to ecosystems? This is a question that is undergoing heavy debate in scientific circles. A new study in mongabay.com's open access journal Tropical Conservation Science contributes to the debate by finding that basic local knowledge of animal abundance in Gonarezhou National Park, Zimbabwe aligned closely with scientific surveys.
Tiger and cubs filmed near proposed dam in Thailand

(09/04/2012) A tigress and two cubs have been filmed by remote camera trap in a forest under threat by a $400 million dam in Thailand. To be built on the Mae Wong River, the dam imperils two Thai protected areas, Mae Wong National Park and Huay Kha Khaeng Wildlife Sanctuary, according to the World Wide Fund for Nature (WWF)
King of the jungle: lions discovered in rainforests

(08/13/2012) Calling the African lion (Panthera leo) the 'king of the jungle' is usually a misnomer, as the species is almost always found in savannah or dry forests, but recent photos by the Germany-based Nature and Biodiversity Conservation Union (NABU) document lions in Ethiopian rainforests. Taken in the Kafa Biosphere Reserve, the photos show a female lion hiding out in thick montane jungle.
Cute animal pictures of the day: lynx triplets

(07/31/2012) With a massive range, spanning from scattered populations in Western Europe to Eastern Siberia, the Eurasian lynx (Lynx lynx) is a highly successful mid-sized predator. Listed as Least Concern by the IUCN Red List, the wild cat is now being reintroduced into parts of Western Europe where it was hunted to local extinction.
Animal picture of the day: leopard with giant prey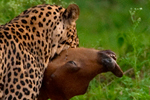 (07/19/2012) It's true: a leopard cannot change its spots—even after eight years! Using a computer program that looks at leopard spot patterns, researchers were able to identify the above leopard, which was snapped by an Indian photographer, with a leopard individual photographed eight years before by camera trap. This Indian leopard (Panthera pardus fusca) is known as BPL-123, and has made its home in India Bandipur Tiger Reserve.
First snow leopards collared in Afghanistan as species faces rising threat from climate change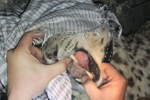 (07/18/2012) Scientists have captured and collared two snow leopards (Panthera uncia), arguably one of the world's most elusive predators, in Afghanistan for the first time. Undertaken by researchers with Wildlife Conservation Society (WCS) and Afghani vets, the successful operation was conducted as a new study finds that snow leopard habitat could shrink by nearly one-third due to anthropogenic climate change in the Himalayas.
Cute animal picture of the day: spotted hyena cub

(07/15/2012) Spotted hyenas (Crocuta crocuta) are found across sub-Saharan Africa. Adept hunters, hyenas can also survive by scavenging and opportunism. They form the largest packs of any carnivore, which are run by matriarchs. Although, they resemble dogs, the hyena is actually more closely related to cats and weasels.
Animal picture of the day: Sunda clouded leopard in Borneo

(07/09/2012) The Sunda clouded leopard (Neofelis diardi) is the largest wild cat in Borneo and is classified as Endangered by the IUCN Red list of threatened species. Due to their nocturnal and cryptic habits they are seldom observed and very little is known of their basic ecology and distribution. This large Clouded leopard was photographed by remote camera trap in Malua BioBank as part of the Bornean Banteng Program which studies the rare banteng (Bos javanicus lowi).
Animal picture of the day: rare image of Asiatic cheetah and cubs

(07/03/2012) The Asiatic cheetah (Acinonyx jubatus venaticus), also known as the Iranian cheetah, is one the world's rarest cat subspecies with somewhere between 70-110 individuals left. No surprisingly it is considered Critically Endangered by the IUCN Red List.
'Time pollution': loss of predators pushes nocturnal fish to take advantage of the day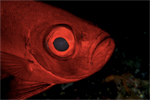 (06/25/2012) Nocturnal fish—which sport big eyes for improved night vision—are taking back the day in the coral reefs of the Tabuaeran Atoll, according to a new study in the open-access journal PLoS ONE. Overfishing has plundered the Pacific atoll of many of its notable predators, including sharks and barracudas, causing ripple effects through the ecosystem. One of these emerging changes appears to be that with less fear of being eaten, nocturnal fish are increasingly venturing out during the day.
Nearly 50 tigers die in India in last six months

(06/18/2012) Since January 1st, 48 Bengal tigers (Panthera tigris tigris) have been found dead in India, which has the world's largest population of tigers. According to India's National Tiger Conservation Authority (NTCA), 19 of those deaths have been confirmed to be at the hands of poachers, but that number could become even higher. In order to combat a surge in tiger poaching, the Indian state of Maharashtra has recently granted legal immunity to any forest ranger who shoots a poacher.
Jaguars photographed in palm oil plantation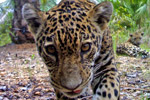 (06/06/2012) As the highly-lucrative palm oil plantation moves from Southeast Asia to Africa and Latin America, it brings with it concerns of deforestation and wildlife loss. But an ongoing study in Colombia is finding that small palm oil plantations may not significantly hurt at least one species: the jaguar. Researchers in Magdalena River Valley have taken the first ever photos of jaguars in a palm plantation, including a mother with two cubs, showing that the America's biggest cat may not avoid palm oil plantations like its Asian relative, the tiger.
New campaign targets snares in effort to save world's big cats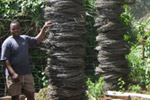 (06/05/2012) Last summer, a wild Sumatran tiger—one of only a few hundred surviving on the island—made news in a story that did not have a happy ending. The cat had become entangled in a snare in a logging concession owned by Asia Pulp and Paper (APP). The tiger spent seven days without food or water before wildlife rangers found it, but its snared right paw was a bloody black mess. Although the rangers were able to sedate and free the cat, it died shortly thereafter from its wounds.
Animal picture of the day: tracking cheetahs in Namibia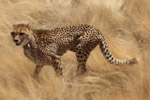 (06/04/2012) The N/a'an ku se Carnivore Conservation Research Project in Namibia has recently been tracking a male cheetah named Boris. After caught hunting in a game farm, Boris was captured, tagged with a radio collar for GPS tracking, and released back into the wild.
Over half of world's tiger reserves lack minimum protection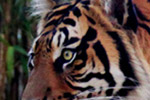 (05/21/2012) A year-and-a-half after a landmark summit that pledged to double the world's number of tigers by 2022, and still 65 percent of tiger reserves lack minimum standards of protection for the world's largest cat, according to the World Wide Fund for Nature (WWF). Reporting at the first meeting of all 13 tiger-range countries since the 2010 summit, WWF said that 41 tiger reserves of 63 did not have enough boots on the ground to combat tiger poaching.
Cute animal picture (and video) of the day: baby otters

(05/21/2012) The Wildlife Conservation Society's Prospect Park Zoo in New York City has recently seen the arrival of three baby North American river otters (Lontra canadensis), the first born in the city at a zoo or aquarium in over 50 years.
Jaguar v. sea turtle: when land and marine conservation icons collide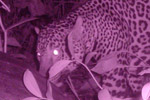 (05/16/2012) At first, an encounter between a jaguar (Panthera onca) and a green sea turtle (Chelonia mydas) seems improbable, even ridiculous, but the two species do come into fatal contact when a female turtle, every two to four years, crawls up a jungle beach to lay her eggs. A hungry jaguar will attack the nesting turtle, killing it with a bite to the neck, and dragging the massive animal—sometime all the way into the jungle—to eat the muscles around the neck and flippers. Despite the surprising nature of such encounters, this behavior, and its impact on populations, has been little studied. Now, a new study in Costa Rica's Tortuguero National Park has documented five years of jaguar attacks on marine turtles—and finds these encounters are not only more common than expected, but on the rise.





Pictures: Jaguar bonanza caught on camera

(05/13/2012) Images of several jaguars, including cubs, have been captured by camera traps on a Colombian ranch that is well known among cat researchers for its diversity of felines.





Just how far can a polar bear swim?

(05/03/2012) Polar bears (Ursus maritimus) are capable of swimming incredible distances, according to a new study published in Zoology, which recorded polar bears regularly swimming over 30 miles (48 kilometers) and, in one case, as far as 220 miles (354 kilometers). The researchers believe the ability of polar bears to tackle such long-distance swims may help them survive as seasonal sea ice vanishes due to climate change.





Rare leopard photographed in China

(04/25/2012) Camera traps in China's Hunchun Amur Tiger National Nature Reserve have captured an image of the critically endangered Amur leopard, reports the Wildlife Conservation Society. The photograph, coupled with a recent study that suggests the presence of 8-11 leopard in Jilin Province, suggests that Amur leopards may be rebounding in China.






Page 1 | Page 2 | Page 3 | Page 4 | Page 5 | Page 6 | Page 7