News articles on carnivores

---
Mongabay.com news articles on carnivores in blog format. Updated regularly.





Leopards losing out to bushmeat hunters in competition for prey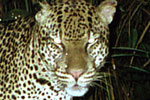 (08/25/2011) According to a surprising new study in the Journal of Zoology, bushmeat hunting is imperiling jungle-dwelling leopards (Panthera pardus) in Africa, even though hunters aren't targeting the elusive big cats themselves. Instead, by hunting many of the leopard's preferred prey—such as red river hogs and forest antelopes—bushmeat hunters are out-competing leopards.


Cameratraps take global snapshot of declining tropical mammals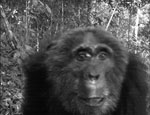 (08/17/2011) A groundbreaking cameratrap study has mapped the abundance, or lack thereof, of tropical mammal populations across seven countries in some of the world's most important rainforests. Undertaken by The Tropical Ecology Assessment and Monitoring Network (TEAM), the study found that habitat loss was having a critical impact on mammals. The study, which documented 105 mammals (nearly 2 percent of the world's known mammals) on three continents, also confirmed that mammals fared far better—both in diversity and abundance—in areas with continuous forest versus areas that had been degraded.


Animal picture of the day: African wild dog travels 250 miles

(07/22/2011) Scientists have found a male African wild dog that has undergone an epic trip. In April 2010 the male dog was photographed in Save the Valley in eastern Zimbabwe then recently the same animal was photographed in Northern Tuli Game Reserve in Botswana some 250 miles (400 kilometers) apart. This is one of the longest distances ever recorded for an African wild dog.


Decline in top predators and megafauna 'humankind's most pervasive influence on nature'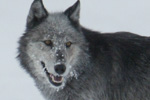 (07/14/2011) Worldwide wolf populations have dropped around 99 percent from historic populations. Lion populations have fallen from 450,000 to 20,000 in 50 years. Three subspecies of tiger went extinct in the 20th Century. Overfishing and finning has cut some shark populations down by 90 percent in just a few decades. Though humpback whales have rebounded since whaling was banned, they are still far from historic numbers. While some humans have mourned such statistics as an aesthetic loss, scientists now say these declines have a far greater impact on humans than just the vanishing of iconic animals. The almost wholesale destruction of top predators—such as sharks, wolves, and big cats—has drastically altered the world's ecosystems, according to a new review study in Science. Although researchers have long known that the decline of animals at the top of food chain, including big herbivores and omnivores, affects ecosystems through what is known as 'trophic cascade', studies over the past few decades are only beginning to reveal the extent to which these animals maintain healthy environments, preserve biodiversity, and improve nature's productivity.


Viable population of snow leopards still roam Afghanistan (pictures)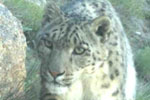 (07/13/2011) Decades of war and poverty has not exterminated snow leopards (Panthera uncia) in Afghanistan according to a new paper in the International Journal of Environmental Studies, written by researchers with the Wildlife Conservation Society (WCS). Instead the researchers report a healthy population of the world's most elusive big cat in Afghanistan's remote and peaceful Wakhan Corridor region. Monitored by camera trap in the region, WCS researchers were able to identify 30 snow leopards in 16 different locations.


Camera traps reveal no tigers, but other carnivores in Khao Yai National Park

(06/27/2011) A four-year camera trap project has revealed that Khao Yai National Park in Thailand is still home to a wide-variety of carnivore species, but tigers may be on their way out or already gone finds a new study from mongabay.com's open access journal Tropical Conservation Science. Photographing with 15 cameras the study snapped photos of 14 carnivore species in the park. However, the photographic evidence implies that predator populations have fallen in the park over the past decade due to human activities, including poaching.


Honduras protects sharks in all its waters

(06/26/2011) Endangered sharks are finding more sanctuaries. Honduras has announced that commercial shark fishing will be banned from its 92,665 square miles (240,000 square kilometers) of national waters. Honduras says the ban, which follows a moratorium on shark fishing, will bring in tourism revenue and preserve the marine environment.


The truth about polar bears and climate change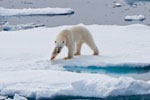 (06/21/2011) Although scientists say innumerable species are threatened by climate change, polar bears have been the global symbol of the movement to rein-in greenhouse gas emissions. This is perhaps not surprising, since polar bears are well known to the public—even though they inhabit a region largely absent of humans—and they make a big impression. Their glaringly white coat contrasts with their deadly skills: as the world's biggest terrestrial predators, they are capable of killing a seal with single blow. When young they are ridiculously adorable, but when adults they are stunning behemoths. But that's not all. Unlike many other species, the perils of climate change are also easy to visualize in connection with polar bears: their habitat is literally melting away.


Scientists urge Indonesia to stop road construction in tiger-rich national park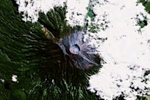 (06/06/2011) The Association for Tropical Biology and Conservation (ATBC) has drafted a resolution urging the Indonesian government to cancel plans to build four 40-foot wide roads through the countries oldest national park, Kerinci Seblat National Park. According to the ATBC, the world's largest professional society devoted to studying and conserving tropical forests, the road-building would imperil the parks' numerous species—many of which are already threatened with extinction—including Sumatra's most significant population of tigers.


US wolves lose to politics

(04/17/2011) A 'rider' attached to the most recent budget passed this week in the US congress has stripped gray wolves from the protection of the Endangered Species Act, a first in the law's nearly 40-year-history. The rider, which was signed into law under the budget on Friday by US President Barack Obama, hands gray wolves (Canis lupus) in Montana, Idaho, Utah, Washington, and Oregon from Federal protection to state control. Hunting is expected to begin soon.


Iconic cheetah, Chewbaaka, dies

(04/05/2011) The symbol of the Cheetah Conservation Fund (CCF), a male cheetah named Chewbaaka has passed away. At the age of 16, Chewbaaka outlived most cheetahs in the wild, but was killed from wounds suffered after a rabid kudu leapt into his enclosure.


Conservationists oppose snow leopard hunt for 'science'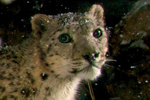 (03/23/2011) Conservationists have come out in opposition against a plan by the Mongolian government to issue four permits to kill snow leopards (Panthera uncia ) for 'scientific research'. The permits were awarded to foreign nationals last month. Snow leopards are listed as Endangered by the IUCN Red List with their population declining. "If the planned hunting of snow leopards is allowed to go forward, Mongolia's creditability as a leader in conservation of [snow leopards] and other rare species will be severely tarnished," reads a letter from Tom McCarthy, Executive Director of Panthera's Snow Leopard Program and George Schaller, Vice President of Panthera, to Mongolia's Minister of Nature, Environment, and Tourism.


Pet trade, palm oil, and poaching: the challenges of saving the 'forgotten bear'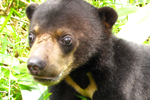 (03/20/2011) Siew Te Wong is one of the few scientists who study sun bears (Ursus malayanus). He spoke with Laurel Neme on her "The WildLife" radio show and podcast about the interesting biological characteristics of this rare Southeast Asian bear, threats to the species and what is being done to help them. Sun bears are the smallest of the eight bear species. They're about half the size of a North American black bear and typically sport a tan crescent on their chests. Similar to the "moon bear," or Asian black bear, the sun bear's name comes from this marking, which looks like a rising or setting sun.


New population discovered of the America's mini snow leopard: the Andean cat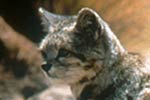 (03/16/2011) The elusive Andean cat (Leopardus jacobita), which until the late 1990s was only known to scientists by a couple photographs, has been discovered beyond the Andes mountain range for which it is named. According to researchers, the wild Andean cat resembles Asia's snow leopard, both in appearance and its habitat above altitudes of 3,000 meters (9,800 feet), only in this case the wild cat is about the size of a domesticated feline. But, scientists have now discovered that the cat, which is listed as Endangered by the IUCN Red List, also inhabits the Patagonian steppe at elevations as low as 650 meters (2,100 feet).


New road project to run through Laos' last tiger habitat

(03/15/2011) A new road project in Laos will run through the nation's only protected area inhabited by breeding tigers, Nam Et Phou Louey National Park, reports the Vientiane Times. With only about two dozen tigers (Panthera tigris) left in the nation, conservationists fear that the road will harm the fragile population, which is known to be breeding. However, local officials say the road is necessary to improve access to remote villages and alleviate poverty in the region, which is among the worst in the province.


Fearful Symmetry—Man Made, an interview with John Vaillant, author of The Tiger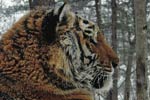 (03/14/2011) In The Tiger, John Vailliant weaves a haunting and compelling true narrative of men who live—or die—with tigers. No doubt the story itself is on-the-edge of your seat reading. As well, the book provides factual information on the 400 or so Amur Tigers remaining, and the raw milieu that is Primorye, Far East Russia—a wilderness and people unto their own. What is special, transcendent even in this story, however, murmurs uncomfortably in the background. Questions emerge from deep taiga snow, not unlike the unseen Panchelaza Tiger. What exactly is our relationship with apex predators? How do people live with them? How would you live with them in your backyard? What if your pet dog disappeared? As we ourselves are apex predators, are we wise enough, tolerant enough, compassionate enough to share this planet with them? Evidence today points to the contrary, but this can change.


Elephants cooperate as well as chimps

(03/07/2011) A new study proves that elephants understand how sometimes two is better than one. Working with Asian elephants (Elephas maximus) at the Thai Elephant Conservation Center, researchers reconstructed a classic cooperation test that was originally developed for chimpanzees. Subjects must pull on a rope to receive a reward, such as food, however—and here's the crux—the treat is only released if two subjects cooperate by pulling on two different ropes simultaneously. The paper published in Proceedings of the National Academy of Sciences found that elephants were as capable of cooperation as chimpanzees.


Eastern cougar officially declared extinct

(03/02/2011) The Eastern cougar, a likely subspecies of the mountain lion, was officially declared extinct today by the US Fish and Wildlife Service, ending 38 years on the Endangered Species List (ESA). The cougar, which once roamed the Eastern US, had not been confirmed since 1930s, although sightings have been consistently reported up to the present-day.


Conservation groups propose ban on lion parts in US

(03/02/2011) It's not widely known that the African lion ((Panthera leo) is currently threatened with extinction in the wild, but listed as Vulnerable by the IUCN Red List, the king of animals has declined by over 90% in the past 50 years (from 450,000 lions to between 20,000 and 40,000 today). While conservation work to save the species is on-going in Africa, efforts have now moved to the US as well, where a coalition of conservation groups are filing a petition with the US Department of the Interior to list lions as 'endangered' under the Endangered Species Act (ESA). Such a listing would make it illegal to bring lion parts in the country, including those killed by recreational trophy hunters.


Parks key to saving India's great mammals from extinction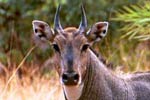 (02/24/2011) Krithi Karanth grew up amid India's great mammals—literally. Daughter of conservationist and scientist Dr. Ullas Karanth, she tells mongabay.com that she saw her first wild tigers and leopard at the age of two. Yet, the India Krithi Karanth grew up in may be gone in a century, according to a massive new study by Karanth which looked at the likelihood of extinction for 25 of India's mammals, including well-known favorites like Bengal tigers and Asian elephants, along with lesser known mammals (at least outside of India) such as the nilgai and the gaur. The study found that given habitat loss over the past century, extinction stalked seven of India's mammals especially: Asiatic lions, Bengal tigers, wild dogs (also known as dholes), swamp deer, wild buffalo, Nilgiri Tahr, and the gaur. However, increasing support of protected areas and innovative conservation programs outside of parks would be key to saving India's wildlife in the 21st Century.


Saving Madagascar's largest carnivorous mammal: the fossa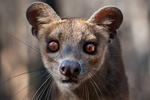 (02/17/2011) Madagascar is a land of wonders: dancing lemurs, thumbnail-sized chameleons, the long-fingered aye-aye, great baobab trees, and the mighty fossa. Wait—what? What's a fossa? It's true that when people think of Madagascar rarely do they think of its top predator, the fossa—even if they are one of the few who actually recognizes the animal. While the fossa gained a little notice in the first Madagascar film by DreamWorks, its role in the film was overshadowed by the lemurs. In this case, art imitates life: in conservation and research this feline-like predator has long lived in the shadow of its prey, the lemur. Even scientists are not certain what to do with the fossa: studies have shown that it's not quite a cat and not quite a mongoose and so the species—and its few Malagasy relatives—have been placed in their own family, the Eupleridae, of which the fossa (Cryptoprocta ferox) is the biggest. But if this is the first you've heard of such matter, don't feel bad: one of the world's only fossa-researchers, Mia-Lana Lührs also stumbled on the species.


California proposes ban on selling shark fin

(02/16/2011) Last year Hawaii banned the sale of shark fins; California may be next. Bill 376, introduced by two Democrats, would outlaw the sale of shark fins, including the popular Asian delicacy shark fin soup, in the US's most populous state.


A lion's story, an interview with the filmmakers of The Last Lions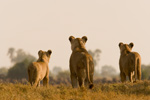 (02/14/2011) The new theatrical film, The Last Lions does not open, as one would expect, with a shot of lions or even an African panorama. Instead the first shot is a view of our planet from space at night. Billions of artificial lights illuminate continent showing just how much humans over the past few thousand years have come to dominate our world. Then comes the lions, but not in person, just in this staggering, and little known, statistic: in the last 50 years we have gone from a population of 450,000 lions to 20,000 today, a 95% decline. While the dramatic story of the The Last Lions follows the perils and tragedies of lion motherhood in one of the world's last untouched places—the Okavango Delta—this statistic hangs over the film, reminding us that the story we are witnessing is on the verge of extinction.


Camera trap photos: big mammals survive in fragmented forest in Borneo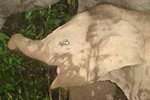 (01/30/2011) Camera trap photos taken in the fragmented forest along the Kinabatangan River in Borneo have revealed a number of key mammal species surviving despite forest loss mostly due to expanding palm oil plantations. The photos are apart of a recent program to monitor carnivores along the Kinabatangan River in the Malaysian state of Sabah by the Danau Girang Field Center (DGFC), the NGO HUTAN, Oxford University's Wildlife Conservation Research Unit (WildCRU), and the Sabah Wildlife Department.


Egyptian jackal is actually ancient wolf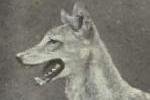 (01/26/2011) The Egyptian jackal, which may have been the inspiration for the Egyptian god Anubis, is actually not a jackal at all but a member of the wolf family. New genetic research in the open-access journal PLoS ONE finds that the Egyptian jackal is Africa's only member of the gray wolf family. The new wolf, dubbed by researchers as the African wolf, is most closely related to the Himalayan wolf.


Asia's last lions lose conservation funds to tigers

(01/24/2011) The last lions of Asia and the final survivors of the Asiatic lion subspecies (Panthera leo persica) are losing their federal conservation funding to tiger programs, reports the Indian media agency Daily News & Analysis (DNA). While the Asiatic lion once roamed Central Asia, the Middle East, and even Eastern Europe, today the subspecies survives only in India's Gir Forest National Park in the north-western state of Gujarat.


'New' cat in Sumatra: clouded leopard is distinct subspecies



(01/23/2011) Just six years ago the beautiful medium-sized Asian cat, the clouded leopard, was considered a single species. Then in 2006 researchers announced that there were, in fact, two unique species of clouded leopard: one species (Neofelis nebulosa) that inhabited mainland Asia (from Nepal to China and south to peninsular Malaysia) and a more threatened species living on the islands of Borneo and of Sumatra, dubbed the Sunda clouded leopard (Neofelis diardi). Now, researchers have confirmed that clouded leopards living on Sumatra are distinct from those on Borneo, further subdividing these two populations into unique subspecies.


American cougars on the decline: 'We're running against the clock,' says big cat expert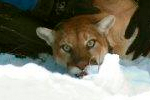 (01/17/2011) It holds the Guinness World Record for having the most names of any animal on the planet, with 40 in English alone. It's also the widest-ranging native land animal in the Americas, yet is declining throughout much of its range. Mongabay talks with big cat expert Dr. Howard Quigley about the status and research implications of the elusive, enigmatic, and unique cougar.


Picture: rare cat photographed in Borneo not believed to be extinct

(01/15/2011) Camera traps have photographed a rare small cat species in Borneo, but contrary to claims in The Telegragh, which reported on the story, the Bornean bay cat was not believed to be extinct, only rare.


Hyenas discovered in Armenia? Researchers find carcass, tracks

(01/14/2011) On October 1, 2010, the carcass of a striped hyena was found entangled in barbed wire surrounding an orchard in southern Armenia. The find represents the region's first confirmed hyena observation in over 60 years.


The hair-snare: non-invasive animal research technique makes good in Mexico

(12/19/2010) It's not easy or cheap to catch an elusive wild cat, and trapping such an animal can prove harmful to the individual. With such factors in mind, researchers are consistently turning to non-invasive methods of gathering data about species, including collecting feces and the increasingly popular camera trap. But one method rarely gets mentioned: the humble hair-snare. A new study in mongabay.com's open access journal Tropical Conservation Science has demonstrated the success of hair-snare in gathering data about mammals in Mexico, including the first successful hair catch of two rarely seen cat species, the jaguarundi (Puma yagouaroundi) and the margay (Leopardus wiedii).


Tiger summit reaches bold agreement and raises $300 million

(11/24/2010) The summit to save the world's biggest cat, and one of the world's most popular animals, has agreed to a bold plan dubbed the Global Tiger Recovery Program. Meeting in St. Petersburg, 13 nations have set a goal to double the wild tiger's (Panthera tigris) population worldwide by 2022. Given that tiger numbers continue to decline in the wild, this goal is especially ambitious, some may even say impossible. However, organizations and nations are putting big funds on the table: around $300 million has already been pledged, including $1 million from actor, and passionate environmental activist, Leonardo Dicaprio.


Rebuttal: Slaughtering farmed-raised tigers won't save tigers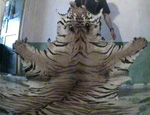 (11/18/2010) A recent interview with Kirsten Conrad on how legalizing the tiger trade could possibly save wild tigers sparked off some heated reactions, ranging from well-thought out to deeply emotional. While, we at mongabay.com were not at all surprised by this, we felt it was a good idea to allow a critic of tiger-farming and legalizing the trade to officially respond. The issue of tiger conservation is especially relevant as government officials from tiger range states and conservationists from around the world are arriving in St. Petersburg to attend next week's World Bank 'Tiger Summit'. The summit hopes to reach an agreement on a last-ditch effort to save the world's largest cat from extinction.


Back from extinction: Tasmanian tiger caught on video?

(11/16/2010) A 9 second video released today on YouTube claims to show a living Tasmanian tiger. The footage was captured by Murray McAllister last year. McAllister says he has seen the believed-to-be-extinct Tasmanian tiger several times in the last few years.


What do wolves and sharks have in common?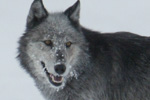 (11/15/2010) Sharks dwell in the ocean, wolves on land; sharks are a type of fish, wolves are a mammal; sharks go back some 400 million years, wolves only some 2 million years. So, these animals should have little in common, right? However, a new study in Frontiers in Ecology and the Environment points to surprising similarities among these disparate animals. As top predators, both wolves and sharks impact their prey and other species in similar ways.


Cheetahs reproduce more successfully after early pregnancies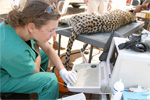 (11/15/2010) Early pregnancies prepare a cheetah for a life of productive motherhood, new research shows. A study published on 20 September in Conservation Letters advises captive breeding programs to focus on breeding female cheetahs at young ages to set the stage for many litters throughout their lives. The world's fastest animal, the cheetah has not outpaced a disheartening march toward extinction. Populations have declined from an estimated 100,000 a century ago to about 13,000 today. For years, researchers have pointed to the high genetic similarities among individual cheetahs as the main reason why captive cheetahs don't often get pregnant.


Would legalizing the trade in tiger parts save the tiger?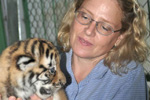 (11/15/2010) Just the mention of the idea is enough to send shivers down many tiger conservationists' spines: re-legalize the trade in tiger parts. The trade has been largely illegal since 1975 under the Convention on International Trade in Endangered Species (CITES). The concept was, of course, a reasonable one: if we ban killing tigers for traditional medicine and decorative items worldwide then poaching will stop, the trade will dry up, and tigers will be saved. But 35 years later that has not happened—far from it. "Words such as 'collapse' are now being used to describe the [tiger's] situation both in terms of population and habitat. Wild tiger numbers continue to drop so that we have about 3,500 today across 13 range states occupying just 7% of their original habitat. It's universally acknowledged that we're losing the battle," Kirsten Conrad, tiger conservation expert, told mongabay.com in a recent interview.


Sustainably certified fishery kills over 250 fur seals in one season

(11/10/2010) The New Zealand Ministry of Fisheries estimates that from 2007-2008, 273 New Zealand fur seals (Arctocephalus forsteri) were killed by offshore trawling hoki fisheries, an increase of over 75 seals since the previous year. New Zealand's hoki fishery has been certified as sustainable by the Marine Stewardship Council since 2001 and re-certified in 2007. Hoki is commonly used for ubiquitous fried fish sandwiches, such as those served at McDonald's.


Undercover for animals: on the frontline of wildlife crime in the US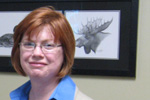 (11/03/2010) Special Agent O'Connor is a veteran wildlife law enforcement officer, with over 20 years of service under belt. She began her career in wildlife law enforcement as a Conservation Police Officer for the Illinois Department of Natural Resources, where she served for eight years. She then moved to federal wildlife law enforcement with the US Fish and Wildlife Service, where she was first posted to Ann Arbor, Michigan, and then to St. Paul, Minnesota. During that time, she investigated several major cases that led to felony convictions for violations of wildlife laws. She now serves as a training officer at the Federal Law Enforcement Training Center (FLETC), the interagency law enforcement training organization that serves 88 Federal agencies, in Georgia.


After months on the run, man-eating tiger caught

(10/28/2010) A male Bengal tiger that killed eight people was captured after a months-long chase by officials with India's Forest Department and biologists with the local conservation organization, Wildlife Trust of India (WFI), in the Indian state of Uttar Pradesh. After avoiding laced bait and tranquilizer darts, the tiger was finally trapped by officials earlier this month. Even after being tranquilized three times, the animal still lashed out, injuring several villagers who had begun throwing rocks at it. Eventually, though, the hunt for the cat ended with its capture.


Video: camera trap catches bulldozer clearing Sumatran tiger habitat for palm oil

(10/14/2010) Seven days after footage of a Sumatran tiger (Panthera tigris sumatrae) was taken by a heat-trigger video camera trap, the camera captured a bulldozer clearing the Critically Endangered animal's habitat. Taken by the World Wildlife Fund—Indonesia (WWF), the video provides clear evidence of forest destruction for oil palm plantations in Bukit Batabuh Protected Forest, a protected area since 1994.


Picture: unknown carnivore discovered in Madagascar lake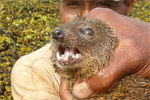 (10/10/2010) Researchers have identified a previously unknown species of carnivore lurking in one of the world's most endangered lakes. Durrell's vontsira (Salanoia durrelli), named in honor of the late conservationist and writer Gerald Durrell, was first photographed swimming in Madagascar's Lake Alaotra in 2004. Subsequent surveys by scientists at the the Durrell Wildlife Conservation Trust, the Natural History Museum, London, Nature Heritage, Jersey, and Conservation International confirmed the mongoose-like creature was indeed a new species.


Brazil's Operation Jaguar: Busting a Poaching Ring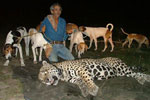 (10/03/2010) Twenty years ago Brazil's most notorious jaguar hunter, Teodoro Antonio Melo Neto, also known as 'Tonho da onça' or 'Jaguar Tony,' swore off poaching after logging 600 kills. The foe turned ally of the jaguar then convinced environmental and research institutes, such as the non-governmental organization Instituto Pró-Carnívoros, of his about face and to employ his tracking skills for conservation. Thus began years of assisting these agencies find the animals so that they could monitor their movements and research their habits. His dramatic change of heart even became the subject of a children's book titled Tonho da onça, which related a conservation message. But on July 20, 2010, 'Jaguar Tony,' now 71 years old, revealed his true spots when federal agents arrested him along with seven others preparing for another in a long series of illegal hunts.


Photo: six new endangered tiger cubs at the Bronx Zoo

(09/30/2010) Six new tiger cubs are making their first public appearance at the Bronx Zoo, reports the Wildlife Conservation Society (WCS).


Tigers successfully reintroduced in Indian park

(09/27/2010) Poachers killed off the last Bengal tiger in India's Sariska Tiger Reserve in 2004. Four years later, officials transferred three tigers from Ranthambhore National Park to Sariska in an attempt to repopulate the park with the world's biggest feline. A new study in mongabay.com's open-access journal Tropical Conservation Science evaluates the reintroduction by tracking radio-collared tigers and studying their scat.


Indian carnivore eats mostly fruit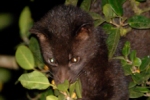 (09/27/2010) When is a carnivore no longer a carnivore? A new study in mongabay.com's open access journal Tropical Conservation Science has found that the brown palm civet (Paradoxurus jerdoni), a cat-sized tree-loving carnivore, lives almost entirely off fruit and seeds. Studying over a 1000 feces from the brown palm civet during three years, researchers found that 97 percent of its diet was composed of plants, not meat. Given its penchant for fruit, researchers argue that the brown palm civet is an important disperser of tropical plants, playing a vital ecological role rarely connected to civets.


Tigers discovered living on the roof of the world

(09/20/2010) A BBC film crew has photographed Bengal tigers, including a mating pair, living far higher than the great cats have been documented before. Camera traps captured images and videos of tigers living 4,000 meters (over 13,000 feet) in the tiny Himalayan nation of Bhutan.


Saving wild tigers will cost $82M/year

(09/15/2010) The cost of maintaining the planet's 3,500 remaining wild tigers is around $80 million a year, according to a new study published in the journal PLoS Biology.


Photo: Live tiger cub found in check-in baggage among stuffed tiger toys

(08/27/2010) A two-month old tiger cub was found drugged and concealed among stuffed-tiger toys in a woman's luggage at Bangkok's Suvarnabhumi International Airport on Sunday, reports TRAFFIC, the wildlife trade monitoring network.


Lion populations plummet in Uganda's parks

(08/19/2010) Lion populations across Uganda's park system have declined 40 percent in less than a decade, according to the Wildlife Conservation Society (WCS).



Page 1 | Page 2 | Page 3 | Page 4 | Page 5 | Page 6