News articles on carbon sequestration

---
Mongabay.com news articles on carbon sequestration in blog format. Updated regularly.






Complete map of world forests to help REDD carbon trading initiative

(02/27/2008) Policymakers, conservationists and scientists have high hopes that REDD, a mechanism for compensating countries for reducing emissions from deforestation and forest degradation, will spur a massive flow of funds to tropical countries, helping preserve rainforests and delivering economic benefits to impoverished rural communities. To date, one of the biggest hurdles for the initiative has been establishing a baseline for deforestation rates -- in order to compensate countries for "avoided deforestation" it first must be known how much forest the country has been losing on a historical basis. Until now, with some notable exceptions, this data was based largely on spotty satellite assessment and surveys of national forestry departments by the U.N. Food and Agricultural Organization.
Organic fertilizers could fight global warming

(02/27/2008) Applying organic fertilizers, such as those resulting from composting, to agricultural land could increase the amount of carbon stored in these soils and contribute significantly to the reduction of greenhouse gas emissions, according to new research published in a special issue of Waste Management & Research (Special issue published today by SAGE).
Half the Amazon rainforest will be lost within 20 years

(02/27/2008) More than half the Amazon rainforest will be damaged or destroyed within 20 years if deforestation, forest fires, and climate trends continue apace, warns a study published in Philosophical Transactions of the Royal Society B. Reviewing recent trends in economic, ecological and climatic processes in Amazonia, Daniel Nepstad and colleagues forecast that 55 percent of Amazon forests will be "cleared, logged, damaged by drought, or burned" in the next 20 years. The damage will release 15-26 billion tons of carbon into the atmosphere, adding to a feedback cycle that will worsen both warming and forest degradation in the region. While the projections are bleak, the authors are hopeful that emerging trends could reduce the likelihood of a near-term die-back. These include the growing concern in commodity markets on the environmental performance of ranchers and farmers; greater investment in fire control mechanisms among owners of fire-sensitive investments; emergence of a carbon market for forest-based offsets; and the establishment of protected areas in regions where development is fast-expanding.
Reducing deforestation rates 10% could generate $13B in carbon trading under REDD

(02/25/2008) Cutting global deforestation rates 10 percent could generate up to $13.5 billion in carbon credits under a reducing emissions from deforestation ("REDD") initiative approved at the U.N. climate talks in Bali this past December, estimate researchers writing in Philosophical Transactions of the Royal Society B. But the researchers caution there are still substantial obstacles to overcome before carbon-credits-for-rainforest-conservation becomes a reality.
Brazil's ecosystem payments system offers clues for REDD implementation

(02/24/2008) Brazil's existing system for environmental services payments could offer insight for implementing carbon-credits-for-forest-conservation (REDD) initiatives in the Amazon rainforest, argues a London School of Economics researcher in a new paper published in Philosophical Transactions of the Royal Society B.
First rainforest-for-carbon-credits deal becomes a reality

(02/07/2008) Villagers in Aceh, the Indonesian province that suffered through three decades of civil war and lost some 170,000 people to the 2004 Indian Ocean tsunami, could soon see $26 million in carbon credits for protecting rainforests from logging under a deal announced today between conservationists, carbon traders, and the Aceh government.
55% of the Amazon may be lost by 2030

(01/23/2008) Cattle ranching, industrial soy farming, and logging are three of the leading drivers of deforestation in the Brazilian Amazon. As commodity prices continue to rise, driven by surging demand for biofuels and grain for meat production, the economic incentives for developing the Amazon increase. Already the largest exporter of beef and the second largest producer of soy - with the largest expanse of "undeveloped" but arable land of any country - Brazil is well on its way to rivaling the U.S. as the world's agricultural superpower. The trend towards turning the Amazon into a giant breadbasket seems unstoppable. Nevertheless the decision at the U.N. climate talks in Bali to include "Reducing Emissions From Deforestation and Degradation" (REDD) in future climate treaty negotiations may preempt this fate, says Dr. Daniel Nepstad, a scientist at the Woods Hole Research Institute.
Will carbon credits-for-forests scheme be undermined by carbon negative bioenergy?

(12/18/2007) The Indonesian government has signed an agreement with energy giant Total E&P Indonesia on a carbon capture and storage scheme that could eventually lead to the development of carbon negative bioenergy production in the southeast Asian country, reports Biopact. The deal raises fears that feedstock for production could lead to large-scale deforestation of the country's remaining forests and undermine efforts to push forest conservation-for-carbon credits (or REDD) initiatives.
REDD will fail if needs of forest communities aren't addressed

(12/07/2007) Initiatives to reduce emissions by reducing tropical deforestation (REDD) will fail unless policymakers adequately address the underlying drivers of forest degradation and destruction, argues a new report published by the Center for International Forestry Research (CIFOR).
Merrill Lynch announces carbon credits-for-forest conservation partnership

(12/06/2007) Merrill Lynch is working with Carbon conservation, an ecosystem services firms, to explore opportunities in avoided deforestation and integrated sustainable land management. The partnership was announced Thursday in Bali, Indonesia, where more than 10,000 policymakers, scientists, and activists are meeting to discuss a post-Kyoto framework on limiting climate change.
Tropical forests face huge threat from industrial agriculture

(12/05/2007) With forest conversion for large-scale agriculture rapidly emerging as a leading driver of tropical deforestation, a new report from the Woods Hole Research Center (WHRC) suggests the trend is likely to continue with Brazil, the Democratic Republic of the Congo, Indonesia, Peru, and Colombia containing 75 percent of the world's forested land that is highly suitable for industrial agriculture expansion. Nevertheless the study identifies forests that may be best suited (low population density, unsuitable climate and soils) for "Reduced Emissions from Deforestation and Degradation" (REDD) initiatives which compensate countries for preserving forest lands in exchange for carbon credits.
Returns from carbon offsets could beat palm oil in Congo DRC

(12/04/2007) A proposal to pay the Democratic of Congo (DRC) for reducing deforestation could add 15-50 percent to the amount of international aid given to the warn-torn country, reports a new study published by scientists at the Woods Hole Research Center (WHRC). The funds would help alleviate rural poverty while cutting emissions of greenhouse gases and protecting threatened biodiversity.
Amazon deforestation could be eliminated with carbon priced at $3

(12/04/2007) The Amazon rainforest could play a major part in reducing greenhouse gas emissions that result from deforestation, reports a new study published by scientists at the Woods Hole Research Center, the Instituto de Pesquisa Ambiental da Amazônia, and the Universidade Federal de Minas Gerais. At a carbon price of $3 per ton, protecting the Amazon for its carbon value could outweigh the opportunity costs of forgoing logging, cattle ranching, and soy expansion in the region. 2008 certified emission-reduction credits for carbon currently trade at more than $90 per ton ($25 per ton of CO2).
Forest carbon may not fully offset fossil carbon, says expert

(12/03/2007) As policymakers meet in Bali, Indonesia to discuss various mechanisms for mitigating greenhouse emissions, a tropical ecologist from Sri Lanka warns that one ton of forest carbon is not equal to one ton of fossil carbon when it comes to using offsets to fight global warming. The implications: considerably larger forest areas (preferably old growth since it has higher carbon values than plantations) would need to be protected and reforested than are presently anticipated by most policymakers.
Could the carbon market save the Amazon rainforest?

(11/29/2007) The global carbon market could play a key role in saving the Amazon from the effects of climate change and economic development, which could otherwise trigger dramatic ecological changes, reports a new paper published in Science. The authors argue that a well-articulated plan, financed by carbon markets, could prevent the worst outcomes for the Amazon forest while generating economic benefits for the region's inhabitants.
Is the oil-palm industry using global warming to mislead the public?

(11/23/2007) Members of the Indonesian Palm Oil Commission are distributing materials that misrepresent the carbon balance of oil-palm plantations, according to accounts from people who have seen presentations by commission members. These officials are apparently arguing that oil-palm plantations store and sequester many times the amount of CO2 as natural forests, and therefore that converting forests for plantations is the best way to fight climate change. In making such claims, these Indonesian representatives evidently are ignoring data that show the opposite, putting the credibility of the oil-palm industry at risk, and undermining efforts to slow deforestation and rein in greenhouse gas emissions.
Ocean CO2 collector could fight global warming and ocean acidification

(11/19/2007) Researchers have proposed a geoengineering solution to global warming that involves building a series of water treatment plants that enhance the ability of the ocean to absorb carbon dioxide from the atmosphere by removing hydrochloric acid from seawater by electrolysis.
Planned logging of Woodlark Island for biofuels opposed by islanders and scientists

(11/12/2007) On Woodlark Island, one-hundred and seventy miles from Papua New Guinea, a struggle is occurring between islanders and biofuel company Vitroplant Ltd. The company is planning to clear much of the island's forest for oil palm plantations to produce biofuels. Vitorplant Ltd.'s contract specifies that they would deforest 60,000 hectares of land for plantations; Woodlark Island is 85,000 hectares in total, meaning over 70% of the island would be converted. Last week, one hundred islanders (out of a total population of 6,000) traveled to the capital of Milne Bay Province, Alotau, to voice their concern over the plans to turn their forested island into plantations.
Greenwashing the palm oil industry

(11/12/2007) A new report from Greenpeace alleges that members of the Roundtable on Sustainable Palm Oil -- an industry-driven initiative to clean up palm oil production -- are using palm oil derived by clearing endangered rainforests and draining carbon-rich peatlands on the Indonesian island of Sumatra.
Oil palm does not store more carbon than forests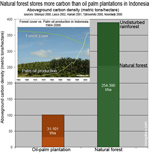 (11/08/2007) Officials from the Indonesian ministry of agriculture and the palm oil industry are distributing materials that misrepresent the carbon balance oil palm plantations, according to accounts from people who have seen presentations by members of the Indonesian Palm Oil Commission. Ministry of agricultural officials are apparently arguing that oil palm plantations store and sequester many times the amount of CO2 as natural forests and therefore converting forests for plantations is the best way to fight climate change. In making such claims, these Indonesian officials are ignoring data that show the opposite, putting the credibility of the oil palm industry at risk, and undermining efforts to slow deforestation and reign in greenhouse gas emissions.
California fires release 8M tons of CO2

(11/01/2007) Southern California wildfires released 7.9 million metric tons of carbon dioxide in just the one-week period of October 19-26--the equivalent of about 25 percent of the average monthly emissions from all fossil fuel burning throughout California--according to researchers at the National Center for Atmospheric Research (NCAR) and the University of Colorado at Boulder.
Forests reduce flooding

(10/04/2007) While conventional wisdom holds that forests help buffer against catastrophic flooding, there has been little evidence to support such notions. A 2005 report by the Food and Agricultural Organization of the United Nations (FAO) and the Center for International Forestry Research (CIFOR) cited this lack of evidence and argued that flood mitigation efforts though forest preservation could not be justified on economic grounds. Now, a new study, published in the journal Global Change Biology, suggests that forests do impact the occurrence and severity of destructive flooding. A prominent researcher is already calling the new work a "landmark study" in support of forest conservation.
Australia puts $100M toward protecting forest in Borneo

(09/09/2007) Australian and Indonesian ministers signed a AU$100 million ($82M) deal to protect highly threatened forests on the island of Borneo, according to the Sydney Morning Herald. Funds will go towards conservation and rehabilitation of degraded forests and peatlands.
Indonesia's peatlands may offer U.S. firms global warming offsets

(08/29/2007) The following is modified version of a letter I've used to pitch U.S. companies on the concept of carbon finance in Indonesia's peatlands. Discussions are slow and the critical December U.N. climate meeting is fast approaching, so I'm posting this as a tool to help you get American firms interested in avoided deforestation offsets. Please feel free to use, modify, and distribute this letter widely.
How private equity can profit from carbon offsets in Indonesia

(08/29/2007) The emerging carbon market for avoided deforestation presents unprecedented opportunities for private equity to make profitable investments that also help protect the environment. Indeed, for the first time, conservation may be associated with positive financial returns. Here's a brief look at how private equity and other investors can capitalize on this opportunity to earn attractive returns while fighting climate change, protecting ecosystem services, and safeguarding endangered species like orangutans.
Iron boosts carbon sequestration by the ocean

(08/23/2007) Wind-blown iron contributes significantly to the biological productivity of the Southern Ocean near Antarctica, researchers report in this week's issue of the journal Science.
Could peatlands conservation be more profitable than palm oil?

(08/22/2007) This past June, World Bank published a report warning that climate change presents serious risks to Indonesia, including the possibility of losing 2,000 islands as sea levels rise. While this scenario is dire, proposed mechanisms for addressing climate change, notably carbon credits through avoided deforestation, offer a unique opportunity for Indonesia to strengthen its economy while demonstrating worldwide innovative political and environmental leadership. In a July 29th editorial we argued that in some cases, preserving ecosystems for carbon credits could be more valuable than conversion for oil palm plantations, providing higher tax revenue for the Indonesian treasury while at the same time offering attractive economic returns for investors.
Low deforestation countries to see least benefit from carbon trading

(08/13/2007) Countries that have done the best job protecting their tropical forests stand to gain the least from proposed incentives to combat global warming through carbon offsets, warns a new study published in Tuesday in the journal Public Library of Science Biology (PLoS). The authors say that "high forest cover with low rates of deforestation" (HFLD) nations "could become the most vulnerable targets for deforestation if the Kyoto Protocol and upcoming negotiations on carbon trading fail to include intact standing forest."
Global warming to stunt growth of rainforest trees

(08/12/2007) Global warming could reduce the growth rates of rainforest trees by 50 percent, reported research presented last week at the annual meeting of the Ecological Society of America in San Jose, California by Ken Feeley of Harvard University's Arnold Arboretum in Boston.
Temperate forests not a fix for global warming

(08/10/2007) Carbon sequestration projects in temperate regions -- already facing doubts by scientists -- were dealt another blow by Duke University-led research that found pine tree stands grown under elevated carbon dioxide conditions only store significant amounts of carbon when they receive sufficient amounts of water and nutrients.
Papua seeks funds for fighting global warming through forest conservation

(08/10/2007) In an article published today in The Wall Street Journal, Tom Wright profiles the nascent "avoided deforestation" carbon offset market in Indonesia's Papua province. Barnabas Suebu, governor of the province which makes up nearly half the island of New Guinea, has teamed with an Australian millionaire, Dorjee Sun, to develop a carbon offset plan that would see companies in developing countries pay for forest preservation in order to earn carbon credits. Compliance would be monitored via satellite.
Is peat swamp worth more than palm oil plantations?

(07/16/2007) Could peat swamp be worth more intact for their carbon value than palm oil plantations for their oil? Quick analysis suggests yes, though binding limits on emissions will be needed to trigger the largest ever flow of money from the industrialized world to developing countries. At stake: the bulk of the world's biodiversity.
WWF condemns iron fertilization scheme to fight global warming

(06/28/2007) Environmental group WWF condemned a scheme by Planktos, Inc. (OTCBB: PLKT) to dump up to 100 tons of iron dust in the open ocean west of the Galapagos Islands. The firm claims the experiment will fertilize massive blooms of phytoplankton that will absorb carbon dioxide from the atmosphere and help fight global warming.
Carbon capture and storage could help combat global warming

(06/12/2007) While solar power and hybrid cars have become popular symbols of green technology, Stanford researchers are exploring another path for cutting emissions of carbon dioxide, the leading greenhouse gas that causes global warming.
World Bank to raise $250M for avoided deforestation in tropics

(06/11/2007) The World Bank will soon launch an "avoided deforestation" pilot project that will pay tropical countries for preserving their forests, reports The Wall Street Journal. The $250 million fund will reward Indonesia, Brazil, Congo and other tropical forest countries for offsetting global warming emissions. Tropical deforestation accounts for roughly 20 percent of global greenhouse gas emissions, but slowing deforestation slows emissions of heat-trapping emissions. Researchers estimate that "avoided deforestation" schemes may be one of the most cost effective ways to slow climate change. Further, avoided deforestation offers simultaneous benefits including preservation of ecosystem services and biodiversity.
Can cattle ranchers and soy farmers save the Amazon?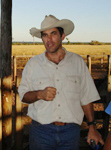 (06/06/2007) John Cain Carter, a Texas rancher who moved to the heart of the Amazon 11 years ago and founded what is perhaps the most innovative organization working in the Amazon, Alianca da Terra, believes the only way to save the Amazon is through the market. Carter says that by giving producers incentives to reduce their impact on the forest, the market can succeed where conservation efforts have failed. What is most remarkable about Alianca's system is that it has the potential to be applied to any commodity anywhere in the world. That means palm oil in Borneo could be certified just as easily as sugar cane in Brazil or sheep in New Zealand. By addressing the supply chain, tracing agricultural products back to the specific fields where they were produced, the system offers perhaps the best market-based solution to combating deforestation. Combining these approaches with large-scale land conservation and scientific research offers what may be the best hope for saving the Amazon.




Page 1 | Page 2 | Page 3 | Page 4 | Page 5 | Page 6 | Page 7 | Page 8