News articles on carbon sequestration

---
Mongabay.com news articles on carbon sequestration in blog format. Updated regularly.






Brazil's plan to save the Amazon rainforest
(06/02/2009) Accounting for roughly half of tropical deforestation between 2000 and 2005, Brazil is the most important supply-side player when it comes to developing a climate framework that includes reducing emissions from deforestation and forest degradation (REDD). But Brazil's position on REDD contrasts with proposals put forth by other tropical forest countries, including the Coalition for Rainforest Nations, a negotiating block of 15 countries. Instead of advocating a market-based approach to REDD, where credits generated from forest conservation would be traded between countries, Brazil is calling for a giant fund financed with donations from industrialized nations. Contributors would not be eligible for carbon credits that could be used to meet emission reduction obligations under a binding climate treaty.
Excluding forest carbon from climate policy will spur massive deforestation
(05/28/2009) Failure to develop policies that account for emissions from land use change will lead to widespread deforestation and higher costs for addressing climate change, warn researchers writing in the journal Science. Using a computer model that incorporates economics, energy, agriculture, land-use changes, emissions and concentrations of greenhouse gases, a team of researchers from the Department of Energy's Pacific Northwest National Laboratory (PNNL) and the University of Maryland found that efforts to limit atmospheric carbon dioxide levels while ignoring emissions from terrestrial sources would lead to nearly a complete loss of unmanaged forests by 2100, resulting largely from increased expansion of bioenergy crops. Meanwhile placing a value ("tax") on terrestrial carbon emissions equivalent to that on industrial and fossil fuel emissions would lead to an increase in forest cover.
Voluntary carbon markets double in 2008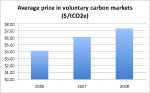 (05/20/2009) Voluntary carbon markets greatly expanded in both transaction volume and value in 2008, providing critical funds for projects aiming to reduce greenhouse gas emissions, according to a new report from Ecosystem Marketplace and New Carbon Finance. Fortifying the Foundation: State of the Voluntary Carbon Markets 2009 — a survey of over 190 voluntary carbon credit retailers, brokers, accounting registries, and exchanges — found that voluntary carbon markets transacted 123 million metric tons of carbon credits valued at $705 million in 2008, up from 65 million tons of credits valued at $331 million in 2007.
Congo biochar initiative will reduce poverty, protect forests, slow climate change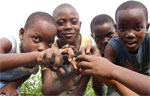 (05/19/2009) An initiative using soil carbon enrichment techniques to boost agricultural yields, alleviate poverty, and protect endangered forests in Central Africa was today selected as one of six projects to win funding under the Congo Basin Forest Fund (CBFF). The scientific committee of the CBFF awarded Belgium's Biochar Fund and its Congolese partner ADAPEL €300,000 to implement its biochar concept in 10 villages in the Equateur Province of the Democratic Republic of Congo. The approach improves the fertility of soils through the introduction of "biochar" — charcoal produced from the burning of agricultural residues and waste biomass under reduced oxygen conditions — thereby increasing crop yields and reducing the need to clear forest for slash-and-burn agriculture.
Bioelectricity bests ethanol on two fronts: land use and global warming

(05/07/2009) Yesterday the Obama Administration established a Biofuels Interagency Working Group to oversee implementation of new rules and research regarding biofuels. On the group's first day of work they would do well to look at a new study in Science Magazine comparing the efficacy of ethanol versus bioelectricity.
Canada and Britain abandon conventional coal

(04/29/2009) In an effort to curb climate change, both Britain and Canada have announced plans to stop building new conventional coal power plants, a move long-advocated by environmentalists. Both nations have turned their sights to the possibility of clean coal, a controversial and still unproven method that has divided environmentalists, scientists, and policy makers.
Tropical storms affect carbon sinks by knocking down forests

(04/27/2009) Studying nearly a hundred and fifty years of tropical storm landfalls in the United States, researchers have discovered that the storm systems have a sizable impact on forest carbon sinks due to the large-scale destruction of trees.
Global warming could turn forests from sink to source of carbon emissions
(04/16/2009) Rising temperatures could reverse the role forests play in mitigating climate change, turning them into net sources of greenhouse gases, reports a new assessment by the International Union of Forest Research Organizations (IUFRO). The report, titled "Adaptation of Forests and People to Climate Change – A Global Assessment" and authored by 35 forestry scientists, examined the potential impacts of climate change across the world's major forest types as well as the capacity of forest biomes to adapt to climate shifts. Among the conclusions: a 2.5-degree-C rise in temperatures would eliminate the net carbon sequestering function of global forests. Presently forests worldwide capture about a quarter of carbon emissions.
Norway emerges as champion of rainforest conservation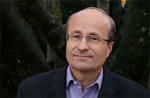 (03/19/2009) While citizens in western countries have long paid lip service to saving rainforests, Norway has quietly emerged as the largest and most important international force in tropical forest conservation. The small Scandinavian country has committed 3 billion krone ($440 million) a year to the effort, a figure vastly greater than the $100M pledged — but never fully contributed — by the United States under the Tropical Forest Conservation Act (TFCA). Norway now hopes it can help push to include forest conservation in the successor to the Kyoto Protocol by providing funding and fostering cooperation among international actors like the UN and World Bank, as well as developing countries, to fund the creation of an international architecture which makes it possible to incorporate deforestation and degradation into a post-2012 climate regime.
Shells thinning due to ocean acidification

(03/13/2009) By soaking up excess CO2 from the atmosphere oceans are undergoing a rise in acidity which is having ramifications across their ecosystems, most frequently highlighted in the plight of coral reefs around the world. However, a new study in Nature Geoscience shows that the acidification is affecting another type of marine life. Foraminifera, a tiny amoeba-like entity numbering in the billions, have experienced a 30 to 35 percent drop in their shell-weight due to the high acidity of the oceans.
Drought threatens the Amazon rainforest as a carbon sink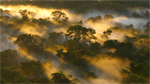 (03/05/2009) Drought in the Amazon is imperiling the rainforest ecosystem and global climate, reports new research published in Science. Analyzing the impact of the severe Amazon drought of 2005, a team of 68 researchers across 13 countries found evidence that rainfall-starved tropical forests lose massive amounts of carbon due to reduced plant growth and dying trees. The 2005 drought — triggered by warming in the tropical North Atlantic rather than el Niño — resulted in a net flux of 5 billion tons of carbon dioxide (CO2) into the atmosphere — more than the combined annual emissions of Japan and Europe — relative to normal years when the Amazon is a net sink for 2 billion tons of CO2.
Indonesia applies for REDD partnership to protect forests

(03/04/2009) Indonesia has applied to join the World Bank's Forest Carbon Partnership Facility, becoming the largest developing country to apply to a program that seeks to reduce greenhouse gas emissions by saving tropical forests, reports Reuters.
Rainforests absorb 20% of emissions annually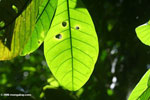 (02/19/2009) Undisturbed tropical forests are absorbing nearly a fifth of carbon dioxide released annually by the burning of fossil fuels, according to an analysis of 40 years of data from rainforests in the Central African country of Gabon. Writing in the journal Nature, Simon Lewis and colleagues report that natural forests are an immense carbon sink, helping slow the rise in atmospheric CO2 levels.
European conquest of the Americas may have driven global cooling
(12/18/2008) Recovery of forests following the collapse of human populations in the Americas after the arrival of Europeans may have driven the period of global cooling from 1500-1750 known as the Little Ice Age, report researchers speaking at the annual meeting of the American Geophysical Union in San Francisco. By some estimates, diseases introduced by Europeans may have killed more than 90 percent of population on the New World within a century of first contact. The rapid depopulation led to large-scale abandonment, and subsequent reforestation, of agricultural lands in the Americas. Analyzing charcoal found in soils and lake sediments at sites across the Americas, Richard Nevle and Dennis Bird found evidence to suggest that this forest regeneration sequestered enough carbon to trigger global cooling.
Biochar and its Role in Mitigating Climate Change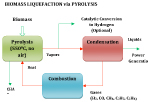 (12/17/2008) The growing concerns about climate change have brought biochar, a charcoal produced from biomass combustion, into limelight. Biochar is a carbon-rich, fine-grained residue which can be produced either by ancient techniques (such as covering burning biomass with soil and allowing it to smolder) or state-of-the-art modern pyrolysis processes. Combustion and decomposition of woody biomass and agricultural residues results in the emission of a large amount of carbon dioxide. Biochar can store this CO2 in the soil leading to reduction in GHGs emission and enhancement of soil fertility. Biochar holds the promise to tackle chronic human development issues like hunger and food insecurity, low agricultural productivity and soil depletion, deforestation and biodiversity loss, energy poverty, air pollution and climate change. Thus, biochar could make a difference in the energy-starved countries of Asia, Africa and Latin America as well as the industrialized world with its vast array of benefits.
Rainforests continue to fall but hope may rest in a market solution

(12/11/2008) Environmentalists attempting to preserve the vanishing Amazon rain forest now confront a stark paradox: Never before have they succeeded in protecting so much of the world's largest tropical forest, yet never before has so much of it simultaneously been destroyed. The key question today is whether new models of conservation — including an increasingly popular, market-based program known as REDD — will be able to reverse the steady loss of tropical forests, not only in the Amazon, but also in Indonesia, Borneo, and Africa's Congo basin, where virgin woodlands continue to be razed at an unprecedented rate.
Deal on forests falls short

(12/11/2008) A deal reached Wednesday in Poznan to include forests in future climate treaties is a positive step but falls short of the progress needed to get the REDD (reducing emissions from deforestation and degradation) mechanism on track for incorporation into the framework that will succeed the Kyoto Protocol, say environmentalists speaking from the talks.
Macedonians plant six million trees—in one day

(12/10/2008) While the world meets in Poznan, Poland to discuss actions related to global warming, the small Republic of Macedonia has already achieved an impressive goal. On November 19th, thousands of Macedonians took part in planting trees in a massive reforestation effort. Altogether they planted six million trees: three trees for every citizen of the country.
Indigenous people win voice in climate negotiations

(12/10/2008) Negotiators at U.N. climate conference have struck a deal to give forest-dependent people a voice in determining the role forest conservation will play future agreements to reduce greenhouse gas emissions, reports the Associated Press (AP). The agreement clears a key obstacle that had been blocking progress on reducing emissions from deforestation and degradation (REDD), a mechanism that would compensate tropical countries for protecting their forest cover.
In Poznan, France pushes initiative to save rainforests

(12/08/2008) As talks for incorporating forest conservation into an international climate treaty stall in Poznan, Poland due to technical debates, France has proposed an aggressive effort to address deforestation and forest degradation through the establishment of a Global Forest Carbon Mechanism (GFCM) and potential inclusion of forestry projects in the E.U.'s emissions trading scheme (ETS) beginning in 2013.
REDD faces challenges but can succeed, says report

(12/05/2008) The Center for International Forestry Research (CIFOR), a forest policy think tank, today released its assessment on the proposed REDD (reducing emissions from deforestation and degradation) mechanism for slowing climate change.
Rainforest canopy-penetrating technology gets boost for forest carbon monitoring

(12/04/2008) A tool for monitoring tropical deforestation has gotten a boost from the one of the world's largest supporters of Amazon conservation. The Gordon and Betty Moore Foundation has awarded the Carnegie Institution's Department of Global Ecology with a $1.6-million grant to expand and improve its tropical forest monitoring tool known as the Carnegie Landsat Analysis System Lite (CLASLite).
Salvage logging offers hope for forests, communities devastated by industrial logging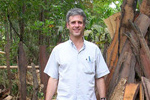 (12/04/2008) As currently practiced, logging is responsible for large-scale destruction of tropical forests. Logging roads cut deep into pristine rainforests, opening up once remote areas to colonization, subsistence and industrial agriculture, wildlife exploitation, and other forms of development. Timber extraction thins the canopy, damages undergrowth, and tears up soils, reducing biodiversity and leaving forests more vulnerable to fire. Even selective logging is damaging. Nevertheless demand for wood products continues to grow. China is expected to import more than 100 million cubic meters of industrial roundwood by 2010, much of which will go into finished products shipped off to Europe and the United States. As much as 60 percent of this is illicitly sourced. Meanwhile in Brazil domestic hunger for timber is fueling widespread illegal logging of the Amazon rainforest. Armed standoffs between environmental police and people employed by unlicensed operators are increasingly common. Tropical Salvage, a Portland, Oregon-based producer of wood products, is avoiding these issues altogether by taking a different approach to meet demand for products made from high-quality tropical hardwoods. The company salvages wood discarded from building sites, unearthed from mudslides and volcanic sites, and dredged from rivers in Indonesia and turns it into premium wood products. In the process, Tropical Salvage is putting formers loggers to work and supporting a conservation, education and reforestation project on Java.





WWF criticizes Brazil's plan to cut Amazon deforestation

(12/04/2008) WWF criticized Brazil's plan to reduce Amazon deforestation to 5,740 square kilometers per year as being "short on ambition and detail". In a statement issued Wednesday, WWF said that Brazil's proposed fund for conserving the Amazon would still result in the annual loss of an area forest the size of Rhode Island.





REDD may harm forest people, alleges report

(12/02/2008) A new report finds that the World Bank is not doing enough to protect indigenous rights under its mechanism to reduce emissions from deforestation and forest degradation (REDD).







Guide to reducing emissions through forest conservation released

(11/26/2008) Ahead of next week's climate meeting in Poznań, Poland, the Global Canopy Programme — an alliance of 37 scientific institutions in 19 countries — has launched a layman's guide to a proposed mechanism for cutting greenhouse gas emissions by reducing deforestation. Deforestation and land use change accounts for roughly 20 percent of global greenhouse gas emissions — a larger share than all the world's cars, trucks, ships, and airplanes combined.





California joins effort to fight global warming by saving rainforests

(11/19/2008) California has joined the battle to fight global warming through rainforest conservation. In an agreement signed yesterday at a climate change conference in Beverly Hills, California, Governor Arnold Schwarzenegger pledged financial assistance and technical support to help reduce deforestation in Brazil and Indonesia. The Memorandum of Understanding commits the California, Illinois and Wisconsin to work with the governors of six states and provinces within Indonesia and Brazil to help slow and stop tropical deforestation, a source of roughly 20 percent of global greenhouse gas emissions.





Coordinated effort needed to cut deforestation via carbon markets

(11/18/2008) The Coalition for Rainforest Nations — a group of 40 tropical countries seeking compensation in the form of carbon credits for protecting their forest cover — will ask the United Nations at next month's climate conference in Poland to establish a single body to coordinate forest carbon trading, reports Reuters from a workshop on Reducing Emissions from Deforestation and Forest Degradation (REDD) meeting in Milan, Italy.









Forests for Climate initiative launches in Indonesia

(11/04/2008) Greenpeace has officially launched its Forests for Climate initiative (FFC), a non-market avoided deforestation scheme that aims to reduce greenhouse gas emissions by slowing forest destruction.







Geoengineering schemes need ranking system to avoid wasting money, destroying the planet

(10/26/2008) Schemes to alter Earth's climate on a planetary scale should be ranked according to their efficacy, cost, risks and their rate of mitigation, argues a new editorial published in Nature Geoscience. With so-called geoengineering proposals proliferating as concerns over climate change mount, Philip Boyd of New Zealand's NIWA warns that "no geo-engineering proposal has been tested or even subjected to preliminary trials". He says that despite widespread media attention, scientists have yet to even come up with a way to rank geoegineering schemes for their efficacy, cost, associated risk, and timeframe. Thus is it unclear whether ideas like carbon burial, geochemical carbon capture, atmospheric carbon capture, ocean fertilization, cloud manipulation, "space sunshades", or strategically-placed pollution can be effective on a time-scale relevant to humankind, economical, or even safe.





Despite financial crunch, donors pledge $100M for rainforest conservation

(10/23/2008) Donors meeting this week in Washington D.C. pledged more than $100 million to the World Bank's new initiative for conserving tropical forests. In addition to the $100 million in donations, the World Bank announced that more than forty developing countries have asked to join the Forest Carbon Partnership Facility — the Bank's foray into the emerging market for forest carbon credits. 25 countries have so far been selected to participate in the initiative, which builds capacity for countries to earn compensation through the carbon markets for reducing greenhouse gas emissions by reducing deforestation and forest degradation (REDD). Experts say the mechanism could eventually lead to the transfer of billions of dollars per year to fund conservation and rural development in tropical countries, while at the same time helping fight climate change. Deforestation and land use change presently accounts for around a fifth of anthropogenic emissions.





Green New Deal will spark global economy, create jobs

(10/22/2008) A "Global Green New Deal" that focuses the world economy "towards investments in clean technologies and 'natural' infrastructure such as forests and soils is the best bet for real growth, combating climate change and triggering an employment boom," according to a new initiative led by the United Nations Environment Programme (UNEP).





Challenges of starting a green business

(10/20/2008) While green design offers the potential to greatly improve the sustainability of new goods and services without sacrificing performance, developing and bringing such products to market is a challenge, said a panel of innovators from companies using nature as inspiration for new technologies. Speaking at the 2008 Bioneers conference in San Rafael, California, Stephen Dewar of WhalePower, Charles Hamilton of Novomer, and Jay Harman of PAX Scientific told biomimicry expert Jane Benyus that radically new approaches to solving design and engineering problems is often met with skepticism from the existing market.





Company that turns CO2 into eco-friendly plastic gets new CEO

(10/20/2008) Novomer, a firm developing biodegradable plastics using carbon dioxide instead of petroleum as a feedstock, today announced the appointment of Jim Mahoney as its new chief executive officer and the relocation of company headquarters from Ithaca, N.Y. to Boston, Mass.





Financial crisis could pave way for greener economy inspired by nature

(10/20/2008) Biomimicry — the use of nature to inspire design — could serve as a model for a greener economy that rises out of the ashes of the financial crisis, said experts meeting at a sustainability conference in the San Francisco Bay Area. Speaking at the three-day Bioneers conference in San Rafael, Janine Benyus, a leading voice in the emerging field of biomimicry, said that nature offers lessons that can be applied to build better and more sustainable products and services as well as economic models.





EU says emissions trading system may fund forest conservation

(10/17/2008) Europe's carbon trading scheme may be used to generate funds to fight deforestation, reports Reuters. Speaking at a news conference on Friday, EU Environment Commissioner Stavros Dimas said he hoped the EU's emissions trading scheme could reduce gross tropical deforestation by half by 2020 and eliminate net forest loss by 2030.





Carbon conservation schemes will fail without forest people

(10/16/2008) Mechanisms that use forest conservation to reduce greenhouse gas emissions are doomed to fail unless they are "based on respect for the rights of indigenous peoples and forest communities," warn environmentalists and indigenous rights groups meeting in Oslo this week. Indigenous groups fear they are being excluded from discussions on Reduced Emissions from Deforestation and Forest Degradation (REDD), a proposed financial mechanism that would compensate tropical countries for reducing emissions caused by deforestation and land use. Such emissions account for a fifth of the global total, or more than the total emissions from transportation. In particular, indigenous groups and forest communities are concerned they will not see benefits from REDD. Worse, some believe the mechanism could trigger a new wave of land grabs and evictions by parties seeking to capitalize on carbon payments. Indigenous groups and forest communities have long struggled against development interests seeking to exploit their traditional lands and resources. But supporters of so-called "avoided deforestation" schemes say that properly-designed policy offers unprecedented opportunities to create sustainable livelihoods for forest people while safeguarding biodiversity and services provided by healthy forest ecosystems.




Page 1 | Page 2 | Page 3 | Page 4 | Page 5 | Page 6 | Page 7 | Page 8