News articles on carbon sequestration

---
Mongabay.com news articles on carbon sequestration in blog format. Updated regularly.






Into the great unknown: The ability of global forests to store carbon is at risk
(06/30/2015) The world's tropical and subtropical forests absorb 1.1 trillion kg. of carbon from the atmosphere every year, storing it in soil and living and dead biomass. Amazonian forests alone store more carbon than any other ecosystem on earth. That's important because any carbon that is stored in biomass is carbon not being released to the atmosphere and contributing to climate change.
As mangroves disappear at 'an alarming rate,' conservationists urge more protection
(06/04/2015) In 2010, the Jakarta Post reported that, according to a local NGO called People's Coalition for Justice in Fisheries, Indonesia lost 2.2 million hectares of mangroves in less than 30 years. Conservationists hope Sri Lanka's move to protect all its mangroves could help push other South and Southeast Asian mangrove range countries in the same direction.
Sri Lanka becomes first country to completely protect mangroves
(06/04/2015) In a press conference held in May 2015 in the Sri Lankan capital of Colombo, U.S.-based nonprofit Seacology, Sri Lanka-based NGO Sudeesa (formerly known as the Small Fisheries Federation of Sri Lanka) and the government of Sri Lanka announced a joint program that makes Sri Lanka the first country in the world to grant full protection to all its mangrove forests.
Amazon deforestation speeding global warming
(05/27/2015) Human activity has destroyed huge swaths of the Amazon rainforest's biomass as trees are cleared to make way for pasture, soy fields, and other developments. Now, a new study has determined how much that destruction has contributed to climate change.
Study finds local technicians effective at forest monitoring
(02/20/2015) An important part of REDD is accurate measurement of carbon stocks. In Guyana, members of native Amerindian communities have been recruited for data collection by Project Fauna, a joint initiative by researchers from different institutions and local indigenous leaders.
Growth of forests may not be keeping pace with rising CO2 levels
(12/15/2014) Plants rely on three critical elements for growth: carbon dioxide, water, and sunlight. Rising atmospheric carbon dioxide concentrations are therefore expected to increase rates of forest growth, in turn helping counter some of humanity's influence on global climate. But a new study provides evidence that challenges that assumption.
Biodiversity protection is key to REDD+ success, study shows
(12/05/2014) Protecting biodiversity may be crucial for successfully storing carbon in forests, scientists say. A recent publication on Oryx - The International Journal of Conservation suggests that biodiversity loss –especially through hunting – will hinder the success of Reducing Emissions from Deforestation and Forest Degradation (REDD) projects.
Threatened indigenous forests store more than half the Amazon's carbon
(12/02/2014) A new study released today finds the total carbon load locked up in parts of the Amazon rainforest held by indigenous groups to be much higher than previously estimated – an amount that, if released, would be capable of destabilizing the earth's atmosphere. But because of flimsy land rights, these areas stand at risk of deforestation.
Ending deforestation won't stop carbon emissions from land use change

(11/17/2014) Even if the world stopped cutting down forests, carbon dioxide emissions from land use change would still pose a major challenge, according to a new paper in Nature Climate Change. The research finds that eliminating deforestation would mean agriculture would be pushed into non-forest ecosystems and still release significant quantities of carbon dioxide.
Forest fragmentation's carbon bomb: 736 million tonnes C02 annually

(10/09/2014) Scientists have long known that forest fragments are not the same ecologically as intact forest landscapes. When forests are slashed into fragments, winds dry out the edges leading to dying trees and rising temperatures. Biodiversity often drops, while local extinctions rise and big animals vanish. Now, a new study finds another worrisome impact of forest fragmentation: carbon emissions.
How do we save the world's vanishing old-growth forests?
(08/26/2014) There's nothing in the world like a primary forest, which has never been industrially logged or cleared by humans. They are often described as cathedral-like, due to pillar-like trees and carpet-like undergrowth. Yet, the world's primary forests—also known as old-growth forests—are falling every year, and policy-makers are not doing enough to stop it.
'Borne by the rest of the world': deforestation has global impact, reduces food security
(06/13/2014) Research indicates that areas with more forest cover tend to have superior food resilience compared to areas with less. In addition, the loss of forest cover to deforestation has long-term impacts not only locally, but also globally. These topics were discussed by international experts during the 2020 Conference on Building Resilience for Food and Nutrition Security, held last month in Addis Ababa, Ethiopia.
The beef with beef: how 12 strategies could drastically cut agricultural emissions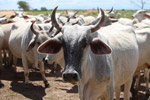 (04/25/2014) Eating less beef, cutting food waste, and utilizing farm landscapes to sequester carbon are three ways a new report suggests the world could rapidly tackle agricultural emissions. Currently, global agriculture accounts for nearly a fifth of the world's greenhouse gas emissions when agriculturally-linked deforestation is included.
The fungus among us: scientists discover a big player in the global carbon cycle
(03/12/2014) Carbon counters trying to keep tabs on the rising concentration of carbon dioxide in our atmosphere may have missed an important factor for their estimates: fungus. It turns out that when plants partner up with certain types of fungi, they can store up to 70 percent more carbon in the soil according to a paper published last month in Nature by Colin Averill and scientists at the Smithsonian Tropical Research Institute.
Tree growth accelerates with age
(01/15/2014) Old, large trees may be even more important ecologically than long-believed, according to a new study in Nature. Looking at over half a million individual trees from over 400 species (both tropical and temperate), scientists have determined that most trees actually grow faster in their dotage than in their youth.
Reforestation can't offset massive fossil fuels emissions
(12/13/2013) With the Australian, Japanese, and Canadian governments making an about-face on carbon-emissions reduction targets during the Warsaw climate summit, some experts are warning that the global need for solutions offsetting CO2 emissions is passing a "red line." Land-based mitigation practices comprise one of the solutions on the table as a result of both the United Nations Framework Convention on Climate Change (UFCCC) and the Kyoto Protocol; however, a paper published in Nature Climate Change by an international team led by Brendan Mackey, has raised the looming question of whether or not land-based practices can actually improve CO2 levels as much as hoped.
Not all mangroves are created equal: new map reveals carbon storage hot-spots
(11/26/2013) Mangrove forests are one of the most important weapons in the fight against climate change. Not only do they directly store huge amounts of carbon, but they actively capture additional carbon dioxide from the atmosphere and sequester it in their soils. When mangroves are destroyed, huge quantities of carbon are released into the atmosphere, significantly contributing to greenhouse gas emissions.
Redeeming REDD: a conversation with Michael Brown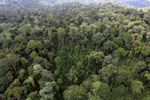 (11/11/2013) In Redeeming REDD: Policies, Incentives and Social Feasibility for Avoided Deforestation, anthropologist Michael Brown relays a constructive critique of the contemporary aims, standards and modalities for mitigating climate change by reducing emissions from deforestation and degradation (REDD). Brown advocates for REDD as a viable mechanism for the long-term pro-poor conservation and restoration of tropical forests as well—but only if local forest dwellers and Indigenous. Peoples can join the negotiating table and act as forest stewards. Local people must first be empowered to make 'socially feasible' decisions that are necessary for their livelihoods and well-being. In other words, there can be no environmentalism without credible local leadership, which requires investment in capacity building at the local level for sustainable institutions.
Conserving top predators results in less CO2 in the air
(06/19/2013) What does a wolf in Yellowstone National Park have in common with an ambush spider on a meadow in Connecticut? Both are predators and thus eat herbivores, such as elk (in the case of wolves) and grasshoppers (in the case of spiders). Elk and grasshoppers also have more in common than you probably imagine: they both consume large quantities of plant matter. While scientists have long-known that predators lead to carbon storage by reducing herbivore populations, a new study reveals a novel way in which top predators cause an ecosystem to store more carbon.
Scientists discover that marine animals disperse seagrass

(05/09/2013) Lesser known than coral reefs, marine seagrass ecosystems are rich in biodiversity and are powerhouses when it comes to sequestering carbon dioxide. Yet, much remains unknown about the ecology of seagrass beds, including detailed information on how seagrass spread their seeds and colonize new area. Now a recent study in Marine Ecology Progress Series documents that several species of marine animal are key to dispersing seagrass, overturning the assumption that seagrass was largely dispersed by abiotic methods (such as wind and waves).
Fungi drives carbon uptake by boreal forests

(03/29/2013) Mycorrhizal mycelium, a common fungi that helps plants uptake nutrients from soils, plays a fundamental role in carbon sequestration by boreal forests, reports a study published in this week's issue of the journal Science.
Near-record jump in carbon concentrations in global atmosphere last year

(03/06/2013) Carbon dioxide now makes up around 395 parts per million in the atmosphere, according to new data from the National Oceanic Atmospheric Administration (NOAA). Measuring atmospheric carbon in Mauna Loa, Hawaii, the NOAA notes that last year saw a jump of 2.67 parts per million, second only to a record jump in carbon concentrations in 1998—2.93 parts per million. The news further dampens hopes that nations will stick to their goal of keeping global temperatures from rising more than 2 degrees Celsius (3.6 degrees Fahrenheit) above pre-industrial levels.
Biochar: a brief history and developing future

(01/02/2013) Biochar - charcoal produced from pyrolysis of biomass - has received tremendous attention and support in recent years, and championed as one of the potentially most useful techniques for soil restoration and carbon sequestration in the modern era. Although a multitude of initiatives in biochar research and application have sprung into action many critical details remain uncertain.
Climate Summit in Doha characterized by lack of ambition
(12/09/2012) Ahead of the 18th United Nations Framework Convention on Climate Change (UNFCCC) in Doha, Qatar a variety of reports warned that the world was running out of time to avoid dangerous climate change, and that there was a widening gap between what nations have pledged to do and what the science demanded. A landmark report by the World Bank painted an almost apocalyptic picture of a world in which global temperatures have risen 4 degrees Celsius above pre-industrial levels, including unprecedented heatwaves and droughts, rising sea levels, global agriculture crises, and a stunning loss of species. In addition, scientific studies released near the two week conference found that sea levels were rising 60 percent faster than predicted, forests around the world were imperiled by increasing drought, marine snails were dissolving in the Southern Ocean due to ocean acidification, and ice melt in Greenland and Antarctica was on the rise.
Animals dissolving due to carbon emissions
(12/03/2012) Marine snails, also known as sea butterflies, are dissolving in the Southern Seas due to anthropogenic carbon emissions, according to a new study in Nature GeoScience. Scientists have discovered that the snail's shells are being corroded away as pH levels in the ocean drop due to carbon emissions, a phenomenon known as ocean acidification. The snails in question, Limacina helicina antarctica, play a vital role in the food chain, as prey for plankton, fish, birds, and even whales.
World has lost half its wetlands
(11/29/2012) Half of the worlds wetlands have been destroyed in just the last 100 years, says a new report. Published by the Economics of Ecosystems and Biodiversity (TEEB), the report found that of the 25 million square kilometers of wetlands that existed in 1900 just 12.8 million square kilometers now remain. The rate of destruction varies geographically with notable loses in East Asia running at 1.6 per cent per year. In places where aquaculture, over-exploitation (e.g. unsustainable harvesting of fish) and storm damage have been severe, the rate of destruction can be as high as 80 percent.
Organic farming keeps carbon out of the atmosphere
(11/28/2012) With the worst effects of climate change, we are seeing how pollution hurts both human health and the environment but there is good news: a new study shows that organic farming stores more greenhouse gases in the soil than non-organic farming. By switching to organic methods, many farmers across the globe may be helping to solve the climate crisis at the same time as they improve soil quality and avoid the use of pesticides.
Will we need to pull carbon out of the atmosphere to save ourselves?
(10/17/2012) This year saw the Arctic sea ice extent fall to a new and shocking low, while the U.S. experienced it warmest month ever on record (July), beating even Dust Bowl temperatures. Meanwhile, a flood of new research has convincingly connected a rise in extreme weather events, especially droughts and heatwaves, to global climate change, and a recent report by the DARA Group and Climate Vulnerability Forum finds that climate change contributes to around 400,000 deaths a year and costs the world 1.6 percent of its GDP, or $1.2 trillion. All this and global temperatures have only risen about 0.8 degrees Celsius (1.44 degrees Fahrenheit) since the early Twentieth Century. Scientists predict that temperatures could rise between 1.1 degrees Celsius (2 degrees Fahrenheit) to a staggering 6.4 degrees Celsius (11.5 degrees Fahrenheit) by the end of the century.
Indigenous groups in Panama wait for UN REDD to meet promises
(08/30/2012) A dispute over the implementation of REDD+ (Reducing Emissions from Deforestation and Degradation) in Panama has pitted the United Nations (UN) against the nation's diverse and large indigenous groups. Represented by the National Coordinator of Indigenous Peoples in Panama (COONAPIP), indigenous groups charge that the UN has failed to meet several pledges related to kick-starting REDD+ with their support, including delaying a $1.79 million payment to the group to begin REDD+-related activities. The on-going dispute highlights the perils and complexities of implementing REDD+, especially concerns that the program might disenfranchise indigenous groups who have long been the stewards of their forest territories.
Earth's ecosystems still soaking up half of human carbon emissions
(08/06/2012) Even as humans emit ever more carbon dioxide into the atmosphere, Earth's ecosystems are still sequestering about half, according to new research in Nature. The study finds that the planet's oceans, forests, and other vegetation have stepped into overdrive to deal with the influx of carbon emitted from burning fossil fuels, but notes that this doesn't come without a price, including the acidification of the oceans.
Experts: sustainable logging in rainforests impossible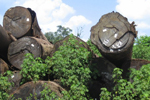 (07/19/2012) Industrial logging in primary tropical forests that is both sustainable and profitable is impossible, argues a new study in Bioscience, which finds that the ecology of tropical hardwoods makes logging with truly sustainable practices not only impractical, but completely unprofitable. Given this, the researchers recommend industrial logging subsidies be dropped from the UN's Reducing Emissions from Deforestation and Forest Degradation (REDD+) program. The study, which adds to the growing debate about the role of logging in tropical forests, counters recent research making the case that well-managed logging in old-growth rainforests could provide a "middle way" between conservation and outright conversion of forests to monocultures or pasture.
Scientists: iron fertilization could be a big climate help

(07/18/2012) For a long time, oceanic iron fertilization was seen as a promising mechanism to combat global climate change. But then in 2009 a well-publicized study found that iron fertilization stored 80 times less carbon than expected, dampening enthusiasm and support around the geoengineering scheme. Now, however, the idea of fertilizing the ocean with iron may be back: a new study in Nature reports that iron fertilization, in the right conditions, could store carbon in the deep ocean for centuries.
Pre-industrial deforestation still warming atmosphere

(07/03/2012) Fossil fuels were not burned in massive quantities prior to the Industrial Revolution, but humans were still pumping carbon into the atmosphere due to land use change, especially deforestation. In fact, a new study in Environmental Research Letters finds that deforestation prior to 1850 is still heating up our atmosphere today.
Warmer forests expel carbon from soils creating "vicious cycle"
(06/13/2012) As the world warms, temperate forests could become a source of carbon dioxide emission rather than a sink according to a new study in the Proceedings of the National Academy of Sciences (PNAS). Scientists found that two forest sites in the U.S. (Wisconsin and North Carolina) emitted long-stored carbon from their soils when confronted with temperatures 10-20 degrees Fahrenheit (5.5-11.1 degrees Celsius) higher than average.
Massive algae bloom in Arctic like "finding the Amazon rainforest in the Mojave Desert"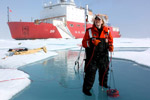 (06/11/2012) Given everything marine researchers know about phytoplankton, a type of algae, no one expected to find some of the world's largest blooms beneath Arctic sea ice. But this is exactly what scientists stumbled on during an ICESCAPE expedition in the Chukchi Sea, which is examining the massive impacts of climate change in the region. Researchers recorded a 100 kilometer (62 miles) long bloom underneath the Arctic ice pack that was four times richer than adjacent ice-free waters.
Highest priority conservation sites provide essential services for people too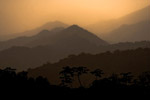 (06/05/2012) Preventing the extinction of the world's most imperiled species would also bring untold benefits to people according to new research in the open-access journal PLoS ONE. Looking at the world's nearly 600 Alliance for Zero Extinction (AZE) sites, the study found that preserving these ecosystems would benefit humans even beyond preserving biodiversity, including safeguarding freshwater, carbon storage, and protecting cultural diversity. AZE sites are identified as habitats containing one or more species listed as Endangered or Critically Endangered by the IUCN Red List, in which the survival of the species is highly dependent on the conservation of the ecosystem in question.
Carbon dioxide hits 400 parts per million in Northern Hemisphere

(05/31/2012) Concentrations of carbon dioxide in the atmosphere have risen above 400 parts per million (ppm) in recording stations across the Arctic going as far south as Mongolia, reports the Associated Press. Such levels have not been seen in at least 800,000 years according to researchers. Carbon levels fluctuate depending on the region and the season and scientists say global concentrations will likely remain at around 395 ppm for the time being.
IKEA logging old-growth forest for low-price furniture in Russia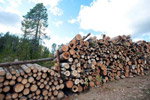 (05/30/2012) A new campaign is targeting IKEA, the world's biggest furniture retailer, for logging old-growth forests in the Karelia region of Russia. An alliance of groups, headed by the Swedish NGO Protect the Forest, allege that IKEA's subsidiary, Swedwood, is clearcutting thousands of hectares of old and biodiverse forests. But, Swedwood's 300,000 hectare concession is certified by the Forest Stewardship Council (FSC), generally considered the world's strongest forestry certifier.
Seagrass beds store 20 billion tons of carbon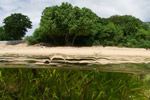 (05/22/2012) Just below the ocean's surface lies a carbon powerhouse: seagrass meadows. New research in Nature Geoscience estimates that the world's seagrass meadows conservatively store 19.9 billion metric tons of carbon, even though the threatened marine ecosystems make up only 0.2 percent of Earth's surface. The findings lend support to the idea that seagrass protection and restoration could play a major role in mitigating climate change.
Can loggers be conservationists?
(05/10/2012) Last year researchers took the first ever publicly-released video of an African golden cat (Profelis aurata) in a Gabon rainforest. This beautiful, but elusive, feline was filmed sitting docilely for the camera and chasing a bat. The least-known of Africa's wild cat species, the African golden cat has been difficult to study because it makes its home deep in the Congo rainforest. However, researchers didn't capture the cat on video in an untrammeled, pristine forest, but in a well-managed logging concession by Precious Woods Inc., where scientist's cameras also photographed gorillas, elephants, leopards, and duikers.
Featured video: How to save the Amazon

(04/22/2012) The past ten years have seen unprecedented progress in fighting deforestation in the Amazon. Indigenous rights, payments for ecosystem services, government enforcement, satellite imagery, and a spirit of cooperation amongst old foes has resulted in a decline of 80 percent in Brazil's deforestation rates.
For Earth Day, 17 celebrated scientists on how to make a better world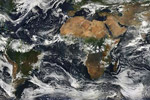 (04/22/2012) Seventeen top scientists and four acclaimed conservation organizations have called for radical action to create a better world for this and future generations. Compiled by 21 past winners of the prestigious Blue Planet Prize, a new paper recommends solutions for some of the world's most pressing problems including climate change, poverty, and mass extinction. The paper, entitled Environment and Development Challenges: The Imperative to Act, was recently presented at the UN Environment Program governing council meeting in Nairobi, Kenya.
Scientists say massive palm oil plantation will "cut the heart out" of Cameroon's rainforest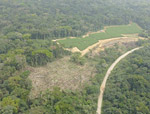 (03/15/2012) Eleven top scientists have slammed a proposed palm oil plantation in a Cameroonian rainforest surrounded by five protected areas. In an open letter, the researchers allege that Herakles Farm, which proposes the 70,000 hectare plantation in southwest Cameroon, has misled the government about the state of the forest to be cleared and has violated rules set by the Roundtable on Sustainable Palm Oil (RSPO), of which it's a member. The scientists, many of whom are considered leaders in their field, argue that the plantation will destroy rich forests, imperil endangered species, and sow conflict with local people.
Tar sands emit more carbon than previously estimated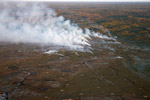 (03/12/2012) Environmentalists have targeted the oil-producing tar sands in Canada in part because its crude comes with heftier carbon emissions than conventional sources. Now, a new study in the Proceedings of the National Academy of Sciences (PNAS) has found an additional source of carbon that has been unaccounted for: peatlands. Mining the oil in the tar sands, dubbed "oil sands" by the industry, will require the wholesale destruction of nearly 30,000 hectares of peatlands, emitting between 11.4 and 47.3 million metric tons of additional carbon.




Page 1 | Page 2 | Page 3 | Page 4 | Page 5 | Page 6 | Page 7 | Page 8