News articles on carbon finance

---
Mongabay.com news articles on carbon finance in blog format. Updated regularly.





Indonesia will need 7 years to stop illegal logging

(11/16/2007) Indonesia will take seven years to stop illegal logging and deforestation, said the country's minister of forestry.


Carbon-negative bioenergy to cut global warming could drive deforestation

(11/06/2007) A proposed mechanism for generating carbon-negative bioenergy -- an energy source that reduces atmospheric carbon dioxide levels -- could drive large-scale deforestation in the tropics and undermine efforts to conserve forests for carbon offsets says a biofuel expert.


Avoided deforestation beats timber, palm oil, in tax revenue for Indonesia

(10/29/2007) Indonesia could more than double its tax revenue by protecting forests and selling the resulting carbon emission credits instead of timber and palm oil, a University of Michigan researcher told Bloomberg.


World Bank offers $300M for forest conservation, emissions reductions

(10/15/2007) Tropical forest countries will be eligible for payments for preventing deforestation under a program unveiled last week by the World Bank.


Carbon for forests will help Aceh recover from war, tsunami

(09/18/2007) Carbon credits through forest conservation will play an important role in Aceh's recovery from decades of civil war and the devastating 2004 tsunami, which left more than 167,000 people dead and 500,000 homeless in the Indonesia province, said Aceh governor Irwandi Jusuf in meeting in San Francisco.


Do Costa Rica's payments for environmental services work?

(09/17/2007) While Costa Rica is now known as a world leader for conservation policies and ecotourism, the Central American country had some of the world's highest deforestation rates prior to establishing its reputation. Clearing for cattle pasture and agriculture destroyed much of the country's biodiverse rainforests in the 1960s and 1970s.


Environmentalists announce support for carbon trading

(09/14/2007) A coalition of environmental groups announced it will support the development of carbon trading policies that help protect tropical rainforests and other important ecosystems, noting that "conservation alone has proven no match for commerce."


Rainforest countries form pact to push global warming solutions

(09/13/2007) Eight tropical countries containing 80 percent of the world's remaining tropical forest cover have formed an alliance to have forest conservation included in a post-Kyoto agreement on climate change, reports the Financial Times. The "Forestry Eight", as the group is called, includes Brazil, Malaysia, Papua New Guinea, Gabon, Cameroon, Costa Rica, Congo and Indonesia.


Australia puts $100M toward protecting forest in Borneo

(09/09/2007) Australian and Indonesian ministers signed a AU$100 million ($82M) deal to protect highly threatened forests on the island of Borneo, according to the Sydney Morning Herald. Funds will go towards conservation and rehabilitation of degraded forests and peatlands.


Indonesia's peatlands may offer U.S. firms global warming offsets

(08/29/2007) The following is modified version of a letter I've used to pitch U.S. companies on the concept of carbon finance in Indonesia's peatlands. Discussions are slow and the critical December U.N. climate meeting is fast approaching, so I'm posting this as a tool to help you get American firms interested in avoided deforestation offsets. Please feel free to use, modify, and distribute this letter widely.


How private equity can profit from carbon offsets in Indonesia

(08/29/2007) The emerging carbon market for avoided deforestation presents unprecedented opportunities for private equity to make profitable investments that also help protect the environment. Indeed, for the first time, conservation may be associated with positive financial returns. Here's a brief look at how private equity and other investors can capitalize on this opportunity to earn attractive returns while fighting climate change, protecting ecosystem services, and safeguarding endangered species like orangutans.


Indonesia to push carbon-credits for peatlands conservation

(08/27/2007) Indonesia plans to seek carbon credits for protecting its carbon-rich peatlands, a forestry official said on Monday.


Could peatlands conservation be more profitable than palm oil?

(08/22/2007) This past June, World Bank published a report warning that climate change presents serious risks to Indonesia, including the possibility of losing 2,000 islands as sea levels rise. While this scenario is dire, proposed mechanisms for addressing climate change, notably carbon credits through avoided deforestation, offer a unique opportunity for Indonesia to strengthen its economy while demonstrating worldwide innovative political and environmental leadership. In a July 29th editorial we argued that in some cases, preserving ecosystems for carbon credits could be more valuable than conversion for oil palm plantations, providing higher tax revenue for the Indonesian treasury while at the same time offering attractive economic returns for investors.


Low deforestation countries to see least benefit from carbon trading

(08/13/2007) Countries that have done the best job protecting their tropical forests stand to gain the least from proposed incentives to combat global warming through carbon offsets, warns a new study published in Tuesday in the journal Public Library of Science Biology (PLoS). The authors say that "high forest cover with low rates of deforestation" (HFLD) nations "could become the most vulnerable targets for deforestation if the Kyoto Protocol and upcoming negotiations on carbon trading fail to include intact standing forest."


Temperate forests not a fix for global warming

(08/10/2007) Carbon sequestration projects in temperate regions -- already facing doubts by scientists -- were dealt another blow by Duke University-led research that found pine tree stands grown under elevated carbon dioxide conditions only store significant amounts of carbon when they receive sufficient amounts of water and nutrients.


Papua seeks funds for fighting global warming through forest conservation

(08/10/2007) In an article published today in The Wall Street Journal, Tom Wright profiles the nascent "avoided deforestation" carbon offset market in Indonesia's Papua province. Barnabas Suebu, governor of the province which makes up nearly half the island of New Guinea, has teamed with an Australian millionaire, Dorjee Sun, to develop a carbon offset plan that would see companies in developing countries pay for forest preservation in order to earn carbon credits. Compliance would be monitored via satellite.


Australia funds first global deforestation monitoring system

(07/23/2007) At a High Level Meeting on Forests and Climate being held in Sydney, Australia today announced a series of measures to slow deforestation and fight global warming.


Is peat swamp worth more than palm oil plantations?

(07/16/2007) Could peat swamp be worth more intact for their carbon value than palm oil plantations for their oil? Quick analysis suggests yes, though binding limits on emissions will be needed to trigger the largest ever flow of money from the industrialized world to developing countries. At stake: the bulk of the world's biodiversity.


Indonesia's peat swamps worth $39B/year

(07/11/2007) Indonesia's peat swamps are worth $39 billion in carbon credits per year, according to rough calculations by Bloomberg.


World Bank to raise $250M for avoided deforestation in tropics

(06/11/2007) The World Bank will soon launch an "avoided deforestation" pilot project that will pay tropical countries for preserving their forests, reports The Wall Street Journal. The $250 million fund will reward Indonesia, Brazil, Congo and other tropical forest countries for offsetting global warming emissions. Tropical deforestation accounts for roughly 20 percent of global greenhouse gas emissions, but slowing deforestation slows emissions of heat-trapping emissions. Researchers estimate that "avoided deforestation" schemes may be one of the most cost effective ways to slow climate change. Further, avoided deforestation offers simultaneous benefits including preservation of ecosystem services and biodiversity.


Can cattle ranchers and soy farmers save the Amazon?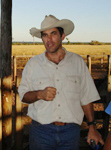 (06/06/2007) John Cain Carter, a Texas rancher who moved to the heart of the Amazon 11 years ago and founded what is perhaps the most innovative organization working in the Amazon, Alianca da Terra, believes the only way to save the Amazon is through the market. Carter says that by giving producers incentives to reduce their impact on the forest, the market can succeed where conservation efforts have failed. What is most remarkable about Alianca's system is that it has the potential to be applied to any commodity anywhere in the world. That means palm oil in Borneo could be certified just as easily as sugar cane in Brazil or sheep in New Zealand. By addressing the supply chain, tracing agricultural products back to the specific fields where they were produced, the system offers perhaps the best market-based solution to combating deforestation. Combining these approaches with large-scale land conservation and scientific research offers what may be the best hope for saving the Amazon.


Globalization could save the Amazon rainforest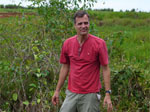 (06/03/2007) The Amazon basin is home to the world's largest rainforest, an ecosystem that supports perhaps 30 percent of the world's terrestrial species, stores vast amounts of carbon, and exerts considerable influence on global weather patterns and climate. Few would dispute that it is one of the planet's most important landscapes. Despite its scale, the Amazon is also one of the fastest changing ecosystems, largely as a result of human activities, including deforestation, forest fires, and, increasingly, climate change. Few people understand these impacts better than Dr. Daniel Nepstad, one of the world's foremost experts on the Amazon rainforest. Now head of the Woods Hole Research Center's Amazon program in Belem, Brazil, Nepstad has spent more than 23 years in the Amazon, studying subjects ranging from forest fires and forest management policy to sustainable development. Nepstad says the Amazon is presently at a point unlike any he's ever seen, one where there are unparalleled risks and opportunities. While he's hopeful about some of the trends, he knows the Amazon faces difficult and immediate challenges.


Indonesia could earn $100-$180 million from carbon trading

(05/28/2007) Indonesia says it hopes to soon see millions of dollars from carbon trading, reports the International Tropical Timber Organization (ITTO) in its latest update.


Extortion or global warming mitigation?

(05/24/2007) Marketwatch reported more details on Ecuador's proposal to forgo development of Amazonian oil fields in exchange for payments from industrialized nations. Last month Ecuadorian President Rafael Correa said that if the South American country is compensated with half of the forecasted lost revenues, it will not exploit oil in Yasuni National Park, setting aside the area for wildlife and indigenous people. Correa said the cost would be about $350 million per year.


Reducing tropical deforestation will help fight global warming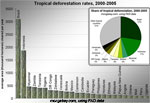 (05/10/2007) Scientists have lent support to a plan by developing countries to fight global warming by reducing deforestation rates. Tropical deforestation releases more than 1.5 billion metric tons of carbon into the atmosphere every year, though in some years, like the 1997-1998 el Nino year when fires released some 2 billion tons of carbon from peat swamps alone in Indonesia, emissions are more than twice that. Writing in the journal Science, an international team of scientists argue that the Reducing Emissions from Deforestation (RED) initiative, launched in 2005 by the United Nations Framework Convention on Climate Change, is scientifically and technologically sound, and that political and economic challenges facing the plan can be overcome.


Amazon rainforest locks up 11 years of CO2 emissions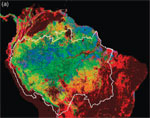 (05/08/2007) The amount and distribution of above ground biomass (or the amount of carbon contained in vegetation) in the Amazon basin is largely unknown, making it difficult to estimate how much carbon dioxide is produced through deforestation and how much is sequestered through forest regrowth. To address this uncertainty, a team of scientists from Caltech, the Woods Hole Institute, and INPE (Brazil's space agency), have developed a new method to determine forest biomass using remote sensing and field plot measurements. The researchers say the work will help them better understand the role of Amazon rainforest in global climate change.


Ecuador: pay us not to develop Amazon oil reserves

(04/27/2007) Ecuador says it will wait a year to see whether the international community takes its offer to forsake development of a giant oil field in the Amazon rainforest in exchange for compensation, reports the Environmental News Service.


Indonesia's Aceh, Papua pledge to protect forests

(04/26/2007) Governors from three Indonesian provinces which are home to most of the country's rainforests pledged on Thursday to conserve them as part of efforts to mitigate the impact of climate change.


Higher temperatures slow tropical tree growth


(04/23/2007) Climate change may be reducing growth rates of tropical rainforest trees, a development that could have widespread impacts for biodiversity, forest productivity, and even climate change itself, according to new research published in Ecology Letters.


Illegal logging threatens Congo's forests, global climate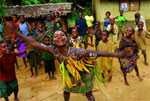 (04/11/2007) Despite government and World Bank assurances to the contrary. a new report from Greenpeace finds that illegal logging is rampant in the Democratic Republic of Congo (DRC). The report, Carving up the Congo, reveals that in spite of a 2002 moratorium on new logging, over 15 million hectares of rainforest have been concessioned to loggers with little regard to the environmental impact or compensation to affected communities.


Indonesia and Australia sign deforestation pact


(04/09/2007) Indonesia and Australia have agreed to reduce deforestation in southeast Asia according to Malcolm Turnbull, the Australian Minister for the Environment and Water Resources. Turnbull was in Jakarta meeting with the Indonesian Minister for Forestry, M. S. Kaban, and the Minister for the Environment, Rachmat Witoelar.


Palm oil doesn't have to be bad for the environment


(04/04/2007) As traditionally practiced in southeast Asia, oil palm cultivation is responsible for widespread deforestation that reduces biodiversity, degrades important ecological services, worsens climate change, and traps workers in inequitable conditions sometimes analogous to slavery. This doesn't have to be the case. Following examples set forth by the Roundtable on Sustainable Palm Oil and firms like Golden Hope Plantations Berhad, a Malaysian palm oil producer, oil palm can be cultivated in a manner that helps mitigate climate change, preserves biodiversity, and brings economic opportunities to desperately poor rural populations.


Eco-friendly palm oil could help alleviate poverty in Indonesia


(04/03/2007) The Associated Press (AP) recently quoted Marcel Silvius, a climate expert at Wetlands International in the Netherlands, as saying palm oil is a failure as a biofuel. This would be a misleading statement and one that doesn't help efforts to devise a workable solution to the multiplicity of issues surrounding the use of palm oil.


Australia puts $200M toward rainforest conservation


(03/30/2007) Australia has committed A$200m ($160m) to global forest conservation efforts to help fight illegal logging and slow global warming. The fund is one of the largest ever established by a government for reducing tropical deforestation. The new fund, known as the Global Initiative on Forests and Climate, aims to cut deforestation rates and promote reforestation schemes.


Indonesia wants to be paid for slowing deforestation

(01/31/2007) Indonesia voiced support for a proposal by a coalition of developing countries seeking compensation for forest conservation, according to a report from Reuters. Rachmat Witoelar, Indonesia's minister of the environment, told Reuters that poor countries should be paid for conserving forests and the services they provide the world.


Nairobi talks made progress on forest conservation for global warming emissions credits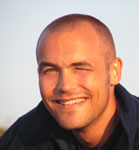 (12/05/2006) Tropical deforestation is one of the largest sources of human-produced greenhouse gases yet it has no place in existing climate agreements. This has been a point of contention in negotiations as the United States has objected to some developing countries -- notably Brazil and Indonesia -- to be getting an apparent "free ride" on deforestation-related emissions in addition to emissions from fossil fuel sources. Recent negotiations have looked at this issue from a different perspective, one where developing countries would be paid by industrialized countries for reducing their deforestation rates. Globally the payoff could be immense, extending well beyond helping mitigate global warming emissions to safeguard biodiversity and important ecological services. Leading scientists have called such plans a "win-win" scenario for all parties and even the World Bank and U.N. have voiced support for the concept.


Are old-growth forests storing more carbon than before?

(12/04/2006) Old-growth forests in China are storing more carbon than previously believed. The finding could have implications for fighting global warming through forest conservation, though some researchers caution that the results may not be representative of tropical forests as a whole.


Indonesia may seek rainforest conservation compensation to fight global warming

(11/16/2006) Indonesia may soon join the Coalition of Rainforest Nations in seeking compensation for rainforest conservation, according to a report from the International Tropical Timber Organization (ITTO), a timber industry group.


Stopping deforestation could net Burma $1 billion

(11/06/2006) Its status as a pariah state aside, Burma could earn hundreds of millions of dollars for cutting its deforestation rate under a carbon-trading initiative proposed by a coalition of developing countries and under discussion this week at U.N. climate talks in Nairobi, Kenya.


Rainforest conservation could yield more cash than logging in PNG

(11/06/2006) Papua New Guinea (PNG) could earn hundreds of millions of dollars for cutting its rainforest destruction if a carbon carbon-trading initiative it proposed last year makes headway this week at U.N. climate talks in Nairobi, Kenya.


Cameroon could make millions of dollars under emissions deal

(11/06/2006) Cameroon could net tens of millions of dollars under a carbon-trading initiative proposed by a coalition of developing countries and under discussion this week at U.N. climate talks in Nairobi, Kenya. The key: cutting deforestation rates.


Central African Republic could make millions under carbon-trading deal

(11/06/2006) The Central African Republic could earn tens of millions of dollars under a carbon-trading initiative proposed by a coalition of developing countries. The proposal will likely be discussed this week at U.N. climate negotiations in Nairobi, Kenya.


Forest protection could earn tens of millions for Ghana

(11/06/2006) Ghana could earn tens of millions of dollars for reducing its deforestation rate under a carbon-trading initiative proposed by a coalition of developing countries and under discussion this week at U.N. climate talks in Nairobi, Kenya.


Bolivia could earn hundreds of millions under global warming deal

(11/06/2006) Bolivia could earn hundreds of millions of dollars through a global warming deal that may be proposed this week at climate talks between 189 countries in Nairobi, Kenya.


Carbon finance could mean billions for Indonesia

(11/06/2006) Indonesia could earn billions of dollars for reducing its deforestation rate through a carbon finance mechanism under consideration this week at U.N. climate negotiations in Nairobi, Kenya.


Carbon finance could net Guyana and Suriname tens of millions of dollars

(11/06/2006) Guyana and Suriname -- two of South America's least known countries -- could earn tens of millions of dollars through a global warming deal that may be proposed this week at U.N. climate talks between 189 countries in Nairobi, Kenya.


Cambodia could earn $100 million under climate deal

(11/06/2006) Cambodia could earn hundreds of millions of dollars through a global warming proposal under consideration this week at U.N. climate negotiations in Nairobi, Kenya. At talks last year in Montreal, a coalition of tropical developing countries lead by Papua New Guinea proposed a rainforest conservation compensation initiative whereby industrialized nations would pay them to protect their forests to offset heat-trapping gas emissions. After endorsements by the World Bank, the United Nations, and the United States, the plan will likely be discussed in greater detail at the Nairobi conference.


Carbon finance could mean millions for Kenya

(11/06/2006) Kenya could earn millions of dollars for reducing its deforestation rate through a carbon trading mechanism under consideration this week at U.N. climate negotiations in Nairobi.


Emissions proposal could generate $200m/year for DR Congo

(11/06/2006) The Democratic Republic of Congo could earn hundreds of millions of dollars through a global warming proposal under consideration this week at U.N. climate negotiations in Nairobi, Kenya.


Emissions for forest conservation scheme could net Uganda $50 million or more per year

(11/06/2006) Uganda could earn tens of millions of dollars through a global warming proposal under consideration this week at U.N. climate negotiations in Nairobi, Kenya.



Page 1 | Page 2 | Page 3 | Page 4 | Page 5 | Page 6 | Page 7 | Page 8 | Page 9