News articles on carbon finance

---
Mongabay.com news articles on carbon finance in blog format. Updated regularly.





Brazil could halt Amazon deforestation within a decade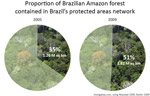 (12/03/2009) Funds generated under a U.S. cap-and-trade or a broader U.N.-supported scheme to reduce greenhouse gas emissions from deforestation and degradation ("REDD") could play a critical role in bringing deforestation in the Brazilian Amazon to a halt, reports a team writing in the journal Science. But the window of opportunity is short — Brazil has a two to three year window to take actions that would end Amazon deforestation within a decade.


James Hansen says Copenhagen approach "fundamentally wrong" would be better to "reassess"

(12/03/2009) James Hansen, one of the world's foremost climatologists, told the Guardian today that he believes the Copenhagen talks are flawed to the point where failure of the talks may be the best way forward. "The approach that is being talked about is so fundamentally wrong that it would be better to reassess," Hansen said.


Cheap REDD isn't the best conservation strategy for biodiversity

(12/03/2009) The lowest-cost approach to compensating reductions in emissions from deforestation and degradation under a proposed UN program (REDD) isn't necessarily the best approach for biodiversity conservation, report researchers writing in the journal Science.


In absence of measures to address consumption, REDD may fail to protect forests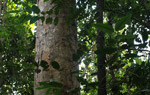 (12/02/2009) Rising demand for timber and agricultural products could work against a proposed initiative to reduce emissions from deforestation and degradation (REDD), warns a new report from the Environmental Investigation Agency (EIA). The briefing, Putting the Brakes on Drivers of Forest Destruction: A Shared Responsibility, says that investment in REDD will not be enough to protect forests if the underlying drivers of deforestation — namely consumption — are not addressed. It urges negotiators to re-insert critical text that has been dropped from the working text on REDD ahead of next week's climate change conferences in Copenhagen.


Brazil to push for 10% limit on REDD carbon offsets

(12/02/2009) Brazil will propose limiting the amount of carbon an industrialized country can offset via a proposed forest conservation initiative to ten percent of their emissions, reports Bloomberg.


Ethnographic maps built using cutting-edge technology may help Amazon tribes win forest carbon payments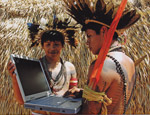 (11/29/2009) A new handbook lays out the methodology for cultural mapping, providing indigenous groups with a powerful tool for defending their land and culture, while enabling them to benefit from some 21st century advancements. Cultural mapping may also facilitate indigenous efforts to win recognition and compensation under a proposed scheme to mitigate climate change through forest conservation. The scheme—known as REDD for reducing emissions from deforestation and degradation—will be a central topic of discussion at next month's climate talks in Copenhagen, but concerns remain that it could fail to deliver benefits to forest dwellers.


No-shows among South American leaders at Amazon summit

(11/27/2009) A summit between South American leaders to devise a plan to save the Amazon, failed to come up with a "common stance" on deforestation, as five of the eight invited leaders failed to show up to the meeting, reports Al Jazeera.


A fair deal for forest people: working to ensure that REDD forests bear fruit for local communities


(11/27/2009) As world leaders meet to thrash out the next incarnation of the Kyoto climate agreement, the world waits with baited breath to see how greenhouse gas emissions from forests might be included. Despite the high powered nature of these important global decisions, the success of REDD will ultimately be decided by humble forest dependent communities, living in developing countries and perhaps currently oblivious to the negotiations taking place. Dr Julie Fischer, Communities Specialist on Fauna & Flora International and Macquarie Capital's Carbon Forests Taskforce, explains why REDD will fail unless it adequately accounts for, or indeed is steered by, these communities.


REDD may not be enough to save Sumatra's endangered lowland rainforests



(11/24/2009) A prominent REDD project in Aceh Indonesia probably won't be enough to save Northern Sumatra's endangered lowland rainforests from logging and conversion to oil plantations and agriculture, report researchers writing in Environmental Research Letters. The study highlights the contradiction between the Ulu Masen conservation project; which involves Flora and Fauna International, Bank of America, and Australia-based Carbon Conservation, a carbon trading company and the continuing road expansion, and establishment of oil palm plantations in the region.


Google – the new eye in the sky for protecting forests?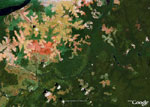 (11/22/2009) Google looks set to play a part in a called-for "new environmental world order" by satellite-monitoring the rates of deforestation of tropical rainforests and pinpointing illegal logging and land misuse, Google's Northern and Central Europe head Philipp Schindler has revealed. Schindler made the announcement in London on November 19 at a meeting at St James's Palace hosted by the Prince's Rainforests Project about a new climate change reduction mechanism, REDD (Reduced Emissions from Deforestation and Degradation). An inter-governmental report produced this month by an Informal Working Group (IWG) for Interim Funding of REDD has outlined an initiative to save the CO2 equivalent of the annual emissions of the US over five years by rewarding developing countries for reducing deforestation, with payments on a performance basis.


U.S. pledges $275M to rainforest conservation

(11/20/2009) The U.S. pledged $275 million to efforts to reduce deforestation in developing countries, reports Reuters.


Deforestation emissions should be shared between producer and consumer, argues study


(11/19/2009) Under the Kyoto Protocol the nation that produces carbon emission takes responsibility for them, but what about when the country is producing carbon-intensive goods for consumer demand beyond its borders? For example while China is now the world's highest carbon emitter, 50 percent of its growth over the last year was due to producing goods for wealthy countries like the EU and the United States which have, in a sense, outsourced their manufacturing emissions to China. A new study in Environmental Research Letters presents a possible model for making certain that both producer and consumer share responsibility for emissions in an area so far neglected by studies of this kind: deforestation and land-use change.


REDD may increase the cost of conservation of non-forest ecosystems

(11/19/2009) Policy-makers designing a climate change mitigation mechanism that will reduce emissions from deforestation and degradation (REDD) aren't doing enough to ensure that the scheme protects biodiversity outside carbon-dense ecosystems, argues an editorial published in Current Biology by a group of scientists.


Ecological benefits of REDD boosted by inclusion of private landowners, potentially harmed by plantations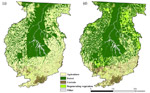 (11/17/2009) Reducing Emissions from Deforestation and Degradation [REDD] programs that include landowners will conserve more habitat and ensure greater ecosystem services function than programs that focus solely on protected areas, report researchers from the Woods Hole Research Center (WHRC), the Instituto de Pesquisa Ambiental da Amazônia (IPAM), and the Universidade Federal de Minas Gerais (UFMG).


Norway to give Guyana up to $250M for rainforest conservation

(11/09/2009) Norway will provide up to $250 million to Guyana as part of the South American country's effort to avoid emissions from deforestation.


Important safeguards to protect rainforests lacking in REDD negotiating text

(11/06/2009) Important safeguards to protect natural forests are still lacking in negotiating text on REDD, a proposed mechanism for mitigating climate change by paying developing countries to keep trees standing, reports an alliance of activist groups.


Disney commits $4 million to rainforest conservation in the Amazon, Congo

(11/03/2009) The Walt Disney Company will invest $7 million in forest conservation projects in the U.S., the Congo Basin, and the Amazon in an effort to reduce its greenhouse gas emissions.


REDD in Colombia: using forests to finance conservation and communities in Colombia's Choco, a former war zone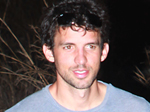 (11/03/2009) Reducing Emissions from Deforestation and Degradation (REDD), a climate change mechanism proposed by the U.N., has been widely lauded for its potential to simultaneously deliver a variety of benefits at multiple scales. But serious questions remain, especially in regard to local communities. Will they benefit from REDD? While much lip-service is paid to community involvement in REDD projects, many developers approach local communities as an afterthought. Priorities lie in measuring the carbon sequestered in a forest area, lining up financing, and making marketing arrangements, rather than working out what local people — the ones who are often cutting down trees — actually need in order to keep forests standing. This sets the stage for conflict, which reduces the likelihood that a project will successfully reduce deforestation for the 15-30 year life of a forest carbon project. Brodie Ferguson, a Stanford University-trained anthropologist whose work has focused on forced displacement of rural communities in conflict regions in Colombia, understands this well. Ferguson is working to establish a REDD project in an unlikely place: Colombia's Chocó, a region of diverse coastal ecosystems with some of the highest levels of endemism in the world that until just a few years ago was the domain of anti-government guerrillas and right-wing death squads.


Without reinstatement of key provision, REDD could subsidize large-scale forest destruction

(11/02/2009) The elimination of a key provision from the negotiating text for the Reducing Emissions from Deforestation and Degradation in developing countries (REDD) mechanism could turn the proposed climate change mitigation scheme into a subsidy for large-scale conversion of natural forests to industrial plantations, warned environmentalists today at the resumption of U.N. climate change negotiations in Barcelona.


Brazil to support REDD in Copenhagen

(10/28/2009) Brazil will conditionally support a proposed climate change mitigation scheme that will compensate tropical countries for preserving their forests, reports Reuters.


E.U. pushes for logging in forest conservation program

(10/08/2009) Without safeguards to protect natural forests from conversion to plantations and industrial logging, REDD may fail to deliver promised reductions in emissions, warns a coalition of activist groups.


Group of distinguished ecologists ask Obama to help save rainforests

(09/23/2009) A group of distinguished ecologists have asked President Obama to push for the inclusion of tropical forests in climate policy.


Indonesia: emissions to rise 50% by 2030, 3rd largest GHG emitter

(09/22/2009) A report released by the Indonesian government shows the country is the world's third largest greenhouse gas emitter, largely as a result of the destruction of rainforests and carbon-dense peatlands. Indonesia accounts for 8 percent of global carbon dioxide emissions.


Prince Charles making progress in effort to save rainforests, says leading British environmentalist



(09/22/2009) Prince Charles of Great Britain has emerged as one of the world's highest-profile promoters of a scheme that could finally put an end to destruction of tropical rainforests. The Prince's Rainforest Project, launched in 2007, is promoting awareness of the role deforestation plays in climate change—it accounts for nearly a fifth of greenhouse gas emissions. The project also publicizes the multitude of benefits tropical forests provide, including maintenance of rainfall, biodiversity, and sustainable livelihoods for millions of people. But the initiative goes beyond merely raising awareness. Prince Charles is using his considerable influence to bring political and business leaders together to devise and support a plan to provide emergency funding to save rainforests. Tony Juniper, one of Britain's best-known environmentalists and Special Adviser to the project, spoke about Prince Charles' efforts in an interview with mongabay.com.


Voluntary Carbon Standard tops assessment of forestry carbon standards

(09/20/2009) The Voluntary Carbon Standard (VCS) tops the rankings of a recent assessment gauging various standards for forestry carbon credits.


Carbon Financing and Community Forestry

(09/20/2009) Deforestation and forest degradation contribute some 20 percent of global greenhouse gas emissions. Forest-related mitigation measures are now recognized to be amongst the most practical and cost-effective interventions to slow global warming – as well as providing a host of other environmental products and services. However, rural poverty, weak law enforcement, and escalating demand for food and fuel continue to drive forest destruction at an alarming rate – in the Asia-Pacific region alone, some 3.7 million hectares of natural forest are lost every year. This also threatens millions of already vulnerable rural livelihoods, often undermining traditional rights to vital forest resources.


Concerns over deforestation may drive new approach to cattle ranching in the Amazon


(09/08/2009) While you're browsing the mall for running shoes, the Amazon rainforest is probably the farthest thing from your mind. Perhaps it shouldn't be. The globalization of commodity supply chains has created links between consumer products and distant ecosystems like the Amazon. Shoes sold in downtown Manhattan may have been assembled in Vietnam using leather supplied from a Brazilian processor that subcontracted to a rancher in the Amazon. But while demand for these products is currently driving environmental degradation, this connection may also hold the key to slowing the destruction of Earth's largest rainforest.


Amazon tribes have long fought bloody battles against big oil in Ecuador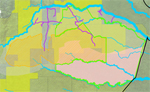 (09/03/2009) The promotional efforts ahead of the upcoming release of the film Crude have helped raise awareness of the plight of thousands of Ecuadorians who have suffered from environmental damages wrought by oil companies. But while Crude focuses on the relatively recent history of oil development in the Ecuadorean Amazon (specifically the fallout from Texaco's operations during 1968-1992), conflict between oil companies and indigenous forest dwellers dates back to the 1940s.


Germany to pay Ecuador $650 million to forgo oil drilling, protect rainforest reserve

(09/03/2009) Germany has apparently agreed to fund a significant portion of Ecuador's scheme to leave Amazon rainforest oil reserves in the ground, according to Business Green.


Amazon deforestation to fall 30% in 2009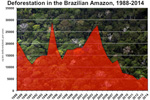 (09/02/2009) Deforestation is the Brazilian Amazon is likely to fall between 8,500 square kilometers (3,088 square miles) and 9,000 sq km (3,474 sq mi) for the 12 months ended July 31, 2009, a reduction of 29-37 percent from last year, reports Brazil's Environment Minister Carlos Minc. If the estimate is confirmed by high resolution satellite data to be published later this year, the rate of forest loss for 2008-2009 would be the lowest since annual record-keeping began in the 1980s.


Vietnam outsources deforestation to neighboring countries


(09/02/2009) Taking a cue from its much larger neighbor to the north, Vietnam has outsourced deforestation to neighboring countries, according to a new study that quantified the amount of displacement resulting from restrictions on domestic logging. Like China, Vietnam has experienced a resurgence in forest cover over the past twenty years, largely as a result a forestry policies that restricted timber harvesting and encouraged the development of processing industries that turned raw log imports into finished products for export. These measures contributed to a 55 percent of Vietnam's forests between 1992 and 2005, while bolstering the country's stunning economic growth. But the environmental benefit of the increase in Vietnam's forest cover is deceptive: it came at the expense of forests in Laos, Cambodia, and Indonesia. Authors Patrick Meyfroidt and Eric F. Lambin of the Universite Catholique de Louvain in Belgium calculate that 39 percent of Vietnam's forest regrowth between 1987 and 2006 was effectively logged in other countries. Half of the wood imports into Vietnam were illegal.


Rehabilitation not enough to solve orangutan crisis in Indonesia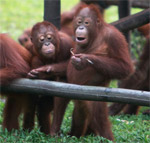 (08/20/2009) A baby orangutan ambles across the grass at the Borneo Orangutan Survival Foundation's Nyaru Menteng rehabilitation center in Central Kalimantan, in the heart of Indonesian Borneo. The ape pauses, picks up a stick and makes his way over to a plastic log, lined with small holes. Breaking the stick in two, he pokes one end into a hole in an effort to extract honey that has been deposited by a conservation worker. His expression shows the tool's use has been fruitful. But he is not alone. To his right another orangutan has turned half a coconut shell into a helmet, two others wrestle on the lawn, and another youngster scales a papaya tree. There are dozens of orangutans, all of which are about the same age. Just outside the compound, dozens of younger orangutans are getting climbing lessons from the Borneo Orangutan Survival Foundation (BOS) staff, while still younger orangutans are being fed milk from bottles in a nearby nursery. Still more orangutans—teenagers and adults—can be found on "Orangutan Island" beyond the center's main grounds. Meanwhile several recently wild orangutans sit in cages. This is a waiting game. BOS hopes to eventually release all of these orangutans back into their natural habitat—the majestic rainforests and swampy peatlands of Central Kalimantan, on the island of Borneo. But for many, this is a fate that may never be realized.


Weak forest definition may undermine REDD efforts

(08/20/2009) The weak definition of what constitutes forest under the United Nations Framework Convention on Climate Change (UNFCCC) puts the effectiveness of a proposed mechanism for reducing emissions from deforestation and degradation (REDD) at risk, argue researchers writing in the journal Conservation Letters.


Guyana uses aggressive deforestation baseline in its plan to seek carbon payments

(08/17/2009) Guyana's deforestation projections under its proposal for seeking carbon payments for conserving its forests are raising questions, according to commentary published in Stabroek News.


Limit palm oil development to lands that store less than 40 tons of carbon/ha - study

(08/06/2009) A new study finds oil palm plantations store less carbon than previously believed, suggesting that palm oil produced through the conversion of tropical forests carries a substantial carbon debt.


Peru to raise payment to indigenous communities for Amazon forest conservation


(08/03/2009) Peru's environment minister now says the government will pay indigenous communities 10 sols ($3.30) for every hectare of rainforest they help to preserve, reports the Latin American Herald. Previously Antonio Brack said that communities would see about half that amount. The $3.30-per-hectare figure is low by international standards. Under a proposed mechanism that compensates countries for reducing deforestation (REDD), forest land could be worth $800 or more per hectare for its carbon (225 tons of carbon/ha), depending on its level of threat. Forests in areas of high deforestation would be compensated at a higher rate than inaccessible forests at low-risk of development. But Brack left open the possibility that communities could receive higher payment if parties agree to include REDD compensation in a future climate framework.


REDD shouldn't neglect biodiversity say scientists

(07/30/2009) Schemes to mitigate climate change by protecting tropical forests must take into account biodiversity conservation, said two leading scientific organizations at the conclusion of a four day meeting in Marburg, Germany.


Tasmania gets Australia's first CCB-certified REDD deal

(07/27/2009) A forest conservation project in Tasmania has become Australia's first Reduced Emissions from Deforestation and Degradation (REDD) project to meet Climate, Community and Biodiversity Standards.


Are we on the brink of saving rainforests?


(07/22/2009) Until now saving rainforests seemed like an impossible mission. But the world is now warming to the idea that a proposed solution to help address climate change could offer a new way to unlock the value of forest without cutting it down.Deep in the Brazilian Amazon, members of the Surui tribe are developing a scheme that will reward them for protecting their rainforest home from encroachment by ranchers and illegal loggers. The project, initiated by the Surui themselves, will bring jobs as park guards and deliver health clinics, computers, and schools that will help youths retain traditional knowledge and cultural ties to the forest. Surprisingly, the states of California, Wisconsin and Illinois may finance the endeavor as part of their climate change mitigation programs.


Palm oil companies trade plantation concessions for carbon credits from forest conservation

(07/22/2009) Indonesian palm oil producers are eying forest conservation projects as a way to supplement earnings via the nascent carbon market, reports Reuters.


Indonesia releases revenue sharing rules for REDD forest carbon projects



(07/13/2009) Indonesia has released revenue sharing rules for forest carbon projects, reports Reuters. According to a document released by the forestry ministry, the profit-sharing depends on the type of forest ownership or permit, ranging from 10 to 50 percent for the government, 20 to 70 percent for local communities, and 20 to 60 percent for developers. Projects in areas classified as "protected forest" would see 50 percent go to the government, 20 percent to local communities, and 30 percent to developers, while for projects in indigenous forest the breakdown would be 10% to the government, 70 percent to the community, and 20 percent to the developer.


G8 leaders declare support for REDD forest conservation initiative

(07/09/2009) A declaration issued by political leaders meeting at the G8 summit in L'Aquila, Italy, included a strong statement on the need to include forest conservation in a future climate agreement. Deforestation accounts for nearly 20 percent of global greenhouse gas emissions, a larger source of emissions than all the world's cars, trucks, ships, and airplanes combined.


REDD readiness plans for Panama, Guyana approved but rejected for Indonesia

(07/02/2009) The World Bank's Forest Carbon Partnership Facility (FCPF) has approved REDD readiness plans (R-Plans) for Panama and Guyana, and rejected a plan for Indonesia, reports the U.N. and the Bank Information Center, an advocacy group.


A New Idea to Save Tropical Forests Takes Flight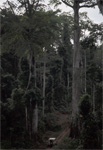 (06/29/2009) Every year, tens of millions of acres of tropical forests are destroyed. This is the most destabilizing human land-use phenomenon on Earth. Tropical forests store more aboveground carbon than any other biome. They harbor more species than all other ecosystems combined. Tropical forests modulate global water, air, and nutrient cycles. They influence planetary energy flows and global weather patterns. Tropical forests provide livelihoods for many of the world's poorest and marginalized people. Drugs for cancer, malaria, glaucoma, and leukemia are derived from rainforest compounds. Despite all these immense values, tropical forests are vanishing faster than any other natural system. No other threat to human welfare has been so clearly documented and simultaneously left unchecked. Since the 1992 Rio Earth Summit (when more than 100 heads of State gathered to pledge a green future) 500 million acres of tropical forests have been cut or burned. For decades, tropical deforestation has been the No. 1 cause of species extinctions and the No. 2 cause of human greenhouse gas emissions, after the burning of fossil fuels. For decades, a few conservation heroes tried their best to plug holes in the dikes, but by and large the most diverse forests on Earth were in serious decline.


Making Trees Work for Us in the U.S.: Let's Make Money While Saving Trees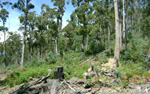 (06/29/2009) A lot has been said about how to develop a successful forestry carbon project. Today, I am addressing how both for-profit and not-for-profit businesses can develop successful carbon forestry projects while commenting on some of these opportunities. I will also discuss forestry carbon as an alternative asset class for institutions and individuals. I have been working in this sector since 2006 and so let me share some thoughts and observations from the field.


Cambodia signs REDD agreement

(06/24/2009) Terra Global Capital, a San Francisco-based firm seeking to capitalize on emerging markets for ecosystem services, has signed an avoided deforestation deal with the government of Cambodia.


Fate of world's rainforests likely to be determined in next 2 years

(06/19/2009) The fate of millions of hectares of tropical forests will probably be sealed this year and next year, reports a new set of policy papers detailing an emerging climate change mitigation mechanism known as Reducing Emissions from Deforestation and Degradation (REDD). REDD has been proposed by the U.N. and other entities as a form of carbon finance under which industrialized nations would pay tropical countries for conserving their forest cover.


Commission on Climate and Tropical Forests forms to advise Congress, Obama on forest conservation


(06/18/2009) Leaders in business, government, advocacy, conservation, global development, science and national security have formed a commission to "provide bipartisan recommendations to Congress and the President about how to reduce tropical deforestation through U.S. climate change policies," according to a statement released by the newly established group, named the Commission on Climate and Tropical Forests.


Cameroon rainforest given 30 days to be conserved or sold off for logging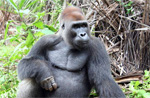 (06/18/2009) An 830,000-hectare tract of rainforest in Cameroon has been granted a 30-day reprieve from logging following a 4-week exploratory expedition that turned up large populations of lowland gorillas, forest elephants, mandrills, and chimpanzees, according to expedition leader Mike Korchinsky, founder of the conservation group Wildlife Works. The Cameroonian government has given Wildlife Works, which pioneered the first forest-based carbon project in Kenya, 30 days to come up with a competitive proposal to logging. The group is now scrambling to secure necessary funding to finance the early stages of the project.


Amazon deforestation doesn't make communities richer, better educated, or healthier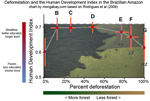 (06/11/2009) Deforestation generates short-term benefits but fails to increase affluence and quality of life in the long-run, reports a new study based an analysis of forest clearing in 286 municipalities across the Brazilian Amazon. The research, published in Friday's issue of the journal Science, casts doubt on the argument that deforestation is a critical step towards development and suggests that mechanisms to compensate communities for keeping forests standing may be a better approach to improving human welfare, while simultaneously sustaining biodiversity and ecosystem services, in rainforest areas.



Page 1 | Page 2 | Page 3 | Page 4 | Page 5 | Page 6 | Page 7 | Page 8 | Page 9