News articles on carbon emissions

---
Mongabay.com news articles on carbon emissions in blog format. Updated regularly.





Europe says US and China emission targets don't go far enough

(12/07/2009) At a press conference during the first day of the UN Copenhagen Climate Change Conference, the European Union has stated it will not raise its emissions cuts from 20 percent to 30 percent by 2020 (over 1990 levels) unless the US and China go further in their cuts.


Profile of the carbon footprint of the global poor: the challenge of alleviating poverty and fighting global warming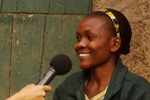 (12/07/2009) Two of the world's most serious issues—poverty and climate change—are interconnected. With a rise in one's income there usually comes a rise in one's carbon footprint, thereby threatening the environment. Wealthy nations have the highest per capita carbon footprints, while developing nations like India and China—which are experiencing unprecedented economic growth—are becoming massive contributors of greenhouse gases. However, it is those who have the smallest carbon footprint—the world's poor—who currently suffer most from climate change. Food crises, water shortages, extreme weather, and rising sea levels have all hit the poor the hardest.


Email scandal may be turning against climate change deniers

(12/07/2009) It may be that climate change scientists and policymakers have simply had enough, and it may be that the emails which were hacked did not reveal the massive conspiracy that they were supposed to, either way climatologists and politicians have gone on the offensive against claims that the hacked emails from the East Anglia's Climate Research Unit are evidence that climate change is a conspiracy or hoax.


Obama administration about to declare carbon dioxide a danger to the public, allowing regulation

(12/06/2009) The day before talks start in Copenhagen on a new international treaty to combat climate change, the Wall Street Journal reports that the Environmental Protection Agency (EPA) in the United States is set to declare carbon dioxide a 'public danger' as soon as Monday.


Highest rate of CO2 emissions growth since 1990

(12/04/2009) Between 1990 and 2005 Vietnam had the highest rate of emissions growth among countries that emitted more than 100 million tons of CO2 in any year during the past three decades, according to mongabay.com's analysis of emissions data from the Oak Ridge National Laboratory's Carbon Dioxide Information Analysis Center (CDIAC).


Indonesia: Kalimantan's Lowland Peat Forests Explained



(12/04/2009) Earth's tropical rainforests are a critical component of the world's carbon cycle yet cover only about 12% of its terrestrial land. Accounting for 40% of the world's terrestrial carbon and 50% of the world's gross primary productivity,[1]. the production of organic compounds primarily through photosynthesis, tropical rainforests also are one of the engines driving Earth's atmospheric circulation patterns.


Brazil could halt Amazon deforestation within a decade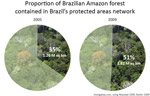 (12/03/2009) Funds generated under a U.S. cap-and-trade or a broader U.N.-supported scheme to reduce greenhouse gas emissions from deforestation and degradation ("REDD") could play a critical role in bringing deforestation in the Brazilian Amazon to a halt, reports a team writing in the journal Science. But the window of opportunity is short — Brazil has a two to three year window to take actions that would end Amazon deforestation within a decade.


Paper provider for fashion gurus drops APP due to deforestation across Indonesia

(12/02/2009) One by one, the fashion industry's biggest companies are leaving Asian Pulp and Paper (APP)—and deforestation in Indonesia—behind. The newest defector is PAK 2000, a packaging company for fashion products. After a sustained campaign by the Rainforest Action Network (RAN) and fashion companies buying from PAK 2000, the New Hampshire-based company, has announced that it is severing all ties with APP by the end of the year. The announcement means that big famous companies—from Versace to J. Crew—will have an easier time avoiding paper products that cause rainforest destruction.


Has Canada become the new climate villain (yes, that's right, Canada)?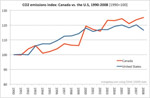 (12/02/2009) In 2007 American delegates to a climate summit in Bali were booed outright for obstructing a global agreement on climate change. Then in a David versus Goliath moment they were famously scolded by a negotiator from Papua New Guinea, Kevin Conrad. "If for some reason you are not willing to lead, leave it to the rest of us. Please get out of the way," Conrad told the American delegates. However, much has changed in two years: the United States, under a new administration, is no longer the climate change pariah. The US has recently announced emissions cuts, negotiated successfully with China on the issue, and will be attending—Obama included—the Climate Change Summit in Copenhagen next week. Obama and his team probably don't need to worry about being booed or remonstrated this time around, but that role may instead go to Canada.


World leaders falling over themselves to show up at Copenhagen

(12/01/2009) If you're a world leader and you won't be in Copenhagen next week you might feel out of the loop. Currently 98 heads of state have agreed to attend the Climate Change Summit in Copenhagen—nearly half of the 192 member nations of the UN.


World requires radical new economic models to fight poverty and mitigate global warming



(11/30/2009) A new report calls for a radical re-envisioning of current economic models in order to tackle poverty, mitigate and adapt to climate change, and solve other environmental problems. The report was crafted by the New Economics Foundation (NEF) and the International Institute for Environment and Development (IIED) and was supported by The Working Group on Climate Change and Development, which includes a wide variety of well-known groups, including environmental, religious, and anti-poverty organizations.


What would the Dalai Lama do?: spiritual leader speaks out on climate change

(11/30/2009) The Dalai Lama has given up taking baths in favor of showers and makes certain all lights are off when he leaves a room to help lower his carbon footprint, he told a crowd of reporters in Sydney Australia today.


Americans throw away enough food every year to feed 200 million adults

(11/30/2009) The amount of food Americans throw away has risen by approximately 50 percent since 1974 according to a new study in PLoS ONE. American now waste on average 1400 calories per person everyday, equaling 150 trillion calories a year nationwide. Considering that the average person requires approximately 2,000 calories a day, this means that the US could feed over 200 million adults every year with the food that ends up in the trash. Currently, the UN estimates that one billion people—an historical record—are going hungry worldwide.


Zoos call for deeper emission cuts to save life on Earth

(11/30/2009) To save species around the world zoos say deeper emission cuts are needed than governments are currently proposing. Over 200 zoos worldwide have signed a petition calling on governments to set the target of atmospheric carbon below 350 parts per million (ppm) far lower than most government targets.


Reforestation effort would lower Britain's greenhouse gas emissions by 10 percent

(11/25/2009) A study by Britain's Forestry Commission found that planting 23,000 hectares of forest every year for the next 40 years would lower the island nation's greenhouse gas emissions by 10 percent, according to reporting by the BBC.


Land of plenty: 50 percent rise in the amount of food wasted in America worsens global warming, consumes freshwater

(11/25/2009) Just before Thanksgiving a new study shows that Americans are throwing away more food than ever. Since 1974 the amount of food Americans water per capita has risen by approximately 50 percent, according to a new study in PLoS ONE. Researchers found that food waste is adding to America's greenhouse gas emissions and accounts for over one quarter of the nation's freshwater consumption every year.


The US will set emissions target, but is this a turning point for success at Copenhagen?

(11/24/2009) Today may mark a turning point for a successful negotiation at the Climate Change Summit in Copenhagen or it may just be another blip in the up-and-down news cycles that have preceded the summit for months.


Deforestation emissions should be shared between producer and consumer, argues study


(11/19/2009) Under the Kyoto Protocol the nation that produces carbon emission takes responsibility for them, but what about when the country is producing carbon-intensive goods for consumer demand beyond its borders? For example while China is now the world's highest carbon emitter, 50 percent of its growth over the last year was due to producing goods for wealthy countries like the EU and the United States which have, in a sense, outsourced their manufacturing emissions to China. A new study in Environmental Research Letters presents a possible model for making certain that both producer and consumer share responsibility for emissions in an area so far neglected by studies of this kind: deforestation and land-use change.


Blackout in Brazil: Hydropower and Our Climate Conundrum

(11/19/2009) It's everyone's worst nightmare: being caught in an underground subway in the midst of a power outage. Yet, that is exactly what happened recently when Brazilian commuters in the city of São Paulo were trapped inside trains and literally had to be pulled out of subway cars. In addition to sparking problems in public transport, the blackout or apagão led to hospital emergencies and the shutting down of several airports. In all the power outage darkened approximately half of the South American nation, affecting sixty million people.


Indonesian government suspends license of logging company in controversial forest area

(11/19/2009) The Indonesian government today temporarily suspended the license of Asia Pacific Resources International Holding Limited (APRIL) for developing an area of forest and peatland in Sumatra pending a review of the company's permits, reports Greenpeace.


Oceans' ability to sequester carbon diminishing

(11/18/2009) A new study—the first of its kind—has completed an annual accounting of the oceans' intake of carbon over the past 250 years, and the news is troubling. According to the study, published in Nature, the oceans' ability to sequester carbon is struggling to keep-up with mankind's ever-growing emissions. Since 2000 researchers estimate that while every year the oceans continue to sequester more anthropogenic carbon emission, the overall proportion of carbon taken in by the oceans is declining.


Record year for CO2 emissions, even with economic slowdown

(11/17/2009) 8.7 billion tons of carbon dioxide was emitted into the earth's atmosphere in 2008, a growth of 2 percent despite the economic crisis. This averages out to each person contributing a record high of 1.3 tons of carbon, according to a report in the journal Nature Science. While the global recession slowed the growth of fossil fuel emissions for the first time this decade, it did not lower emissions altogether.


Coastal habitats may sequester 50 times more carbon than tropical forests by area


(11/16/2009) Highly endangered coastal habitats are incredibly effective in sequestering carbon and locking it away in soil, according to a new paper in a report by the IUCN. The paper attests that coastal habitats—such as mangroves, sea grasses, and salt marhses—sequester as much as 50 times the amount of carbon in their soil per hectare as tropical forest. "The key difference between these coastal habitats and forests is that mangroves, seagrasses and the plants in salt marshes are extremely efficient at burying carbon in the sediment below them where it can stay for centuries or even millennia."


Asia-Pacific leaders drop emissions cuts from Copenhagen agenda

(11/16/2009) Leaders of the 21-member Asia Pacific Economic Cooperation (APEC) dropped the reference to greenhouse gas emissions cuts from their declaration released Sunday, reports Reuters.


New report: boreal forests contain more carbon than tropical forest per hectare


(11/12/2009) A new report states that boreal forests store nearly twice as much carbon as tropical forests per hectare: a fact which researchers say should make the conservation of boreal forests as important as tropical in climate change negotiations. The report from the Canadian Boreal Initiative and the Boreal Songbird Initiative, entitled "The Carbon the World Forgot", estimates that the boreal forest—which survives in massive swathes across Alaska, Canada, Northern Europe, and Russia—stores 22 percent of all carbon on the earth's land surface. According to the study the boreal contains 703 gigatons of carbon, while the world's tropical forests contain 375 gigatons.


Declaration calls for more wilderness protected areas to combat global warming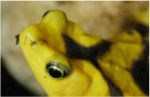 (11/11/2009) Meeting this week in Merida, Mexico, the 9th World Wilderness Congress (WILD9) has released a declaration that calls for increasing wilderness protections in an effort to mitigate climate change. The declaration, which is signed by a number of influential organizations, argues that wilderness areas—both terrestrial and marine—act as carbon sinks, while preserving biodiversity and vital ecosystem services.


UN singles out US as the most important nation for global warming negotiations

(11/11/2009) Visiting Washington DC, Secretary-General Ban Ki-Moon stated that the United States was the world's most important actor when it comes to negotiations for a new climate change treaty, while urging the Senate to move forward on legislation.


Nations vulnerable to global warming present demands: carbon levels below 350ppm and billions in aid

(11/10/2009) A group of nations especially vulnerable to the effects of climate change have released a declaration calling for developed countries to keep CO2 emission below 350 parts per million (ppm) and to give 1.5 percent of their gross domestic product to aid developing nations in adapting to the myriad impacts of climate change.


Important safeguards to protect rainforests lacking in REDD negotiating text

(11/06/2009) Important safeguards to protect natural forests are still lacking in negotiating text on REDD, a proposed mechanism for mitigating climate change by paying developing countries to keep trees standing, reports an alliance of activist groups.


Fossil fuel subsidies "bringing us closer to irreversible climate change"

(11/06/2009) The Green Economy Coalition is urging G20 finance ministers to rapidly put an end to fossil fuel subsidies. In a letter to the ministers the coalition argues that these subsidies are contributing directly to climate change and making it difficult for the world to transition to a greener economy.


Peat emissions data by country

(11/04/2009) A new study by Wetlands International and Greifswald University provides country-by-country data on peat stocks and emissions. Overall the assessment found that drainage of wetlands for agriculture, forestry and peat extraction causes 1.3 billion tons of carbon dioxide emissions per year. Emissions from fires and peat mining (for horticulture and fuel) amount to another 700,000 million tons per year.


EU is 2nd largest source of peat emissions after Indonesia, finds global peat survey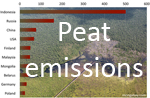 (11/04/2009) The EU is the world's second largest source of carbon dioxide emissions from peatlands drainage, after Indonesia, reports the first country-by-country assessment of peat stocks. The study, conducted by Wetlands International and Greifswald University, found that drainage of wetlands for agriculture, forestry and peat extraction causes 1.3 billion tons of carbon dioxide emissions per year. Emissions from fires and peat mining (for horticulture and fuel) amount to another 700,000 million tons per year.


Emissions from deforestation overestimated; 12% rather than 17%

(11/04/2009) Greenhouse gas emissions from deforestation are lower than previously believed, according to a new study published in Nature Geoscience. The findings mean that developing countries may see less money under Reducing Emissions from Deforestation and Degradation, a proposed climate change mitigation mechanism.


Gucci drops APP in pledge to save rainforests

(11/03/2009) One of the world's largest and most prestigious fashion brands has stated it will stop sourcing paper from Indonesian forests and will drop Asia Pulp and Paper (APP) as a supplier, which has become notorious for tropical deforestation. The move comes after pressure from the Rainforest Action Network (RAN) on the fashion industry to stop sourcing paper from threatened rainforests for their shopping bags.


Carbon accounting must not neglect emissions from bioenergy production and use

(10/29/2009) Carbon accounting used in the Kyoto Protocol and other climate legislation currently neglects CO2 emissions from the production of biofuels, a loophole that could drive large-scale destruction of tropical forests and exacerbate global warming, warned researchers writing last week in the journal Science.


Arctic lake undergoing unprecedented changes due to warming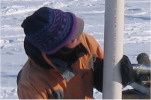 (10/19/2009) The Arctic should be growing cooler, but a new sediment core taken from an Arctic lake reveals that the lake's ecology and chemistry has been transformed by unnatural warming beginning in the 1950s. The sediment core proves that changes happening in the lake during the Twentieth Century are unprecedented over the past 200,000 years. Headed by University of Colorado scientist Yarrow Axelford, the study retrieved the sediment core from the bottom of a thirty foot deep lake on Baffin Island. Importantly the sediment core goes back 80,000 years further than any other core retrieved from the Greenland ice sheet, providing researchers with the longest timescale yet of changes in the Arctic climate.


Freshwater species worse off than land or marine

(10/15/2009) Scientists have announced that freshwater species are likely the most threatened on earth. Extinction rates for freshwater inhabitants are currently four to six times the rates for terrestrial and marine species. Yet, these figures have not lead to action on the ground.


Palm oil industry pledges wildlife corridors to save orangutans



(10/03/2009) In an unlikely—and perhaps tenuous—alliance, conservationists and the palm oil industry met this week to draw up plans to save Asia's last great ape, the orangutan. As if to underscore the colloquium's importance, delegates on arriving in the Malaysian State of Sabah found the capital covered in a thick and strange fog caused by the burning of rainforests and peat lands in neighboring Kalimantan. After two days of intensive meetings the colloquium adopted a resolution which included the acquisition of land for creating wildlife buffer zones of at least 100 meters along all major rivers, in addition to corridors for connecting forests. Researchers said such corridors were essential if orangutans were to have a future in Sabah.


Palm oil both a leading threat to orangutans and a key source of jobs in Sumatra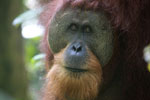 (09/24/2009) Of the world's two species of orangutan, a great ape that shares 96 percent of man's genetic makeup, the Sumatran orangutan is considerably more endangered than its cousin in Borneo. Today there are believed to be fewer than 7,000 Sumatran orangutans in the wild, a consequence of the wildlife trade, hunting, and accelerating destruction of their native forest habitat by loggers, small-scale farmers, and agribusiness. Gunung Leuser National Park in North Sumatra is one of the last strongholds for the species, serving as a refuge among paper pulp concessions and rubber and oil palm plantations. While orangutans are relatively well protected in areas around tourist centers, they are affected by poorly regulated interactions with tourists, which have increased the risk of disease and resulted in high mortality rates among infants near tourist centers like Bukit Lawang. Further, orangutans that range outside the park or live in remote areas or on its margins face conflicts with developers, including loggers, who may or may not know about the existence of the park, and plantation workers, who may kill any orangutans they encounter in the fields. Working to improve the fate of orangutans that find their way into plantations and unprotected community areas is the Orangutan Information Center (OIC), a local NGO that collaborates with the Sumatran Orangutan Society (SOS).


500 global business leaders call for 50-85% cut in emissions by 2050

(09/22/2009) In a statement issued today, more than 500 business leaders have called for "an ambitious, robust and equitable global deal" on climate change.


Indonesia: emissions to rise 50% by 2030, 3rd largest GHG emitter

(09/22/2009) A report released by the Indonesian government shows the country is the world's third largest greenhouse gas emitter, largely as a result of the destruction of rainforests and carbon-dense peatlands. Indonesia accounts for 8 percent of global carbon dioxide emissions.


Hummer owners view themselves as morally upright

(09/22/2009) For many the Hummer has become a symbol of all that is wrong with America: wastefulness without regard to consequences, entitlement beyond the scope of reason, and individualism to the point of arrogance.


US subsidies of oil and coal more than double the subsidies of renewable energy

(09/21/2009) During the fiscal years of 2002-2008 the United States handed out subsidies to fossil fuel industries to a tune of 72 billion dollars, while renewable energy subsidies, during the same period, reached 29 billion dollars.


Fake Obama makes climate change top priority

(09/21/2009) In an effort to push the real President Obama to attend the UN Summit on Climate Change in December, a fake Obama took over on Friday.


Climate Crisis Sparks Radical Response

(09/17/2009) The global political process to counter runaway climate change has become, for practical purposes, irrelevant. None of the currently proposed emissions reductions being seriously considered in policy making are appropriate to meet the severity of the situation. This overwhelming failure on the part of world governments is pushing the rapid unification of environmentalists, activists, scientists, and others to push for direct, immediate change.


France announces carbon tax

(09/10/2009) The President of France, Nicolas Sarkozy, has announced that he will implement a carbon tax to help "save the human race" from global warming.


Japan throws down gauntlet, vows to cut greenhouse gas emissions 25 percent by 2020

(09/07/2009) The new prime minister of Japan, Yukio Hatoyama, has thrown down the gauntlet to other industrialized nations in the lead-up to the UN Climate Change Summit in Copenhagen this December. He had pledged to cut his nation's greenhouse gas emissions 25 percent from 1990 levels (the set date for the Kyoto Treaty) by 2020.


Sea levels set to rise as Arctic warming replaces millennia long natural cooling cycle


(09/03/2009) According to a new study published in Science the Arctic should be cooling, and in fact has been cooling for millennia. But beginning in 1900 Arctic summer temperatures began rising until the mid-1990s when the cooling trend was completely overcome. Researchers fear that this sudden up-tick in temperatures could lead to rising sea levels threatening coastal cities and islands. "Scientists have known for a while that the current period of warming was preceded by a long-term cooling trend," said lead author Darrell Kaufman of Northern Arizona University. "But our reconstruction quantifies the cooling with greater certainty than ever before."


Political heat rising on climate change, but does the United States feel it?

(09/02/2009) The UN Summit on Climate Change isn't for three months, yet the political temperature has been rising steadily over the summer. The heat is especially focused on the three big players at the summit: China, India, and the United States.


Maldives president tells world: 'please, don't be stupid' on climate change

(09/01/2009) "Please, don't be stupid," Mohamed Nasheed told the world regarding the need to act decisively against climate change. To underlie his message, Nasheed announced that his country will become carbon neutral in ten years.



Page 1 | Page 2 | Page 3 | Page 4 | Page 5 | Page 6 | Page 7 | Page 8 | Page 9