News articles on carbon emissions

---
Mongabay.com news articles on carbon emissions in blog format. Updated regularly.





Carbon debt for some biofuels lasts centuries

(11/30/2011) It has long been known that biofuels release greenhouse gas emissions through land conversion like deforestation. But an innovative new study by the Center for International Forestry Research (CIFOR) published in Ecology and Society has computed how long it would take popular biofuel crops to payoff the "carbon debt" of land conversion. While there is no easy answer—it depends on the type of land converted and the productivity of the crop—the study did find that in general soy had the shortest carbon debt, though still decades-long, while palm oil grown on peatland had the longest on average.


Greenhouse gases hit new record in atmosphere as officials head to UN climate summit

(11/28/2011) The concentration of greenhouse gases in the atmosphere hit a new record in 2010, according to the UN's World Meteorological Organization (WMO), which found that warming from greenhouse gases rose 29 percent from 1990 to 2010. The announcement was made just a few days prior to officials meet at the 17th Climate Conference in Durban, South Africa, where expectations are low for a strong, binding agreement with a number of wealthy nations stating they expect no new agreement to take affect until 2020.


IEA warns: five years to slash emissions or face dangerous climate change

(11/13/2011) Not known for alarmism and sometimes criticized for being too optimistic, the International Energy Agency (IEA) has warned that without bold action in the next five years the world will lock itself into high-emissions energy sources that will push climate change beyond the 2 degrees Celsius considered relatively 'safe' by many scientists and officials.


Obama Administration bows to pressure, delays tar sands pipeline

(11/10/2011) In what can only be described as a major victory for green activists, the Obama Administration has announced it will delay a decision on TransCanada's controversial Keystone XL pipeline for 12-18 months. Notably, putting the decision off until after the last election. The delay comes less than a week after about 12,000 people encircled the White House in opposition to the Keystone XL pipeline, which they argue threatens one of the most important water supplies in America's heartland and will worsen climate change.


Palm oil biofuel from peatlands has big climate impact, finds study

(11/08/2011) Biofuels produced from oil palm plantations established on tropical peatlands are a substantial source of greenhouse gas emissions, reports a comprehensive new assessment conducted for the International Council on Clean Transportation (ICCT).


12,000 surround White House to protest tar sands pipeline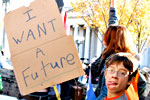 (11/07/2011) One year to the day before the 2012 US election, up to 12,000 activists encircled the White House to protest the Keystone XL pipeline, a proposed 1,700 mile pipeline that would carry oil from Canada's infamous tar sands to the US and other foreign markets. Critics of the TransCanada pipeline have warned of potential spills in America's heartland as well as the climate impacts of allowing more tar sands oil, which has a higher carbon footprint than conventional sources, into the US and other markets. The issue has galvanized climate and environmental activists in the US with the massive rally on Sunday preceded by civil disobedience actions in late summer that lead to the arrests of 1,253 people.


Hydroelectric dam still a greenhouse gas source after 10 years

(11/01/2011) Hydroelectric power is often promoted as green energy, yet dams, especially in the tropics, can be significant sources of greenhouse gas emissions. When built, reservoirs trap vegetation, which, as it rots, emits both methane and carbon into the atmosphere. A new study in Science of the Total Environment found that a dam in Lao PDR remained a significant source of greenhouse gas emission even a decade after construction.


11 challenges facing 7 billion super-consumers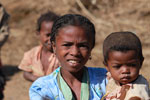 (10/31/2011) Perhaps the most disconcerting thing about Halloween this year is not the ghouls and goblins taking to the streets, but a baby born somewhere in the world. It's not the baby's or the parent's fault, of course, but this child will become a part of an artificial, but still important, milestone: according to the UN, the Earth's seventh billionth person will be born today. That's seven billion people who require, in the very least, freshwater, food, shelter, medicine, and education. In some parts of the world, they will also have a car, an iPod, a suburban house and yard, pets, computers, a lawn-mower, a microwave, and perhaps a swimming pool. Though rarely addressed directly in policy (and more often than not avoided in polite conversations), the issue of overpopulation is central to environmentally sustainability and human welfare.


Sober up: world running out of time to keep planet from over-heating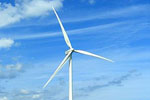 (10/24/2011) If governments are to keep the pledge they made in Copenhagen to limit global warming within the 'safe range' of two degrees Celsius, they are running out of time, according to two sobering papers from Nature. One of the studies finds that if the world is to have a 66 percent chance of staying below a rise of two degrees Celsius, greenhouse gas emissions would need to peak in less than a decade and fall quickly thereafter. The other study predicts that pats of Europe, Asia, North Africa and Canada could see a rise beyond two degrees Celsius within just twenty years.


California finalizes cap-and-trade program

(10/24/2011) Bucking long-stalled efforts in the US to combat global climate change, California has approved final rules for a cap-and-trade program set to go into effect in 2013. The program will require large polluters in California to reduce emissions or to 'trade' emissions on the carbon market with another company or initiative that is sequestering carbon. The rules even allow companies outside the state to participate, creating clean energy incentives across the US.


New study: price carbon at the point of fossil fuel extraction

(10/17/2011) Global carbon emissions are a complicated matter. Currently, officials estimate national fossil fuel-related emissions by what is burned (known as production) within a nation, but this approach underestimates the emissions contributions from countries that extract oil and oil for export. Is there a better way to account for a country's total climate change footprint?


Australia's carbon tax moves closer to reality

(10/12/2011) By a margin of just two votes (74-72), Australia's plan to put a price on carbon passed its toughest hurdle today. It is now expected that the Australian legislator will moved forward to put the carbon tax into law. The carbon tax, pushed aggressively by Australian Prime Minister Julia Gillard, was just as ferociously opposed by business leaders and opposition party leader, Tony Abbott.


Keystone pipeline company hand-picked US government's environmental assessor

(10/10/2011) A little over a month after 1,252 people were arrested in two weeks of civil action against the Keystone XL Pipeline, The New York Times has revealed that the Obama administration allowed a consulting firm with financial ties to the pipeline to conduct the project's Environmental Impact Assessment (EIA). While it is not uncommon for government departments to 'outsource' EIAs, legal experts quoted in the piece expressed surprise that the State Department would select a firm so close to the company proposing the project.


EU's biofuel push based on 'flawed' science

(10/10/2011) Europe's biofuel push could exacerbate climate change unless policies are in place to accounts for emissions from indirect land use change, warns a letter signed by more than 100 scientists and economists.


2010 Amazon drought released more carbon than India's annual emissions

(10/09/2011) The 2010 drought that affected much of the Amazon rainforest triggered the release of nearly 500 million tons of carbon (1.8 billion tons of carbon dioxide) into the atmosphere, or more than the total emissions from deforestation in the region over the period, estimates a new study published in the journal Environmental Research Letters.


Toy giant Mattel drops paper from APP and other 'controversial sources'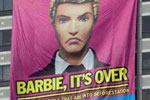 (10/05/2011) The world's biggest toy-maker Mattel has pledged to overhaul its paper sourcing policies after a hard-hitting campaign from Greenpeace linked the toy giant to rainforest destruction in Indonesia by Asia Pulp and Paper (APP). Today, Mattel pledged to increase the use of recycled paper and sustainably-certified fiber to 70 percent by the year's end, and 85 percent by 2015. In addition, the company has said any 'controversial' company engaged in natural forest destruction will be kept out of its supply line, referring to, but not naming directly, APP. Surprisingly, APP told mongabay.com that it 'applauds' Mattel's new commitments.


After protracted campaign, Girl Scouts pledges to cut out some palm oil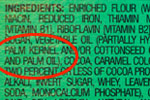 (10/02/2011) Girl Scouts USA has announced that it will lessen palm oil in its ubiquitous cookies by using alternatives when possible and cutting overall usage. The organization also committed to purchasing GreenPalm certificates for all of its palm oil in order to financially support more environmentally sustainable palm oil, even if the palm oil in the cookies is not.


Over 100 arrested as tar sands civil disobedience spreads to Canada

(09/27/2011) After two weeks of sustained protesting at the US White House against the Keystone XL pipeline, with 1,252 people arrested, civil disobedience has now spread to Canada, home of the tar sands. Yesterday, around 500 people protested in Ottawa against Canada's controversial tar sands; 117 were arrested as they purposefully crossed a barrier separating them from the House of Commons in an act of civil disobedience.


Rich countries must maintain commitment to reducing emissions despite slow economy, says Indonesian official

(09/22/2011) Industrialized nations must do more to reduce greenhouse gas emissions from energy consumption, said an Indonesian official speaking at a workshop on climate finance.


Climate test for Obama: 1,252 people arrested over notorious oil pipeline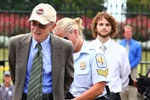 (09/06/2011) Two weeks of climate disobedience at the White House ended over the weekend with 1,252 people arrested in total. Activists were protesting the controversial Keystone XL pipeline in an effort to pressure US President Barack Obama to turn down the project. If built the pipeline would bring oil from Alberta's tar sands through six US states down to Texas refineries. While protestors fear pollution from potential spills, especially in the Ogallala Aquifer which supplies water to millions, the major fight behind the pipeline is climate change: Canada's tar sands emit significantly more carbon than conventional sources of oil.


Featured video: debating the tar sands pipeline as arrests mount

(08/30/2011) As arrests over a two week long civil action against the Keystone Pipeline XL rise to nearly 600 people, Bill McKibben, head of 350.org, debated Robert Bryce, Manhattan Institute for Policy Research, on the issue on PBS.


Australia passes national carbon trading scheme for agriculture, forestry

(08/22/2011) Australia's parliament passed the world's first national carbon trading scheme for credits generated from farming and forestry, reports Reuters.


Over 100 protestors arrested as civil action begins against tar sands pipeline to US

(08/22/2011) In the first two days of a planned two week sit-in at the White House in Washington DC, over 100 activists against the Keystone XL pipeline have been arrested, reports Reuters. If approved by the Obama Administration, the 1,700 mile pipeline would bring around 700,000 barrels of oil daily from Canada's notorious tar sands to oil refineries in Texas.


Taking corporate sustainability seriously means changing business culture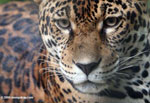 (08/11/2011) As more and more people demand companies to become sustainable and environmentally conscious, many corporations are at a loss of how to begin making the changes necessary. If they attempt to make changes—but fall short or focus poorly—they risk their actions being labeled as 'greenwash'. In addition, if they implement smart changes and self-regulations, but their employees don't buy-in to the process, all their investments will be for nothing. This is where Accountability Now, a young, fresh social responsibility agency, comes in. Clare Raybould, director of Accountability Now, believes companies—large and small—have the potential to change the world for the better, but they simply need a guiding hand to change not just the way a company works, but its culture.


Global forests offset 16% of fossil fuel emissions

(07/14/2011) Between 1990 and 2007 global forests absorbed nearly one-sixth of all carbon released by fossil fuel emissions, reports a new study published in Science. The results suggest forests play an even bigger role in fighting climate change than previously believed.


Australia launches limited carbon tax

(07/11/2011) Australia's 500 largest polluters will pay AU$23 ($24.60) per ton of carbon dioxide emitted beginning July 2012 under a plan announced by Australian prime minister Julia Gilliard.


Ocean prognosis: mass extinction


(06/20/2011) Multiple and converging human impacts on the world's oceans are putting marine species at risk of a mass extinction not seen for millions of years, according to a panel of oceanic experts. The bleak assessment finds that the world's oceans are in a significantly worse state than has been widely recognized, although past reports of this nature have hardly been uplifting. The panel, organized by the International Program on the State of the Ocean (IPSO), found that overfishing, pollution, and climate change are synergistically pummeling oceanic ecosystems in ways not seen during human history. Still, the scientists believe that there is time to turn things around if society recognizes the need to change.


Revised Forest Code may cost Brazil climate commitments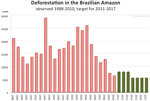 (06/14/2011) The proposed revision of Brazil's Forest Code could prevent the country from meeting its lower emissions target and is unlikely to ease rural poverty, concludes a new study by the Brazil-based Institute of Applied Economic Research (IPEA).


Germany backs out of Yasuni deal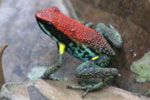 (06/13/2011) Germany has backed out of a pledge to commit $50 million a year to Ecuador's Yasuni ITT Initiative, reports Science Insider. The move by Germany potentially upsets an innovative program hailed by environmentalists and scientists alike. This one-of-a-kind initiative would protect a 200,000 hectare bloc in Yasuni National Park from oil drilling in return for a trust fund of $3.6 billion, or about half the market value of the nearly billion barrels of oil lying underneath the area. The plan is meant to mitigate climate change, protect biodiversity, and safeguard the rights of indigenous people.


Current carbon releases faster than at any time on record

(06/13/2011) The Paleocene-Eocene Thermal Maximum (PETM), a period of global warming that occurred nearly 56 million years ago due to massive releases of greenhouse gases, is frequently referenced as an analogue for projected climate change. However, recent findings suggest the current rate of carbon release is almost 10 times as rapid as at the peak of the PETM—and that biological systems may be significantly less able to adapt.


Can Brazil meet deforestation, climate goals and still grow its cattle industry?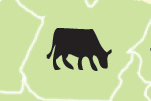 (06/09/2011) Despite environmentalists' efforts to combat "rainforest beef" in the 1980s, pasture expansion for cattle is still the primary cause of deforestation in the Brazilian Amazon, says a new report produced by Brighter Green. While Brazil's investments in agribusiness have made it an agricultural powerhouse—the country is now the world's third-largest exporter of farm commodities after the US and the European Union—unfortunately, two of the Brazil's key products, cattle and soy, are still driving deforestation as well as economic growth. According to Brighter Green's report, researchers estimate that cattle ranching caused 65-70 percent of land clearing in the Amazon between 2000 and 2005.


Arctic on the line: oil industry versus Greenpeace at the top of the world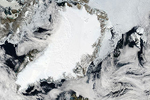 (06/06/2011) At the top of the world sits a lone region of shifting sea ice, bare islands, and strange creatures. For most of human history the Arctic remained inaccessible to all but the hardiest of peoples, keeping it relatively pristine and untouched. But today, the Arctic is arguably changing faster than anywhere else on Earth due to global climate change. Greenhouse gases from society have heated up parts of the Arctic over the past half-century by 4-5 degrees Fahrenheit, leading to a staggering decline in the Arctic sea ice. The large-scale changes suffered by the Arctic have created a new debate over conservation and exploitation, a debate currently represented by the protests of Greenpeace against oil company Cairn Energy, both of whom have been interviewed by mongabay.com (see below).


Ocean acidification dissolves algae, deafens fish

(06/02/2011) As if being a major contributor to global warming wasn't enough, the increasing amount of carbon dioxide produced through human activity is also acidifying our oceans - and doing so more rapidly than at any other time in more than half a million years. New projections show that at current rates of acidification, clownfish and many species of algae may be unable to survive by 2100.


New record in global carbon emissions 'another wake-up call'

(05/31/2011) Global carbon emissions hit a new high last year proving once again that international political efforts, hampered by bickering, the blame-game, and tepidity, are failing to drive down the greenhouse gas emissions that are causing the planet to heat up. According to the International Energy Agency (IEA), following a slight fall in carbon dioxide emissions due to the economic downturn, emissions again rose to a new record level in 2010: 30.6 gigatons. This is a full 5 percent higher than the past record hit in 2008. The new record puts greater doubt on the international pledge of limiting the global average temperature rise to 2 degrees Celsius.


Has the green energy revolution finally arrived?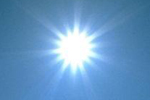 (05/17/2011) When historians look back at the fight to combat climate change—not to mention the struggle to overcome our global addiction to fossil fuels—will 2011 be considered a watershed moment? Maybe. In the last couple months, three countries—each in the top ten in terms of GDP—have suddenly made major renewable energy promises. Germany, Japan, and, just today, Britain are giving speeches and producing plans that, if successful, could be the global tipping point needed to move beyond fossil fuels to, one day, a world run entirely on green.


World Atlas of Mangroves: A Book Review

(04/14/2011) Because recent research has shown that it is often the case that mangroves store more carbon than tropical forests--from 90 tons to 588 tons carbon from above-ground and below-ground biomass combined with net primary productivity of 7 to 25 tons carbon annually--while providing an estimated ecosystem services value of up to US$ 9270 per hectare per year, the timely publication of the World Atlas of Mangroves is an excellent reference for those of us working to protect mangroves globally. With information sourced from 1400 literature references, the atlas gives the reader the information they need so as to further understand mangrove ecosystems, and the opportunities to develop mangrove ecosystem conservation and carbon projects.


Indonesia can meet low carbon goals without sacrificing economic growth, says UK report

(04/14/2011) Indonesia can meet its low carbon development goals without sacrificing economic growth, reports an assessment commissioned by the British government.


Gas from 'fracking' not climate friendly

(04/13/2011) It appears every time a fossil fuels industry claims its energy is 'green' or 'climate-friendly', scientists discover this just isn't so. The most recent culprit is natural gas produced by an already controversial method known as hydraulic fracturing, or fracing, which extracts the gas from shale basins. A new study in Climatic Change has found that the process of fracing is worse than coal over a 20-year period and about equal over 100-years. Coal had long been considered the worst climate offender of all energy options.


Greenpeace says McKinsey's REDD+ work could encourage deforestation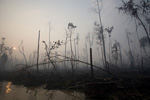 (04/07/2011) One of the world's top consultancies, McKinsey & Co., is providing advice to governments developing 'Reducing Emissions from Deforestation and Degradation' (REDD+) programs that could increase risks to tropical forests, claims a new report published by Greenpeace. The report, Bad Influence – how McKinsey-inspired plans lead to rainforest destruction, says that McKinsey's REDD+ cost curve and baseline scenarios are being used to justify expansion of industrial capacity in Indonesia, Papua New Guinea, Democratic Republic of Congo, and Guyana.


Vanishing mangroves are carbon sequestration powerhouses

(04/05/2011) Mangroves may be the world's most carbon rich forests, according to a new study in Nature Geoscience. Measuring the carbon stored in 25 mangrove forests in the Indo-Pacific region, researchers found that mangroves forests stored up to four times as much carbon as other tropical forests, including rainforests. "Mangroves have long been known as extremely productive ecosystems that cycle carbon quickly, but until now there had been no estimate of how much carbon resides in these systems. That's essential information because when land-use change occurs, much of that standing carbon stock can be released to the atmosphere," explains co-author Daniel Donato, a postdoctoral research ecologist at the Pacific Southwest Research Station in Hilo, Hawaii.


World Bank proposes to limit funding to coal plants

(04/05/2011) Following years of criticism from environmentalists and some governments the World Bank has proposed new rules regarding carbon-intensive coal plants, reports the Guardian. The new rules would allow lending for coal-fired plants only to the world's poorest nations and would only lend after other alternatives, such as renewable energy, had been ruled out.


Carbon labeling good for consumers and business

(03/31/2011) Want to know how many calories are in a serving from that box of cereal? Simply turn it over and you can read a wealth of information: calories, fat, fiber, nutrients. But what if you'd like to know how much carbon was emitted to produce your breakfast? Currently, you're out of luck. But an article in Nature Climate Change argues that labeling products—from food to household products—with their carbon footprint could reduce emissions over time as consumers and companies react to better environmental transparency. A 'carbon footprint' measures the total amount of greenhouse gases emitted to produce a product or service.


'Huge reduction' of water from plants due to higher carbon levels

(03/30/2011) As if ocean acidification and a warming world weren't enough, researchers have outlined another way in which carbon emissions are impacting the planet. A new study shows that higher carbon dioxide levels in the atmosphere have taken a toll on how much water vapor plants release, potentially impacting the rainfall and groundwater sources. A study in the Proceedings of the National Academy of Sciences (PNAS) has found that carbon dioxide levels over the past 150 years has reduced plants' spores, called stomata, by over one third (34%). This is important because stomata take in oxygen and carbon dioxide and release water vapor in a process dubbed 'transpiration'. Less stomata means less water driven into the atmosphere.


Environmental sustainability—the new economic bottom line

(03/28/2011) That's the message in Accounting for Sustainability: Practical Insights. The book represents the compilation of a five-year project—nicknamed "A4S"—sponsored by Prince Charles, Prince of Wales, that examined the feasibility of factoring industries' impact on the environment into their economic spread sheets. Using case studies and interviews with leaders at major accounting firms, Accounting For Sustainability documents the bond between capitalism and environmental capital.


Pulp and paper firms urged to save 1.2M ha of forest slated for clearing in Indonesia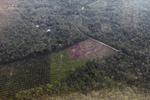 (03/17/2011) Indonesian environmental groups launched a urgent plea urging the country's two largest pulp and paper companies not to clear 800,000 hectares of forest and peatland in their concessions in Sumatra. Eyes on the Forest, a coalition of Indonesian NGOs, released maps showing that Asia Pulp and Paper (APP) and Asia Pacific Resources International Limited (APRIL) control blocks of land representing 31 percent of the remaining forest in the province of Riau, one of Sumatra's most forested provinces. Much of the forest lies on deep peat, which releases large of amount of carbon when drained and cleared for timber plantations.


Deforestation gives some Brazil beef a big carbon footprint

(03/08/2011) Extensive deforestation for low-yielding cattle production means some Brazilian beef carries a disproportionately high carbon footprint, reports a new study published in Environmental Science & Technology.


Indigenous leaders take fight over Amazon dams to Europe

(03/02/2011) Three indigenous Amazonian leaders spent this week touring Europe to raise awareness about the threat that a number of proposed monster dams pose to their people and the Amazon forest. Culminating in a press conference and protests in London, the international trip hopes to build pressure to stop three current hydroelectric projects, one in Peru, including six dams, and two in Brazil, the Madeira basin industrial complex and the massive Belo Monte dam. The indigenous leaders made the trip with the NGO Rainforest Foundation UK, including support from Amazon Watch, International Rivers, and Rainforest Concern.


Photo gallery: Borneo paradise saved from beachside coal plant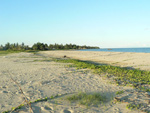 (02/22/2011) Last week the Malaysian government announced it had canceled a plan to build a coal-fired plant in the state of Sabah. The coal plant would have rested on a beach overlooking the Coral Triangle, one of the ocean's most biodiverse ecosystems, and 20 kilometers from Tabin Wildlife Reserve, a rainforest park home to endangered orangutans, Sumatran rhinos, Bornean elephants, and thousands of other species. The cancellation followed a long campaign by a group of environmental and human right organizations dubbed Green SURF (Sabah Unite to Re-power the Future), which argued that the coal plant would have imperiled ecosystems, ended artisanal fishing in the area, hurt tourism, and tarnished Sabah's reputation as a clean-green state.


Environmentalists and locals win fight against coal plant in Borneo

(02/16/2011) Environmentalists, scientists, and locals have won the battle against a controversial coal plant in the Malaysian state of Sabah in northern Borneo. The State and Federal government announced today that they would "pursue other alternative sources of energy, namely gas, to meet Sabah's power supply needs." Proposed for an undeveloped beach on the north-eastern coast of Borneo, critics said the coal plant would have threatened the Coral Triangle, one of the world's most biodiverse marine ecosystems, and Tabin Wildlife Reserve, home to Critically Endangered Sumatran rhinos and Bornean orangutans. Local fishermen feared that discharges from the plant would have imperiled their livelihood.


Two massive droughts evidence that climate change is 'playing Russian roulette' with Amazon

(02/03/2011) In 2005 the Amazon rainforest underwent a massive drought that was labeled a one-in-100 year event. The subsequent die-off of trees from the drought released 5 billion tons of CO2. Just five years later another major drought struck. The 2010 drought, which desiccated entire rivers, may have been even worse according to a new study in Science, adding on-the-ground evidence to fears that climate change may inevitably transform the world's greatest rainforest.



Page 1 | Page 2 | Page 3 | Page 4 | Page 5 | Page 6 | Page 7 | Page 8 | Page 9 | Page 10 | Page 11