News articles on carbon emissions

---
Mongabay.com news articles on carbon emissions in blog format. Updated regularly.





Canadian government drops over $16 million on advertising its tar sands


(05/16/2013) The Canadian government has nearly doubled its advertising spending to promote the Alberta tar sands in an aggressive new lobbying push ahead of Thursday's visit to New York by the prime minister, Stephen Harper. The Harper government has increased its advertising spending on the Alberta tar sands to $16.5m from $9m a year ago.


Last time CO2 hit 400 ppm, temperature was 8C warmer, seas 40m higher than today

(05/12/2013) The future of a globally warmed world has been revealed in a remote meteorite crater in Siberia, where lake sediments recorded the strikingly balmy climate of the Arctic during the last period when greenhouse gas levels were as high as today.


A new world?: carbon dioxide concentrations in atmosphere hit 400 ppm


(05/11/2013) For the first time since homo sapiens evolved, concentrations of carbon dioxide in the atmosphere have struck 400 parts per million (ppm) due to burning fossil fuels. The National Oceanic and Atmospheric Administration (NOAA) reports that readings of carbon dioxide at Mauna Loa Observatory in Hawaii hit the symbolic number on Thursday and are expected to continue rising in coming years. The last time concentrations were this high for a sustained period was 4-5 million years ago when sea levels were 5-40 meters higher than today and the poles were 10 degrees Celsius hotter. During this epoch, forests grew along the shores of the Arctic Ocean and coral reefs were almost wholly absent.


Brazil's satellite monitoring reduced Amazon deforestation by 60,000 sq km in 5 years

(05/08/2013) Brazil's advanced satellite monitoring system, coupled with increased law enforcement, was responsible for nearly 60 percent of the 101,000 square kilometer-drop in deforestation observed between 2007 and 2011, argues a new study published an international think tank.


Sugarcane production impacting local climate in Brazil


(05/01/2013) Intensification of Brazil's sugarcane industry in response to rising demand for sugar-based ethanol could have impacts on the regional climate reports a new study by researchers from Arizona State University, Stanford University and the Carnegie Institution for Science. Following the conversion of cerrado grasslands into sugarcane in Brazil, a recent study in Geophysical Research Letters found local cooling that approached 1 degree Celsius during the growing season and maximum local warming near 1 degree Celsius post-harvest.


What if companies actually had to compensate society for environmental destruction?


(04/29/2013) The environment is a public good. We all share and depend on clean water, a stable atmosphere, and abundant biodiversity for survival, not to mention health and societal well-being. But under our current global economy, industries can often destroy and pollute the environment—degrading public health and communities—without paying adequate compensation to the public good. Economists call this process "externalizing costs," i.e. the cost of environmental degradation in many cases is borne by society, instead of the companies that cause it. A new report from TEEB (The Economics of Ecosystems and Biodiversity), conducted by Trucost, highlights the scale of the problem: unpriced natural capital (i.e. that which is not taken into account by the global market) was worth $7.3 trillion in 2009, equal to 13 percent of that year's global economic output.


Environmentalists unhappy with new palm oil standard


(04/25/2013) Environmentalists are unhappy with Thursday's approval of new criteria for the world's leading palm oil certification standard. After members of the Roundtable on Sustainable Palm Oil (RSPO) in a special assembly approved the body's new 'principles and criteria' (P&Cs) for palm oil certification, several groups voiced concern that the rules won't protect against conversion of carbon-dense rainforests and peatlands for oil palm plantations.


Low carbon prices may spur deforestation

(04/23/2013) Low carbon prices may spur deforestation in New Zealand according to a survey by a researcher at Canterbury University.


'Carbon bubble' could cause next global financial crisis

(04/22/2013) The world could be heading for a major economic crisis as stock markets inflate an investment bubble in fossil fuels to the tune of trillions of dollars, according to leading economists. "The financial crisis has shown what happens when risks accumulate unnoticed," said Lord (Nicholas) Stern, a professor at the London School of Economics. He said the risk was "very big indeed" and that almost all investors and regulators were failing to address it.


Fighting deforestation—and corruption—in Indonesia


(04/11/2013) The basic premise of the Reducing Emissions from Deforestation and Degradation (REDD+) program seems simple: rich nations pay tropical countries for preserving their forests. Yet the program has made relatively limited progress on the ground since 2007, when the concept got tentative go-ahead during U.N. climate talks in Bali. The reasons for the stagnation are myriad, but despite the simplicity of the idea, implementing REDD+ is extraordinarily complex. Still the last few years have provided lessons for new pilot projects by testing what does and doesn't work. Today a number of countries have REDD+ projects, some of which are even generating carbon credits in voluntary markets. By supporting credibly certified projects, companies and individuals can claim to "offset" their emissions by keeping forests standing. However one of the countries expected to benefit most from REDD+ has been largely on the sidelines. Indonesia's REDD+ program has been held up by numerous factors, but perhaps the biggest challenge for REDD+ in Indonesia is corruption.


30% of Brazil's emissions from deforestation are export-driven


(04/05/2013) 2.7 billion tons of carbon dioxide emissions or 30 percent of the carbon associated with deforestation in the Brazilian Amazon between 2000 and 2010 was effectively exported in the form of beef products and soy, finds a new study published in the journal Environmental Research Letters. The research underscores the rising role that global trade plays in driving tropical deforestation.


U.S. CO2 emissions fall to lowest level since 1994

(04/05/2013) Carbon dioxide emissions from energy consumption in the United States during 2012 fell to the lowest level since 1994, finds a new report from the U.S. Energy Information Administration, a branch of the Department of Energy.


Improving the rigor of measuring emissions from deforestation, agriculture


(04/03/2013) While much has been written about the potential of reducing greenhouse gas emissions by protecting tropical forests, a proposed program to do just that has been challenged by a number of factors, including concerns about the accuracy of measuring for carbon reductions. Failure to properly account for carbon could undermine the effectiveness of the Reducing Emissions from Deforestation and Degradation (REDD+) program as a tool for mitigating climate change and securing benefits for local people. To help address the technical issues that underpin carbon measurement, the University of California, San Diego (UC San Diego) and the World Wildlife Fund (WWF) have launched a new Certificate in Advanced Terrestrial Carbon Accounting.


Carbon Management in the Built Environment - book review

(04/02/2013) Carbon Management in the Built Environment, written by Rohinton Emmanuel and Keith Baker, is the complete introductory textbook covering low carbon management for the built environment. Carbon Management in the Built Environment integrates climate change science, design, materials science, and policy into a classroom friendly text.


Burning coal may be killing over 100,000 people in India every year


(03/13/2013) India's dependence on coal-fired power plants for energy may be leading directly to the deaths of 80,000 to 115,000 of its citizens every year, according to the first ever report on the health impacts of coal in the country. The report, commissioned by the Conservation Action Trust and Greenpeace-India, deals only with the direct health impact of coal and not climate change. But even ignoring the rising pain of global warming, the bleak report outlines that coal consumption in India is causing over 20 million asthma attacks, nearly a million emergency room visits, and killing some 10,000 children under five annually.


Rainforests may be more resilient to global warming - in isolation - than previously forecast

(03/11/2013) Tropical forests may be less sensitive to global warming than previously thought, argues a new study published in Nature Geoscience.


China delays carbon tax

(03/07/2013) China will not introduce a carbon tax in 2013, reports Bloomberg.


Near-record jump in carbon concentrations in global atmosphere last year

(03/06/2013) Carbon dioxide now makes up around 395 parts per million in the atmosphere, according to new data from the National Oceanic Atmospheric Administration (NOAA). Measuring atmospheric carbon in Mauna Loa, Hawaii, the NOAA notes that last year saw a jump of 2.67 parts per million, second only to a record jump in carbon concentrations in 1998—2.93 parts per million. The news further dampens hopes that nations will stick to their goal of keeping global temperatures from rising more than 2 degrees Celsius (3.6 degrees Fahrenheit) above pre-industrial levels.


Good news about climate change? Evolving technology could make cleaning the air more profitable than fouling it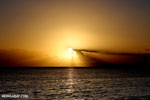 (02/26/2013) In the wake of the hottest and driest summer in memory throughout much of North America, and Super-storm Sandy that flooded cities and ravaged large swaths of the Mid-Atlantic coast, many now recognize that the climate change isn't just real, but that it is already at our doorstep. As this realization continues to sink in, the political will may ripen to take more aggressive action to put a brake CO2 emissions. Already, President Obama, who had remained mostly silent on the issue during his reelection campaign, has made it clear that tackling climate change will be among his top second-term priorities. But the fact remains that even if the entire world switched magically to 100 percent solar and other non-polluting power sources tomorrow, it's too late to roll back some of the impacts of climate change.


Rise in 1.5 degrees Celsius likely to spark massive greenhouse gas release from permafrost


(02/25/2013) While nations around the world have committed to keeping temperatures from rising 2 degrees Celsius (3.6 degrees Fahrenheit) above the pre-industrial era, new research published in Science suggests that the global climate could hit a tipping point at just 1.5 degrees Celsius (2.5 degrees Fahrenheit). Studying cave stalactites and stalagmites in Siberia, scientists found that at about 1.5 degrees Celsius the Siberian permafrost melts, potentially releasing a greenhouse gas bomb of 1,000 giga-tonnes, according to some experts.


Deforestation, wetlands loss in Brazil and Indonesia generated 45b tons of CO2 in 20 years

(02/22/2013) The United Nations Food and Agriculture Organization (FAO) has launched a global set of statistics on carbon emissions from deforestation, agriculture and other forms of land use for the 1990-2010 period.


China to tax carbon emissions

(02/20/2013) China will introduce a carbon tax, reports official state media.


Over 35,000 march on Washington demanding climate action and rejection of Canada's 'carbon bomb'


(02/18/2013) Yesterday over 35,000 people rallied in Washington D.C. for urgent action on climate change, which, according to organizers, was the largest climate march in U.S. history. Activists called on the Obama Administration to do much more to tackle climate change, including rejecting the Keystone XL Pipeline, which would bring carbon-heavy tar sands oil from Canada through the U.S. to a world market.


Obama connects climate science and policy in State of the Union

(02/13/2013) After several years of silence on climate change, U.S. President Barack Obama has begun speaking out following his re-election last November. The President surprised many by giving climate change a central role in his inauguration speech last month, and he followed-up in his State of the Union speech last night when he called on congress to "pursue a bipartisan, market-based solution to climate change," but added that the administration would take action itself if congress failed.


Carbon release, storage by rainforests may increase by 50b tons for each degree of climate warming in the tropics

(02/08/2013) Faster plant growth due to higher concentrations of carbon dioxide may offset increased emissions from forest die-off in the tropics, claims a new study based on climate modeling.


Finance and carbon markets dictionary with English and Spanish versions

(02/07/2013) The United States Agency for International Development (USAID) recently released a lexicon—or dictionary—of carbon finance and markets terms.


WWF and National Geographic ask: 'How much stuff do you need?'

(02/04/2013) Seven billion people inhabit the planet and all require food and water, but less than one percent of the water found on the planet is fresh and accessible and 70 percent of that goes to growing crops. Meanwhile temperatures are rising worldwide due to the overuse of fossil fuel energy. Given these issues, a new series of videos by WWF and National Geographic, entitled Make Choices Count, aims to get people thinking about the environmental impact of commonly used items. The first video (see below) focuses on one of our most ubiquitous items: the cotton T-shirt.


Rate of tree die-off in Amazon higher than conventionally believed

(02/01/2013) The rate of tree mortality in the Amazon rainforest due to storm damage and drought is 9-17 percent higher than conventionally believed, reports a study published in the Proceedings of the National Academy of Sciences (PNAS).


Palm oil, paper, biofuels production on peatlands drive large GHG emissions

(01/31/2013) Degradation of peat swamps for oil palm and timber plantations is a substantially larger source of greenhouse gas emissions than previously believed, finds a new study published in the journal Nature.


China responsible for 46 percent of global coal consumption

(01/30/2013) A new chart by the U.S. Energy Information Administration shows how China's coal habit has grown to such an extent that it now accounts for 46.9 percent of the world's consumption. In 2011 coal consumption hit 3.8 billion tons in China, making up nearly half the world's coal use of 8.1 billion tons. Coal comes with a number of environmental issues—including toxic air and water pollution—but the most pressing globally is climate change.


Paradigm shift needed to avert global environmental collapse, according to author of new book The Blueprint: Averting Global Collapse


(01/10/2013) Global strategist, trained educator, and international lecturer Daniel Rirdan set out to create a plan addressing the future of our planet. His book The Blueprint: Averting Global Collapse, published this year, does just that. "It has been a sixty hour a week routine," Rirdan told mongabay.com in a recent interview. "Basically, I would wake up with the burden of the world on my shoulders and go to sleep with it. It went on like this for eighteen months." It becomes apparent when reading The Blueprint that it was indeed a monumental undertaking.


Fires burn over a third more land than estimated

(01/02/2013) Scientists currently detect fires around the world using moderate resolution satellite imagery, however a new study in the Journal of Geophysical Research finds that this tool misses many of the world's smaller fires, which add up.


Paper giant breaks pledge to end rainforest logging in Sumatra, says group


(12/26/2012) Pulp and paper giant Asia Pacific Resources International Limited (APRIL) continues to destroy large areas of rainforests and peatlands despite a commitment to end natural forest logging by 2009, says a new report issued by a coalition of Indonesian environmental groups. The Eyes on the Forest report finds that APRIL and its suppliers cleared at least 140,000 hectares (346,000 acres) of natural forest between 2008 and 2011 in Riau, accounting for 27 percent of all forest loss in the province during the period. Some of the area cleared by APRIL and its subsidiaries consisted of deep peat swamp forest, which stores massive amount of carbon.


Climate Summit in Doha characterized by lack of ambition


(12/09/2012) Ahead of the 18th United Nations Framework Convention on Climate Change (UNFCCC) in Doha, Qatar a variety of reports warned that the world was running out of time to avoid dangerous climate change, and that there was a widening gap between what nations have pledged to do and what the science demanded. A landmark report by the World Bank painted an almost apocalyptic picture of a world in which global temperatures have risen 4 degrees Celsius above pre-industrial levels, including unprecedented heatwaves and droughts, rising sea levels, global agriculture crises, and a stunning loss of species. In addition, scientific studies released near the two week conference found that sea levels were rising 60 percent faster than predicted, forests around the world were imperiled by increasing drought, marine snails were dissolving in the Southern Ocean due to ocean acidification, and ice melt in Greenland and Antarctica was on the rise.


Dams are rapidly damning the Amazon

(12/08/2012) Dam-builders seeking to unlock the hydroelectric potential of the Amazon are putting the world's mightiest river and rainforest at risk, suggests a new assessment that charts the rapid expansion of dams in the region.


Tropical deforestation emissions were 3 billion tons/yr from 2000-2005

(12/03/2012) Two prominent groups of researchers have reached a consensus estimate for emissions from tropical deforestation between 2000 and 2005.


With deforestation falling, energy sector to become Brazil's biggest CO2 source

(12/03/2012) With its annual rate of deforestation falling more than 80 percent since 2004, energy is set to soon become Brazil's largest source of greenhouse gas emissions, reports a new study seen by Reuters.


Animals dissolving due to carbon emissions


(12/03/2012) Marine snails, also known as sea butterflies, are dissolving in the Southern Seas due to anthropogenic carbon emissions, according to a new study in Nature GeoScience. Scientists have discovered that the snail's shells are being corroded away as pH levels in the ocean drop due to carbon emissions, a phenomenon known as ocean acidification. The snails in question, Limacina helicina antarctica, play a vital role in the food chain, as prey for plankton, fish, birds, and even whales.


'No-one is listening to the entire scientific community': global carbon emissions set to hit new high


(12/03/2012) Global carbon dioxide (CO2) emissions from industrial sources are set to hit a new record high this year according to a new analysis by Global Carbon Project. The analysis in Nature Climate Changes predicts that CO2 emissions will rise another 2.6 percent, hitting 35.6 billion tonnes. The scientists warn that such steep climbs in global emissions year-after-year means that the door is rapidly closing on a global agreement to keep temperatures from rising 2 degree Celsius (3.6 degrees Fahrenheit) above pre-industrial levels.


Indonesia lost 8.8m ha of forest in the 2000s, generating 7 billion tons of CO2

(12/02/2012) Indonesia's greenhouse gas emissions from deforestation could have been reduced by hundreds of millions of tons had a moratorium on new concessions in high carbon forest areas and peatlands been implemented earlier, reported a researcher presenting at a forests conference on the sideline of climate talks in Doha.


Organic farming keeps carbon out of the atmosphere


(11/28/2012) With the worst effects of climate change, we are seeing how pollution hurts both human health and the environment but there is good news: a new study shows that organic farming stores more greenhouse gases in the soil than non-organic farming. By switching to organic methods, many farmers across the globe may be helping to solve the climate crisis at the same time as they improve soil quality and avoid the use of pesticides.


Unique program to leave oil beneath Amazonian paradise raises $300 million


(11/26/2012) The Yasuni-ITT Initiative has been called many things: controversial, ecological blackmail, revolutionary, pioneering, and the best chance to keep oil companies out of Ecuador's Yasuni National Park. But now, after a number of ups and downs, the program is beginning to make good: the Yasuni-ITT Initiative has raised $300 million, according to the Guardian, or 8 percent of the total amount needed to fully fund the idea.


China and India plan 818 new coal plants

(11/26/2012) Even as the clamor to reduce greenhouse gas emissions reaches a new high—echoed recently by such staid institutions as the World Bank and the International Energy Agency (IEA)—a new analysis by the World Resources Institute (WRI) finds that 818 new coal-fired plants are under proposal in China and India. In all 1,199 new coal-fired plants are currently planned worldwide, according to the report, totaling 1.4 million megawatts of energy.


As Doha Climate Summit kicks off, more ambitious cuts to greenhouse gas emissions needed

(11/26/2012) As the 18th meeting of the UN Framework Convention on Climate Change (UNFCCC) kicks off this morning in oil and gas rich Qatar, the world body warns that much more ambitious greenhouse gas cuts are needed to keep catastrophic climate change at bay. A new report by the UN Environment Program (UNEP) and the European Climate Foundation finds that even if all current emissions pledges are kept, the world will still spew 8 billion tonnes of CO2 equivalent above what is needed by 2020, putting the globe on a fast-track to dangerous climate change.


Hotter and hotter: concentrations of greenhouse gases hit another new record

(11/20/2012) As expected, greenhouse gas concentrations in the Earth's atmosphere hit another record last year, according to a new UN World Meteorological Organization (WMO). The increasing concentrations of greenhouse gases means that radiative forcing—changes in the atmosphere's energy balance that leads to warming—has jumped 30 percent in the last twenty years.


Climate activists march on White House again to oppose Keystone XL pipeline

(11/19/2012) Yesterday, climate activists marched around the White House in opposition against the Keystone XL pipeline, which if built will carry tar sands from Canada to the Gulf of Mexico and an international market. The protest, which included over 3,000 people according to organizing groups, is an opening salvo in activists' battle to convince the Obama Administration to turn down the pipeline for good.


Threatened Galapagos coral may predict the future of reefs worldwide


(11/07/2012) The Galapagos Islands have been famous for a century and a half, but even Charles Darwin thought the archipelago's list of living wonders didn't include coral reefs. It took until the 1970s before scientists realized the islands did in fact have coral, but in 1983, the year the first major report on Galapagos reef formation was published, they were almost obliterated by El Niño. This summer, a major coral survey found that some of the islands' coral communities are showing promising signs of recovery. Their struggle to survive may tell us what is in store for the rest of the world, where almost three-quarters of corals are predicted to suffer long-term damage by 2030.


From 'fertilizer to fork': food accounts for a quarter of the world's greenhouse gas emissions

(11/01/2012) Growing, transporting, refrigerating, and wasting food accounts for somewhere between 19-29 percent of the world's greenhouse gas emissions in 2008, according to a new analysis by the CGIAR Research Program on Climate Change, Agriculture and Food Security (CCAFS). In hard numbers that's between 9.8 and 16.9 billion tonnes of carbon dioxide, more than double the fossil fuel emissions of China in the same year. Over 80 percent of food emissions came from production (i.e. agriculture) which includes deforestation and land use change.


Will we need to pull carbon out of the atmosphere to save ourselves?


(10/17/2012) This year saw the Arctic sea ice extent fall to a new and shocking low, while the U.S. experienced it warmest month ever on record (July), beating even Dust Bowl temperatures. Meanwhile, a flood of new research has convincingly connected a rise in extreme weather events, especially droughts and heatwaves, to global climate change, and a recent report by the DARA Group and Climate Vulnerability Forum finds that climate change contributes to around 400,000 deaths a year and costs the world 1.6 percent of its GDP, or $1.2 trillion. All this and global temperatures have only risen about 0.8 degrees Celsius (1.44 degrees Fahrenheit) since the early Twentieth Century. Scientists predict that temperatures could rise between 1.1 degrees Celsius (2 degrees Fahrenheit) to a staggering 6.4 degrees Celsius (11.5 degrees Fahrenheit) by the end of the century.


Norway to double carbon tax on oil industry for climate change programs

(10/15/2012) Beginning next year, Norway will nearly double the carbon tax on its domestic oil industry to help set up a $1 billion climate change fund for programs in developing nations among other green projects. The Scandinavian nation is the world's 13 largest oil producer and third biggest oil exporter, yet has been one of the most active champions of funding climate change projects.



Page 1 | Page 2 | Page 3 | Page 4 | Page 5 | Page 6 | Page 7 | Page 8 | Page 9 | Page 10