News articles on carbon dioxide

---
Mongabay.com news articles on carbon dioxide in blog format. Updated regularly.






Temperate forests not a fix for global warming

(08/10/2007) Carbon sequestration projects in temperate regions -- already facing doubts by scientists -- were dealt another blow by Duke University-led research that found pine tree stands grown under elevated carbon dioxide conditions only store significant amounts of carbon when they receive sufficient amounts of water and nutrients.
Pound of beef produces 36 pounds of CO2 emissions

(07/18/2007) The production of a kilogram of beef is results in more greenhouse gas emissions and other pollution than driving a car for 3 hours while leaving all the lights at home, concludes a new study led by Akifumi Ogino of the National Institute of Livestock and Grassland Science in Tsukuba, Japan. The research is detailed in this week's issue of New Scientist Magazine.
Is peat swamp worth more than palm oil plantations?

(07/16/2007) Could peat swamp be worth more intact for their carbon value than palm oil plantations for their oil? Quick analysis suggests yes, though binding limits on emissions will be needed to trigger the largest ever flow of money from the industrialized world to developing countries. At stake: the bulk of the world's biodiversity.
Florida to cut greenhouse gas emissions 80% by 2050

(07/15/2007) Florida plans to cut greenhouse gas emissions 80 percent from 1990 levels by 2050 according to Charlie Crist, Florida's Republican state governor. Due to its low elevation and hurricane risk, global warming may pose the biggest risk to Florida of any U.S. state.
China will not commit to CO2 limits

(07/06/2007) China will not commit to binding greenhouse gas emissions cuts, reports the BBC. Lu Xuedu, deputy director-general of China's Office of Global Environmental Affairs, told British parliamentarians that China does not presently have the "capability to make those commitments."
WWF condemns iron fertilization scheme to fight global warming

(06/28/2007) Environmental group WWF condemned a scheme by Planktos, Inc. (OTCBB: PLKT) to dump up to 100 tons of iron dust in the open ocean west of the Galapagos Islands. The firm claims the experiment will fertilize massive blooms of phytoplankton that will absorb carbon dioxide from the atmosphere and help fight global warming.
Industrialized countries outsource CO2 emissions to China

(06/22/2007) Facing criticism as it surpasses the U.S. as the world's largest producer of carbon dioxide, China says that industrialized countries are hypocritical for criticizing its greenhouse gas emissions while buying its products, according to the Associated Press. China argues that developed countries are effectively outsourcing emissions by shifting manufacturing to its factories.
Most Americans back a $10 monthly global warming tax

(06/20/2007) 73 percent of Americans back a $10-per-month charge to underwrite renewable energy production reports a new survey by New Scientist Magazine, Stanford University and Resources for the Future, an independent think tank. The research indicates that 85 percent of Americans believe global warming in currently happening.
China surpasses the U.S. in CO2 emissions

(06/20/2007) China has surpassed the United States as the world's largest producers of greenhouse gas emissions, reports the Netherlands Environmental Assessment Agency (EEA), a group that advises the Dutch government.
Google to be carbon neutral by year end

(06/20/2007) Google Inc. aims to be carbon neutral by the end of 2007, according to a statement posted on the Official Google Blog. The search giant plans to fight global warming by investing in and using renewable energy sources; reducing energy consumption by maximizing efficiency, and purchasing carbon offsets for the greenhouse gas emissions that it cannot reduce directly.
Amazon.com, eBay rank worst for global warming efforts

(06/20/2007) Amazon.com and eBay rank at the bottom of the list when it comes to reducing their impact on climate, reports a new analysis from Climate Counts, a nonprofit that works to promote responsible climate policy among corporations. Microsoft and Yahoo rank at the top of Internet and software companies rated, while Google is in the middle of the pack.
Carbon capture and storage could help combat global warming

(06/12/2007) While solar power and hybrid cars have become popular symbols of green technology, Stanford researchers are exploring another path for cutting emissions of carbon dioxide, the leading greenhouse gas that causes global warming.
World Bank to raise $250M for avoided deforestation in tropics

(06/11/2007) The World Bank will soon launch an "avoided deforestation" pilot project that will pay tropical countries for preserving their forests, reports The Wall Street Journal. The $250 million fund will reward Indonesia, Brazil, Congo and other tropical forest countries for offsetting global warming emissions. Tropical deforestation accounts for roughly 20 percent of global greenhouse gas emissions, but slowing deforestation slows emissions of heat-trapping emissions. Researchers estimate that "avoided deforestation" schemes may be one of the most cost effective ways to slow climate change. Further, avoided deforestation offers simultaneous benefits including preservation of ecosystem services and biodiversity.
Nobel prize winner debates future of nuclear power

(06/07/2007) Two renowned energy experts sparred in a debate over nuclear energy Wednesday afternoon at Stanford University. Amory Lovins, Chairman and Chief Scientist of the Rocky Mountain Institute, an energy think tank, argued that energy efficiency and alternative energy sources will send nuclear power the way of the dinosaurs in the near future. Dr. Burton Richter, winner of the 1976 Nobel Prize in physics, said that nuclear would play an important part of the future energy portfolio needed to cut carbon emissions to fight global warming.
Dirty snow may warm Arctic as much as GHG emissions

(06/07/2007) Dirty snow from soot and forest fires is responsible for one-third or more of Arctic warming reports a new study from researchers at the University of California at Irvine (UCI) and the National Center for Atmospheric Research in Boulder.
U.S. refuses to talk global warming cuts at G8 summit

(06/06/2007) President Bush said he opposed setting firm targets for greenhouse gas cuts at a G8 summit but said that his proposal to fight climate change would not undermine U.N. efforts, as critics have claimed.
Indonesia: No more rainforest clearing for palm oil

(06/05/2007) Indonesian Minister for Environment Rachmat Witoelar said Indonesia will not allow palm oil producers to clear primary forests for establishing plantations, reports Bloomberg. Indonesia is expected to surpass Malaysia as the world largest producer of palm oil this year. The government hopes to add 7 million hectares of plantations by 2011.
China Unveils Global Warming Initiative

(06/05/2007) Scientists documented 467 species, including 24 species believed new to science, during a rainforest survey in eastern Suriname, South America. The expedition, led by conservation International (CI), was sponsored by two mining companies, BHP-Billiton Maatschappij Suriname (BMS) and Suriname Aluminium Company LLC (Suralco), hoping to mine the area for bauxite, the raw material used to make aluminum. conservation International said the Rapid Assessment Survey (RAP) will help "give miners guidance on protecting unique plants and animals during potential future development," according to a statement from the organization.
Geoengineering could stop global warming but carries big risks

(06/04/2007) Using radical techniques to ,engineer, Earth's climate by blocking sunlight could cool Earth but presents great risks that could well worsen global warming should they fail or be discontinued, reports a new study published in the June 4 early online edition of The Proceedings of the National Academy of Sciences.
CO2 emissions growth surges as global energy efficiency falls

(05/21/2007) Worldwide growth in carbon dioxide emissions has doubled since the close of the 1990s, reports a study published in the early on-line edition of the Proceedings of the National Academy of Sciences. The findings suggest that the global economy is more dependent on fossil fuels than ever before, with carbon intensity--the amount of carbon needed to produce a unit of economic output--decreasing after a period of increases.
Southern Ocean may not absorb more CO2 emissions

(05/17/2007) Climate change has weakened one the Earth's largest natural carbon 'sinks' raising the possibility that increased warming could reduce the capacity of some systems to absorb carbon dioxide, reports a study published this week in the journal Science.
Calpine may benefit from global warming limits

(05/16/2007) Power generator Calpine will be well-positioned when the regularlory environment for carbon dioxide emissions shifts and federal caps are introduced, reports the Wall Street Journal.
Canada's boreal forest must be saved

(05/14/2007) At a conference Monday, 1500 prominent scientists called for protection of Canada's boreal forest, one of the largest intact forest and wetland ecosystems remaining on the planet.
Ocean 'burps' may have ended last ice ages

(05/10/2007) A University of Colorado at Boulder-led research team tracing the origin of a large carbon dioxide increase in Earth's atmosphere at the end of the last ice age has detected two ancient 'burps' that originated from the deepest parts of the oceans.
Reducing tropical deforestation will help fight global warming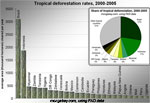 (05/10/2007) Scientists have lent support to a plan by developing countries to fight global warming by reducing deforestation rates. Tropical deforestation releases more than 1.5 billion metric tons of carbon into the atmosphere every year, though in some years, like the 1997-1998 el Nino year when fires released some 2 billion tons of carbon from peat swamps alone in Indonesia, emissions are more than twice that. Writing in the journal Science, an international team of scientists argue that the Reducing Emissions from Deforestation (RED) initiative, launched in 2005 by the United Nations Framework Convention on Climate Change, is scientifically and technologically sound, and that political and economic challenges facing the plan can be overcome.
Global carbon cycle is key to understanding climate change

(05/09/2007) Despite its importance to mankind, the global carbon cycle is poorly understood. With concerns over climate change mounting, it becomes all the more imperative to understand how carbon is absorbed by the Earth's oceans, vegetation, and atmosphere.
Carbon dioxide emissions lag 25% behind 2012 targets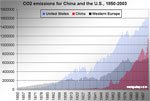 (05/08/2007) The world is far behind carbon dioxide emissions targets set by the Kyoto Protocol reports the Little Green Data Book 2007, an annual publication put out by the World Bank. The publication notes that global carbon dioxide emissions have risen 19 percent since 1990, more than 25 percent behind goals set forth under the Kyoto Protocol, which called for a 5.2 percent reduction from 1990 levels.
Peatlands store 100 years of CO2 emissions

(05/08/2007) The UN Convention on Climate Change is putting global climate at risk by ignoring carbon dioxide emissions from the destruction of carbon-rich peatlands in Indonesia, charged Wetlands International, a Dutch environmental group that has highlighted the climate impact of land-use change in southeast Asia.
China finds 7.5 billion barrel oilfield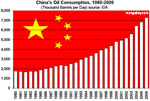 (05/08/2007) PetroChina, Asia's largest oil and gas producer, announced the discovery of a 7.5 billion barrel oil field off the northeast coast of China. The find, in an undersea field in Bohai Bay, is the largest in Asia in four decades and will boost China's known oil reserves by 20 percent. Nevertheless, the discovery will not be enough to offset China's oil imports, which have surged in recent years due to a booming economy and rapid adoption of automobiles.
Amazon rainforest locks up 11 years of CO2 emissions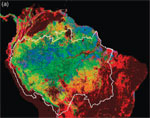 (05/08/2007) The amount and distribution of above ground biomass (or the amount of carbon contained in vegetation) in the Amazon basin is largely unknown, making it difficult to estimate how much carbon dioxide is produced through deforestation and how much is sequestered through forest regrowth. To address this uncertainty, a team of scientists from Caltech, the Woods Hole Institute, and INPE (Brazil's space agency), have developed a new method to determine forest biomass using remote sensing and field plot measurements. The researchers say the work will help them better understand the role of Amazon rainforest in global climate change.
U.S. could offset 20% of emissions through reforestation of marginal lands

(05/03/2007) Reforesting marginal agricultural land could significantly slow the increase of carbon in the atmosphere reports a new study based on NASA data, though it would be no magic bullet in fighting global warming since temperate forests have been shown to increase regional temperatures by absorbing more sunlight. Still, reforestation has the potential to offer other ancillary benefits including watershed services and erosion control.
U.S. and China fight plan to slow global warming

(04/30/2007) Claiming that costs of fighting global warming will be higher than consensus estimates, China and the United States are fighting plans to slow climate change, according to the Associated Press (AP). The countries also say the impacts of climate change will not be as severe as projected and want to raise the emissions cap of atmospheric carbon dioxide levels from 430 parts per million (ppm) proposed by the European Union to 445 ppm. Current CO2 levels stand around 381 ppm.
Dutch plan restricts biofuels that damage environment
(04/29/2007) The Netherlands has proposed a system to reduce the environmental impact of biofuels production. The country becomes the first in the world to establish such guidelines. Environmentalists have expressed increasing concern for the establishment of energy crops in biodiverse and carbon-rich ecosystems like the peatlands of Indonesia and the Amazon rainforest. They say that conversion of these forests for oil palm and soybeans is threatening endangered species and worsening global warming. Further, they warn, demand for such biomass energy products is driving up prices for food crops.
Dutch will demand rainforest-friendly palm oil
(04/27/2007) In a report scheduled to be released today, the Dutch government will outline criteria for growing biofuels in a more sustainable manner. The guidelines will be closely watched by the rest of Europe, which is currently struggling with the environmental pros and cons of large-scale energy crop production, especially in ecologically-sensitive areas like the Amazon and Indonesian rainforests.
To fight warming, Canada will ban incandescent light bulbs by 2012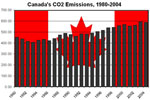 (04/25/2007) In an effort to fight greenhouse gas emissions, Canada plans to ban use of incandescent light bulbs by 2012, said Natural Resources Minister Gary Lunn. Canada follows Australia as the second country to announce a ban on the inefficient bulbs. California legislators have proposed a similar ban for 2012.
Biodiesel may worsen global warming relative to petroleum diesel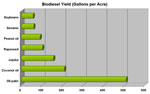 (04/23/2007) Biodiesel made from rapeseed could increase rather than reduce greenhouse emissions compared to conventional diesel fuels, reports a new study published in the journal Chemistry & Industry. Overall the researchers found that petroleum diesel and rapeseed biodiesel, presently the main biofuel used across Europe, have a similar environmental impact. The results suggest that efforts to mitigate climate change through the adoption of rapeseed biodiesel may be of little use beyond energy security.
Higher temperatures slow tropical tree growth
(04/23/2007) Climate change may be reducing growth rates of tropical rainforest trees, a development that could have widespread impacts for biodiversity, forest productivity, and even climate change itself, according to new research published in Ecology Letters.
Device uses solar energy to convert CO2 into fuel

(04/18/2007) Chemists at the University of California, San Diego, (UCSD) have devised a device that uses solar energy to convert carbon dioxide into fuel. While the machine is only a prototype and not yet optimized, the researchers hope that their work will attract attention to their approach.
Palo Alto aims to cut CO2 emissions 80% by 2050

(04/15/2007) The city of Palo Alto, California aims to cut greenhouse gas emissions significantly in coming years, joining a growing number of U.S. cities that have pledged to cut emissions by 80 percent by 2050. The goal, set forth in Green Ribbon task force report last year, was discussed by a panel of experts convening at Stanford University Sunday.
ConocoPhillips becomes first U.S. oil major to call for CO2 limits

(04/11/2007) This week ConocoPhillips became the first major U.S. oil firm to call for a legally-binding emissions cap. The Houston-based company said it would join the U.S. Climate Action Partnership (USCAP), a coalition of corporations seeking to influence future climate policy.
Supreme Court rebukes Bush Administration on global warming rule
(04/02/2007) The U.S. Supreme Court ruled against the Bush Administration in a landmark case with global warming implications. In Massachusetts v. EPA, the Supreme Court ruled 5-4 that (1) state governments and environmental groups have the right to sue the EPA, and (2) the EPA has the right to regulate CO2 emissions as a pollutant under the Clean Air Act. On a third point, where the EPA can choose not to regulate CO2 emissions, the Supreme Court directed the agency to "reconsider its refusal based on the factors set forth in the law."
U.S. can cut oil imports to zero by 2040, use to zero by 2050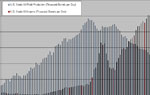 (03/29/2007) The United States could dramatically cut oil usage over the next 20-30 years at low to no net cost, said Amory B. Lovins, cofounder and CEO of the Colorado-based Rocky Mountain Institute, speaking at Stanford University Wednesday night for a week-long evening series of lectures sponsored by Mineral Acquisition Partners, Inc.
Some corals may survive acidification caused by rising CO2 levels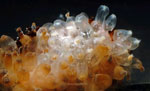 (03/29/2007) Several studies have shown that increased atmospheric carbon dioxide levels are acidifying the world's oceans. This is significant for coral reefs because acidification strips carbonate ions from seawater, making it more difficult for corals to build the calcium carbonate skeletons that serve as their structural basis. Research has shown that many species of coral, as well as other marine microorganisms, fare quite poorly under the increasingly acidic conditions forecast by some models. However, the news may not be bad for all types of corals. A study published in the March 30 issue of the journal Science, suggests that some corals may weather acidification better than others.
Non-CO2 gases also cause global warming

(03/29/2007) While most of the focus in developing a policy to fight global warming has been on carbon dioxide, other gases also contribute to climate change. The effect of these gases is still poorly understood and should be the subject of further research say two climate scientists writing in the March 30 issue of the journal Science.
CO2 levels tightly linked with climate change over past 420 million years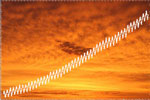 (03/28/2007) New research shows that sensitivity of Earth's climate to changes in the greenhouse gas carbon dioxide (CO2) have been relatively consistence for at least 420 million years, suggesting that presently rising levels of carbon dioxide resulting from fossil fuel use will indeed produce higher temperatures in the future.






Page 1 | Page 2 | Page 3 | Page 4 | Page 5 | Page 6 | Page 7 | Page 8 | Page 9 | Page 10