News articles on carbon dioxide

---
Mongabay.com news articles on carbon dioxide in blog format. Updated regularly.






Tar sands emit more carbon than previously estimated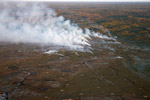 (03/12/2012) Environmentalists have targeted the oil-producing tar sands in Canada in part because its crude comes with heftier carbon emissions than conventional sources. Now, a new study in the Proceedings of the National Academy of Sciences (PNAS) has found an additional source of carbon that has been unaccounted for: peatlands. Mining the oil in the tar sands, dubbed "oil sands" by the industry, will require the wholesale destruction of nearly 30,000 hectares of peatlands, emitting between 11.4 and 47.3 million metric tons of additional carbon.
Carbon emissions paving way for mass extinction in oceans

(03/05/2012) Human emissions of carbon dioxide may be acidifying the oceans at a rate not seen in 300 million years, according to new research published in Science. The ground-breaking study, which measures for the first time the rate of current acidification compared with other occurrences going back 300 million years, warns that carbon emissions, unchecked, will likely lead to a mass extinction in the world's oceans. Acidification particularly threatens species dependent on calcium carbonate (a chemical compound that drops as the ocean acidifies) such as coral reefs, marine mollusks, and even some plankton. As these species vanish, thousands of others that depend on them are likely to follow.
Investigation links APP to illegal logging of protected trees
(03/01/2012) A year-long undercover investigation has found evidence of Asia Pulp and Paper (APP) companies cutting and pulping legally protected ramin trees, a practice that violates both Indonesian and international law. Found largely in Sumatra's peatswamp forests, the logging of ramin trees (in the genus Gonystylus) has been banned in Indonesia since 2001; the trees are also listed under Appendix II of the Convention on International Trade in Endangered Species (CITES) and thus require special permits to export. The new allegations come after APP, an umbrella paper brand, has lost several customers due to its continued reliance on pulp from rainforest and peatland forests in Sumatra.
TransCanada to build southern half of Keystone to avoid State Department approval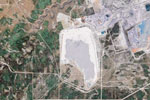 (02/29/2012) Keystone XL is becoming the project that refuses to die: TransCanada, the company behind the pipeline, has said it plans to build the southern half of the pipeline while it waits to determine a new route for the northern section. The company does not need approval from the State Department, which turned down the entire pipeline in January, to build the southern half from Texas to Oklahoma. However, the Obama Administration has embraced the idea. Carrying carbon-intensive tar sands oil down from Canada to a global market, the proposed pipeline galvanized environmental and climate activists last year, resulting in several large protests and civil disobedience actions.
NASA map reveals the heights of the world's forests

(02/20/2012) The height of a forest is important in a number of different ways. First the taller a forest, the more likely there are important niche habitats in the canopy providing homes to unique species. In addition, a forests' height says something about its ability to sequester carbon: the taller a forest the more carbon it can hold. Now a team of researchers, led by NASA, has created the world's first global map showing the height of the world's forests (click here for interactive map), publishing their findings in the Journal of Geophysical Research.
Six nations, including U.S., set up climate initiative to target short-term greenhouse gases

(02/20/2012) With global negotiations to tackle carbon emissions progressing interminably, nations are seeking roundabout ways to combat global climate change. U.S. Secretary of State, Hillary Clinton, announced in India last week a new six nation initiative to target non-carbon greenhouse gases, including soot (also known as "black carbon"), methane, and hydro-fluorocarbons (HFCs). Reductions of these emissions would not only impact short-term climate change, but also improve health and agriculture worldwide according to a recent study in Science.
New meteorological theory argues that the world's forests are rainmakers
(02/01/2012) New, radical theories in science often take time to be accepted, especially those that directly challenge longstanding ideas, contemporary policy or cultural norms. The fact that the Earth revolves around the sun, and not vice-versa, took centuries to gain widespread scientific and public acceptance. While Darwin's theory of evolution was quickly grasped by biologists, portions of the public today, especially in places like the U.S., still disbelieve. Currently, the near total consensus by climatologists that human activities are warming the Earth continues to be challenged by outsiders. Whether or not the biotic pump theory will one day fall into this grouping remains to be seen. First published in 2007 by two Russian physicists, Victor Gorshkov and Anastassia Makarieva, the still little-known biotic pump theory postulates that forests are the driving force behind precipitation over land masses.
Rainforests store 229 billion tons of carbon globally finds 'wall-to-wall' carbon map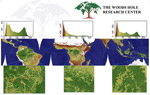 (01/30/2012) Tropical rainforests store some 229 billion tons of carbon in their vegetation — about 20 percent more than previously estimated — finds a new satellite-based assessment published in the journal Nature Climate Change. The findings could help improve the accuracy of reporting CO2 emissions reductions under the proposed REDD program, which aims to compensate tropical countries for cutting deforestation, forest degradation, and peatlands destruction.
Bad feedback loop: climate change diminishing Canadian forest's carbon sink

(01/30/2012) Climate change, in the form of rising temperatures and less precipitation, is shrinking the carbon sink of western Canada's forest, according to a new study released today in the Proceedings of the National Academy of Sciences (PNAS). Tree mortality and a general loss of biomass has cut the carbon storage capacity of Canada's boreal forests by around 7.28 million tons of carbon annually, equal to nearly 4 percent of Canada's total yearly carbon emissions.
Protecting original wetlands far preferable to restoration

(01/26/2012) Even after 100 years have passed a restored wetland may not reach the state of its former glory. A new study in the open access journal PLoS Biology finds that restored wetlands may take centuries to recover the biodiversity and carbon sequestration of original wetlands, if they ever do. The study questions laws, such as in the U.S., which allow the destruction of an original wetland so long as a similar wetland is restored elsewhere.
One company behind U.S.'s top three biggest greenhouse gas emitters

(01/16/2012) The Atlanta-based Southern company owns the top three biggest sources of greenhouse gas emissions in the U.S. according to recent data released by the Environmental Protection Agency (EPA). Three of Southern's coal-fired plants—two in Georgia and one in Alabama—account for around 64.74 million metric tons of total greenhouse gas emissions, higher than all of Finland's carbon emission in 2008.
Targeting methane, black carbon could buy world a little time on climate change
(01/12/2012) A new study in Science argues that reducing methane and black carbon emissions would bring global health, agriculture, and climate benefits. While such reductions would not replace the need to reduce CO2 emissions, they could have the result of lowering global temperature by 0.5 degrees Celsius (0.9 degree Fahrenheit) by mid-century, as well as having the added benefits of saving lives and boosting agricultural yields. In addition, the authors contend that dealing with black carbon and methane now would be inexpensive and politically feasible.
Ecuador makes $116 million to not drill for oil in Amazon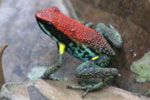 (01/02/2012) A possibly ground-breaking idea has been kept on life support after Ecuador revealed its Yasuni-ITT Initiative had raked in $116 million before the end of the year, breaking the $100 million mark that Ecuador said it needed to keep the program alive. Ecuador is proposing to not drill for an estimated 850 million barrels of oil in the Ishpingo-Tambococha-Tiputinin (ITT) blocs of Yasuni National Park if the international community pledges $3.6 billion to a United Nations Development Fund (UNDF), or about half of what the oil is currently worth. The Yasuni-ITT Initiative would preserve arguably the most biodiverse region on Earth from oil exploitation, safeguard indigenous populations, and keep an estimated 410 million tons of CO2 out of the atmosphere. However, the initiative is not without its detractors, some arguing the program is little more than blackmail; meanwhile proponents say it could prove an effective way to combat climate change, deforestation, and mass extinction.
Current emission pledges will raise temperature 3.5 degrees Celsius

(12/06/2011) New research announced at the 17th UN Climate Summit in Durban, South Africa finds that under current pledges for reducing emissions the global temperature will rise by 3.5 degrees Celsius (6.3 degrees Fahrenheit) from historic levels, reports the AFP. This is nearly double world nations' pledge to keep warming below 2 degrees Celsius (3.6 degrees Fahrenheit). The report flies in the face of recent arguments by the U.S. and others at Durban that current pledges are adequate through 2020.
Global carbon emissions rise 49 percent since 1990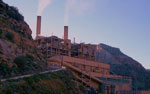 (12/04/2011) Total carbon emissions for the first time hit 10 billion metric tons (36.7 billion tons of CO2) in 2010, according to new analysis published by the Global Carbon Project (GCP) in Nature Climate Change. In the past two decades (since the reference year for the Kyoto Protocol: 1990), emissions have risen an astounding 49 percent. Released as officials from 190 countries meet in Durban, South Africa for the 17th UN Summit on Climate Change to discuss the future of international efforts on climate change, the study is just the latest to argue a growing urgency for slashing emissions in the face of rising extreme weather incidents and vanishing polar sea ice, among other impacts.
Romney joins climate change denier camp?

(10/28/2011) Presidential hopeful Mitt Romney reversed his position on the underlying drivers of recent climate climate change, stating "we don't know what's causing climate change," reports ThinkProgress.org.
Sober up: world running out of time to keep planet from over-heating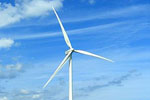 (10/24/2011) If governments are to keep the pledge they made in Copenhagen to limit global warming within the 'safe range' of two degrees Celsius, they are running out of time, according to two sobering papers from Nature. One of the studies finds that if the world is to have a 66 percent chance of staying below a rise of two degrees Celsius, greenhouse gas emissions would need to peak in less than a decade and fall quickly thereafter. The other study predicts that pats of Europe, Asia, North Africa and Canada could see a rise beyond two degrees Celsius within just twenty years.
New study: price carbon at the point of fossil fuel extraction

(10/17/2011) Global carbon emissions are a complicated matter. Currently, officials estimate national fossil fuel-related emissions by what is burned (known as production) within a nation, but this approach underestimates the emissions contributions from countries that extract oil and oil for export. Is there a better way to account for a country's total climate change footprint?
2010 Amazon drought released more carbon than India's annual emissions

(10/09/2011) The 2010 drought that affected much of the Amazon rainforest triggered the release of nearly 500 million tons of carbon (1.8 billion tons of carbon dioxide) into the atmosphere, or more than the total emissions from deforestation in the region over the period, estimates a new study published in the journal Environmental Research Letters.
Forest carbon projects rake in $178 million in 2010
(09/29/2011) Investors funneled $178 million into forest carbon projects intended to mitigate global climate change last year, according to a new report by Forest Trends' Ecosystem Marketplace. By trading a record 30.1 million tons of carbon dioxide equivalent (MtC02e), the market saw a 48 percent rise over 2009—including a rise in private investors over non-profits as well as greater support for the global program Reduced Emissions from Deforestation and forest Degradation (REDD)—shows that the burgeoning market may be beginning to make good on its promise to provide funds to save forests for their ecosystem services with an initial focus on carbon.
The Global Carbon Cycle: a book review

(09/19/2011) The Global Carbon Cycle, by Dr. David Archer, is an excellent primer on the global carbon cycle. An easily readable format, this lightweight book is an excellent companion to those who need a quick on-the-go reference or for those who need a compendium for their office or lab. With chapters on the basic carbon cycle, geologic carbon cycle, unstable ice age carbon cycle, present and future carbon cycle, and methane, The Global Carbon Cycle is an authoritative book with numerous examples explaining scientific phenomena associated the global carbon cycle.
Climate test for Obama: 1,252 people arrested over notorious oil pipeline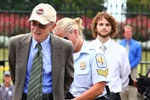 (09/06/2011) Two weeks of climate disobedience at the White House ended over the weekend with 1,252 people arrested in total. Activists were protesting the controversial Keystone XL pipeline in an effort to pressure US President Barack Obama to turn down the project. If built the pipeline would bring oil from Alberta's tar sands through six US states down to Texas refineries. While protestors fear pollution from potential spills, especially in the Ogallala Aquifer which supplies water to millions, the major fight behind the pipeline is climate change: Canada's tar sands emit significantly more carbon than conventional sources of oil.
Australia launches limited carbon tax

(07/11/2011) Australia's 500 largest polluters will pay AU$23 ($24.60) per ton of carbon dioxide emitted beginning July 2012 under a plan announced by Australian prime minister Julia Gilliard.
Germany backs out of Yasuni deal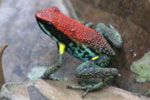 (06/13/2011) Germany has backed out of a pledge to commit $50 million a year to Ecuador's Yasuni ITT Initiative, reports Science Insider. The move by Germany potentially upsets an innovative program hailed by environmentalists and scientists alike. This one-of-a-kind initiative would protect a 200,000 hectare bloc in Yasuni National Park from oil drilling in return for a trust fund of $3.6 billion, or about half the market value of the nearly billion barrels of oil lying underneath the area. The plan is meant to mitigate climate change, protect biodiversity, and safeguard the rights of indigenous people.
Current carbon releases faster than at any time on record

(06/13/2011) The Paleocene-Eocene Thermal Maximum (PETM), a period of global warming that occurred nearly 56 million years ago due to massive releases of greenhouse gases, is frequently referenced as an analogue for projected climate change. However, recent findings suggest the current rate of carbon release is almost 10 times as rapid as at the peak of the PETM—and that biological systems may be significantly less able to adapt.
Arctic on the line: oil industry versus Greenpeace at the top of the world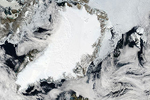 (06/06/2011) At the top of the world sits a lone region of shifting sea ice, bare islands, and strange creatures. For most of human history the Arctic remained inaccessible to all but the hardiest of peoples, keeping it relatively pristine and untouched. But today, the Arctic is arguably changing faster than anywhere else on Earth due to global climate change. Greenhouse gases from society have heated up parts of the Arctic over the past half-century by 4-5 degrees Fahrenheit, leading to a staggering decline in the Arctic sea ice. The large-scale changes suffered by the Arctic have created a new debate over conservation and exploitation, a debate currently represented by the protests of Greenpeace against oil company Cairn Energy, both of whom have been interviewed by mongabay.com (see below).
Ocean acidification dissolves algae, deafens fish

(06/02/2011) As if being a major contributor to global warming wasn't enough, the increasing amount of carbon dioxide produced through human activity is also acidifying our oceans - and doing so more rapidly than at any other time in more than half a million years. New projections show that at current rates of acidification, clownfish and many species of algae may be unable to survive by 2100.
New record in global carbon emissions 'another wake-up call'

(05/31/2011) Global carbon emissions hit a new high last year proving once again that international political efforts, hampered by bickering, the blame-game, and tepidity, are failing to drive down the greenhouse gas emissions that are causing the planet to heat up. According to the International Energy Agency (IEA), following a slight fall in carbon dioxide emissions due to the economic downturn, emissions again rose to a new record level in 2010: 30.6 gigatons. This is a full 5 percent higher than the past record hit in 2008. The new record puts greater doubt on the international pledge of limiting the global average temperature rise to 2 degrees Celsius.
Greenpeace says McKinsey's REDD+ work could encourage deforestation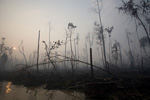 (04/07/2011) One of the world's top consultancies, McKinsey & Co., is providing advice to governments developing 'Reducing Emissions from Deforestation and Degradation' (REDD+) programs that could increase risks to tropical forests, claims a new report published by Greenpeace. The report, Bad Influence – how McKinsey-inspired plans lead to rainforest destruction, says that McKinsey's REDD+ cost curve and baseline scenarios are being used to justify expansion of industrial capacity in Indonesia, Papua New Guinea, Democratic Republic of Congo, and Guyana.
'Huge reduction' of water from plants due to higher carbon levels

(03/30/2011) As if ocean acidification and a warming world weren't enough, researchers have outlined another way in which carbon emissions are impacting the planet. A new study shows that higher carbon dioxide levels in the atmosphere have taken a toll on how much water vapor plants release, potentially impacting the rainfall and groundwater sources. A study in the Proceedings of the National Academy of Sciences (PNAS) has found that carbon dioxide levels over the past 150 years has reduced plants' spores, called stomata, by over one third (34%). This is important because stomata take in oxygen and carbon dioxide and release water vapor in a process dubbed 'transpiration'. Less stomata means less water driven into the atmosphere.
Amount of carbon absorbed by ecosystems each year is grossly overstated, says new study

(01/17/2011) According to a new paper published in Science, current carbon accounting methods significantly overstate the amount of carbon that can be absorbed by forests, plains, and other terrestrial ecosystems. That is because most current carbon accounting methods do not consider the methane and carbon dioxide released naturally by rivers, streams, and lakes. This new paper suggests that rivers, streams, and lakes emit the equivalent of 2.05 billion metric tons of carbon every year. (By comparison, all the terrestrial ecosystems on the world's continents are thought to absorb around 2.6 billion metric tons of carbon each year). This is, as the lead author of the paper said, is a "major accounting error".
New data shows REDD+ is succeeding
(12/15/2010) Amid the whirlwind of climate change news before and after the Cancún climate conference, including a landmark agreement on REDD+ (reducing emissions from deforestation, and related pro-forest actions), an important story seems to have passed by with little notice. Over the past two months, several new analyses have given clear evidence that deforestation has gone down over the past several years. In fact, the drop is quite impressive, and shows that of all the approaches to avoiding the worst consequences of global warming, reducing tropical deforestation is the one that has contributed by far the most to date.
Emissions from deforestation slow

(12/15/2010) A dip in forest clearing in Brazil combined with rising levels of industrial emissions have reduced the share of carbon dioxide emissions from deforestation to around 9 percent, according to research published last month in Nature Geoscience.
Oil, indigenous people, and Ecuador's big idea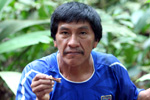 (11/23/2010) Ecuador's big idea—potentially Earth-rattling—goes something like this: the international community pays the small South American nation not to drill for nearly a billion barrels of oil in a massive block of Yasuni National Park. While Ecuador receives hundred of millions in an UN-backed fund, what does the international community receive? Arguably the world's most biodiverse rainforest is saved from oil extraction, two indigenous tribes' requests to be left uncontacted are respected, and some 400 million metric tons of CO2 is not emitted from burning the oil. In other words, the international community is being asked to put money where its mouth is on climate change, indigenous rights, and biodiversity loss. David Romo Vallejo, professor at the University of San Francisco Quito and co-director of Tiputini research station in Yasuni, recently told mongabay.com in an interview that this is "the best proposal so far made to ensure the protection of this incredible site."
2009 carbon emissions higher than expected

(11/22/2010) Despite a global economic recession and ongoing concerns about the impacts of climate change, last year's global carbon emissions were the second highest on record, according to the Global Carbon Project (GCP). Emissions in 2009 were just below the record emissions of 2008. In addition, 2009 emissions were higher than predicted, falling by only 1.3% from 2008 to 2009, instead of the predicted 2.8%.
It's not just size that matters: how population affects climate change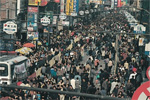 (11/11/2010) As the world's population increases, a surge in the number of older adults and the movement of people from the countryside to crowded cities will significantly affect levels of carbon dioxide emissions by 2050, according to a sweeping study published in the 11 October issue of the Proceedings of the National Academy of Sciences. A significant but attainable slowing of the planet's growing population could achieve up to 29 percent of the total decrease in emissions needed to stave off the harmful consequences of climate change by 2050, according to the study.
Carbon emissions hurting coral recruitment

(11/08/2010) While research has shown that ocean acidification from rising CO2 levels in the ocean imperils the growth and survival mature coral reefs, a new study has found that it may also negatively impact burgeoning corals, by significantly lowering the success of coral recruitment. A study in the Proceedings of the National Academy of Sciences (PNAS) has found that coral recruitment could fall by 73% over the next century due to increasing acidification.
US elects barrage of climate change deniers, threatening support for green energy

(11/03/2010) The US midterm election, which won Republicans the House but safeguarded the Senate for Democrats, has brought in a number of self-proclaimed climate change deniers, ending any likelihood that an energy bill will be passed over the next two years and essentially stumbling the White House's strategy on climate change. Newly elected Republican Senators Rand Paul of Kentucky and Marc Rubio of Florida, both members of the nascent Tea Party, have stated they do not believe in climate change despite that scientists overwhelming agree the Earth is warming due to human impacts.
Space tourism will worsen climate change

(10/24/2010) Have $200,000 to spend on a seat into space? You may want to re-think the expenditure given a new study in Geophysical Research Letters that shows space tourism will likely aggravate global climate change. Using sophisticated modeling, the researchers found that the biggest impact of a rise in space tourism on global temperatures won't be due to carbon emissions, but black carbon, often in the form of soot.
Majority of Americans confused on climate change basics

(10/17/2010) Most Americans don't understand the basics of climate change, according to a new poll by researchers with Yale. The poll found that over half of Americans deserve an 'F' on basic understanding of climate science and climate change, while only 1% would receive an 'A'.
The biology and conservation of declining coral reefs, an interview with Kristian Teleki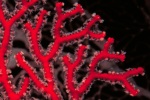 (08/15/2010) Coral reefs are often considered the "rainforests of the sea" because of their amazing biodiversity. In fact, coral reefs are one of the most diverse ecosystems on earth. It is not unusual for a reef to have several hundred species of snails, sixty species of corals, and several hundred species of fish. While they comprise under 1% of the world's ocean surface, one-quarter of all marine species call coral reefs their home. Fish, mollusks, sea stars, sea urchins, and more depend on this important ecosystem, and humans do too. Coral reefs supply important goods and services–from shoreline protection to tourism and fisheries–which by some estimates are worth $375 billion a year.





Environmentalists and indigenous groups condemn plan for six dams in Peruvian Amazon

(06/21/2010) Environmentalists and indigenous groups have come together to condemn a 15 million US dollar plan for six hydroelectric dams in the Peruvian Amazon, signed last week by Brazilian President Luiz Inácio Lula da Silva and Peruvian President, Alan Garcia. While the six dams would produce over 6,000 megawatts, mostly for Brazil, critics say the dams will flood tens of thousands of hectares of rainforest, devastate the lifestyles of a number of indigenous groups, and only serve big Brazilian corporations.





Voluntary carbon markets plunge in 2009

(06/14/2010) Battered by a faltering world economy and lack of progress on U.S. climate legislation, voluntary carbon markets declined by nearly every measure in 2009, according to the fourth annual State of the Voluntary Carbon Market Report issued today by Ecosystem Marketplace and Bloomberg New Energy Finance.





Peatlands restoration wins support in effort to reduce carbon emissions

(06/10/2010) The body charged with establishing a framework for a global climate treaty will account for emissions from peatlands degradation, a source of roughly 6 percent of greenhouse gas emissions. The decision by the Intergovernmental Panel on Climate Change (IPCC) lays the groundwork for new measures to protect and restore wetlands, says Wetlands International.




Page 1 | Page 2 | Page 3 | Page 4 | Page 5 | Page 6 | Page 7 | Page 8 | Page 9 | Page 10